Men's Wardrobe Essential: Blue Oxford Cotton Button Down
A sartorial safety blanket
Recently, I dragged my brother-in-law into a one-person focus group. In his late thirties with three kids and a consulting job that has him on the road four days a week, he's probably a lot like…well, a lot of you. So I listened when he told me the drop-down menu on the mobile site was impossible (we fixed it!), and I asked him what he wanted to see from Style Girlfriend in the future. He told me, "I have worn the same thing to work for the last ten years—grey dress pants and a blue dress shirt—and I don't plan on changing now. Because no one at work cares what I wear. What I want is off-duty clothes. Like, what is a men's oxford shirt, and do I need one? What do I have to buy this year to look better than my friends?"
Well Bryan, and everyone who is like you, I heard you. So we're getting back to basics with some men's wardrobe essentials that you and your closet desperately need. First up? That oxford shirt, which yes, you definitely need.
What is a men's oxford shirt?
First things first: what is oxford cloth? Simply put, it's a cloth woven in a basketweave pattern that over time has become one of the most popular shirting fabrics for stylish men. A big reason for its popularity is the durability of the weave. Oxford cloth, much like denim, can take a beating over time and remain elegant and appropriate. In fact, just like your favorite jeans, OCBD's often look better over time. It's the fabric equivalent of your buddy from college that goes out every night but somehow aces every test and is never hungover.
Oxford cloth can come in a range of weights, so rest assured that whether you live in Alaska or Arizona there's a shirt that's just right for your climate. Your typical OCBD is going to be a medium to heavyweight oxford, but during the spring time many brands offer lighter versions appropriate for warmer climates.

What to look for in an Oxford Shirt
Outside of nailing the fit, there's really only two things to consider when investing in an oxford shirt: color and collar.
While oxfords come in a range of colors, white and blue are the classic go-to colors. If you can't decide which one to go with, get blue for the simple fact that over time a great blue oxford will fade and distress not unlike denim. While it may not be your go to shirt for the office, it will be the most comfortable shirt in your closet. You want a collar that's tall enough to accommodate a tie that has a nice roll to it. When it comes to button down collars, it's all about the roll. A nice roll on the collar of a button down collar shirt is a sign of quality (and it just looks better).
Oxford Shirts: The Owner's Manual
What's to Love 
Budget-friendly. Great styles can be found at every price point
Clothes (work) horse. Wear it with almost anything.
Machine washable. Am I the only one to look for these two magic words before even looking at the price tag?
Easy to wear. The best thing to happen to guys since the George Foreman grill, many Oxford shirts are non-iron.
How to Wear an Oxford Shirt
When building your wardrobe, versatility is key. Pieces like an oxford can fulfill multiple purposes, saving you both time and money. Every guy needs these workhorse items that can work hard and play even harder, and in the shirting world nothing does this better than a great blue oxford button down shirt (also know as the OCBD). From client meetings to tailgates, a good oxford shirt is every guy's sartorial safety blanket.
What to wear with an oxford shirt
A good oxford goes with literally everything.
Literally. Everything.
An oxford with chinos or jeans is a classic look that any guy looks great—and feels even better—wearing. Toss a sweater or sweatshirt over top for a dressed down look in cooler temps or a blazer to dress the look up.
Traditionally, oxford button down shirts were never worn with suits… and then came our 35th president. JFK popularized the high-low pairing look during his tenure in office (not to mention Hyannis Port vacations). Soon the prep faux pas became the go-to look for the trend-conscious. The key to pulling off dressing up an OCBD? The tie. A silk knit or grenadine tie will coordinate with the text of an oxford better than your typical silk tie.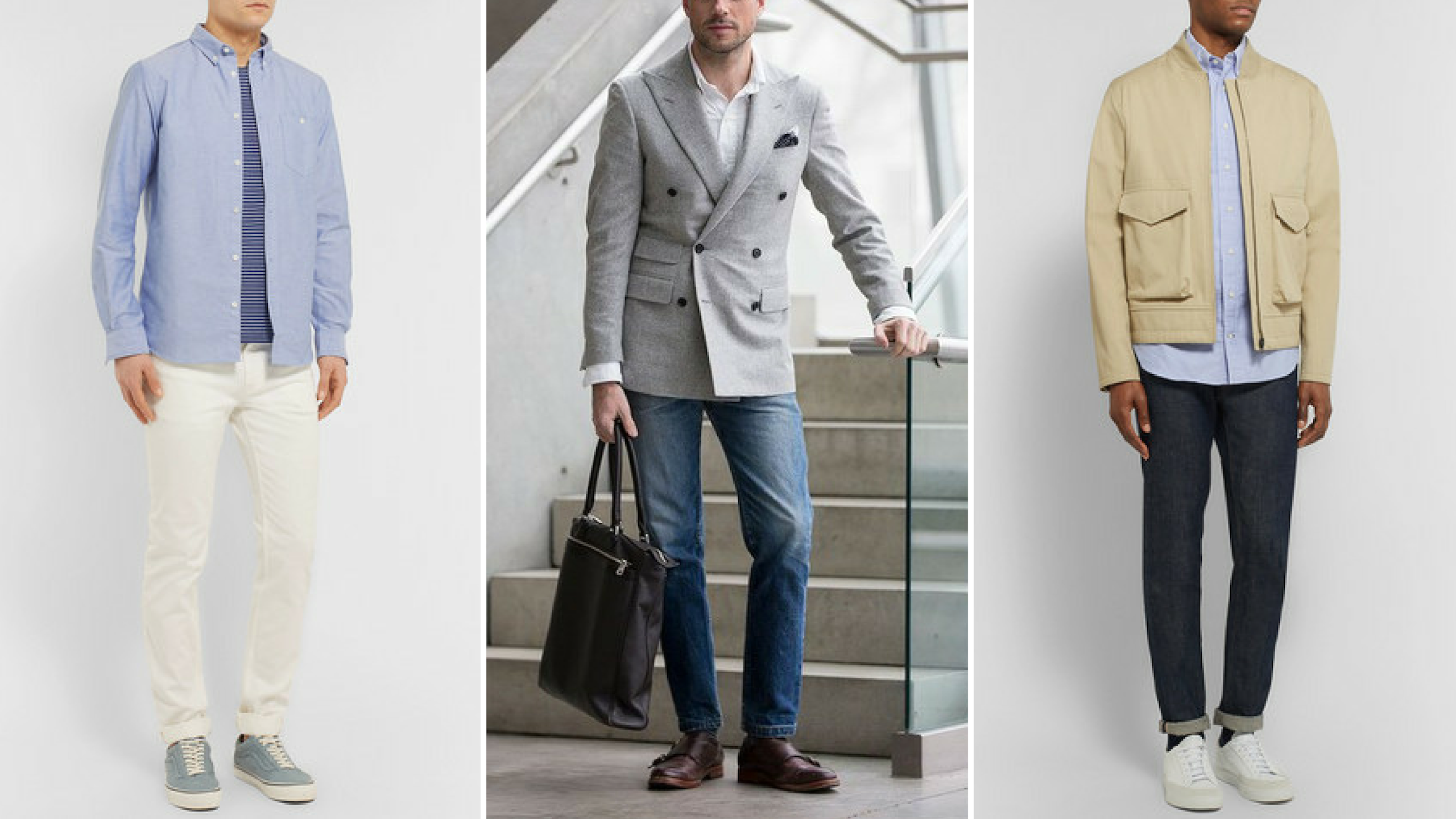 // Shop #SGApproved Oxfords //
---
Are you caught up on the latest wardrobe essentials? See how to style your grey wool dress pants, khaki chinos, navy grenadine tie and navy blazer. 
---
TELL ME: 
DO YOU DRESS UP YOUR OCBD, OR KEEP IT CASUAL?
Follow Style Girlfriend on Instagram for all the latest style tips, tricks, and shortcuts
(feature image: J.Crew)