The Best Dress Pants for Men and How to Wear Them: A Guy's Guide
The best dress pants for men and how to style them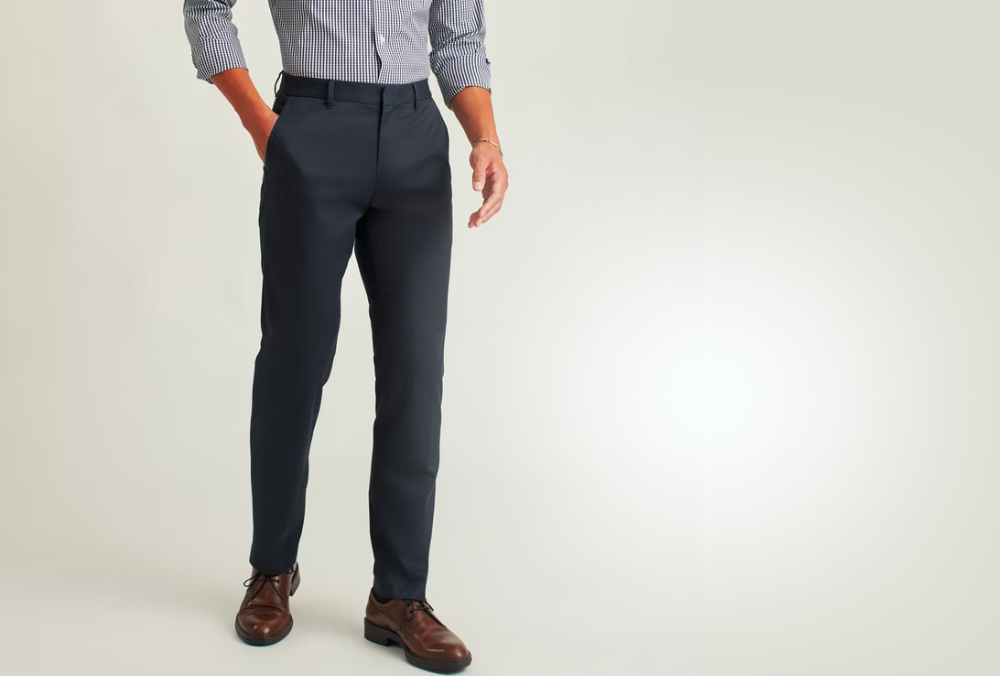 For this latest wardrobe essential guide, we're covering men's dress pants and wool trousers, a staple in any grown man's wardrobe.
Dressier than denim, but less stuffy than a full suit, dress pants bridge the gap between casual and formal.

Maybe you wear dress pants regularly for work in a corporate casual environment. Or maybe you're forced to pull them out when dressing up for dinner, or heading out on a job interview.
The bottom line? You've got plenty of reasons to pull on a pair in daily life!
So, you might as well know how to find the best pair of dress pants for you, and get ideas on what to wear with trousers on different occasions.
You want a few pairs that fit well and feel comfortable at the ready.
That means, learning what to look for and how to wear men's dress pants in interesting and stylish ways is a must for any guy.
Below, everything you need to know about the best dress pants for men:
What you'll find here
What Are Dress Pants?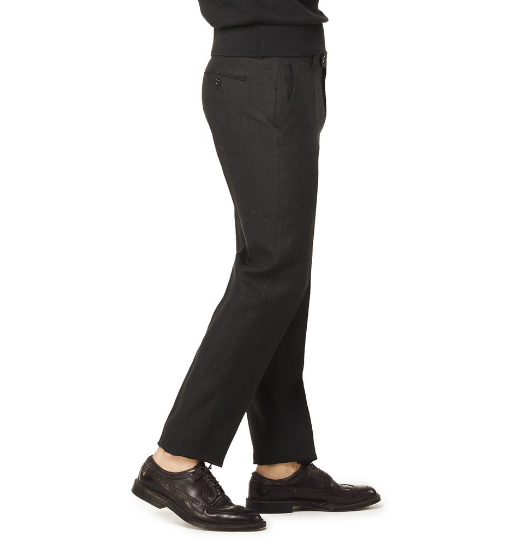 Actually, let's start with what dress pants aren't.
Dress pants are not the pants from a suit.
Says LA-based celeb stylist Ashley Weston, "When we think of dress pants, we generally think of wool trousers that are of a heavier weight, since suit pants are lighter and look odd when separated from their suit jacket. This is the kind of pant you can wear with a dress shirt on its own and a belt, or adding layers like a sweater, topcoat, or leather jacket."
So when you're thinking about dress pants vs. suit pants, remember that dress pants come on their own.
Knowing what kind of pants you're dealing with impacts how you're going to style these two types of pants too.
If you want to forgo a jacket on top, opt to wear trousers or dress pants. Don't wear suit pants without the coordinating suit jacket.
How Dress Pants Should Fit
Whether you call them slacks, dress pants, or trousers, the best business casual pants for men are the ones you feel comfortable and confident wearing.
It's old-fashioned to think that dress pants (and suits, for that matter), should fit in a roomy way. Instead, when you're trying to figure out how dress pants should fit, remember that a modern man looks best in a fit that's tailored without being too tight. (For what it's worth, this also applies to how suit pants should fit.)
Your dress pants ought to fit close to your body around your butt and thighs, then hang straight down if you're a bigger guy. For thinner guys, look for pants that taper slightly from the knee to the ankle.
While the models in GQ may look cool in ultra slim dress pants or billow-y pleated numbers, keep in mind they're posing for a fashion spread and not sitting at their desk staring at a shared Google doc all day.
Or, y'know, trying to impress real-life women.
Similar to a suit pant, look for dress pants that sit at your hips without needing a belt to cinch them. That said, a belt still looks very nice with dress pants…sometimes fashion over function wins!
This will be a little higher than your jeans, so be prepared for that to feel a little different.
When trying on pants, be sure to sit down while wearing them.
If the thighs are really straining, go up a size and bring the waist in.
The leg opening should be tailored but not too small. If your pants always catch on your calves when you stand up, your pants are too tight. But also, way to go on those calf workouts, dude.
Per The Gentlemen's Gazette, of all the components of pants (waistband, front and seat, rise, cut, and inseam), only the length can easily be tweaked by a tailor.
That means, for better or worse, you'll want to find a pair that fits you as best as possible before breaking out your wallet to buy.
Yes, this will mean a little more work on your part, but the effort will ultimately be worth it for a pair of pants that really fit well and make you feel handsome and comfortable.
How long should your dress pants be

A break in pants is the amount of fabric that touches your shoes when you're standing.
A slight break is the most modern look for guys when it comes to dress pants.
This means that the front of your pants cover the top of your laces, and the back of your pants falls midway between the top of your shoe and the top of the heel.
If you're taking your pants to the tailor (which we've already agreed that you probably will, since most pants don't fit right off the rack), ask for the pants to be hemmed so they're a little longer in the back than the front.
It's not overly complicated, but it does make a big difference in how the pant looks overall. Details matter!
---
Pleats or no pleats for dress pants?
There's plenty of debate over this, but at SG HQ we say, stick with no pleats.
While pleated pants are currently in fashion, an investment like trousers is not where you want to experiment with new trends.
If you have unlimited funds to spend on clothes, then sure. Go for it. But if you're only planning on buying one or two new pairs of dress pants to hold you over for at least a few seasons, then stick to flat front styles.
This is a hill I will die on. Please, come join me.
So! Let's talk about how to style dress pants.
Because at some point, you've gotta put 'em on, right? Might as well get inspired by some stylish guys who've come before you.
How to wear men's dress pants in a dressy outfit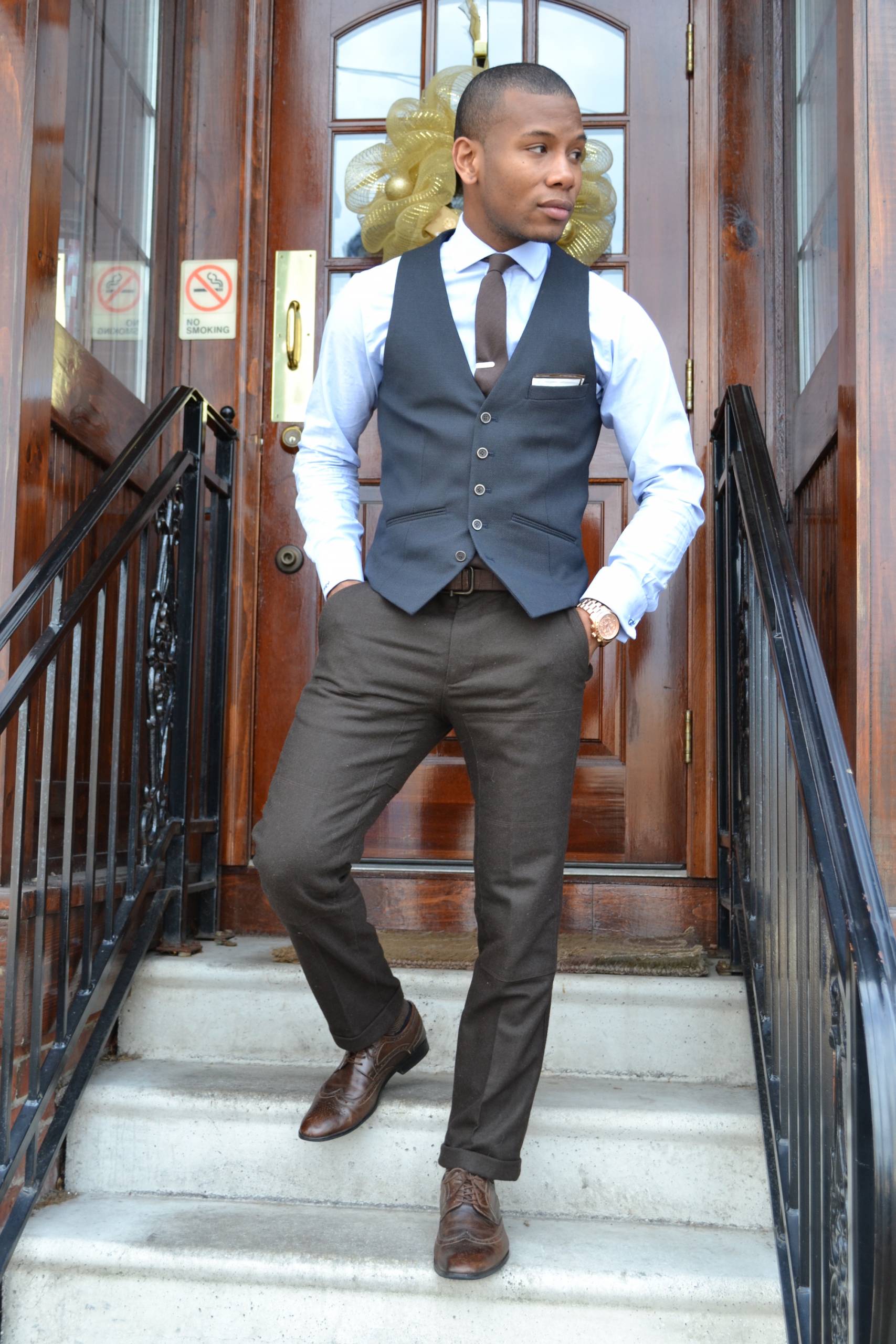 SG Says: Sure, dress pants are an easy option for the office, but don't be afraid to bust them out for off-duty lewks as well.
Maybe you wouldn't feel comfortable wearing a fashion-forward outfit like the one Sabir Peele of Men's Style Pro has on to work.
But for a date? Absolutely.
The blues and browns keep things streamlined and subtle, so you don't feel so "out there" in this vest-topped outfit.
How to wear men's dress pants casually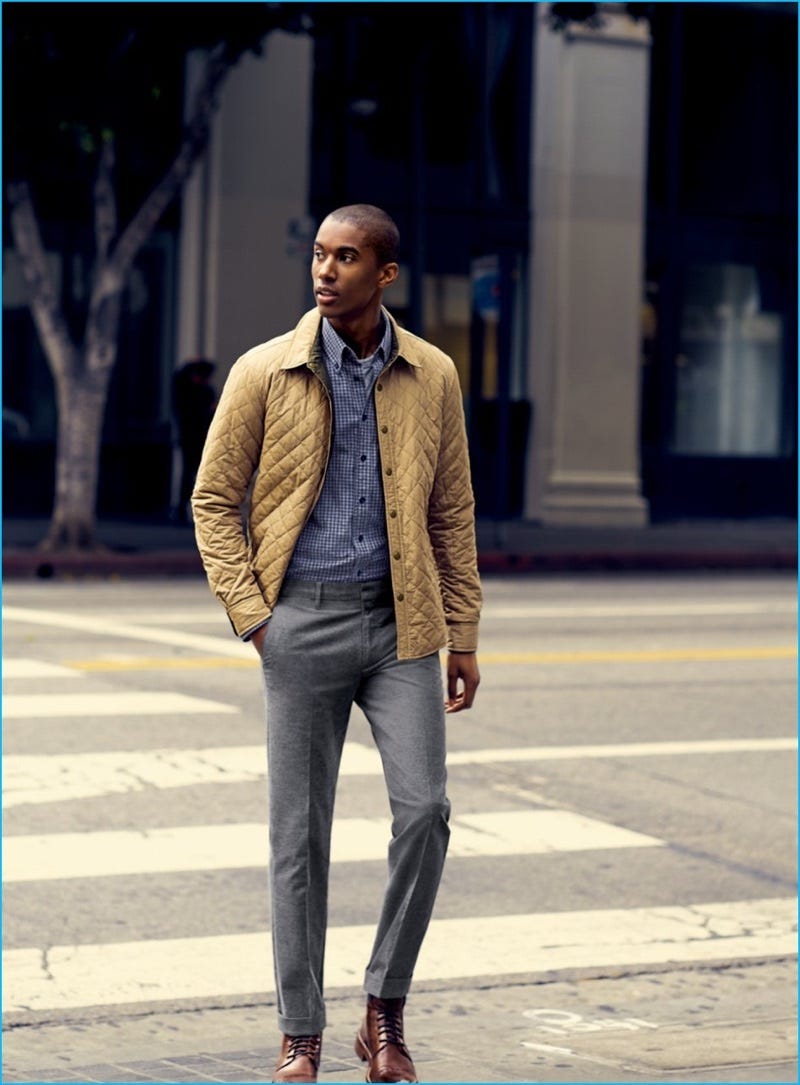 SG Says: When you think about how to dress down slacks, consider a less formal jacket and rugged shoes.
This stylish guy flouts conventions with a few details, the cuff on the pants, the lace-up boots, and the yellow barn jacket.
It's always worth trying a few different things—rather than reaching for the same combo time and time again—to see if you can discover new ways to wear the clothes you already own.
---
When to wear men's dress pants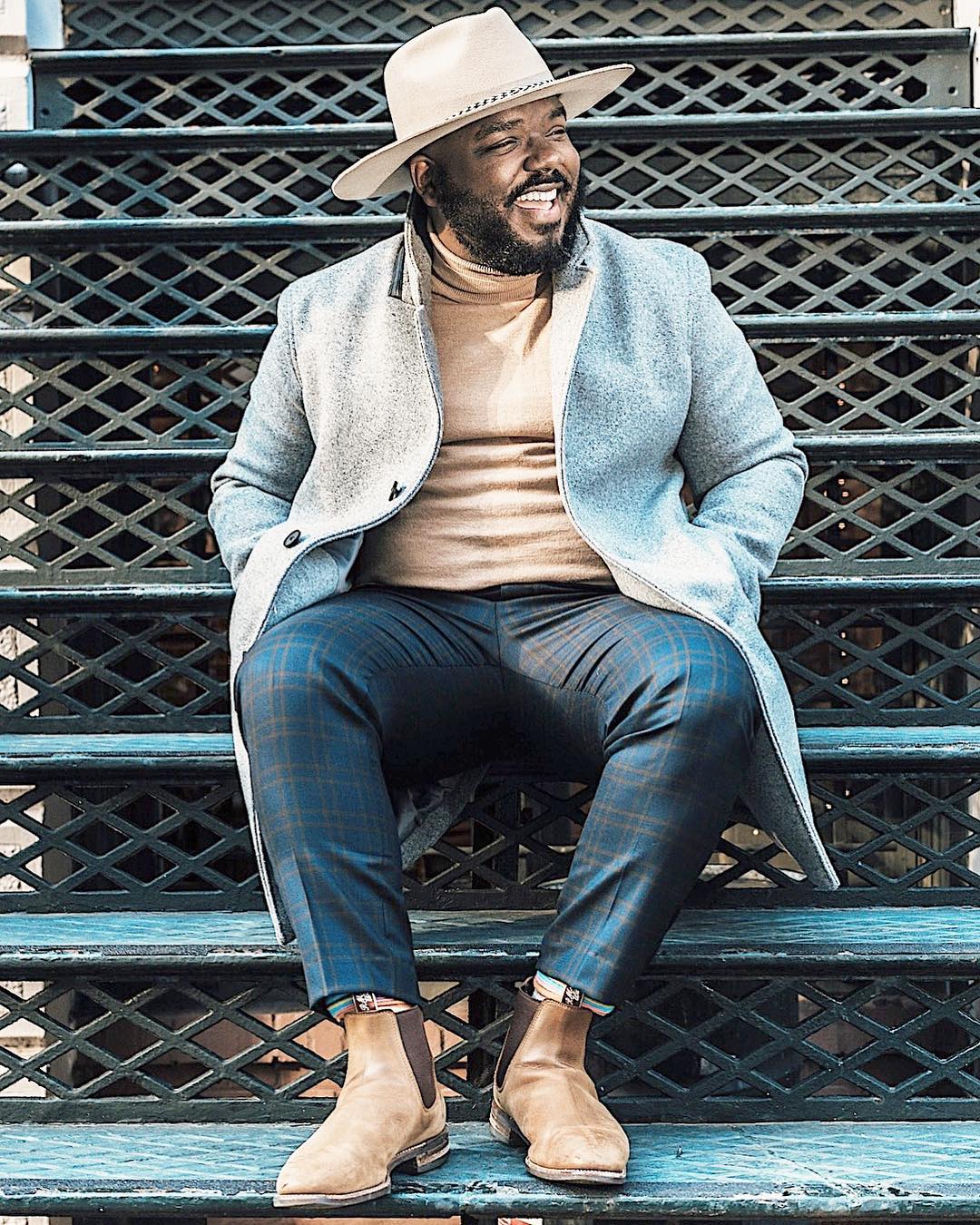 When you're unsure of an event's dress code, men's dress pants can be a good solve.
You can pair slack with plenty of different kinds of shirts, shoes, and jackets. Want a smart casual look? Then pair yours with a nice white t-shirt and cardigan, finishing off with classic tennis shoes.
If you're trying to figure out how to style a look that's business casual, rock your dress pants with a white dress shirt, navy tie and blazer.
At work, you can keep things safe with a dress shirt, maybe a tie, and a sport coat when wearing dress pants.
I also like a good sweater and dress shirt combo—or just a turtleneck on its own. Mm hm mmm.
Take the look in a more downtown direction in a t-shirt with dress pants and sneakers with a great jacket that will have you looking like you stepped out of the pages of a J.Crew catalogue (in a good way!).
Shop the best dress pants for men
Of course, there are so many options out there for dress pants and trousers for guys that shopping can feel overwhelming.
But don't despair! Our team narrowed down your options for you.
Shop #SGapproved dress pants picks, below:
Bonobos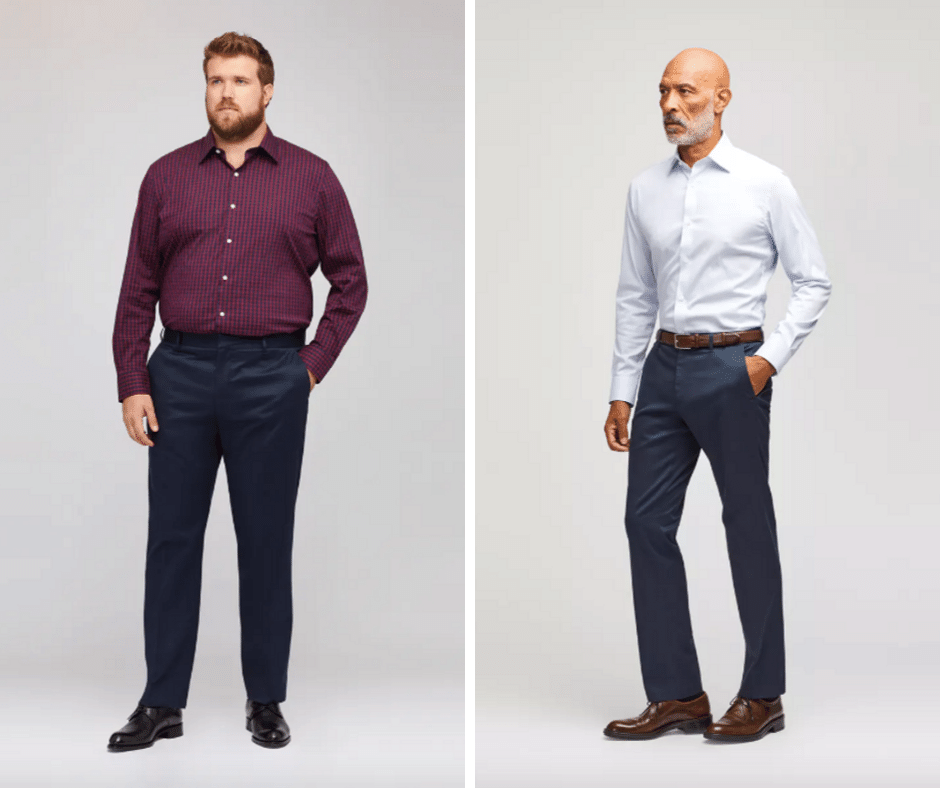 Why they're great:
Totally appropriate for a corporate casual dress code and relatively stylish to boot, Bonobos is a great mid-tier option for dress pants and these have some stretch making them the most comfortable dress pants.
This also makes them some of the best dress pants for work because they'll be comfortable from your morning commute to when you come in the door at night and flop on the couch.
Styles to choose:
The dress pants are available in up to five fits: Tailored, Slim, Athletic, and Straight fits.
They also offer extended sizes, which is great for a big & tall shopper.
J.Crew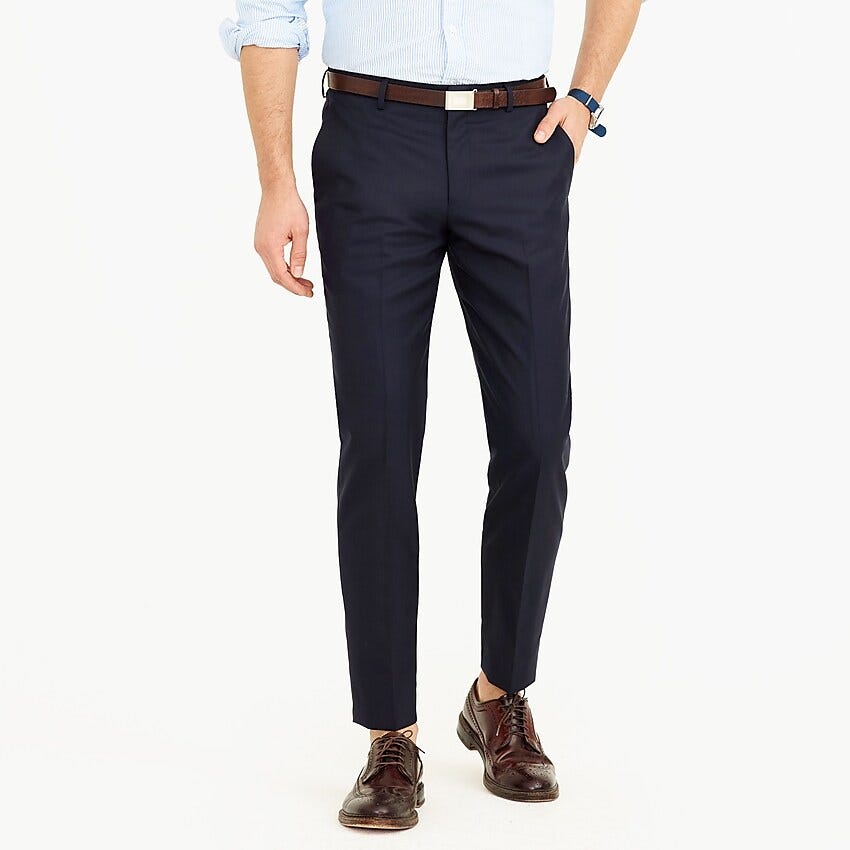 Why they're great:
J.Crew's "Ludlow" pant is one of the best dress pants for men who want to try on dress pants before purchasing, or at least have an easy way to return online orders. These are also a great option for slim dress pants.
Because dress pants fit differently on every guy, it can be easier to shop from a brand that (usually) has a store in your city or town.
Styles to choose:
There are plenty of year-round wools in interesting color and textures available. Think: English wool-cotton twill, heathered Italian wool flannel, and stretch four-season wool.
Why Wool Dress Pants are a Men's Wardrobe Essential
Wool has gotten a bad rap over the years. Guys hear wool and they tend to think: itchy and hot.
But truly, dress pants can be the most comfortable bottoms you own if you pick the right pair.
Wool needs to get cotton's PR team on the case. Errrybody loves cotton.
In reality, wool dresses up better than cotton, since wash after wash and wear after wear, cotton fibers break down, fading much faster than wool.
Even if you dry clean cotton pants, they won't maintain that crisp refined look that wool pants will. A good pair of wool pants will last and look better longer than cotton slacks 11 out of 10 times.
What Color Dress Pants to Wear
Just like with suits, the first two shades to knock out for your dress pants are navy and gray.
From there, learning how to wear men's dress pants in ways that make you feel handsome and stylish could mean pops of color or pattern.
So, experiment! It's fun, we swear.
---
Check out all our wardrobe essentials: See how to style your khaki chinos, navy grenadine tie, navy blazer and OCBD shirt.
---
What to look for in Dress Pants Fabric and Quality
When you think about how to wear men's dress pants well, so much has to do with the fabric and quality of the pants themselves.
Look for dress pants with a curtain waistband.
In addition to being a sign of a well-made pant, a curtain waistband allows the pant's waist to be easily let out as well as taken in by a tailor.
This is a lifesaver for guys that play certain sports and have a hard time finding pants that fit a smaller waist but bigger glutes and thighs.
Ahem, it's also lifesaving if you tend to put on a few pounds around the holidays, so…
Go for a partial lining.
The other feature to look for is a partial lining in the front of the pant down to the knee. This is for comfort, keeping the fabric from sticking to or scratching your leg.

Okay! That wasn't too scary, right? Even if you don't love dressing up, hopefully this guide will make shopping for (and wearing!) dress pants and trousers easier.

Team SG can help you upgrade your wardrobe. Learn more today!