Pssst, We Know the Best Affordable Sweaters for Men
No but really, they're the best.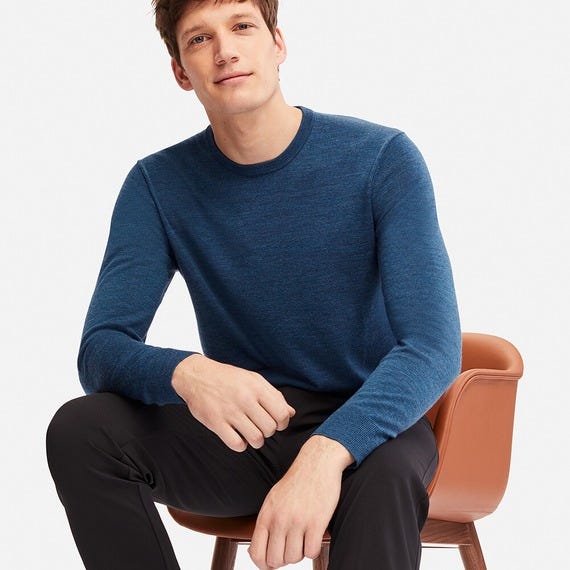 Disclosure: This feature was created in partnership with Uniqlo. Thanks for supporting the brands that keep Style Girlfriend going!
Niagara Falls. A good Old Fashioned. Winter sports. A bagel place called Bagel Bob's.
Anyone who knows me (or reads SG regularly, heyo) knows I truly "stan" for all of the above. They're the foundation of my personal brand. If I corner you into a conversation about them, you'll be like, "Jeez okay I get it, my life will change if I ride The Maid of the Mist!"
Uniqlo knits, some of the best affordable sweaters for men on the market today, are one of those extreme passion points.
Whenever I'm wearing one and someone is foolish enough to say, "Great sweater!" It's all over. I conspiratorially grab his or her arm, assuming an intimate stance usually reserved for flirting at a very crowded bar. (Though this does often happen at crowded bars, so it works out!)
"Isn't it great?" I whisper into their ear. "Feel it. It's so comfortable. Also? It's from Uniqlo and it was thirty dollars. You're welcome."
Since I shop both sides of the store with great success, I'm able to convince men and women alike to add Uniqlo's stylish and affordable sweaters to their repertoire. Because guys, let me tell you: I have a lot of the men's sweaters. They give me the slightly oversized, slouchy fit that goes perfectly with my vintage Levis and snakeskin ankle boots. You can skip the snakeskin boots, but I'm tellin' ya, you gotta get your bod into one—or honestly a few—of these knits.
While I could absolutely swan dive into a pool of every single sweater and knit that Uniqlo makes, doing the backstroke and spouting platitudes until I drown in my own verbosity… I won't. I'm going to hit you with the crucial highlights; my absolute favorite men's sweaters that you'd be a damn fool not to #addtocart as soon as possible.
The Best Uniqlo Sweaters To Buy Right Now

Ah, cashmere. The king of fabrics; the sultan of sweaters. There's nothing more luxurious you can cozy up in this time of year, and no more stylish (and affordable!) way to do it than in Uniqlo's cashmere crewneck. When you pull this on, maybe over an OCBD for work, or with sweats for a coffee run on a Saturday morning—you're going to feel luxe. And sophisticated. And budget savvy. Just don't let it go to your head.
But really, a cashmere crew is one those wardrobe essentials #TeamSG is always going on (and on) about, and we love the price and the super-soft feel of Uniqlo's version. It also comes in ten easy, goes-with-all-your-other-stuff colors including camel, burgundy, dark green and charcoal.
Oh my god do I love this sweater. Do men need to be reminded more often of how great they look in stripes? Because you do. This easy, casual crewneck is lightweight and breathable, and looks "nice" enough that you could wear it out to lunch with your mom over the holidays, or to run errands, or on a date…
What I'm saying is this is a perfect "everyday" sweater. With jeans and sneakers? Good to go. With chinos and suede chelsea boots? Yes, please. Layered over a denim shirt and black jeans? You know it.
I've become such a tremendous fan of Uniqlo's middle gauge sweaters this season. (Hence why I'm so jazzed on this #spon, guys!) The colors are on point and the fabric is a mix of acrylic and cotton, which means it's got a nice, lightweight texture while still being soft to the touch. Good news for any of you itchy bois out there!
I particularly love this one because it's got an interesting weave to it. Plus, the mockneck collar exudes a very retro-cool, rakish 'James Bond stranded on a mountain' vibe. Pair it with your cold weather weekend favs like a down vest and some lace-up boots.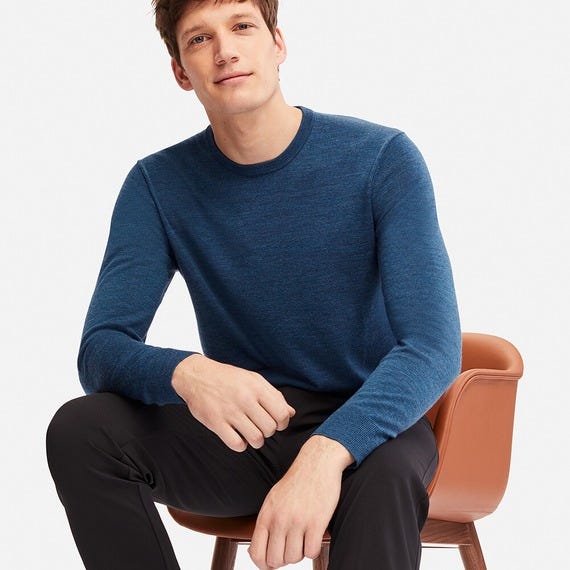 Extra-Fine Merino Crewneck Sweater, $40
And finally, something just slightly dressier for you—a silky soft Merino wool crewneck. The fine weave on this sweater makes it look more polished than your average knit, so it gets my vote for what to wear to you family's Christmas dinner, as well as being a great option for New Year's Eve. Layer it under a sport coat or blazer and you're good to go.
This bad boy also comes in 13 colors (!) ranging from soft neutrals like off white and dark caramel to a rich raspberry rad and deep burgundy. Icing on the cake? It's coated to avoid pilling and machine washable! Go ahead and buy two or three right now… I won't judge.
***
A more robust sweater rotation can be a game-changer in the colder months. Thanks to new layering options, your favorite shirts feel fresh again. And whenever you put on a mockneck and look in the mirror, the word 'rakish' pops into your head. Before you know it you'll be pulling your buddies aside for an intimate sweater chat and spreading the good word of the Uniqlo knit.
TELL ME:
WHAT TOPIC DO YOU TALK ABOUT A LITTLE TOO EXCITEDLY AT PARTIES?
Taylor Davies splits her time between NYC and Sun Valley. She loves writing about menswear, overpriced martinis in dimly lit hotel bars, and cross-country skiing. Not necessarily in that order.