The Best White Sneakers for Men and How to Wear Them
Can you kick it?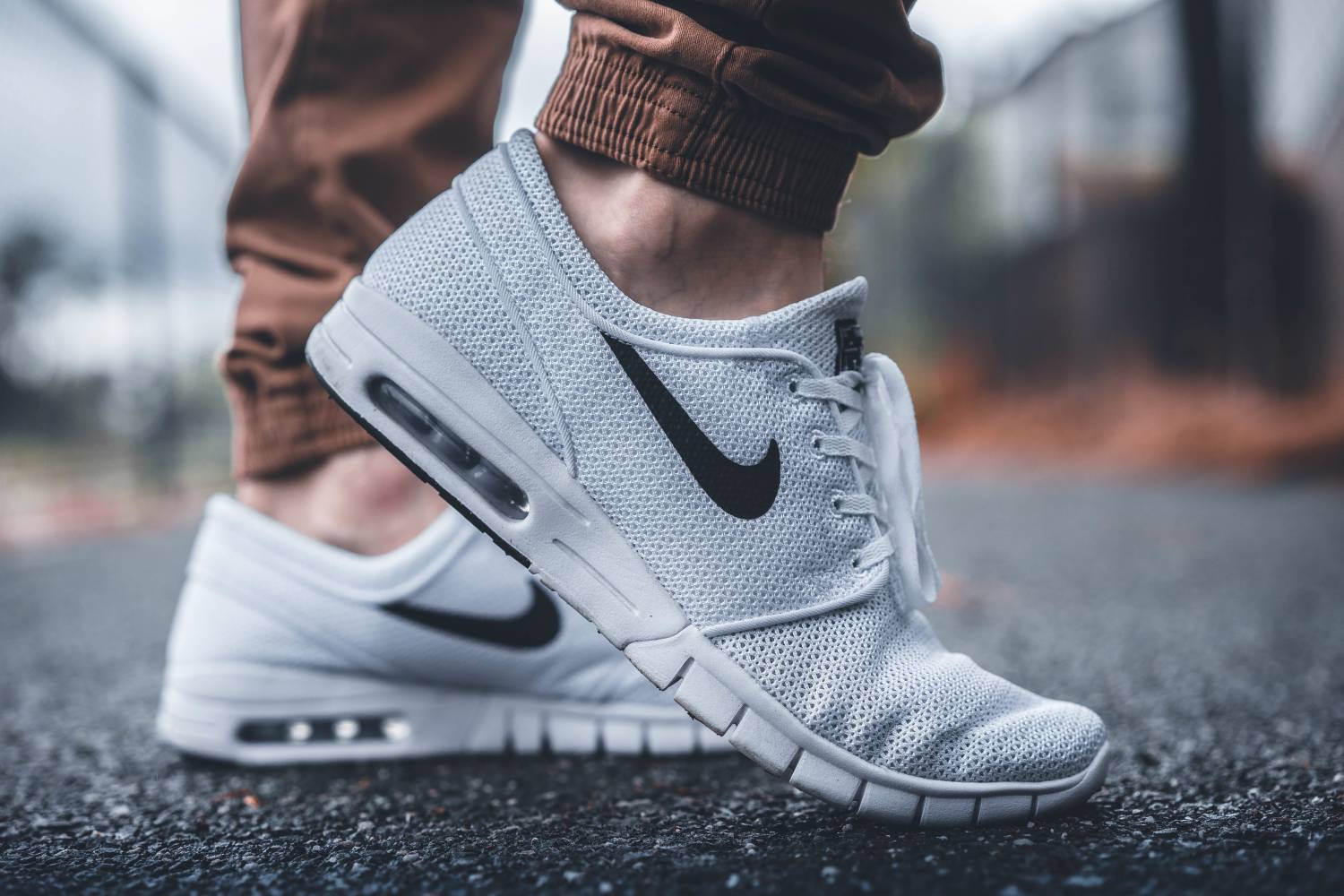 The athleisure trend is showing no signs of slowing, and we're definitely okay with that. Especially when it comes to footwear. Between the rise of cool kid brands like Veja, and the resurgence of classics from Nike to Adidas, white sneakers for men are having a moment. The style has evolved from preppy athletic accessories to an off-duty wardrobe essential for any stylish guy, there's a lot to be said about adding a dynamic sneaker to your shoe game.
That's why we're showing you the best white sneakers for men, and how to wear them.
Here's what we'll cover:
Shop our favorite white sneakers for men
Learn the rules on wearing sneakers with a suit
Outfit ideas for white sneakers
How to dress white sneakers up and down
Why the shoes you wear matter to your style
---
See your favorite outfit essentials styled five different ways.
---
Shop the best white sneakers for men
While trainers and canvas sneakers are a casual mainstay, it's GATs or tennis shoes that take to dressing up and dressing down just as easily. We love how the gum sole of GATs add an unexpected element to an entire outfit, but if you're in the market for more a streamlined sneaker you can slip into a pair of all white tennis shoes for a similar effect.
Can you wear sneakers with a suit?
Apologies for the terrible photo, but this paunchy, middle-aged man was booking it. Despite the blur, can you see why he was able to go so fast? Because he had on running shoes. With his suit.
These weren't "hip, cool actor/musician breaking the mold and sporting sneaks with his suit to an awards show" kind of sneakers. These were Melanie Griffith in Working Girl kind of sneakers – the big blobby white ones resembling loaves of bread on your feet that were so unfortunately inescapable in the '80s.
But that was a different time. And gender. Women wore these eyesores before comfortable-but-cute footwear options became available. Now us ladies have cute ballet flats or discreet slip-ons to keep our feet in check before we swap in heels at the office. And while I've seen the odd woman or two in midtown still carrying the torch for this "I am businesswoman, hear me roar" look, I'd never before seen a man in sneaks and a suit.
So why the overly comfy kicks for this guy? Really. What was this man swapping his sneakers out for at the office? A pair of ankle-turning sky-high pumps? A toe-pinching platform wedge perhaps? No, tucked away under his desk probably sat a pair of…dress shoes. With a sole that would give him about as much height as the tennis shoes he had on.
Style Takeaway:
If your dress shoes hurt badly enough that you need alternative commuting footwear, you probably need new dress shoes.
In general, unless you've just been nominated for a Video Music Award, seriously think twice about trying to pull off sneakers with a suit.
Outfit Ideas for White Sneakers
Here at SG HQ, we love a good sneaker. No, you can't have too many pairs. Yes, they can be a dynamic addition to your wardrobe. If you're not a sneakerhead (which is totally fine…we're not either), you may just want something to wear with your casual clothes. But sneakers have so much more range!
A low-profile, white leather sneaker like Adidas Stan Smiths that skip the flourishes in favor of timeless style will give you maximal versatility. Below, five ways to wear this classic pair.
White Sneakers Outfit #1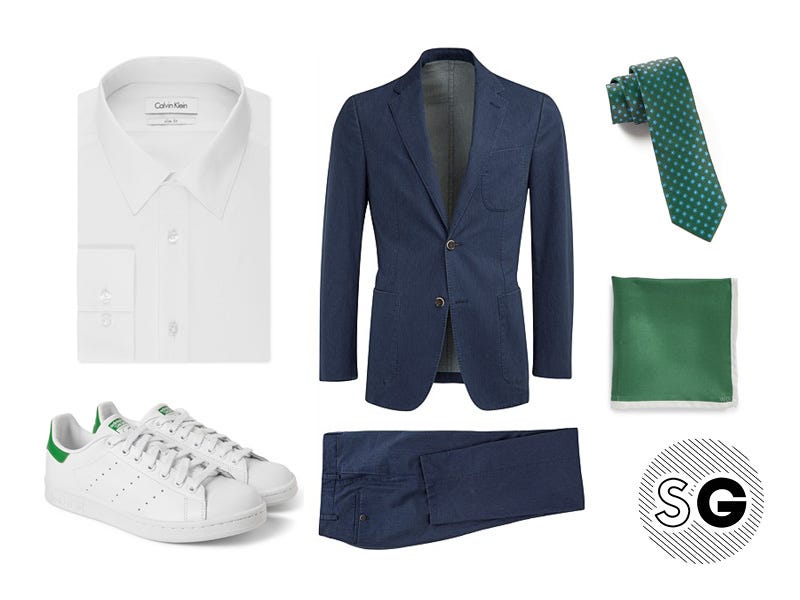 SG Says: Skip the socks and show some ankle. With a laid back office look, keep the fit slim and the colors simple to avoid being too over-the-top.
White Sneakers Outfit #2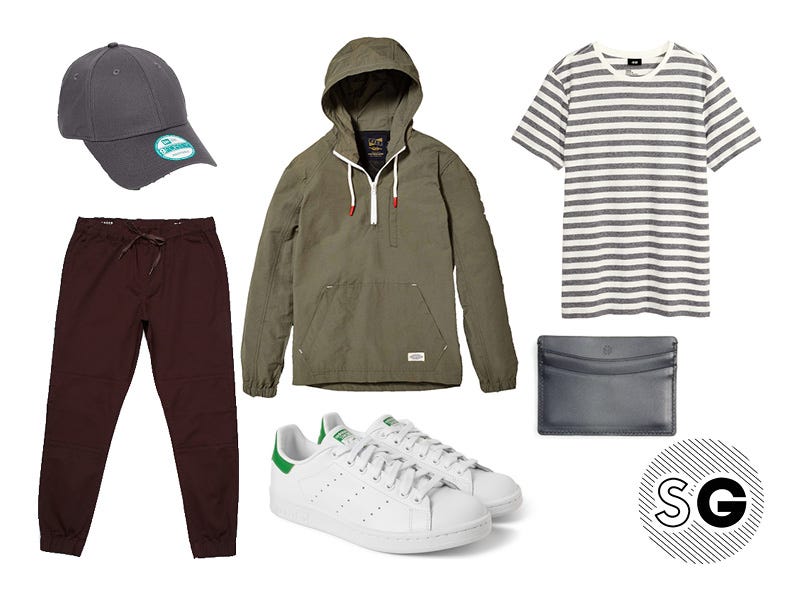 SG Says: Opt for athletic separates in muted colors for a look you can wear outside the gym.
White Sneakers Outfit #3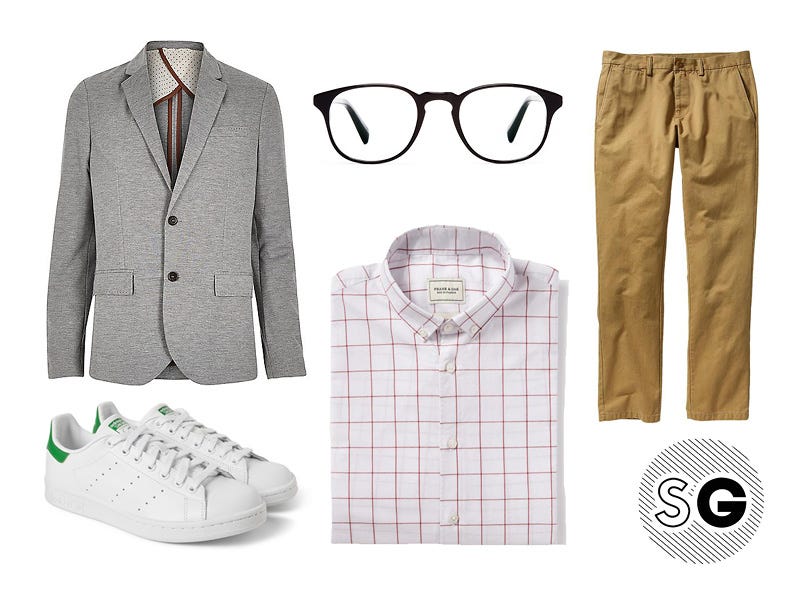 SG Says: Roll up the chinos (see our favorites here!) and skip the tie to keep things casual.
White Sneakers Outfit #4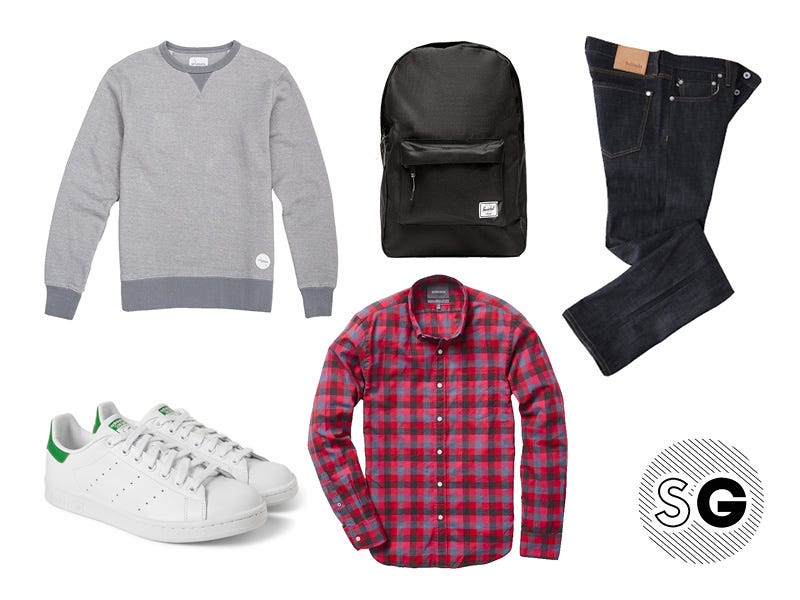 SG Says: Leave the shirt untucked and throw an alway stylish grey crewneck sweatshirt on top if it gets chilly.
White Sneakers Outfit #5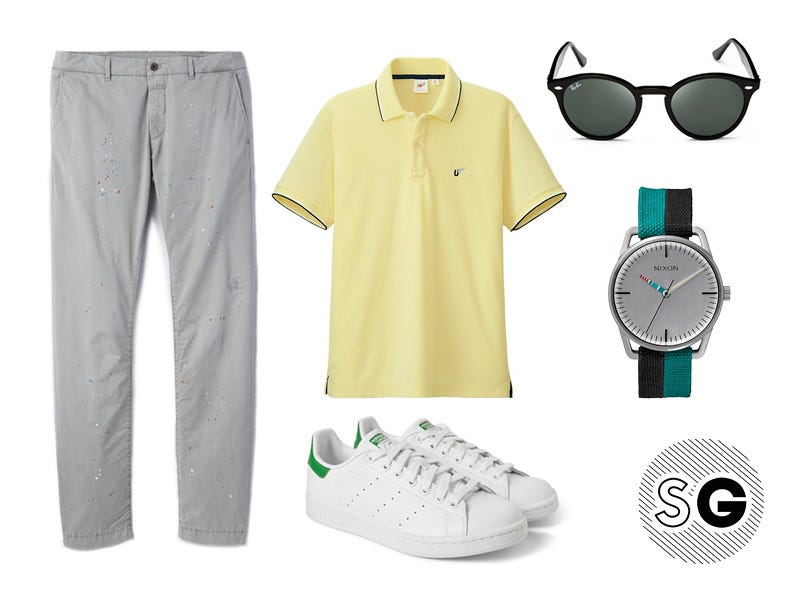 SG Says: When wearing a polo shirt with white sneakers, add some less-expected elements (like paint-splattered chinos) to stay away from a "headed to the country club" vibe.
What to know about white sneakers:
Don't be afraid to bring different patterns and bold colors into play, especially when working with a simple sneaker.
Even though your sneakers may be all white, you can still incorporate a bold sock to add even more visual interest.
Want to draw extra attention to your kicks? Choose a tapered fit for pants or even joggers, so they draw attention to your feet.
How to wear white sneakers two ways dressed up and dressed down

***
A warning about wearing "any old" white sneaker
Here's the thing about wearing scuffed up sneakers, dad sneakers, or any other kind of "function over fashion" shoe. It looks careless. Considering your sneakers as an afterthought is noticed by women.
When you don't care about your shoes, this is what people think:
You must be indifferent to style.
Wearing ugg-o sneakers tells the people you meet that after all the work you put into picking out a shirt that went with your pants…you gave up. Maybe you just worked out in trainers and now you're going to wear them the rest of the day? We know you had to take off your shoes to get in the shower (you did shower after working out, right?!), which means that pair shouldn't be what you put on after you get out!
And if you went on a run outside, there's probbaly some mud and earth guts on those shoes, which is not quite symbiotic with your clean clothes. And if you were wearing your running sneakers and you weren't even working out…you're doing it wrong!
We of course understand that sneakers are made with extra support features for different types of feet, and being comfortable is important, but times have changed! There are plenty of dress and casual shoes with new support features, wide and narrow sizing, and extra insoles to make all of your other shoe options on par, comfort-wise, with your workout sneaks.
Another impression that boring/sh*tty/scuffed-up sneakers give?
That you're in a style rut
Maybe it's a mental thing. You're comfortable in your functional sneakers, and that's why you stick with them. But getting out of your comfort zone is important when it comes to style. Trying new things–like rock climbing, or anchovies–can be scary, but what if you find out you really like that previously unknown thing? You would totally regret not having tried it!
Same goes for better sneakers. The great thing is, there are baby steps to this change that will be so itsy-bitsy you'll wonder why you didn't do it sooner. Start with a pair of casual, walk-around sneakers instead of running sneakers.
Once you start upping your style game you'll see how easy it is, and you'll be wearing driving moccasins, chukkas, and boat shoes in no time. Take a step into a new shoe and you'll walk onto a new path of life: a more stylish one.
An outfit is everything you're wearing, including shoes. Sporting a mismatched outfit says that you don't care what other people think about your appearance, and I'm pretty sure that kind of fashion disdain stopped being cool around '95. Putting some pride into your look tells a girl you're not afraid of caring about your appearance, which is good, because any guy that I'm going to be interested in has to care about something.
Bottom line? Women will think more highly of you if you wear a shoe to the bar that you can't wear to the gym, not only because it looks better, but because it shows you care.
Shop the #SGapproved best white sneakers for men
Adidas, Classic Stan Smith Sneaker, $80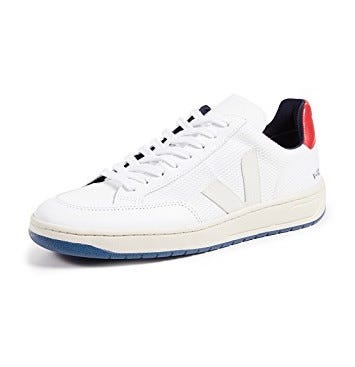 Veja, V-12 sneaker, $150
Greats, The Royale, $179
Vans, Old Skool Core Sneaker, $60
M.Gemi, The Lucente, $288
***
Team SG is 'gramming all the good stuff right over…here.