Style
5 Days, 5 Ways: How to Wear a Chukka Boot
the shoe that keeps on giving
By Gabi Meyers | Aug 20 2018
If the quintessential SG Reader were to wear a shoe—just one—it would be a chukka boot. The ankle-high leather boots with suede or leather uppers, leather or rubber soles, and open lacing with two or three pairs of eyelets, are a timeless piece of footwear that can be worn year round. They work equally well mixed into casual or more elevated outfits, and look great with basically everything you already own.
The beeswax leather pair below are desert boots, a type of chukka boots (the same way an orange is a type of fruit), and you've probably noticed them pop up in quite a few past 5 Days, 5 Ways. Meaning? It was about time for the spotlight to shine their way!
How to wear a chukka boot, five ways below: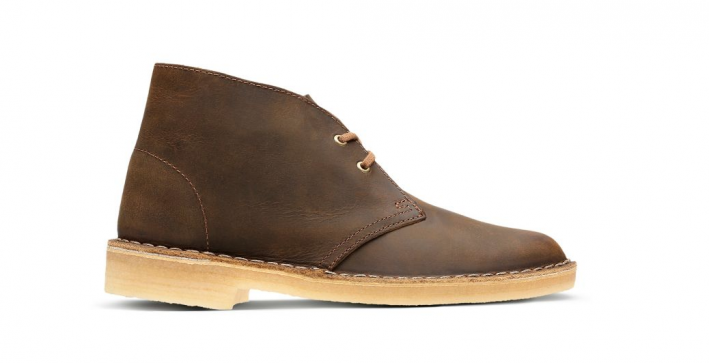 SG Says: Easy to dress up or down, you'll be hard-pressed to find a shoe more universally #SGapproved by the whole team than the chukka boot.
MONDAY
blazer: Topman, $200 | shirt: David Donahue, $155 | trousers: Bonobos, $98
watch: Fossil, $125 | tie: The Tie Bar, $19
Wear it well: Ease into the work week with a slightly more casual shoe than the rest of your office wear.
TUESDAY
sweater: Brooks Brothers, $128 | shirt: Charles Tyrwhitt, $110 | glasses: Warby Parker, $95
cords: Patagonia, $89 | socks: Pair of Thieves, $10 | belt: Trask, $95
Wear it well: Update your standard shirt & sweater combo with cozy cords for a pre-fall lewk.
WEDNESDAY
denim jacket: Dstld, $95 | shirt: H&M, $7 | beanie: Tilley, $28
jeans: H&M, $25 | wallet: Fossil, $40 | backpack: State, $115
THURSDAY
topcoat: Land's End, $349  | sweatshirt: Mack Weldon, $68 | pants: Bonobos, $68
shirt: Gap, $42 | watch: Movado, $495 | sunglasses: Vuarnet, $285
Wear it well: When the weather starts to cool, layer the chambray under the sweatshirt under the topcoat for the most casual-yet-pulled-together combo possible.
FRIDAY
cardigan: Brooks Brothers, $448 | shirt: Vince, $145 | chinos: Bonobos, $198
scarf: The Tie Bar, $25 | bag: Frye, $598
Wear it well: Tie on a scarf over a thinner cardigan and henley for an easy to adjust travel outfit.
TELL ME:
WHAT'S YOUR FAVORITE WAY TO ROCK A CHUKKA BOOTH?
See more ways to wear your favorites like a topcoat, colored chinos and felt hat 5 ways.