How to Wear a Knit Polo Shirt Outside of the French Riviera
Dress it up, dress it down.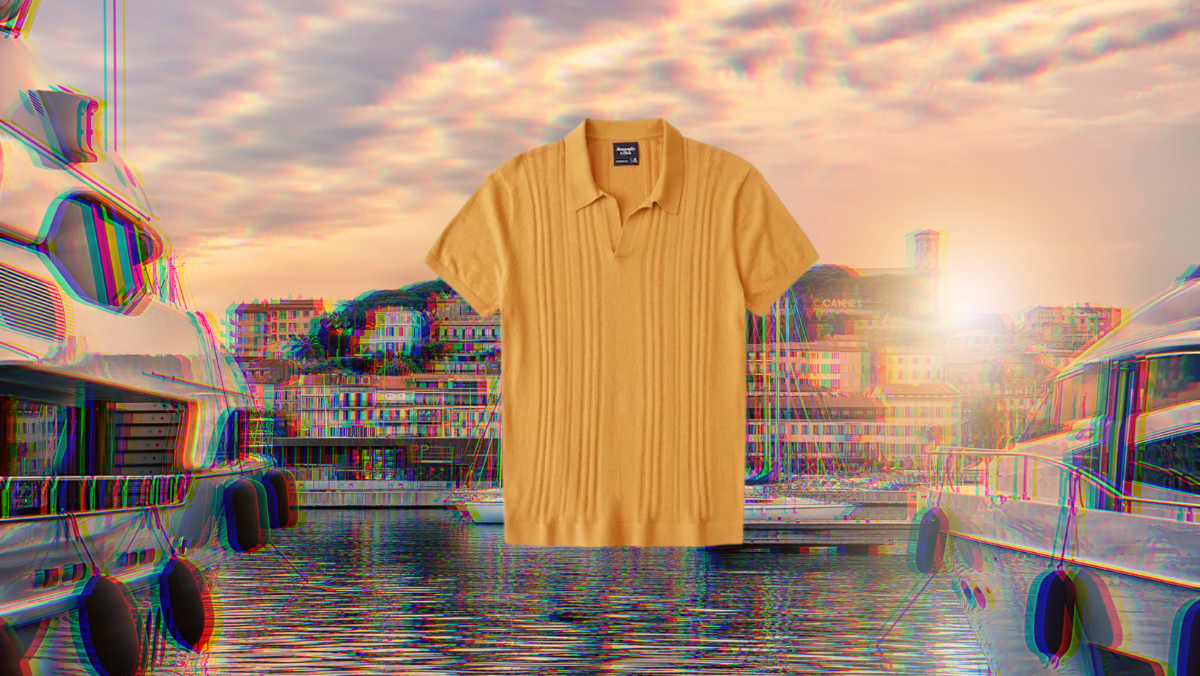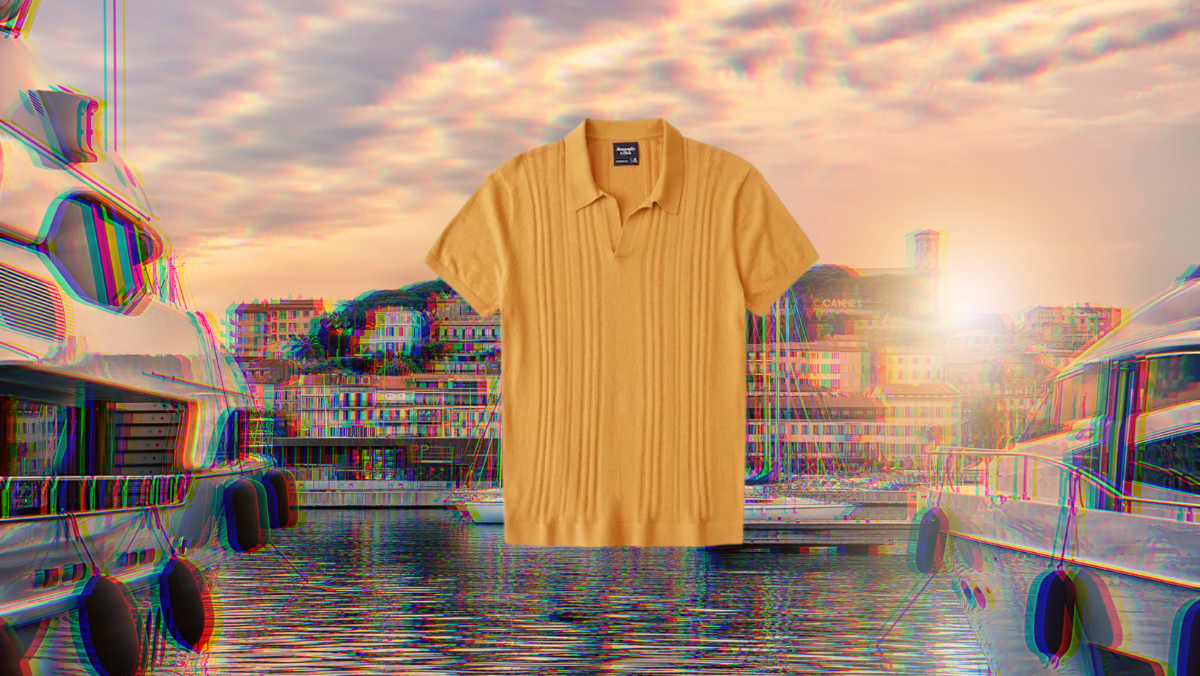 We all know and love the pique polo shirt—the sturdy cotton fabric style that's oh-so-easy to throw on this time of year—but I say it's time to consider a level-up to the classic silhouette.
Enter the knit polo shirt.
What is a knit polo shirt?
With a beautiful drape and an even more luscious hand-feel, this top really teeters the line of all other tops. It's collared—but it's more comfortable than your standard button-up shirt. It's all the coziness of a sweater, but it's made for warm weather.
How should a knit polo shirt fit?
It has short sleeves, but is somehow elevated enough to wear for things you would consider "occasions." It looks good with everything and feels even better on.
Below, check out five knit polo shirt outfits for guys: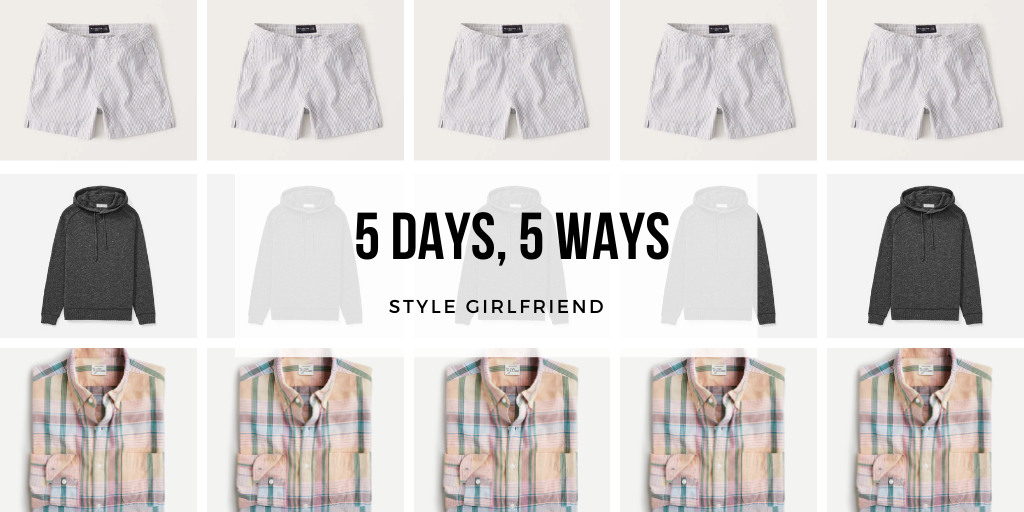 TO THE BEACH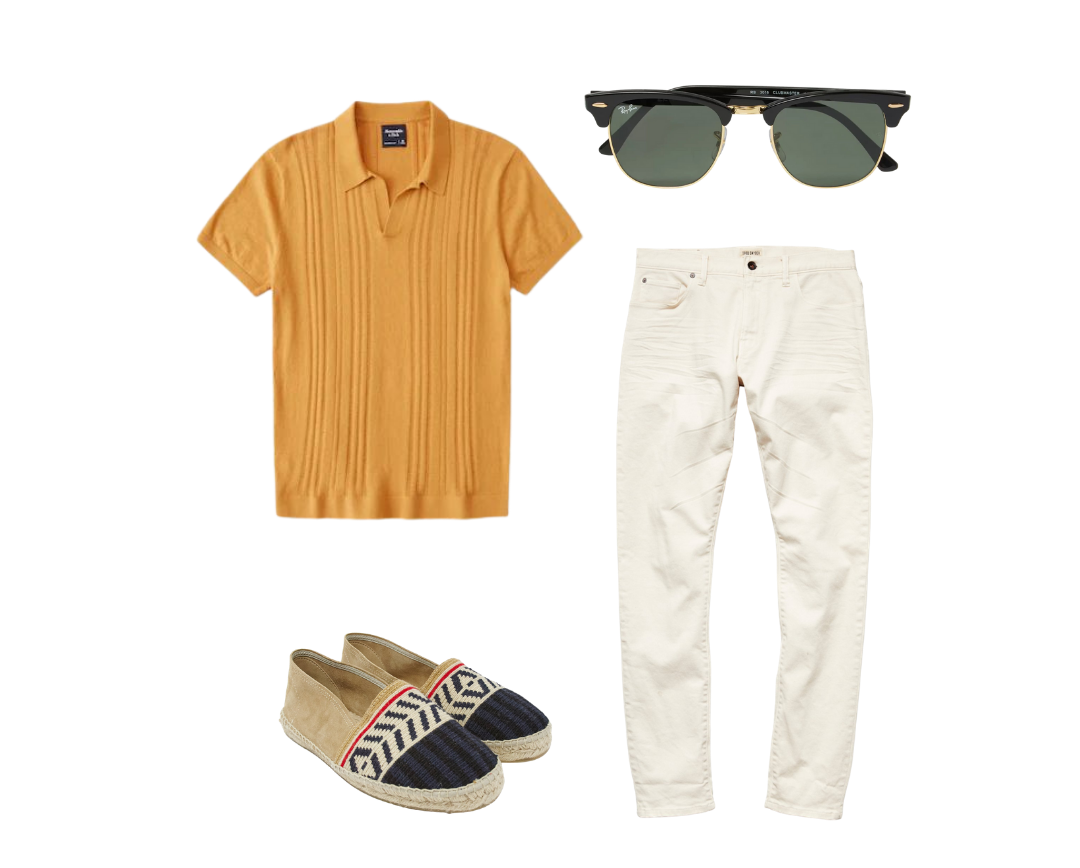 The knit polo shirt: Abercrombie & Fitch
shoes: Guanabana (similar) | pants: Todd Snyder | sunglasses: Ray-Ban
Styling tips: Who's shining brighter: the sun or this fit?
Seriously, though, be sure to throw on some timeless sunnies to protect your eyes. I know we've all been inside for a year…those rays will get you!
RELATED: Everything You've Ever Wanted to Know About Polo Shirts
White jeans and a casual shoe like an espadrille will keep your look cool from the sand to the street.
FOR DATE NIGHT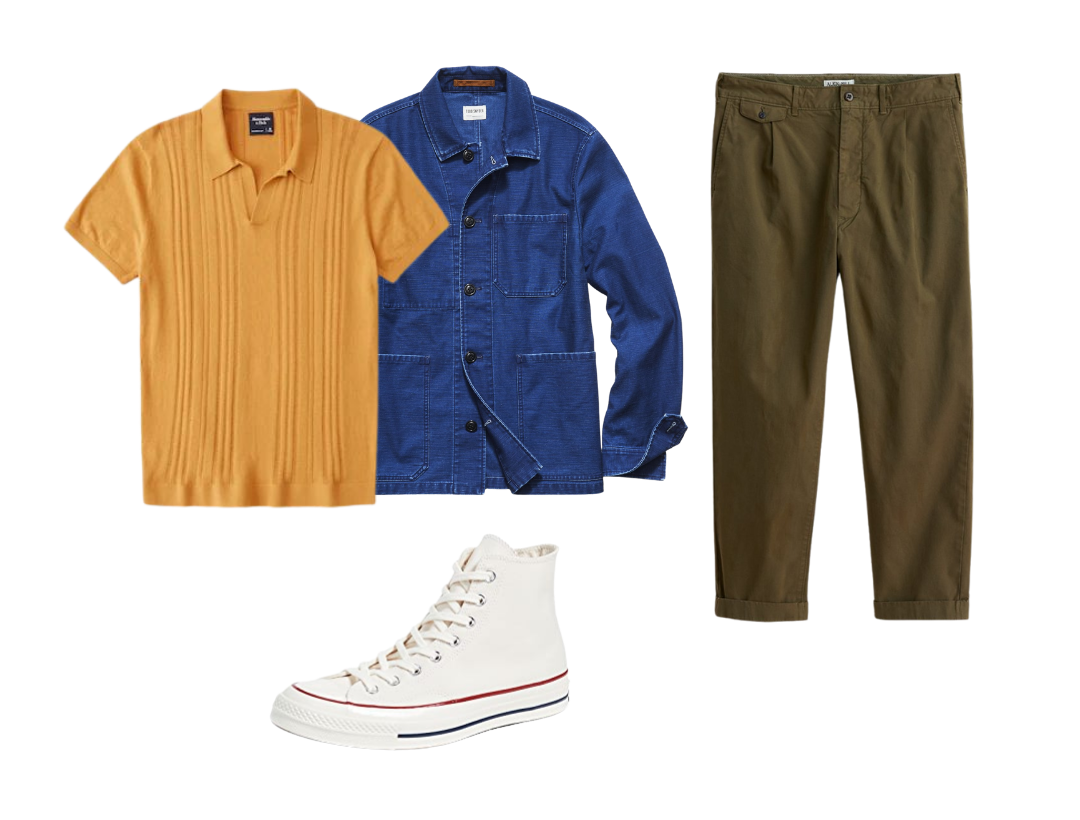 sneakers: Converse | chore jacket: Todd Snyder | pants: Alex Mill
Styling tips: The knit polo adds a luxe touch to your standard workwear-inspired pieces, making them feel special enough for a fun night out.
A bonus? The shirt's golden color looks exceptionally cool with the French blue and olive tones in this combo.
THE TIKI BAR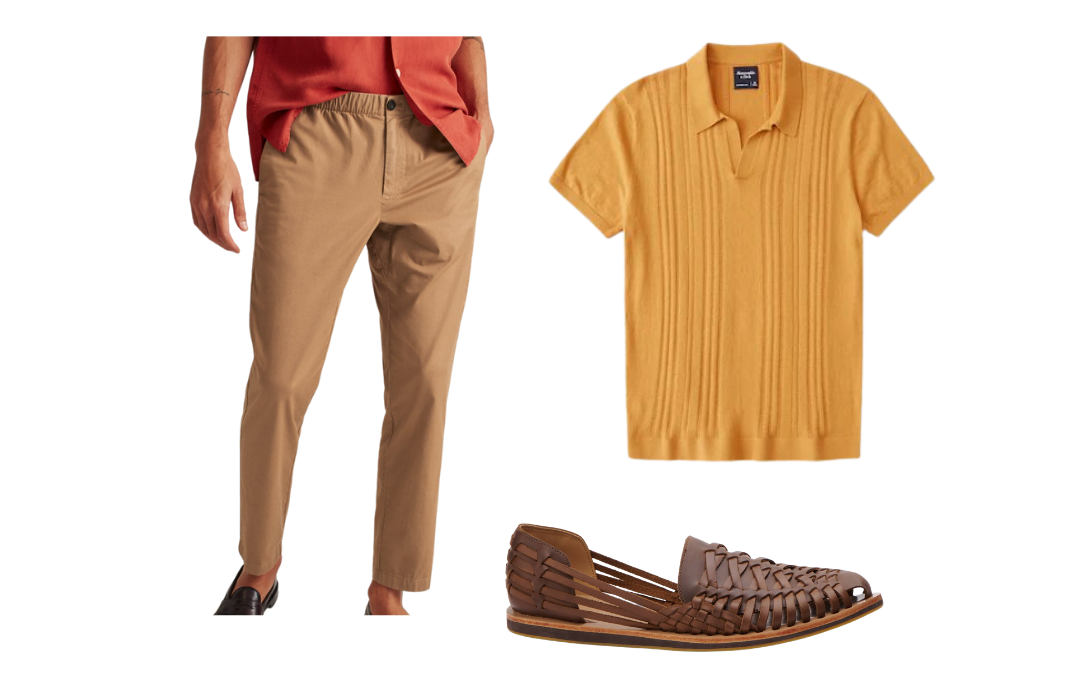 pants: Bonobos | huarache sandals: Nisolo
Styling tips: The vintage vibe of a knit polo is right at home a tiki bar. Add some huaraches to play to the theme—fashion should be fun!—and add some tech pants to keep the look modern.
The whole look says "I'll take a corndog, and we'd like a scorpion bowl for the table."
TO BRUNCH OR AN OUTDOOR WEDDING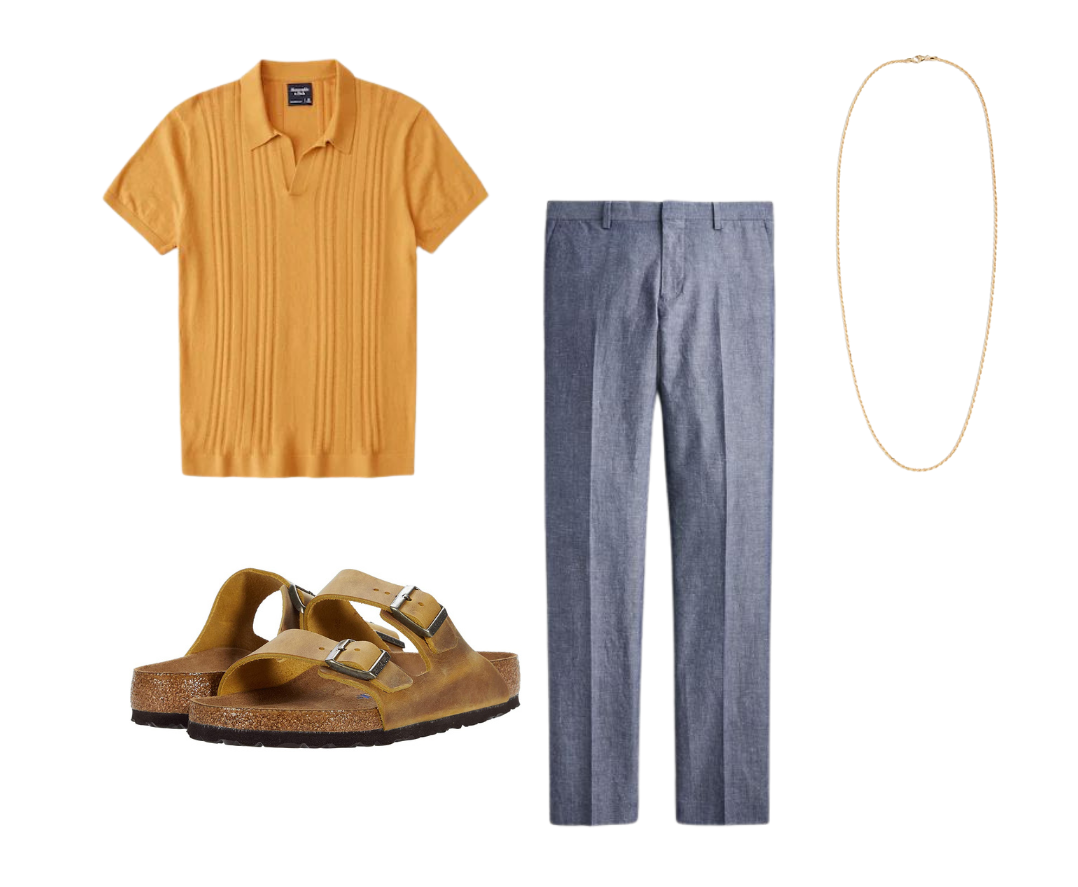 sandals: Birkenstock | pants: J.Crew | necklace: Miansai
Styling tips: Casual elegance works equally well for brunch attire as it does a beach wedding. That's because a knit polo with linen trousers is equal parts dressed up and laid-back.
To keep these pants on the casual side, throw on a gold chain and slip on your Birkenstocks (you've got a pair by now, right?!), you're ready for morning mimosas or a sunset toast to the happy couple.
AT A BACKYARD BBQ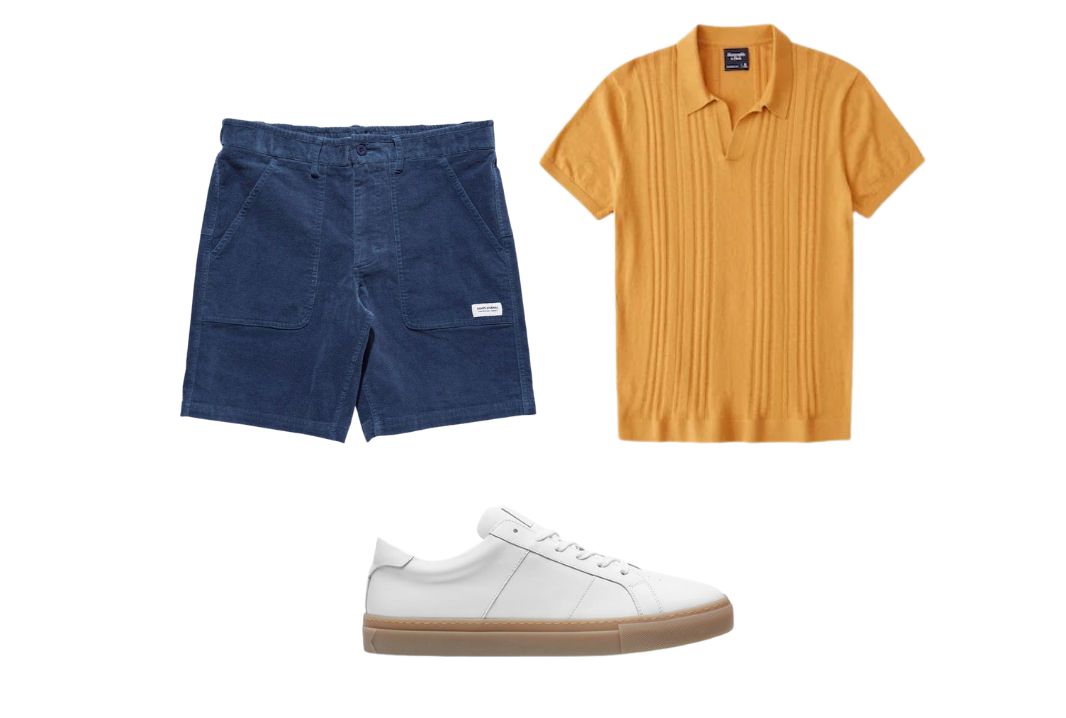 shorts: Banks Journal | sneakers: Greats
Styling tips: Remember the other look that paired well with a corndog? Meet another carnival treat-appropriate option.
These corduroy shorts and classic sneakers would look right at home next to the grill..the only bummer is having to throw an apron over it.

Shop #SGapproved knit polo shirts:
***
Knit polo shirt outfits? Check.
Now, check out more ways to wear espadrilles, white jeans, and drawstring shorts this summer.

Like a phoenix rising from the ashes, Gabi Meyers went from Team SG's first-ever intern to a trusted fashion editor and stylist. She currently lives in Chicago with a very cute dog.