Style
5 Days 5 Ways: What to Wear with White Jeans
It's time to climb aboard the white jeans train, guys
By Gabi Meyers
If you can't tell by now, I am the official conductor of the Guys Sporting White Pants train. It's true; I have a little hat and everything. I've shown you how to rock white cords in winter, and why it's totally cool to wear white jeans in between seasons when it's not exactly warm, but not cold yet, either. Now, I want to show you what to wear with white jeans in the summer. If you haven't climbed aboard yet, well, the train's leaving the station, so it's time to get onboard.
Below, what to wear with white jeans mens style inspiration: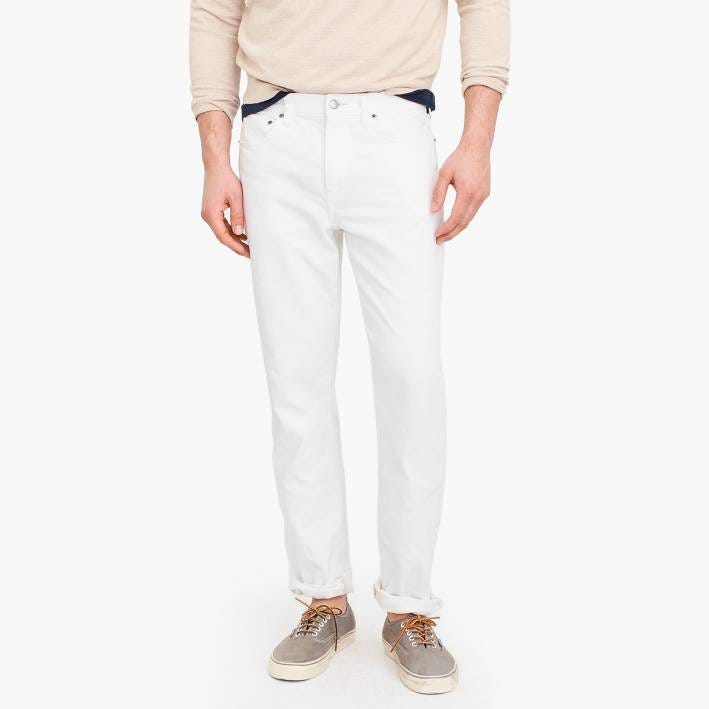 MONDAY
denim jacket: Topman, $75 | sunglasses: Oliver Peoples, $375 | shirt: Land's End, $25
shoes: Converse, $50 | socks: Stance, $12 | wallet: Hugo, $75
>> Check out the guys' guide to wearing white
TUESDAY
shirt: Bonobos, $88 | shoes: Cole Haan, $110 | watch: Ted Baker, $165
belt: Ralph Lauren, $85 | bracelet: Giles & Brother, $165 | socks: Pair of Thieves, $6
WEDNESDAY
 blazer: Ilaria Urbinati for StrongSuit, $695 | shirt: Ted Baker, $115
pomade: Baxter of California, $22 | pocket square: Brooks Brothers, $65 | shoes: Kenneth Cole, $88
THURSDAY
sweater: Brooks Brothers, $209 | shirt: Onia, $85 | glasses: Warby Parker, $95
watch: Emporio Armani, $195 | slip-ons: M. Gemi, $248 | cologne: Gucci, $72
>> See 5 ways to wear a white tee
FRIDAY
shirt: Fred Perry, $85 | hat: Kangol, $55
bracelet: Miansai, $74 | cologne: Le Labo, $80 | shoes: Soludos, $65
// SHOP MORE WHITE JEANS //
TELL ME:
ARE YOU A WHITE JEANS GUY, OR NAH?
>> Discover more ways to wear white jeans in your wardrobe