Guys, Here's How to Wear White Jeans in Summer
Climb aboard the white jeans train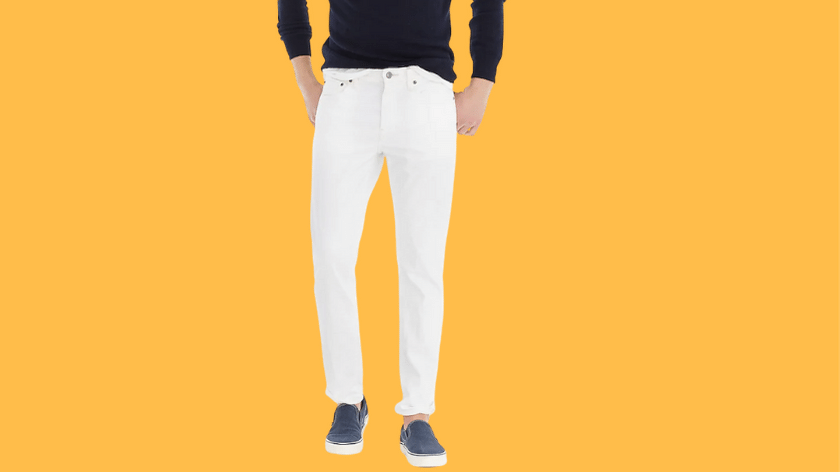 If you can't tell by now, I am the official conductor of the Guys in White Pants train. It's true! There's a fun coveralls outfit with a little hat and everything. I've shown you how to rock white cords in winter, and why it's totally cool to wear white jeans in between seasons when it's not exactly warm, but not cold yet, either. Now, I want to show you how to wear white jeans in summer.
If you haven't climbed aboard yet…well, the train's leaving the station.
You can wear white jeans any time of year, but they really shine in warm weather.
If you've been holding back from picking up a pair. Read on to see how to pull them off this summer.
How celebrities wear white jeans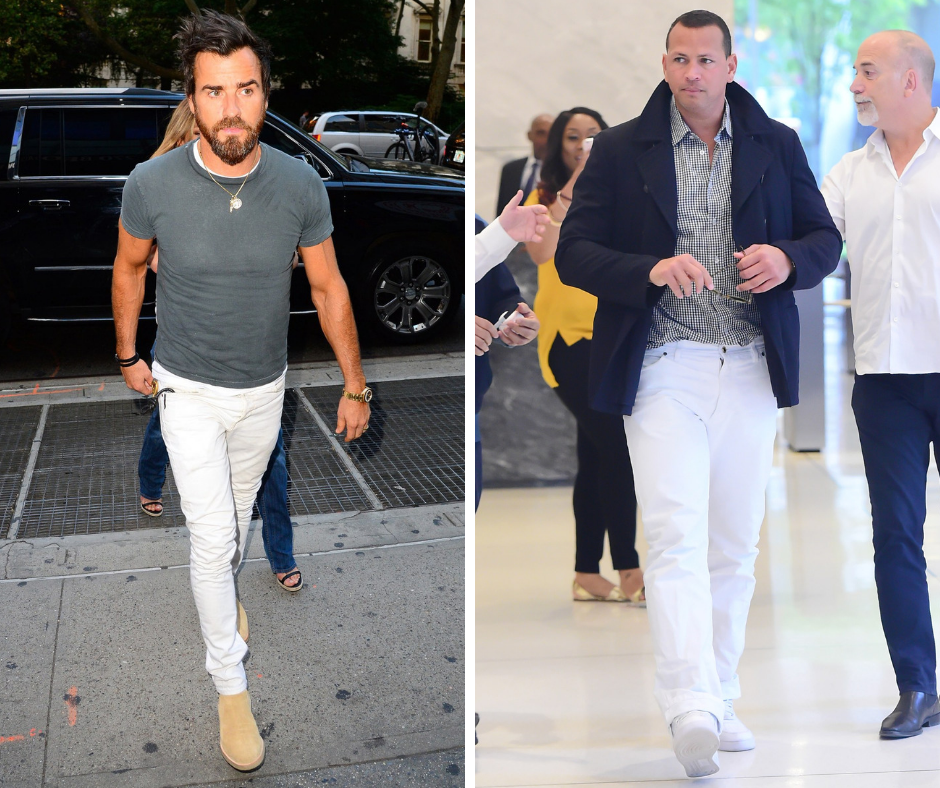 Maybe it's because they've got more money to spend on clothes and aren't afraid to ruin a pair of pants with one dropped hot dog, but it feels like celebrities have really embraced the white jeans in summer trend.
You can dress white jeans down like Justin Theroux, with a simple t-shirt and boots. Or you can elevate your white jeans (and, ahem, wear them a bit looser) like A.Rod.
How white jeans should fit
As GQ put it, "Like slip-on sneakers or polo shirts, white jeans are a summer style essential." And just like with any other wardrobe staple, it's worth taking the time to find the best style for you.
1. Go for a densely woven fabric.
Think about your favorite pair of jeans. They might be broken in, but you probably wouldn't describe the fabric as "thin," would you? The same weighty feel should apply to your white jeans, too. You'll feel more comfortable (like you're just wearing a regular pair of blue or black jeans). Also, your drawers won't show through.
2. White doesn't have to mean BRIGHT WHITE.
Sure, there are jeans out there the color of a supermodel's cosmetic dentistry-enhanced smile, but most live somewhere on a spectrum. Don't get too hung up on the shade name (eggshell, off-white, the list goes on…). No matter what exact hue you buy, you'll treat these white jeans the same. Like the neutral bottoms they are.
3. Err on the side of slim.
Of course, we're always in favor of a slim silhouette for guys at SG HQ, and that advice holds extra true when it comes to light colors, which can tend to make you look wider.
Below, how to wear white jeans in summer: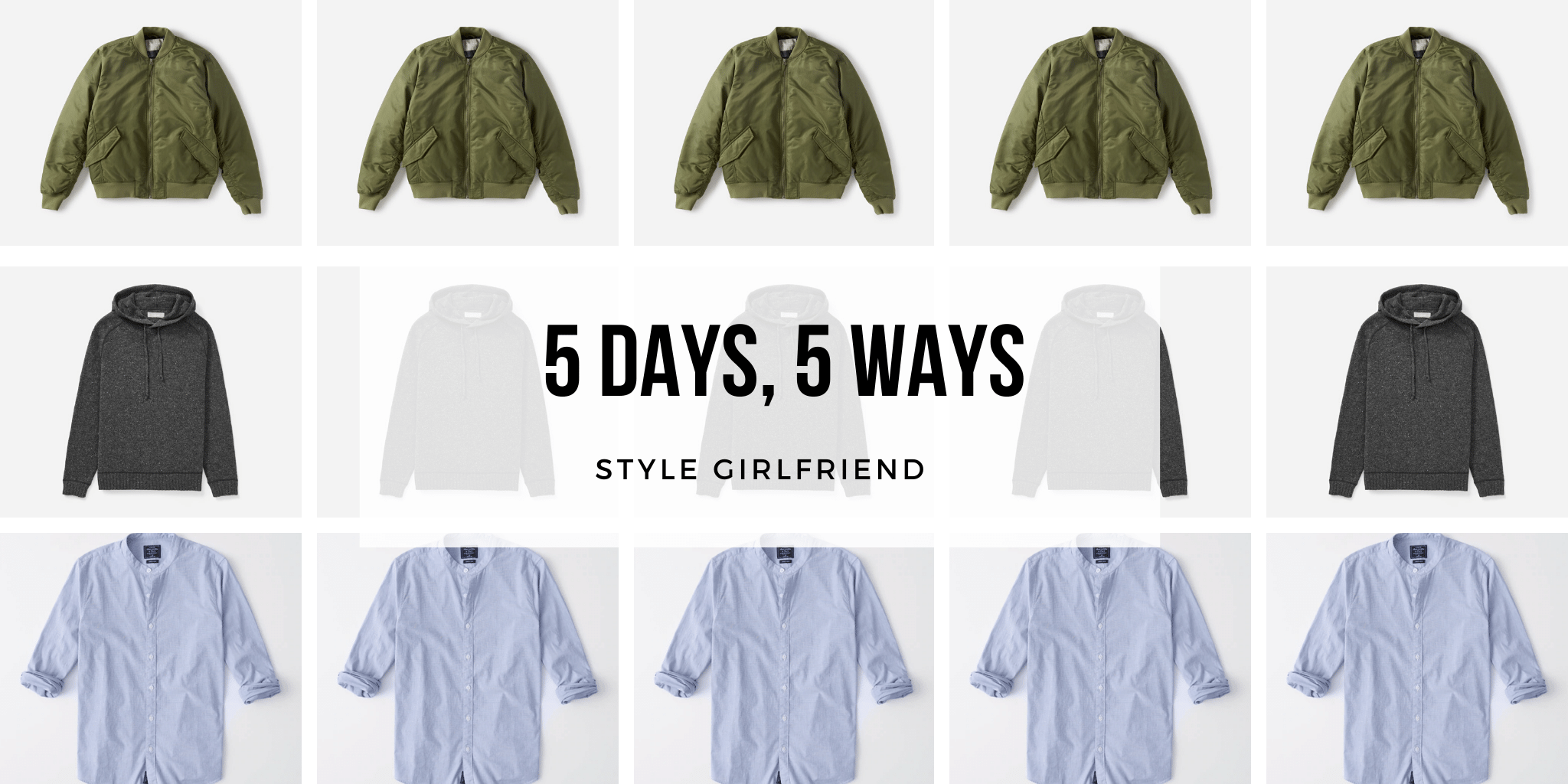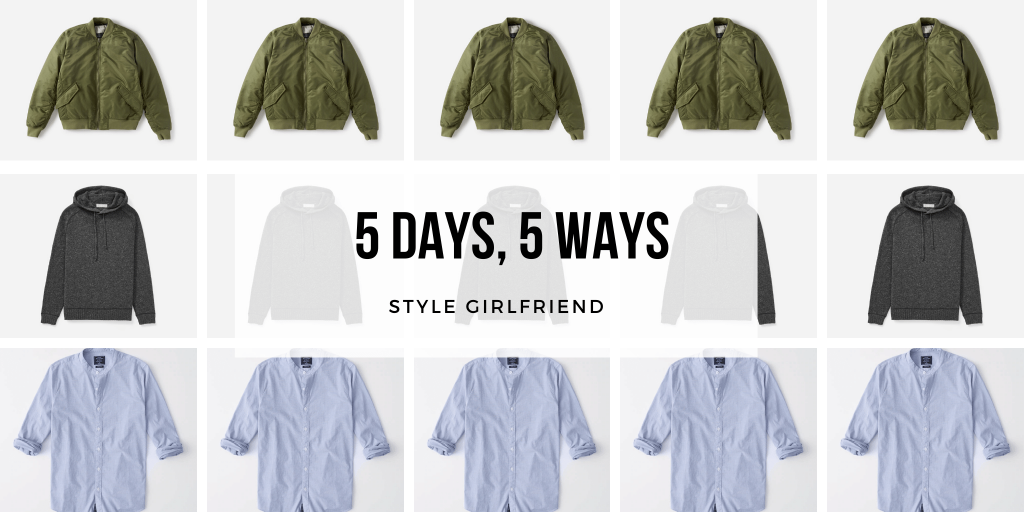 MONDAY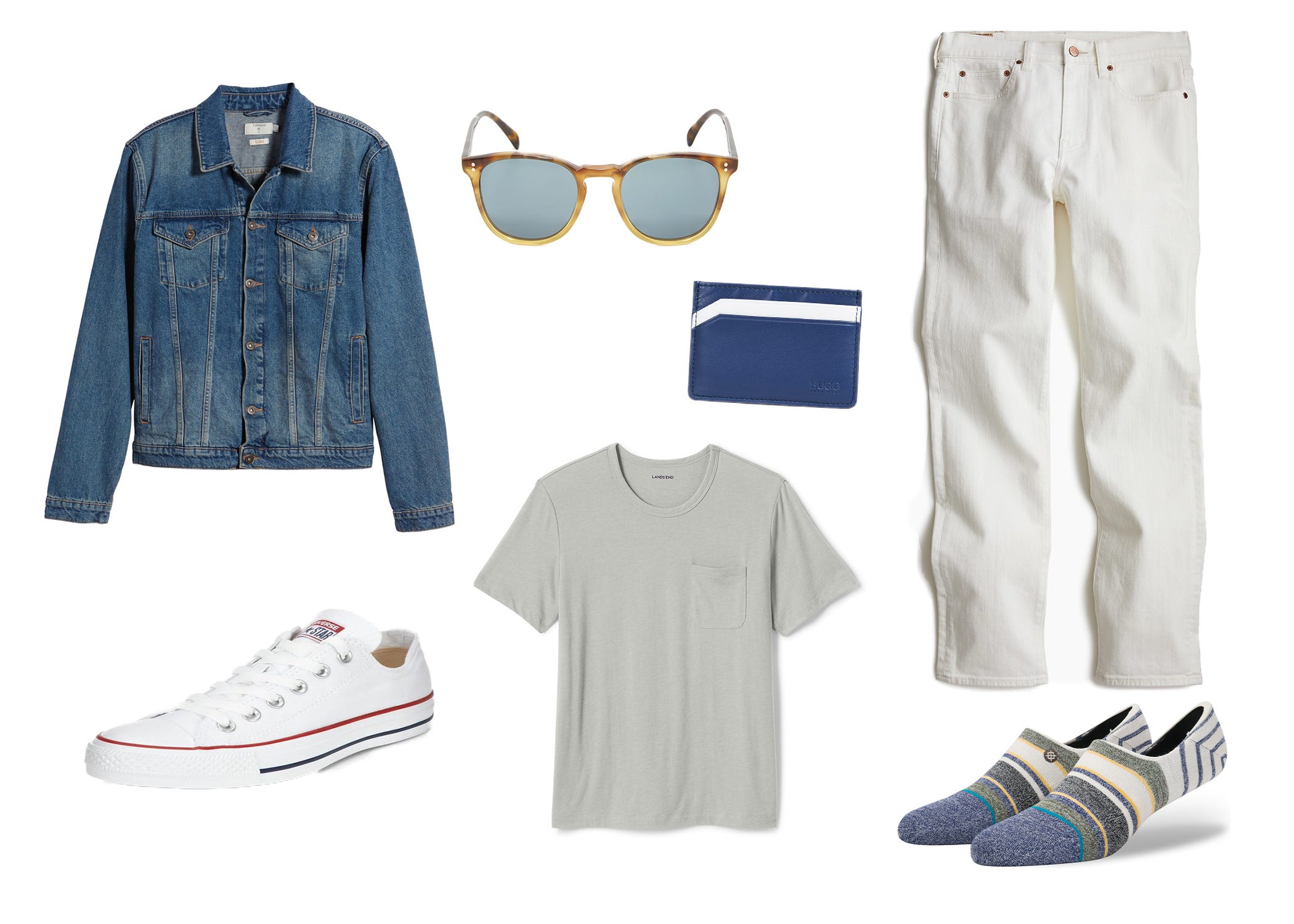 shoes: Converse | socks: Stance
SG Says: Don't be afraid to wear denim on denim, so long as they're different shades. A jean jacket makes a great lightweight topper to an easy-breezy t-shirt and jeans outfit when the sun goes down.
The folks over at FashionBean agree that a tonal look like the one above is a good move. With one warning: "If white steers a little too close to your skin tone, venture off-white until you've reached a hue that provides some contrast, or risk looking like a walking tube sock."
>> Check out the guys' guide to wearing white
TUESDAY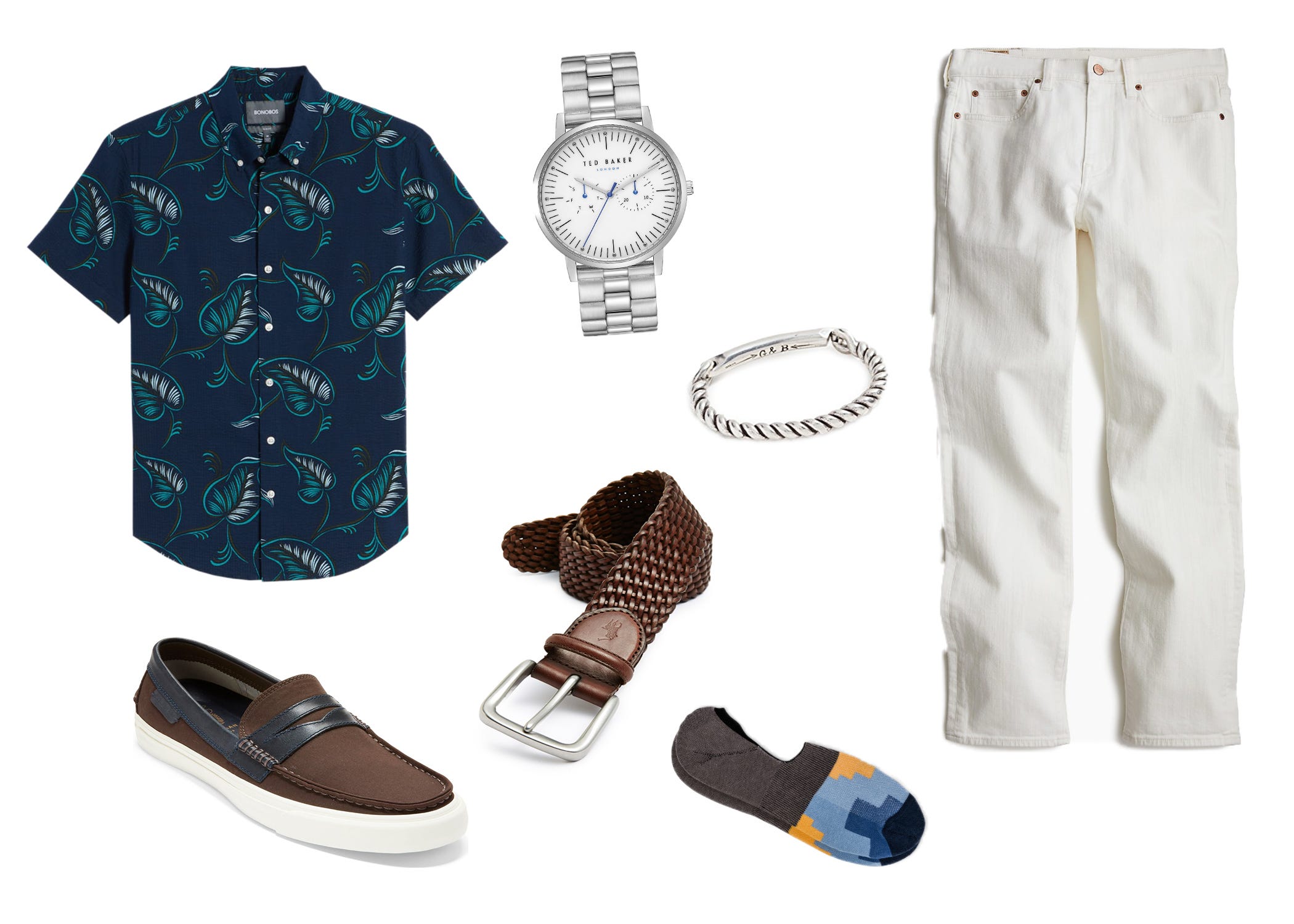 belt: Ralph Lauren | bracelet: Giles & Brother
SG Says: A short-sleeve button-down is an easy way to dress your jeans up a little. With a pair of boat shoe-esque penny loafers, you're good to go for brunch with your wife's parents, or an afternoon booze cruise.
WEDNESDAY
pomade: Baxter of California | pocket square: (similar)
SG Says: As The Trendspotter puts it, "White jeans are perfect for creating a stylish, smart casual or semi formal outfit." Wear your white jeans with an unstructured blazer in a summer-y color, and you're ready for an outdoor cocktail party.
THURSDAY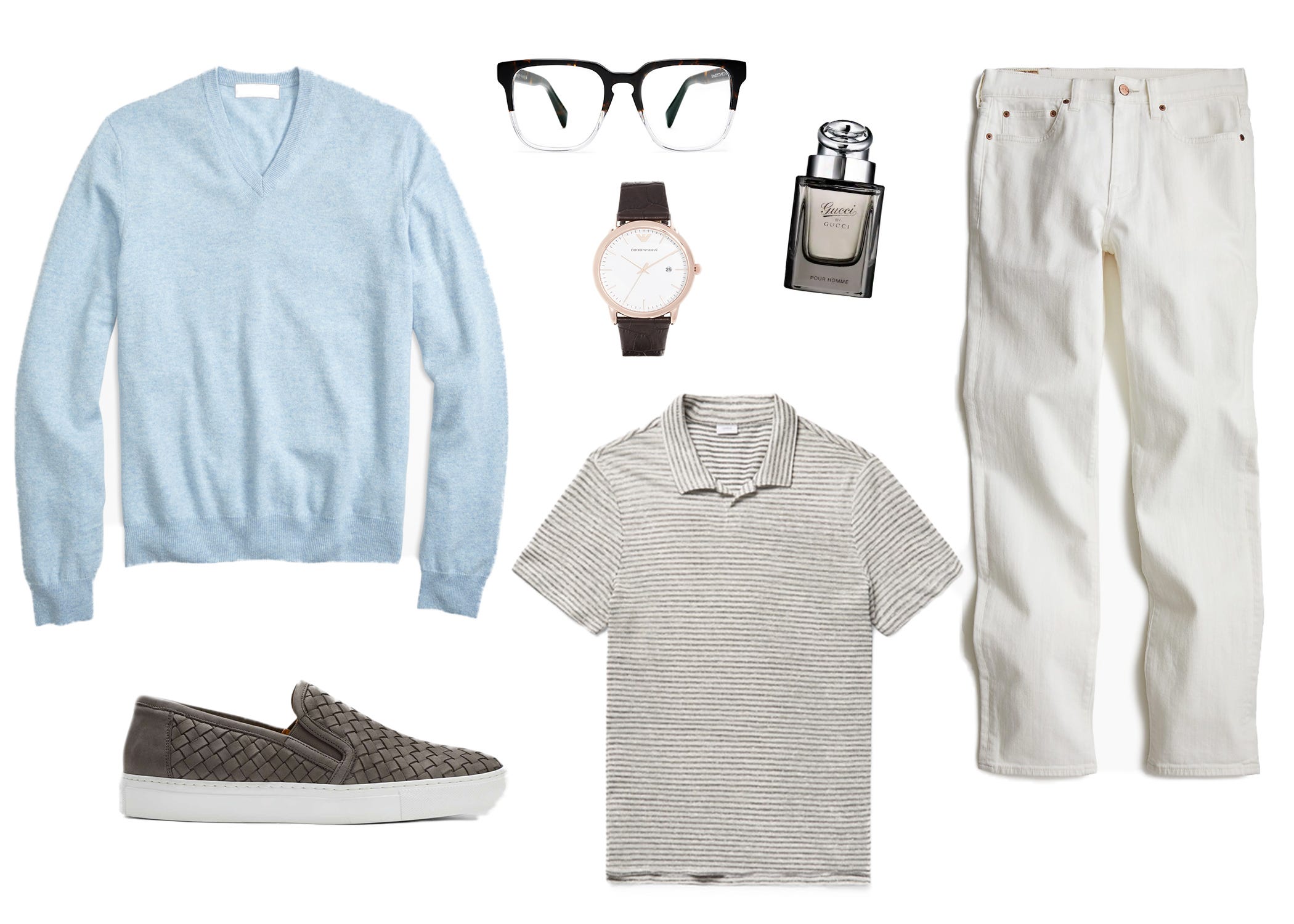 sweater: Nordstrom | cologne: Gucci
SG Says: A v-neck sweater and polo combo might not turn any heads on its own, but when you wear 'em with white jeans?
Suddenly you're approaching George Clooney at Lake Como with Amal and the twins territory. We're talking: Mature, sophisticated, grown man chic.
>> See 5 ways to wear a white tee
FRIDAY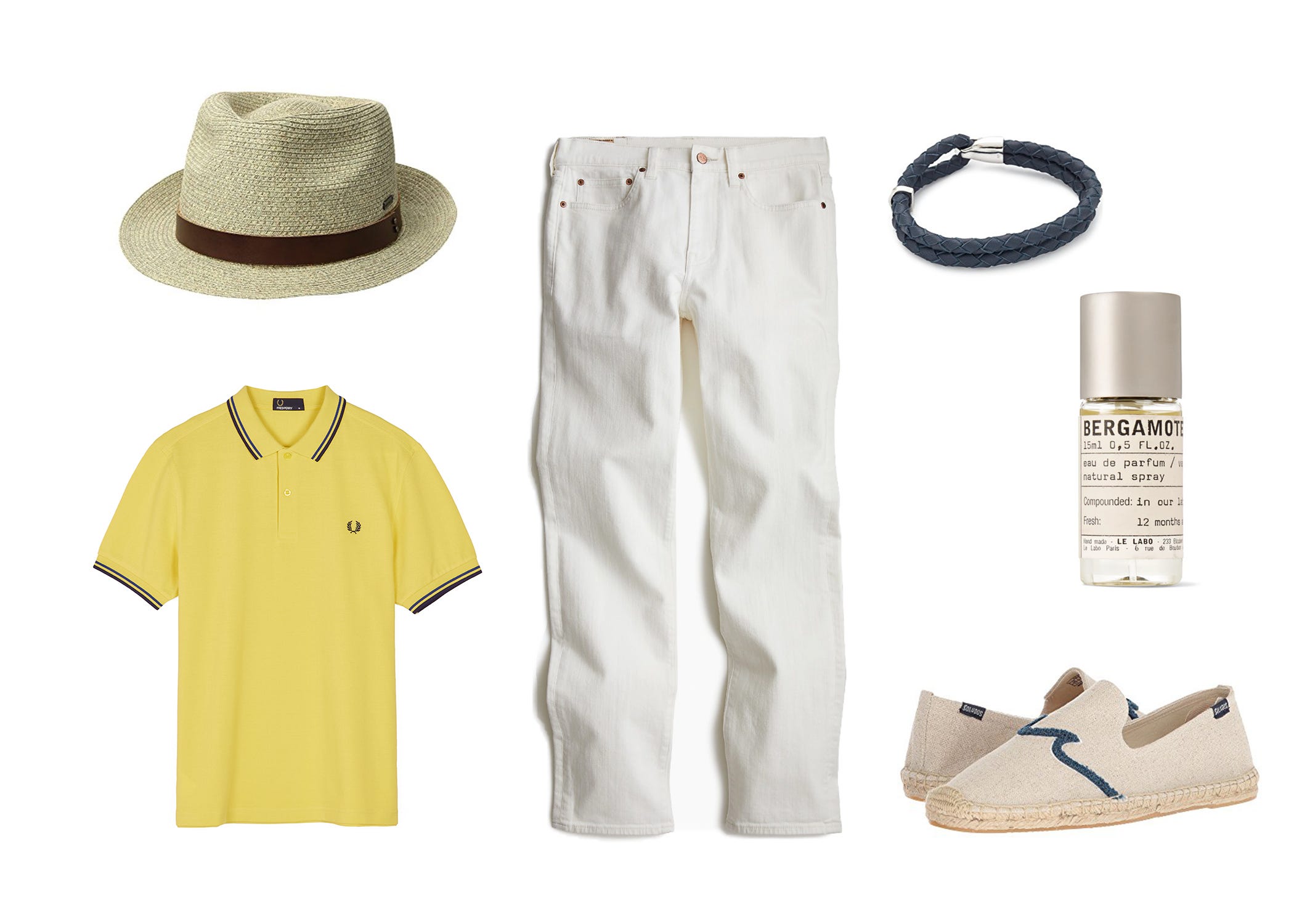 polo: Fred Perry | bracelet: Miansai | shoes: (similar)
SG Says: Of course, when the weather's really brutal, you'll want to keep the polo, skip the sweater, and add a hat.
With espadrilles as comfy as a pair of sneakers, you'll look ready for just about anywhere the summer day takes you.
SHOP MEN'S WHITE JEANS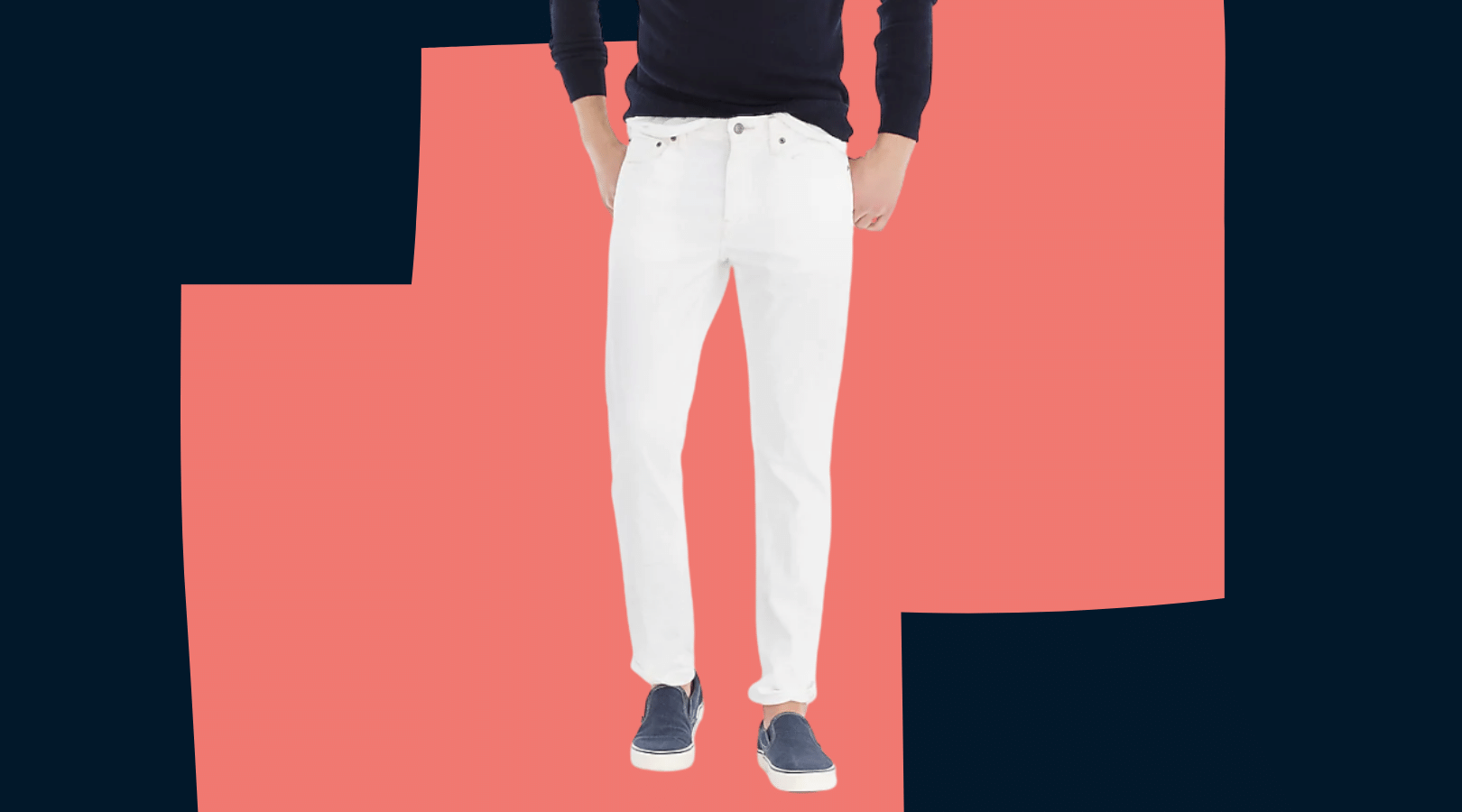 SG Says: The 484 style above is J.Crew's slimmest fit, for guys who like their jeans tailored, but not skinny.
This pair has a small amount of stretch, so you don't have to be too precious with them.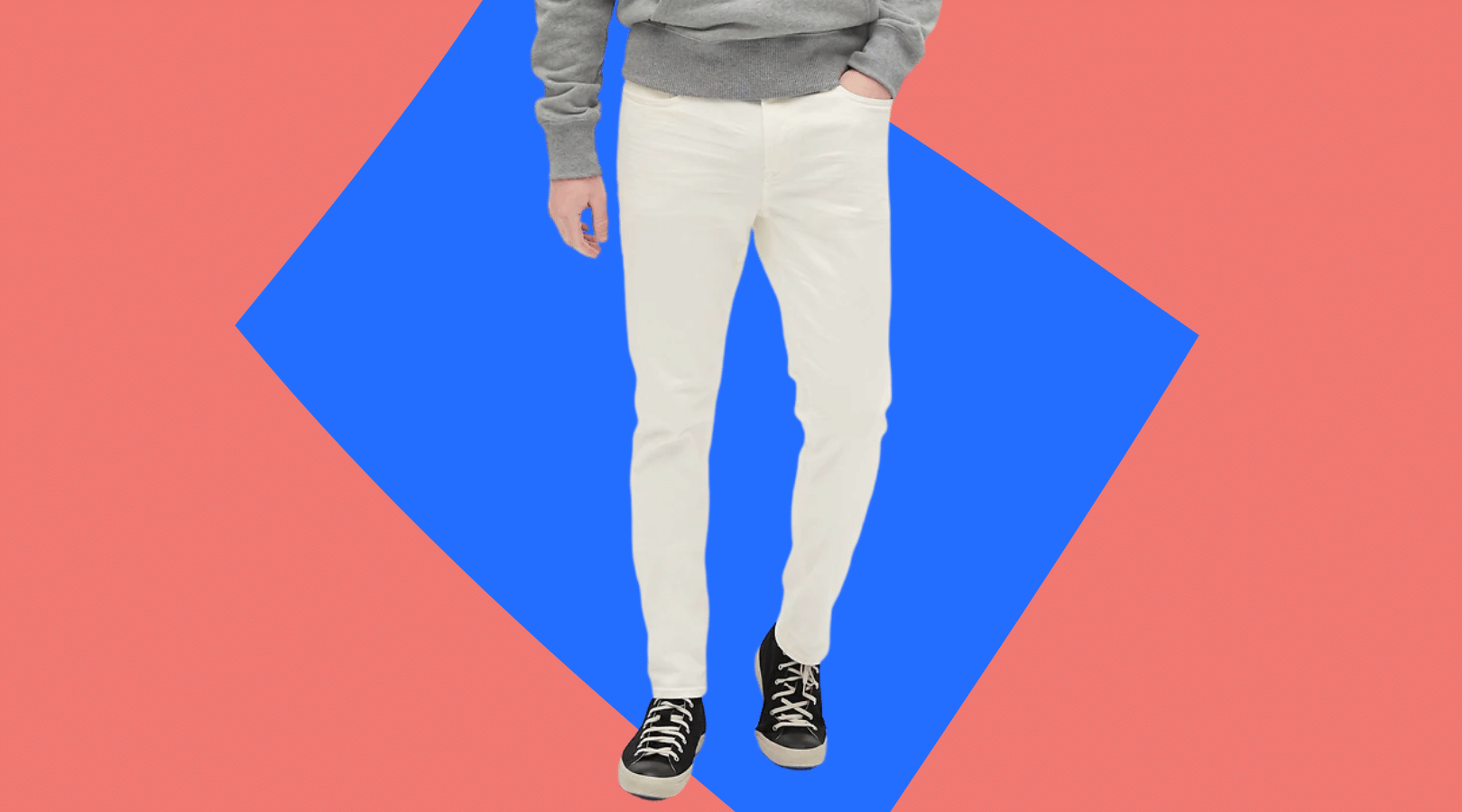 SG Says: This pair from Gap is great because it's not a blinding, B-list celebrity who just got veneers-white. It's more of a cream, which may make those apprehensive about spillage feel a little more calm.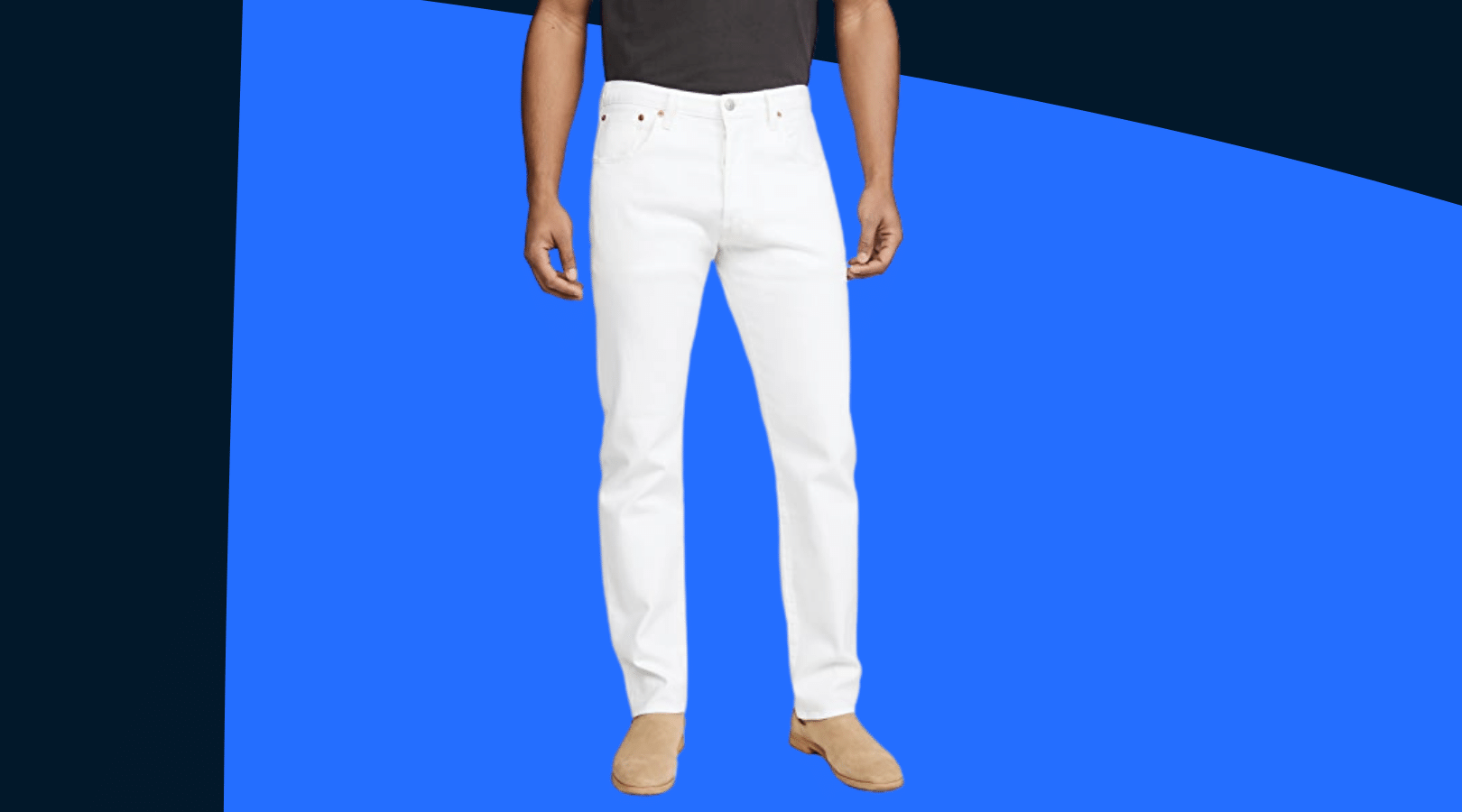 SG Says: The lightweight stretch denim of this Levi's Red Tab pair makes it a steal at twice the price.
SG Says: These Old Navy jeans (in "ecru") offer a slim, yet relaxed fit, with more room up top then tapering down at the leg opening. The frays and rips give the pair a lived-in feel that looks great with the ankles turned up.
***
Want more summer style tips? Check out five ways to wear linen shorts and the best swim trunks under $100

Like a phoenix rising from the ashes, Gabi Meyers went from Team SG's first-ever intern to a trusted fashion editor and stylist. She currently lives in Chicago with a very cute dog.