How to Wear Linen Shorts: 5 Outfits for Guys
Lightweight, don't wait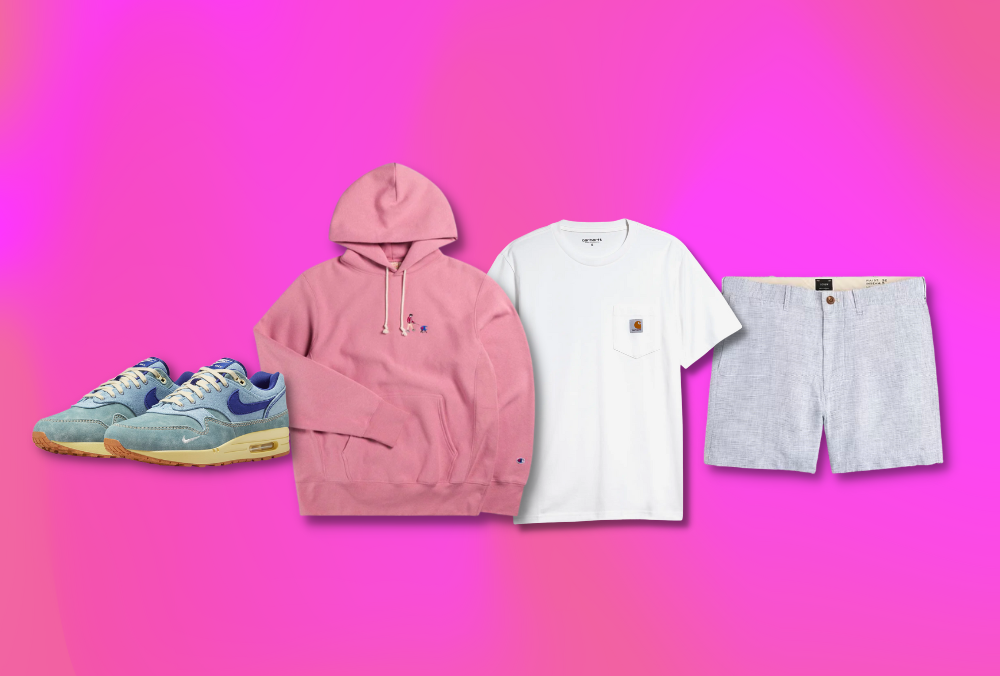 Consider this Team SG's annual reminder that linen is not reserved for '90s boy band members in a music video set on a beach for a sad song about losing the girl, and how much they want her back, baby.
No, wearing linen is for every guy. Singing or dancing chops not required!
The way to avoid looking like you should be performing dance choreography by the ocean while wearing linen is to 1) not wear it head to toe. And 2) make sure your linen pieces are tailored closer to street clothes than billowy vacation wear.
A great place to jump into wearing linen this summer? Linen shorts.
Why wear linen shorts?
Yes, cotton chino shorts are right there. And I'll be honest; I'm not even mad at the return of jorts in the year of our Lord 2023.
But linen! You can't go wrong when the heat is H O T.
Linen shorts are among the lightest, most summer-y bottoms in your closet. You guys are no strangers to this style superhero of a natural fiber that just exudes ease…you can wear literally linen anything (like say, a linen suit!) and feel great in 100ºF+ weather.
(Pssst, if you want to keep the wrinkles to a minimum while keeping easy breeziness at its max? Opt for a linen-cotton blend.)
How to wear linen shorts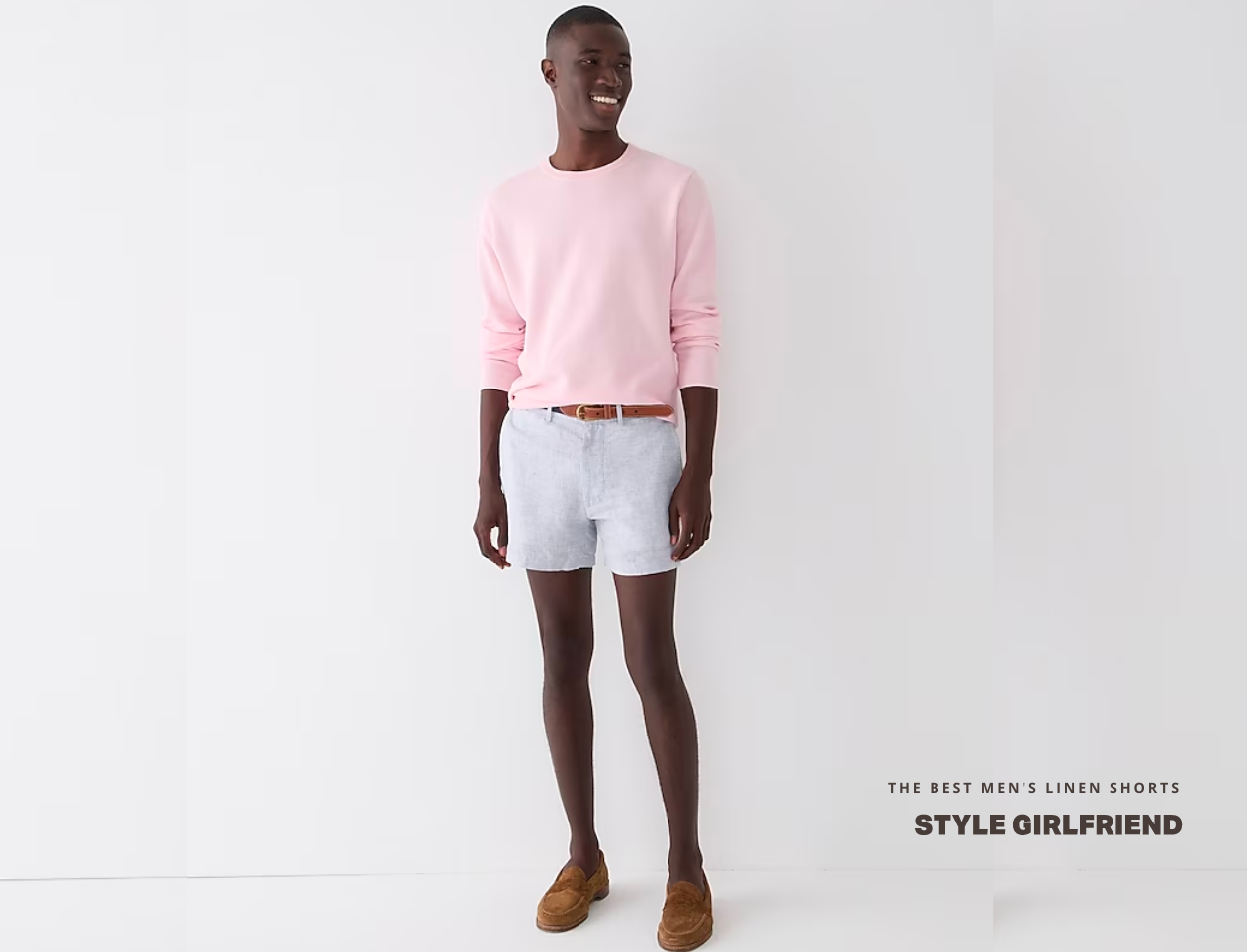 A lot of guys want to know how to wear white linen shorts for men, but if this is your first ride on the linen-go-round, I recommend a hue that's a few notches away from pure white, just to be safe.
Like these J.Crew linen shorts bad boys. These light, light blue linen shorts are durable, cool to the touch, and look even better with a few wrinkles. And the slim fit ensures a clean, tailored look all summer long.
What shoes to wear with linen shorts?
As you'll see in the outfits below, linen shorts go with all kinds of summer shoes, from espadrilles to sneakers to sandals and more.
Shop a few of our favorite shoes to wear with men's linen shorts:
Below, 5 linen shorts outfits for men to wear this summer:
MONDAY
Shop the outfit:
SG Says: Wear your linen shorts with a lightweight striped sweater and some espadrille-like slides.
TUESDAY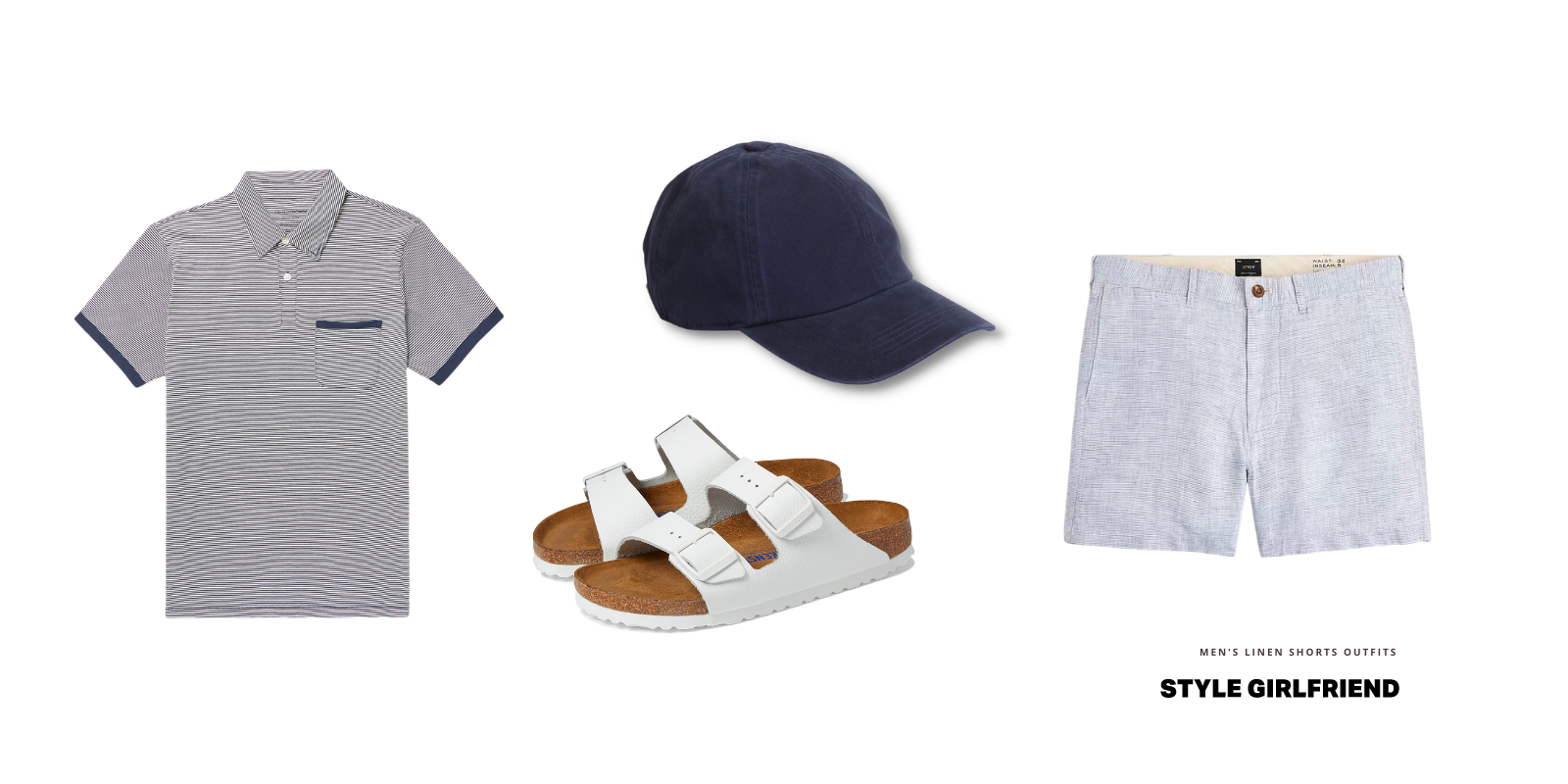 Shop the outfit:
SG Says: Lean into the off-duty vibes of linen with a nautical-adjacent look. This striped polo from Outerknown says, "I'm about to set sail" while the white Birks say "And I brought the White Claws."
WEDNESDAY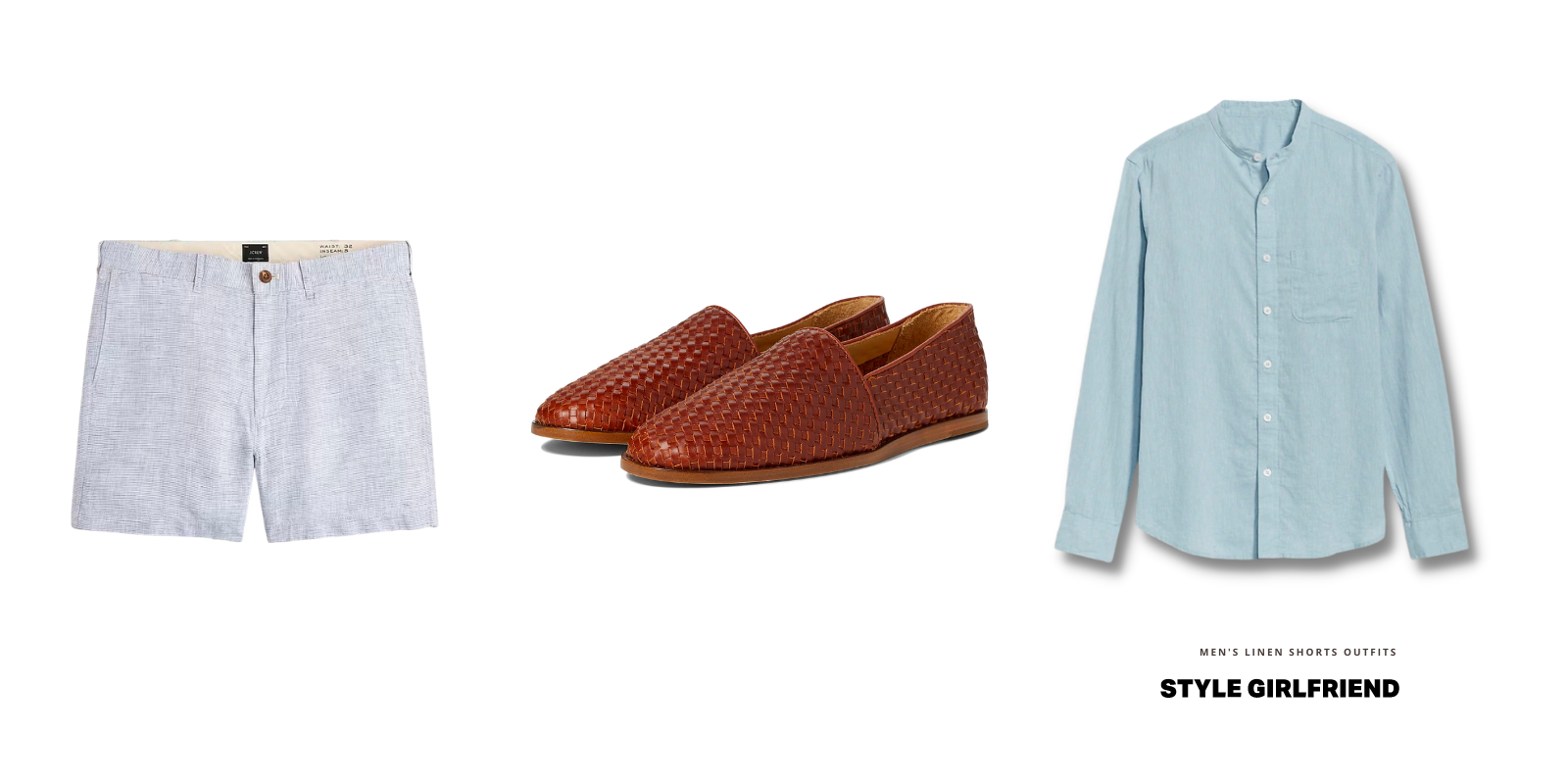 Shop the outfit:
SG Says: Give your linen shorts an upscale edge with woven leather shoes and a band collar shirt.
THURSDAY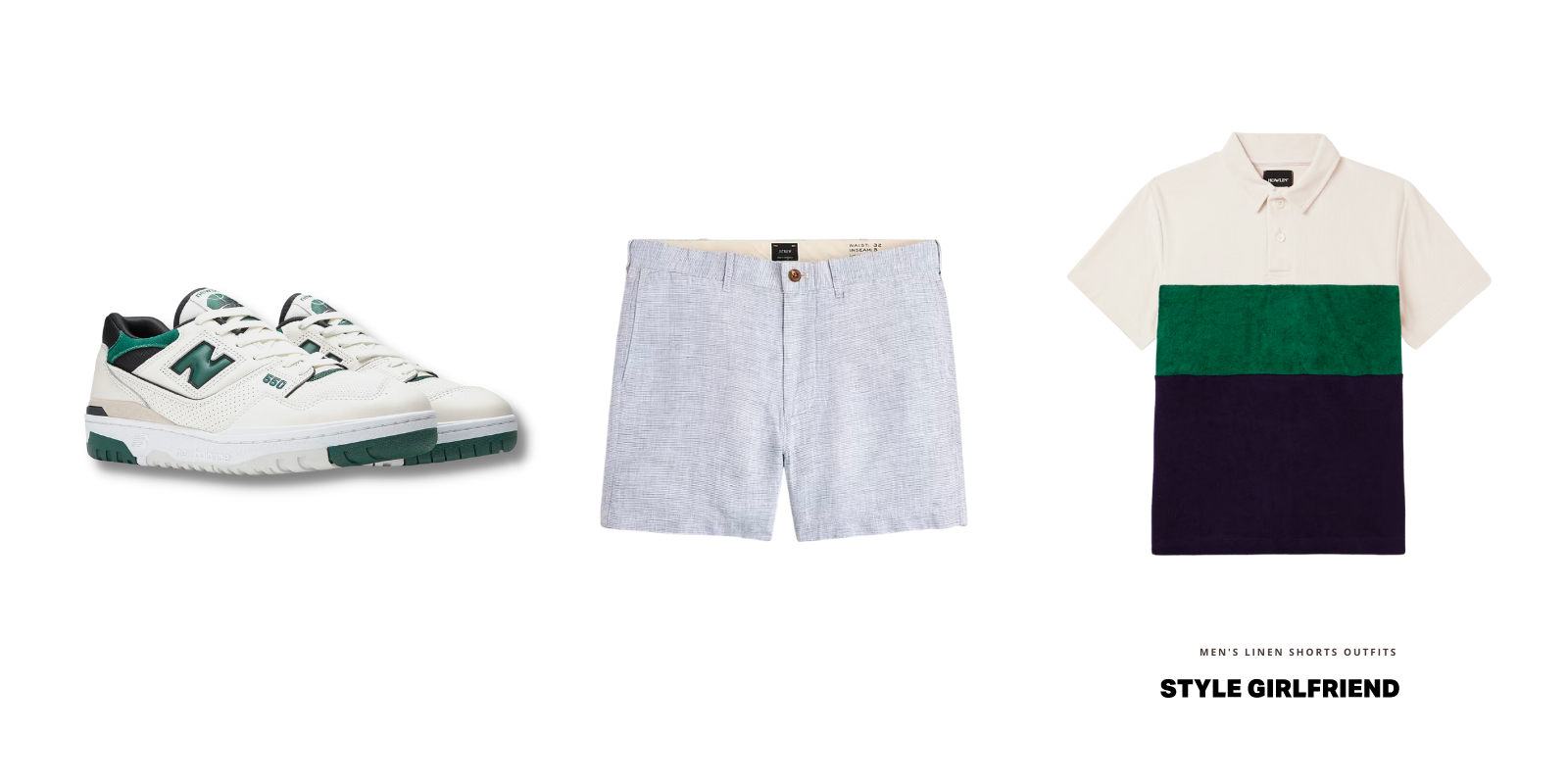 Shop the outfit:
SG Says: I love the tennis-y vibe of this outfit, while the texture on this colorblock polo shirt keeps things from looking like you should have a racquet in your hand.
FRIDAY
Shop the outfit:
SG Says: You will never catch me saying no to a bubble gum pink hoodie, like this Champion collab with cool guy brand Percival.
Shop #SGapproved linen shorts
These men's linen shorts are affordable, slim fit, and will have you feeling comfortable and confident all summer long.
***
Want more men's shorts outfit ideas?
Check out these summer style features from Style Girlfriend:

Like a phoenix rising from the ashes, Gabi Meyers went from Team SG's first-ever intern to a trusted fashion editor and stylist. She currently lives in Chicago with a very cute dog.