5 Days, 5 Ways: How to Wear Linen Shorts (Updated!)
lightweight, don't wait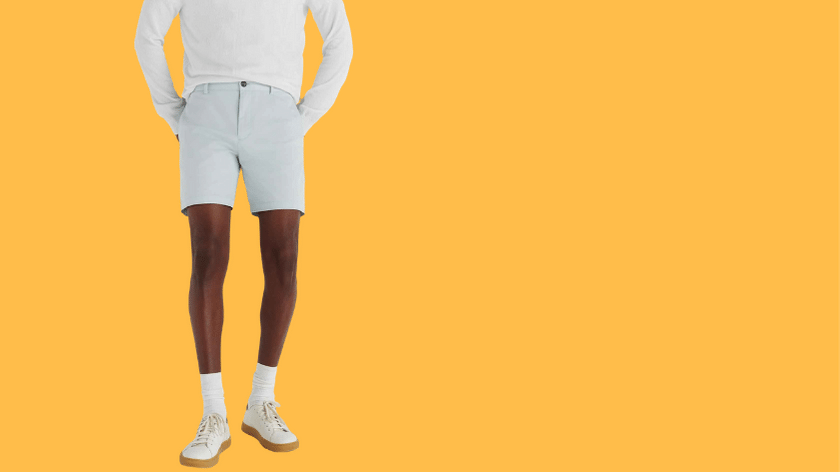 Summer sure came up quick this year, didn't it? It officially kicked off on Saturday, but I think all those months of, y'know, not leaving our homes meant the warm weather really took us by surprise. It did for me, anyway. So, to celebrate, it's time to jump right into getting your summer style game in order. Let's talk how to wear linen shorts five different ways.
Why wear linen shorts?
Yes, cotton chino shorts are right there. And I'll be honest; I'm not even mad at the return of jorts in the year of our Lord 2020.
But linen! You can't go wrong when the heat is H O T.
Linen shorts are among the lightest, most summer-y bottoms in your closet. You guys are no strangers to this wunderkin of a natural fiber that just exudes ease…you can wear literally linen anything (like say, a linen suit!) and feel great in 100ºF weather.
That said, if you want to keep the wrinkles to a minimum while keeping easy breeziness at its max, opt for a linen-cotton blend.
Below, how to wear linen shorts five ways this summer:
I chose these bad boys from Club Monaco to style. They're cut from lightweight slub linen and woven in a stylish houndstooth check. The slim fit ensures a clean, tailored look all summer long. (Editor's note: The exact style is no longer available, but this pair is super-similar!)
MONDAY
shirt: 1901 | shoes: Cole Haan | belt: Shinola
SG Says: Wear your linen shorts with a plaid shirt and some sporty dress shoes for a Zoom call you want to feel extra-polished for.
TUESDAY
cardigan: Rag & Bone | popover: Club Monaco
SG Says: Give your shorts a rakish gentleman vibe with a shawl collar cardigan.
Personally, I'm obsessed with the Rag & Bone number above, but it's…not cheap. So here's a less-expensive style from Banana Republic. Pair it with a tone-on-tone popover that complements the shorts.

WEDNESDAY
polo: Theory | loafers: Johnston & Murphy | socks: Gucci
SG Says: Give your linen shorts a Jeff Goldblum–esque edge with some loafers with cool-guy socks and a dark-hued polo.
THURSDAY
denim jacket: Urban Outfitters | espadrilles: Castaner | sunglasses: MVMT
SG Says: Linen shorts are the perfect bottoms to change into post-beach trip with casual summer shoes and light colors on top.
FRIDAY
sweatshirt: Champion | sneakers: Vans  | backpack: Herschel
SG Says: Keep it cool for those suh-hummer niiiiights (Grease? Anybody?) studying the library in a sweatshirt and fun slip ons.
Shop #SGapproved linen shorts
SG Says: This linen-cotton blend from H&M comes in a few colors, including two breezy shades of blue.
SG Says: I love the red threading on this J.Crew pair. At 7″, they're long enough to keep you covered, while still showing some thigh.
SG Says: This "Baxter" style looks structured but feels like wearing butter. You know, if the butter was chilled because it's summer.
SG Says: TA cotton candy pair of pink linen shorts goes great with everything from a casual pocket tee to a more structured OCBD.

Like a phoenix rising from the ashes, Gabi Meyers went from Team SG's first-ever intern to a trusted fashion editor and stylist. She currently lives in Chicago with a very cute dog.