3 Drawstring Shorts Outfits for Guys
Casual spring and summer style for all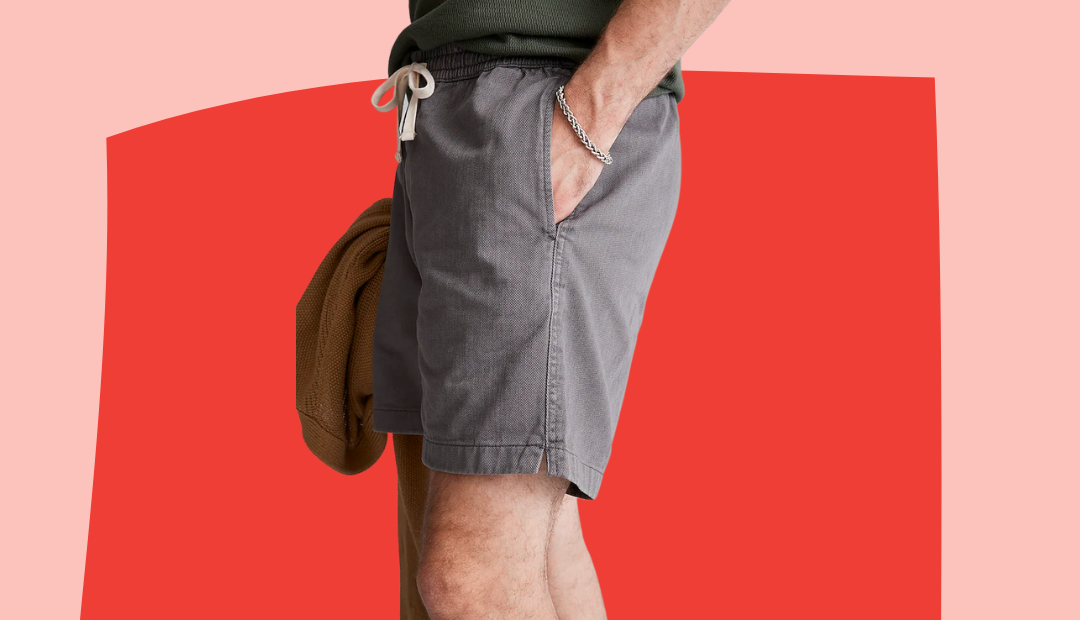 There's no single clothing item that sings, "Warm weather is here!" than shorts.
T-shirts? Love 'em, but you can wear those under a sweater all through winter.
Swim trunks? You've gotta wait 'til summer.
But shorts? Shorts are ready to wear now.
Today, we're spotlighting drawstring shorts. Thanks to their comfortable elasticized waistlines, they're a real fan favorite style of shorts for guys. And hey, us ladies get it! We're not wearing leggings for our health.
You'll find three drawstring shorts outfits in this guide, perfect to wear all spring and into summer.
Casual and comfortable, yet totally stylish, a drawstring short in cotton or twill is the perfect addition to your spring and summer wardrobe.
Below, 3 drawstring shorts outfits for guys to wear: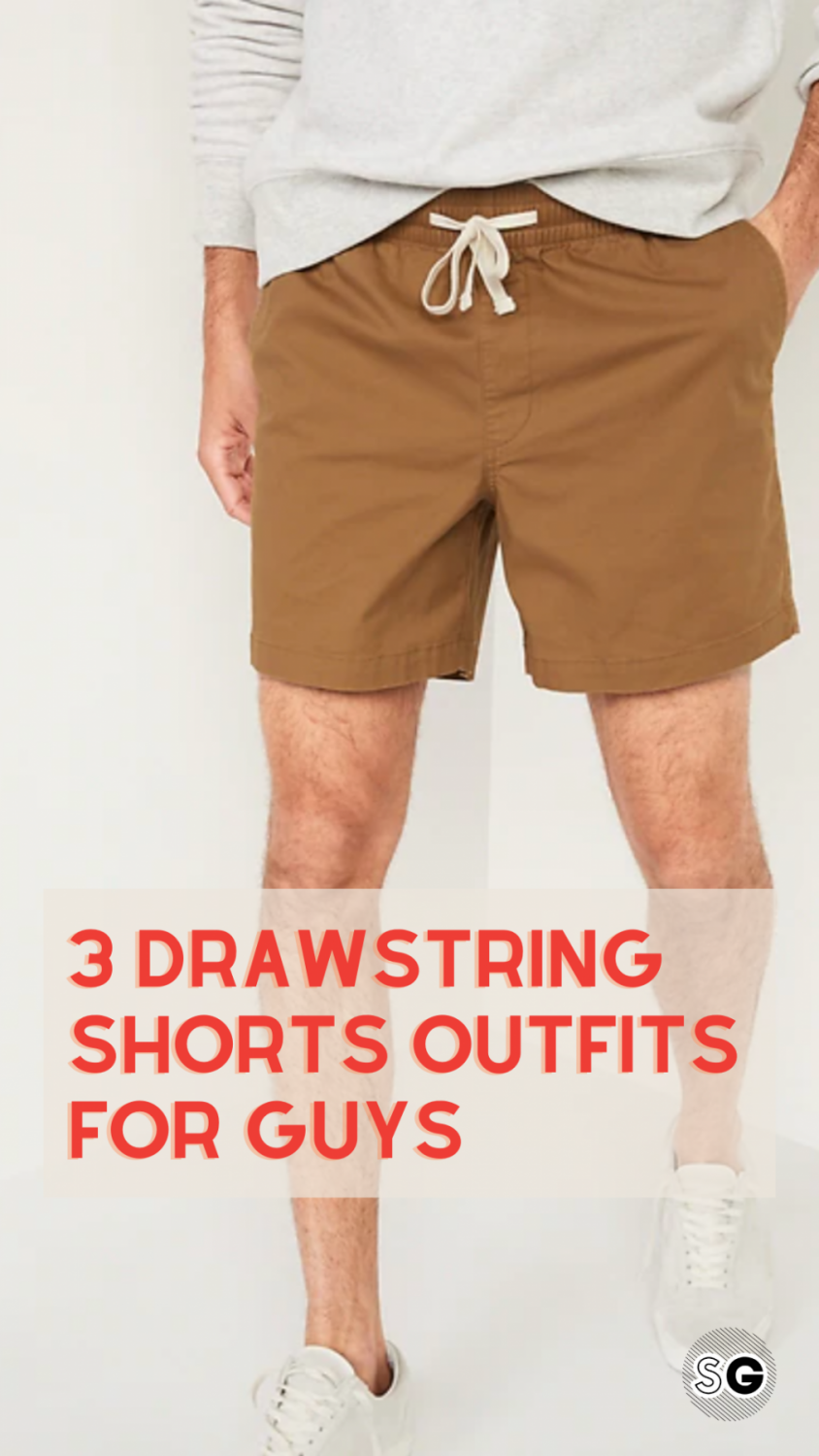 for WFH
shirt: Everlane | sweatshirt: Todd Snyder | shorts: Save Khaki | socks: Allbirds | sneakers: Saucony
Wear it Well: When it comes to the right occasions for drawstring shorts outfits for guys, a regular ol' work from home workday is pretty much perfect.
A lived-in sweatshirt over a short-sleeve Oxford shirt is a perfectly put together combination for Zoom calls, while the corduroy shorts look better than sloppy sweatpants if you need to dash out.
RELATED: 15 #SGapproved t-shirts for 2023
As for the footwear? I love these Saucony sneakers.
Don't be afraid to pair them with tall crew socks. In 2023, we're skipping the no-show socks in favor of something more visible. Yes, I said it!
Shop corduroy drawstring shorts:
weekend vibes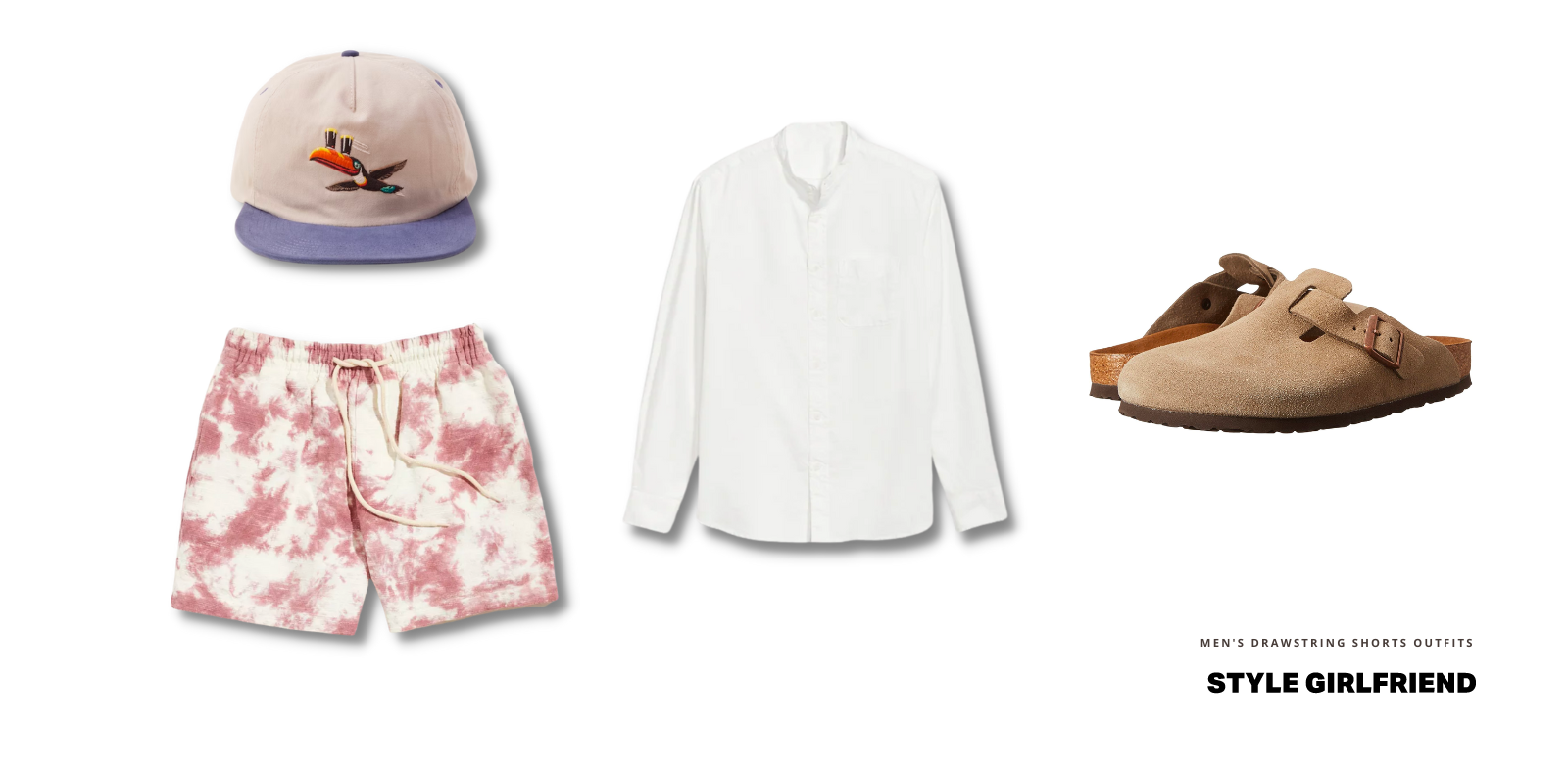 hat: Abercrombie | shorts: Urban Outfitters | shirt: Old Navy | shoes: Birkenstock
Wear it Well: A pair of slippers I highly encourage you to wear out of the house!
These Birkenstock Boston clogs have become a year-round men's wardrobe staple.
As for the rest of the lewk, do not sleep on these funky tie-dye BDG shorts from Urban Outfitters.
With the band collar button-down up top, the outfit as a whole looks surprisingly sophisticated.
Shop patterned drawstring shorts:
dressy casual
polo shirt: J.Crew | shorts: La Paz | espadrilles: Guanábana
Wear it Well: If you know anything about Team SG, it's that we love a man in stripes!
RELATED: 3 Ways to wear the "nautical look"
Opt for an unexpected shoe like the espadrilles above, or a funky huarache sandal to keep the outfit from veering into Kennedy cosplay.
---
How to tie drawstring shorts
Don't overthink it!
The same type of knot you use to lace up your sneakers works for drawstring shorts.
Just don't leave the strings untied. It'll look sloppy.
View more men's drawstring shorts outfit inspiration:
---
Shop drawstring shorts for guys:
1. Bonobos, $89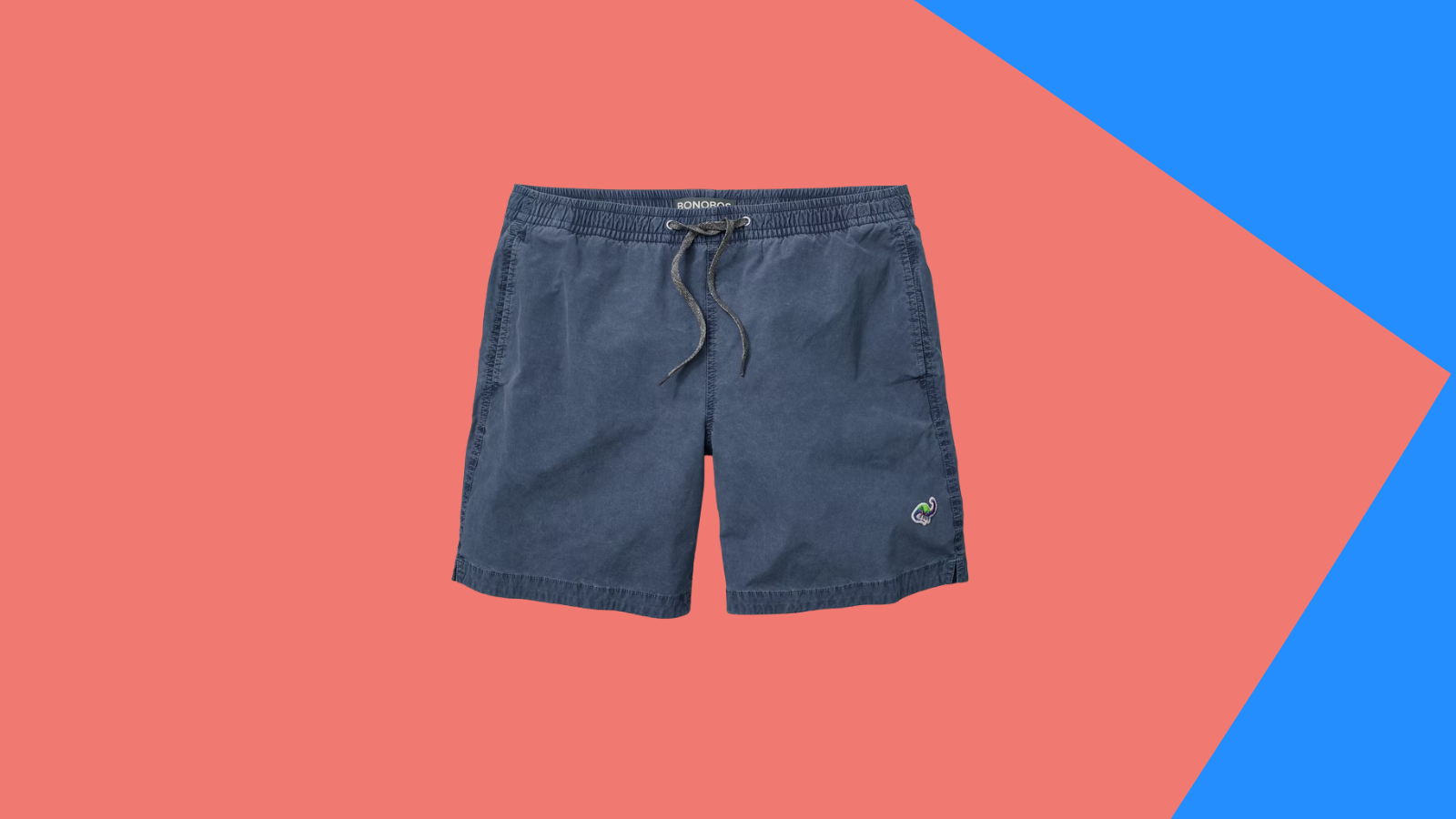 Length: This style comes in 5″ and 7″ (cough go for the shorter style cough)
SG Says: This under-$100 pair is the perfect compliment to your summer tan.
I love the slightly faded coloring, which makes it look like you found the perfect vintage pair while thrifting.
Length: 5.5″
SG Says: This Old Navy style has become a favorite of our personal stylists.
Not too expensive. Just the right length. What's not to like?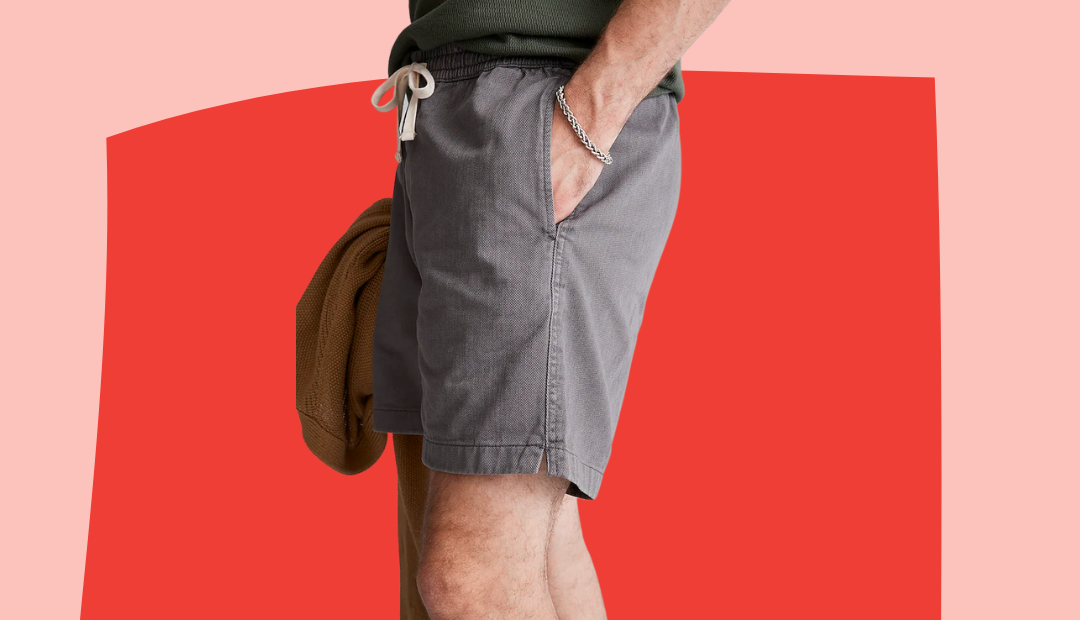 Length: 6 1/2″
SG Says: These affordable, classic cotton shorts are also available in fourteen different colors. You'll barely have to do laundry this summer!
4. J.Crew, $80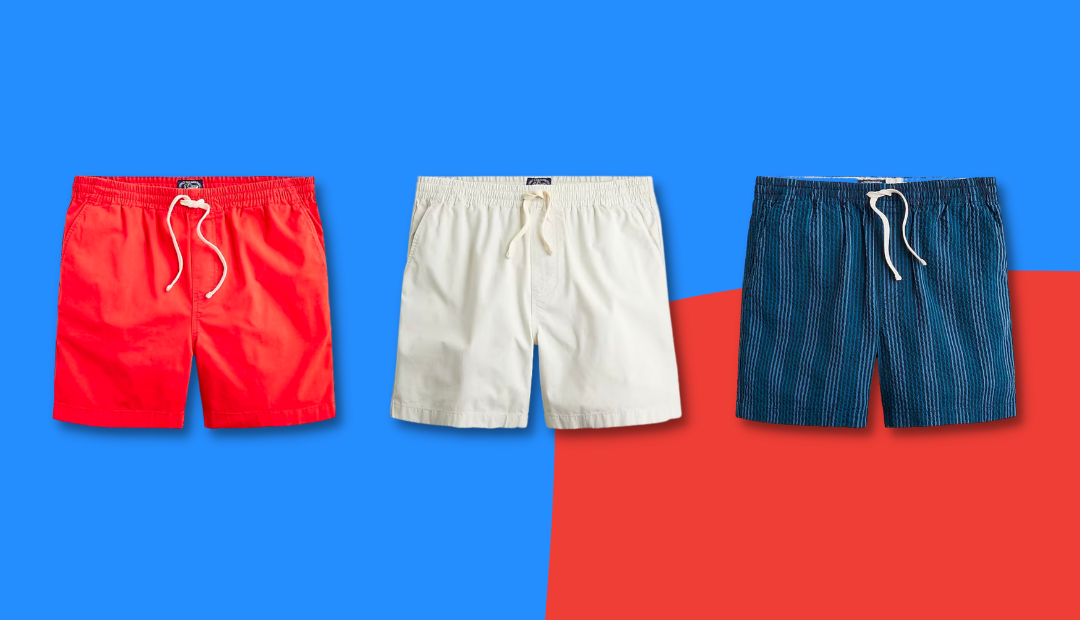 red | white (well, stone) | blue seersucker
Length: 6″
SG Says: J.Crew's dock shorts feel like you've had them forever, the first time you pull them on.
In a good way, of course.
If you're covered for khaki and other neutrals, opt for tomato red, or a textured blue seersucker. They've also got a floral print pair this season our team is pretty into.
More Great Style Stories from SG HQ
---

Like a phoenix rising from the ashes, Gabi Meyers went from Team SG's first-ever intern to a trusted fashion editor and stylist. She currently lives in Chicago with a very cute dog.