How to Look Good on Zoom
Good news, most of them are free!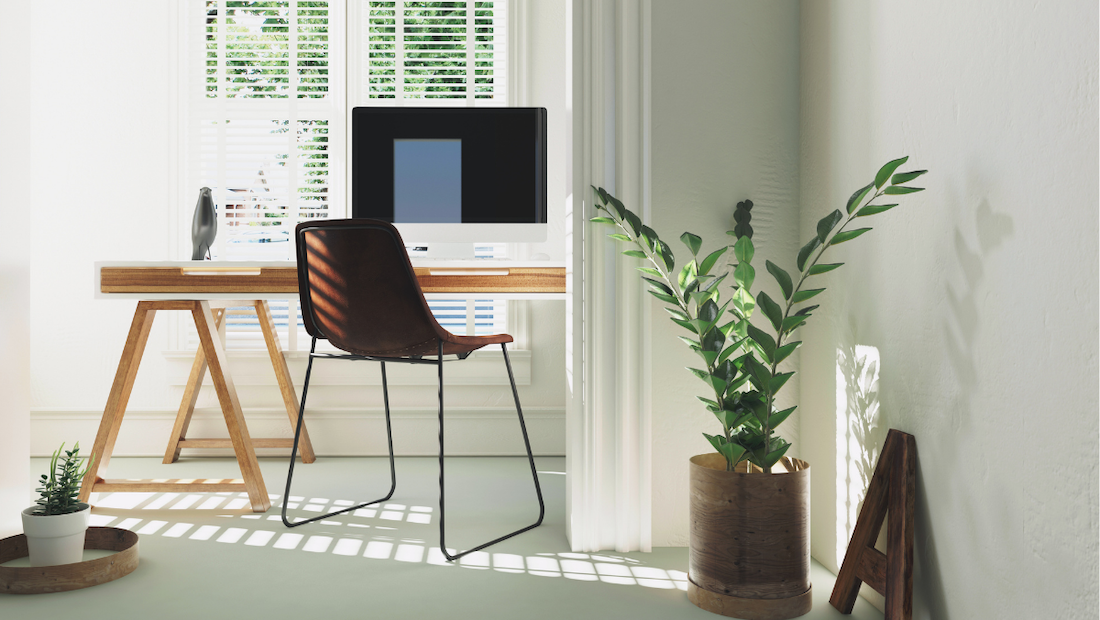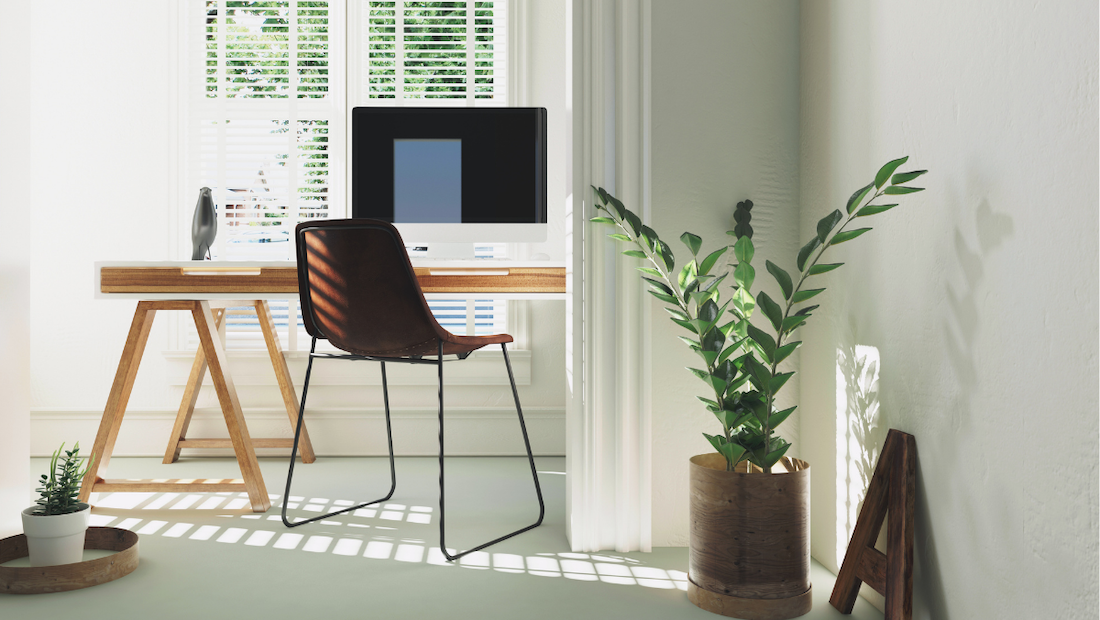 We all want to look better on Zoom. After being confronted with the "Wait, that's how I look?" shock on too many video calls over the past year, it's time to take charge of the situation.
The good news? There's plenty of inexpensive—and even free!—ways to look your best on Zoom in 2021. Our team rounded up the easiest methods to make yourself look better on video calls when WFH.
Below, 7 tips for how to look good on Zoom:
1. Use a tinted moisturizer as part of your morning skincare routine
SG Says: Use the time you're saving on a commute to commit to a skincare routine. The most basic morning regimen includes washing your face and applying moisturizer, which I trust you can handle.
But don't use just any old face lotion. To look better on video calls, evening out your complexion will help you look your best. A lightweight, natural-looking tinted moisturizer offers light coverage and a natural finish.
Worried about WeArInG MaKeUp As A MaN?! Well, it's 2021, and if you can't handle a little color in your face cream, we've got bigger problems.
It's okay guys, really!
Shop tinted moisturizers
2. Make sure your oufit 'pops'
SG Says: When you know you'll be on video calls, choose an outfit that "pops" on-screen.
What does that mean, exactly? It means opting for colors that contrast with your skin tone.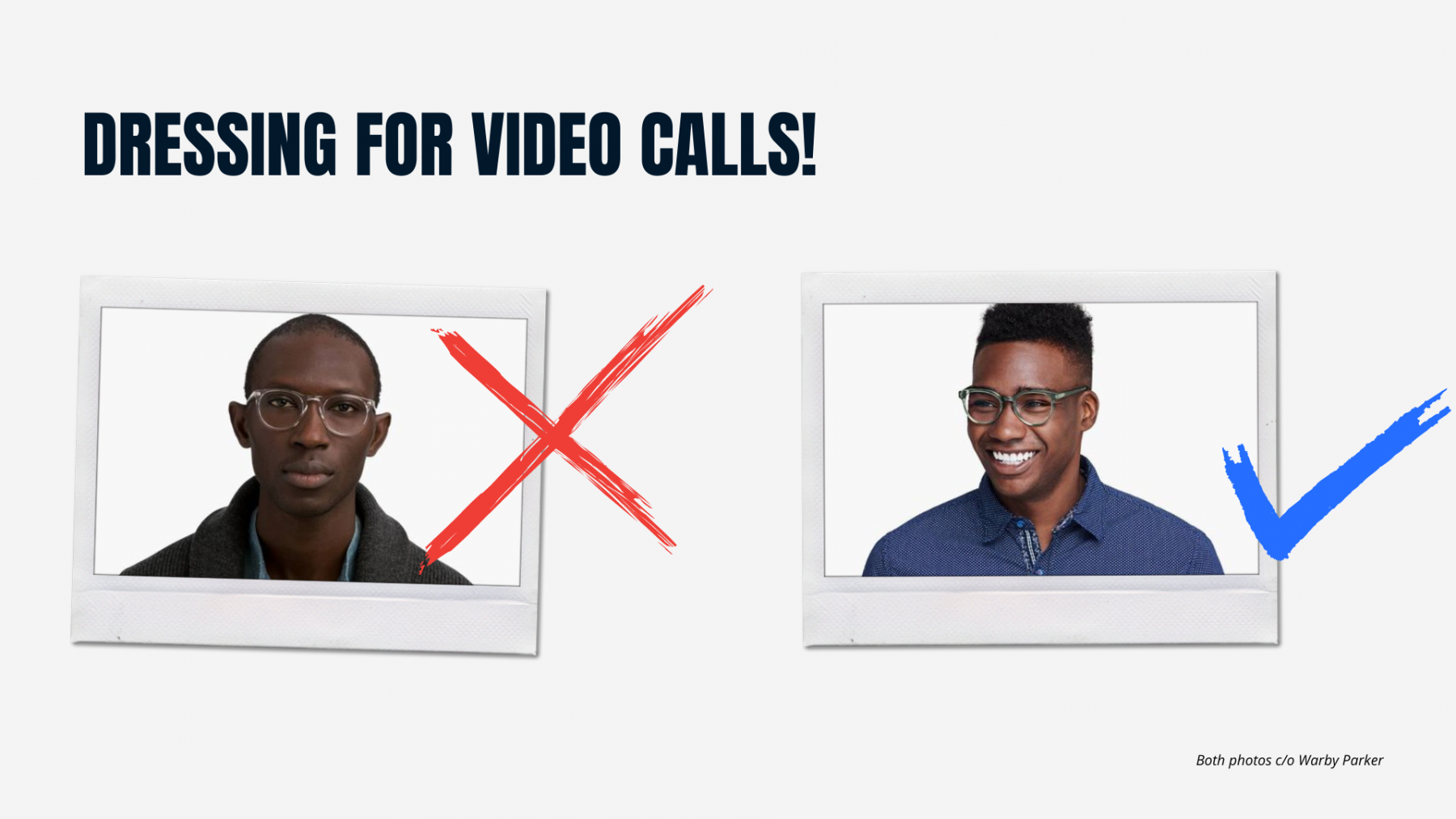 So, if you're pale, don't wear a cream-colored sweater. If you have darker skin, skip browns and blacks, and go for brighter hues instead.
As for the rest of your look? Team SG's Allie Farrish, who works with clients to update and improve their wardrobes, says to keep things simple.
"No patterns or anything distracting. That's true on your person, and for your background."
3. Move your camera up
SG Says: A little more, a little more…there you go!
Think about telling ghost stories around a camp fire. You put a flashlight under your chin and tilt your head down for full, scary effect.
Well, that's how you look when your video call's camera is too low.
Here's Team SG's Taylor Davies on how to optimize your Zoom angles:
"You know how when you see a woman taking a selfie with her phone, she's almost always holding the camera above her face, and looking up to it?
That angle is flattering!
Get that same effect during video calls by propping up your computer on a few books, or investing in a laptop or monitor stand. You want to be making level eye-contact with your camera, not looking down. It's better for your back and makes you look cuter; what more could you want?"
Shop computer stands
4. "Do" your hair

SG Says: A little effort with your hair goes a long way. You may be used to wearing a baseball hat most of the workday, but for video calls? Skip it.
RELATED: The Best Hair Dryers for Men
Especially if you've let your hair grow longer during quarantine, add some product and style your hair to look your best on Zoom.
Even if you don't think you look that different, the pride you feel from making a bit of an effort will shine through as confidence during your call.
Shop grooming products
5. Invest in a ring light
SG Says: Like wearing tinted moisturizer, purchasing a ring light to use during video calls may feel vain. Like you're doing too much.
It's not.
MSNBC correspondent Garrett Haake uses the ring light below from Pixel for reporting on-air from home.
And yes, he gets that it looks…intense.
"When I first got the light it seemed too big and too clunky and I felt like a Kardashian setting it up. But being able to just blast myself with light makes a huge difference in how my at-home live shots look."
Shop ring lights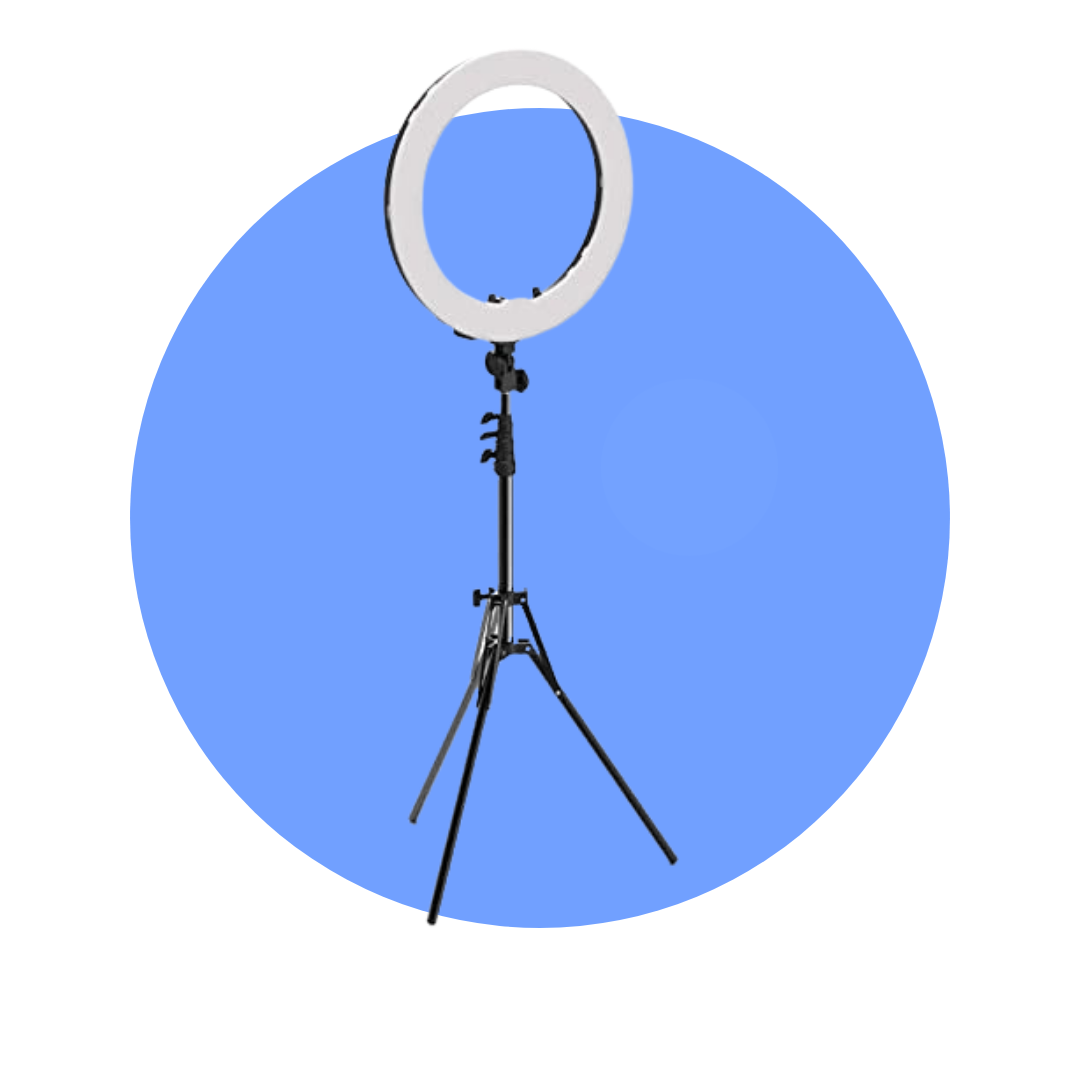 6. Hydrate hydrate hydrate
SG Says: Hello, you will look so good on Zoom if your skin is on point. Do this by drinking, I believe this is the technical term, a sh*tload of water every day.
I spotted Glowbar CEO Rachel Liverman lugging around a gigantic water bottle on Instagram and had to ask her about it.
"My skin improved 1,000% when I began lugging around a gallon-sized water bottle each day," she told me.
"It improves the appearance of your skin because water keeps your body hydrated and helps maintain your skin's elasticity – something we start losing as we age. My hair could (and usually is) four days dirty and I'm wearing sweats and yet my skin is glowing on camera because my skin hydrated!"
Shop hydrating essentials
7. Get a good night's sleep

SG Says: I saved this tip for last because if your next Zoom call starts in five minutes and you stayed up late last night binging Bridgerton (no judgment!), then this tip doesn't do you much good.
But!
Consider adopting an earlier bedtime—or, I guess, finding a way to sleep in later in the morning without getting fired?—if you really want to look your best on your next day's Zoom.
There's no tinted moisturizer, no lighting, no hair pomade that can substitute for a solid 6-8 hours of shut-eye.
WebMD points out that our bodies repair themselves while we sleep, and that recovery period contributes to a marked improvement in our appearances. Think: less puffy eyes; a better complexion; even fuller, healthier hair.

Your turn! What's your best tip for looking your best on video calls? Let us know on Twitter or Instagram!