How to Wear a Linen Suit: Guys' Outfit Inspiration
A lightweight summer favorite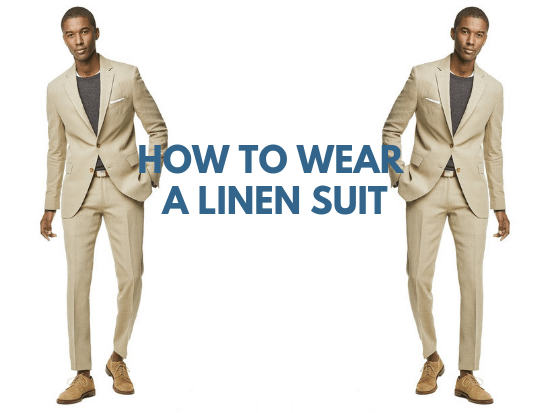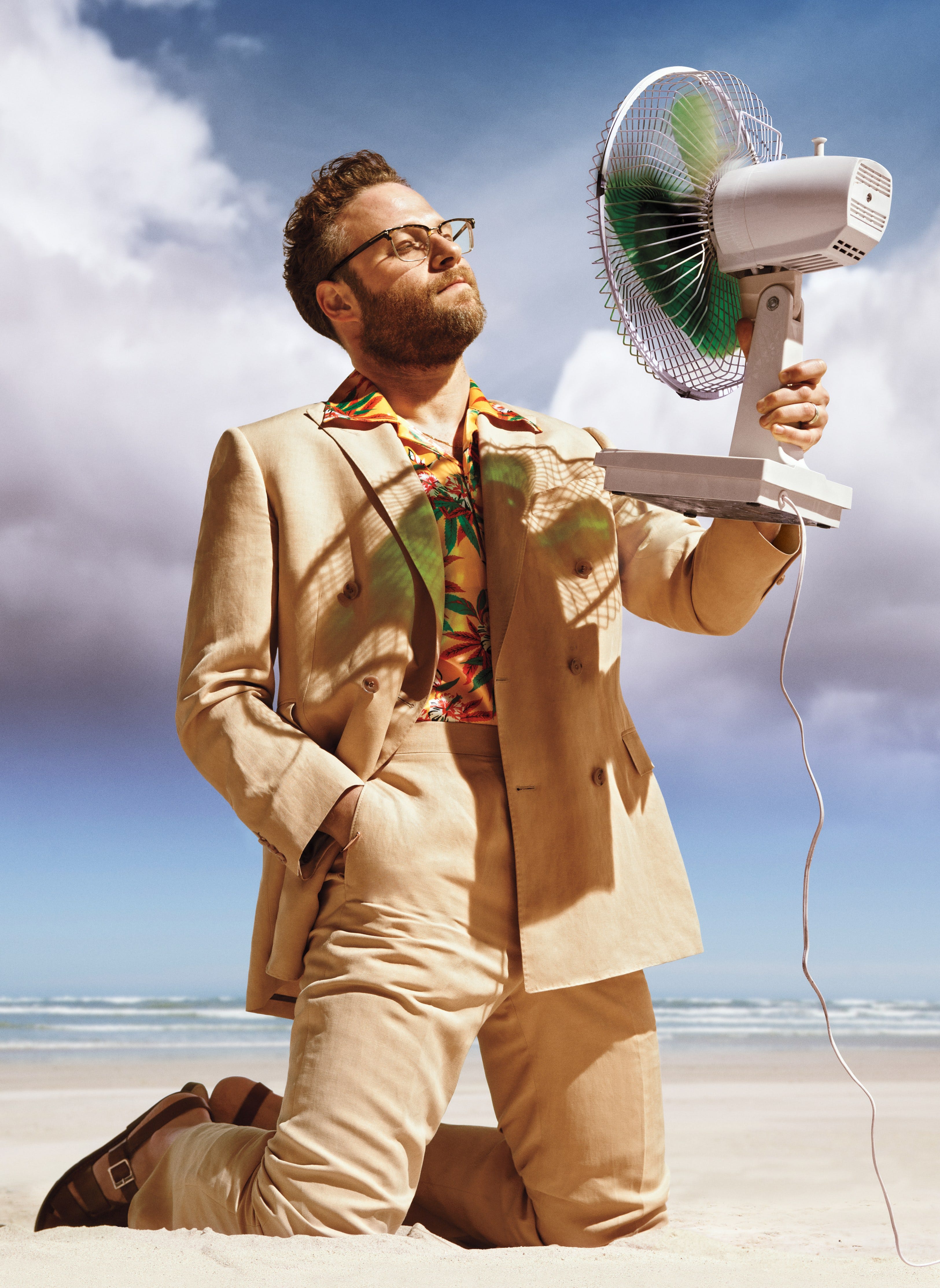 When it comes to suits you'll actually want to wear in the summer, you have a few good options. A grey suit is a great option for work and warm weather weddings alike. And if you're able to go a little less formal? Consider a linen suit!
Does it feel outside of your comfort zone? Maybe. Are you worried you'll look like Colonel Sanders, or like you got lost on your way to a Great Gatsby theme party?
I get it! But fortune (and good fashion sense) favors the bold, my friend.
What's more, while a breathable wool suit definitely remains a year-round staple, a linen suit will feel like the wardrobe equivalent of a handheld fan when it's really f*cking hot out. Perfect for this sweaty season (oh hey-y-y, humidity!).
What to look for in a linen suit
The lightweight feel and soft texture of linen makes the fabric your high-temperature hero. Luckily, gone are the days of shapeless, pure white linen suits à la 1980's Miami Beach.
Today, you can easily find suits that are slimmed down in their silhouette and in more colors than just white.
How a linen suit should fit
A lot like your other suits! Yes, it will get wrinkly, but when you first try on the style in a fitting room, make sure the jacket fits in the shoulders, and cuts a slim silhouette through the body.
Linen will lose its shape as the day goes on, so it should at least start out fitting you just right.
When to wear a linen suit
Here's some good news: you've got more opportunity than you think!
While this breezily elegant suit probably isn't appropriate for most corporate settings, you can absolutely break it out for more casual affairs. Think: after-work events, weekend getaways, your next date, and – yes – summer weddings.
Sure, it wrinkles easily, but consider that part of a linen suit look's charm and just go with it.
Get inspired to wear a linen suit with these #SGapproved outfit ideas:

Wear a linen suit with a dress shirt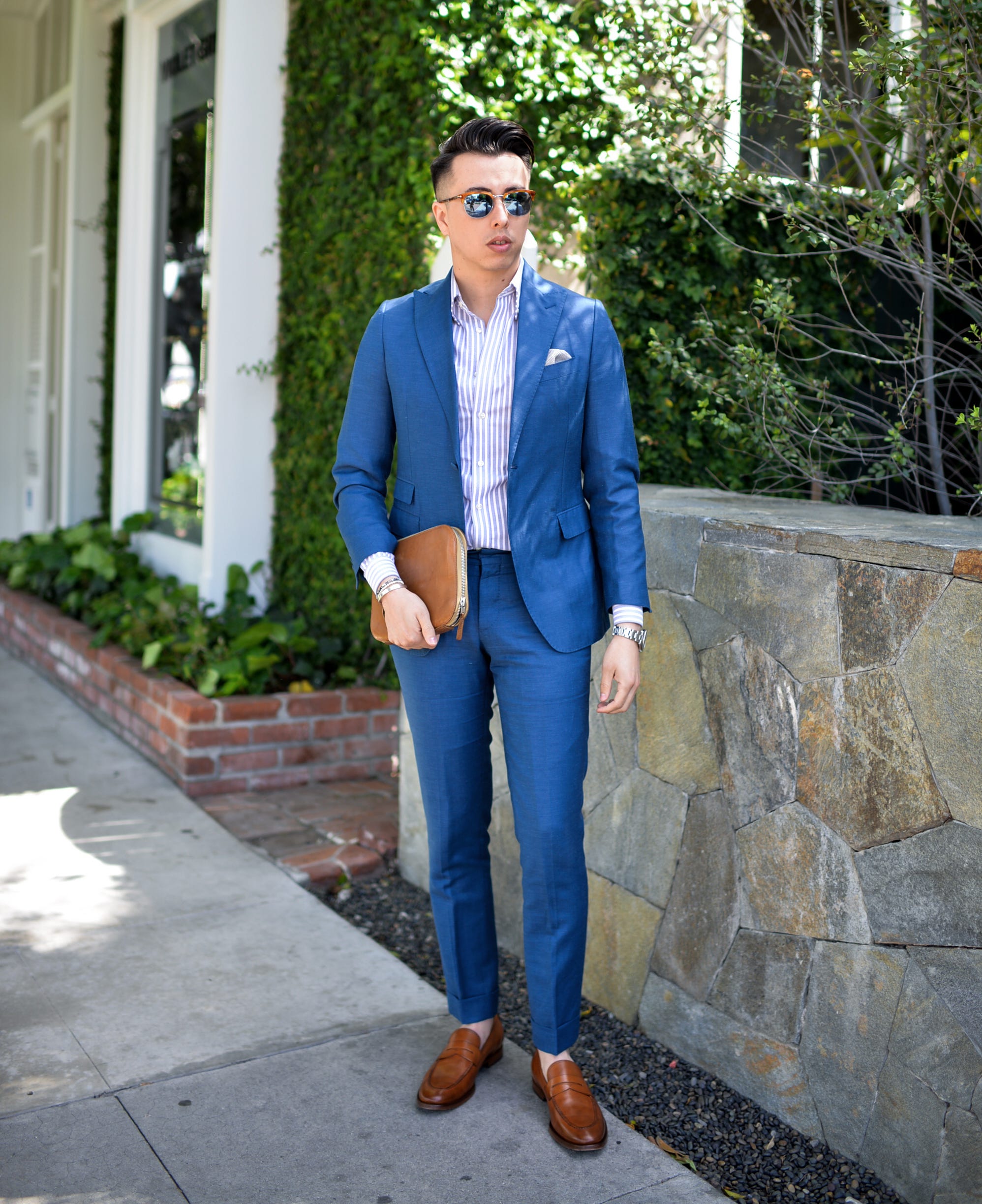 SG Says: We love how fashion blogger Blake Scott makes line look so goddamn polished. A lot of that has to do with the dress shirt, which keeps the linen suit look more structured.
What other tops can you wear with a linen suit? Again, you've got options. You could go with a crisp white t-shirt, a short-sleeve knit top, a fun camp collar shirt, or a polo shirt.
And yes, you could even pair your linen suit with a linen shirt for a seriously "OOO" vibe.
Also? Note Blake's sock-free penny loafer look, barely-there break, and peak lapels on the jacket. Very chic.
Wear a linen suit in a light color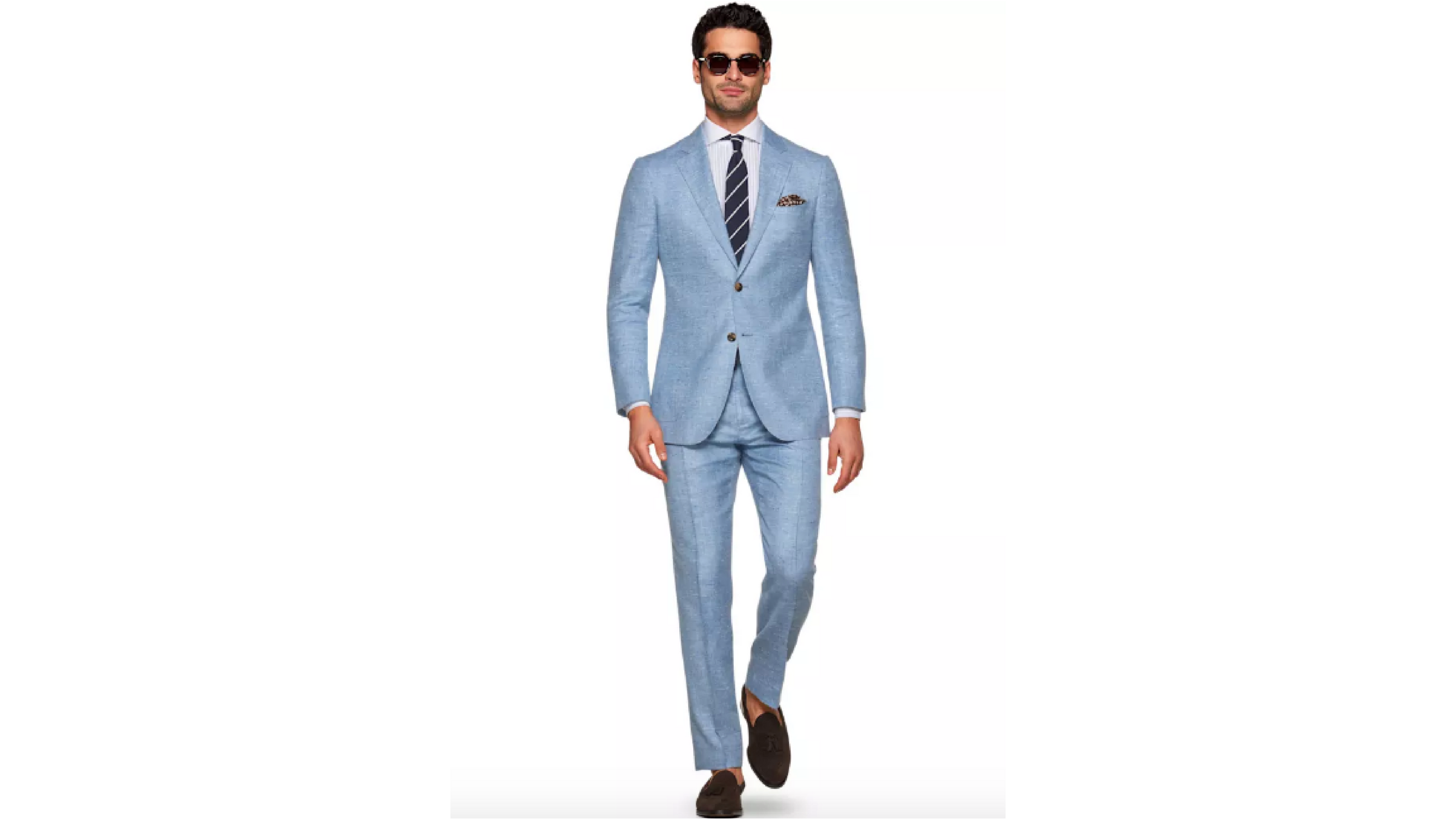 SG Says: Shout out to Suitsupply, which always styles its models so impeccably. This lighter blue suit is tailored to within an inch of its life in a slim fit from a blend of silk, linen and wool.
The spread collar on the shirt and repp tie once again shows you can pair laid-back and stylishly stuffy together just fine.
And yes, sock-free again. Good on you for noticing.
Wear a linen suit with loafers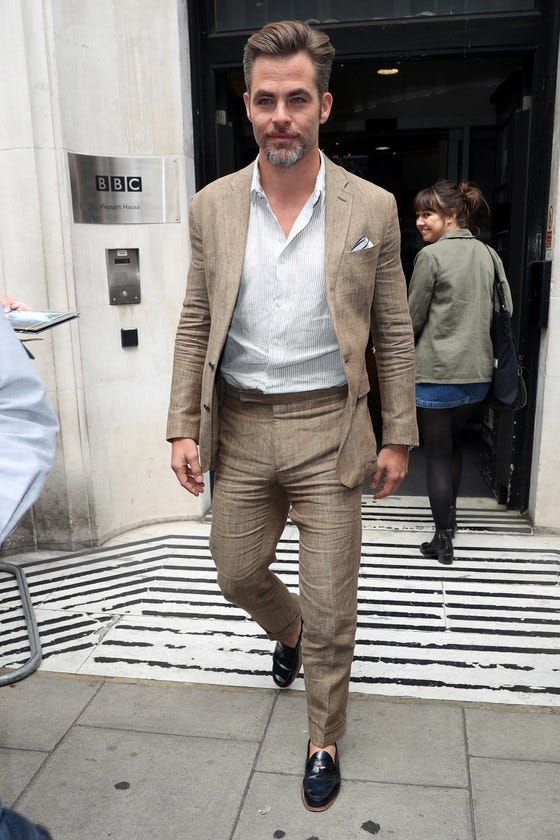 SG Says: Look at how happy that girl in the back is to see such a dashing linen look…
Okay, okay, as worn by internationally-renowned movie star Chris Pine. But I'm almost positive it's the slightly rumpled yet still chic linen suit she's eyeing. The Star Trek actor ups the degree of difficulty on this number with an equally rumpled shirt.
If you're going to pull off a similar look, just be sure every piece fits just right. Rumpled and oversized is not the look you're aiming for.

Oh, and the shoes? Yeah, you see where we're going with this.
Wear a linen suit with punched-up colors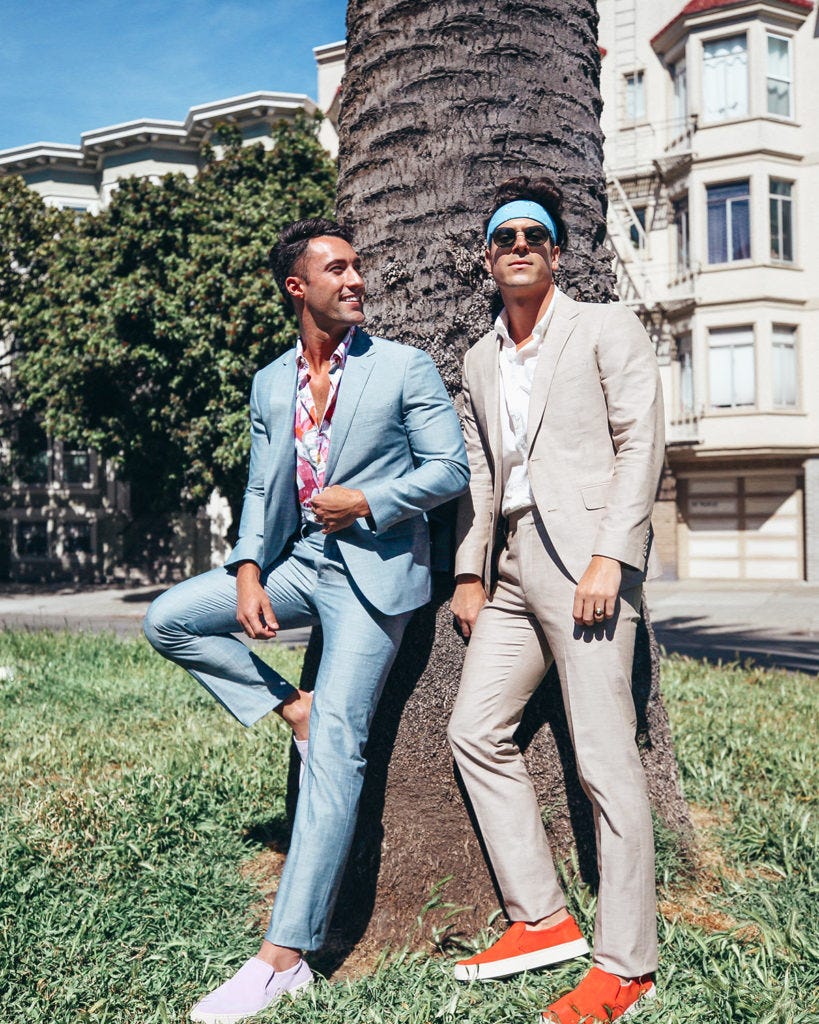 SG Says: Okay, the fellas from fashion and lifestyle blog Yummertime are actually wearing chambray suits here, not linen, but they look close and fit the overall vibe so well, we had to include them.
Bottom line? Don't be afraid to pair your linen suit with a fun patterned shirt or a bright shoe!
Getting dressed up should feel fun, not like a punishment. Letting your personal style shine through makes you feel more empowered in whatever you're wearing.
// Shop #SGapproved Linen Suits //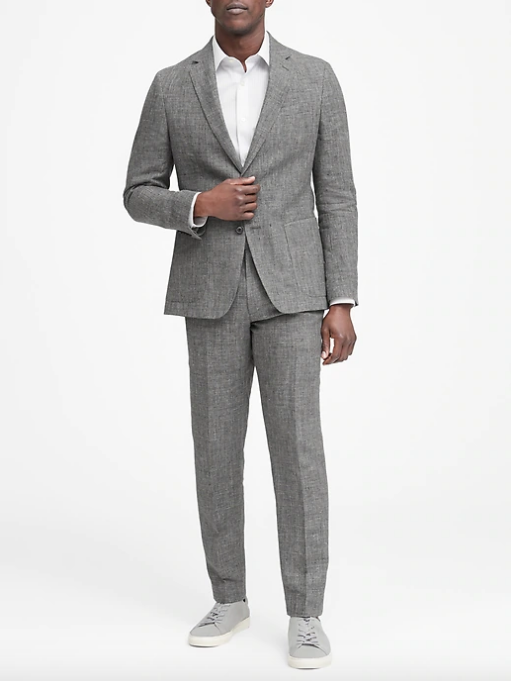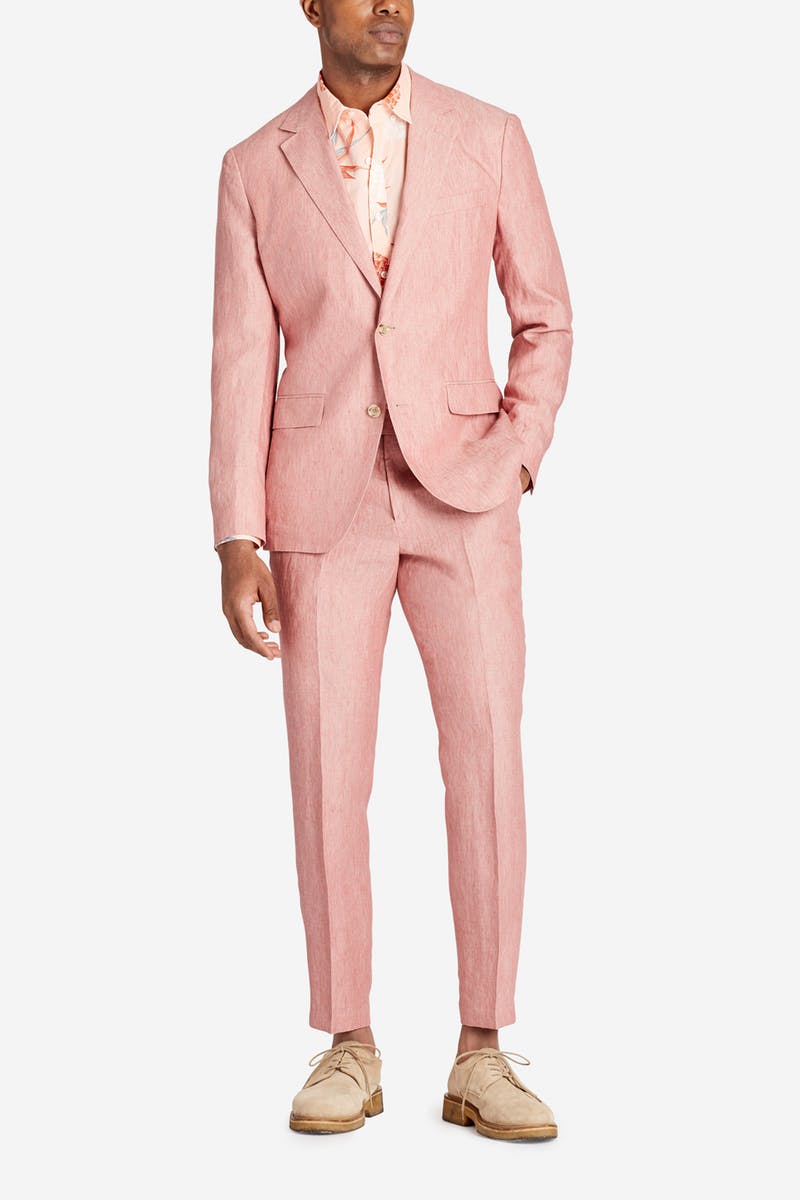 What shoes to wear with a linen suit
So, what are the best shoes you should wear with a linen suit? Once again, you've got options. See Team SG's picks below.
White leather sneakers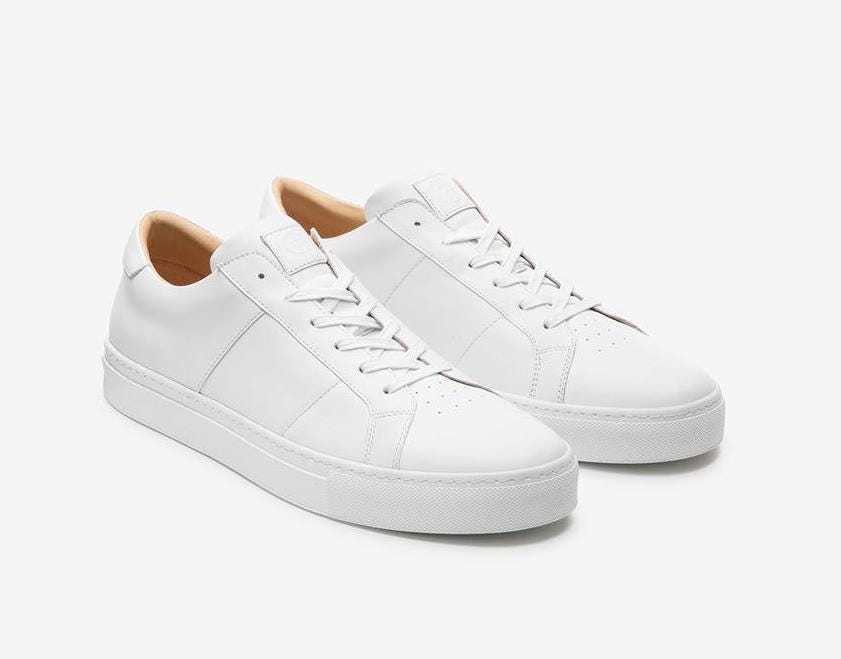 White leather sneakers are a solid go-to with a linen suit. Just make sure they're clean, and wear them with a no-show sock.
Espadrilles
Have some fun with your linen suit! Especially at an event like a beach wedding, an espadrille lends a breezy vibe to your overall outfit.
Canvas sneaker
I know this seems like an annoying distinction, but a boat shoe-esque (leather laces, rubber soles) sneaker looks good with a linen suit, while actual boat shoes? Not so much.
It's just a little extra, y'know?
If your personal style veers more towards a laid-back California cool vibe, then a slip-on sneaker is a great way to feel like you in a linen suit.
Driving shoes
Love a driving shoe! It's casual elegance at its best.
Chunky brogue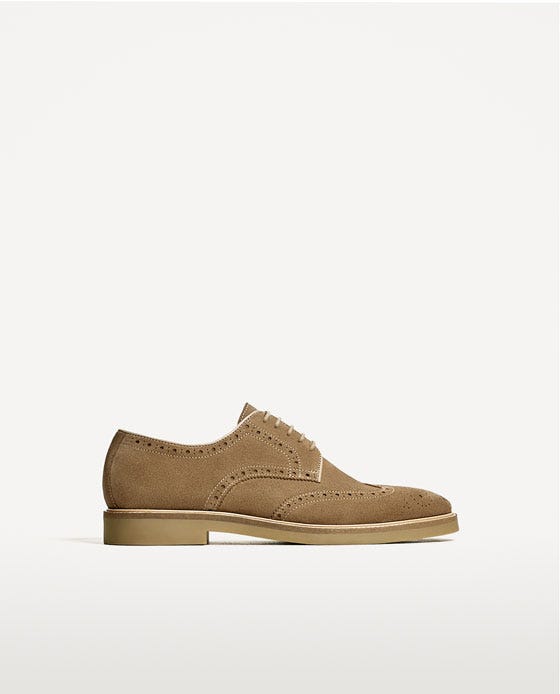 A wingtip in something like suede might feel right for you if you're more used to wearing dress shoes than flip flops…even on the beach.

Head to Twitter and let us know if a linen suit is part of your warm weather wardrobe!
***
Ready for more linen suit looks in your life? Let Team SG create a customized shopping plan based on your budget, body type, and style preferences! Learn more here >