5 Days, 5 Ways: The Grey Suit for all your Summer Weddings
No more wedding wardrobe woes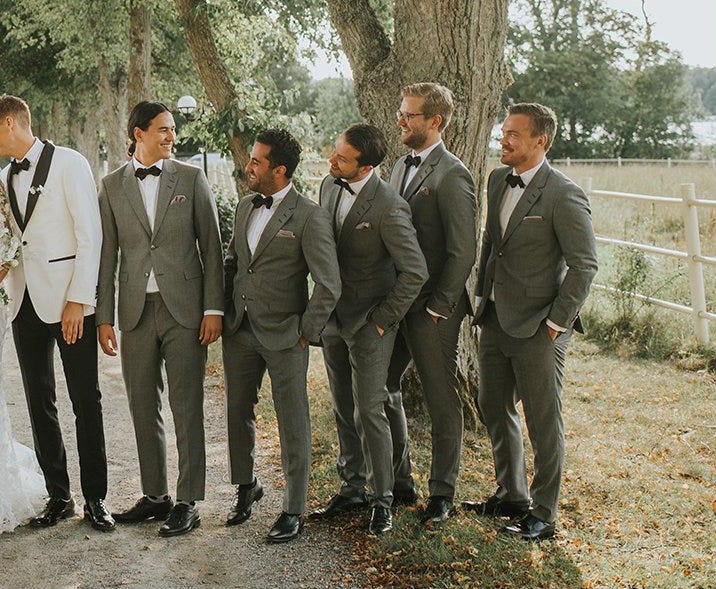 If you couldn't tell by the sudden surge of nonsense hashtags blowing up your weekend Instagram feeds (#Halgetshisgal!), wedding season is upon us.
Whether your college roommate's getting hitched on the beach, your cousin's having an afternoon luncheon at the country club, or your ex-girlfriend invited you to her swanky evening soiree, you want to come dressed to impress.
Barring a black tie shindig (for which you really need a tux), you can get by with a grey suit that's ready for repeat duty.
Below, 5 ways to wear a grey suit for summer weddings:
BEACH WEDDING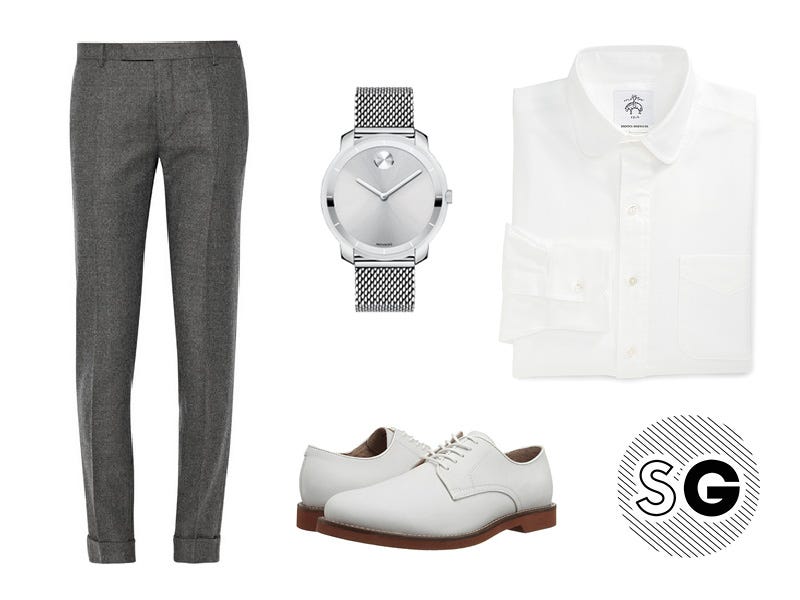 shirt: Brooks Brothers, $185| shoes: Florshein, $115 | watch: Movado, $495
SG Says: Keep your look simple yet refined, à la SG Madness 2018 winner Ryan Gosling in Cannes, with neutral tones and well-pressed pieces.
Oh, and leave the tie and socks at home. In true summer fashion, beach weddings mean less clothing is totes appropes. You can bring the jacket, but it's usually not required.
GARDEN PARTY CHIC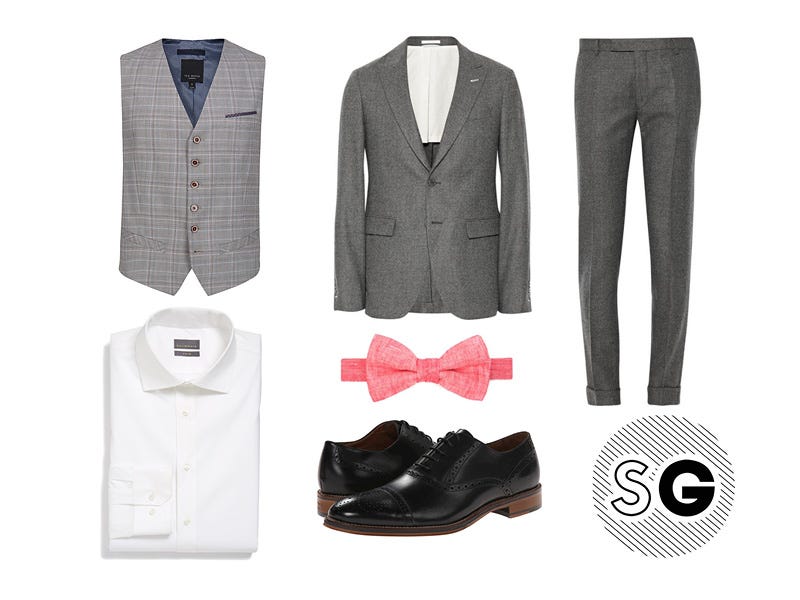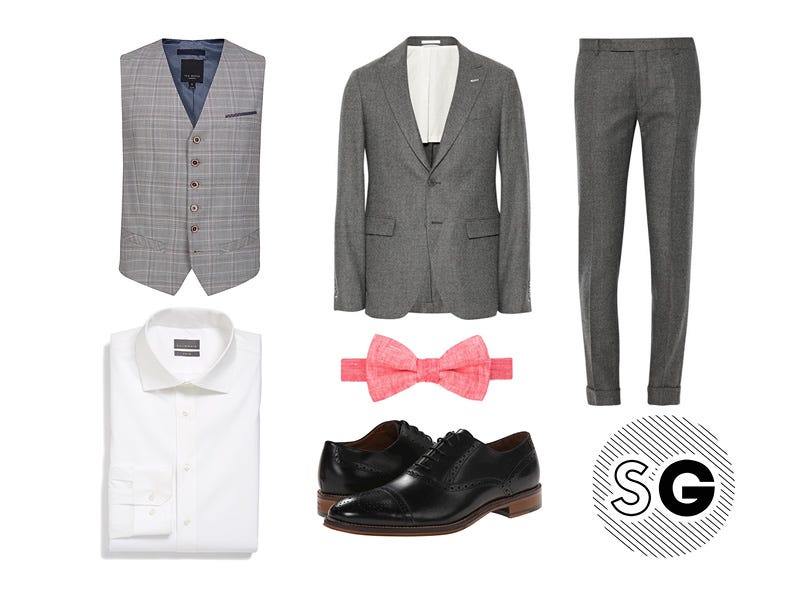 shirt: Calibrate, $70 | bow tie: Barneys, $85 | vest: sold out! (similar)| shoes: Johnston & Murphy, $159
SG Says: The less traditional the language, the more room you have to show off your personal style. This doesn't necessarily mean you ought to wear your Chucks even if "that's your thing." Instead, go all in on the details. Wear suspenders instead of a belt. Add a vest. Or choose a louder shirt and tie combo than usual.
COCKTAIL HOUR SHINDIG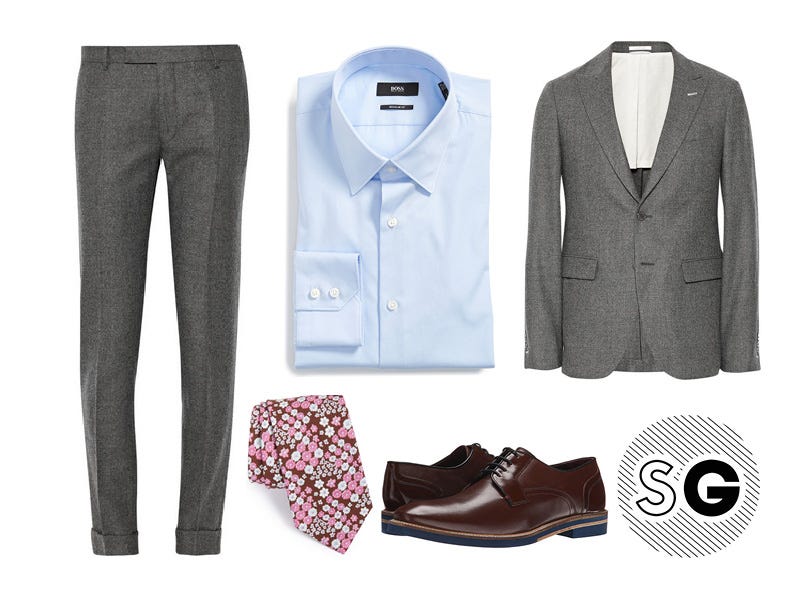 shirt: Boss, $125 | tie: similar | shoes: Vince Camuto, $158
SG Says: Traditional, with a twist. Pick one part of your outfit to go non-traditional, like a surprisingly patterned tie in an unexpected color palette.
SEMI-FORMAL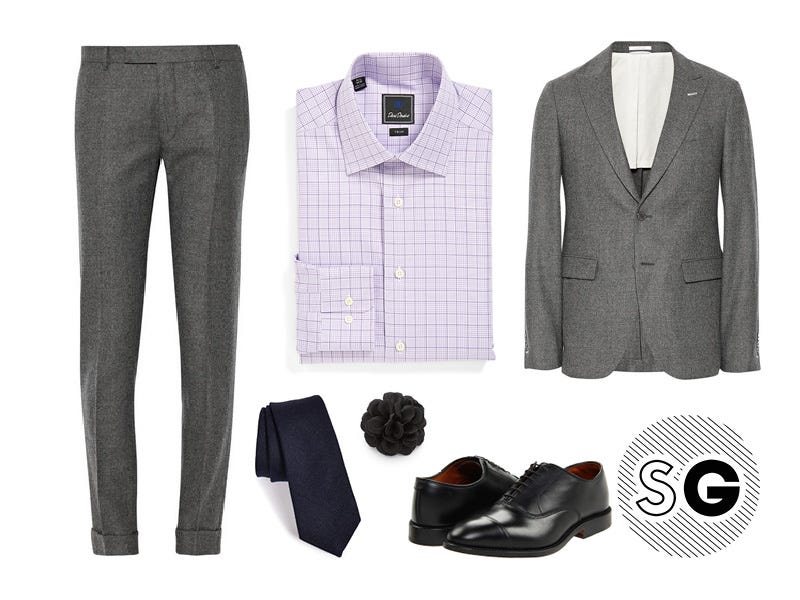 Shirt: David Donahue, $68 | Tie: The Tie Bar, $19
Lapel Flower: HOOK+Albert, $18 | Shoes: Allen Edmonds, $425
SG Says: An invite reading "semi-formal" suggests dressed to the nines, while stopping just short of the happy couple expecting you to show up in a tuxedo. Use this dress code as an opportunity to bust out your best, sticking to darker colors in your accessories and shoes.
AFTER 5 O'CLOCK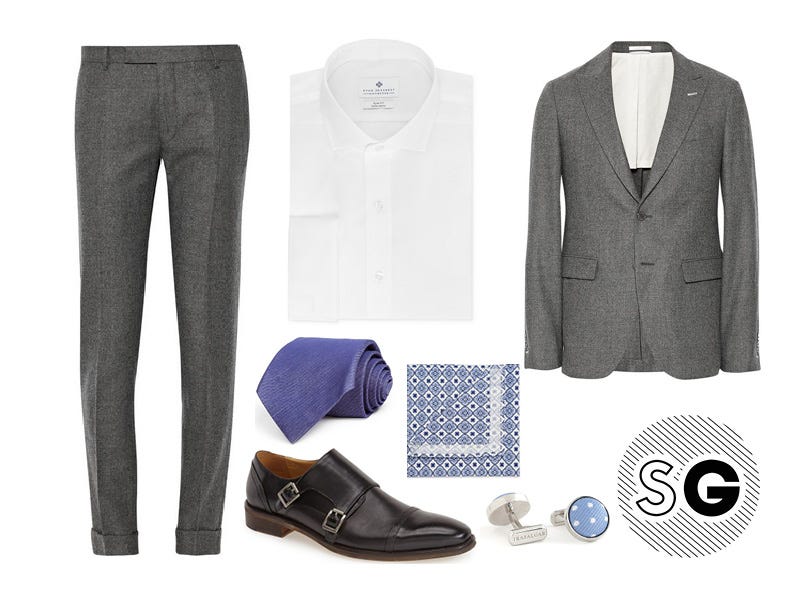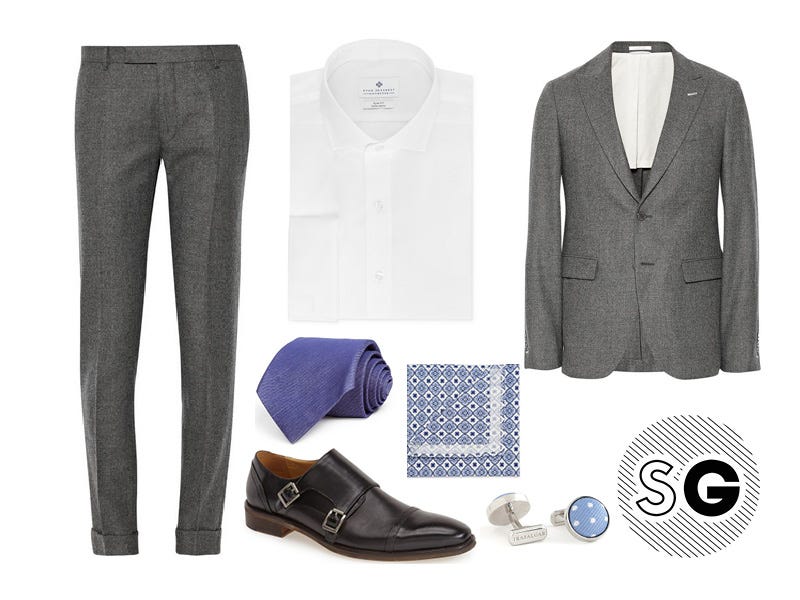 shirt: Ryan Seacrest Distinction, $75 | tie: similar| pocket square: Eton, $47
shoes: Stacy Adams, $175 | cufflinks: Trafalgar, $65
SG Says: While you can't go to a black tie wedding in a gray suit, you may be able to get away with one at a more formal (but not totally formal) nighttime wedding. The trick here is to make sure all your choosing luxurious fabrics, your colors aren't loud, and, as always, everything is perfectly tailored.
So, having your own suit for every occasion just makes more sense, right? Who knows, it could even become your signature look. The best part about this one? It's wool, so you could probably rock it from March to November and not be freezing.
// Shop #SGapproved grey suits //
TELL ME:
IF YOUR STYLE WERE A DRESS CODE, WHICH WOULD IT BE?

Want more outfit inspiration? We've got you covered here
(image via Todd Snyder)