Birkenstock Outfits for Men: 5 Way to Wear the Iconic Sandal
...So long as your feet are presentable.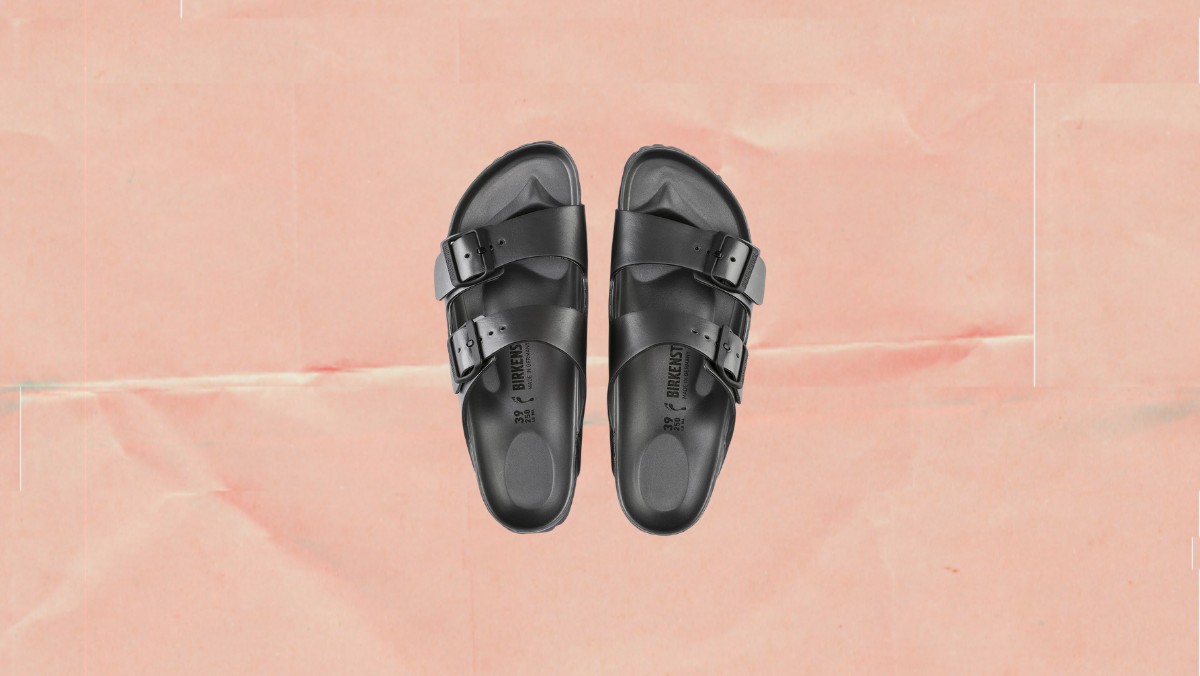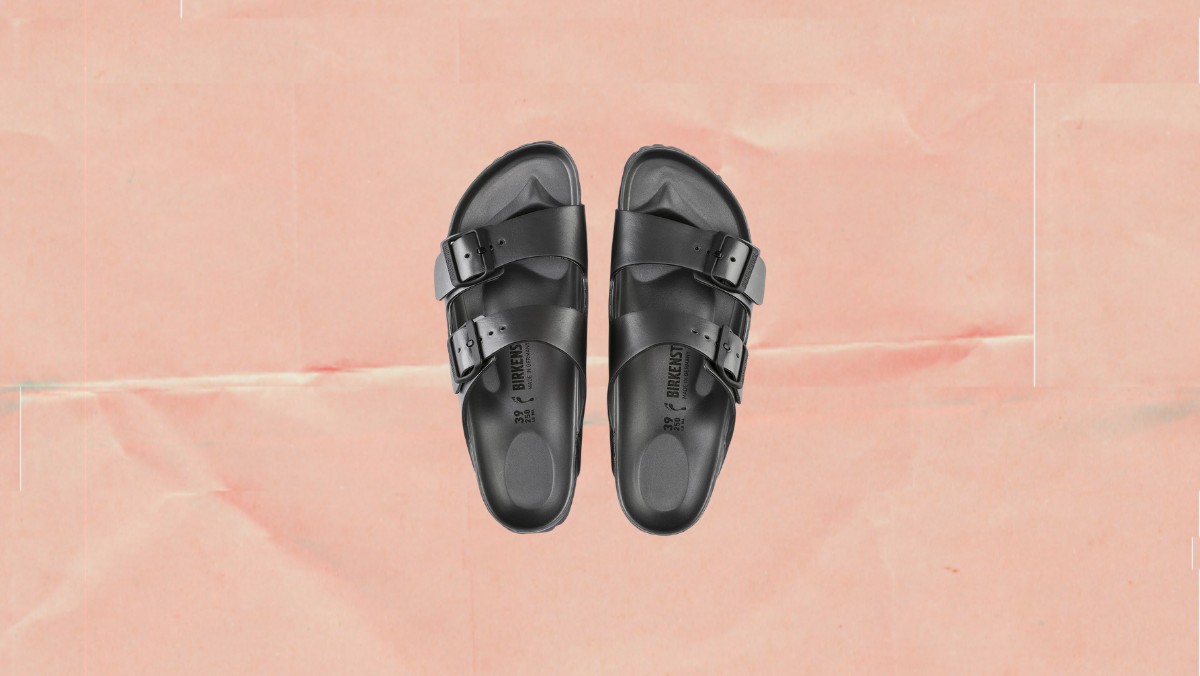 Yes, after a year locked up indoors, it's true. Our team has collectively developed a foot fetish (no kink shaming!). That's right, I'm talking about our love of Birkenstock sandals.
Look, your feet get hot and sweaty come summer, and your tootsies deserve to feel the same cool breeze as your knees. Men's sandals get a bad rep, and that's because there are plenty of bad ones.
Women don't want to see you in rubber flip flops unless you're hitting the gym shower. Gladiator sandals should be left in the Greco-Roman era of history class where they belong. We can see the benefit of bottle-opener-bottom sandals, but it's a little kitsch for most occasions.
Enter the Birkenstock Arizona sandal.
Beloved by religious icons and hippies alike, these simple slides are easily the most elevated laid-back sandal.
RELATED: Tips from a Celebrity Manicurist on How to Keep Your Hands and Feet in Good Shape
The buckles are almost purely decorative and the footbeds do in fact support your arches—not a feat most modern shoes perform, let alone sandals.
Below, get inspired with 5 men's Birkenstock sandals outfits: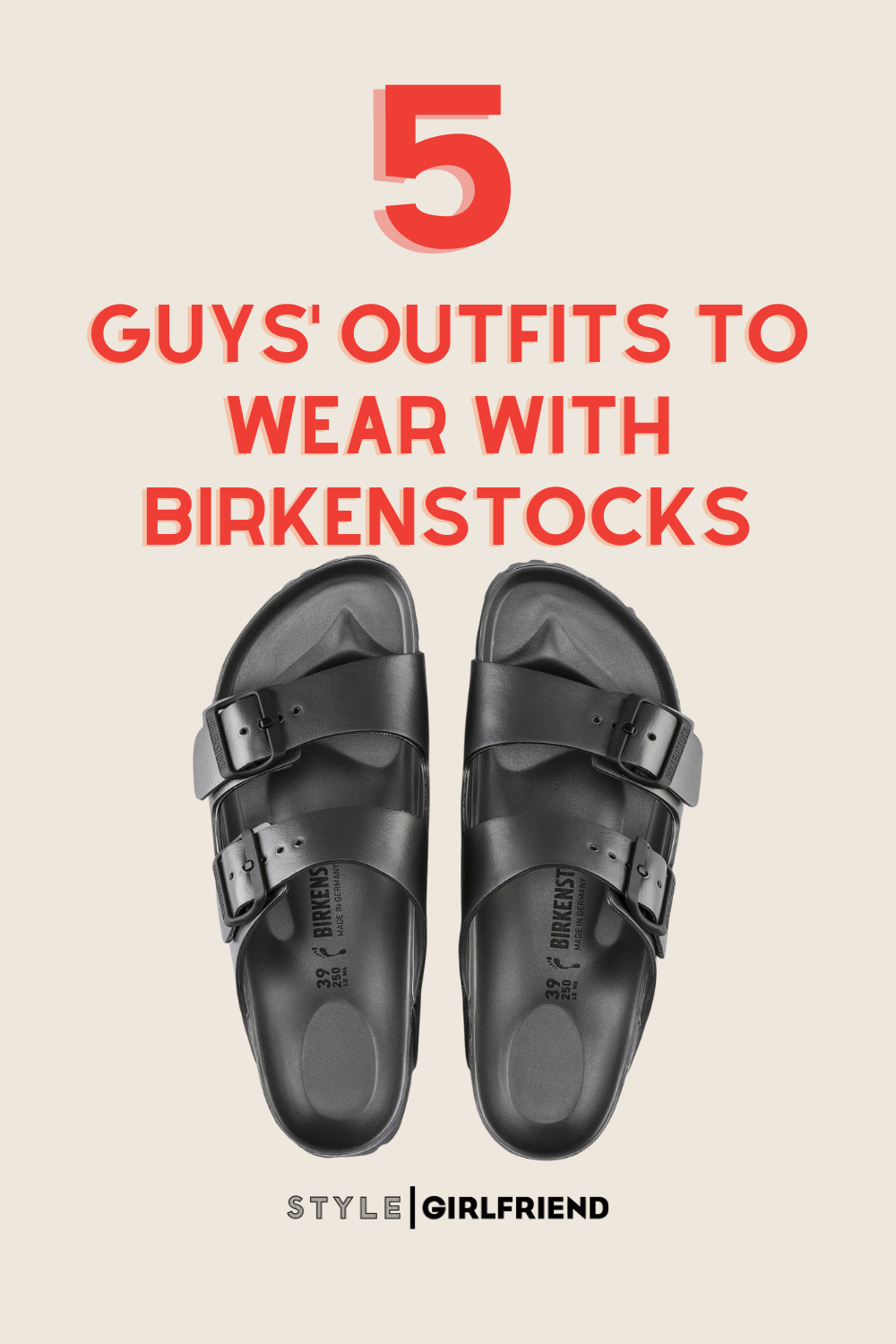 TO OUTDOOR AFTERNOON DRINKS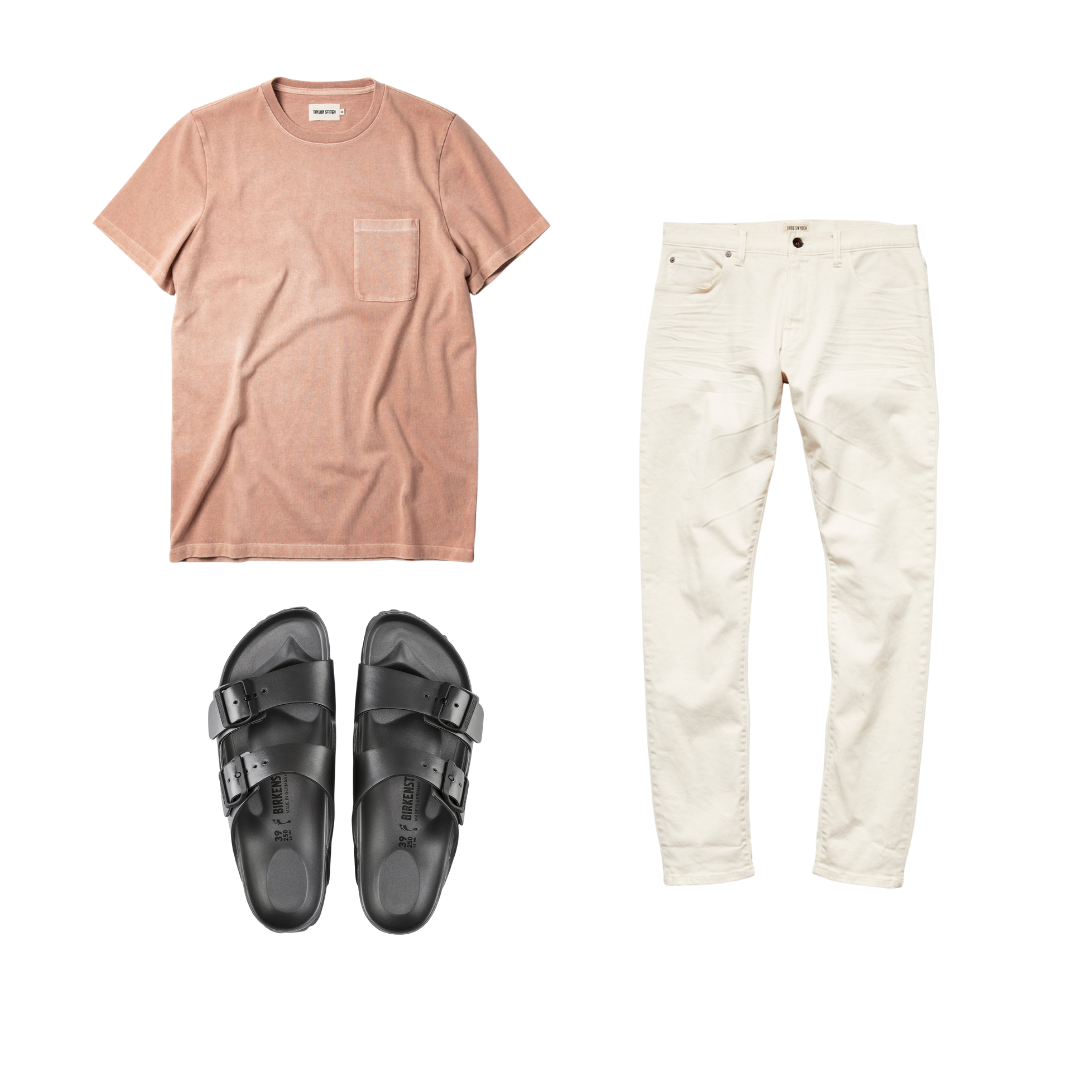 sandals: Birkenstock, $45 | t-shirt: Taylor Stitch, $45 | pants: Todd Snyder, $148
SG Says: This is "I'm a minimalist" in outfit form.
You're aware you don't need extraneous layers to execute a memorable look because you're mindful of every little detail.
Think: the intentional fading in the perfectly-fitting pocket tee. The white jean's just-so stiffness that makes them structured but not stuffy. And yes, the decision to go with a more unexpected footwear choice than your standard sneakers or summer boat shoes.
MORNING COFFEE AND BAGEL PICKUP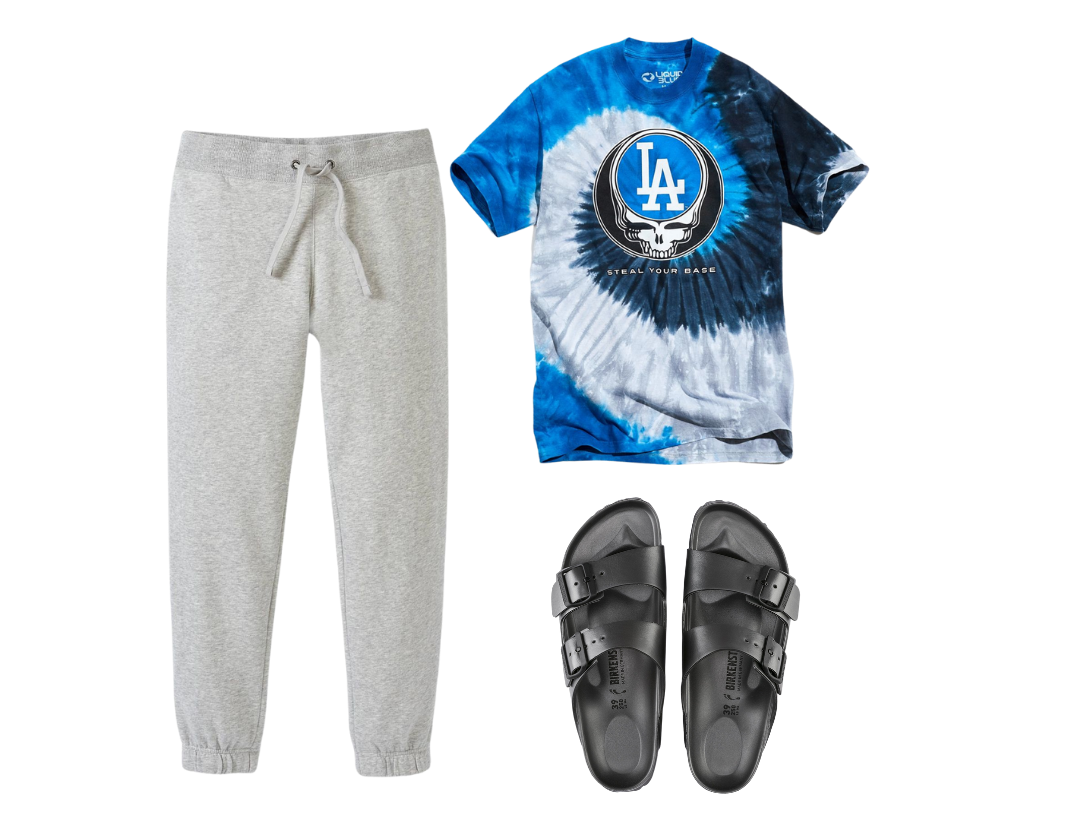 sandals | joggers: Target, $20 | t-shirt: Urban Outfitters, $39
SG Says: We know that not all heroes wear capes, but they do probably all own a pair of classic grey sweatpants.
Paired with a great personali-tee (you get it?!) and an armful of breakfast accoutrements, you've got a winning look.
FOR A PARK HANG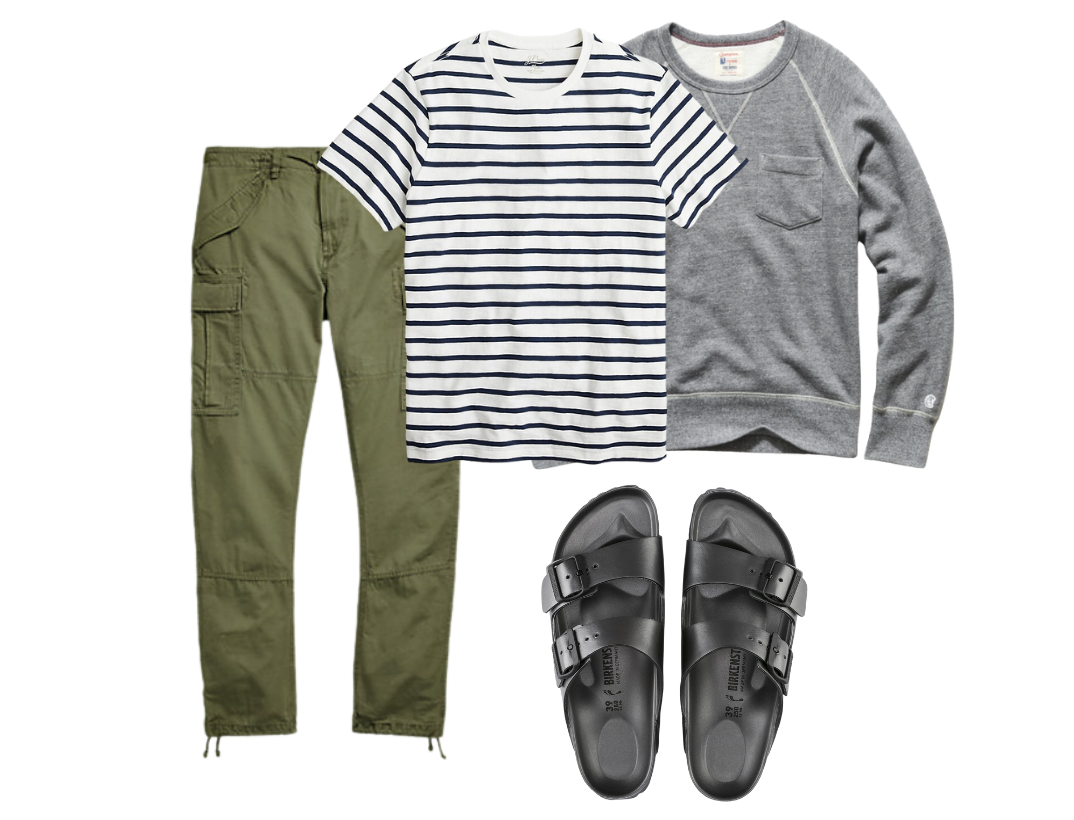 sandals | pants: Polo Ralph Lauren, $138 | t-shirt: J.Crew Factory, $17 | sweatshirt: Todd Snyder, $98
SG Says: What do these cargo pants hold, you ask? Perhaps the wine key to unlock the picnic of your dreams, with no fear of grass stains.
RELATED: See five ways to wear a striped t-shirt
A classic stripe tee and crewneck sweatshirt keep you stylish as the shade moves in and out of your spot. Slide-on sandals encourage you to take the perfect opportunity to experience earthing.
WALKING THE DOG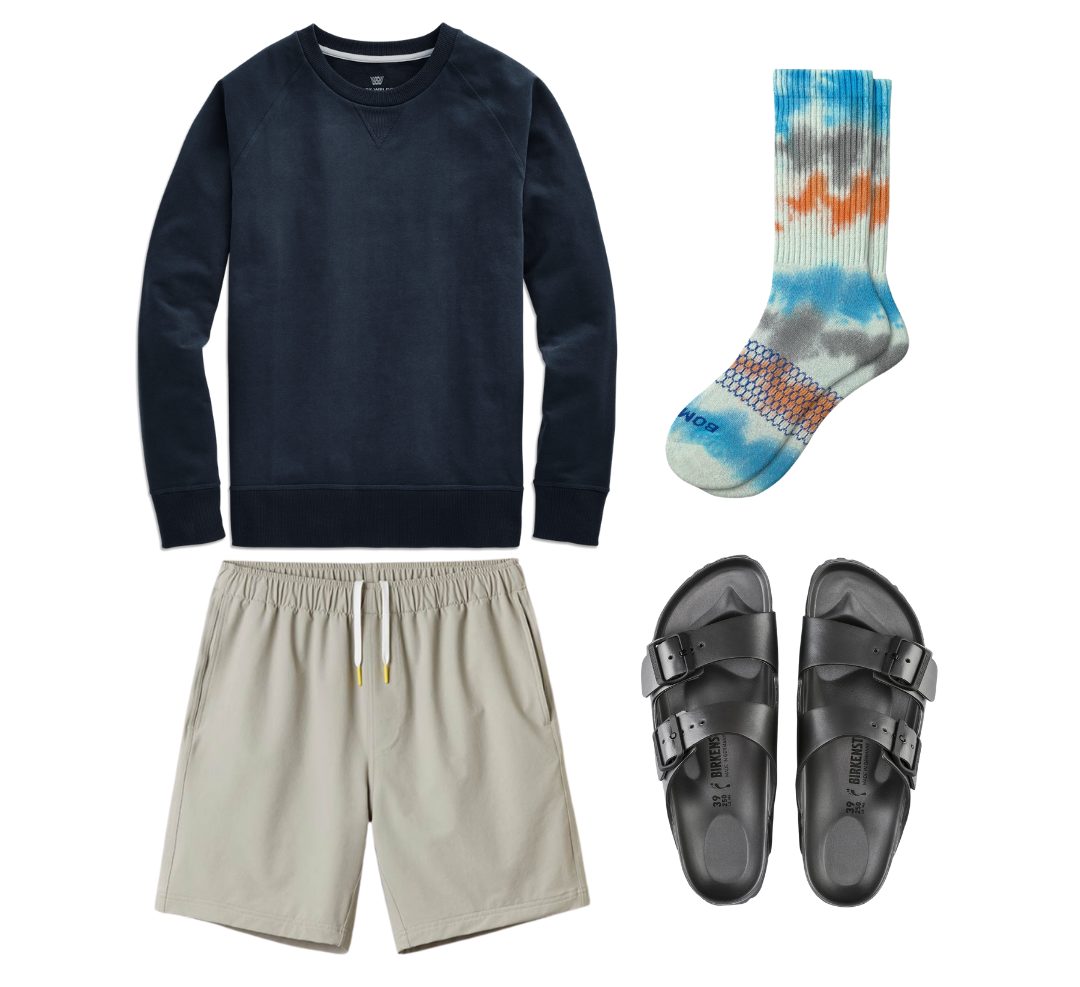 sandals | sweatshirt: Mack Weldon, $68 | socks: Bombas, $12
SG Says: There's dew on the ground but you have to walk your dog? No worries, you can still slide right out of the house in your "elevated lounge look."
Tie-dye socks add a layer of protection (and personality!). You don't even have to fumble with shoelaces.
TO A (COVID-SAFE) WEDDING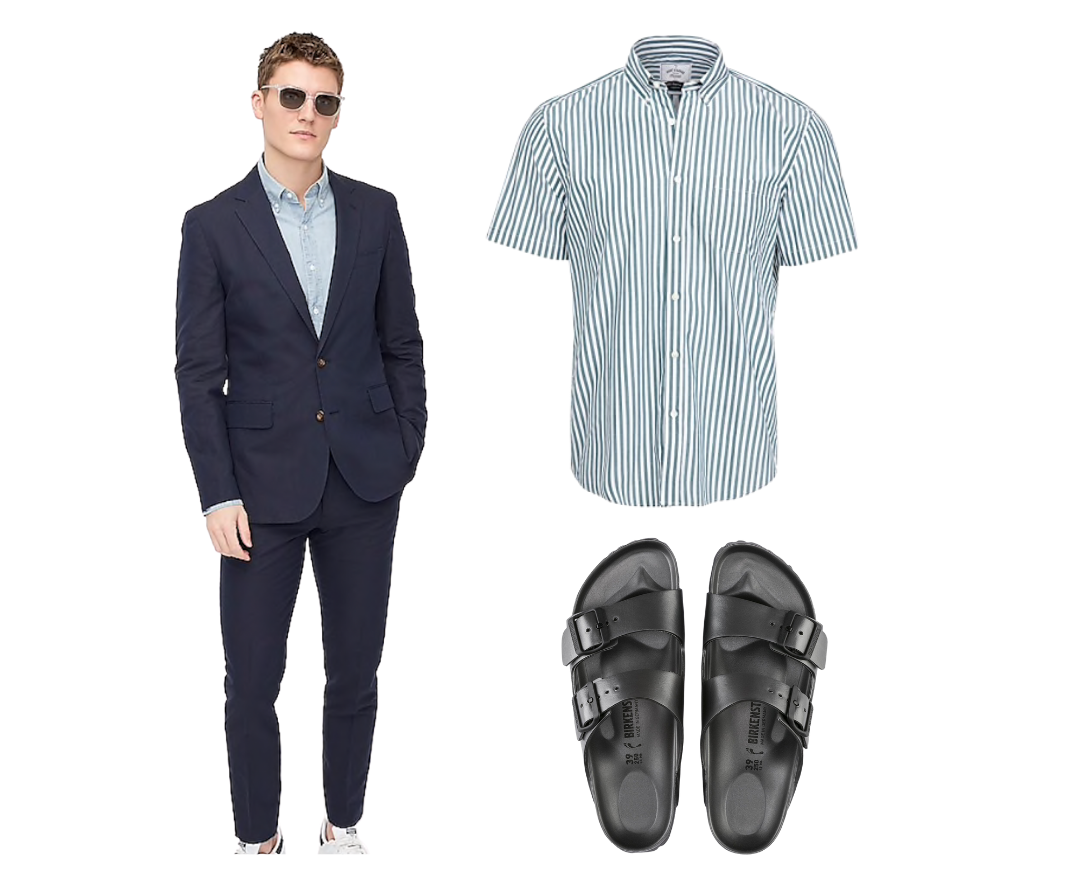 sandals | suit: J.Crew, $326 | shirt: Portuguese Flannel, $112
SG Says: Coming out of covid, you may feel motivated to pull out your "nice" clothes you haven't touched in a year.
Break all the rules. Wear black with navy.
Bottom line? Don't be afraid to experiment! Just be excited that you get to go out, and see and be seen. For something like an outdoor wedding (remember those?!), a suit with Birkenstocks is the perfect vibe.
This look is giving me Roman Roy vibes (or maybe I'm just hungry for the new season of Succession?), but either way that's a good thing.

Like a phoenix rising from the ashes, Gabi Meyers went from Team SG's first-ever intern to a trusted fashion editor and stylist. She currently lives in Chicago with a very cute dog.