Guys, It's time to Embrace Cargo Pants
Yep, they're back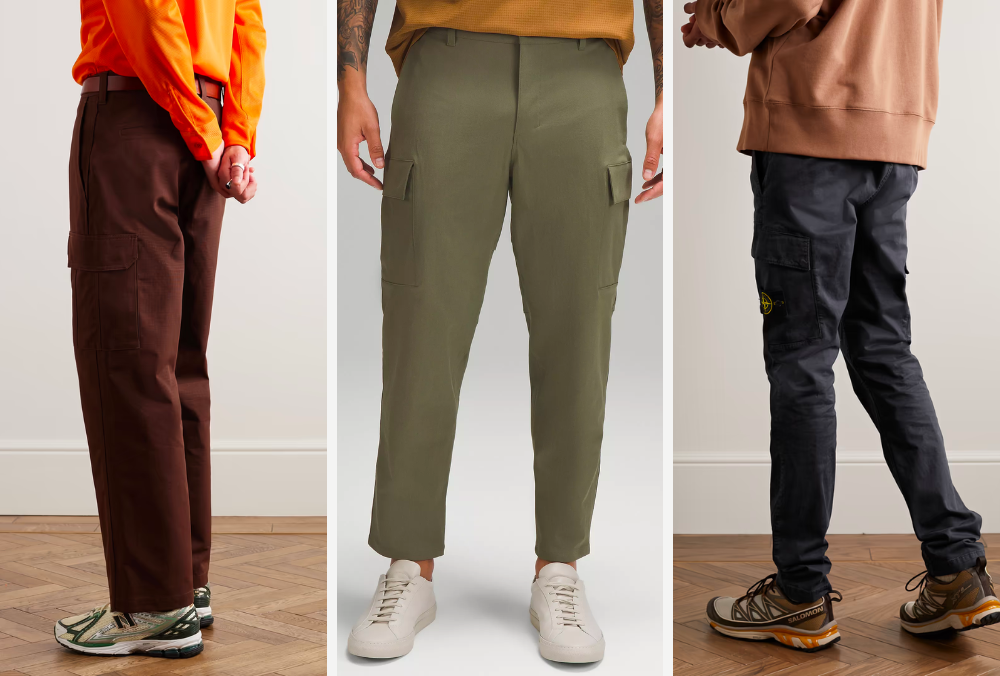 You might be wondering:
Are cargo pants in style in 2023?
Well, I've got great news for you.
In one word? Yes.
In a few more? Cargo pants—in a modern, slimmer cut—are not just in style. They're 100%, totally #SGapproved for guys to wear from college through their golden years.
They've just got to be the right cargo pants.
Hear me out!
Even if your wardrobe has gone full WFH mode post-pandemic, I bet that every so often you find yourself itching to get back to "real" pants.
Pants that make you look and feel comfortable and put-together.
And that pant is a modern cargo pant, I'm tellin' ya!
I promise, these are not the cargo pants of your youth.
Today's cargo pants fit slim through the leg, even tapering at the ankle for an easy cuff.
The rules of how to wear cargo pants have changed along with their fit, and the options for what to wear with cargo pants have expanded drastically.
Cargo pants are a great casual alternative to jeans, chinos, and 5-pocket twill pants.
Of course, you could wear the outfits below with any of those pants styles, too.
Personally, I really like the nod cargo pants give to the military trend that has been in style for what feels like forever. It makes them interesting without looking "out there."
Here's what you'll find in this style guide to cargo pants:
Below, 5 outfits for wearing cargo pants:
MONDAY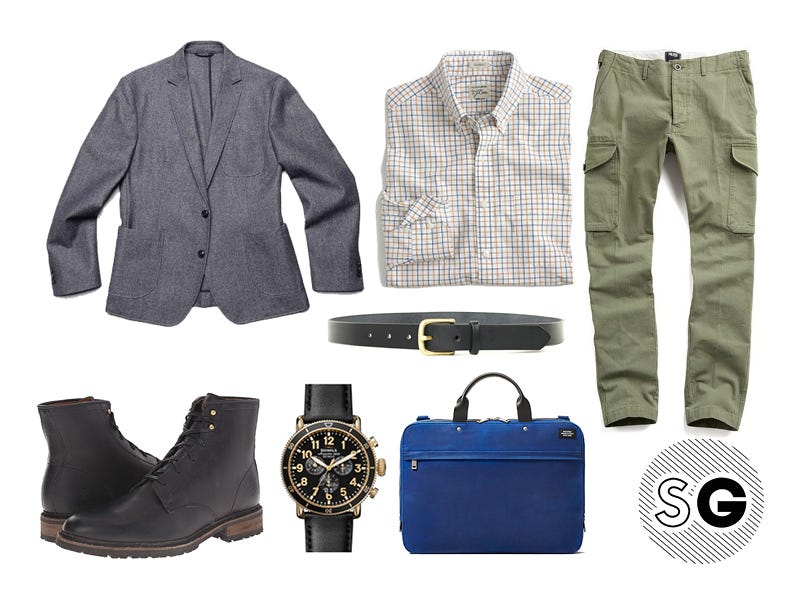 shirt: J.Crew | boots (similar): To Boot New York | watch: Shinola
If you're asking skeptically, Are cargo pants business casual? Can you wear cargo pants to work?
Let this outfit put your mind to rest because the answer is YES.
Dress up your cargo pants for a creative work place with a blazer like in the look above. Roll up the cargo pants and sleeves to give the outfit a lived-in look.
TUESDAY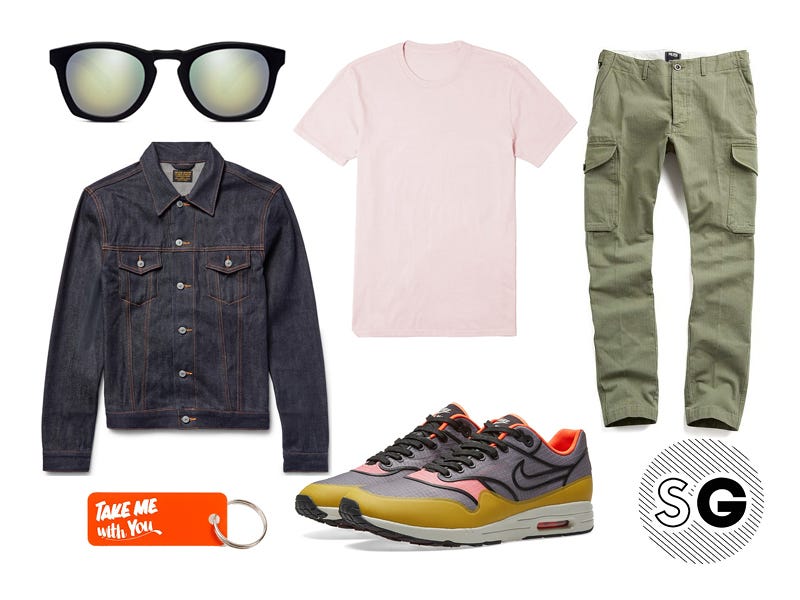 tee: Everlane
A few pops of color make your "running errands" outfit feel more fun.
Think: a deeply-saturated denim jacket and bright sneakers.
This pair of cargos tapers nicely through the leg for a trouser-like fit so even when you're dressed casually, you'll still look pulled together.
WEDNESDAY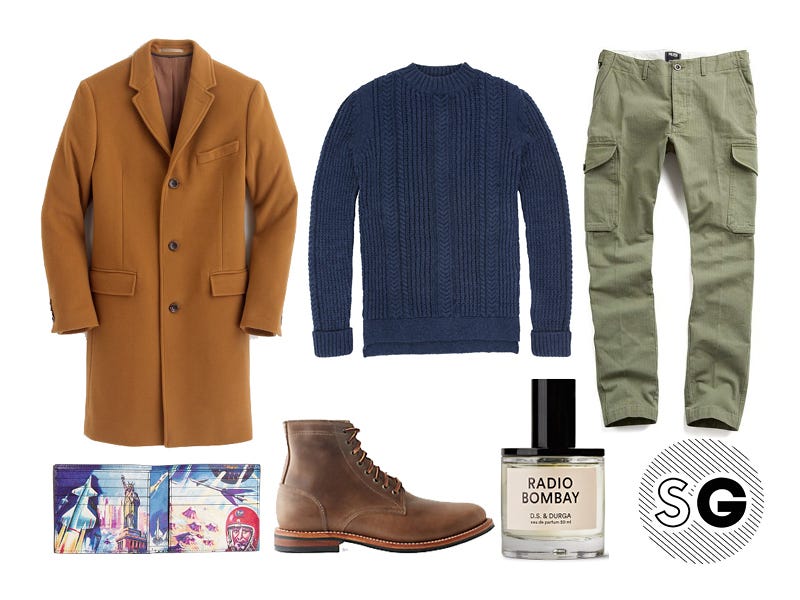 boots: Oak Street Bootmakers
You can wear your cargo pants in cooler months by dressing them up with a textured sweater and topcoat.
This outfit helps you nail that 'rugged gentleman' vibe everyone's going after these days.
THURSDAY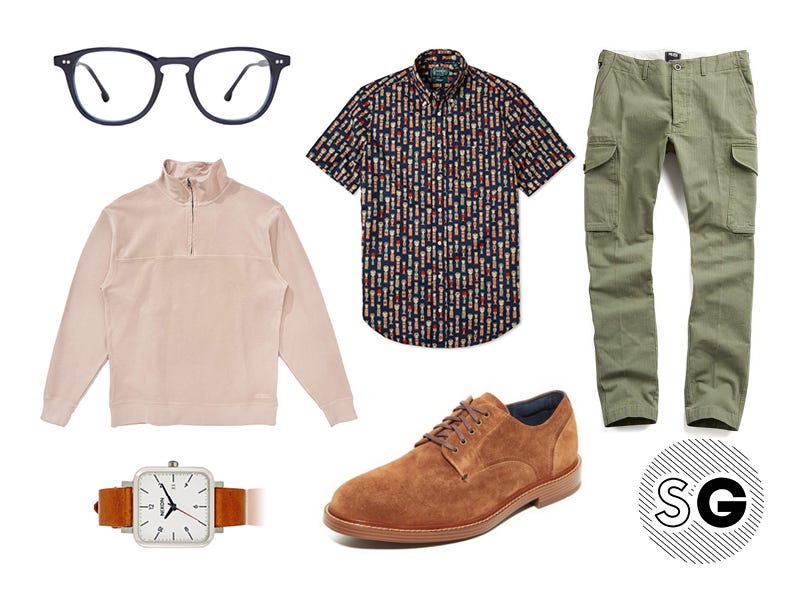 shirt (similar): Faherty | shoes: Brooks Brothers
A zippy, fun short-sleeve shirt, with a half zip sweater and derbies take your cargos from work to drinks.
FRIDAY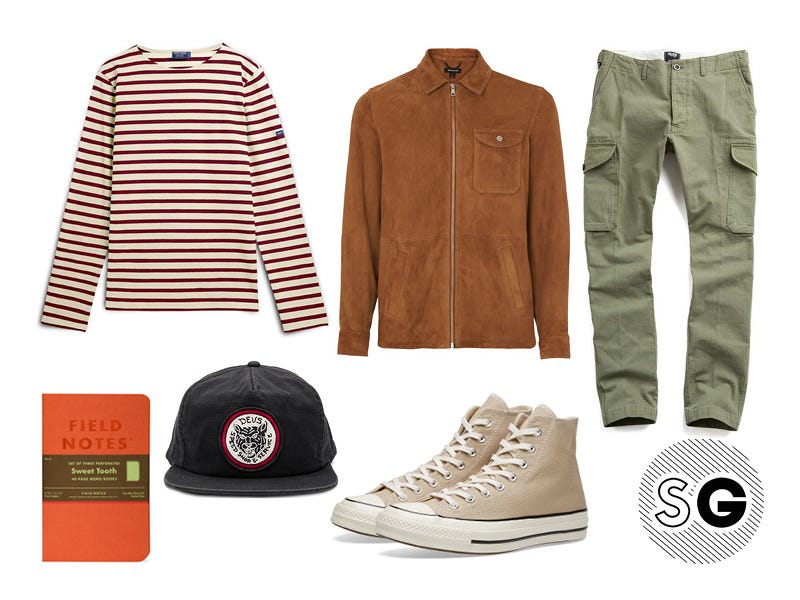 Breton stripe shirt: Saint James | sneakers: Converse
A striped Breton shirt and a suede collared jacket elevate cargos while still keeping things casual.
When you're wondering what shoes to wear with cargo pants, obviously a tie shoe or boot elevates their look but don't be afraid to throw on a sneaker for a casual day out.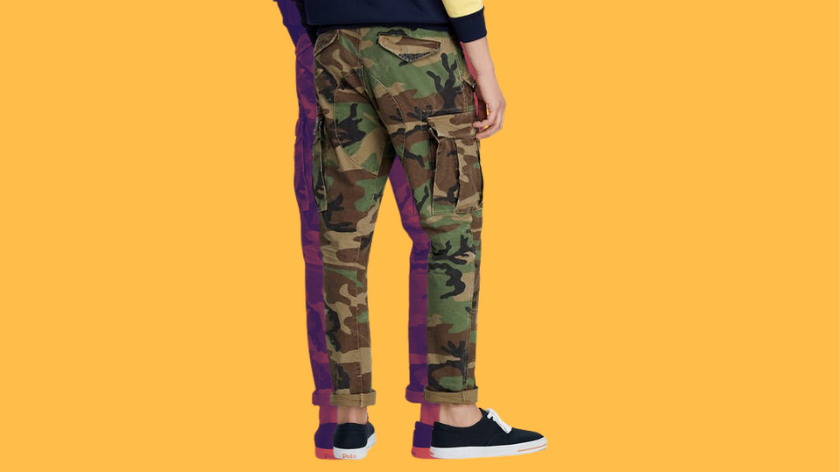 The best shoes for cargo pants
Ultimately, the choice of shoes depends on the occasion, personal style, and the overall look you are trying to achieve.
HIGH-TOP SNEAKERS – High-top sneakers like Vans Sk8-Hi's or Nike Blazers are a comfortable and casual option that can work well with the more functional look of cargo pants.
You can go with a sneaker that hits lower on the ankle, too; just make sure the shoe errs on the chunkier side, so it doesn't feel too slim for the pants.
HIKING BOOTS – Boots are a great option for colder weather or for a more rugged, carpentercore look.
LOAFERS – Loafers are a more polished option that can dress up cargo pants in a surprisingly stylish "fashion meets function" way.
A penny loafer, for instance, can help cargo pants feel appropriate in a business casual setting or for a dressier occasion.
For this look to work, make sure the opening of the pants tapers at your ankle. Nothing baggy that pools around the shoe.
BACKLESS SHOES – Backless shoes like a Birkenstock clog or a sandal are great options for warmer weather or for a more laid-back, beachy vibe.
Note: this doesn't mean flip flops!
Yes, Abercrombie & Fitch is cool again, but that doesn't mean you want to dress like a door greeter from the last time the store was popular.
Shop #SGapproved cargo pants picks:
***
Want to see more ways to wear your favorite pieces?
Check out five ways to wear lace up boots, a Breton shirt and a hoodie sweatshirt.

Like a phoenix rising from the ashes, Gabi Meyers went from Team SG's first-ever intern to a trusted fashion editor and stylist. She currently lives in Chicago with a very cute dog.