Guys, It's time to Embrace Cargo Pants in 2021
That's right - cargo pants are back in style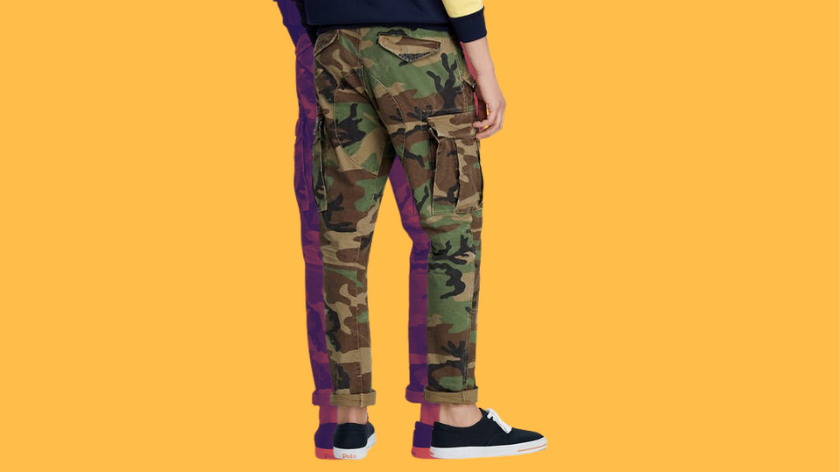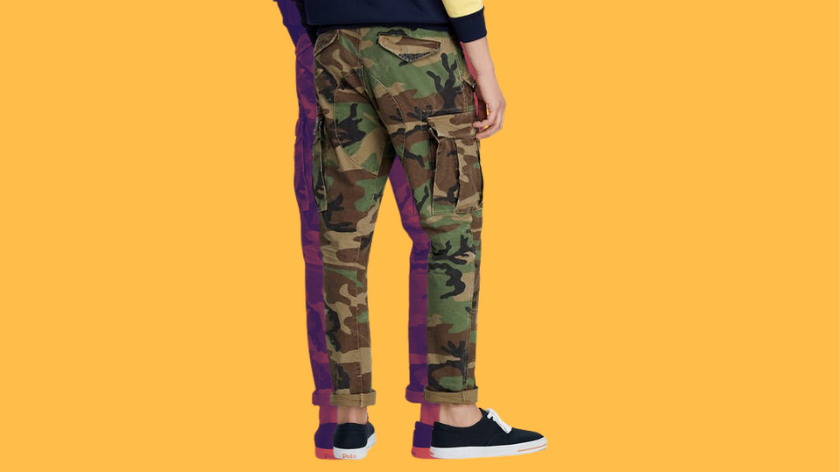 Now you're probably wondering:
Are cargo pants even in style in 2022? One word: yes.
Hear me out! So many of us have been working from home for almost a year now. And while we may still be getting dressed from the torso up, it's been easy to let the lower half slide.
Even if you're starting to get sick of sweats, though, I can't imagine you're exactly rushing to get jump into a pair of dress pants anytime soon. Especially if your WFH status remains fixed in the new year.
Meaning? Guys are going to start looking for an "in-between pant" to make you look and feel comfortable and put-together.
And that pant is a modern cargo pant, I'm tellin' ya!
I promise, these are not the cargo pants of your youth. Today's cargo pants fit slim through the leg, even tapering at the ankle for an easy cuff. The rules of how to wear cargo pants have changed and the options for what to wear with cargo pants have expanded drastically.
Cargo pants are a great casual alternative to jeans, chinos, and 5-pocket twill pants. Of course, you could wear the outfits below with any of those pants styles, too.
Personally, I really like the nod cargo pants give to the military trend that has been in style for what feels like forever. It makes them just interesting enough without looking "out there."
Oh, and also, they are the perfect weight for spring weather!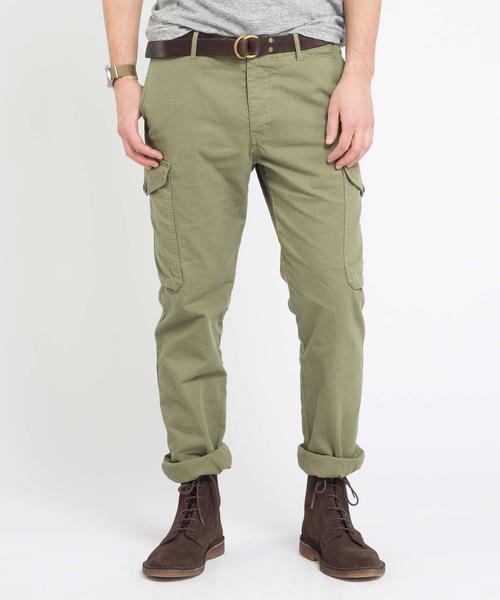 The modern cargo pants are slimmer in cut, with pockets that add visual interest, without the bulk.
Below are some ways to style cargo pants. Here's what you'll find in our picks:
Are cargo pants business casual? Can you wear cargo pants to work? Our answer may surprise you.
What shoe options to wear with cargo pants. Spoiler alert: not just sneakers!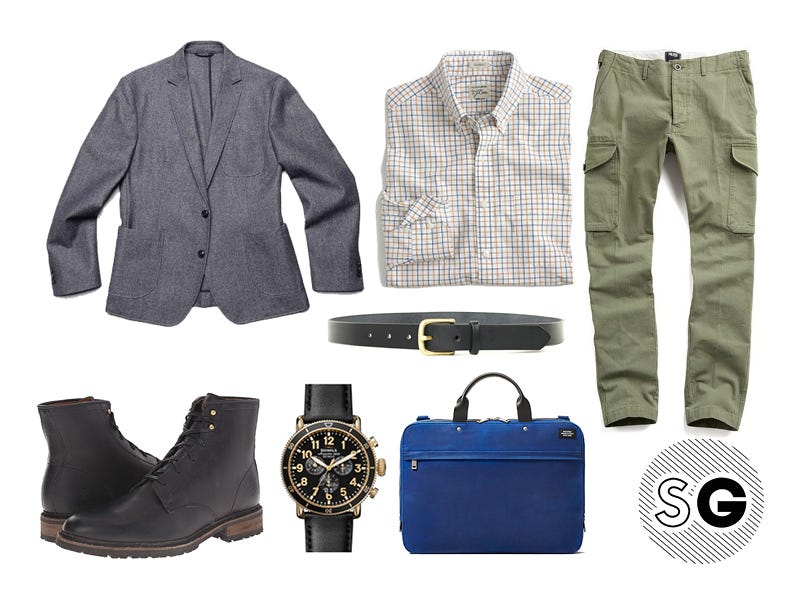 shirt: J.Crew | boots (similar): To Boot New York | watch: Shinola
Wear it well: If you're wondering if cargo pants are business casual? That depends on how you style them. Dress up your cargo pants for a creative work place with a blazer – roll up the cargo pants AND push your sleeves up to give it a lived in look.
TUESDAY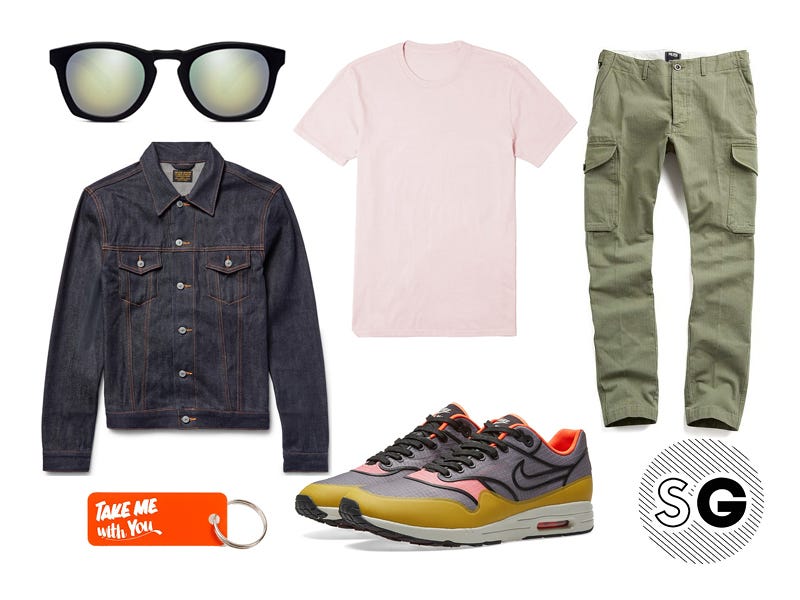 tee: Everlane 
Wear it well: A few pops of color make your running errands outfit, complete with denim jacket and bright sneakers, feel more fun.
WEDNESDAY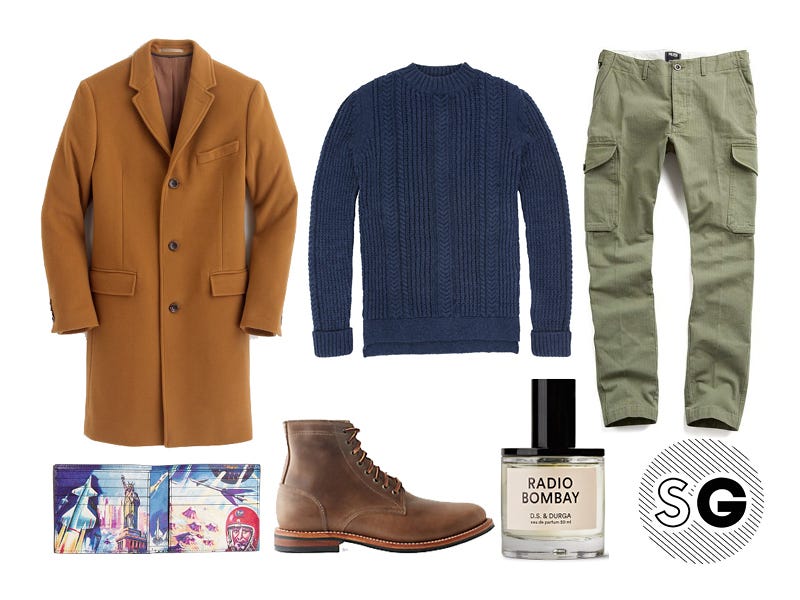 boots: Oak Street Bootmakers
Wear it well: You can wear your cargo pants all the way back to cool weather, by dressing them up with a textured sweater and topcoat. You're sure to nail that 'rugged gentleman' vibe.
THURSDAY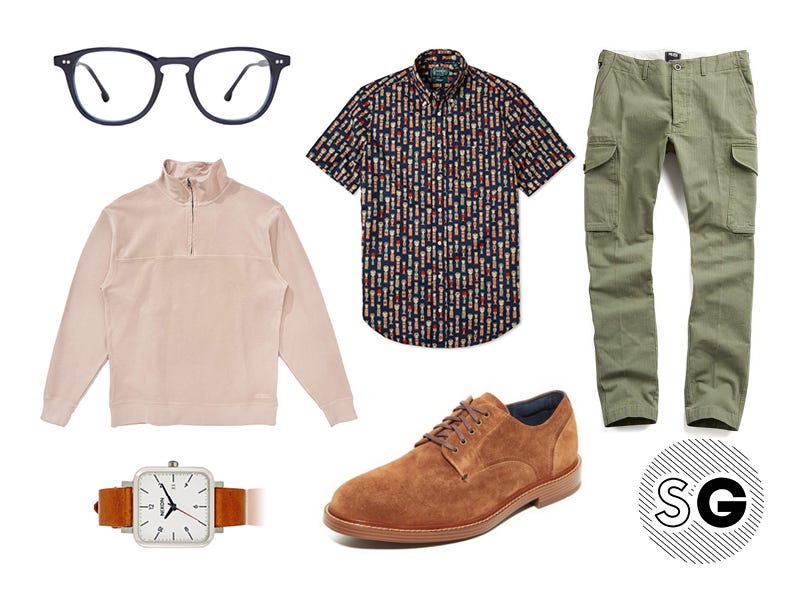 shirt (similar): Faherty| shoes: Brooks Brothers
Wear it well: A zippy, fun short-sleeve shirt, with a half zip sweater and derbies take your cargos from work to drinks.
FRIDAY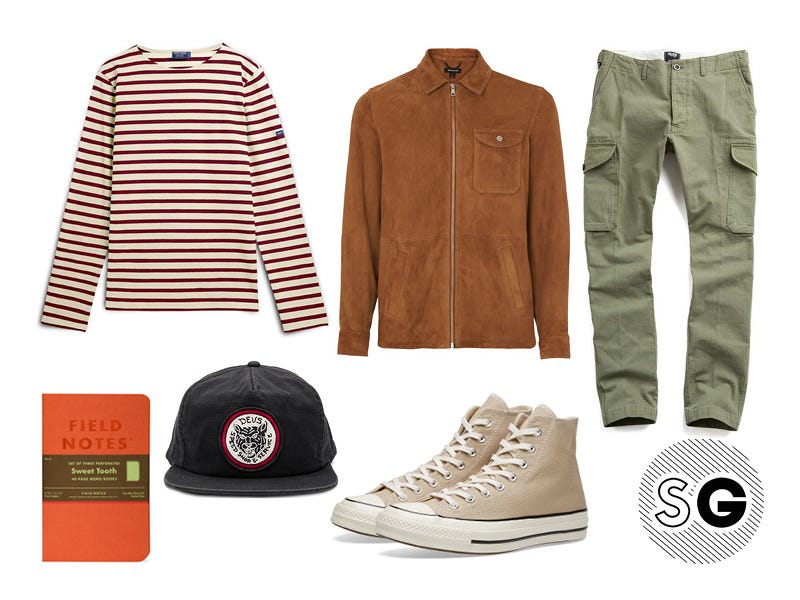 Breton stripe shirt: Saint James | Sneakers: Converse
Wear it well: A Breton shirt and a suede collared jacket elevate cargos while still keeping things casual. When you're wondering what shoes to wear with cargo pants, obviously a tie shoe or boot elevates their look but don't be afraid to throw on a sneaker for a casual day out.
Shop #SGapproved cargo pants picks: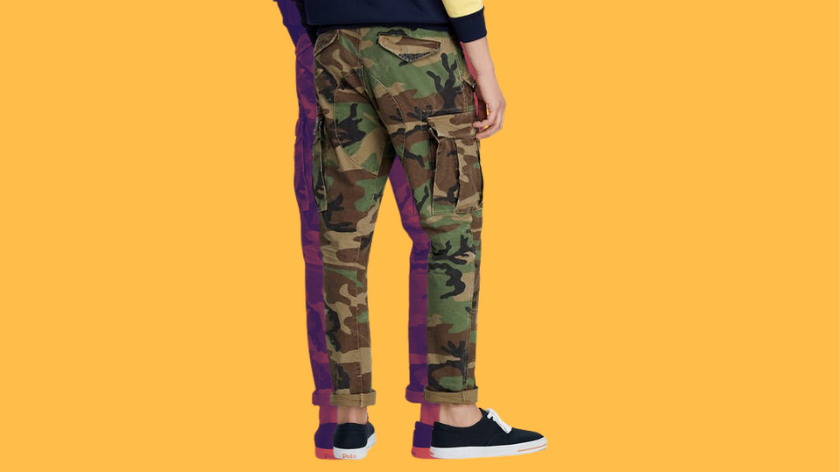 Polo Ralph Lauren classic tapered fit cargo pants, $79 — I promise you won't look like you're doing Lieutenant Dan cosplay in these surprisingly sophisticated camo cargo pants from Polo Ralph Lauren.
Lee tapered fit cargo pants, $39 — Remember Lee? Yeah, me either almost.
But they're back? I guess?! Because this pair of cargos that tapers nicely through the leg for a trouser-like fit is C O O L!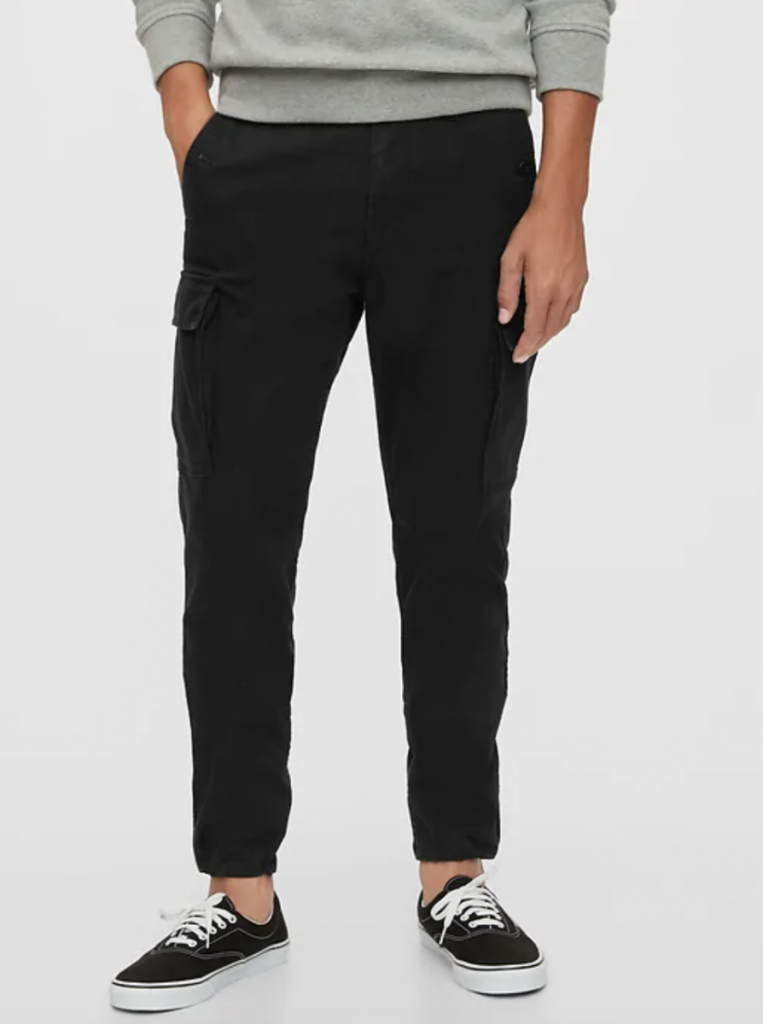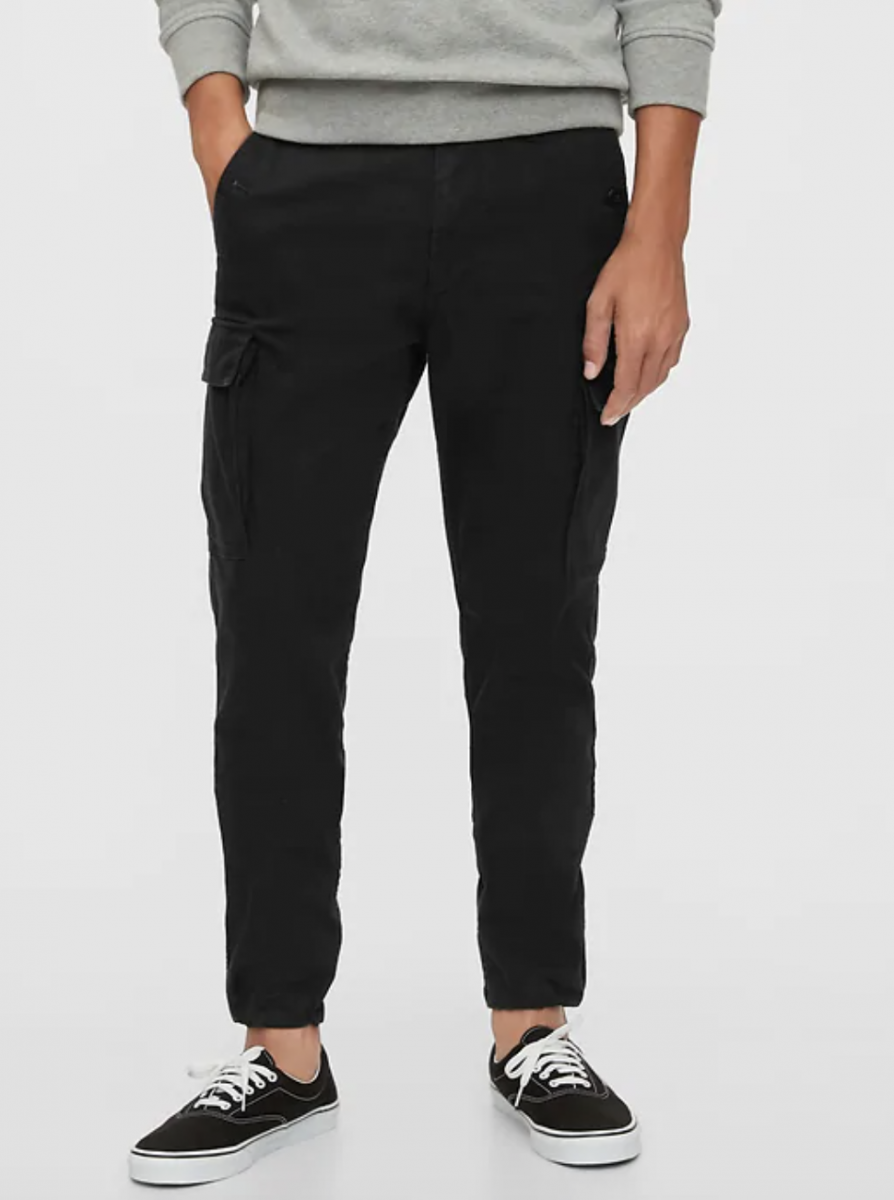 Gap herringbone cargo pants, $80 — A slight herringbone pattern sets these cargo pants apart.
You'll feel dressed up while still totally comfy for WFH in this Gap style.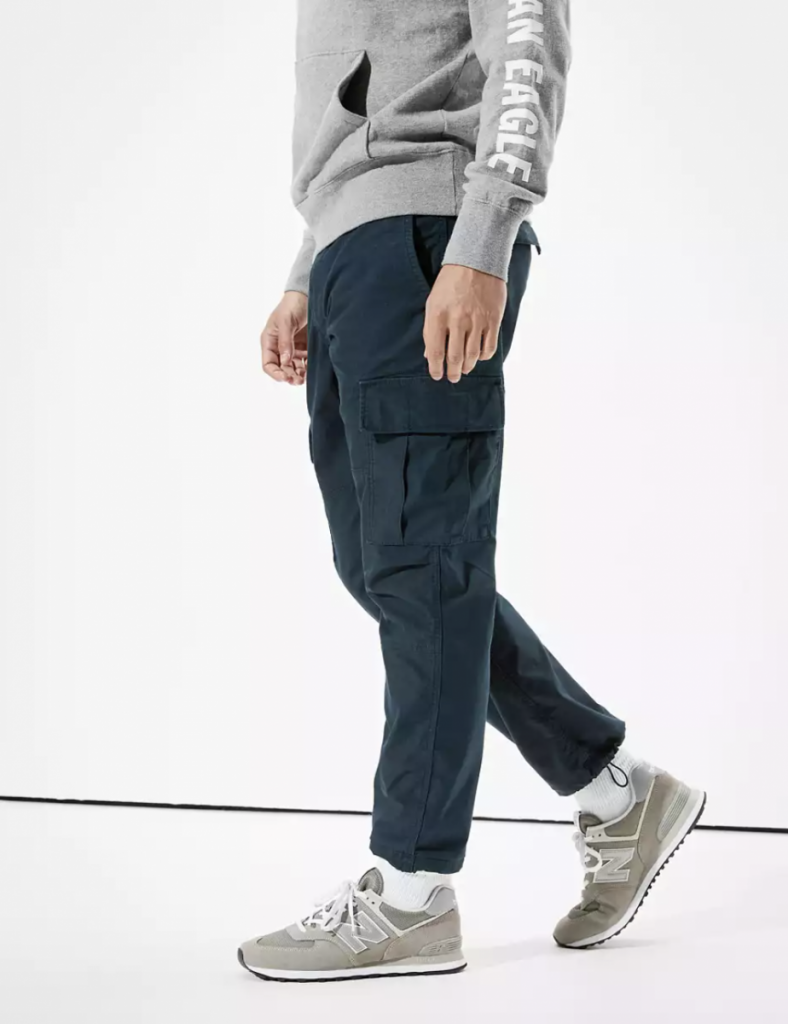 American Eagle workwear cargo pant, $25 — Another trend mix we love! Workwear pants make for a natural fit for a cargo pocket.
This pair from AE Outfitters is an inexpensive way to try out both trends.
***
Want to see more ways to wear your favorite pieces? See five ways to wear lace up boots, a breton shirt and brown derby shoes.