5 Days, 5 Ways: The Pullover Hoodie Sweatshirt
Tips on elevating this casual classic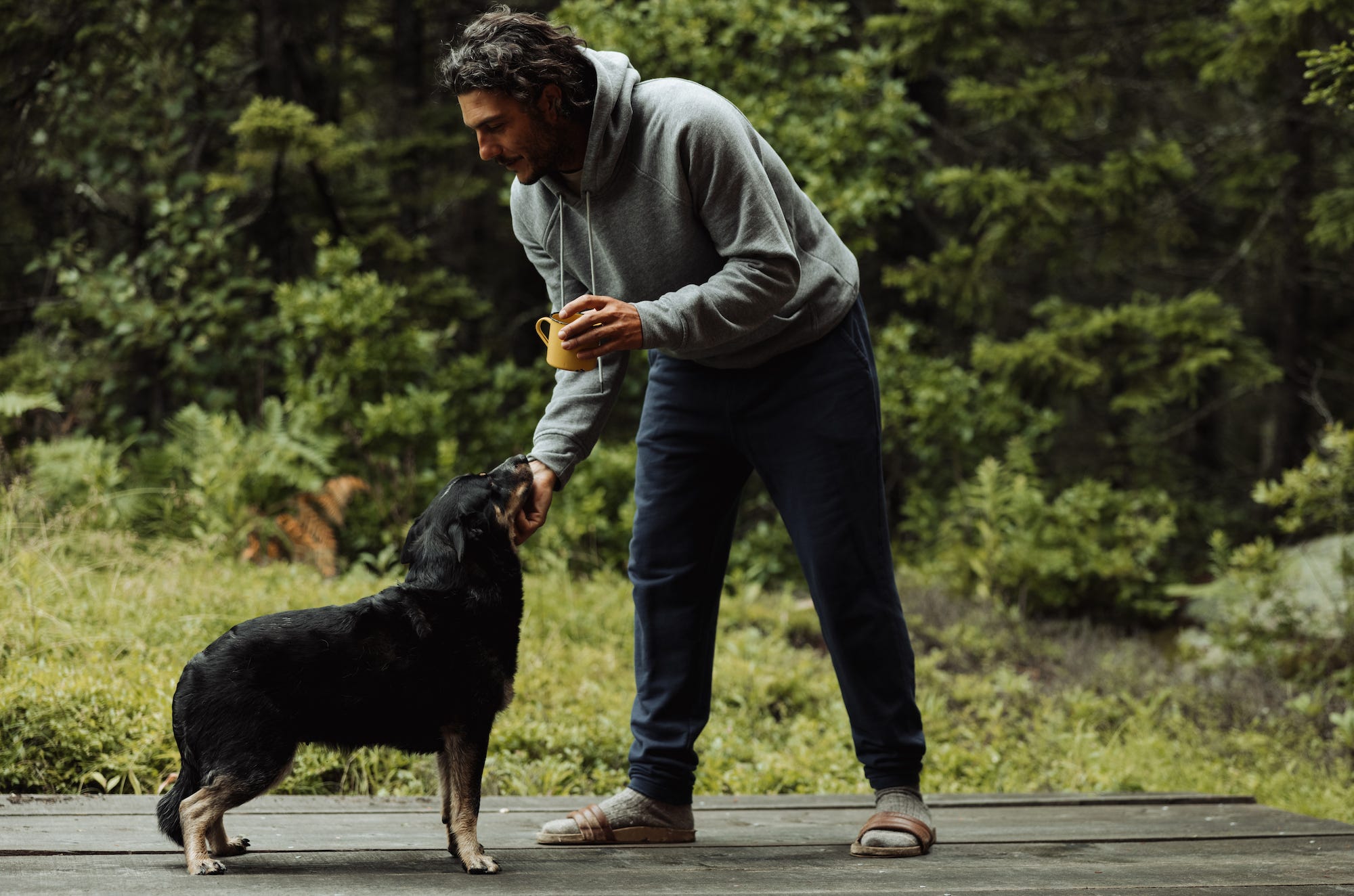 Fall means cozy, and cozy means pullover hoodies. It's just math!
After moving from the Bay Area to Chicago this summer, I can attest that men all across the country grab for their hoodies at even the hint of a crisp, cool day.
But there's a difference between a hoodie outfit that looks like you threw it on in the dark as you venture out in search of a breakfast sandwich, and a thoughtfully-put together, casually stylish hoodie outfit.
Let's make sure you know how to style a hoodie so you definitively fall in the latter camp.
First thing's first?
You've gotta start with a quality hoodie sweatshirt.
While we all have our personal favorite hoodie that drums up nostalgia from the glory days of high school sports, it helps to have an option that's elevated without compromising comfort.
Enter: the Flint & Tinder 10-Year Pullover, available only on Huckberry.
With clean lines, a structured fit, and raglan sleeves that allow full range of movement whether you're throwing the pigskin or reaching for a book on the top shelf of the library, this is a hoodie you can feel good about.
Not only does it flatter in a way that you didn't think was possible with a kangaroo pocket, but it's homegrown in America.
The cotton comes from the Mississippi Delta, the fleece is made in South Carolina. The twill-reinforced tape holding everything in its place hails from Philadelphia (like me!), and it all comes together in Los Angeles. 
Plus, this bad boy comes in six solid (in both senses of the word) color options, so there is certainly one that will fit just right in your wardrobe.
And once you do find your perfect shade and wear it until it rips at the seams, you can get it repaired with its 10-year guarantee.
Not convinced?
Check out how to style a hoodie for every day of the week:
Monday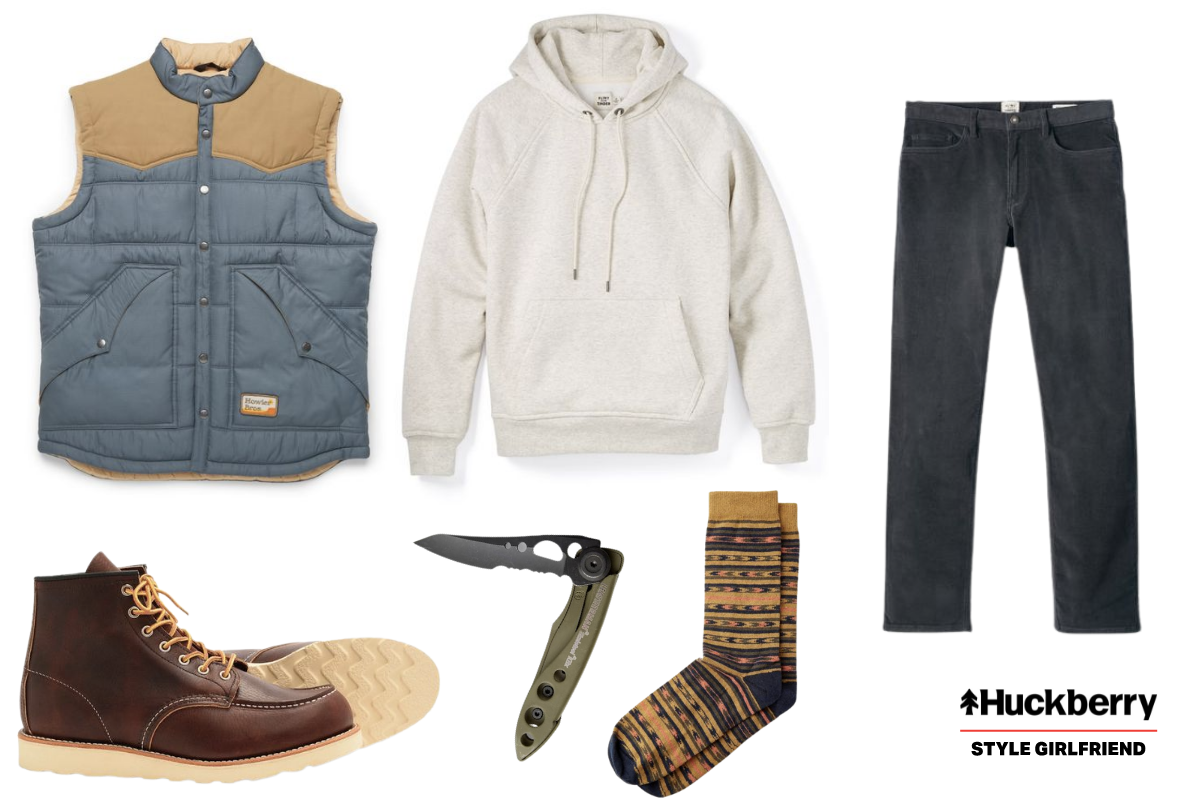 Shop the outfit:
We all know sweatshirts are the reigning king of your athleisure wardrobe, so let's put this one to the test!
RELATED: Shop all Team SG's fall favorites
With cords, moc boots, and a puffer vest, this sweatshirt makes a great layer for one of those leisurely fall hikes that somehow ends at the hot new brewery in town.
AKA, the perfect fall day.
Happen to forage a mushroom somewhere along the trail? Your kangaroo pocket provides safe keeping until you've made it home.
Tuesday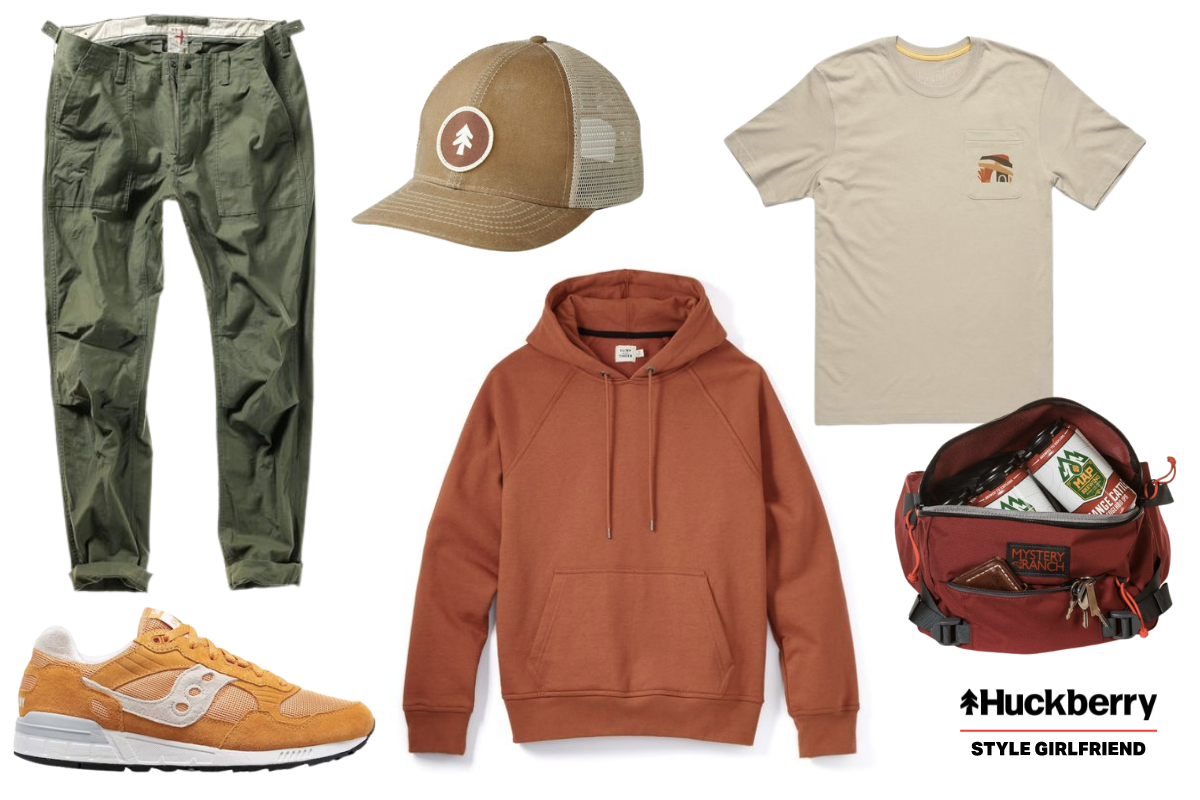 Shop the outfit:
Blending into a crowd is kind of lame, but have you considered blending into the fall foliage?
Romanticize your next errand run by letting the turning leaves inspire the color palette of your fit.
Wednesday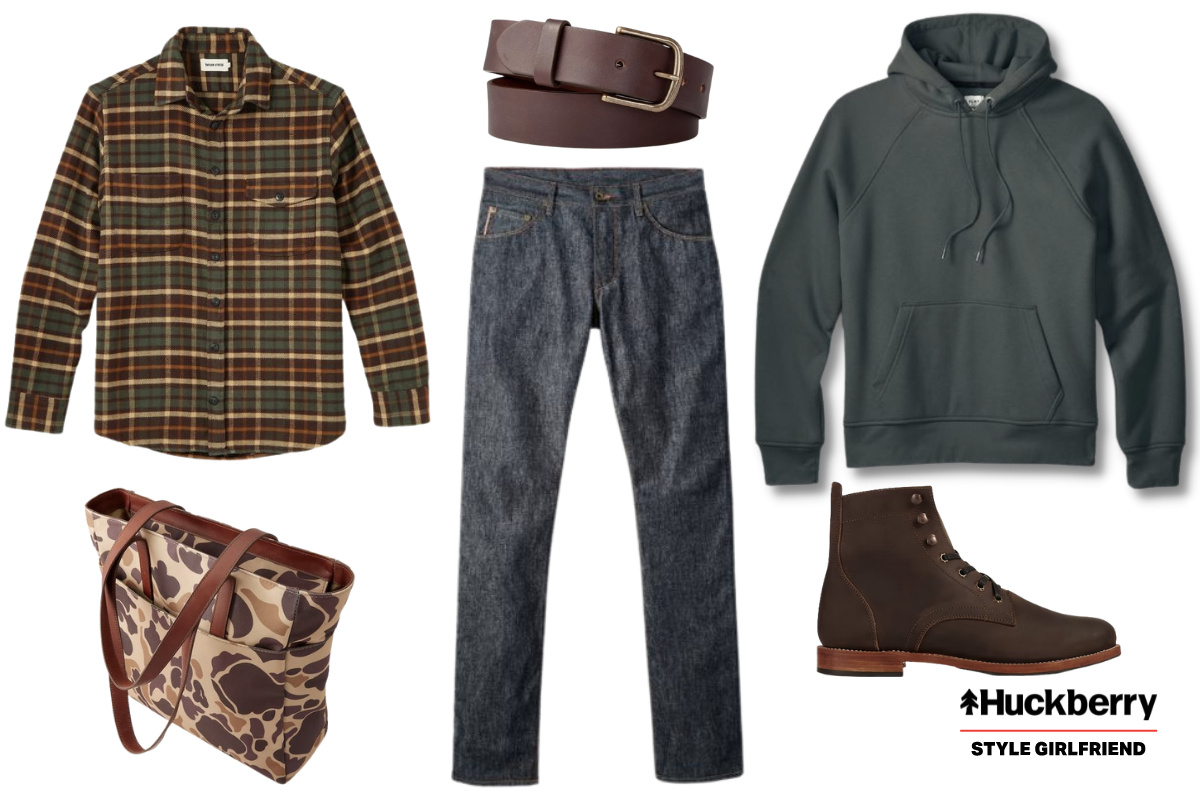 Shop the outfit:
Breaking in selvage jeans is hard work, so whether you've done your time or are just getting started, reward yourself with comfort elsewhere on the body.
Let the plaid of an ultra-soft flannel shirt peek out from underneath the collar of this cozy pullover for a laid-back, yet tidy, fall look.
Thursday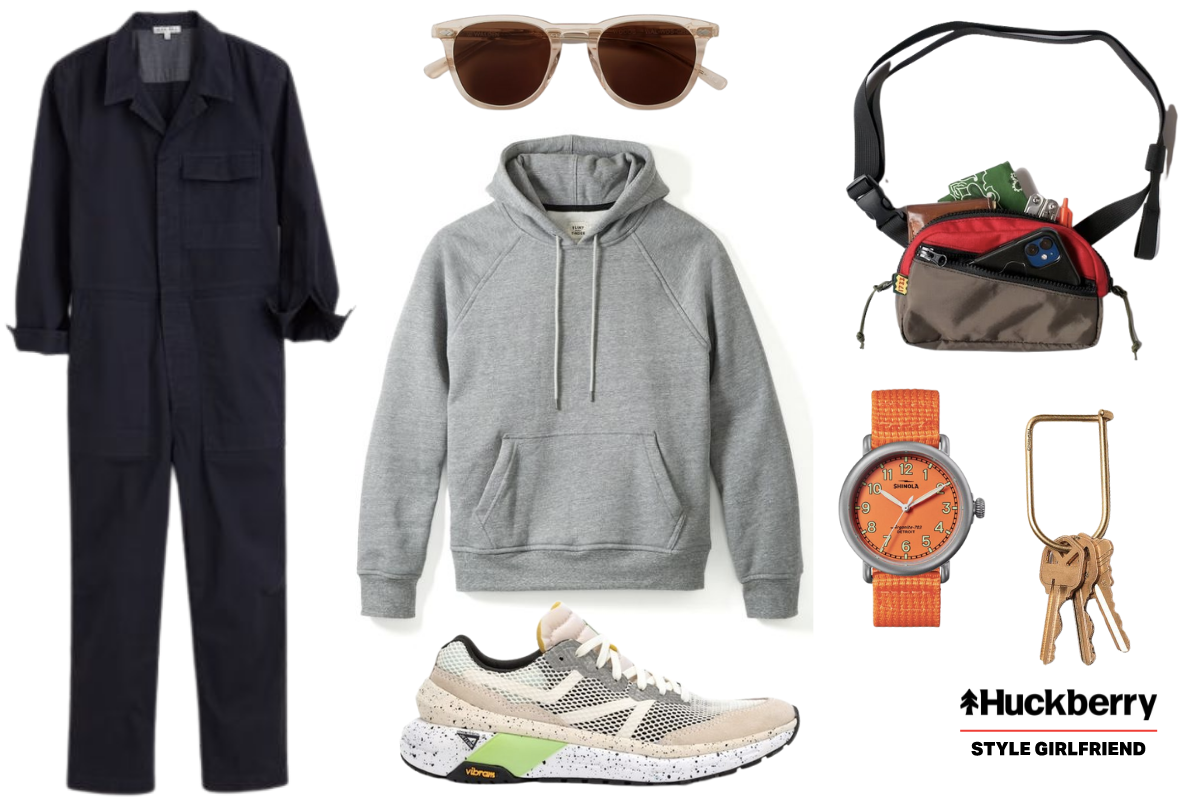 Shop the outfit:
Have you jumped on the jumpsuit train yet? Personally, I am a huge fan of the ease of a coverall, and love how it lets you play with creative layering. 
If you opt for an oversized fit with the jumpsuit, you can wear a slim fit hoodie underneath on a cooler day, and leave the front unbuttoned for a little game of peekaboo.
Alternatively , you can wear the sleeves of the jumpsuit tied at the waist, and cuff the bottoms up for a more relaxed, just-threw-this-on look.
Friday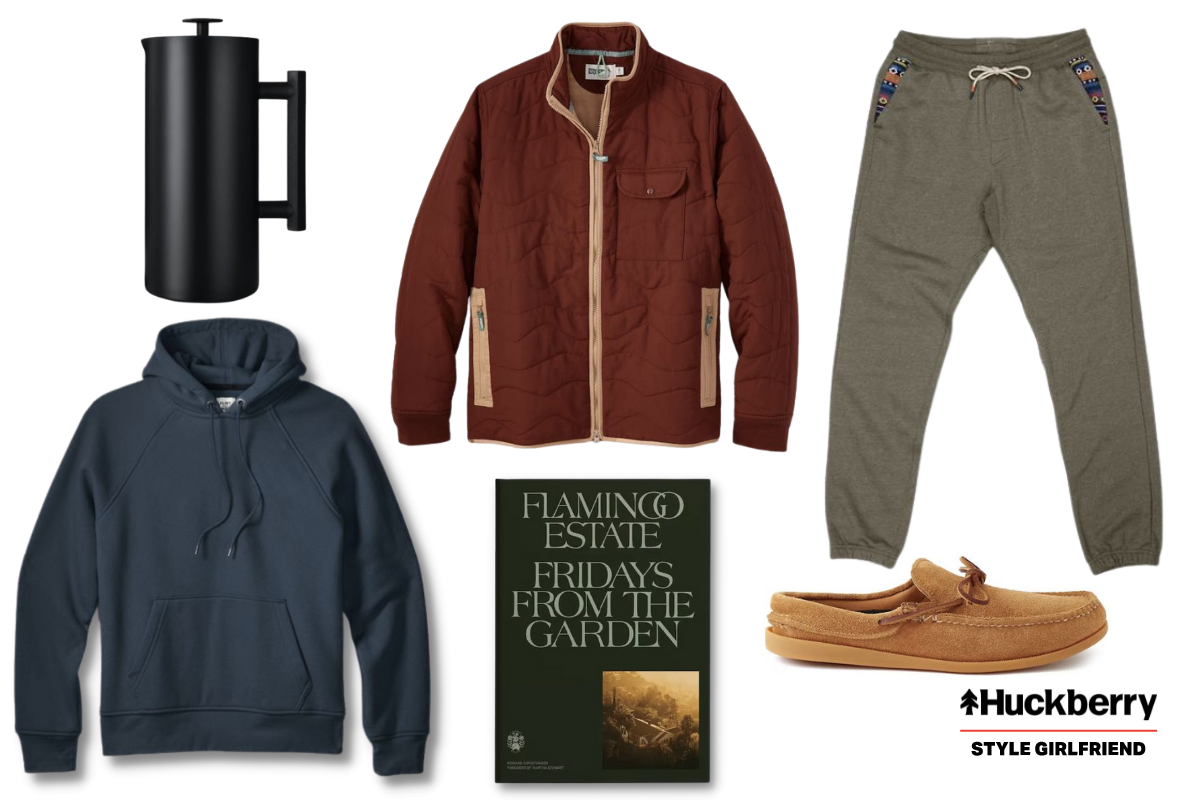 Shop the outfit:
A look to take you into a lazy fall weekend.
Let your hoodie serve its original purpose as your #1 layer for loafing around, drinking coffee, and maybe slinking out to grab a newspaper if you really feel like showing it off. 
More men's hoodie sweatshirt outfit inspiration:

Like a phoenix rising from the ashes, Gabi Meyers went from Team SG's first-ever intern to a trusted fashion editor and stylist. She currently lives in Chicago with a very cute dog.