How to Wear Jogger Pants: Athleisure Inspiration
Who says good style can't be comfortable?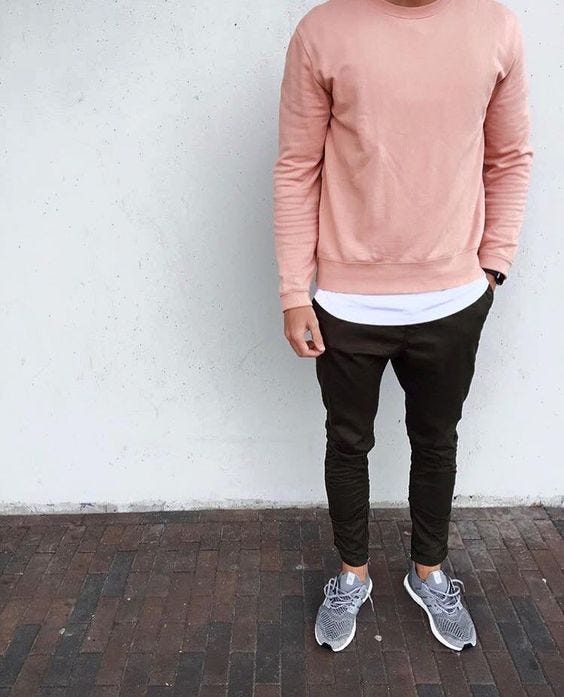 We're all for guys building a wardrobe full of classic, "never going out of style" pieces here at SG HQ, but sometimes a trend simply refused to be ignored.
Case in point: the jogger pant.
A few short years ago, only a few fashion-forward brands offered the pant with an elasticized ankle (and for way too much money, at that). Now, finding a pair is as easy – and inexpensive – as hitting up your local mall's racks.
The beauty of the jogger pant lies is twofold:
1) They're basically dressed-up sweatpants, meaning you can wear your formerly "only at home" comfy pants out of the house, and no one will judge you.
2) They go with pretty much everything that's already in your closet. The style is so mainstream that at this point you can find joggers offered in nearly any material you can think of – denim, khaki, terry cloth, etc. If you don't want to wear real pants, it's time you jump on the jogger pant bandwagon.
Below, jogger pants outfit ideas for guys:
With a sweatshirt and sneakers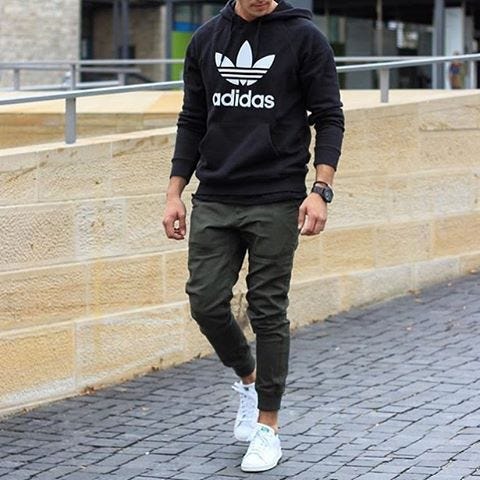 SG Says: Consider this Joggers 101. If you're wondering how to wear jogger pants, start here. Clean white sneakers, dark colors, minimal accessories, and a casual-but-well-fitting hoodie.
If the idea of wearing tapered athleisure pants already has you outside your comfort zone, an outfit like this will feel stylish, not scary.
With tasseled loafers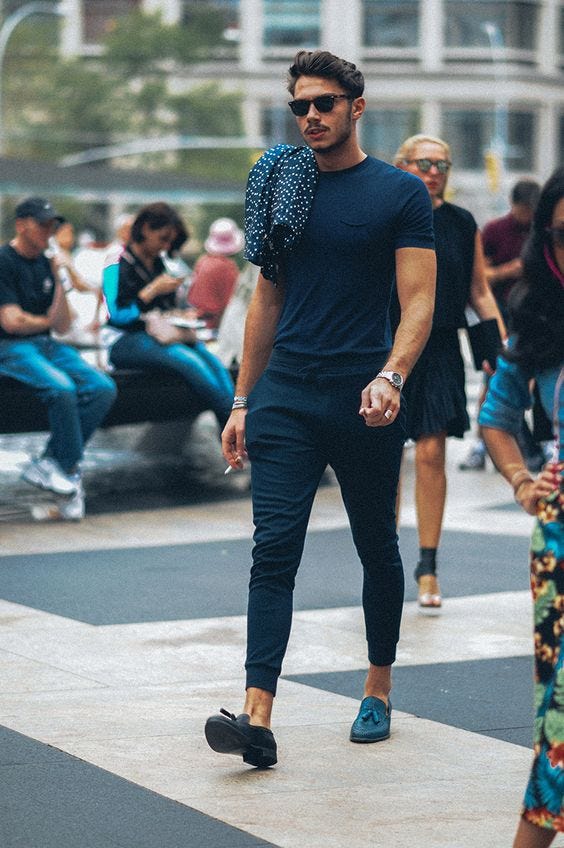 SG Says: Apart from the cigarette, we're very into this whole look. A monochromatic palette? Check. Breezy yet sophisticated slip-ons? Check. Statement jacket casually slung over shoulder? Checkmate.
With simple sneakers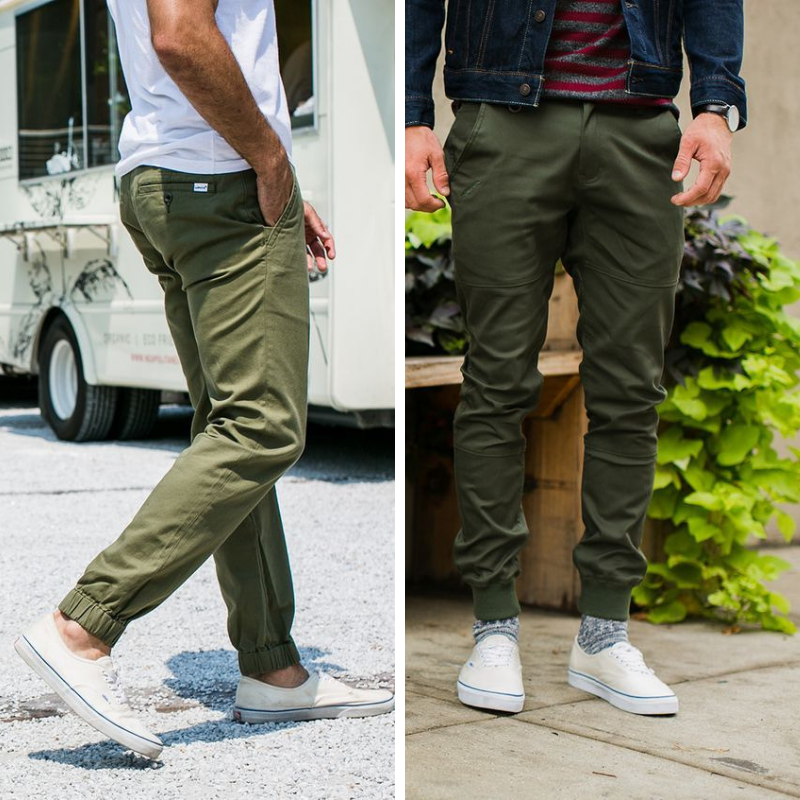 SG Says: Olive chinos and a light sneaker, worn in two different seasons. On the left, the t-shirt and flash of ankle show you how to wear jogger pants in warm weather.
On the right, thick socks and a sweater under a denim jacket let you know these pants are not reserved for spring and summer.
With a crewneck sweatshirt and sporty sneakers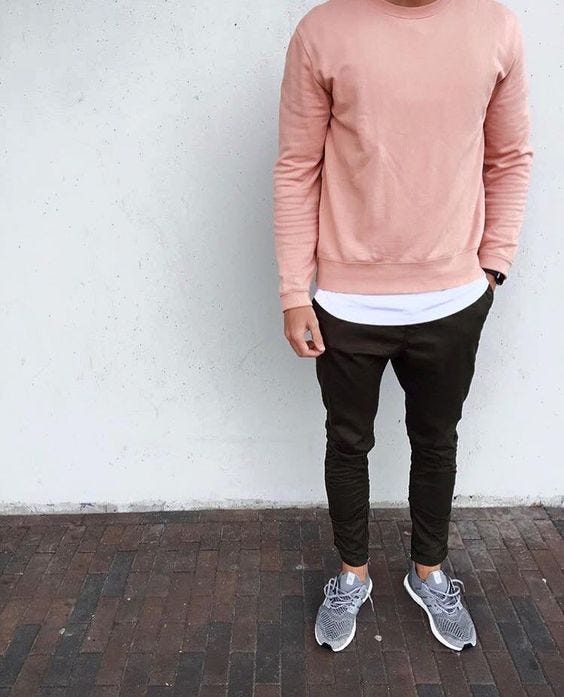 SG Says: Do not sleep on this brown and millennial pink pairing. Broken up by a clean white tee and capped off with oh-so-casually unlaced sneaks, this outfit looks fresh and modern…yet fully grown-up.
Wear joggers in a fun color or pattern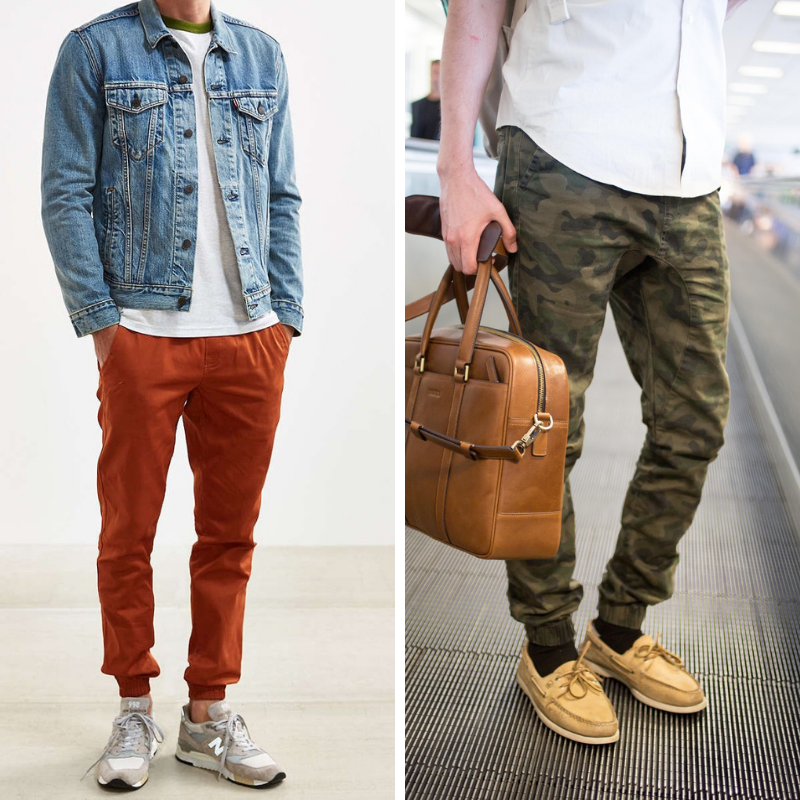 SG Says: If you were wondering how to break out of the mold when it comes to jogger pants, here's how.
Yes, you can wear bright colors, and yes, you can even wear camo. So long as the fit stays slim and the rest of your outfit looks put together, not sloppy.
With a button-down shirt!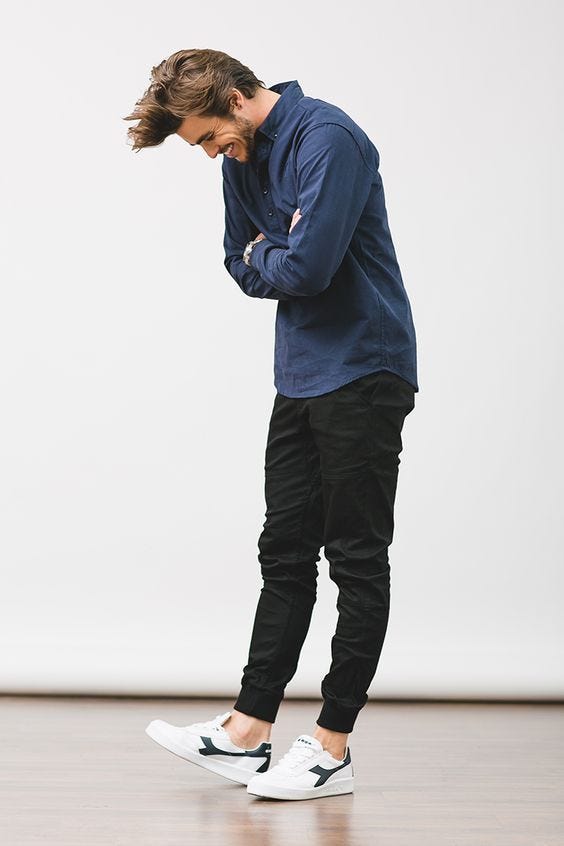 SG Says: You can even wear jogger pants with a button-down shirt. Don't tuck the shirt in (hopefully that's obvious, but you never know), and keep the color palette neutral if you're feeling nervous.
Wear joggers with business casual up top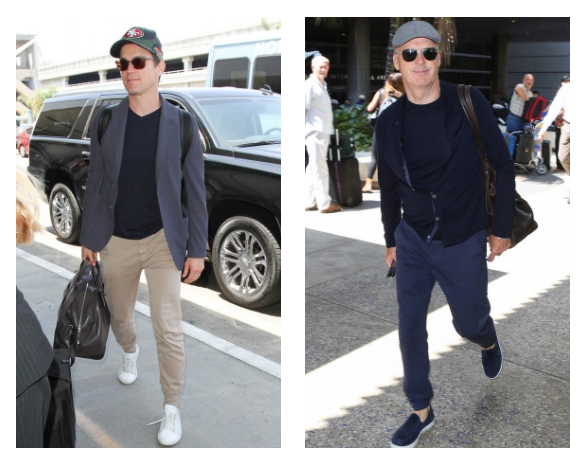 SG Says: When you're on the move, a pair of joggers can be clutch for travel days.
As GQ's Megan Gustashaw put it, "Pick up a pair of jogger-style sweats that look a little bit like chinos, then dress them up with a cashmere sweater or soft blazer and you're in business. Literally."
Shop #SGapproved jogger pants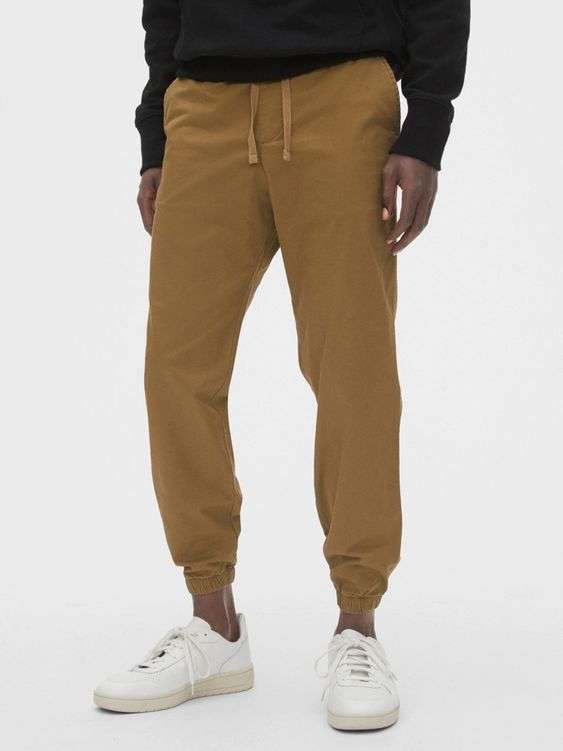 Best "almost like regular pants" joggers
Gap slim canvas joggers, $50 — This is the closest to just wearing chinos that you can get while embracing the joggers trend.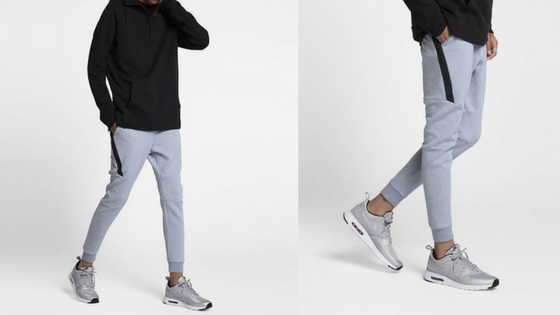 Best athletic joggers
Nike Tech Fleece Jogger Sweatpants, $110 — These are hands-down the best athletic joggers out. They come in a bunch of colorways (we like the grey above, and black), and fit like a dream.
Yes, you can wear them to work out, or you can just wear them around.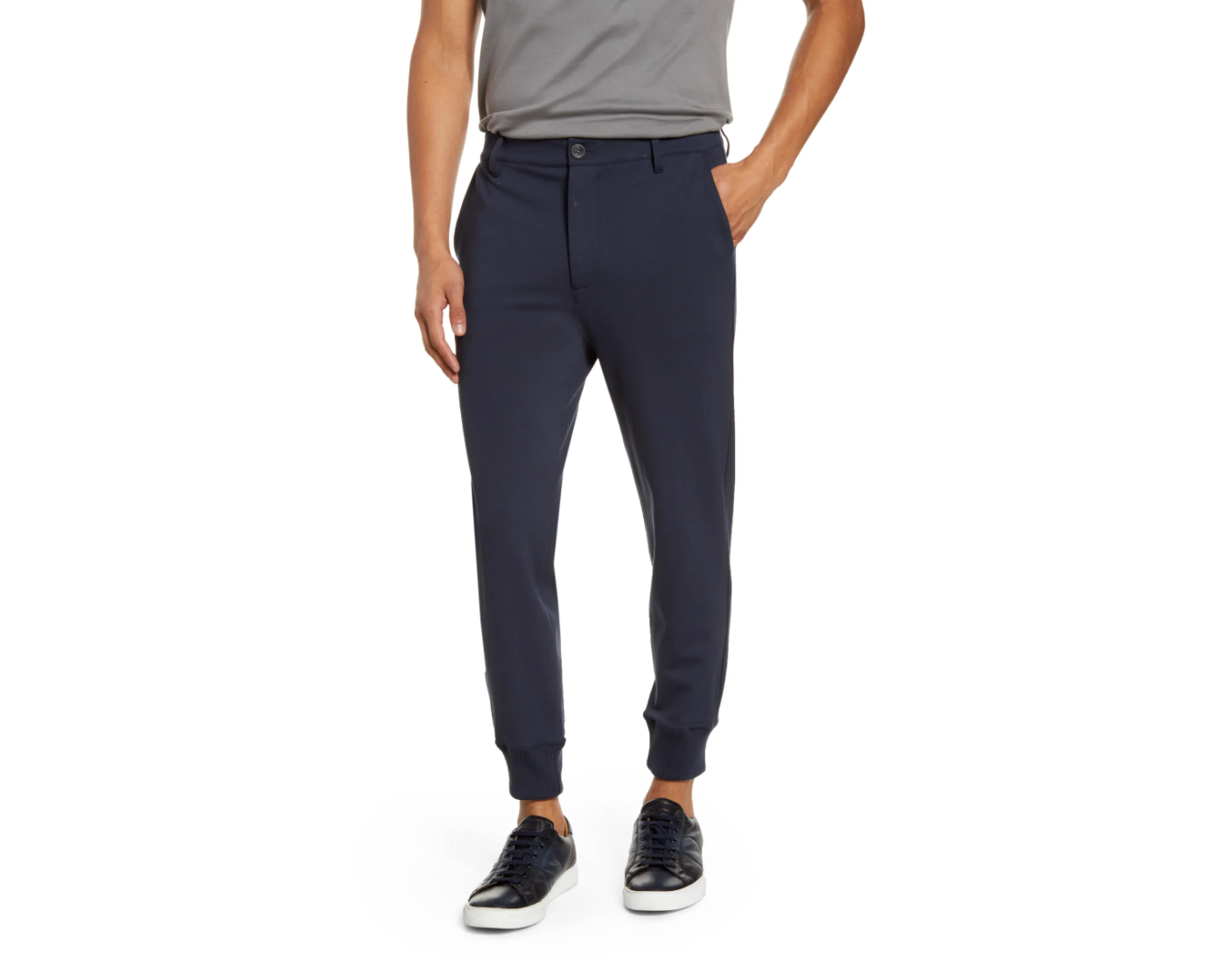 Best chino joggers
Paige Transcend Elmwood Jogger Pant, $199 — If you're familiar with Paige, you know they make great jeans. Like, GREAT jeans.
Their joggers are just as good.
Styled in PAIGE's slim Lenox profile, these jogger pants pair ribbed cuffs with four-pocket chinos construction for "best of both worlds" style and comfort.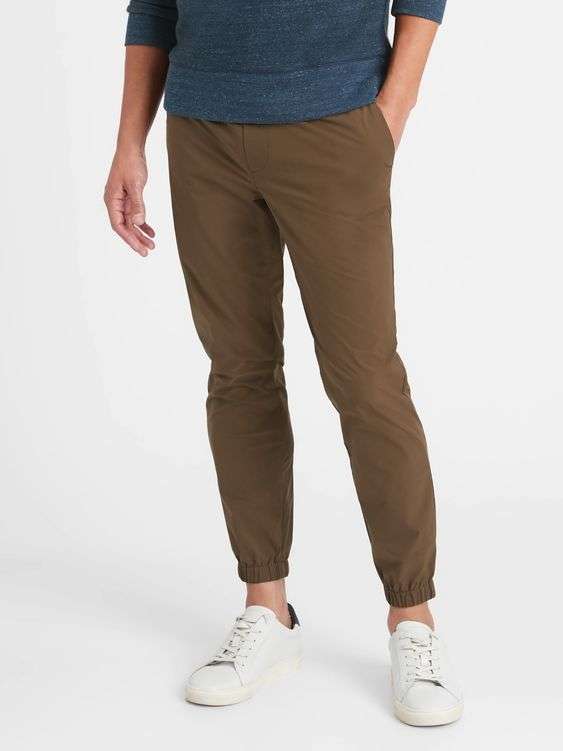 Best technical jogger
Banana Republic Slim Motion Tech Jogger, $109 — With an elastic waistband and front and back pockets, these joggers from Banana Republic offer the best of both worlds.
Formal enough silhouette while still feeling totally comfortable for whatever the day throws at you.
Below, 4 more outfit ideas on how to wear jogger pants:
School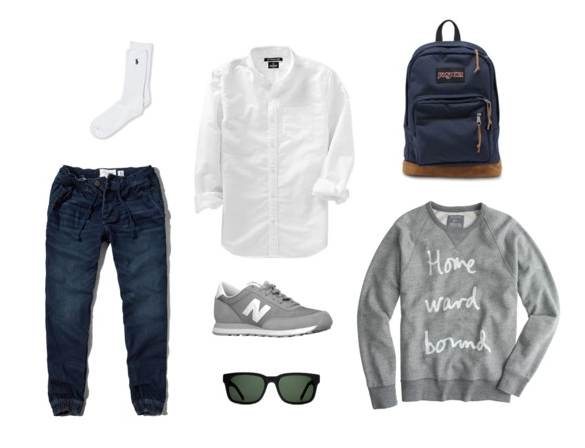 SG Says: Skip the socks (or go no-show) and show off some ankle in this ready-for-class look.
Creative Office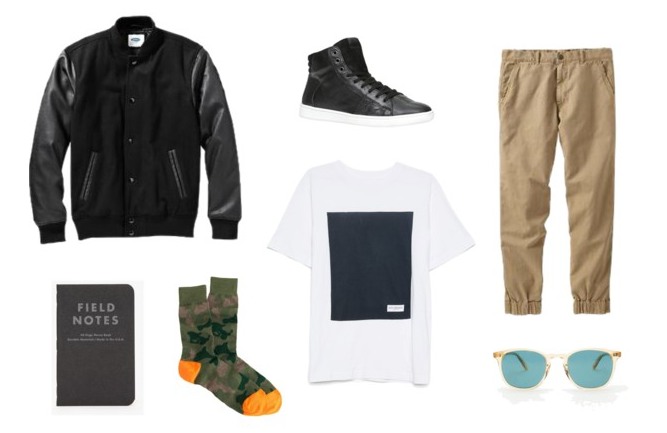 SG Says: If you're lucky enough to have a lax dress code at work, jogger pants can be a great alternative to slacks.
Treat them like regular pants with a tee (with a slight tuck? your call) and high-tops with cool socks.
Weekend coffee run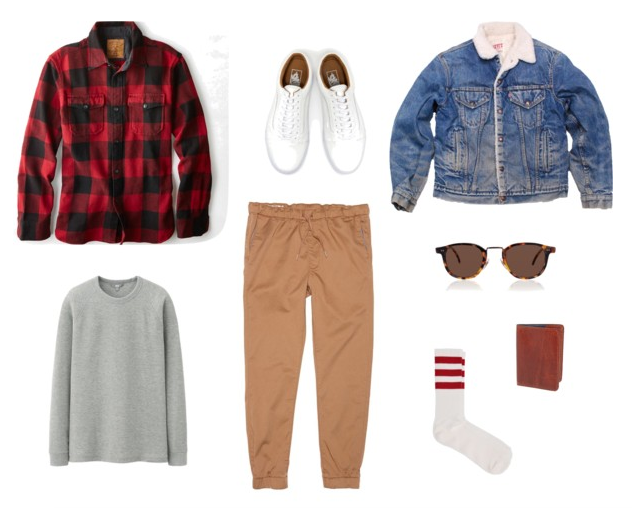 SG Says: When you wake up on Saturday, you want to put sweatpants on. Resist. Jogger pants are just as easy, but look twice as nice.
Errands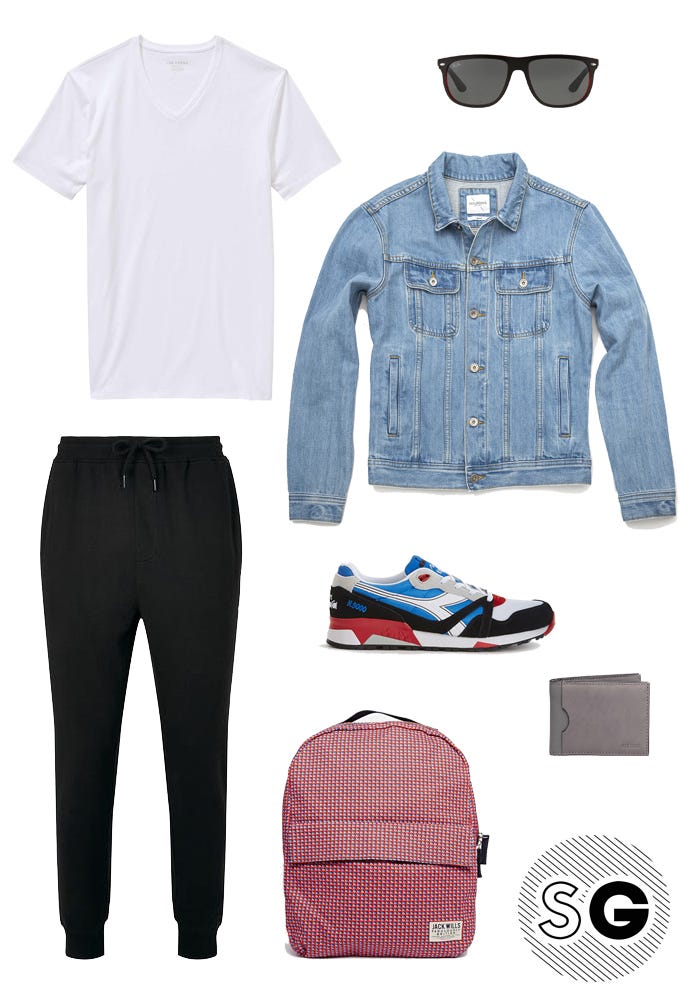 SG Says: The tapered silhouette of jogger pants are ideal for showing off your favorite sneakers. Throw on a crisp white tee with a light denim jacket, and pull it all together with pops of color in your accessories.
Oh yes, a pair of pants with an elastic waistband can still show off your personal style enough to become a go-to errand outfit. Rocking this look, you can breeze through your to-do list and a coffee date all while looking put together.
Caveat: Save this look for weekend and off-duty outings since it is the epitome of casual cool.
***
Like this article? Check out more ways to work your wardrobe here and here and here!