This Is The Secret to WFH Style
Business on top, comfort on the bottom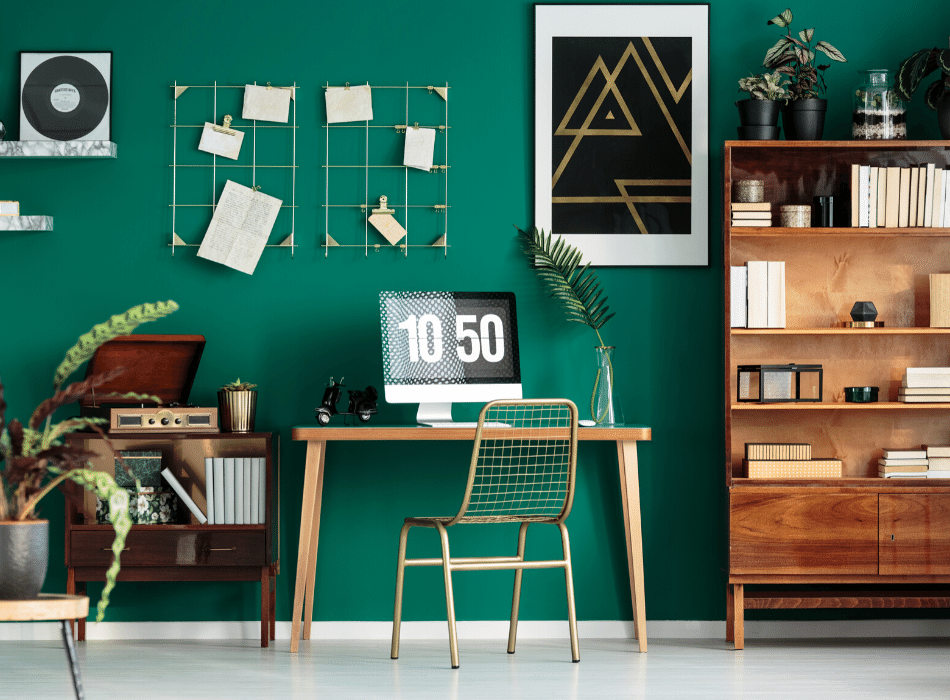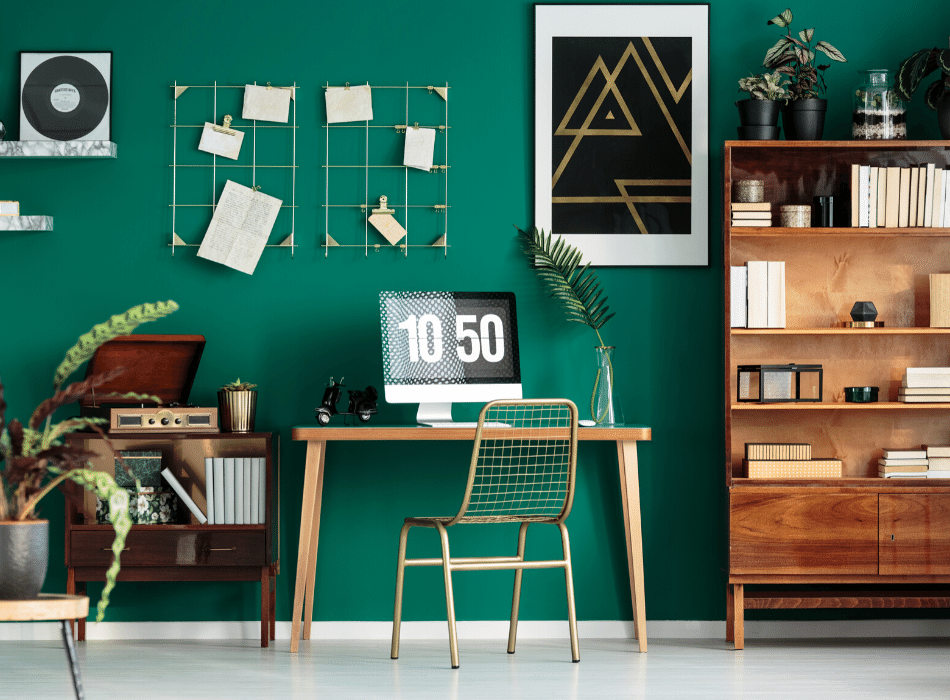 I was gchatting with Taylor the other day, discussing our outfits (You would not believe how often women message each other, "What are you wearing?" in a non-sexual way), and we stumbled onto a discovery I had to share here with you.
We both had gone all-out on top—her in a cashmere sweater and me in a silk camisole and cardigan. On the bottom? Leggings for Tay and sweats for me.
This "business on top, pandemic party on the bottom" is like the outfit equivalent of an '80s mullet. …But in a good way?
After all, putting on "real" pants doesn't really matter when your co-workers are only seeing you waist-up in Zoom calls these days (though, to be clear, you should still wear pants just in case).
Wearing a top that makes you feel like a million bucks, however? That feels like a worthy effort. And let's be real: calling that an "effort" is pushing it.
So, we put together a week's worth of this dressy casual #OOTD combo. We even threw in around-the-house shoes for each lewk. Go high, go low, just don't go out of the house if you don't have to.
Below, shop 11 work from home outfits for guys: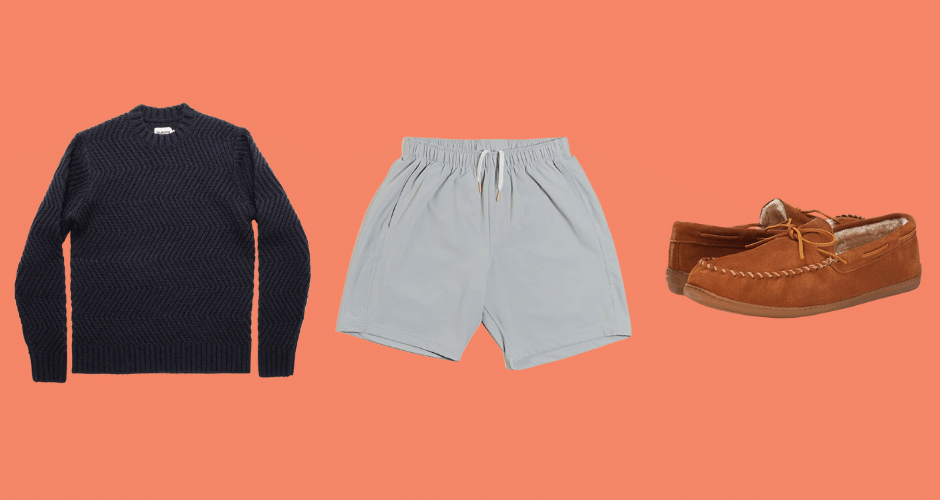 SG Says: This cozy sweater will look so put together on your next conference call. And y'all know how we feel about Olivers Apparel's All-Over shorts (oh you don't? Well, we love them.).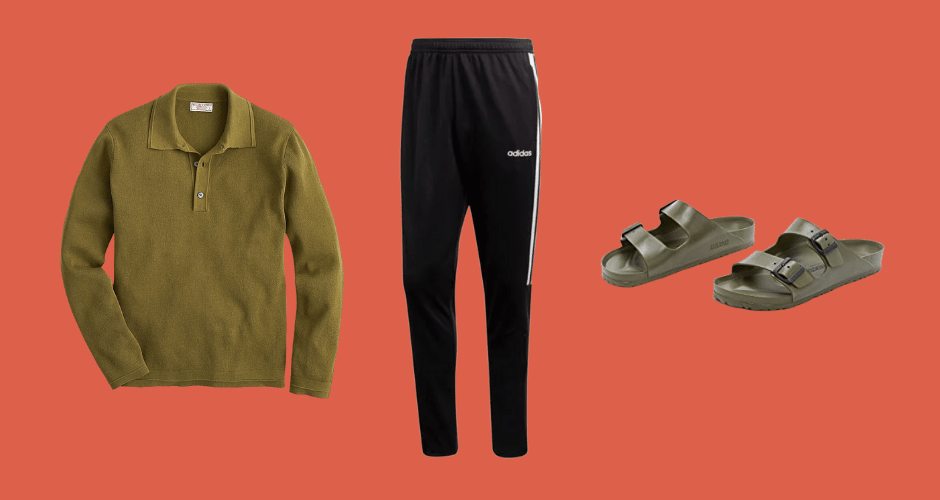 SG Says: A sweater polo is the perfect transition top for spring. It's got sort of a Mad Men on the weekend vibe, which for all of you new WFH-ers, you kind of are?
And yes, Birkenstocks are cool again.
Look, we don't make the rules here at SG HQ, but if we did, well..we'd bring back Birks, too.
They're so comfortable! And you can wear them with socks in an ironic way that's also quite comfortable.
SG Says: A button-front short-sleeve shirt can be worn so many ways in the spring…including with real pants outside when all of this is over!
In the meantime, pair it with a pair of stylish gym shorts and your favorite shower slides for a WFH look that says, "I was in my underwear until 30 seconds before the conference call started."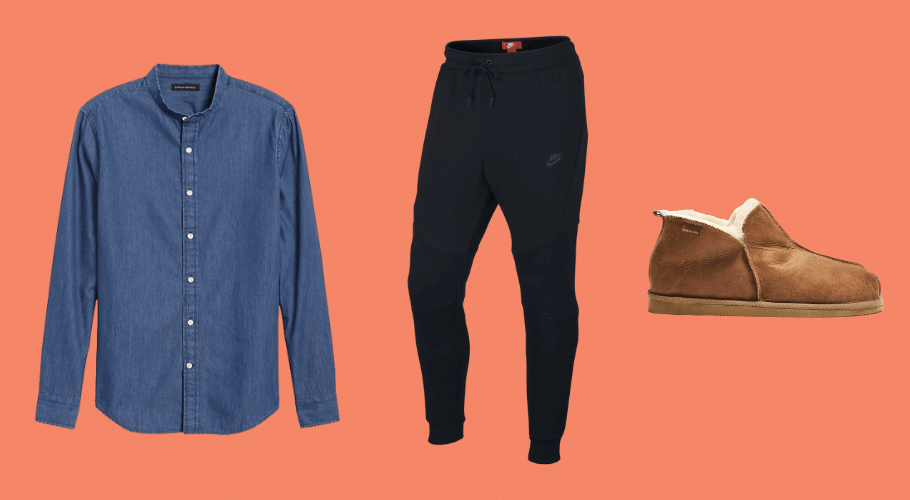 SG Says: A band collar shirt? Good.
Joggers? Good.
These cozy af slippers that look like they're waiting by the fireplace at the North Pole for Santa to pull on when he gets home after delivering presents on Christmas night? Good.
SG Says: A camp collar shirt looks as good at home as it does at the office, and now it's both. And honestly, my team cannot get enough of these house slippers. Don't they look like something Ebenezer Scrooge would sport while ranting about poor houses?
Okay, maybe that's not a great comparison, but when it comes to work from home outfits for guys, these shoes would complete any daytime look.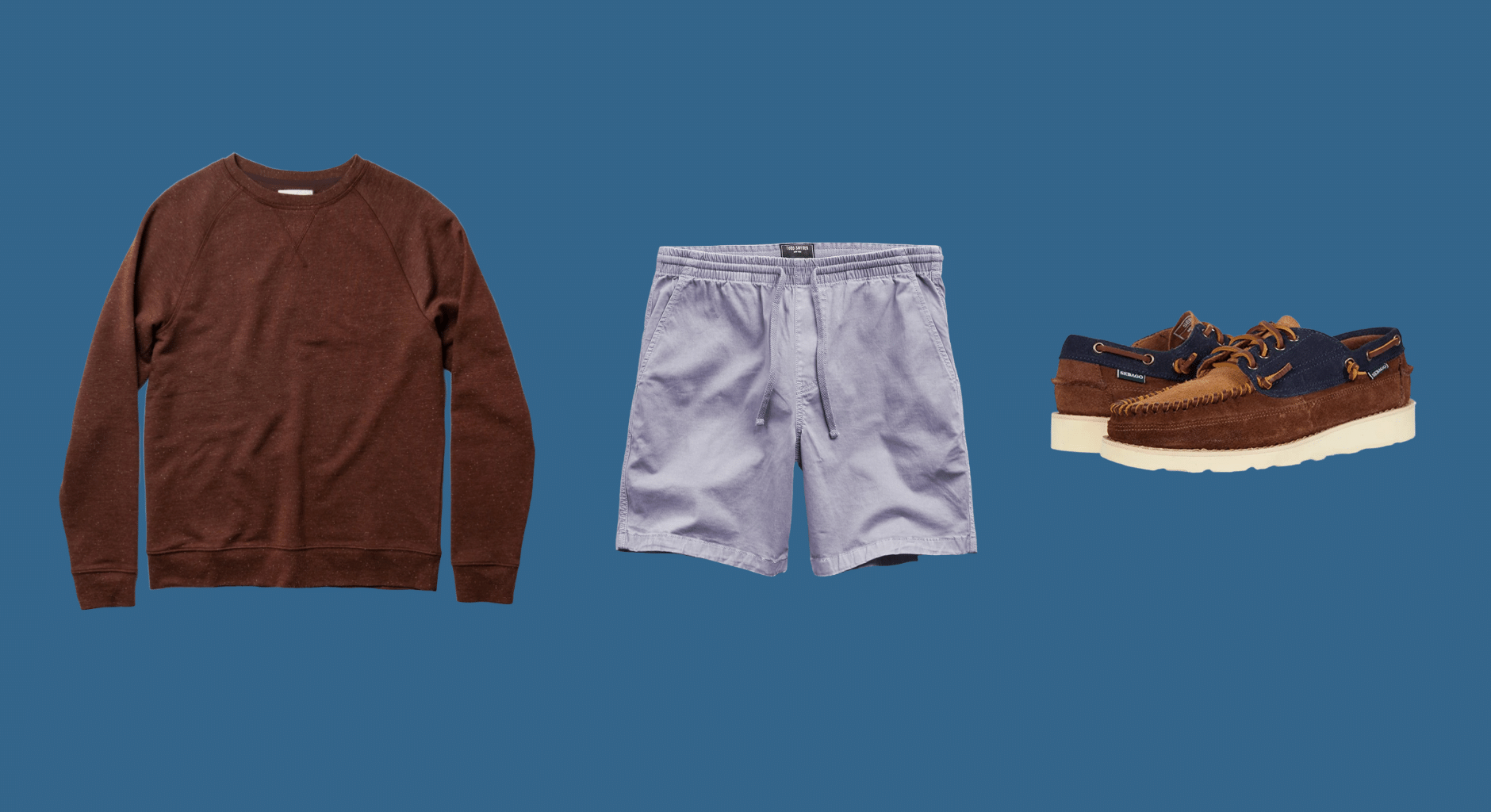 SG Says: Drawstring shorts are your friend right now.
And those suede boat shoes you'd never think of wearing near the water? Perfect for at-home style.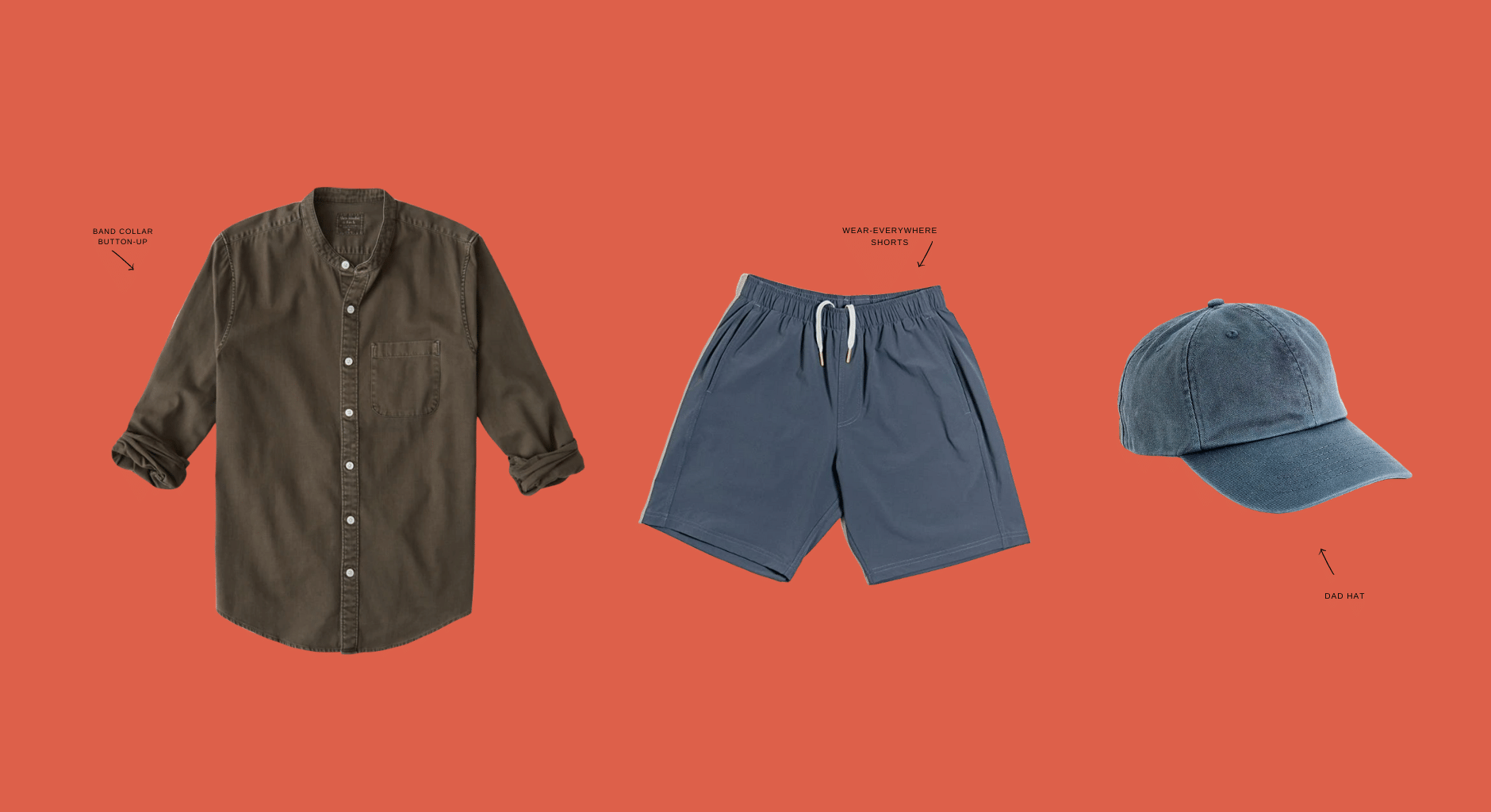 SG Says: No shame in rocking a dad hat when your hair is just not cooperating for that 9am Zoom with your boss.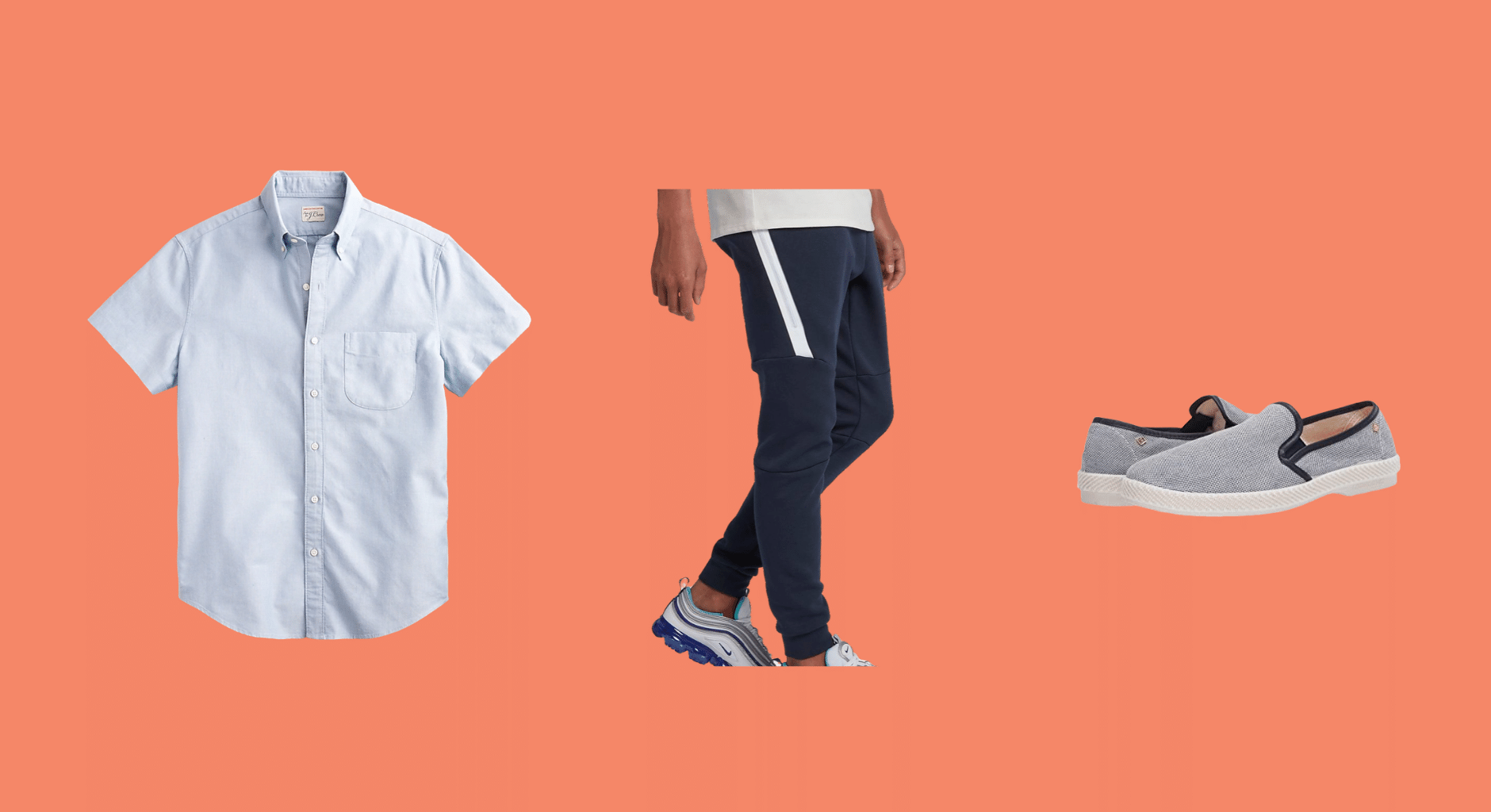 SG Says: Don't worry, a short-sleeve button-up oxford shirt reads more Jim than Dwight when it comes to office-ready cool.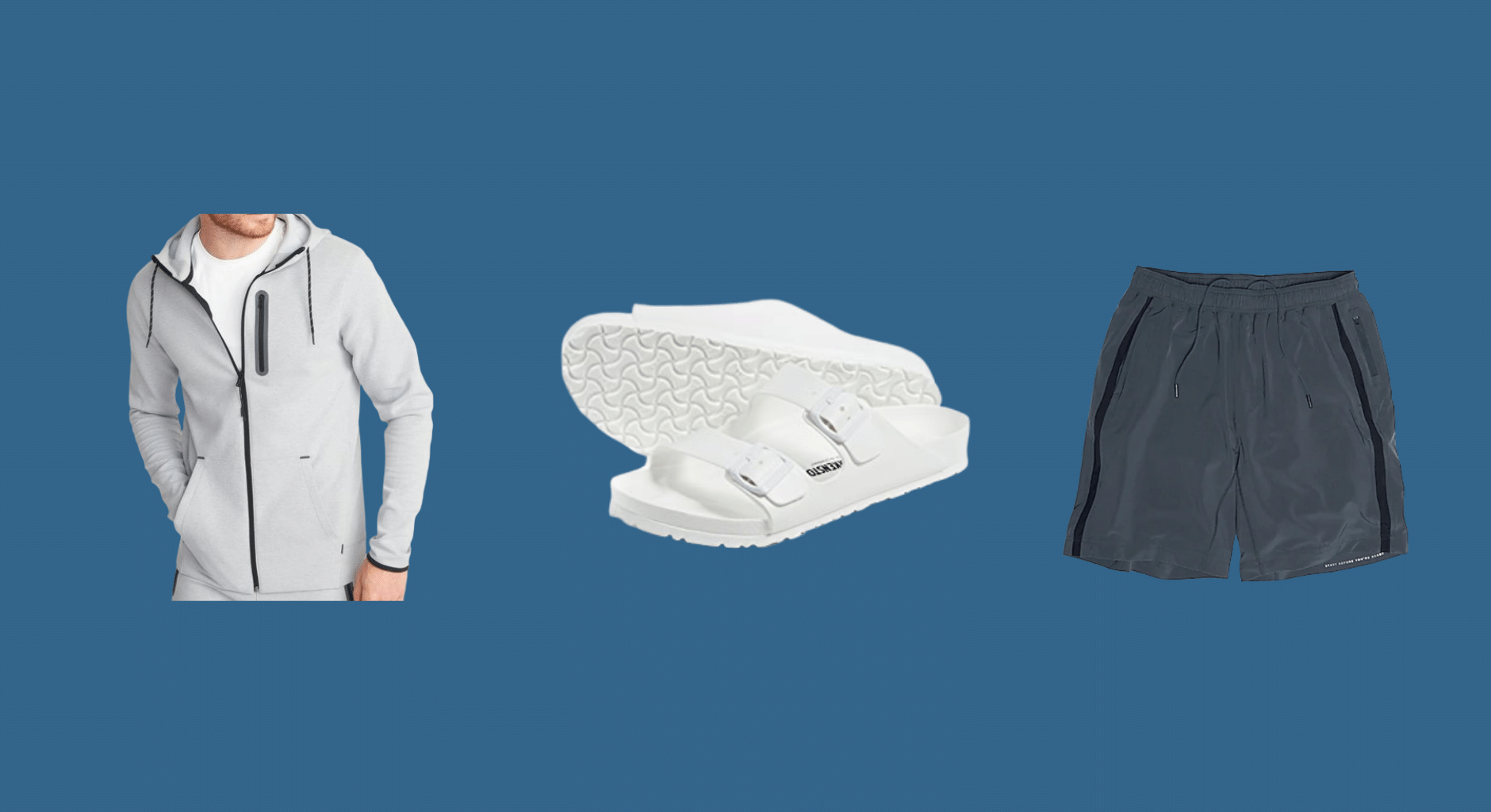 SG Says: Please do not sleep on Old Navy's activewear. It looks a lot (like, a suspiciously lot) like Nike's Tech Fleece styles, and washes up like a dream.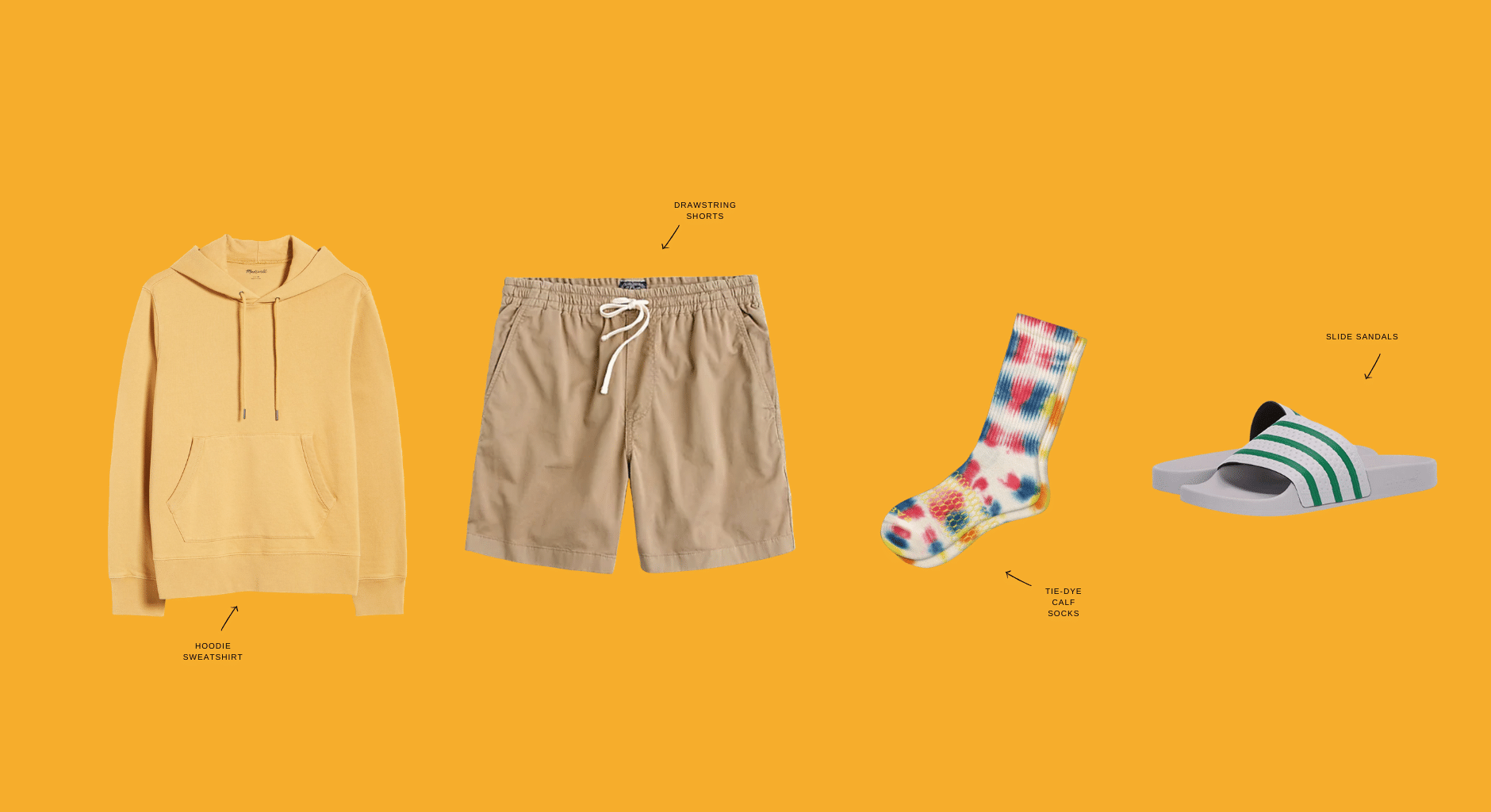 SG Says: YES, MORE TIE-DYE SOCKS.
We stan, okay?!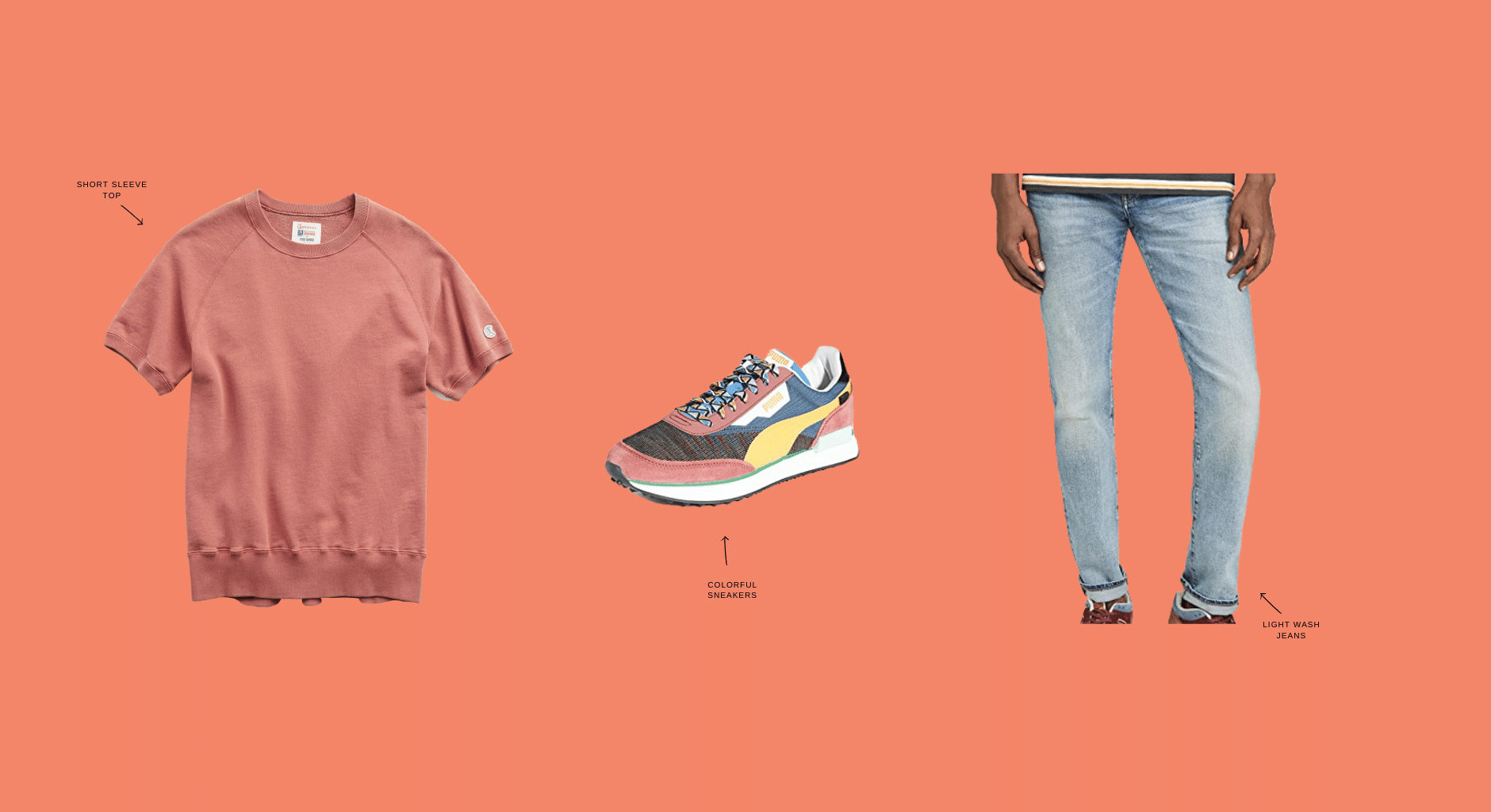 SG Says: And finally, if you're feeling particularly sluggish, might we suggest..putting real pants on?
Nothing fancy, your favorite pair of broken-in, faded jeans will do. There's just something about buttoning that top button that says, "It's a weekday!"

Want more WFH style?
Then check out stay-at-home style from real guys, like this SF-based stay-at-home dad, men's fashion writer stuck in DC, and NYC creative.