How to Wear Athleisure in Cold Weather
Casual pants, serious style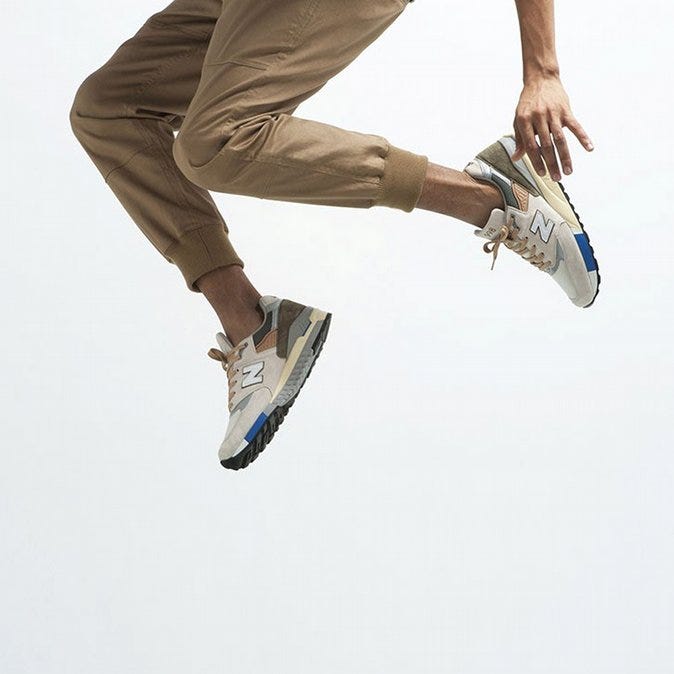 Athleisure. Started as a trend, now we here. 
The fashion movement in which clothing designed for workouts is worn far from the gym has so completely taken over our wardrobes that a better question might be: when aren't we wearing athleisure?
That doesn't mean we're complaining.
With brands both new and old filling the demand for clothes that look as good during burpees as when you belly up to the bar, we're tucked cozily inside an athleisure bubble that's not popping anytime soon.
Especially in the colder months, anything you can do to stay warm and stylish is welcome.
Here's how to wear athleisure in cold weather:
How to Wear Jogger Pants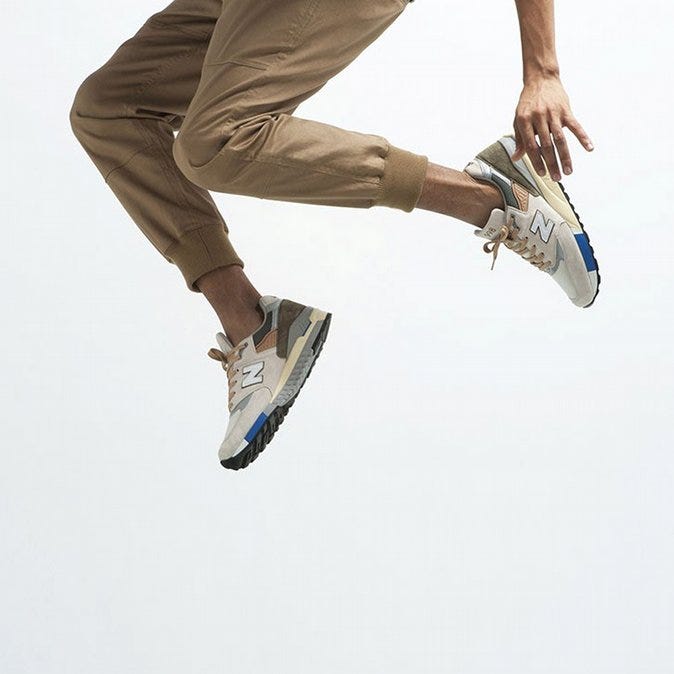 When we first started sharing ideas on how to wear jogger pants here a couple years ago when the trend was just cresting, we encountered a not-insignificant amount of resistance.
"They look silly!" "No one needs to see that much of my ankle!"
But it's clear by now that jogger pants are here to stay.
When the weather is warm, skip the socks (or go no-show) and show off some ankle. In the winter, though, you should feel free to cover up that ankle with a colorful sock that complements whatever sneaker you're wearing. Yes, it's okay for your socks to show.
And remember, when we talk about joggers, that doesn't automatically mean the kind you might consider "sweatpants-plus."
Plenty of jogger pants come in more day-to-day materials, too.
For instance, you can wear the Lira pair below, the same way you'd wear chinos (or, yes, jeans) since that's what basically they are.
Think: to the office with a "nice" sweatshirt, or on the weekends with a t-shirt and jean jacket. The right pair of jogger pants can be a great alternative to slacks.
>> Read more about joggers here
For those that have more of a "I might have just worked out" vibe, don't be afraid to dress them up a bit as well.
We're not saying throw a blazer on top and head to dinner with your girlfriend's parents, but a sweatshirt is not your only option.
| Shop #SGapproved jogger pants |
How to Wear Track Pants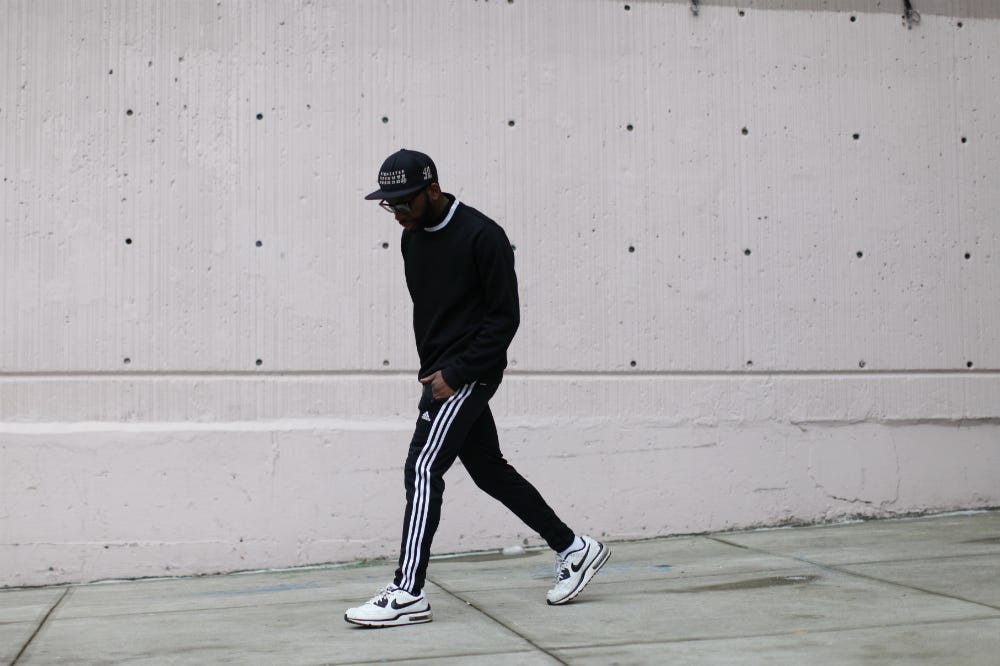 Track pants will really, truly never go out of style. For our money, you can't go wrong with a pair of Adidas track pants with the signature three stripes down the side.
Are you going to wear these to a client meeting?
No.
But you can look really sharp if you opt for the fitted cuffs and wear a pair of sneakers you've kept very, very clean.
How to Wear Technical Performance Pants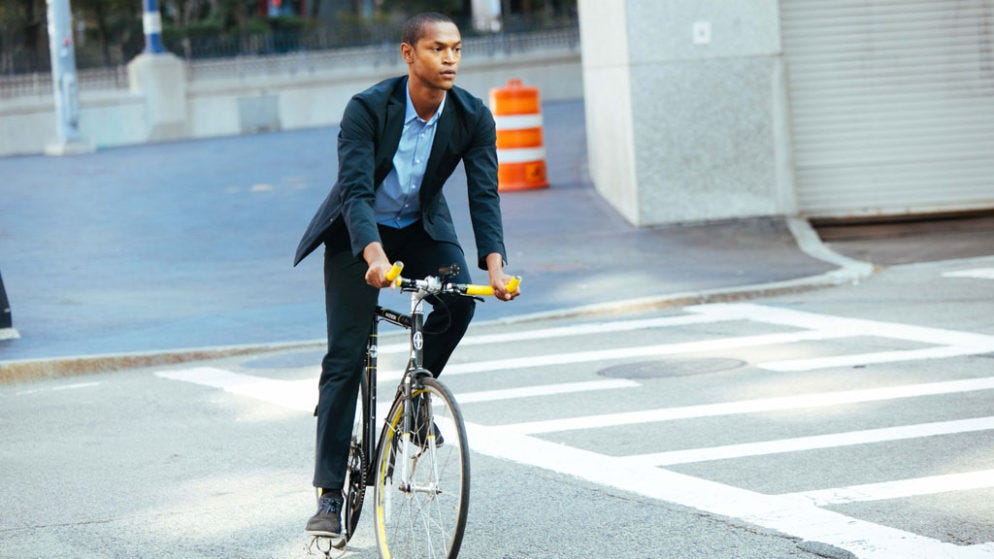 We'll admit. Figuring out how to group performance pants was a challenge at first.
Do they belong with dress pants, since they look perfectly acceptable in even the most corporate of corporate-casual offices?
Or with their athleisure-born brethren, since they perform like pants you could do lunges in?
We ended up hedging our bets a bit and sprinkling them here and there; we hope you don't mind.
So, what are performance pants exactly?
Good question, and one we've repeatedly had to hit the books (i.e. Google) to study up on.
Basically, performance pants are characterized by some kind of stretch fabric that is meant to move with you through your day.
Some also feature quick-dry technology. Performance pants can be dress pants or trousers, chinos, and twill 5-pocket pants.
| Shop #SGapproved performance pants |
How to Wear Compression Tights Under Workout Shorts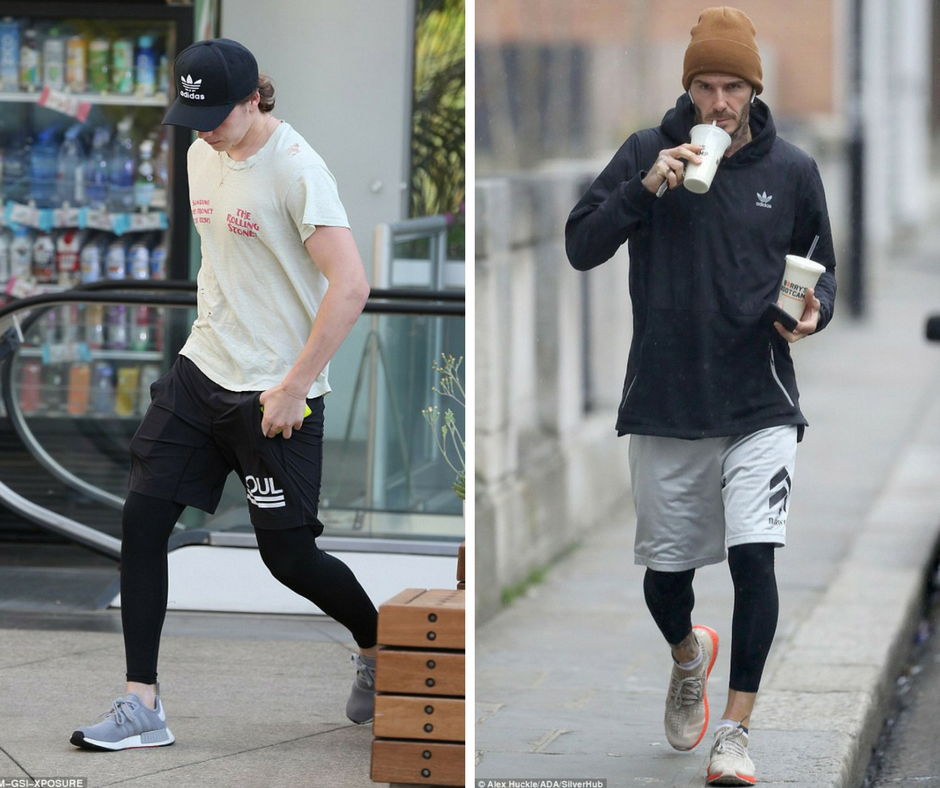 Okay, okay, this athleisure look probably should stick close to the gym.
Like the two generations of Beckhams, above, this sporty vibe is best for getting your boot camp (or Soulcycle) on, then avoiding the paparazzi whilst drinking an overpriced smoothie.
While women generally wear as few layers as possible at the gym, we totally understand men's desire for both compression and modesty at the gym.
And truthfully, there's something very BladeRunner (or is it Guts?!) that we like about this leggings-layered look.
 | Shop #SGapproved compression tights and shorts |
---
See how to get the most out of your wardrobe staples.
---
How to wear athleisure this winter
Now that you've got a bunch of athleisure outfit ideas, check out our #SGapproved takeaways on how to wear the sporty style:
Follow Team SG on Instagram and stay up to date with all the latest