These are the Best Men's Fashion Trends to Try in 2019
Are you ready to shake up your uniform?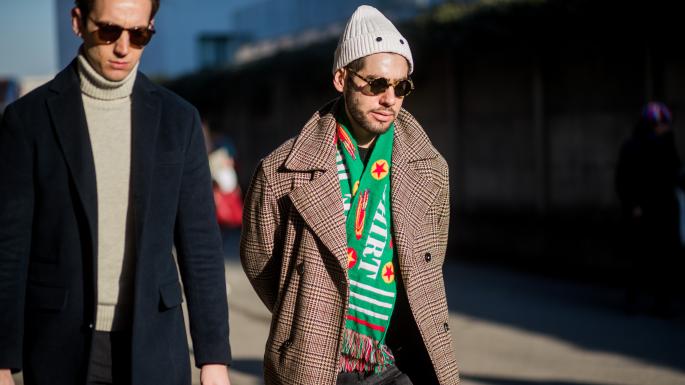 It's Blinders Month on Style Girlfriend! All month long, we're examining the nooks and crannies of our lives where we may have put on blinders (knowingly or not!), from our wardrobes to our relationships. Today, we're talking about men's fashion trends to try in 2019, even if you never thought you could pull them off…
If you're a regular visitor to Style Girlfriend, you know we're not much for trends. What's in, what's out..we're much more concerned with finding you clothes that fit, and that make you feel handsome and confident and cool.
But here's the thing. That doesn't mean you should eschew trends altogether. Why? Well, first of all, trying new trends can be fun! Just like eating healthy can get derailed when you start to think, So, brussel sprouts and baked chicken breast…forever, huh? it can be helpful to break out from your usual patterns from time to time.
And who knows? What you may discover by trying new men's fashion trends is that, yep, in fact that trend is not for you. But how will you know if you don't try?
So we put together a list of 2019 men's style trends.
You don't have to try all of them; hell, you don't have to try any of them! But if you see one and think, Hmm, maybe…?, then consider this our permission to try it out for yourself. We promise no one will laugh (except maybe if you bleach your hair…more on that later), and if they do, they're a dick anyway.
Below, 28 men's fashion trends to try in 2019:
Men's Fashion Trend #1: Tie Dye
SG Says: Swervy…grunge…whatever you want to call it, street style stars like John Mayer, Justin Bieber, and Jonah Hill brought back the stoner vibe in 2018. And that meant lots and lots of tie-dye. If these celebs' closets are any indication, the look isn't going anywhere in 2019.
How to wear the men's tie dye fashion trend
Brands like The Elder Statesman, Todd Snyder and Amiri are jumping aboard, with sweaters and sweatshirts that strike a balance between cozy and achingly cool. Fair warning, a lot of these are relatively pricey ($1,200 for a Kardashian-favorite Balmain sweater? Uhh, yeah right…). If you're interested in trying the style without breaking the bank, head to eBay or your local thrift shop to source vintage finds. Etsy is also a good place to have local artisans create one-of-a-kind styles for you.
Editor's note: In the past, we would have recommended you head to a place like Forever21 which is quick to jump on these kinds of fashion bandwagons and is a low-price way to try a trend, but we're trying to do a better job of avoiding fast fashion when possible. Here's a good video on the subject!
Men's Fashion Trend #2: Light wash denim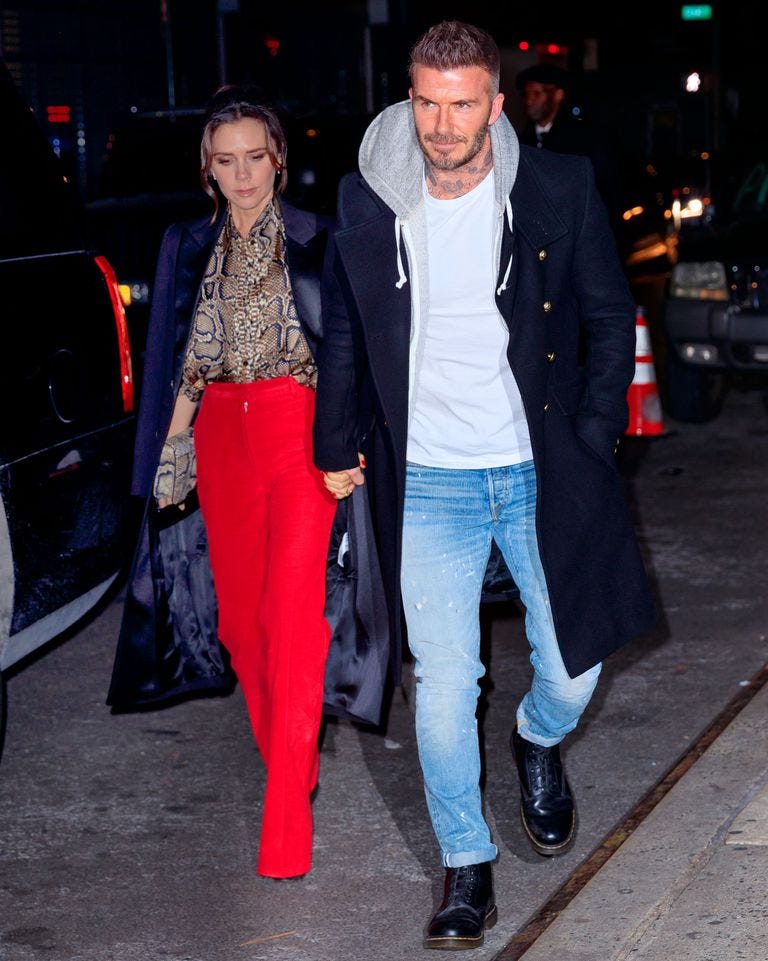 SG Says: We recently spotted this getup from David Beckham on Esquire , and man does he nail it. We've been on the light wash denim train a few years now, and it's great to see it's not heading anywhere in 2019.
How to wear the men's light wash denim trend
Obviously you still want to knock out the perfect pair of dark-rinse, straight-leg denim first (read our primer on the jeans every guy needs in his closet here). After you've got the basics covered, feel free to have some fun with your jeans. A good tip to keep in mind is that your outfit should include some contrast, like Becks' navy jacket with military details and black Doc Martens. Without them, the white t-shirt and grey hoodie on top would have an overall blah feeling, not the booyah vibe you're going for.
As far as fit goes, no need to reinvent the (denim) wheel. A snug fit through the thigh and a straight leg (cuffed at the bottom or not is up to you) will keep the overall look modern, not retro.
Shop light rinse jeans picks for guys:
Men's Fashion Trend #3: Brown Color Palette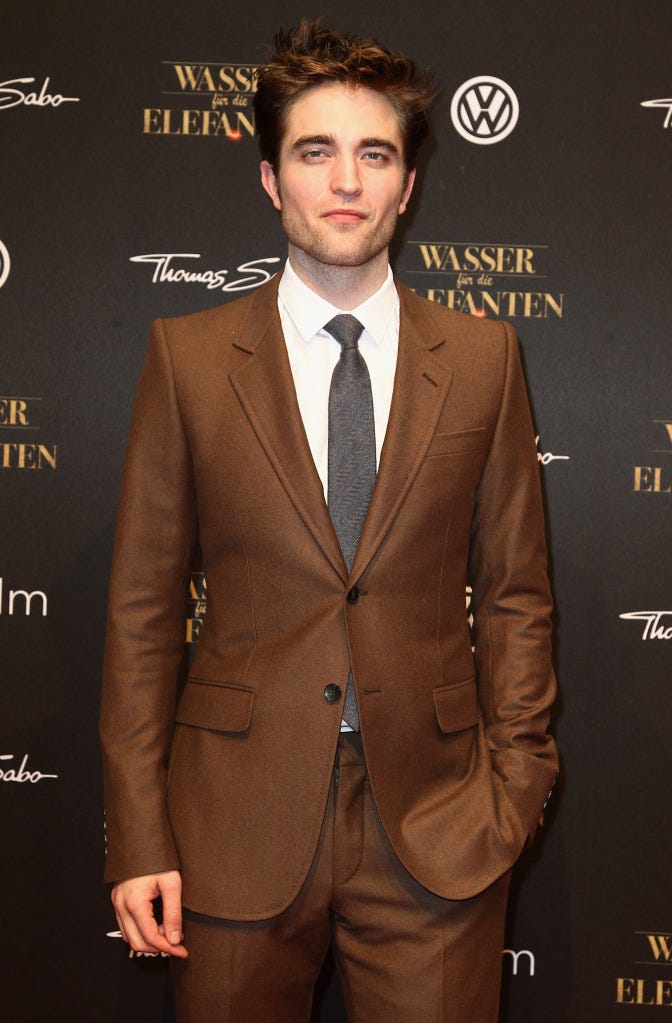 SG Says: Here's how modern wearing brown looks…you didn't even guess that picture of Robert Pattinson above is three years old! It feels kind of odd to say a color is making a comeback, but here we are. I'm not going to go so far as to say that Brown is the new black, but if you're looking to break out of your usual neutral go-to's (think: navy, grey, white), you'll be pleasantly surprised at what brown can do for you. And yes, that's FedEx's old tagline.
How to wear brown colors in your wardrobe
It's not necessarily all that interesting to get into the "why" of brown's resurgence (just know it has something to do with a lot of 1970's inspired looks going down the runways last year); what is important to know is that brown makes a really great alternative to black in the winter. Why? Because it warms your features, rather than draining color. And when you're as pale as I am in January, February and March, you don't need any more color drained than the winter has done already.
Don't limit your view of brown to just a milk chocolate-y hue, either. Be open to a range of shades in the brown family, from a light oatmeal to a darker olive khaki. Brown is also a great foundation for texture and patterns. So, a tweed suit, or brown burlap plaid pants.
For color pairings, shades of brown look surprisingly great with bright colors like blue and purple, so don't be afraid to experiment. Need more guidance on color pairings? We've got you covered.
There's so many options. You could go for a brown topcoat, brown suit, brown sport coat, or brown chinos. To start easy, try a pair of brown dress boots.
Men's Fashion Trend #4: Camo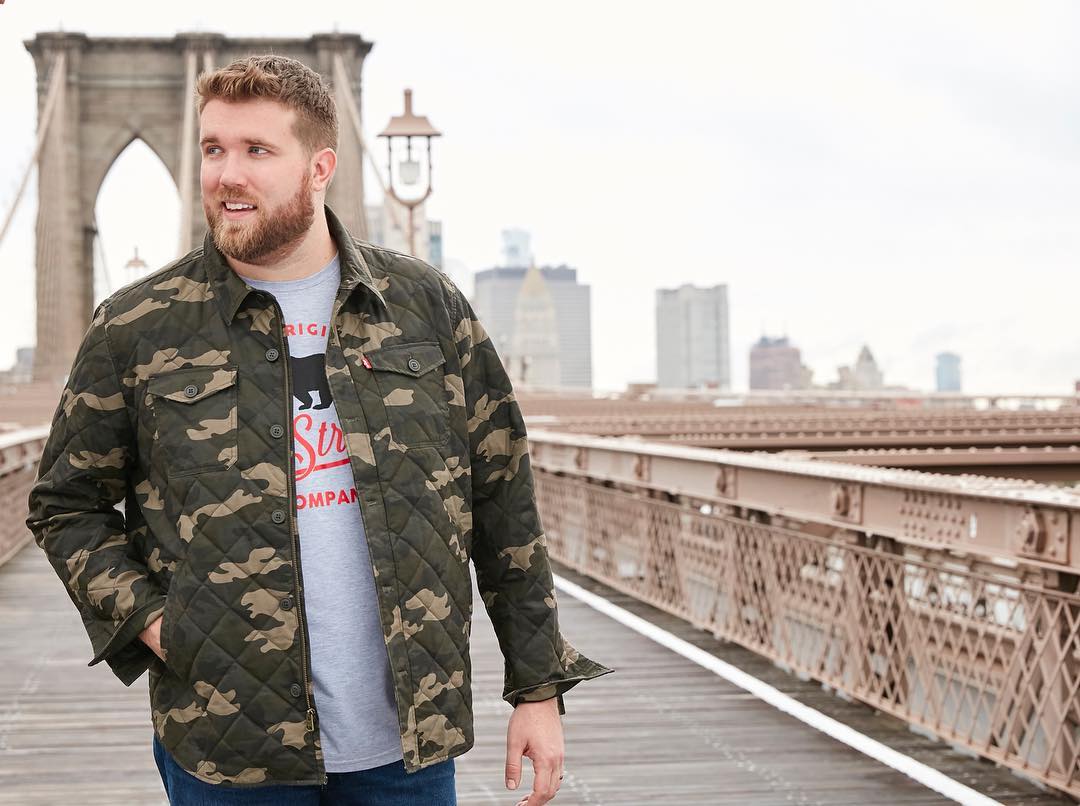 SG Says: Camo is another men's style trend that by now feels like more than a trend. Instead, camo feels like a staple that every guy can and should feel comfortable wearing in a non-military setting.
How to wear camo in your wardrobe
Have you ever heard a woman say that "leopard is basically a neutral?" No? Just me? Well that's how you can treat camo. And not just because its original purpose was to disguise you in nature. You can wear a camo quilted jacket, like the plus-size model Zach Miko, above. Or as cargo pants (yes, really!). Just keep the rest of your outfit slim-fit and modern, so no one thinks you wandered away from your duck blind.
Shop #SGapproved camo picks:
Men's Fashion Trend #5: Urban Hiker
SG Says: Let's hope your parents saved your Patagonia outerwear from high school, because the urban hiker look is back and bigger than ever in 2019.
How to wear the urban hiker look
Thankfully, this men's fashion trend isn't so far off from what you may already wear on the weekends. Just swap your chore coat or field jacket for a fleece pullover, and your Chelsea boots for a pair of hiking boots (more on those below), and you're good to go.
Men's Fashion Trend #6: Cropped trousers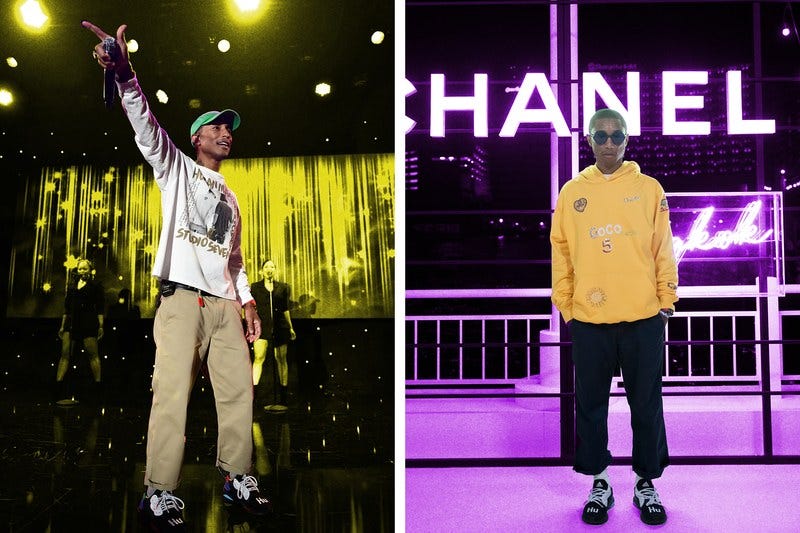 SG Says: Guess who loves cropped trousers? Team SG's resident cool girl, Gabi. Does that make you automatically think, "Welp, too trendy for me!" I understand, but hear the girl out!
How to wear cropped trousers
Here's what Gabi has to say: "While it's easy to see a cropped trouser and think, 'Hey, that looks like when I had that weird growth spurt in 7th grade,' I promise it won't look that way on if you're wearing them right. A slightly tapered fit makes the crop look intentional, instead of looking like you just grew out of them. Not only will a cropped trouser visually lengthen your legs, but it also keeps you accountable for your #sockgame."
Men's Fashion Trend #7: Double-breasted suit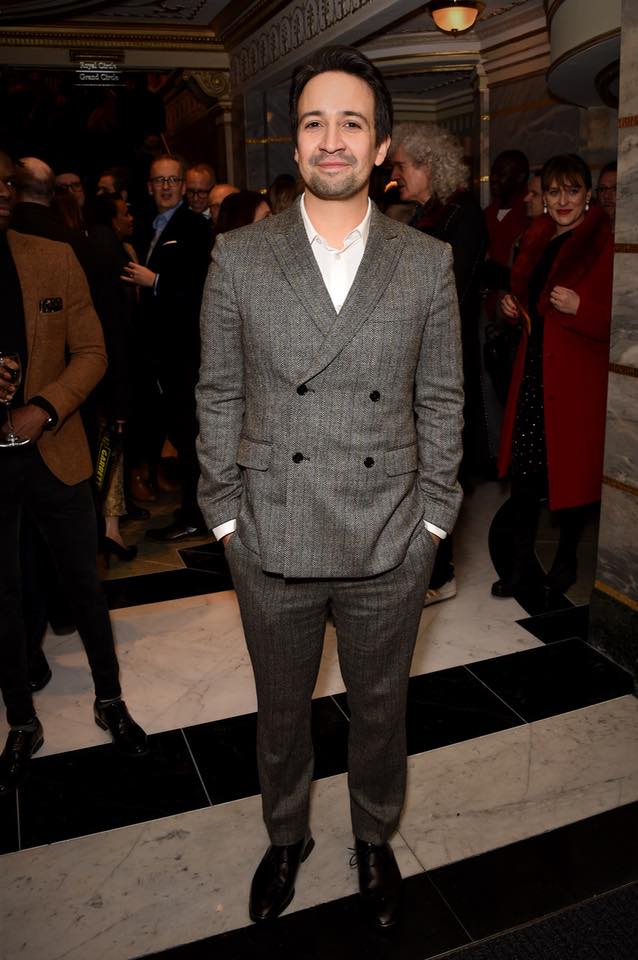 SG Says: If you've got eagle eyes, you might have noticed by now that some trends overlap. Like this double-breasted suit Lin-Manuel Miranda wore to the London opening of Hamilton that's also—you got it—a natty, textured brown.
How to wear a double-breasted suit
New to suits? First, check the basics off your list. That means navy and charcoal, single-breasted notch lapel suits with a modern, flat front pant.
From there, feel free to add a db suit to the mix if you a) have regular occasion to wear suits, and b) have the confidence to add this more stand-out style to your repertoire.
As for what to look for? This visual from the folks over at The Idle Man does a good job of covering the basics: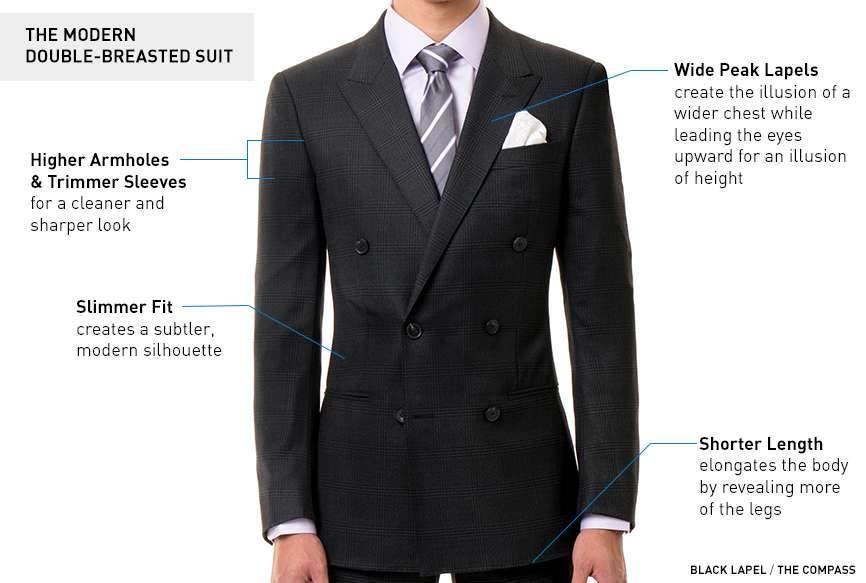 Men's Fashion Trend #8: Fashion hats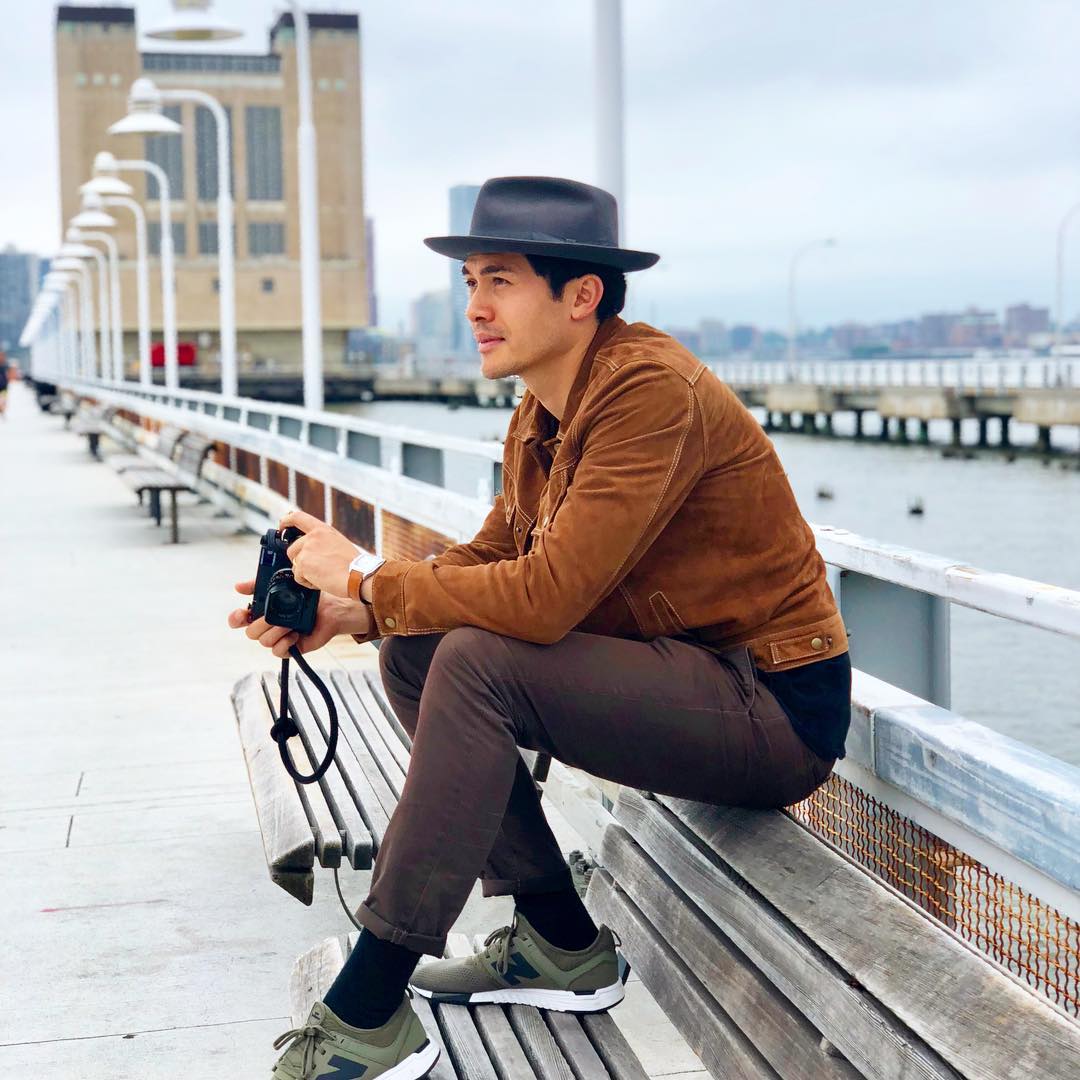 SG Says: Is 2019 the year you finally commit to rotating in headwear that's not a baseball cap? Now's your moment! Follow the lead of celebs like SG Madness winner Ryan Reynolds and Henry Golding, above, and become that guy.
How to wear a fashion without looking like a doofus
When it comes to wearing a hat of any kind, the rest of the outfit is key to not f*cking it up. Note Golding's suede jacket and slim-fitting cranberry-hued pants. This is a head-to-toe outfit with a capital "O." He's pulling off a whole "international man of mystery on vacation" vibe.
Point being? You can't just expect to throw on a white t-shirt, hole-y jeans, and grungy sneakers and expect to top the look off with a hat and look classy. Think of a hat as a cherry on the sundae of your outfit. The whole thing's gotta be sweet to really pull it off.
As for materials: stick to a hat in 100% wool, or a wool blend, in an interesting texture. A hat made of cotton or polyester will look flimsy and kind of cheap.
>Check out Style Girlfriend's guide to wearing fashion hats in a cool way here!

Men's Fashion Trend #9: Sling Bag Skater Style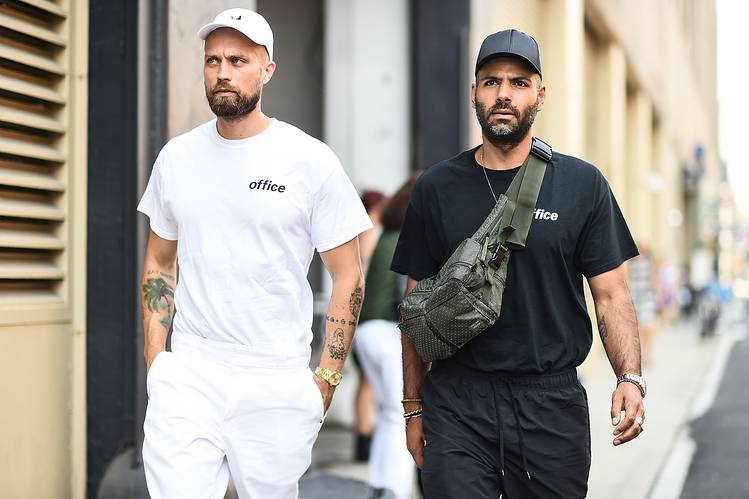 SG Says: Yes, it's basically just a fanny pack slung across your body. Maybe you can't stomach this accessory but are ready to revisit skateboard hoodies, or cargo pants. Whatever skater style means to you, 2019 could be the year to bring it back.
Don't worry; we're going to try to convince you to go full body gear and wear a harness like Timothée Chalamet or Michael B. Jordan, a look Vanity Fair is calling "war-core" (like normcore, get it?). Unless you're into that kind of thing, in which case…hey, you do you!
How to wear the skater trend
As with plenty of the trends in this list, the key to pulling off skater style as an adult is all in the execution. First, aim for one piece that says "skater" to you. Maybe it's a pair of checkered Vans. Or a five-panel hat. Next, keep the rest of your outfit more neutral in style. Going for a head-to-toe skater look in your twenties or thirties is reserved for Jonah Hill (and even he doesn't pull it off every time).
Finally, make sure everything you're wearing fits you well and is in good shape. You want to look intentionally stylish, not sloppy.
Men's Fashion Trend #10: Bold Suits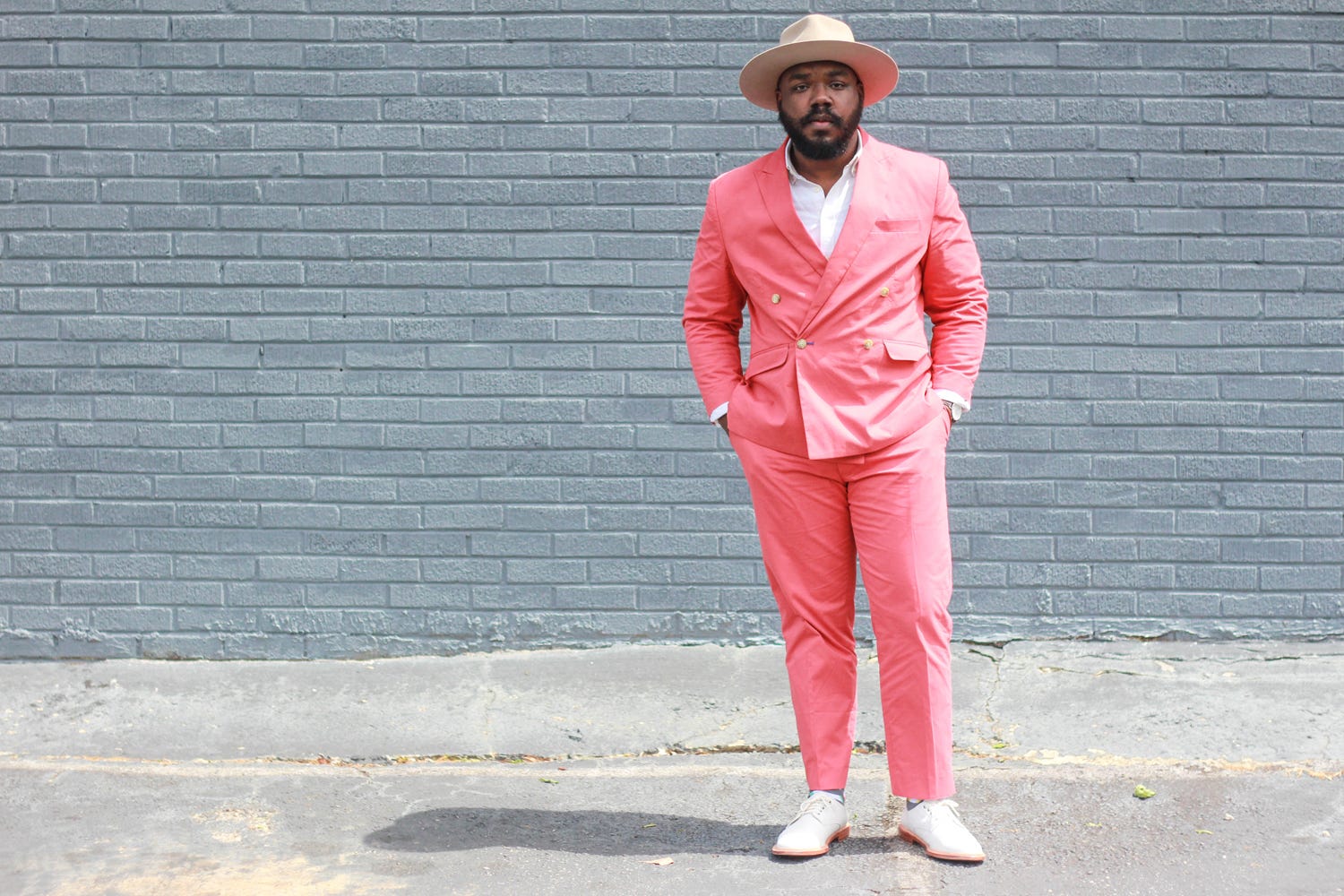 SG Says: Okay, okay. Bright pink might not be the next shade on your suits shopping list. But! What about a rich blue? Or emerald green? Just think about it!
How to wear bold suits
Y'know all that advice we've given on how to shop for a suit, how a suit should fit, and what to wear with a suit (cough *turtlenecks!* cough)? Yeah, do all that; just do it in a bold suit!
Seriously, the best tip we can give once you have the fit down is Dress with confidence. If you act like you belong in a bright pink suit (or okay, a blue suit, or a green suit), everyone else will believe that you do.
Oh, and the ones that don't? Fuck 'em. They don't matter anyway.
Men's Fashion Trend #11: Corduroy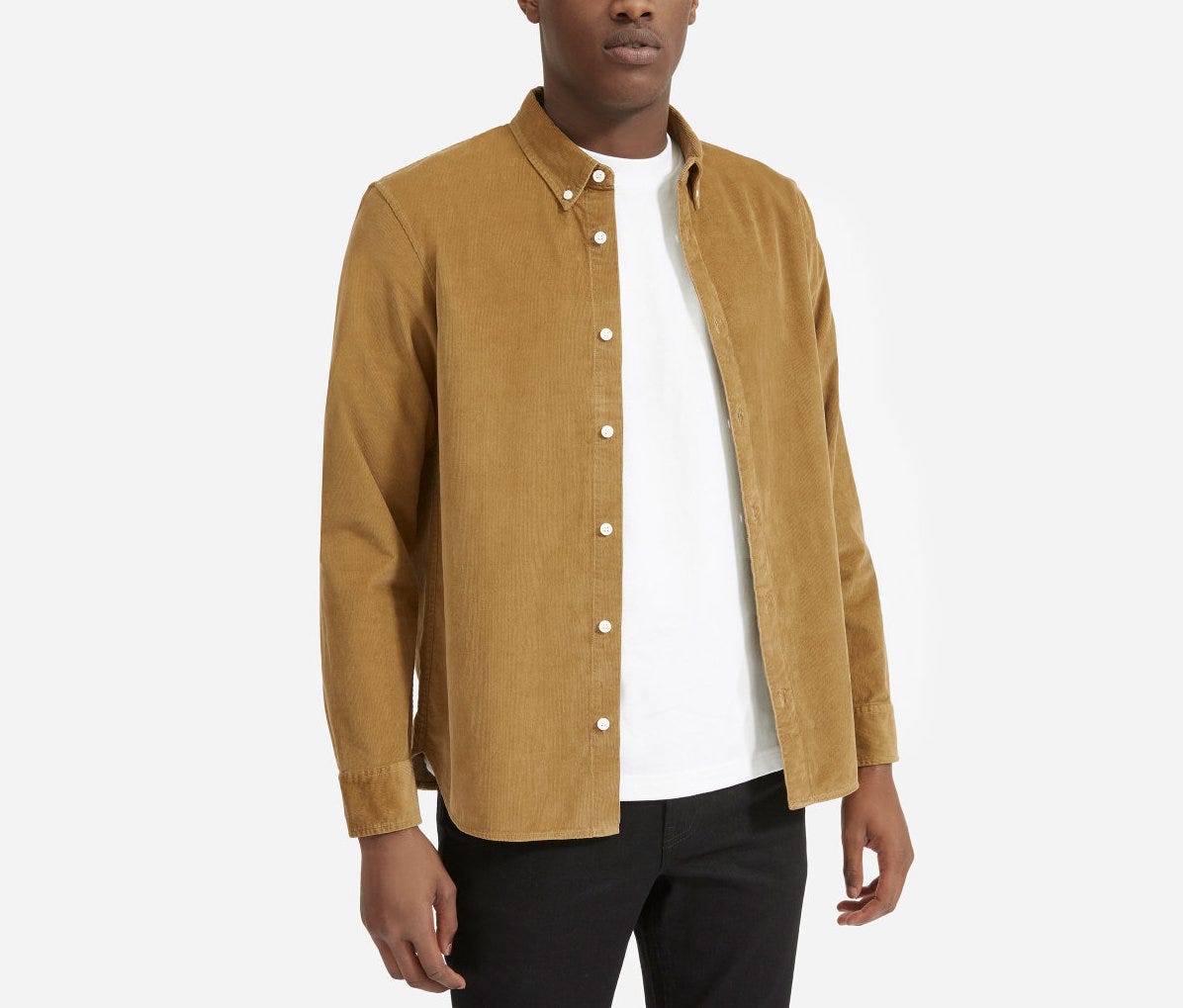 SG Says: Maybe corduroy isn't so much a trend so much as it is a search term that has dramatically risen in the cold weather months. Probably just like it does every winter, but really who's to say? All I know is here at SG HQ, we're very into this cozy-ass fabric for guys all winter long. Whether you feel comfortable wearing corduroy pants (my brother-in-law doesn't! Read about it here), or prefer to stick to a corduroy trucker jacket, now's the time to jump on the zshush zshush train.
How to wear corduroy
Sub in corduroy whenever you might otherwise wear jeans, twill pants, or chinos in the cold weather months. Feeling frisky? Go for a corduroy sport coat, or even a full corduroy suit. Yes, really.
Shop #SGapproved corduroy picks
Men's Fashion Trend #12: Colorful puffer jackets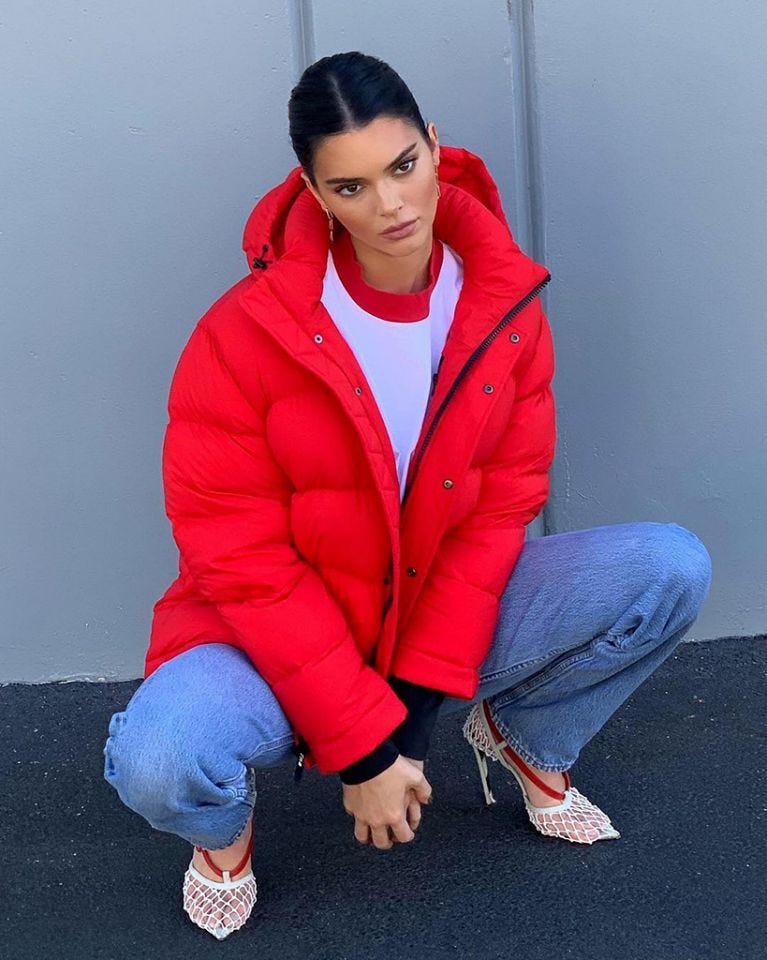 SG Says: Okay sure this is Kendall Jenner, a female supermodel, but how great does she look in this red puffer coat?! I rest my case.
Now, I totally understand the impulse to wear winter outerwear that's as dark as your heart feels when you have to go outside in sub-zero wind chills, but try to resist! Wearing brighter colors not only puts a pep in your step, you'll be like a visual shot of espresso for everyone who sees you on their own chill-filled commute.
How to wear colorful puffer jackets
Thankfully technology has progressed to a point where puffer jackets aren't so damn puffy. Find one that doesn't make you feel like the backup dancer in a Ma$e music video, and you're good to go. Uniqlo, Alpha Industries, and The Very Warm all make styles that won't add too much bulk.
Men's Fashion Trend #13: Layering your denim jacket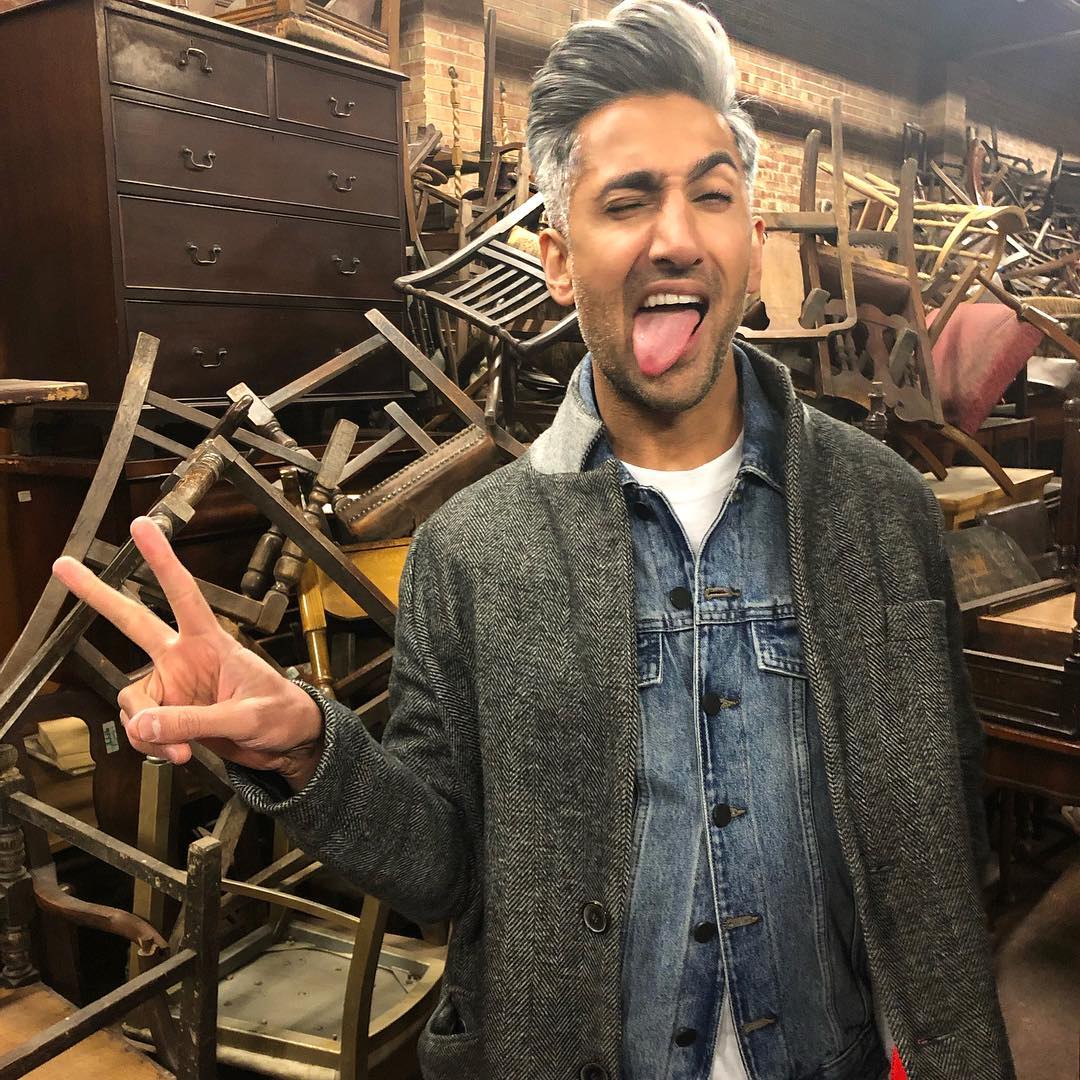 SG Says: By now, you all own a denim jacket, right? Right?! RIGHT?!
Of course you do. Now, get ready to take things to advanced level men's fashion trends in 2019. Layering your outerwear under more outerwear.
How to layer your denim jacket like a stylist
Ideally, you've purchased a denim jacket that fits relatively close to your body. Slim but not tight. That means you can comfortably wear yours under another coat. Say, a handsome topcoat, a la Queer Eye's resident style guru Tan France, above. Or a sport coat. Or a puffer! The possibilities are only as limited as the contents of your coat rack.
Men's Fashion Trend #14: Faux fur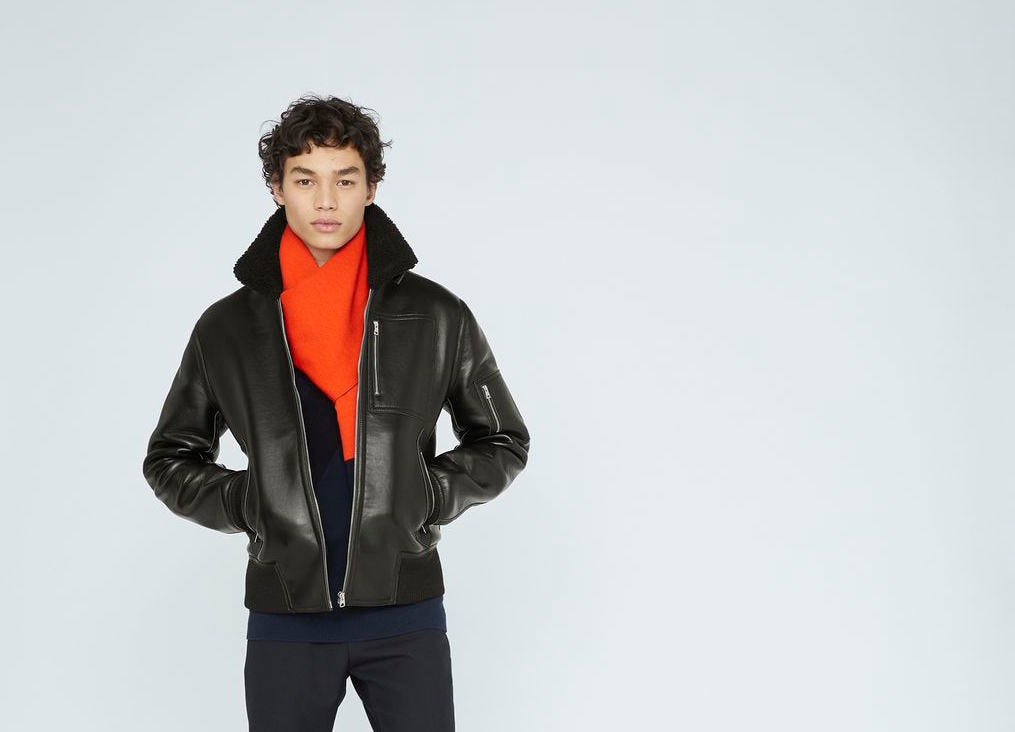 SG Says: These days, fake fur can look and feel just as good as the real thing. If you want to eschew the real stuff for ethical reasons, or just because you think it's tacky, there's plenty of options out there for you. Think: parkas, moto jackets, and more.
How to wear faux fur
The easiest way to incorporate the faux fur men's fashion trends into your wardrobe in 2019 is as a collar on a winter jacket. If you live somewhere really cold, you might want to consider a trapper hat too, because, well, brrrr.
Shop #SGapproved faux fur picks:
Men's Fashion Trend #15: Scarves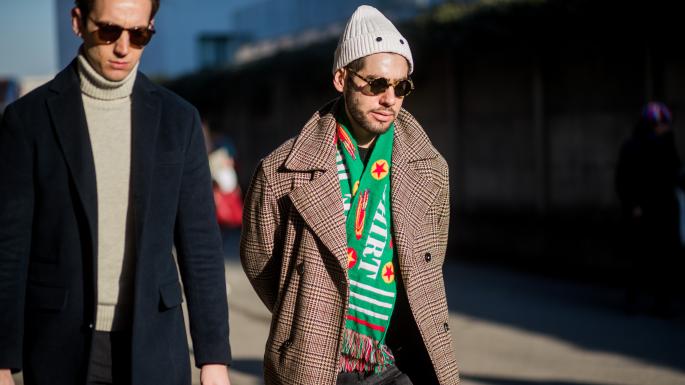 SG Says: The funny thing about men's fashion trends is, for the most part, they're items you're already wearing…just reimagined or boasting new proportions. Think: pleated pants. You've gotta wear pants!
That's why the trend of "scarves" strikes us here at SG HQ as a bit funny. Theoretically you're already wearing this winter accessory when the weather merits it, but who knows?
What we do know is that we're very into the sports scarves fashion editors have been sporting of late. Our opinion is that you should probably know something about the team you're wearing around your neck, but hey, I've worn a UF baseball hat to go running in for the last decade and can't tell you who their quarterback is.
How to wear men's scarves
Casually. Nonchalantly. Your scarf should say, "Oh this old thing?" Really, you don't need to make it any more complicated than that.
Men's Fashion Trend #16: Cardigans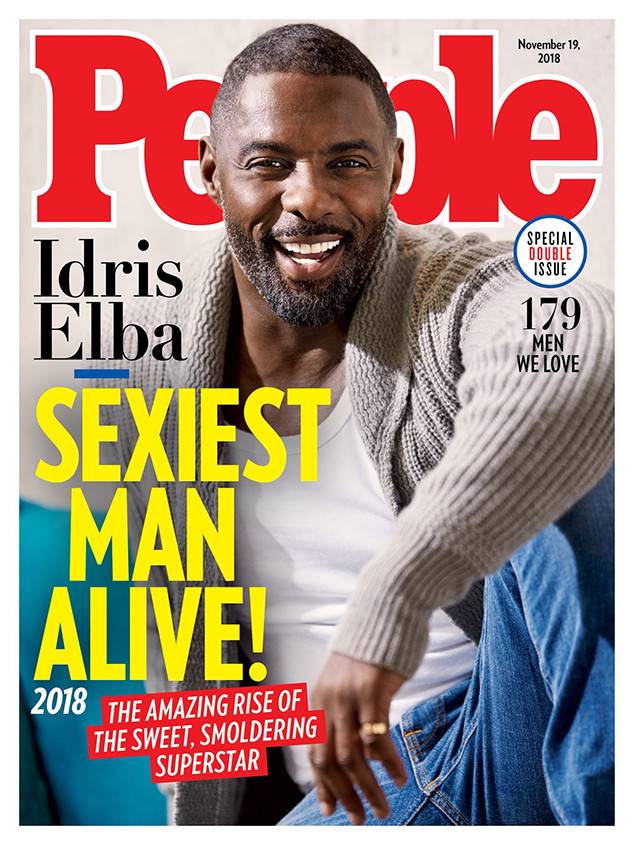 SG Says: According to Esquire, cardigans are the perfect men's fashion trend for winter, since "Thanks to its button-front design, you can air out or bundle up as necessary for changing temperature levels."
How to wear cardigans
We concur with the guys over at The Art of Manliness when it comes to cardigan sweater style. "Go with buttons, generally," they suggest. "Cardigans can be closed with buttons, toggles, or a zipper. Buttons generally make for the most classic, handsome look." A cardigan already leads you off the traditional sweater path enough; no need to fuss it up with overly-complicated closures.
Men's Fashion Trend #17: Patterned Pants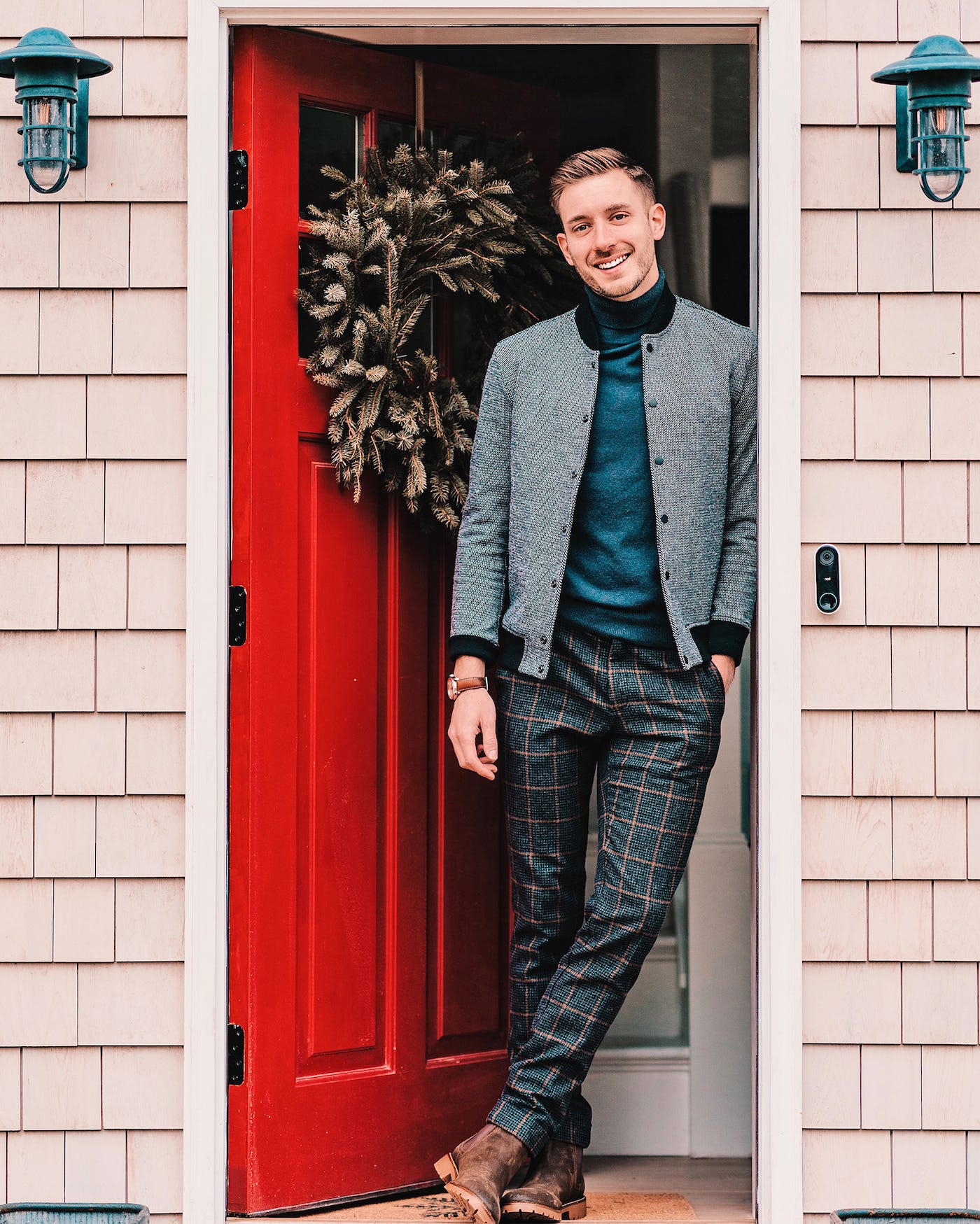 SG Says: As Will from blog Bright Bazaar proves, winter provides the perfect backdrop for a pair of pants with a little more style oomph.
How to wear patterned pants
When shopping for a patterned pair of dress pants or trousers, be sure to choose a style that incorporates colors that already pop up in the clothes you have at home. This ensures you'll have multiple outfits you can pull together with your new pants, rather than resorting to the same one shirt and sport coat, or same one sweater, over and over.
In winter, you'll want to go for a heavier wool, and this is also the perfect time to bust out your "dressy boots." Here's some outfit inspiration to get you started.
Shop #SGapproved patterned pants
Men's Fashion Trend #18: Shearling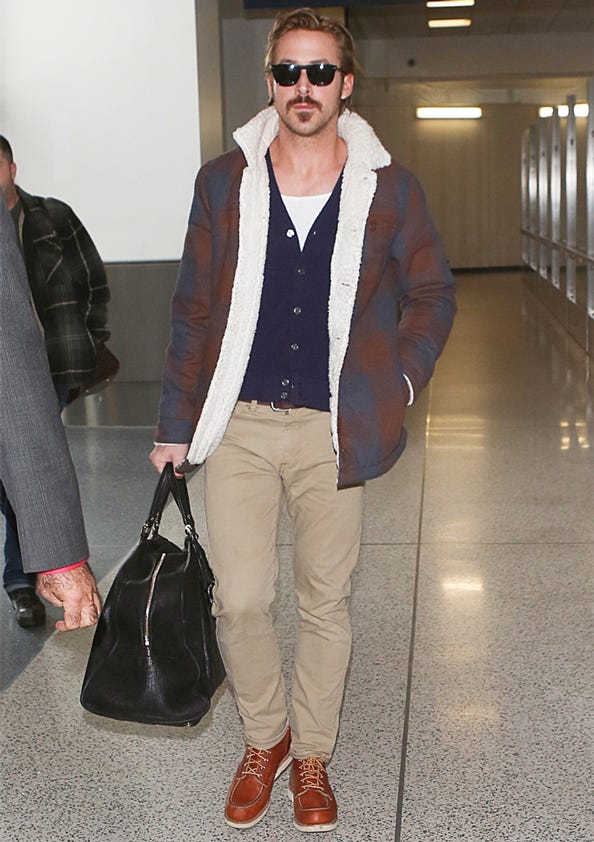 SG Says: If shearling is good enough for SG Madness 2018 winner Ryan Gosling, isn't it good enough for you?
How to wear shearling
We're all for a guy wearing his heart on his sleeve, but when it comes to shearling? The collar's where it's at. From trucker jackets to pilot jackets, a little bit of shearling on your outerwear goes a long way.
Men's Fashion Trend #19: Statement beards
SG Says: Is 2019 the year you finally grow the thick, luxurious beard you've always dreamed of sporting? While there's plenty of talk of the best hairstyles and facial hair for guys in the summer, it's time cold weather got its due, too.
How to take care of a beard
Check out this Q&A with all-natural grooming company Beardbrand's Eric Bandholz for the best beard maintenance advice out there.

Men's Fashion Trend #20: Camp collar shirts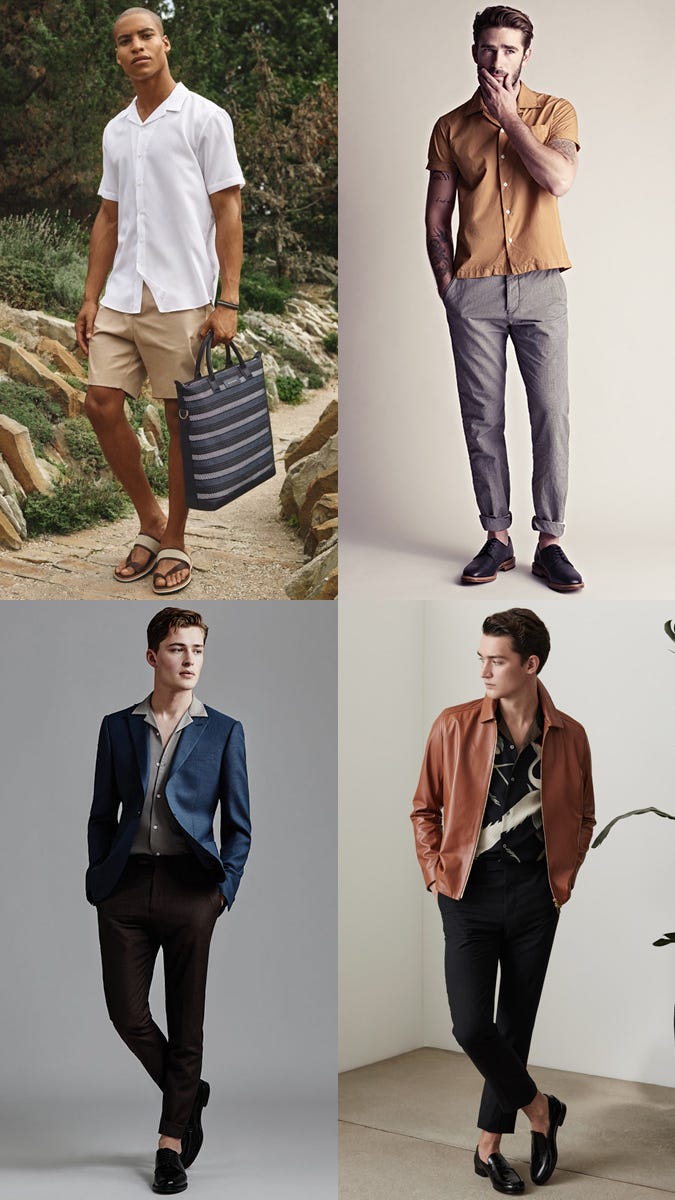 SG Says: Also called Cuban collar shirts, this wide open collar is breezy like Sunday morning…or maybe a Saturday night spent dancing in an open air club with a live band playing. This laid-back yet super-stylish shirt is good for guys with narrow shoulders as it gives the illusion of a broader front.
How to wear a camp collar shirt
A style staple of the 1950s, camp collar shirts are characterized by their lack of collar band (making the collar a little floppy), short sleeves, and a loose, straight-cut fit. You'll find plenty in cotton and linen come summertime. While solid whites and blues are always a good option, feel free to opt for a fun, nostalgic print, too.
Lucky for you, we've got not one but five ways to wear a camp collar shirt, right this way.
Men's Fashion Trend #21: Rugged boots
SG Says: Rugged boots are one of the biggest men's fashion trends of 2019 already, so who cares if you don't actually hike? We rounded up a few of our favorites over on The Inventory, if you want to take a peek.
How to wear rugged boots
Pair your rugged boots with slim-cut chinos and a tweed blazer for an office-ready look. On the weekends, skip the trails and head to the bar with your buddies in jeans or cords.
Shop rugged boots
Men's Fashion Trend #22: Modern formalwear
SG Says: The Yummertime guys prove that a velvet tuxedo jacket doesn't have to feel that far off from a standard all-black number.
How to wear velvet tuxedo jackets
The great thing about a velvet jacket is that you can truly dress it up or down. Wear it with black pants, a white shirt and bow tie, and shiny patent shoes (or even better, tuxedo slippers) for a luxe look. Dress it down with a simple crewneck t-shirt, black jeans and boots for a less traditional, yet still fun and fancy, event.
Men's Fashion Trend #23: Pantone's 'Living coral' 2019 color of the year
SG Says: Pantone's 2019 color of the year isn't just a color, it's a way of life. No, jk it's just a color, but it IS a great shade that's flattering on most skin tones and could be a good way of working pink into your closet in a way that doesn't feel as "young" as millennial pink or as preppy as a traditional popped collar polo-kind of pink (you know the shade I'm talking about). Officially, it's a pink-orange coral shade with golden undertones, giving it a warmth and depth compared to cooler coral colors. The folks over at Ape to Gentleman call it "pastel pink," we just call it trendy af.
How to wear Pantone color of the year "Living Coral"
Pantone described the shade as "optimistic," which to us reads as an invitation to mix Living Coral with other bright colors. Say, fuschia or deep purple. But if such strong colorblocking doesn't feel up your alley, you can also ground the color in neutrals like navy or white.
Men's Fashion Trend #24: Athleisure everywhere
SG Says: Another example of a "When does this stop being called a trend and just becomes something we all wear?" trends. If you're not onboard the athleisure bandwagon, whether that's joggers, performance pants, or even a simple hoodie, well…we don't know what to tell you.
How to wear athleisure
You want athleisure outfit inspiration?! We've got your athleisure outfit inspiration right here. And here. And here, too.
Men's Fashion Trend #25: Statement sneakers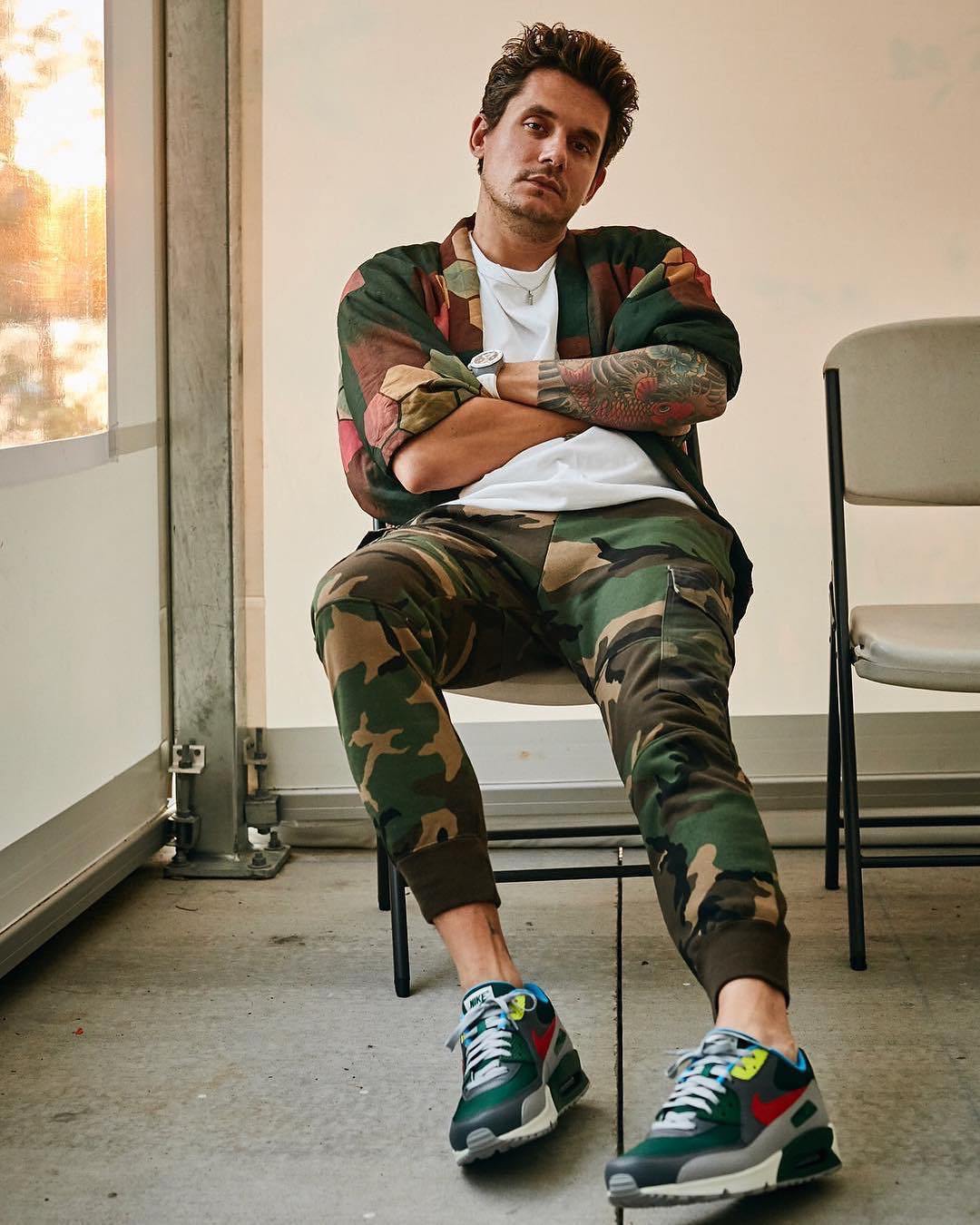 SG Says: A statement sneaker might conjure up a different image for every guy reading this. For some, it's a dad sneak. For others, a cool and colorful street shoe. Maybe your statement is minimalism, with simple white sneakers. Whatever your shoe, it's time your casual footwear takes center stage.
How to wear statement sneakers
Wear yours with a crisp OCBD and dark rinse denim. Or dress them up (a little) with cords or chinos and a thick-gauge sweater.

Men's Fashion Trend #26: Bootcut Jeans
Nahhhh, no matter what GQ tries to tell you, it's not happening.
Men's Fashion Trend #27: Bleach Blonde Hair
SG Says: If three's a trend, we're well past that when it comes to celeb bleach jobs of late. Pete Davidson did it this summer, Jonah Hill's been blonde on and off over the past…what, year? And now Chris Messina showing up to the Golden Globes looking like a goddamn snack makes me wonder…should more adult men bleach their hair blonde? Or am I simply projecting my own mixed feelings about changing up my own hair color? Who's to say, really? The point is, a big men's fashion trend for 2019 is bleached hair for both men and women, and we're all just playing hair salon Russian roulette to see who's next.
How to go bleach blonde for guys
If you're curious about taking the peroxide plunge, check out this primer from the fine folks at GQ. Fair warning, it's really bad for your hair (more on the upkeep here). So hopefully, you've always wondered what a buzz cut would look like, too.

Men's Fashion Trend #28: Doing "You"
SG Says: Not like You on Netflix where the guy from Gossip Girl stalks people (for love!). We're talking actual, straight-up individuality. Want to try every single one of these trends? Go for it. Want to skip them all in favor of a look you know and love? That works too.
***

Ready to build a wardrobe that makes you feel like a million bucks? If you're ready to invest in some new clothes for your wardrobe but dread the thought of shopping for them…consider having Team SG shop for you! We can curate an online shopping list just for you that fits your budget, your body type, and your lifestyle.
Let us rescue you from shopping fatigue and sartorial apathy. You'll receive personal attention and care that will make you feel like the best version of the awesome guy you already are! Ready to seriously improve your closet and your confidence? Give us a shout.
***
I run Style Girlfriend, helping guys develop and grow their personal style, all from a friendly and supportive female perspective.