All The Best Pants for Athletic Legs
Because some of us played soccer growing up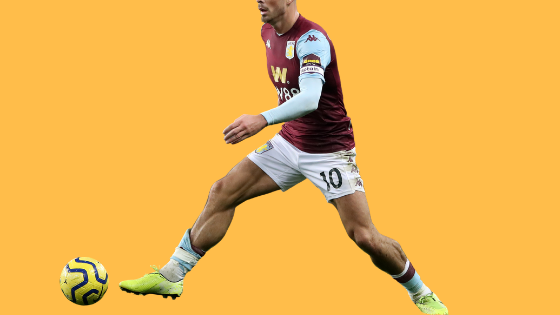 We're going to let you in on a secret: every guy thinks that he alone has a body type that makes shopping off the rack completely frustrating and basically impossible.
It's true!
Hopefully you can take comfort in knowing, whatever your shopping challenges, you've got company.
Whether you have a super-skinny neck, extra inches around your waist, or find yourself clocking in taller or shorter than average, there's something about you that makes shopping off the rack feel particularly painful.
So today, we're talking to the guys with muscular lower bodies, specifically the ones with athletic legs that make pants shopping super stressful.
Maybe you play (or played) soccer or rugby in school, or maybe you're an avid cyclist…there's plenty of shopping woes for guys with thicker thighs and legs.
As someone with toothpick legs and a watermelon butt, I can definitely commiserate. I hate hate hated shopping for pants, until I found a few brands that fits me well (shout out AG Jeans and Madewell! Can't say enough good things about them for girls AND guys, tbh.
Now, I just buy the same styles over and over in different colors because I know they're the pants that make me feel like a million bucks.
So here, we're taking a stab at tips for dressing one very "normal" body type—the guy with athletic legs.
We're going to help you work with what you've got, no shame or stress invited.
Here are the style and shopping tips you'll discover in this guide for guys with athletic legs:

3 shopping tips for finding pants for athletic legs
I asked Brian of men's style blog He Spoke Style to share his tips on finding pants for athletic legs.
"As a retired Category 1 bicycle racer, I've heard the laments of my racing companions—many of whom had much larger quads than me. (By the way, imagine the trouble this guy has finding pants that fit!) If you are a guy in this camp, it can definitely be frustrating to find a pair of pants that fit properly. Here's what to know:
1. Forget about waist size.
Seriously. Instead, choose pants that fit in the seat and thigh. With off the rack pants, the seat is generally 6 inches larger than the waist. So if you have a 32″ waist, the seat will be 38″.
As with any off the rack, mass-produced garment, sizes are standardized and finding one that fits perfectly will likely be near impossible.
Most men, and especially men with athletic legs, generally have seats larger than their waist. So from a comfort standpoint, it's best to size up in the waist and have your tailor take the waist in (see No. 3 below).
2. Dress your body, not anyone else's.
Guys with muscular legs also tend to have bigger arms and bigger chests. With menswear so focused on slim fit right now, it can be tempting to want to go that route to keep up with the trends.
If you fall into the muscular all over category, don't do it. Avoid extreme slim-fitting pants (like skinny jeans) at all costs. If people only saw you from the waist down it would likely be fine, however a muscular muffin top will definitely put your entire look out of proportion.
Always go with what flatters your body type over what you are being "told" you should wear.
3. Find a good tailor.
The best thing you can do after buying new pants is take them to an accomplished tailor. Though it would be great to find pants that fit perfectly off the rack, the reality, especially for men with athletic legs, is that this just isn't going to happen.
It's not impossible, and we're sharing some shopping picks for you below, but we want to manage expectations.
Knowing tailor—and more importantly, having your tailor know you, your style, and fit preferences—means that the pants you buy will not only be comfortable, they'll also have the fit you're really want.
Yes, you will have to lay out some cash for the alterations, but a visit to a tailor who really knows his or her craft is always money well spent.
Below, shopping recommendations for pants for athletic legs:
Thankfully, brands have finally gotten wise to the needs of guys with bigger legs. Many now offer an athletic fit, in addition to the "traditional" and "slim" fits most product lines include.
They go by different names, so it can be helpful to hit the website before you go to the store.
Or, you could just keep reading and find all our #SGapproved picks below!
---
The best dress pants for athletic legs
SG Says: Bonobos recently expanded its offerings to include an athletic fit for their pants, along with straight, slim, and classic, as well as extended sizes for the big and tall guys out there.
Pro tip: If you're near one of their guideshops, stop in to check out the difference between the different styles for yourself.
Otherwise, try ordering one size up and one size down from what you'd usually wear when shopping online to be sure you find your perfect fit.
The best chinos for athletic legs
SG Says: Designed by Banana Republic especially for athletic builds, the Mason-Tapered fit has a little extra room through the hip and thigh.
Guys with bigger thighs will appreciate how they're tapered through the leg for a slim, modern look.
These pants are tailored with stretch, and come in both a slim and athletic fit.
He Spoke Style says: "Every once in a while you get lucky and find a brand that gets pretty close to what you're looking for. For me, in terms of chinos, that has been J.Crew.
I favor a slim cut and don't mind pants being a little tight around the thigh, and have found the 484 fit to be pretty much ideal.
It works for me in situations from business to casual to just hanging out. I know that fit isn't for everyone and I also know that there are definitely guys with bigger quads than me.
If you have larger thighs but still want a slimmer fitting pant, check out the brand's 1040 athletic fit pants that are roomier through the upper leg."

The best jeans for muscular legs
Don't worry, we would never forget about jeans! For so many guys, denim is an everyday staple, so you want at least a few pairs that fit you just right.
Here's our picks: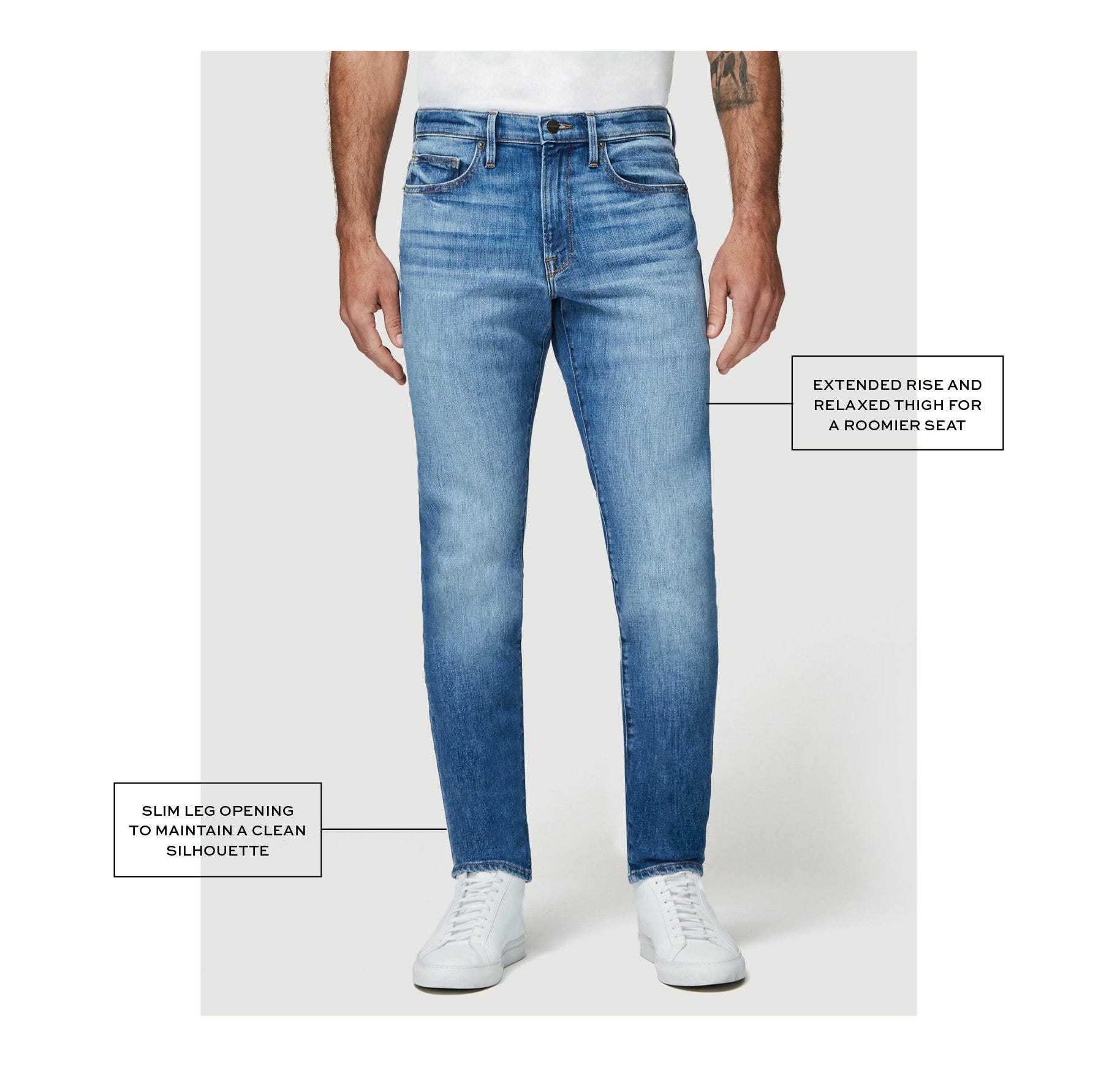 SG Says: The folks at FRAME Denim makes some of the best jeans (for men and women) in the game, and now they finally—finally!—offer an athletic fit style. With an extended rise and a relaxed thigh, get ready for a totally luxe-feeling fit.
The best casual pants for muscular legs
Casual twill pants—sometimes called 5-pocket pants—have the feel of jeans but come in a variety of colors, sort of like chinos.
Read more about them here!
SG Says: The editorial team at Men's Journal agrees that Bonobos has changed the game with their variety of fits for guys' pants.
We heartily co-sign on these premium 5-pocket pants, which come in the same athletic fit as the dress pants above.
***
Parting Thoughts: Seriously, get your pants tailored!
If you are serious about the fit and comfort of your pants—which I assume you are if you've read this far—choose a pant that fits your thigh the way you want.
Don't worry about the waist. Don't worry about the length, and even if you are looking for something on the slim or tapered side, don't worry about the leg opening.
Take those pants to your tailor!
It's a small investment that will pay big style dividends.
***
Ready to update your wardrobe? SG can help

If you're ready to level up your style but dread the thought of shopping for new clothes…consider having Team SG shop for you! We're obviously biased, but clients tell us we're really great!
Let us rescue you from shopping fatigue and sartorial apathy. You'll receive personal attention that will make you feel like the best version of the awesome guy you already are! Ready to seriously improve your closet and your confidence? Give us a shout.
***