Style Advice for Short Men feat. The Modest Man
Tips for modest, but mighty style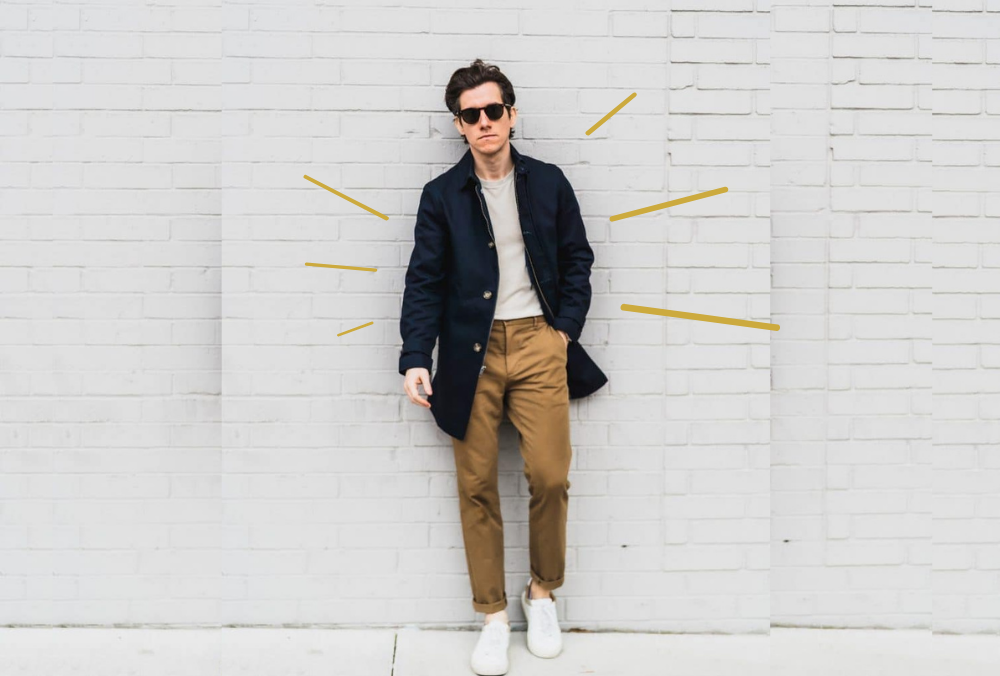 Here at SG HQ, we talk to guys about clothes. A lot. At some point in these conversations, they all wind up saying the same thing:
"Dressing well can be hard sometimes because I don't have a 'typical' body shape."
Every guy wants style advice tailored to his specific build or body type. Short guys, or tall guys, or potbellied guys, or guys with webbed toes. Okay, not so much that last one, but any day now, probably!
We hear complaints about the difficulty in finding a good fit, or knowing what to wear with, say, broad shoulders and skinny legs. Or a short torso and long legs. Or a big belly and no butt. Etc. Etc.
In response, I always ask the same thing, "What's a 'normal' body shape?"
I don't think one exists.
The only "normal" thing about bodies (for you fellas and for us ladies) is that they're all different.
So today, we're taking a stab at tips for dressing one very "normal" body type—the vertically-challenged man.
We're going to help you work with what you've got to make those inches count.

Here is the style advice for short men you'll find:
Get inspired with a week in outfit ideas from short guy style blogger, Brock McGoff of The Modest Man
Read 9 tips on dressing for your height
Watch a video with even more tips from Team SG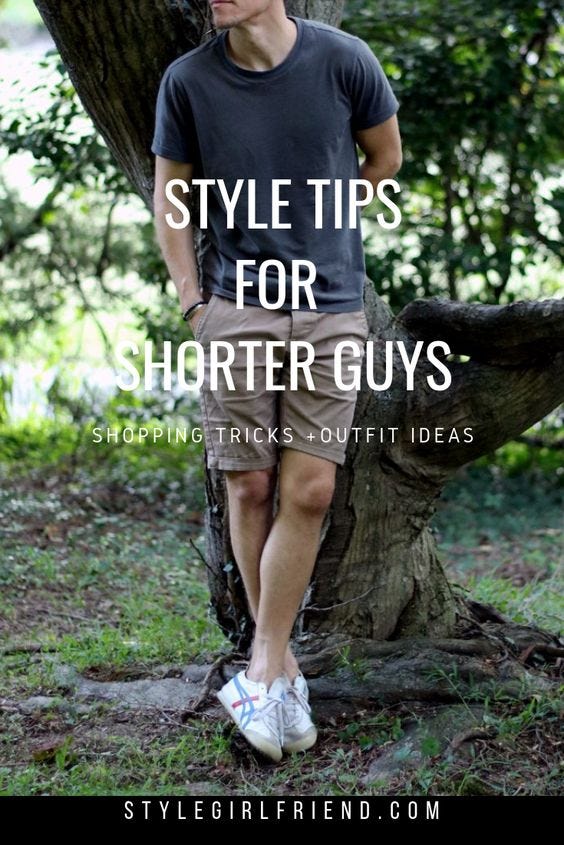 A week with the ever-stylish Brock McGoff of The Modest Man:
What I love about the wide, weird sphere that is men's lifestyle stuff online is that it truly feels like there's room for everyone. Style Girlfriend is here helping guys get the inside track on the tips, tricks, and shortcuts to style from a female perspective.
Other sites target a trendier guy. Still, others laser focus their recommendations on the guy seeking style on a major budget (think: ramen for dinner every night-kind of budget).
Brock McGoff has carved out his own niche in the menswear universe. And to paraphrase a nattily dressed playwright, though it be but little, it is fierce. The Modest Man helps short men dress better and feel more confident by wearing clothes that flatter their body type.
We asked Brock to document a week in his wardrobe, and share his tips for guys on the more modest size of the scale.
MONDAY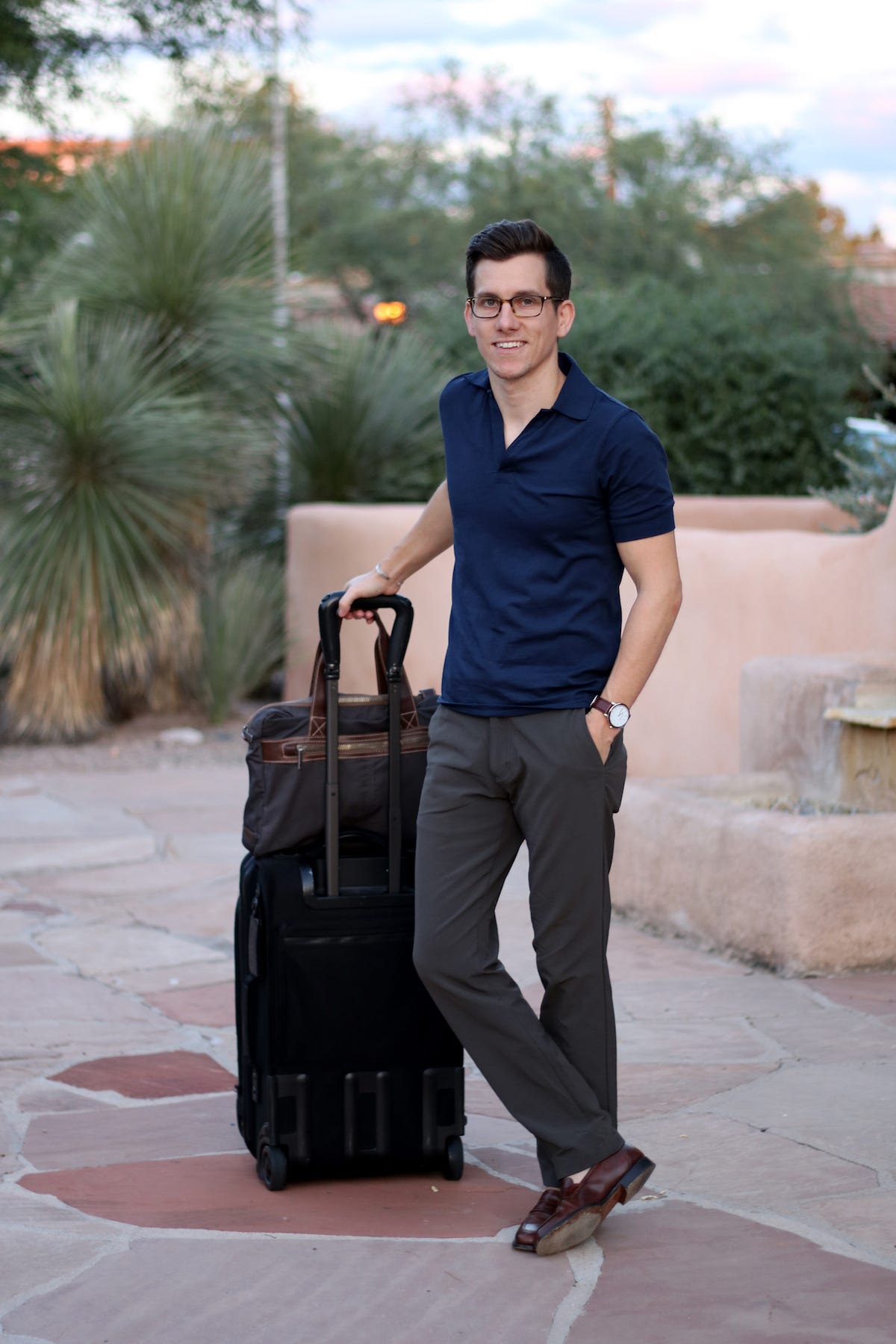 shirt: Peter Manning | pants: Ministry of Supply | glasses: Warby Parker | loafers: Cole Haan
The Modest Man says: "I was traveling this week from Tucson (very hot) to DC (very hot and humid), so I had to make sure I dressed for the weather. In general, I like to keep things pretty casual when I'm flying, but not shorts/t-shirt/backpack casual. This outfit is very comfortable, and it's great for hot, humid weather (quick-dry underwear and pants, short sleeves, no show socks). I also like to pack as light as possible, so you'll see the same items show up in different outfits throughout the week. Gotta love an interchangeable wardrobe!"
TUESDAY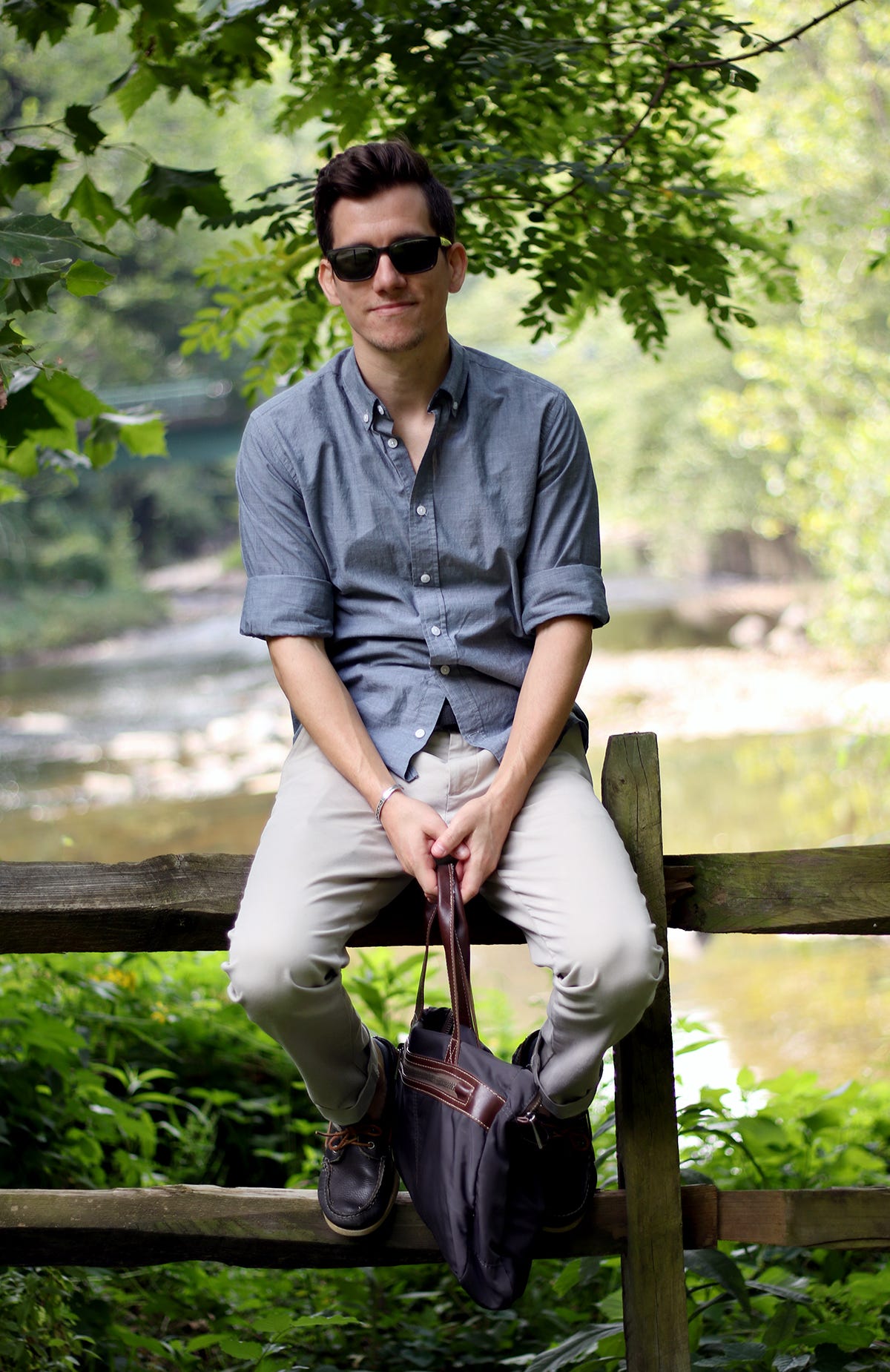 shirt: Ash & Erie | pants: Ministry of Supply | bag: J.Fold | shoes: Sperry
The Modest Man says: "Back in my hometown of Washington, DC, running errands with my little sister. We stopped to snap a few photos in Rock Creek Park, which is kind of like DC's Central Park (but not as crowded). I really love the sockless look, but going sockless all day in the heat can be a little uncomfortable, so I pretty much always wear no-show socks."
WEDNESDAY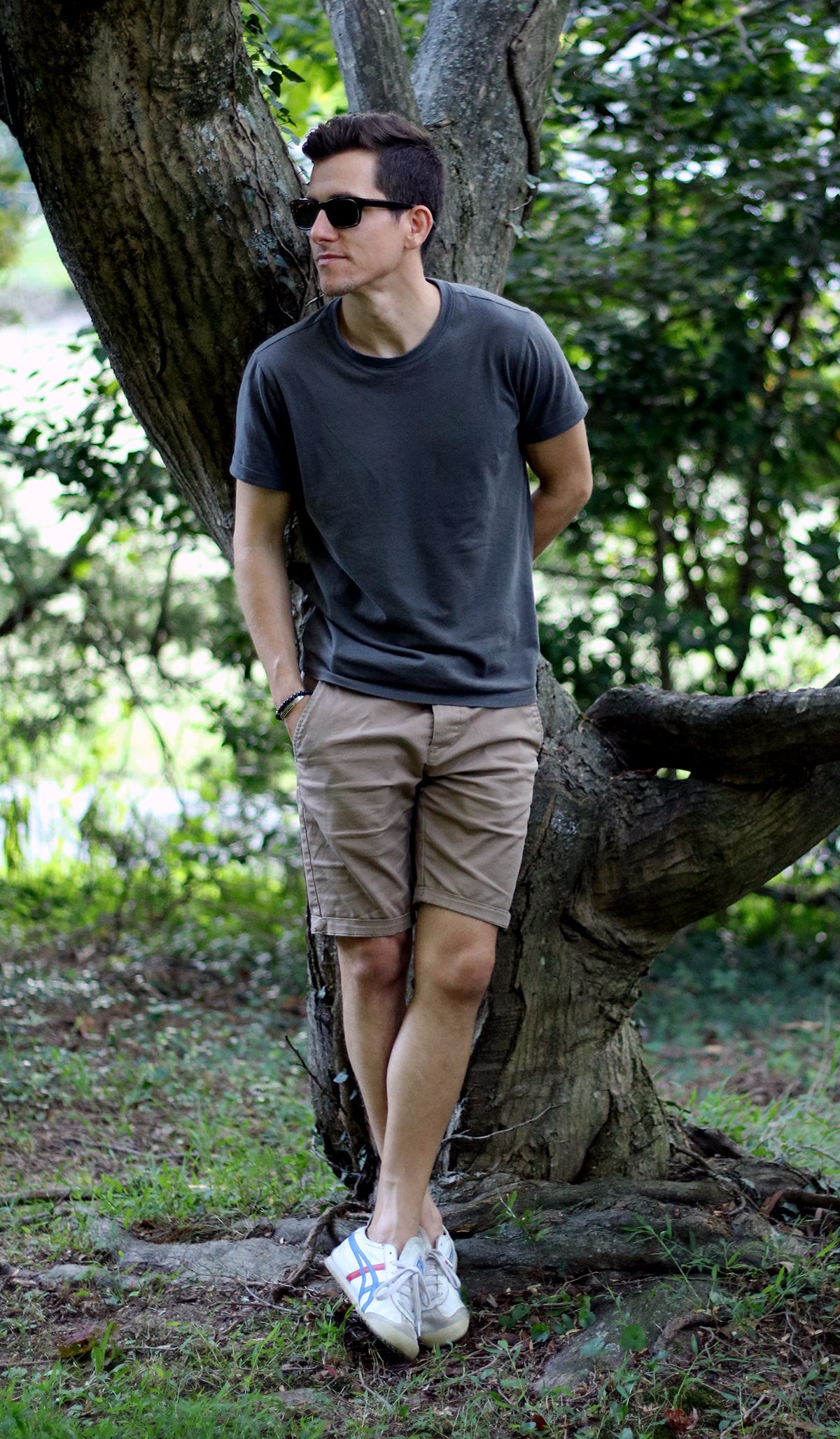 shirt: Gap | shorts: ASOS | sneakers: Onitsuka
The Modest Man says: "Today I just stayed home at my parent's house outside of DC, caught up with my siblings and took my grandma out for coffee (the woman crushes mochas like none other). It was very hot and humid, so I tried to wear as little as possible. With an outfit this simple/casual, I always throw on a couple of accessories to add some interest."
THURSDAY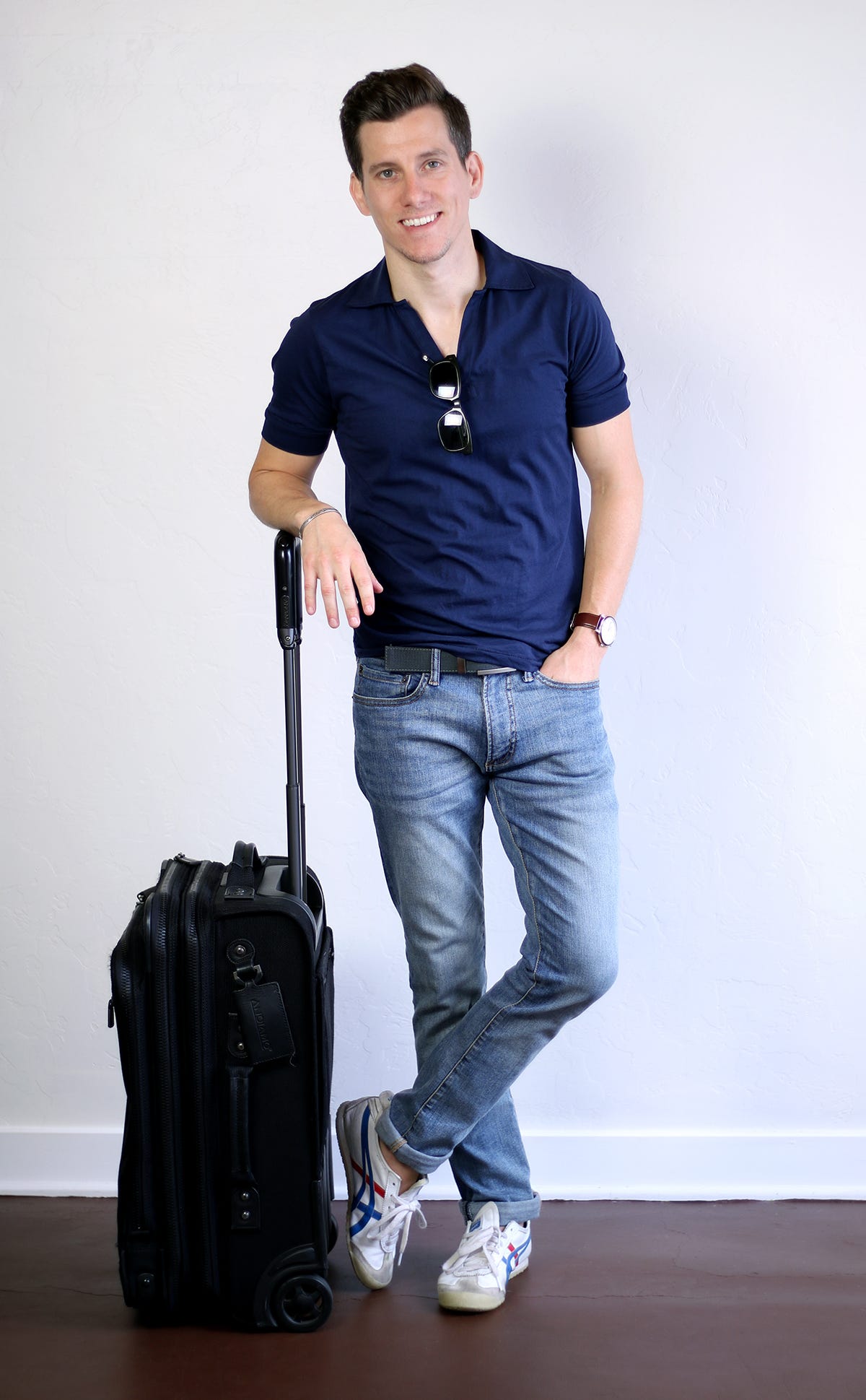 shirt: Peter Manning| jeans: Gap | belt: Anson
The Modest Man says: "Back to the airport, this time in a slightly more casual getup. A while back, I ordered like 20 pairs of jeans from 10 different brands, just to try a bunch on. These Gap "Stretch Skinny" jeans really surprised me – in the best possible way. I know slim, dark denim is a staple item in every man's wardrobe, but I'm really digging the light wash this summer."
FRIDAY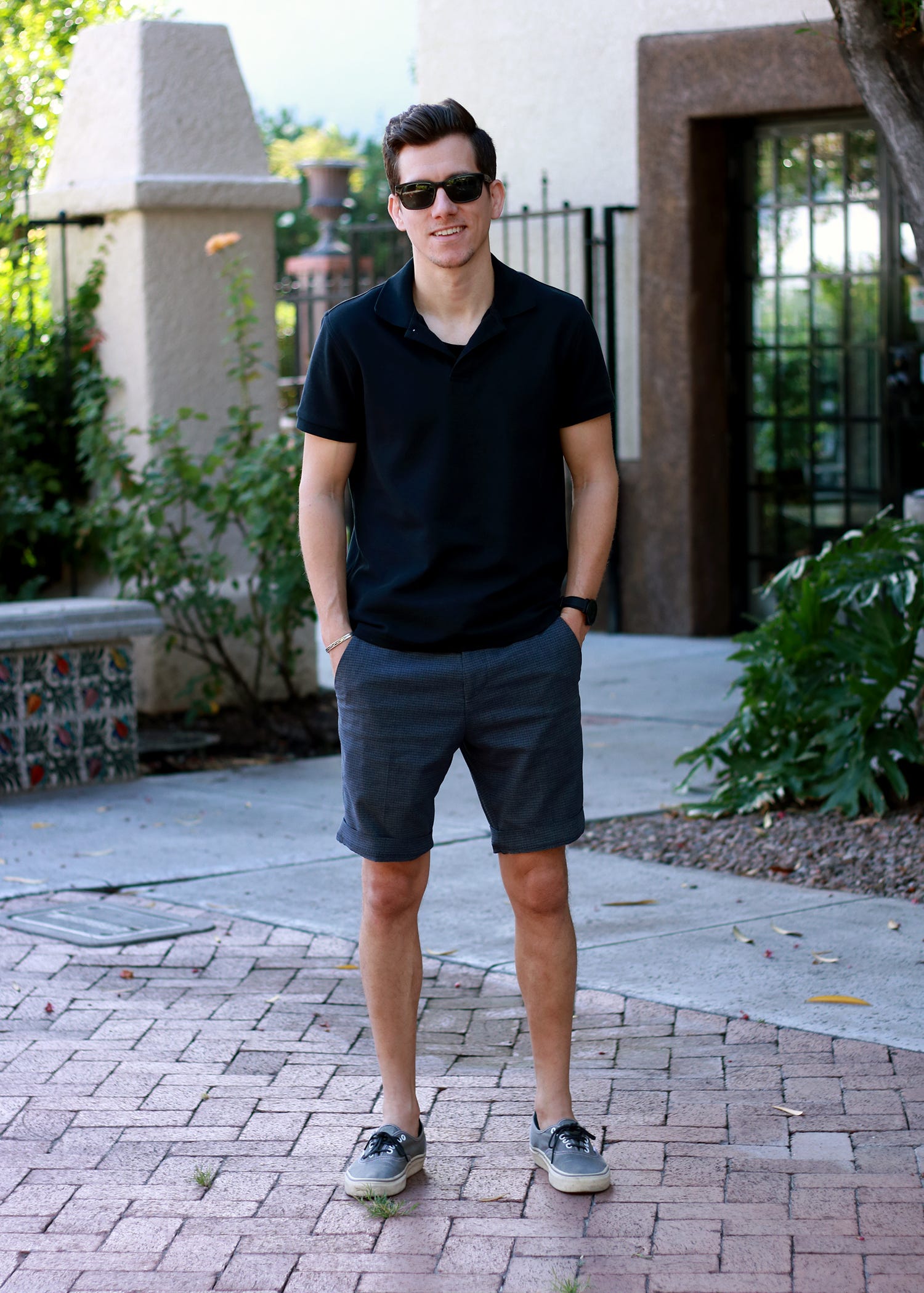 shirt: Peter Manning | shoes: Vans by J.Crew | watch: The 5th
The Modest Man says: "Back in sunny Tucson, at the farmers' market with my better half and a couple of friends. As a shorter guy (5'6" in boots), I understand how important it is for my clothes to fit properly. If they don't, I'll just look shorter and younger, like a kid wearing hand-me-downs. This outfit fits well because the polo is from Peter Manning, and the shorts are cuffed. Plus, the monochromatic color scheme helps streamline my figure. I always try to avoid too much contrast between my upper and lower body so I don't "cut myself in half" visually."

9 Pieces of Style Advice for Short Men
1. Understand your proportions.
If you've got a long torso and short legs, go for pants that sit a little higher on your waist to elongate your legs. If your legs are longer and it's your torso that's tiny, find pants with a lower rise.
In everything you buy, look for a slim fit. Clothes should cut close (but again, not tight) to the body.
For suits, go for two buttons instead of three – it forces a deeper V in front, adding the illusion of length through your torso. Skip the break in your pants for a streamlined look.
Another suit tip – pick a notch lapel over a peak lapel to keep the line long. Actually, I prefer a notch lapel for all guys, tall or short, thick or thin. I just think it looks more modern (There! This column just became relevant for guys of average-to-tall heights too. Boom.)
2. Avoid overwhelming your frame.
Those puddles of material pooling around your ankles in pants that are too long? Yes, ladies notice those, and they're not impressed. Wearing clothes that are too big in an effort to seem larger just makes you look sloppy, and shorter to boot.
Clothes that fit properly–from a pair of jeans to a suit–will always make your body look longer than those that don't. Go baggy, and you risk drowning in unnecessary fabric. Too short or tight, and you wind up looking like a hobbit extra from Lord of the Rings.
And this applies to shorter guys no matter their size. Whether you're skinny as a twig, or currently shopping in the hefty boys' section at Penney's, a proper fit always looks best.
3. Show off your style!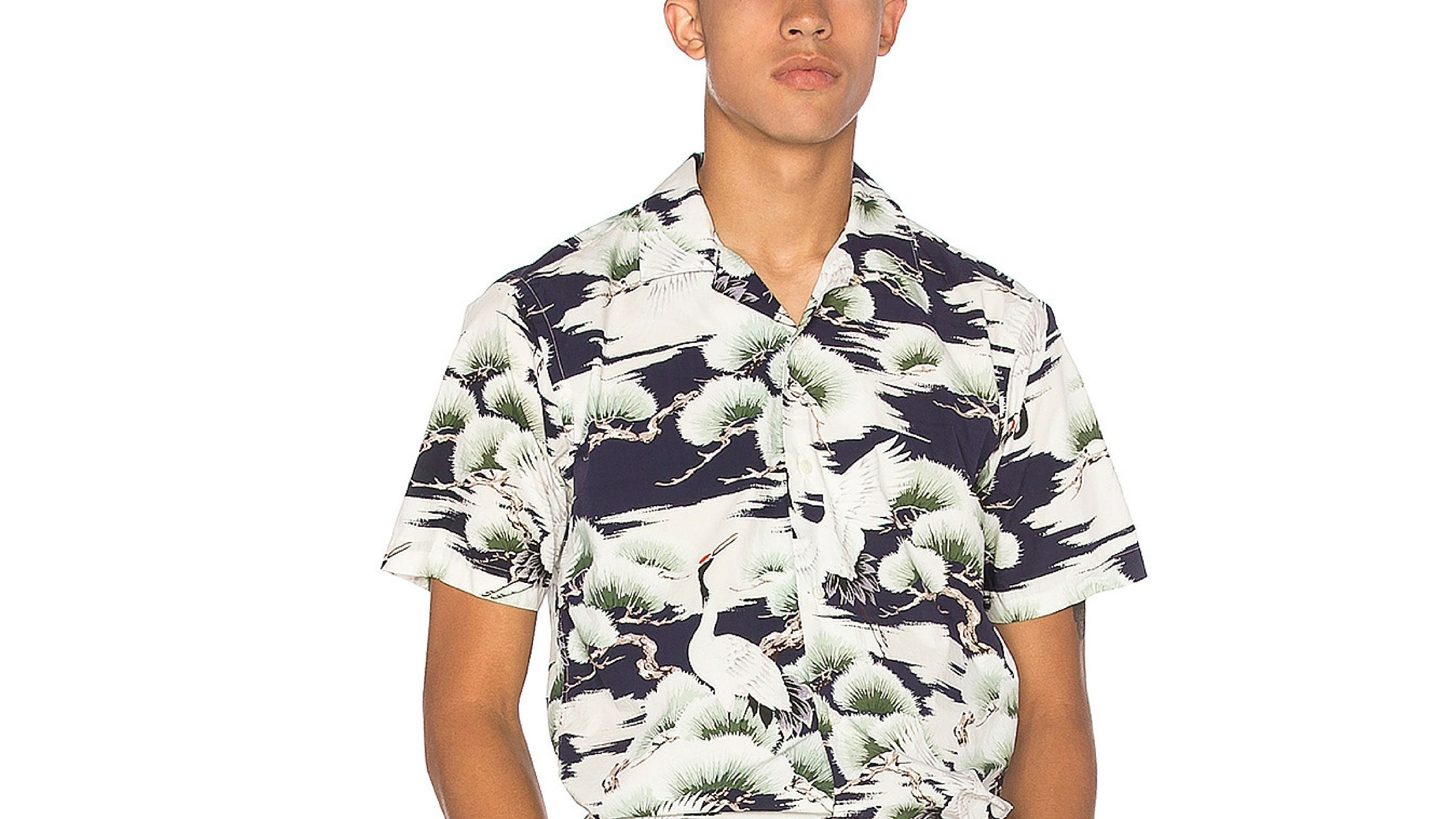 Here's one area where you have the advantage over your big and tall counterparts. When you wear a pattern or loud color, there's not, like, a LOT of it. Meaning? You can get away with a bigger print or a bolder color (if you're so inclined).
And be sure to make a big deal out of small details! Get your shirt sleeves monogrammed, and have your jacket hemmed so the shirt peeks out underneath the sleeve. Wear patterned socks. Find a pocket square that brings out your eyes. Show off your stuff.
4. Stand up straight.
Good posture is an instant height builder. Plus, no one looks good when they slouch!
5. Keep things on the up and up.
Avoid accessories that cut across the body – skip horizontally striped shirts and ties, and don't bother using a belt if you don't need it to keep your pants up. These sideways stripes disrupt the line of your outfit and visually shorten you. On pants, skip the cuff and go for a flat front pant. In suits and dress shirts, pinstripes are always a solid option.
6. Don't get discouraged.
Shopping for new clothes can get even the most "normal"-sized person down. Just remember that you have a tailor on speed dial (you DO have a tailor on speed dial, right?) who can help tweak the clothes you find that you like but aren't quite perfect…yet. Find the right fit in the shoulders, waist, and rise, and your tailor can take care of the rest.
Need more help? Let the Style Girlfriend team shop for you!
7. Tuck everything in.
Women like to see a man who's a bit more put together, and a clean look is even more important when you're shorter in stature. Maintaining a streamlined visual helps lengthen your appearance.
The easiest way to do this? Tuck in your shirt. When wearing a suit, keep your jacket buttoned (unbutton it when you sit down, though).
8. Get a tailor on speed dial.
With a modest tailoring budget, you'll take off-the-rack clothing and make them look and feel (practically) made for you.
And when you're able, go for custom-made in your clothes. While upgrading to custom shirts and suits will gauge your wallet at first, you'll get used to the price tag when you feel the fit. After slipping on clothes that are made for your exact body–thick, short, tall, skinny, whatever–you'll never go back.
9. Embrace your height!
If you are short, you're short. No pinstripe suit or Chelsea boot is going to add more than a couple inches, visually or literally. So after you've taken all of the above into account, stop worrying and learn to love the exact size you are. No Napoleon complex here!
Check out this video for more tips on short guy style:
---
Feeling overwhelmed? SG can help!
If you're ready to invest in some new clothes but dread the thought of shopping for them…consider having Team SG shop for you! We're obviously biased, but we swear it's really great!
Let us rescue you from shopping fatigue and sartorial apathy. We can promise the kind of personal attention and care that will make you feel like the best version of the awesome guy you already are! If you're ready for a style upgrade that'll seriously improve your closet and your confidence, give us a shout.
***