5 lululemon ABC Pants Outfits to Wear Now
Comfort usually reserved for no pants at all.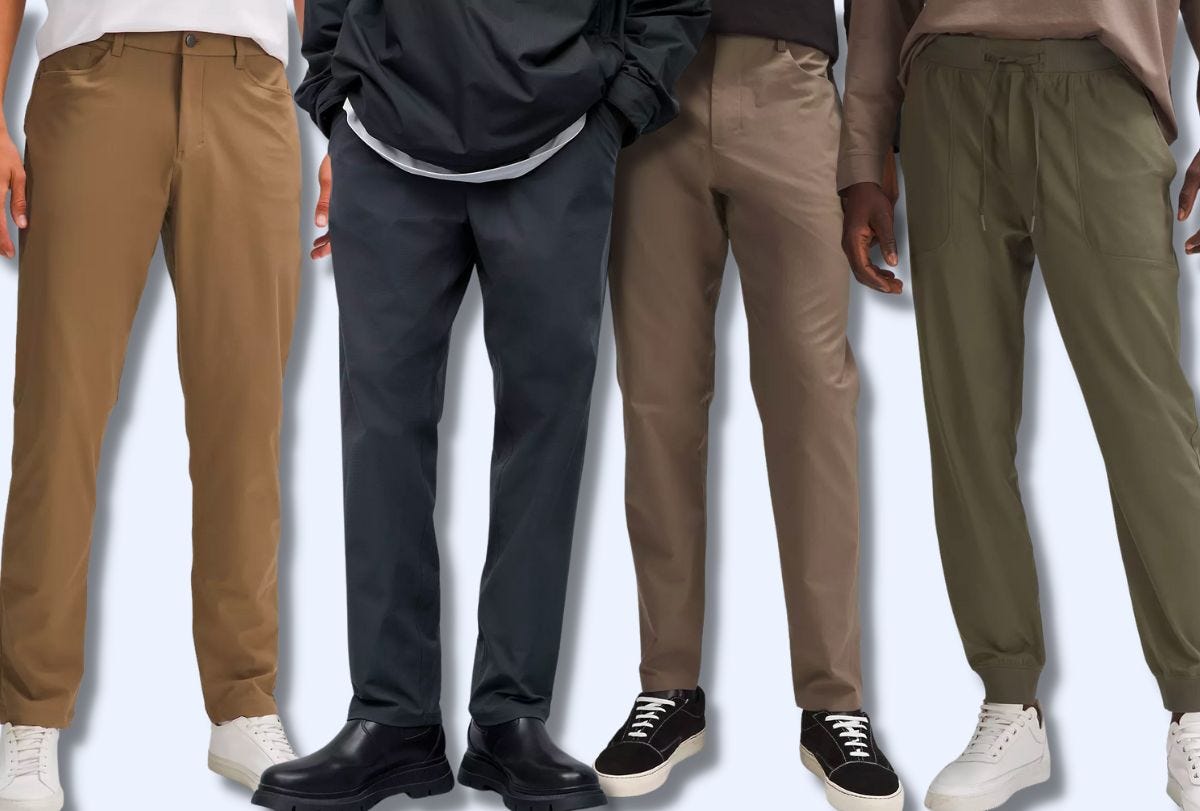 There are few items of men's clothing iconic enough that you can refer to them by their style alone and everyone knows what you're talking about. The lululemon ABC Pant is one of them.
ABC Pants are like the Bono of pants. Universally known and rightfully revered.
When you hear the name, you don't need any more information. ABC Pants immediately conjure up an image in your mind of the most comfortable, stylish pair of performance pants…and if you're lucky, they're already in your closet.
But to extend the metaphor, the ABC pants are like Bono if he got launched into the MCU multiverse.
Because there's not just one style of ABC Pants. There's a whole style smorgasbord of different fits and fabrics.
But don't worry, when it comes to ABC Pants, there's no bizarro villains here. In the lululemon-verse, every style of ABC Pants is a a men's wardrobe hero. It just depends on what superpower you need. Office-appropriate dress pants that stretch and move with you? You're covered. Casual pull-on pants that look effortlessly trendy? Yep, there's an ABC Pant for that, too.
In fact, there's an ABC Pant for every occasion.
Below, check out 5 outfits to wear with 5 different styles of lululemon ABC Pants: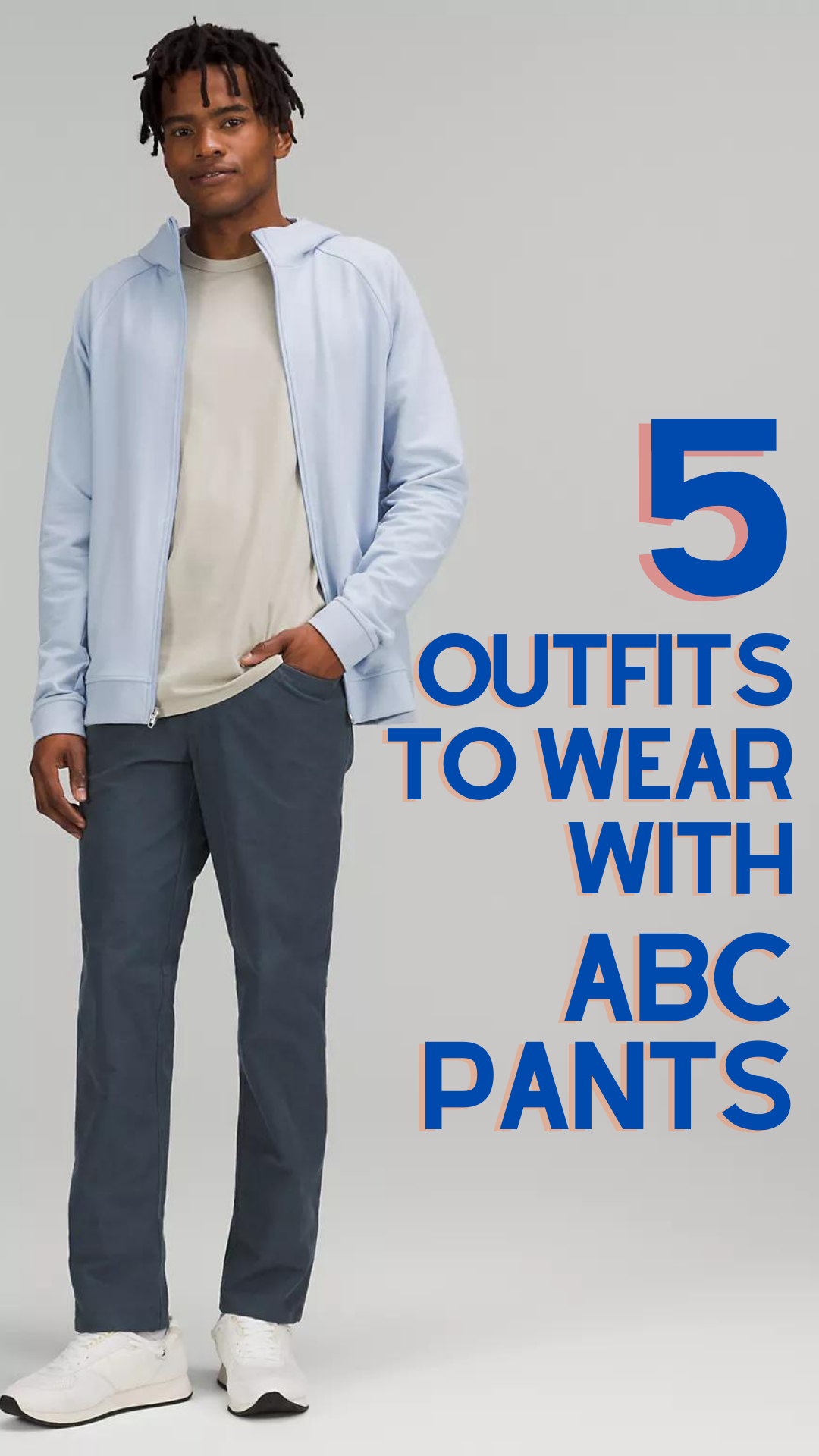 Classic-Fit ABC pant outfit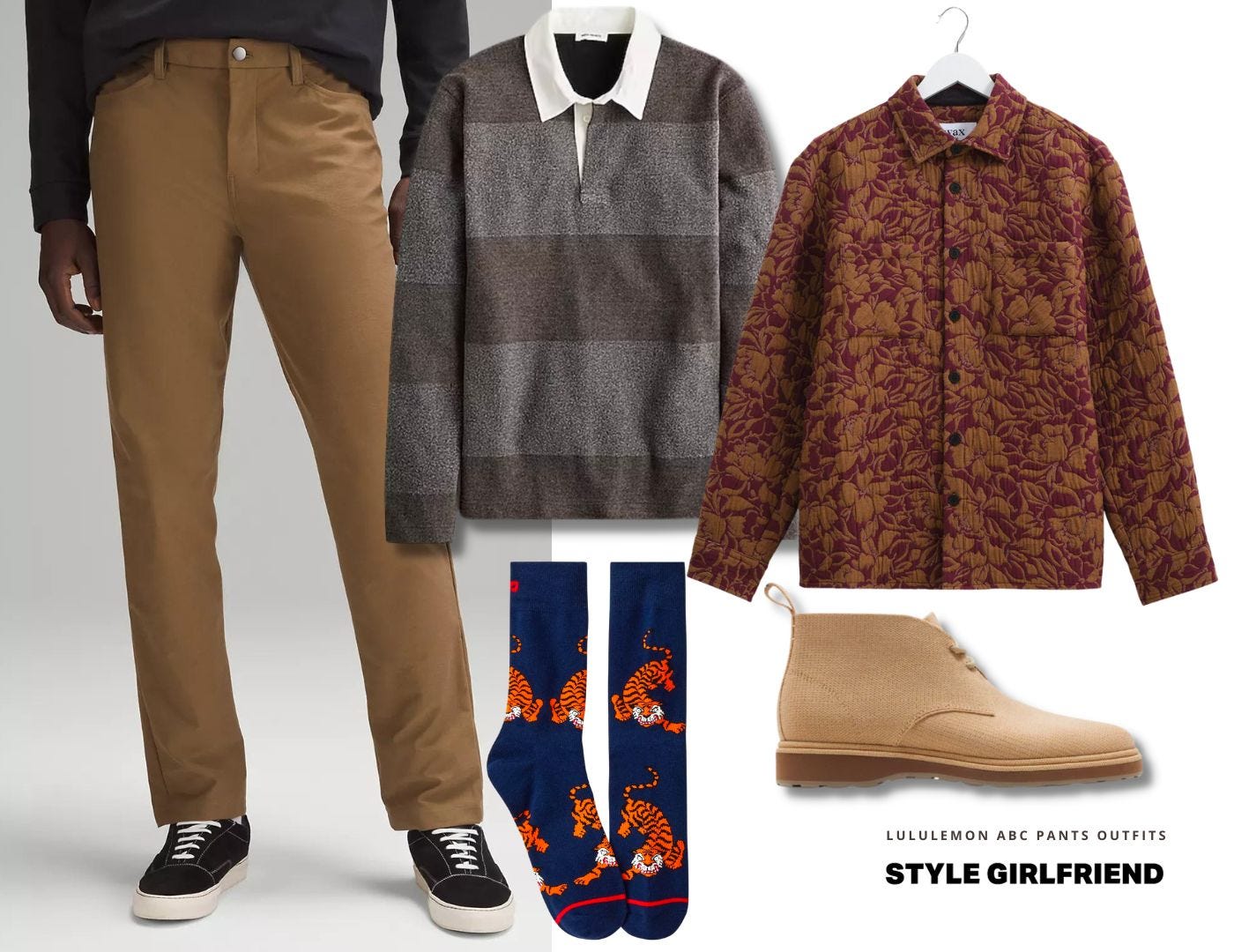 pants | rugby shirt | overshirt | socks | Chukka boots
Who it's for: The Classic-Fit Pant has a streamlined fit that gives guys with bigger glutes and thighs some much-needed breathing room.
Which style to choose: Opt for the Utilitech fabric if you're looking for pants that feel more like chinos or jeans, with more hold.
Slim-Fit ABC pant outfit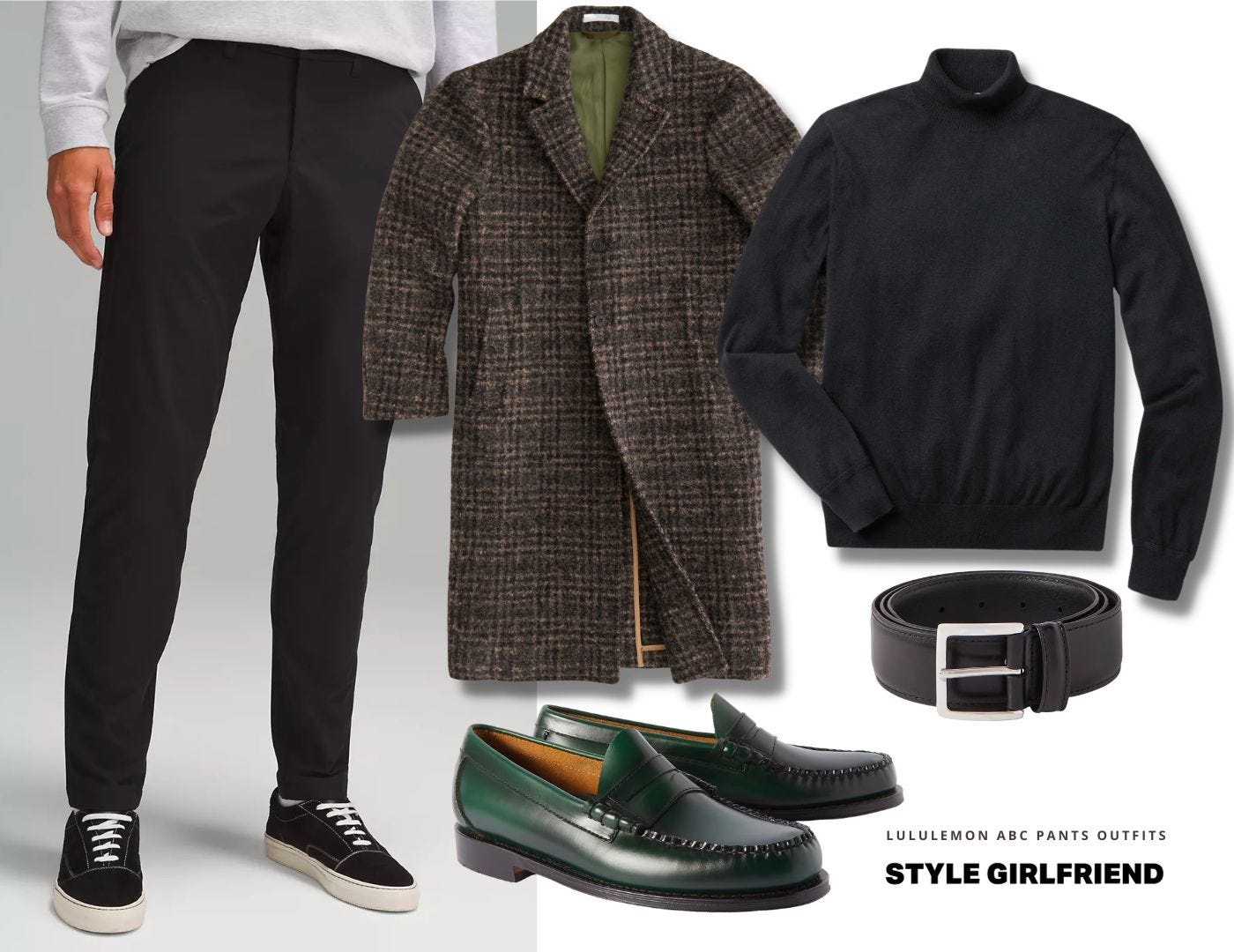 pants | turtleneck | topcoat | loafers | belt
Who it's for: The slim fit pant follows the natural lines of your body while offering added room through the hips and thighs.
Which style to choose: If you're looking for the Commission Pant, they've been, well, de-commissioned. The ABC Trouser pant has taken its place, with lululemon removing the back-knee seam from the popular stretchy pants for a more elevated vibe.
Relaxed-Fit ABC pant outfit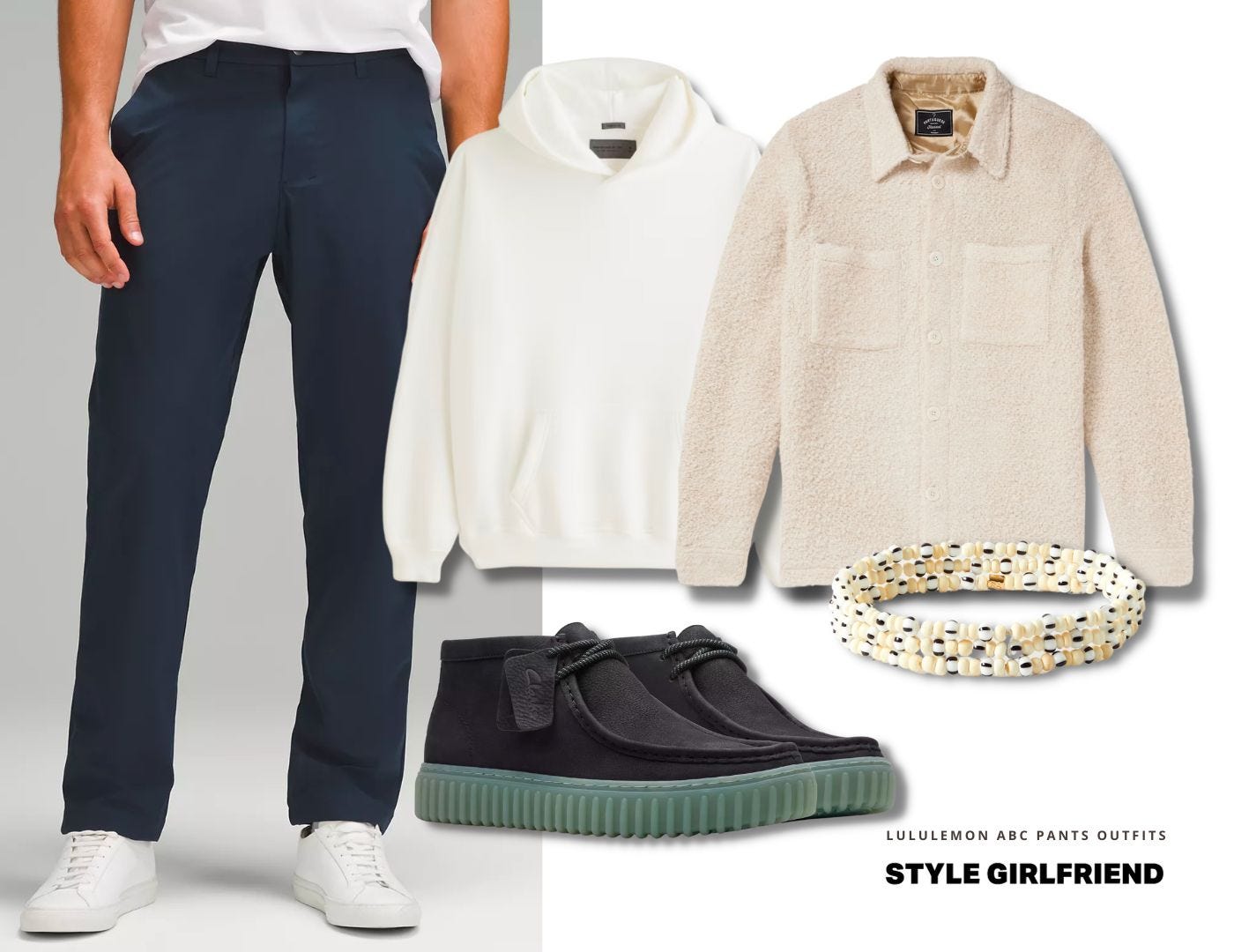 pants | hoodie | overshirt | ankle boots | bracelets
Who it's for: If you're looking for a roomy fit through your butt and thighs, you're looking for the ABC Relaxed-Fit Pant. Like the Classic and Slim Fit, this style comes in both trouser and 5-pocket variations.
Which style to choose: A lot of guys wonder, "What's the difference between the lululemon Utilitech and Warpstreme fabrics?" The answer? Go with Warpstreme if you want these pants to replace your dress pants or work trousers.
ABC Pull-On Pant outfit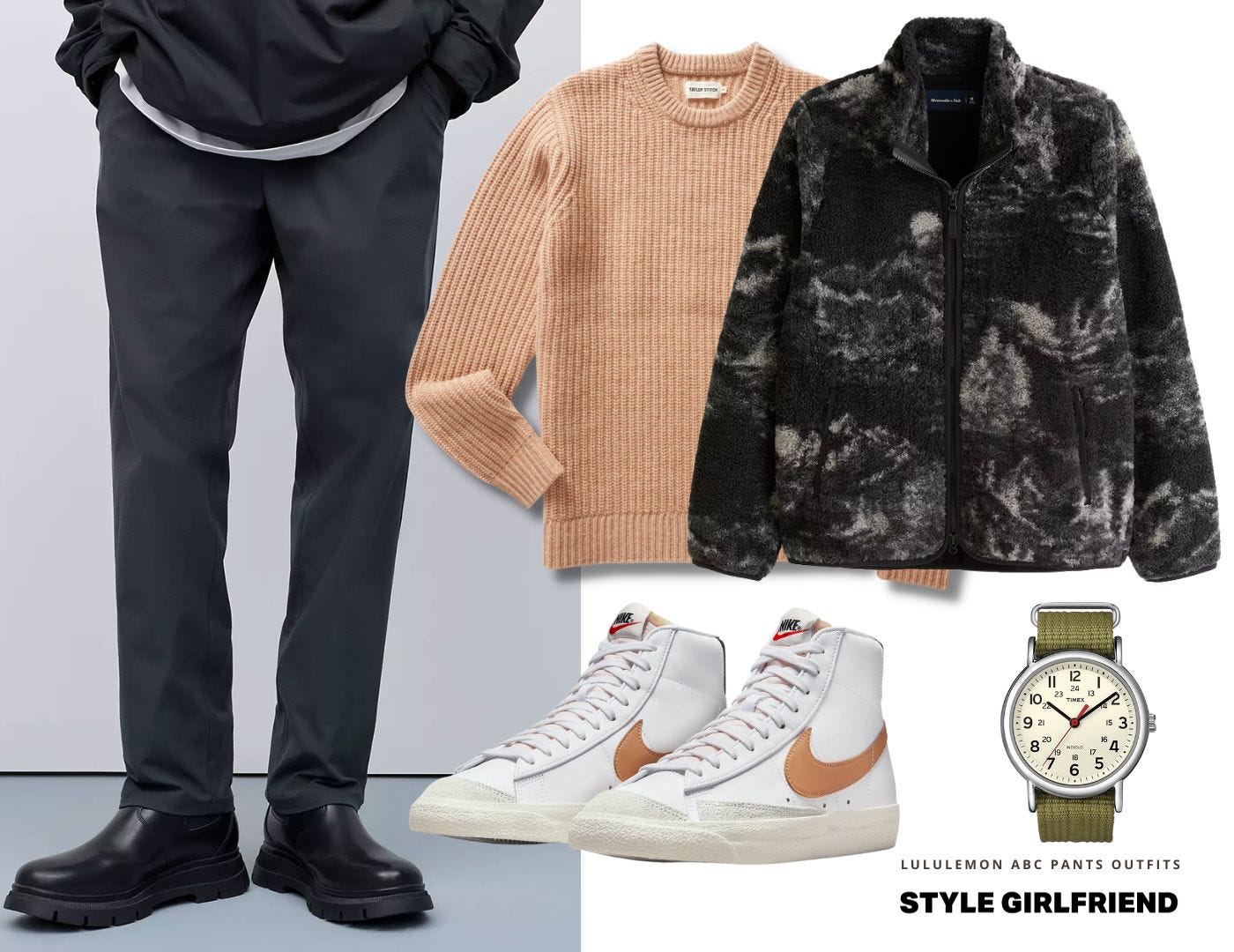 pants | sweater | fleece jacket | watch | sneakers
Who it's for: I think I speak for most of us when I say, the closer we can get to wearing pajamas in everyday life, the better. The ABC Pull-On Pant gets you one step closer to that dream. With an elastic waist and relaxed, tapered fit, these pants look cool and feel so, so SO comfortable.
Which style to choose: The Pull-On Pant comes exclusively in lululemon's Warpstreme fabric for a high-performance, wrinkle-resistant style you can wear all day (every day).
ABC Jogger Outfit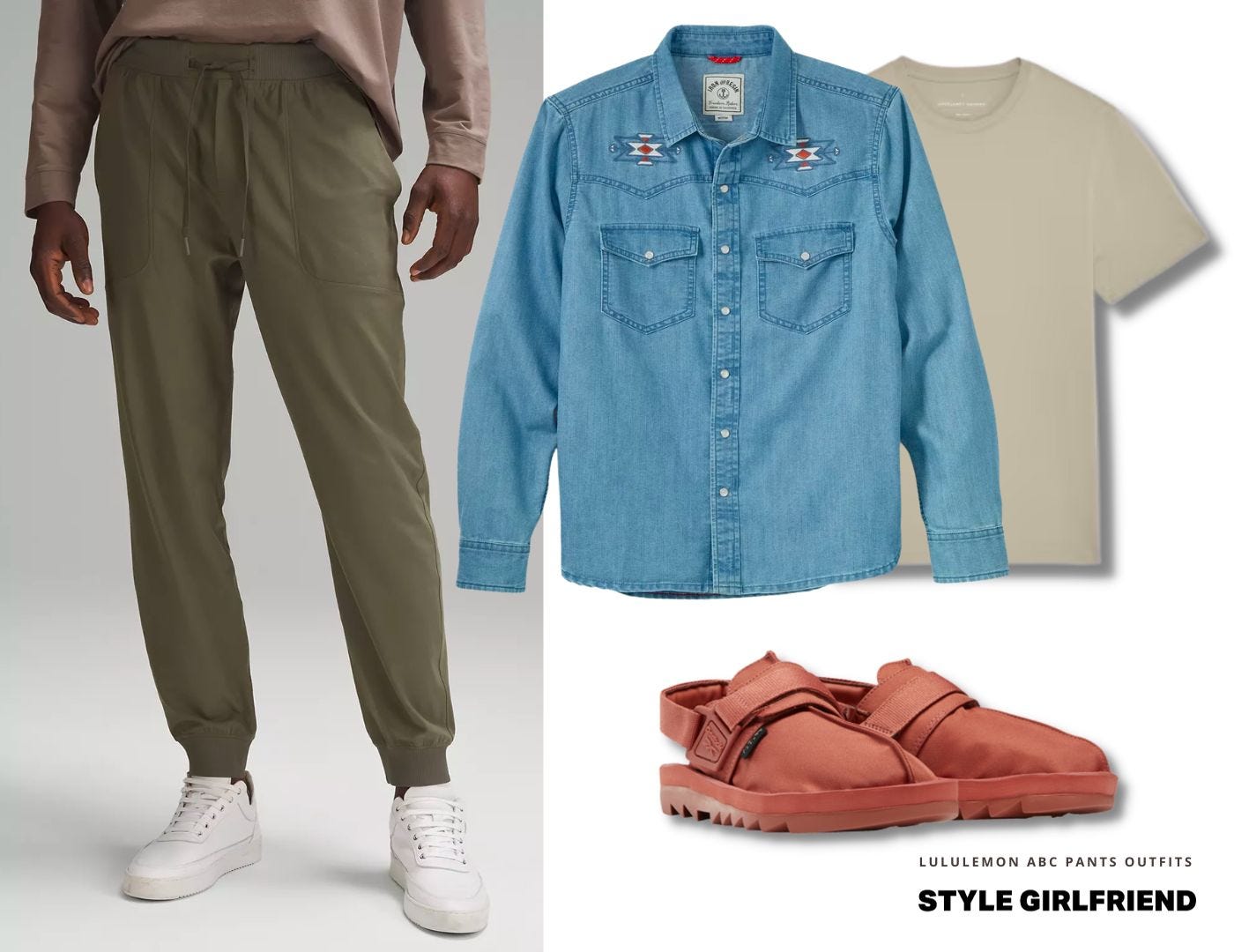 joggers | denim shirt | t-shirt | shoes
Who it's for: Guys who want to look put together in their downtime. The ABC Jogger is made with the brand's Warpstreme fabric so you can expect incredible stretch, fast-drying material that holds its shape, whether you're hitting the gym or WFH.
Which style to choose: lululemon's ABC Jogger is like the Swiss army knife of athleisure pants. These refined joggers with a tapered fit come in shorter and longer inseams, and a standard and skinny fit. Choose your fighter.