Style Roundup: 20 Fall Jackets for Guys (Updated!)
The #SGapproved light layer faves
If you live in a place where winter feels like winter, the countdown clock on outdoor socializing has already started ticking. It won't be long before we're all forced back inside for a long, cold, and lonely winter.
Sorry, was that a huge bummer? What I meant was, there's no better time to shop for stylish fall jackets! Wear 'em while you can!
After all, fall jackets for guys are like catnip to us ladies.
We love a man in a thoughtfully layered look, and a stylish piece of outerwear is truly the piece de resistance of any outfit. Our team rounded up 20 of our favorite 2020 styles for you to browse. Happy shopping!
(editor's note: This roundup was such a hit last year, we've updated all the picks for 2021. Enjoy!)
Below, the 20 best fall jackets for guys:
SG Says: We can't get enough of cozy patchwork jackets at SG HQ this autumn. How 'bout you?
Our team also likes this patchwork puffer style also available at Urban Outfitters.
SG Says: A real leather jacket under $500? You better believe it.
This biker style from Abercrombie & Fitch (which is cool again! believe it!) is a perfect middle-entry point for a have-it-forever leather jacket.
Expensive enough that you know it's legit. Not so $$$ that handing over your credit card will make your eyes water.
SG Says: What, did you think we were done talking about all the variations on a classic shirt jacket, like this shearling-lined buffalo plaid version from Levi's?
Think again.
SG Says: A super-top secret style tip is that a classy topcoat is a total game changer for guys.
You can throw it over literally any outfit and look 100% classier.
So, don't save it for special occasions. If anything, this jacket looks better when it's the star of the show.
SG Says: Love this waxed canvas jacket in a modern fit, with a cozy flannel lining from one of the UK's oldest woolen mills.
All in all, this Flint and Tinder coat (available on our October brand partner Huckberry!) is a rugged jacket with a refined sense of style that's hard to beat for fall.
SG Says: This coat is not for everyone, but if it's for you? Well, you're someone we want to know.
This is a 'have it forever' coat. Think Kurt Russell or Jeff Bridges vibes.
SG Says: Chore coats are still cool in 2021. This corduroy version in a rich olive green makes for an interesting twist if you already have a canvas or twill version at home.
SG Says: This trucker jacket from Target's surprisingly stylish Goodfellow & Co line looks great.
Our team loves the added touch of that sherpa collar.
> Check out five ways to wear a shearling-lined jacket
SG Says: A topcoat or car coat looks SO good on guys. I honestly don't know why more of you don't wear them.
It's such a laissez-faire way to do elevated casual style. A total "handsome rich guy in a movie running out for coffee on a Saturday morning" vibe.
The Baracuta style is the gold standard for Harrington jackets, so if you can spring for it, do. You'll have it – and wear it – forever.
The plaid lining adds visual interest without being overly busy, and you'll look and feel stylish and sophisticated, without feeling like you're wearing a StAtEmEnT CoAt you can only bust out for special occasions.
SG Says: It's always a good time to wear a field jacket.
By definition, a field coat keeps you protected from the "elements." Given the right material, they can be worn with nearly anything, making it a super versatile jacket for your coat closet.
Perfect for a walk on a brisk October morning or for an outdoor lunch with friends, field coats are meant for comfort, while still keeping your style game on point.
> See five ways to wear a field jacket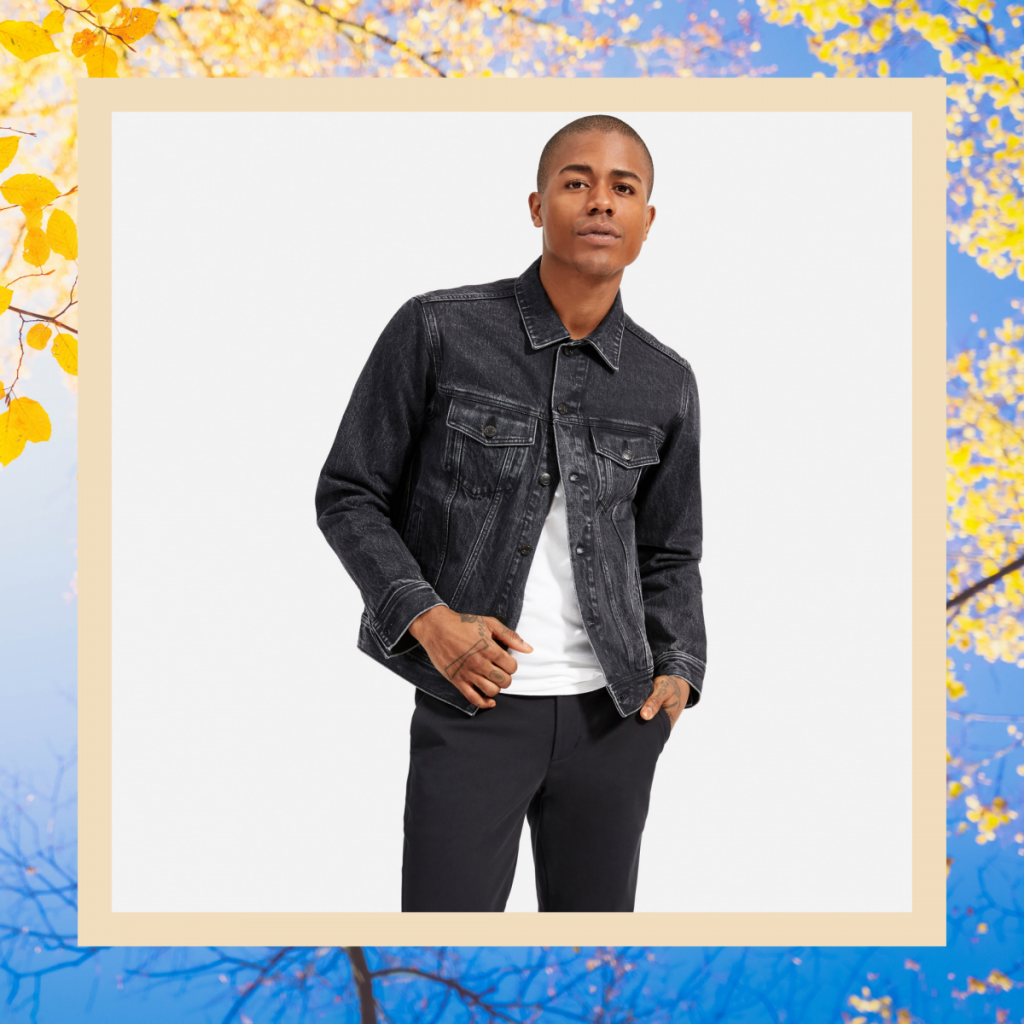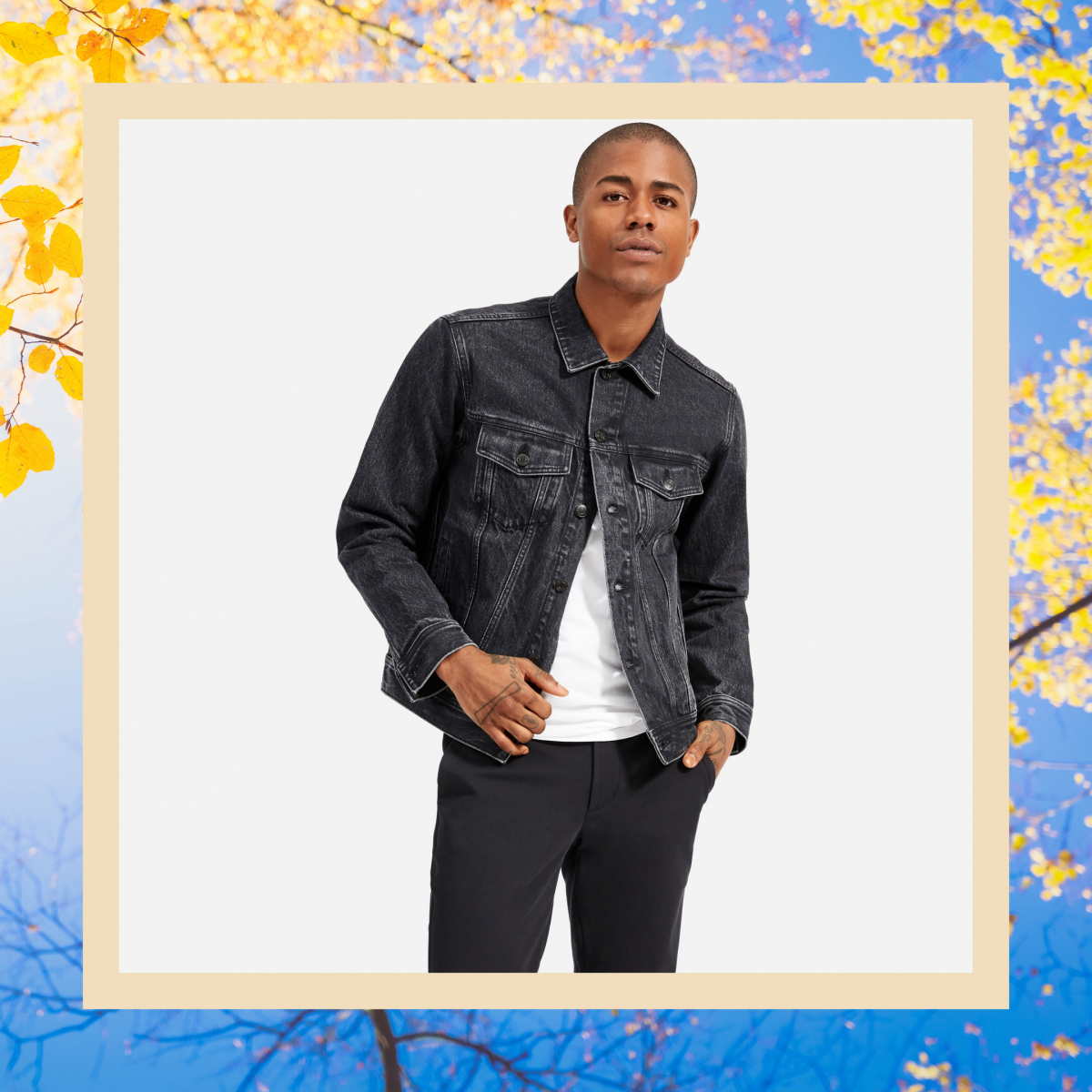 SG Says: Every guy could use a denim jacket in his fall outerwear repertoire, but a black denim jacket?
That's taking things up a notch. Wear it like you would a leather jacket and go for cool sophistication.
RELATED: 5 Ways to Wear a Denim Jacket
SG Says: This jacket is lightweight but also super durable, perfect for layering over or under for fall.
A good place to start? Wearing it over our team's favorite fall sweaters.
SG Says: It's never a bad idea to have a bomber on standby, especially one as sophisticated as this Bonobos style.
SG Says: When it comes to fall jackets for guys, a shacket (aka, shirt jacket) is still totally on trend.
So, what are you waiting for?!
SG Says: Still bummed that the new Top Gun movie got put on the shelf for another summer? Console yourself with a flight jacket that would make Goose proud.
Wear yours with jeans and a t-shirt, or dress the look up in twill pants and a sweater underneath the coat.
SG Says: Don't sleep on H&M's surprisingly sturdy outerwear.
This wool-blend black topcoat will make any outfit look effortlessly more elegant.
SG Says: 'Tis the season of inclement weather. On days when you don't know what you'll be facing, this have-it-forever Barbour fits the bill.
SG Says: Okay, yes, this fall jacket seems expensive for a casual sherpa jacket.
But!
The style itself is pretty timeless, and you'll definitely be the only guy at the outdoor bar wearing it, since it's a limited collaboration between L.L. Bean and Todd Snyder, and doesn't that kind of stand-out specialness count for something?!
> See how this cashmere company founder dresses for a week
SG Says: Still beating that sherpa collar drum!
SG Says: Sometimes there's going to be shitty weather. It's okay, you can still go out!
A refined take on an outdoor staple, this hooded jacket from Herschel in a roomy cut protects you in downpours and drizzle alike, with a waterproof stretch shell and sealed seams.

Now that you've seen the best fall jackets for guys, get the rest of your wardrobe on point..
A nice coat can really pull together a look, so don't let it be an afterthought. Instead, see your top layer as the perfect opportunity for you to further express your personal style.
Plus – duh – coats keep you warm! Talk about a win-win.

Ready to shortcut your way to fall style? Talk to a member of Team SG about creating a shopping plan personalized to you.
>> Want more autumn inspiration? Shop our fall footwear picks