Shopping Roundup: 20 Fall Sweaters for Guys
Layer, Layer, Layer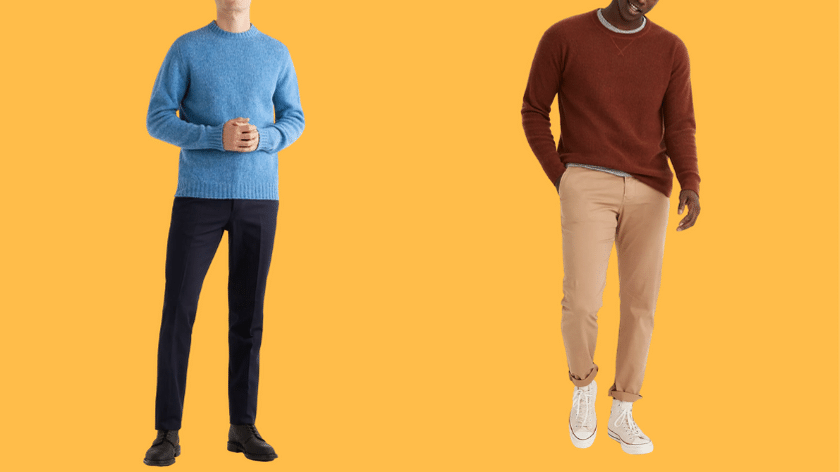 Looking for the best fall sweaters for guys? You've come to the right place.
Trust us when we say, the team's collective dream is to digital-window shop for autumn layers for you guys all day (while listening to Taylor Swift's Folklore, naturally).
That's why this list is, well, sort of long. But don't be intimidated! Feel free to stop scrolling as soon as you see the one. You know, that fall sweater that makes you actually look forward to colder temperatures and cozying up indoors.
So, grab your light jackets and start making room for more layers to your autumn looks.
Check out the 20 best fall sweaters for guys, below:
Wear it well: When it comes to a sweater with this much texture, let more streamlined, simple jackets anchor your outfit. You don't want to have too much going on.
Wear it well: Look, sometimes you just have to treat yourself to the coziest-looking, slightly more expensive than you want to pay but it is cashmere-sweater you ever have seen and tell yourself you're worth it.
This navy donegal cashmere number from Everlane definitely fits the bill.
Wear it well: "Is it time I buy a turtleneck?" is an outdated question. The answer is, and has been, yes, for quite some time now.
This washable merino wool style from Bonobos should get you over the hump nicely.
Just treat it like the neutral it is and wear it with…pretty much everything.
Wear it well: This navy and pink rugby-inspired Old Navy sweater would look so good on your next Zoom call.
Wear it well: Yes. Another. Turtleneck.
Can't stop, won't stop.
We already showed you how to wear this Todd Snyder style with shorts (yes, really!). Once the temperature dips a little lower, just swap in your favorite jeans or twill pants for an easily elegant look.
Wear it well: You should know by now how we feel about a fisherman's sweater, so let's just leave it at that before it gets uncomfortable for all of us, shall we? Wear yours under a leather jacket for extra levels of cool.
Simple, stylish, and you're out the door.
Wear it well: The polo sweater is back in a big way this fall.
Dress yours up with trousers like the model above, or make a more laid-back look with jeans or chinos.
Wear it well: A waffle-knit merino wool crewneck sweater in the color of changing leaves? Yes please.
Wear it well: A performance waffle knit for outdoor (and indoor) adventures.
We love how it looks uber-comfortable, but not in a sloppy way.
Wear it well: For just a l'il bit of winter in your fall sweater arsenal.
Wear it well: Naadam updated their $75 cashmere sweater with an expanded range of colors (14!!), extended sizing, and new fits.
The result is ::chef's kiss:: good.
Wear it well: Oooh, wouldn't this cashmere sweatshirt, as Madewell calls it, look so good paired with an OCBD under a jean jacket?
Mm hmm, I thought so…
Wear it well: When it comes to fall sweaters for guys this year, a sweater blazer might be the perfect wardrobe addition.
It's comfortable as hell, but looks put together and professional for any meetings (IRL or virtual) on your calendar.
Wear it well: A slight v-neck looks great over an OCBD. Pants optional (for now, anyway…)
Wear it well: Mr Porter's "Mr P" line continues to kill it.
This grey rollneck sweater could be the foundation of so many outfits this fall. The style is knitted (in Italy, natch) from 12-gauge merino wool, with a slim fit design that's ideal for layering.
Wear it well: The Kingsman line, also available on Mr Porter, is one of the few (maybe only?!) clothing collection that sprang up from a movie franchise that's actually…great?!
This shetland wool sweater is just one example, but you should definitely check out the whole line.
Wear it Well: Designed to address the common pain points of the 'not-so-tall' guy, this merino wool sweater from our pals at Peter Manning is perfectly fitted for a shorter stature, and perfect for layering up as the temperature drops.
Wear it well: Can't you just see yourself wearing this around a fire, layered under a broken-in denim jacket? Or is that just us…
Wear it well: Looking for a super-affordable fall style? This crewneck Gap number, in fall-tastic burgundy, might just be it.
Wear it well: Our team recently recommended this shawl collar sweater for a shopping client, and we just couldn't keep it to ourselves!
It's stylish, and rings up under $150 for a great quality cardigan. What's not to love?
***
If we've convinced you it's time to level up your sweater game, but you dread the thought of shopping for them…why not let Team SG shop for you?

Let us rescue you from shopping fatigue and sartorial apathy. With our online personal shopping service, we can promise the kind of dedicated attention that will make you feel like the best, most stylish version of the awesome guy you already are!
We'll also help you figure out how to wear your new sweaters (and whatever else you need) with the things you already own. If you're ready for a shopping plan that'll save you time, energy, and your sanity, give us a shout.
***