Shopping Roundup: 20 Fall Sweaters for Guys
Layer, Layer, Layer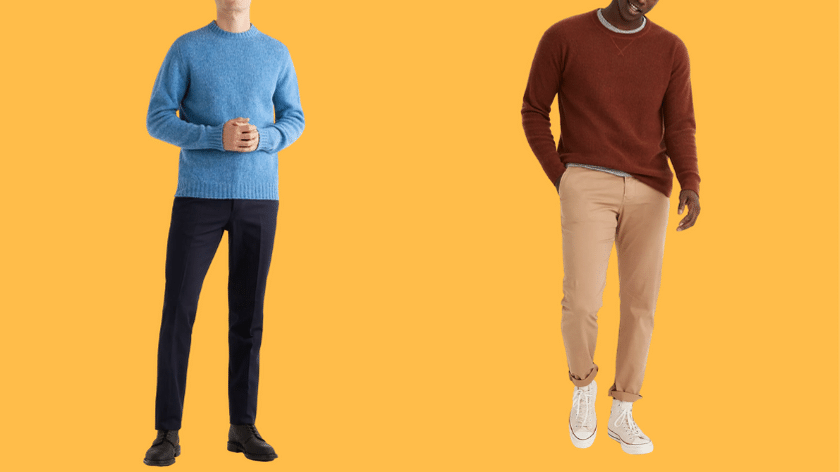 Looking for the best fall sweaters for guys? You've come to the right place.
Trust us when we say, the team's collective dream is to digital-window shop for autumn layers for you guys all day (while listening to Taylor Swift's Folklore, naturally).
That's why this list is, well, sort of long. But don't be intimidated! Feel free to stop scrolling as soon as you see the one. You know, that fall sweater that makes you actually look forward to colder temperatures and cozying up indoors.
So, grab your light jackets and start making room for more layers to your autumn looks.
Check out the 20 best fall sweaters for guys, below:
Wear it well: When it comes to a sweater with this much texture, let more streamlined, simple jackets anchor your outfit. You don't want to have too much going on.
Wear it well: Look, sometimes you just have to treat yourself to a trendy-yet-somehow-also-a-throwback style you're not sure you can pull off and tell yourself you're worth it.
This burgundy collared polo knit number from The Tie Bar definitely fits the bill.
Wear it well: "Is it time I buy a turtleneck?" is an outdated question. The answer is, and has been, yes, for quite some time now.
This washable merino waffle-knit style from Gap should get you over the hump nicely.
Just treat it like the neutral it is and wear it with…pretty much everything.
Wear it well: This sunny yellow J.Crew cashmere sweater would look so good on your next Zoom call.
Wear it well: Yes. Another. Turtleneck.
Can't stop, won't stop.
We already showed you this rollneck style in cream in our fall layers feature, so you know we love it.
Once the temperature dips a little lower, top it with a parka for an easily elegant winter look.
Wear it well: You should know by now how we feel about a fisherman's sweater, so let's just leave it at that before it gets uncomfortable for all of us, shall we? Wear yours under a leather jacket for extra levels of cool.
Simple, stylish, and you're out the door.
Wear it well: The sweater vest is back in a big way this fall.
Wear yours over a t-shirt with jeans, or make it more formal with a sport coat.
Wear it well: A lightweight merino wool crewneck sweater in a cozy-looking speckled grey yarn? Yes please.
Wear it well: We love how this patterned cardigan looks uber-comfortable, but not in a sloppy way. Perfect for fall outdoor (and indoor) adventures.
Wear it well: For just a l'il bit of sunshine in your fall sweater arsenal.

And our team loves that wide neckline. Wear it over a t-shirt but probably not a button-down (the collar would wind up looking lost and too small).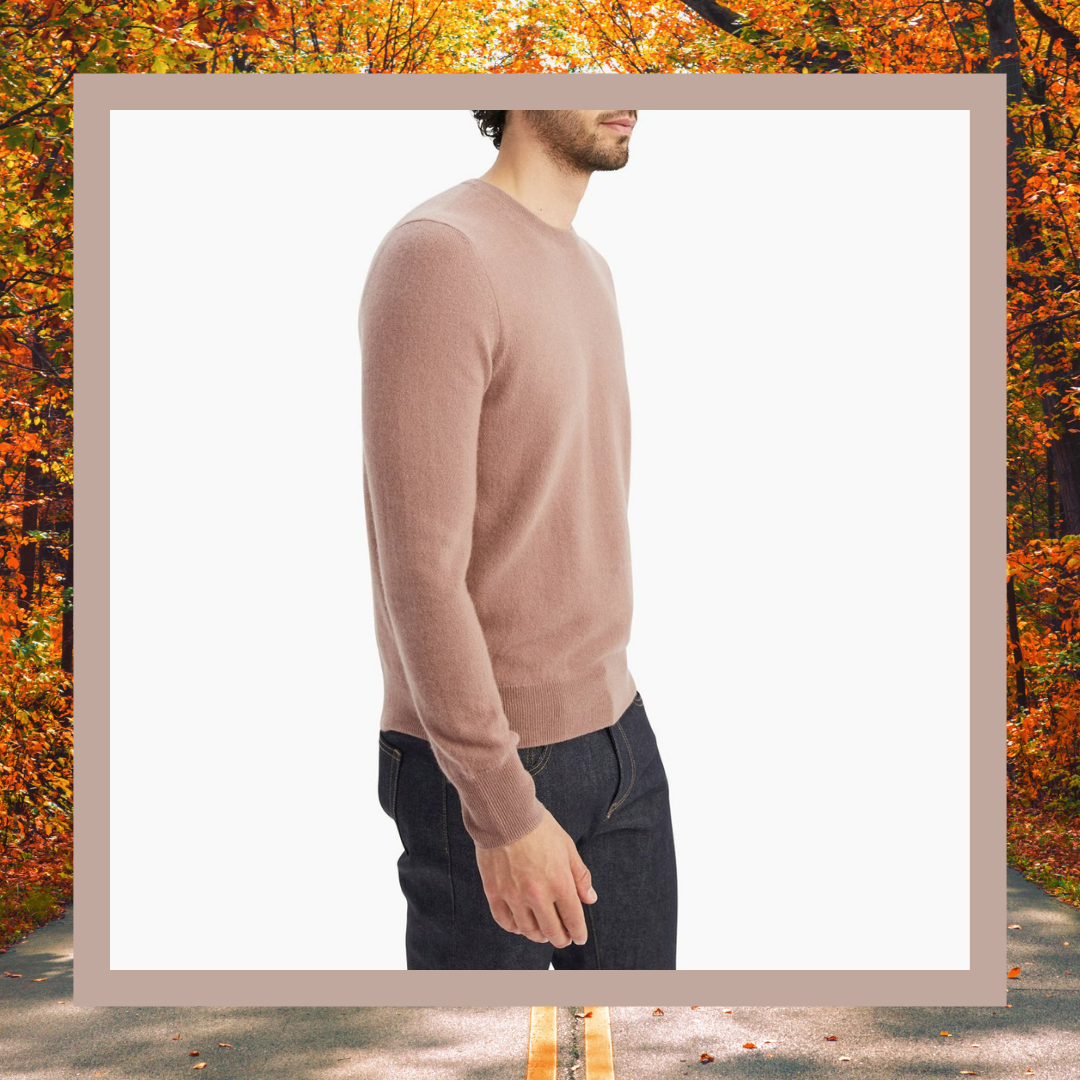 Wear it well: Naadam updated their $75 cashmere sweater with an expanded range of colors, meaning more options for your fall wardrobe.
The result is ::chef's kiss:: good.
Wear it well: Okay not every guy can pull off – or would want to pull off! – a cheetah print sweater. But if you think you can, wouldn't this look so great with dark rinse denim and a leather jacket?
Mm hmm, I thought so…
Wear it well: When it comes to fall sweaters for guys this year, a chore coat cardigan might be the perfect wardrobe addition.
It's comfortable as hell, but looks put together and professional for any meetings (IRL or virtual) on your calendar.
Wear it well: We're not going to argue over this "sweater shirt" from Faherty belongs in a fall roundup of the most stylish, coziest sweaters for guys to wear this season.
But like, you should definitely wear it.
Wear it well: Mr Porter's "Mr P" line continues to kill it.
This slim-fit, merino wool polo sweater could be the foundation of so many outfits this year. Wear it with tailored pants like the model above (sneakers or not is up to you!), or to date night with your crispest pair of jeans.
Oh, and the trim silhouette is totally ideal for layering, so don't be afraid to throw it under a blazer or any of your favorite fall jackets.
Wear it well: Team SG's Gabi picked this merino wool crewneck sweater in cedar as her favorite item for guys this month.
It also comes in six other fall-appropriate hues, so don't be afraid to stock up!
Wear it Well: We love just the hint of a mockneck on this wool sweater from Mango.
Dress it up under a suit for holiday parties, or wear it with jeans on the weekend.
Wear it well: Can't you just see yourself wearing this around a fire, layered under a broken-in denim jacket? Or is that just us…
Wear it well: Looking for an affordable fall style that looks luxe nevertheless? This Everlane hoodie number in felted merino might just be it.
Wear it well: Our team recently recommended this marled knit shawl collar sweater for a shopping client, and we just couldn't keep it to ourselves!
It's stylish, and rings up under $200 for a great quality cardigan. What's not to love?
***
If we've convinced you it's time to level up your sweater game, but you dread the thought of shopping for them…why not let Team SG shop for you?

Let us rescue you from shopping fatigue and sartorial apathy. With our online personal shopping service, we can promise the kind of dedicated attention that will make you feel like the best, most stylish version of the awesome guy you already are!
We'll also help you figure out how to wear your new sweaters (and whatever else you need) with the things you already own. If you're ready for a shopping plan that'll save you time, energy, and your sanity, give us a shout.
***