The 5 Most Versatile Fall Jackets For Men
The best outerwear for the season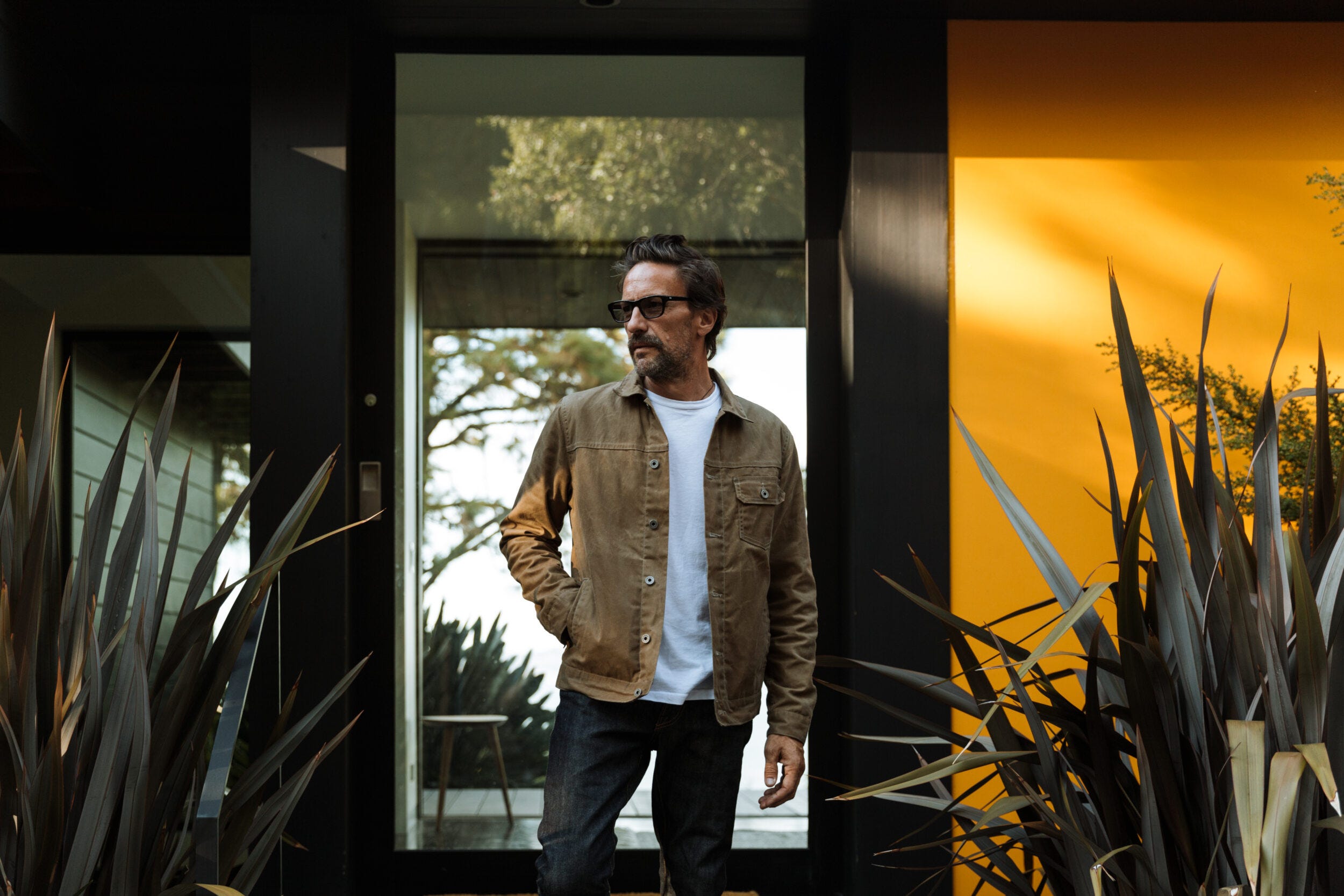 sponsored content created in partnership with Huckberry
There's an old adage in menswear that "fall" is basically three days long, a fleeting moment of dressing perfection between the dog days of summer and the bitter chill of winter. Kind of a bleak outlook, no?
Good news! Your resident, extremely-online-gals-who-help-guys-dress-better (and more specifically today, me) absolutely beg to differ.
Twitter chatter and meme culture can be fun, but don't let it dictate how smart, savvy dudes (more specifically, you) actually shop and dress.
Because I'm going to let you in on a little secret: the right jacket can perform a magic trick in your closet, extending your summer wardrobe into the cooler months, and warding off the need for something bulky a bit longer.
To that end, SG HQ teamed up with our pals at Huckberry to highlight five good-looking and ultra-functional fall jackets for men to snap up right now. Think: outerwear that you can wear three months out of the year, not just three days.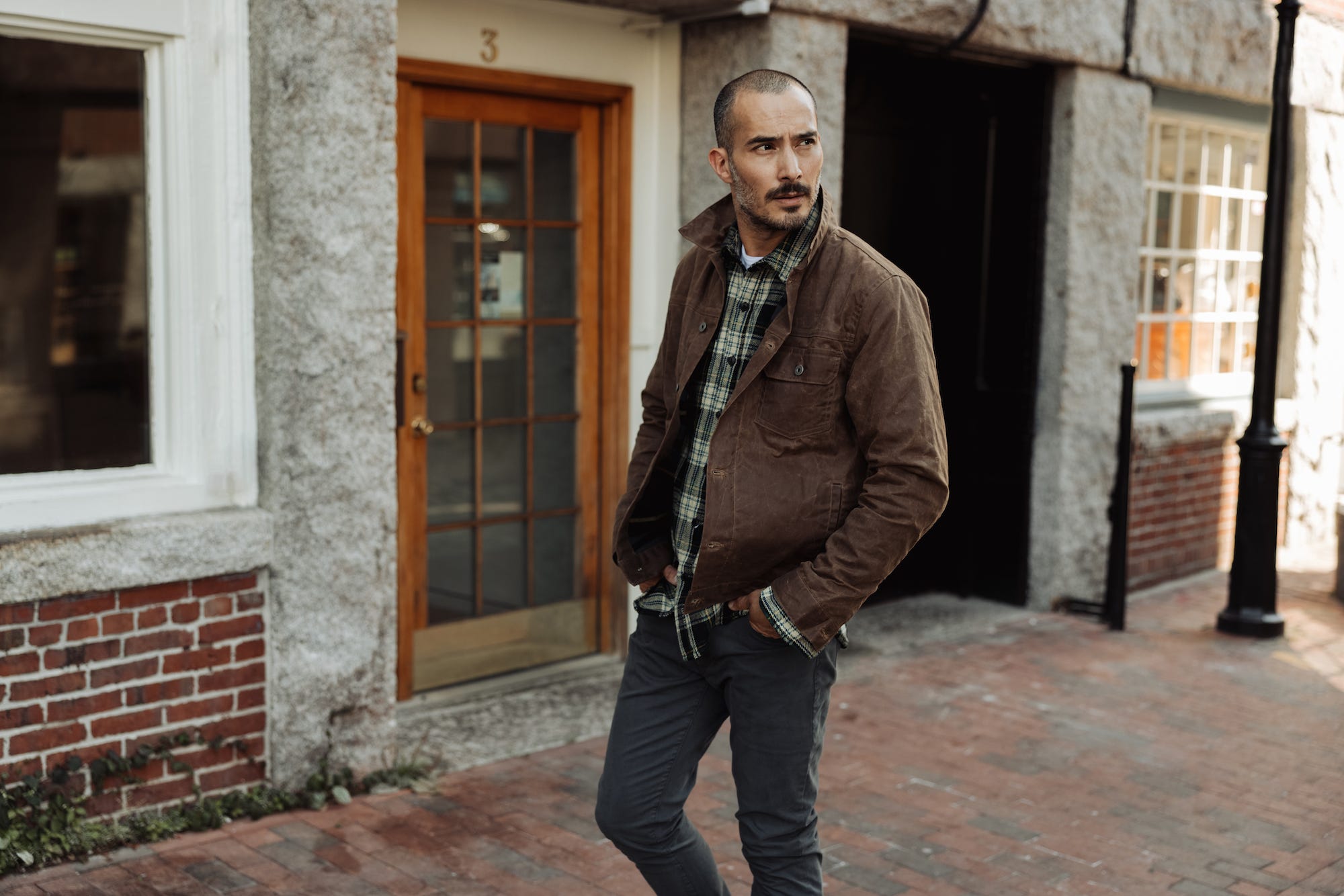 Below, check out the 5 most versatile fall jackets for men to scoop up this season:
Hooboy do I love a chore coat, also known as a work or chore jacket, on a man.
The slightly more style-conscious cousin of the shirt jacket, it's casual and relaxed in fit, while telegraphing that you care.
That you're a thoughtful dresser with an eye for detail.

That you're, you know, with it. Yes, all this from a jacket!
Famed street style photographer Bill Cunningham made the traditional blue twill chore jacket an iconic piece, and the lighter blue version from Le Mont St Michel and ivory style from Rhythm both put a fresh twist on the classic.
I can see either of these coats with some fresh, high-waisted khakis and a crisp white shirt. Or, alternately, with super-dark straight leg jeans and a hoodie. If you're ready to upgrade from your usual denim coat or field jacket, this is the ticket.
It's giving me sophisticated ranch hand!
Now, maybe I've been spending too much time in the Mountain West (kidding, there's no such thing!), but I absolutely love a Yellowstone-adjacent look that's easily adaptable for the city.
See also: That episode of Succession when the family goes to New Mexico.
TV references aside, a weather-ready jacket gets namechecked as one of the most versatile fall jackets for men for a few reasons.
First, the waxed coating is a clutch upgrade from your standard denim trucker because a sudden downpour won't ruin your day—or your outfit.
Second, the blanket-y flannel lining (even in the sleeves!) adds warmth and comfort on chillier days.
Finally, the shorter, more casual shape will look as great with jeans, a white tee and boots as it will with joggers, sneakers and a crewneck sweater.
Listen, I will be the first to admit that I am basically never not pushing the yeehaw agenda. I love Kacey Musgraves, I own three pairs of cowboy boots, and I firmly believe that dudes in shirt jackets (aka shackets) belong on the cover of romance novels.
The snap front innovation was born from cowboys not having easy access to tailors, but I like to think they were also created to drive the ladies wild.
Anyway… shirt jackets, so versatile!
This is one of those layers you'll realize you can wear a million ways, too.
It's comfy enough to be a shirt on its own, but will also look excellent over a t-shirt or under a puffy vest, with mid-wash jeans, khakis or joggers. Sneakers, boots, Birkenstock Boston clogs… Yes yes and yes.
Giddyup and add-to-cart, my friends.
Let's kick things off with a big swing. Leather jackets can be polarizing, I know. You can go from "My other ride is a Ducati" to Danny Zuko cosplay in the blink of an eye.
For that reason I'm going to skip over the (admittedly iconic!) black motorcycle jacket and gently nudge you towards something a little easier to pull off: a brown leather jacket in a relaxed, slightly boxy shape.
Huckberry carries two examples I am thoroughly obsessed with, both from Schott.
First, this understated pebbled cowhide jacket that has a more textured, matte finish than what you'd see from traditional leather.
To me, the boxy shape, slanted pockets and soft lining give off a "secretly a billionaire with a Santa Barbara weekend home" energy.
RELATED: Shop all Team SG's fall favorites for guys
For my guys who are ready for something a little more statement-y, this motorcyle jacket is it!
This buttery, tawny, downright put-your-arms-around-me-now jacket is a worthy autumnal investment purchase. I can see you in it already, layered up in black jeans, a forest green cashmere sweater—a beanie, perhaps—and white leather sneakers, on your way to a dinner party at your buddie's place.
Or perhaps you'll lean all the way in, with suede lace-up boots and a soft flannel… Just don't blame me if you suddenly have the urge to buy a vintage 70s pickup truck and move to Montana.
Somewhere in the sartorial personality matrix between the nature boi and the finance bro lives this very good, very cozy fleece jacket.
The muted colors and slim-ish cut mean there's no mistaking it for a jacket reserved exclusively for hiking, and that's a good thing when the name of the game is versatility.
Yes, you're camping in this comfy zip-up. Yes, you're walking the dog on a crisp Sunday morning.
But you know what you're also doing?
Meeting a woman you're trying to impress for a sunset picnic. Or making a rare mid-week appearance at your hybrid workplace. This thoughtfully designed fleece jacket is a step up from the average in all the right ways.
The tl;dr? For crisp days, gloomy rain and everything in-between—these are the fall jackets for men that won't let you down.
The jackets that will see you stylishly from September to December with ease.
The jackets that, when you see them hanging in your closet, make you go, "Wow, yes, I have exactly the right thing to wear right now."
So go forth, layer up, and enjoy what is objectively the best season of the year for getting dressed. (Sorry summer, we don't make the rules!)
***
We're teaming up with Huckberry this fall to help guys upgrade their cool weather wardrobe. Thanks for supporting the brands that make Style Girlfriend possible!
More Fall Style Stories from SG HQ
Taylor Davies splits her time between NYC and Sun Valley. She loves writing about menswear, overpriced martinis in dimly lit hotel bars, and cross-country skiing. Not necessarily in that order.