Guys, Here's How to Nail Elevated Casual Style This Year
Look good, feel comfy as hell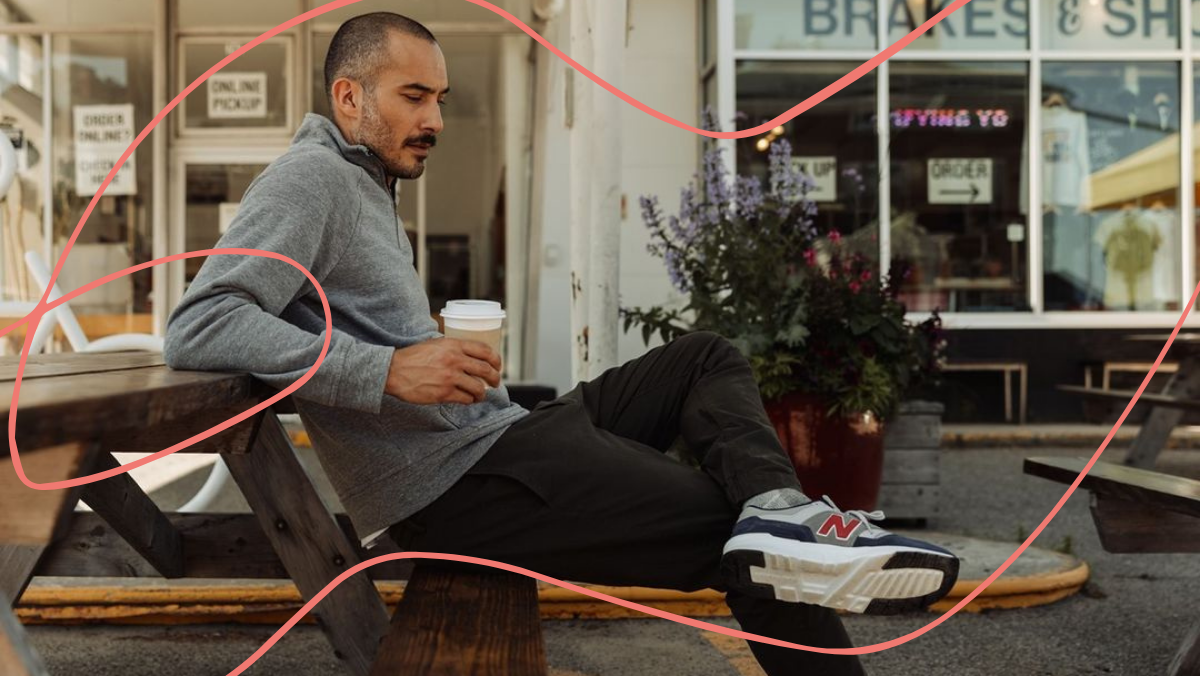 When I work with my styling clients, one of the most common pieces of advice I give them is this:
Invest in pieces that are versatile.
The goal? For my clients to be able to reach into their closets with their eyes closed and make a stylish outfit they feel like a million bucks wearing.
But building a good-looking wardrobe of versatile items means you need to know what you'll be dressing for–a proposition made more challenging by the world's constant state of flux.
One week we're going out on dates and comfortably outdoor dining.
The next, the mere suggestion of grocery shopping makes you wonder if fresh produce is worth annihilating your loved ones.
For a lot of folks, the past year-plus has involved a lot of dressing down.
This new reality–working from home and seeing less people in person–lends itself to reveling in the comfort of casualwear.
We can relinquish the stiffness and circumstance of clothes we wear to impress others…only to tear them off the second we return home to sit on the couch in our underwear.
But here's the thing: just because we have quite literally no idea what tomorrow will bring, and just because you've really enjoyed wearing your grey sweats while you're on the clock, you still need to know how and when to look sharp!
(But, ahem, please don't stop wearing the grey sweatpants.)
That means it's time for a crash course in elevated casual outfits.
At Style Girlfriend, we want you to help you build a wardrobe that will serve you.
You probably don't need ten suits in your closet right now! Or the perfect outfit for a yacht party–or even a tux for a black tie dinner.
But that small, re-rescheduled wedding your friend is having this winter? Or the date night where you have to go straight from work to a fancy restaurant? You can 100% be better prepared to look good for that stuff.
So it's helpful to know how to elevate your casual pieces for more formal occasions.
Below, check out 6 tips on how men can nail the elevated casual aesthetic: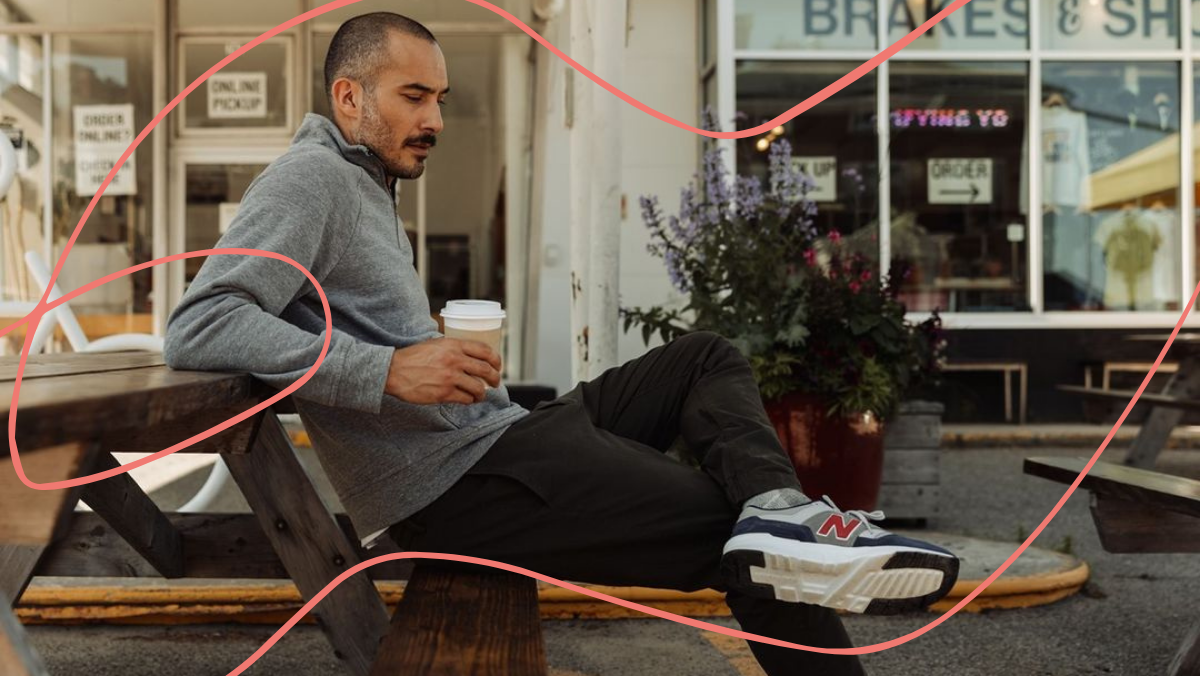 1. Keep it simple
There are some basic staples every man needs in his wardrobe.
They are: a white button down, a slim fit chino, a neutral sport coat, a classic piece of knitwear, and a dark wash jean.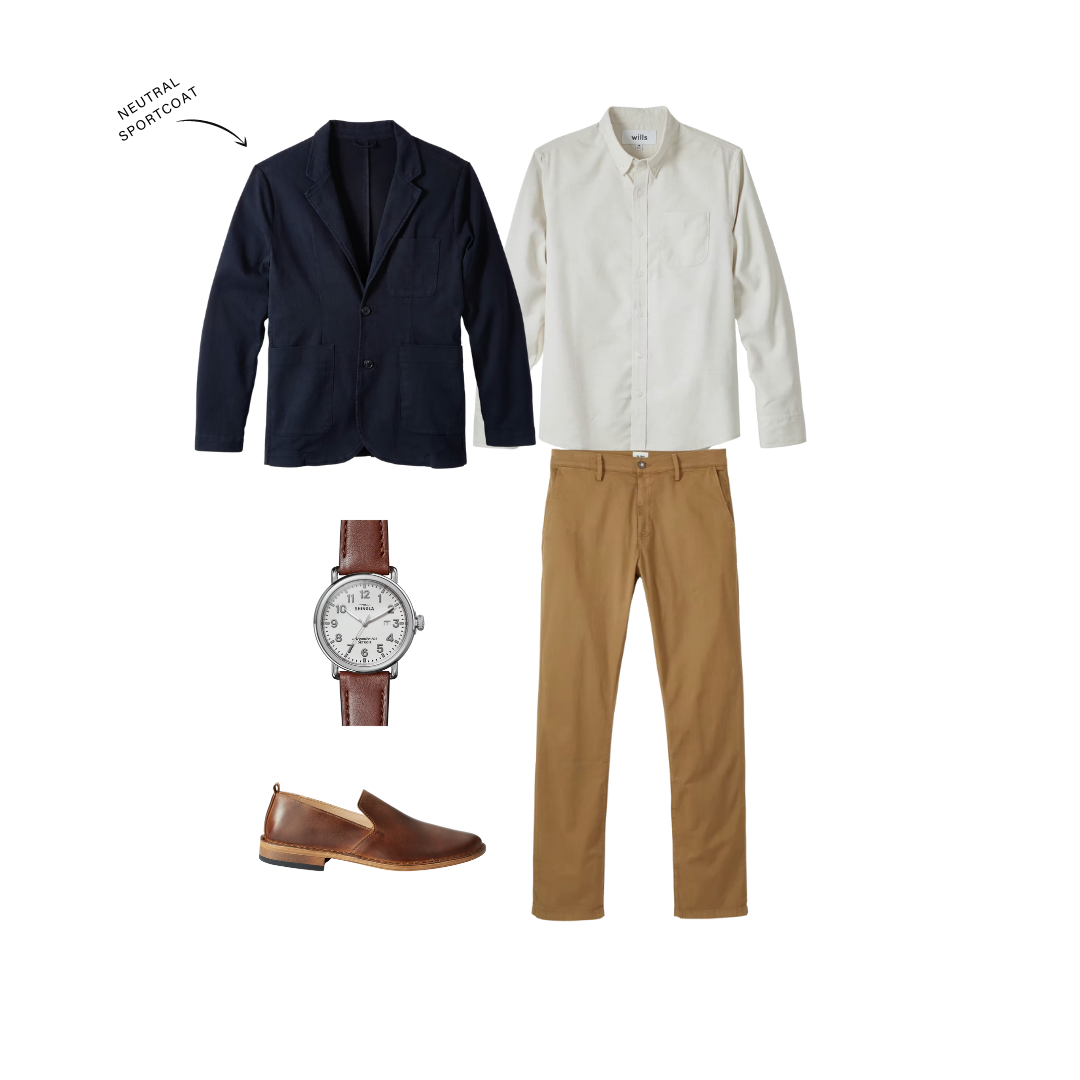 All of these items can easily go from day to night; the trick is in the tailoring, and how you style them.
Something like the Wills wrinkle free linen shirt above might look easy breezy, but tucked into a camel colored chino? It's a vibe!
Instantly, you're ready for drinks at a chic local bar or an evening taking in a show.
Top the look off with an easy, unstructured blazer that puts the "elevated" in elevated casual.
For cooler nights, throw on a lightweight jacket, and boom. You look put-together for an event, from a work dinner to a backyard wedding. 
Shop the elevated casual outfit elements:
2. Try this sophisticated color combo
One of the other pieces of advice I give almost all my clients is to mix and match navy and black.
Now, you might have grown up being told that navy and black clash. Don't worry, you're not alone!
The truth is, it's all in the hues of each that you go for. Look for a rich, deep navy and a flat black.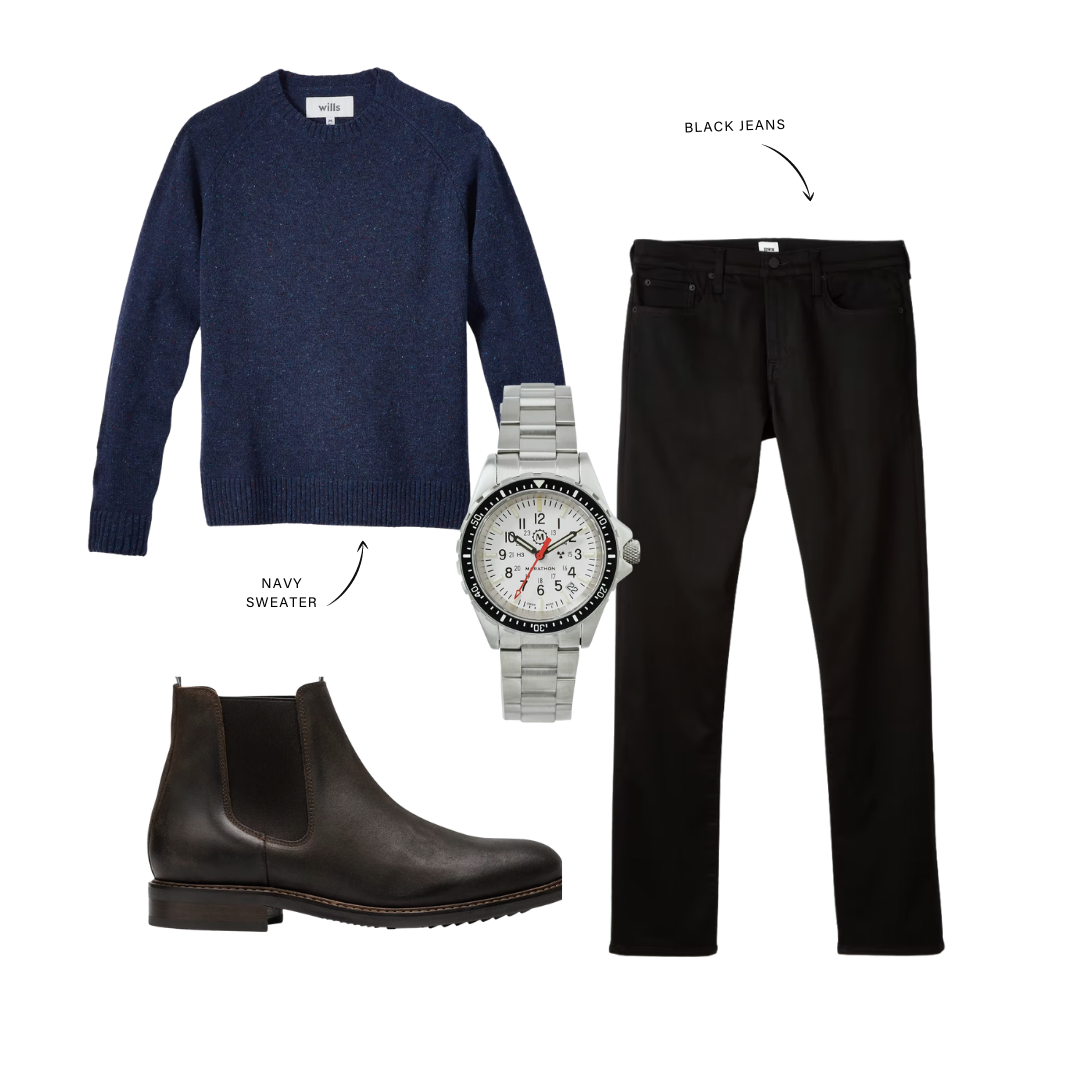 Throw on a pair of black jeans with a sumptuous-looking navy sweater like the look above.
You automatically look like a chic Parisian man named Hugo who makes TikTok's about his lean wardrobe of five perfect staple items in his wardrobe that he rotates. 
Très chic!
Or, reverse the look.
Grab a pair of dark wash denim jeans (no whiskering for formal events, don't even think about it!) like these from Flint and Tinder, and pair with this charcoal fisherman sweater.
You'll look put together on a first date, a client meeting, or anything that calls for a more refined look than jeans and a t-shirt.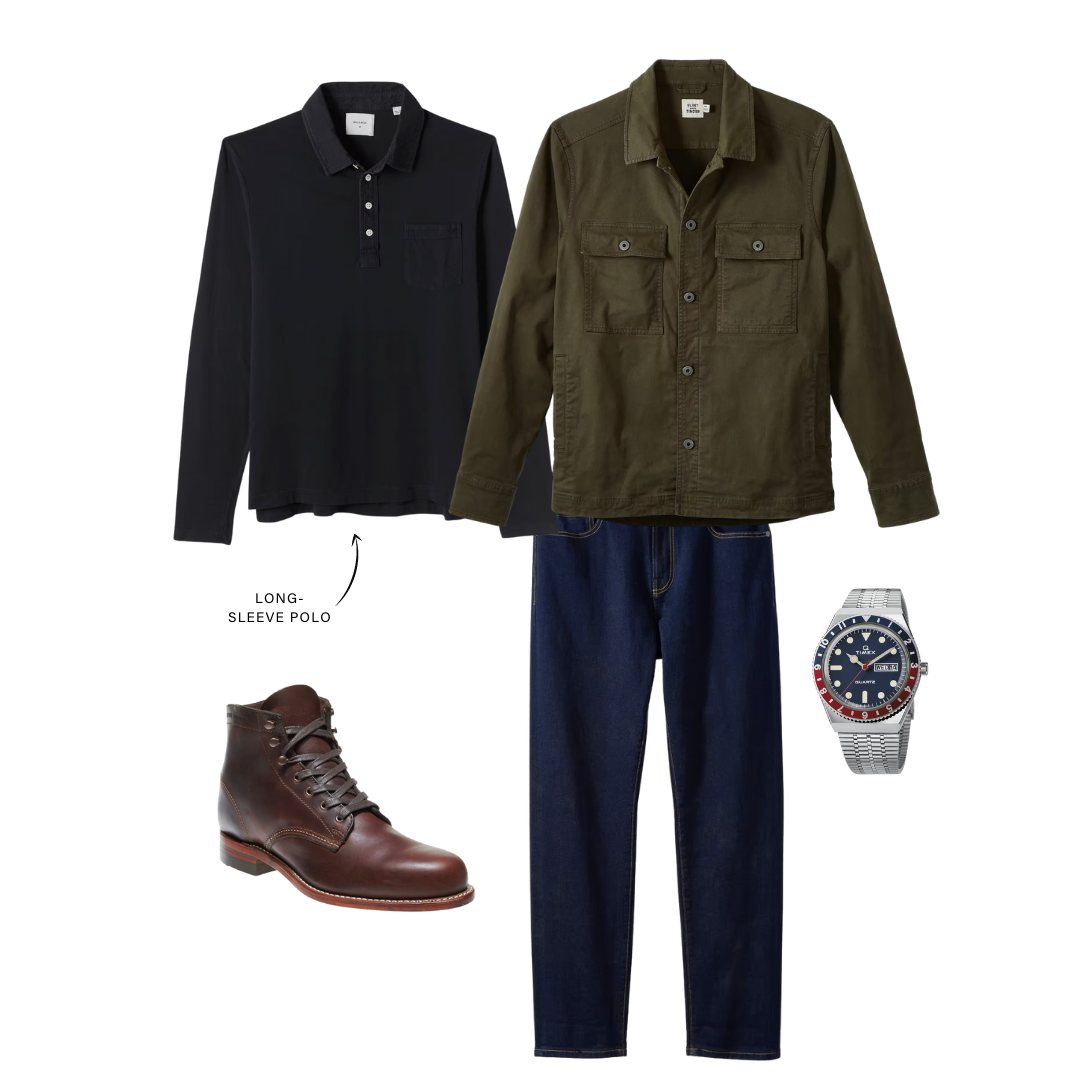 Another option?
Swap out the sweater for a long-sleeve knit polo, like this from The Tie Bar.
Top the look off with an olive green field jacket for formal events that allow for a slightly more bohemian aesthetic.
Think, an art opening or some other event where you might run into Hugo!
Shop the elevated casual outfit elements:
3. Casual + Casual = Elevated Style
Have you ever seen a paparazzi picture of a celebrity like Ryan Gosling walking into the airport and think to yourself, He's just wearing jeans..why does he look so cool?
It's all in the layering.
Layering smart casual items gives a guy a more stylized look that doesn't require any actual formality.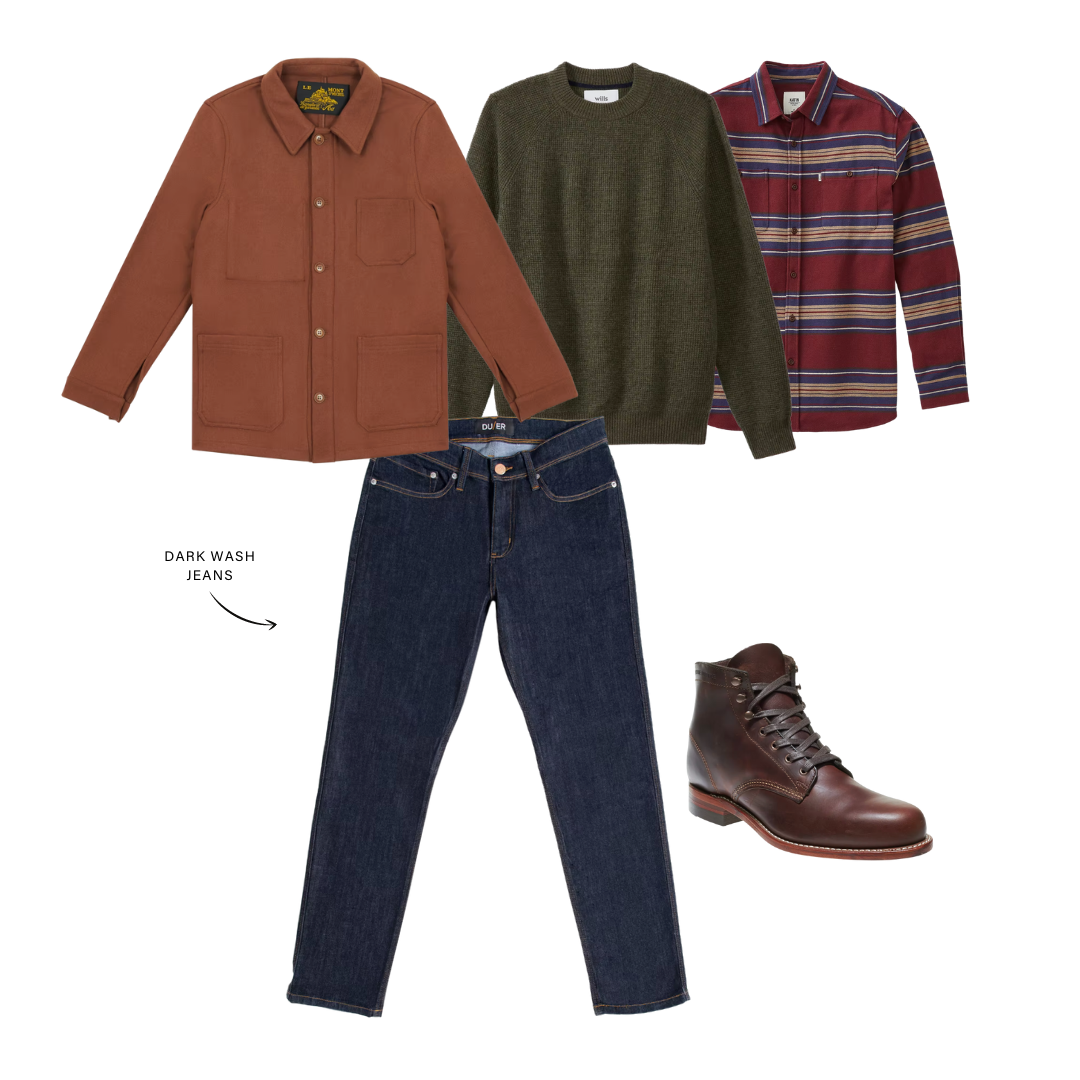 For example, layer a flannel shirt (notice the pattern is subtle and not too lumberjack-y), under a cozy, cashmere waffle-knit sweater and a pair of dark wash jeans.
Top the look off with a super-versatile chore coat in an unexpected color.
The flannel gives a slight flair to the look and the neutral earth tones all work in harmony together in a way that's logistically easy to pull together but gives a really styled look without coming off as trendy or trying too hard.
Bottom line?
Elevating your outfit doesn't have to be about creased trousers and cap toe shoes.
Rather, it's about communicating that you respect the people you're with or the place you're going enough to put in some extra effort. 
I don't expect every guy I go on a date with to wear a suit.
Hell, I don't even expect him to be that stylish (that way I can mold him however I want, muahaha).
What I do expect, is for him to put effort in, even with a casual outfit. To look like he put some thought into what he wore because he wanted to impress me and respected me enough to care about what he looked like in my presence.
Shop the elevated casual outfit elements:
4. Fancy up your footwear, without losing the comfort factor
Recently, a celebrity stylist told me you can always judge a man by the shoes he's wearing.
Are they well made? Are they polished? Do they complement his look or do they derail it?
And she's right–when it comes to upgrading casual pieces to a more elevated vibe, your choice of footwear can make or break your look.

So I'm here to tell you: Boots are your friend when trying to upgrade a casual outfit.
Whether we're talking lace-ups or a nice Chelsea boot, you're guaranteed an instant fanciness upgrade.
Personally, I love a good lace-up option, like the pair above from Wolverine.
The stacked heel and leather sole make it look classy and refined but the boot itself in its rich brown leather and durable construction will also last you a lifetime and can be as easily dressed down as it is dressed up.
For something a little more warm-weather friendly, these Astroflex loafers are handmade in Italy. And for something all-weather, these Rhodes ankle boots are as versatile as they are stylish.
Of course, this is not meant to shade any casual shoe. But when you want to make an outfit look more formal, your feet are an easy place to start.
Shop the elevated casual outfit elements:
5. Enlist outside support.

Wondering how to pull a look together that will carry you from day to night? From lockdown to finally rejoining the outside world?
You can book a consult with Team SG to help you with all of the above (or any other style Q!). Learn more here.
If you want help shopping for great versatile staples that can elevate any outfit, the team at Style Girlfriend is here and ready to assist!
6. One last finishing touch…
One final investment every guy should make to ensure he always looks his best in an elevated casual outfit?
A beautiful timepiece.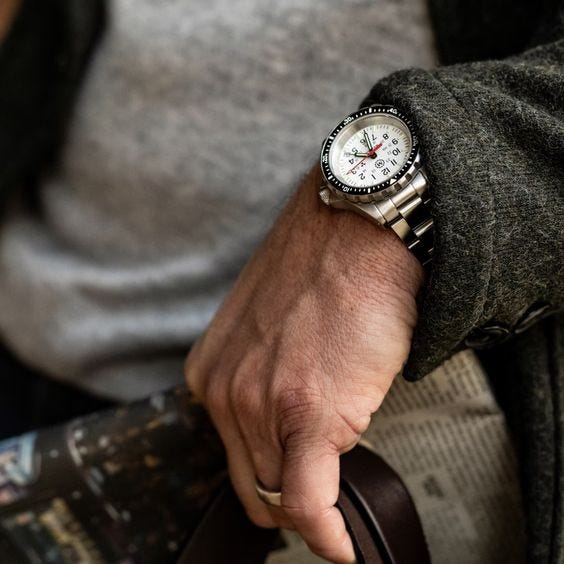 While you of course can't go wrong with something like the classic Cartier tank or a Rolex Datejust, a signature timepiece doesn't have to break the bank to pull your look together and stand the test of, well, time.
Shop the elevated casual outfit elements:
Opt for something like this leather strap Shinola, or the Marathon dive watch above.
And of course you can't go wrong without a classic Timex.