5 Workwear Pants Outfits for Guys
Your new favorite 'hard' pants
I know that plenty of us are wearing exclusively stretchy pants, preferably with a drawstring, right now. However, it has come to my attention that there are still those of you out there interested in pants that zip and button. "Hard pants" if you will.
my boyfriend has been wearing sweats so much he has started calling normal pants… "hard pants"

— David Mack (@davidmackau) March 26, 2020
In that case, might I suggest investing in a pair of workwear pants? Workwear pants are a casual alternative to jeans that look and feel more rugged than chinos. The relaxed fit is also very in right now, if you're here for that kind of thing.
What are workwear pants?
Super durable, these sturdy pants are usually made with a canvas material and a slightly wider leg.
Elements like tool pockets and a hammer loop might not be utilized, but it's nice to know they're there.
How to wear workwear pants?
Here's the great thing about workwear-inspired bottoms. Much like Team SG's beloved 5-pocket pants, you can basically wear them instead of jeans in any outfit.
Why? Well, they hold up well and are easy to clean — no dry clean only tags here!
To keep the wider leg on this style from feeling too relaxed, try rolling up the pant legs and showing off those ankles!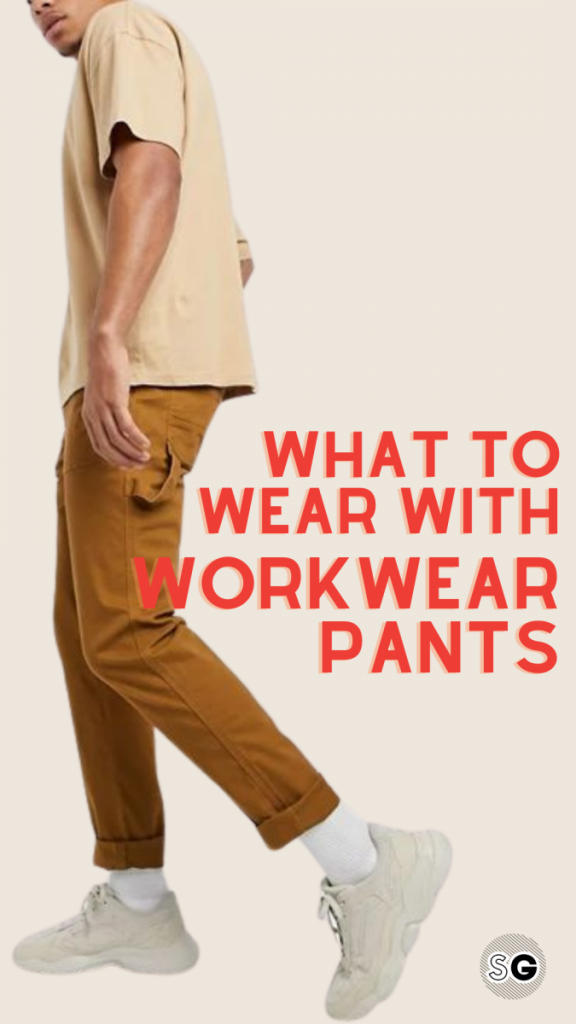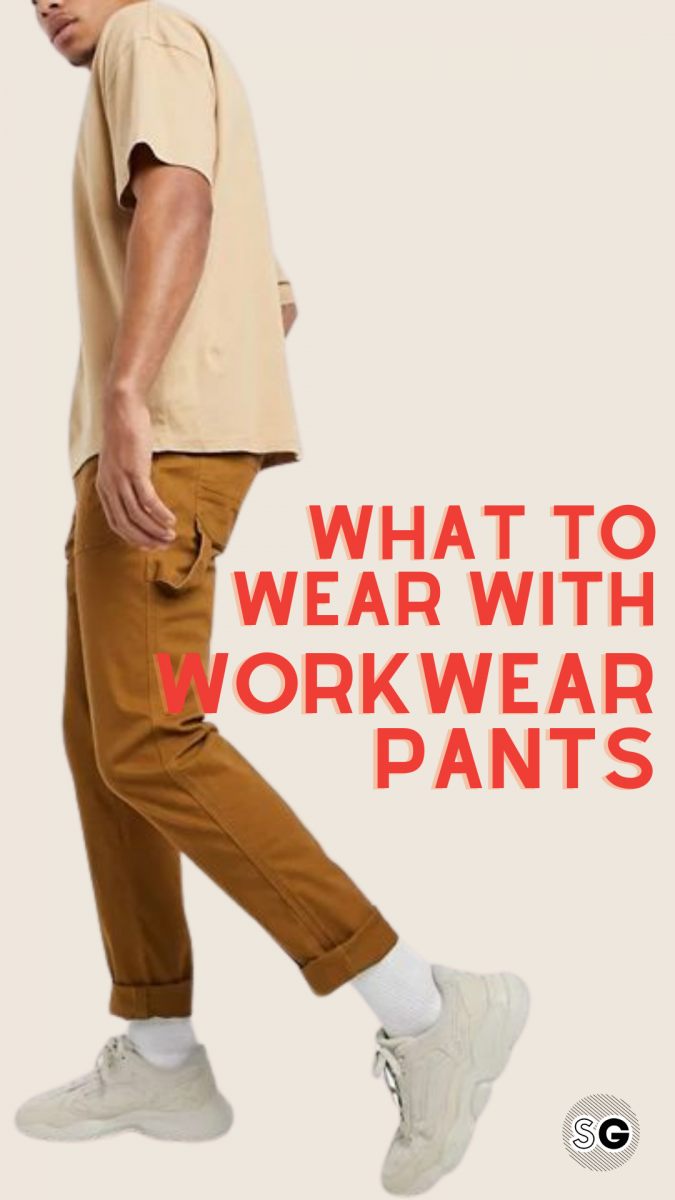 How to wear workwear pants five ways:
MONDAY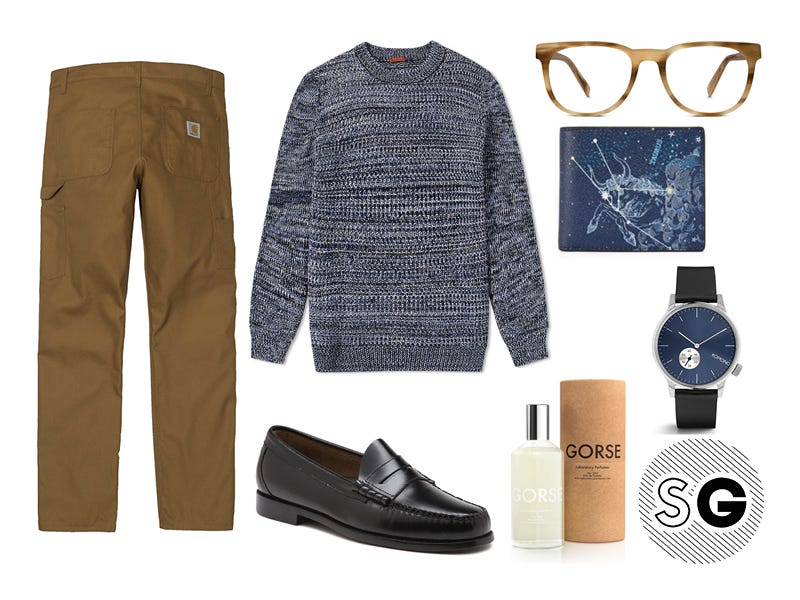 loafers: G.H. Bass | glasses: Warby Parker
Wear it well: Dress up your workwear pants with a structured sweater and penny loafers.
If you're feeling extra daring, wear the loafers with white crew-length socks. If you're worried that you'll look like an extra from Grease, don't worry! Wearing gym socks is very hip and cool right now!
Want more sweater outfit ideas? You got 'em.
TUESDAY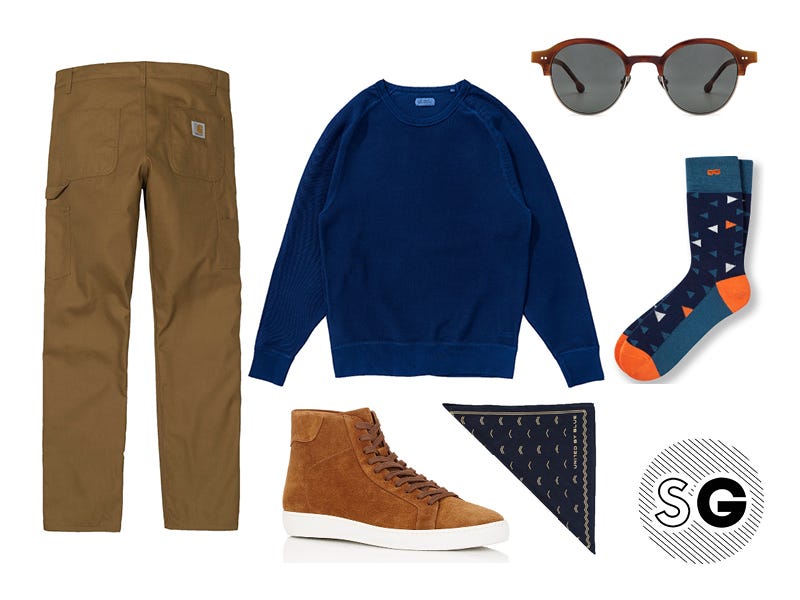 sweatshirt: Saturdays NYC |bandana: United by Blue | socks: Pair of Thieves
Wear it well: Keep things casual cool in elevated sneakers and punchy accessories.
WEDNESDAY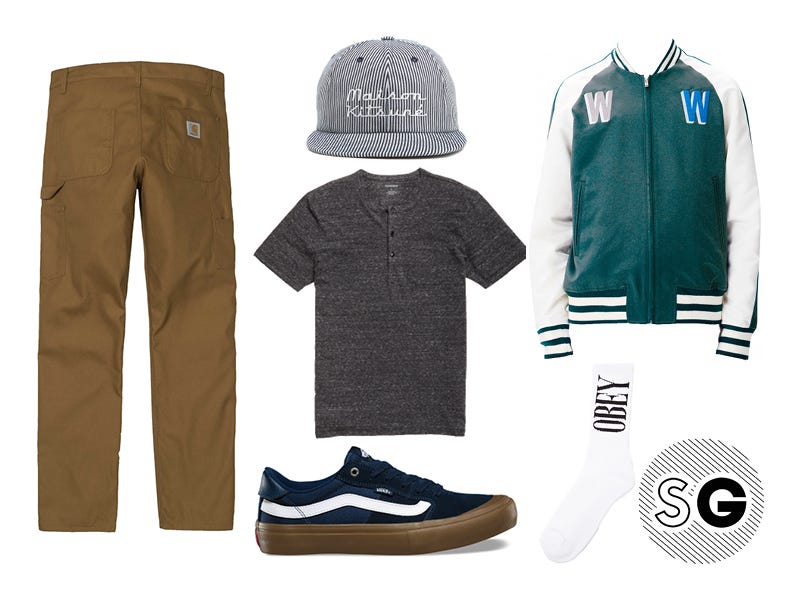 henley: Bonobos | sneakers: Vans (similar)
Wear it well: Don't overthink it; you can wear your workwear pants like your favorite jeans or 5-pocket pants.
Think: A bomber, henley, and skate sneakers combo that would look just as cool with dark denim.
THURSDAY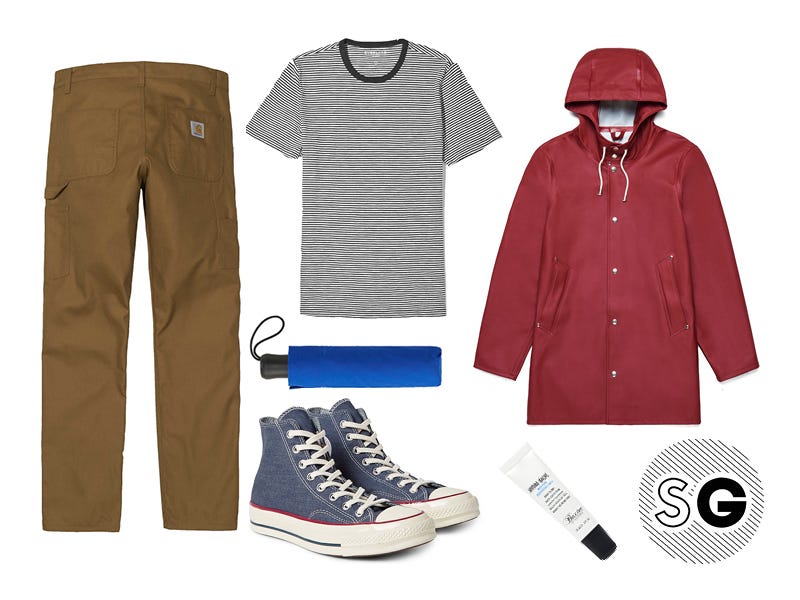 raincoat: Stutterheim | tee: Madewell | sneakers: Converse
Wear it well: A high cuffed hem keeps you from getting the dreaded soggy pant bottoms when crappy weather hits.
FRIDAY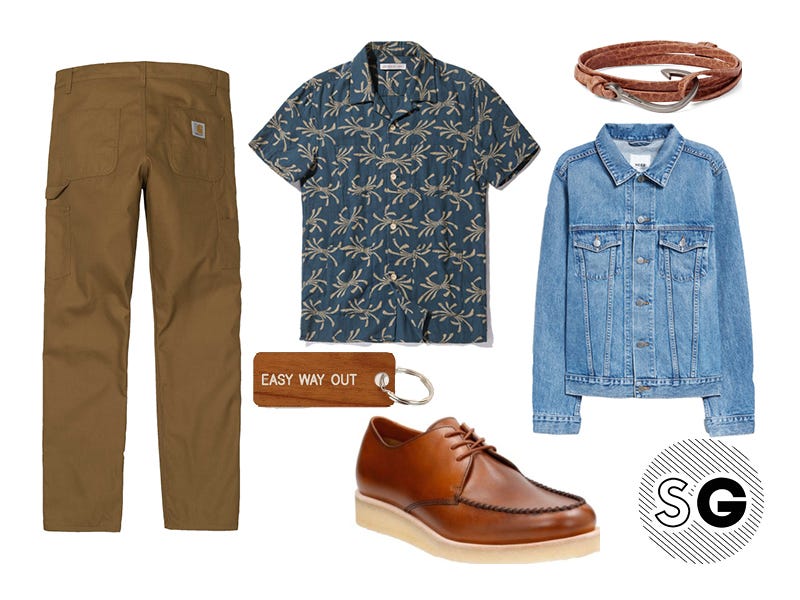 denim jacket: Levi's | shoes: similar | bracelet: Miansai
Wear it well: A camp collar shirt, denim jacket and some lace ups can take your workwear pants out for a drink.
Shop #SGapproved workwear pants
SG Says: The tan color looks like you belong on a construction site, while the cuffed ankle says, "JK I don't know how to use a hammer."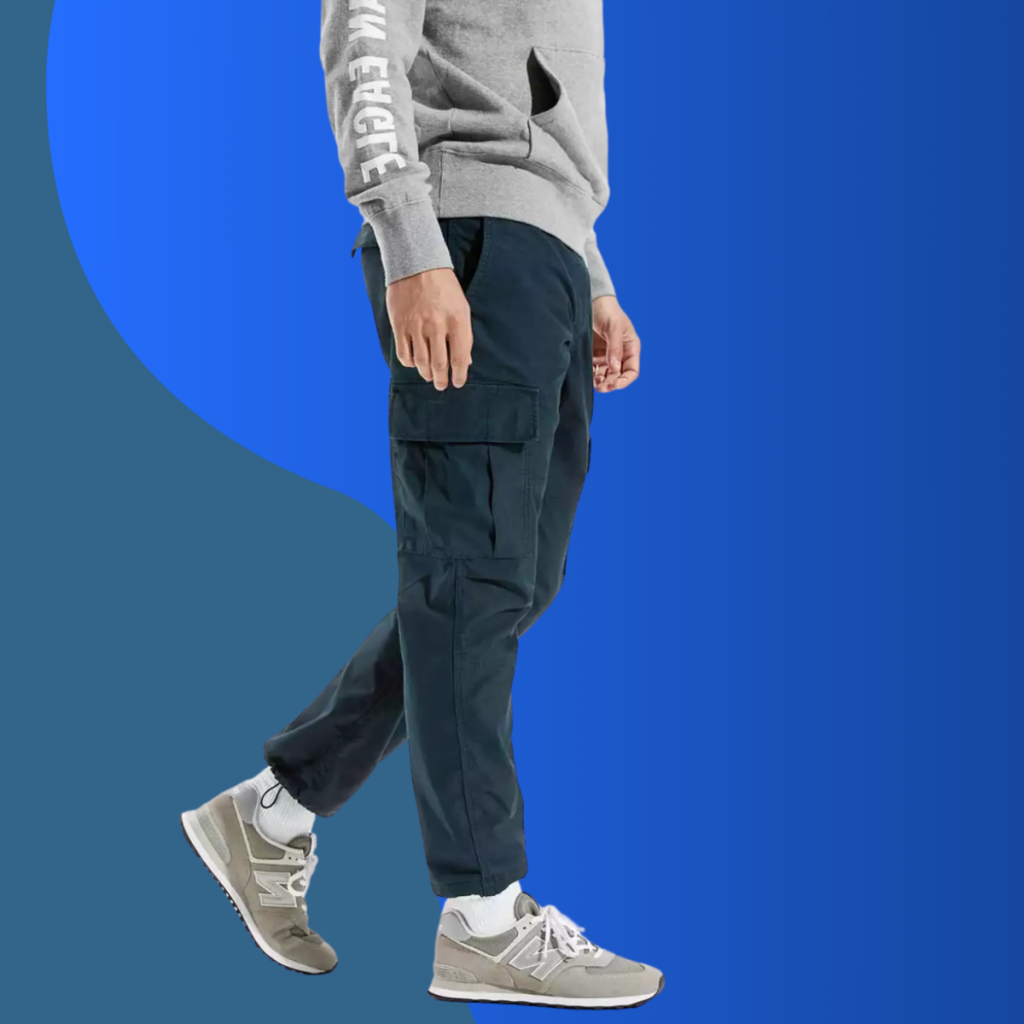 SG Says: These pants combine not one but two of our favorite "hard pants" trends in 2020 – workwear styling and a cargo pocket! Can't stop, won't stop…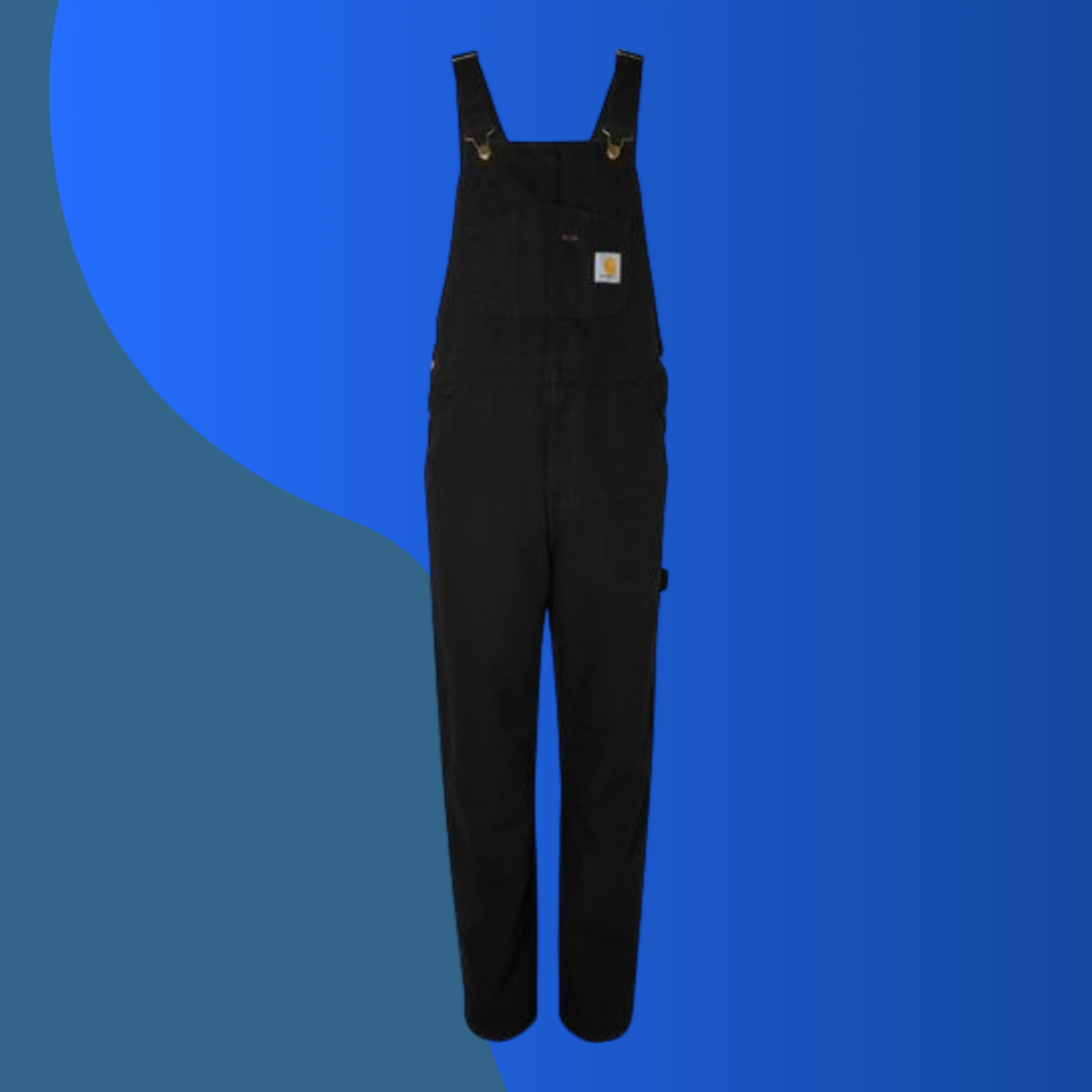 SG Says: Okay, you caught me. These are overalls. But overalls are great for WFH! Latching is way easier than zipping, right? Right?!
***
Want to see more ways to wear your favorite pieces? We show you 5 ways to wear a leather jacket, cropped trousers, and contrast sole shoes.

Like a phoenix rising from the ashes, Gabi Meyers went from Team SG's first-ever intern to a trusted fashion editor and stylist. She currently lives in Chicago with a very cute dog.