Guys' Office Style for Every Dress Code
Take the guesswork out of getting dressed
Building a capsule wardrobe for your off-duty style is a great way to feel like a million bucks every time you get dressed. But what about at work? Too often, guys view their office dress code as an excuse to dress, well…lazy and boring, if we're being honest.
Full disclosure: us ladies are guilty of this, too…but, hey, this isn't about us!
Which is a bummer!
Because you can look as cool and stylish at work as you do on the weekends with just a little bit of effort.
How office dress codes for men have changed
If you're heading back into an office that's been closed the past year and change, you may find the dress code in flux.
Maybe coworkers look more relaxed. Sport coats have given way to cardigans, or even crewneck sweatshirts. Chinos have given way to jeans all day/every day.
Or folks have gone the other way! After so long in sweats, everyone is pulling on the dressed up clothes they haven't gotten to wear in forever.
Perhaps you're one of the millions of Americans starting a new job in a totally different workplace? If so, you may not get much guidance on office style at all.
Sure, HR might reference the dress code in your interview, but you're really best off scoping the style of your potential new co-workers as you cruise by their cubicles.
Maybe it's a casual, start-up work environment, with everyone in jeans and sneakers. Or maybe it's investment banking and everyone shows up in a suit minus the jacket but plus a company fleece.
Having these kind of unofficial dress code guardrails can be helpful when building a work wardrobe. Hey, you've got to start somewhere!
Why dressing well at work matters
Now, you could throw your hands up and say, "Well, I guess I'll just dress like everyone else in the office."
But that's totally boring, and you are not a boring guy.
Besides, you'll feel more confident in your professional duties if you're dressed in a way that makes you feel amazing!
You can shine in day-to-day office style, no matter the office dress code.
Below, the guy's guide to office style for every dress code:
Of course, there's plenty of variation in degrees when it comes to office dress codes. Especially for workplaces where there's technically no dress code, which we'd argue is even more confusing.
If you ascribe to the idea of dressing for the job you want, it's worthwhile to stock your closet with clothes that will leave you at the upper end of any office's baseline style.
First up? The casual—or non-existent!—office dress code…
1) Casual Office Dress Code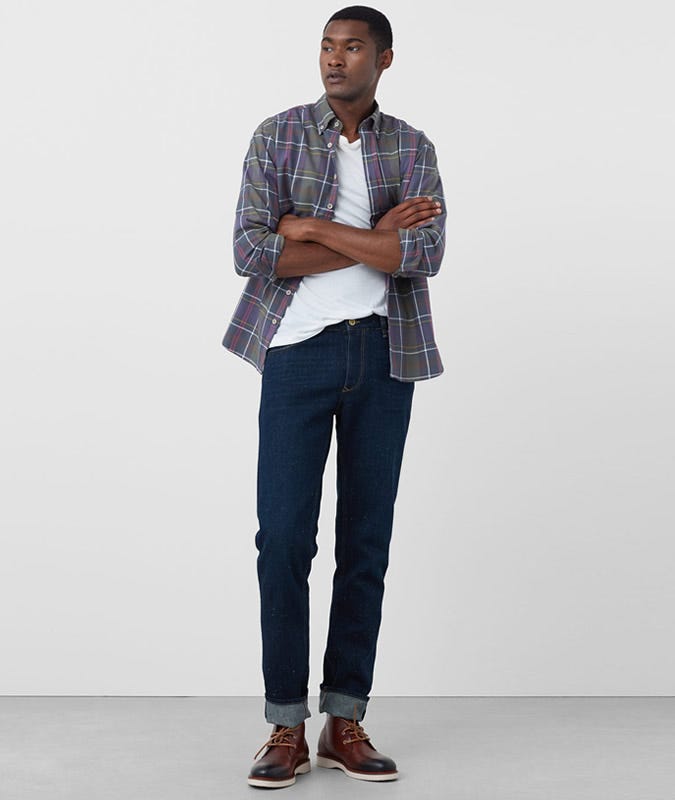 Office style for guys in a casual workplace
SG Says: The casual dress code is the least dress code-y of any workplace.
It basically means, "Don't show up in cutoff jean shorts, but honestly we don't care." This kind of non-dress code is prevalent in tech and start up culture.
Which is great for your wallet, since you won't have to invest in both a work and weekend wardrobe. However, don't use a casual office dress code as an excuse to show up to the office looking sloppy.
Pro tip: Well-fitting items like slim- or straight-fit dark jeans, un-rumpled sport shirts, and leather sneakers are all good casual dress code staples. Even a t-shirt in a heavier fabric (and that's free of stains, obviously) can work in a casual office.
Casual dress code building blocks:
Good stores to shop for casual dress codes:
Shop casual workplace essentials:
2) Business Casual Dress code
Office style for guys in a business casual workplace
SG Says: A business casual dress code is a step up in terms of formality from casual office style. You can (probably) still wear your jeans, but instead of a t-shirt, you'll be wearing a sport coat and oxford shirt.
Pro tip: When it gets chilly, layer with a light sweater and not a company-branded fleece. Please.
Business Casual dress code building blocks:
Good stores to shop for business casual dress codes:
Shop business casual essentials:
3) Business Professional Dress code
Office style for guys in a "business professional" workplace
SG says: A "business professional" dress code is just a few style zhushes away from the most formal dress code, which is (you guessed it) "business formal."
You're wearing a suit…but maybe without a tie. Or you're wearing a sport coat with dress pants, instead of jeans.
Pro tip: When you have a big client meeting, or are speaking in front of a large group, dress one level above your usual dress code.
So, if you're in a casual office, dress in a "business casual" outfit on the big day. If you work in a business casual-dress code office, dress in "business professional" for that do-or-die client meeting.
Business professional dress code building blocks:
Good stores to shop for business professional dress codes:
Shop business professional essentials:
4) Business Formal Dress Code
Office style for guys in a "business formal" workplace
SG Says: The most formal of dress codes, you definitely will know if you're getting yourself into a "business formal" environment before your first day. This dress code is mostly reserved for more traditional professions like banking.
Pro tip: Don't let the need to wear a suit every day turn you lazy with your clothes! You can show your personal style with touches like interesting shirt and tie combinations, snazzy socks, and unexpected accessories.
Start-up wardrobe building blocks:
Good stores to shop for business formal dress codes:
Shop business formal essentials:
5) WFH Wardrobe
"Office" style for guys working from home
SG Says: Of course, plenty of guys don't work in an office. Especially in 2021, more people than ever work from home.
For those living the WFH life, invest in comfortable basics that help you look and feel your best *and* that can withstand a vigorous walk around the neighborhood at lunchtime. Think: athleisure, upgraded.
Pro tip: This is the time to spend more than you're used to on wardrobe staples like t-shirts, henleys, and jogger pants. The price tag will feel worth it when you slip into comfortable clothes that you don't feel like a slob wearing.
Start-up wardrobe building blocks:
Good stores to shop for business formal dress codes:
Shop WFH essentials:
***
Want some help sorting out your office style? Team SG can put together a personalized shopping plan just for you. Learn more here.
I run Style Girlfriend, helping guys develop and grow their personal style, all from a friendly and supportive female perspective.