Men's Wardrobe Essential: Black Captoe Dress Shoes
The cornerstone of looking polished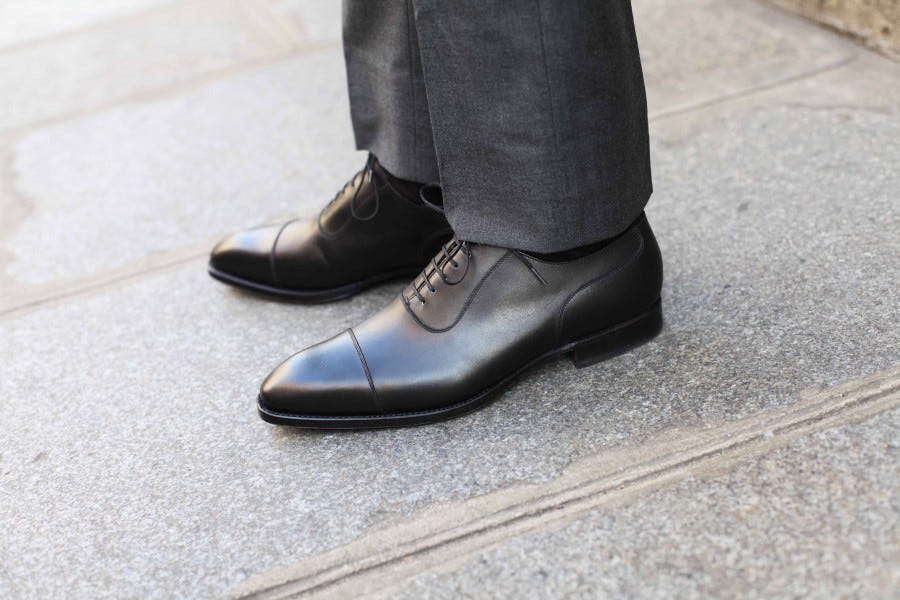 A good pair of black captoe lace up dress shoes is the cornerstone of a great wardrobe. Every aspect of your outfit can be perfect, but pull on a mediocre pair of shoes, and you'll completely ruin the look. Dress shoes are kind of like craft beers: once you experience quality and craftsmanship you'll never be able to go back to the cheap stuff. In this guide, we'll get your footwear palette up to speed so your shoe snobbery matches your beer snobbery.
Below, the breakdown on black captoe dress shoes:
How to Wear It
While a brown dress shoe definitely has a place in a stylish man's wardrobe, if you're starting from scratch with your footwear and have to pick just one color, black is always the safe choice. They are most appropriate for everything from formal affairs to casual Fridays. They also make the guessing game of finding the right polish for your shoes simple: just go with black.
Shop #SGApproved Picks:
Form and function
There are two primary components that highlight the quality of a shoe: the upper and the outsole.
The Upper
The upper of a shoe is essentially the entirety of the shoe that wraps around your foot. Look for shoes with "full grain" uppers – avoiding "corrected grain" if your budget allows. Full grain leather is leather made from the top most layer of the hide, just below the hair. It is the most durable part of the hide. Corrected grain leather is made by buffing the top few millimeters off of the hide, giving the leather a uniform and even appearance. This is usually done with hides that have large amounts of scarring on them. You can tell full grain leather from corrected leather from its appearance and feel. Corrected leather uppers will often have a shiny almost plastic look and feel to them. While that shine may seem great at first, corrected grain uppers will not age well. That's because minor nicks can be buffed and polished out of full grain leathers, while those same nicks will remain – forever – in corrected grain leather. Most quality shoe makers will use calfskin uppers on their dress shoes to give a supple feel while helping make them durable and able to take a beating.
The Outsole
After the upper, look for a quality outsole in your dress shoes. The outsole determines much of the overall comfort of a shoe as well as its lifespan. There are a few ways to attach an outsole to the upper, but the tried and true method is a Goodyear welt. Goodyear-welted shoes have a strip of leather, rubber, or plaster sewn around the base of the uppers. This piece is the welt. The outsole is then stitched to the welt. The beauty of a Goodyear welt is, in addition to being more secure than just glue, it allows the sole to be replaced. Replacing the sole of shoe (instead of replacing the shoe itself) saves you the hassle of constantly breaking in new shoes and money over the lifespan of a shoe. With proper care, a pair of Goodyear-welted shoe can last decades before they need to be replaced.
While leather soles are standard for dress shoes, there's nothing wrong with a good sturdy rubber sole. Rubber soles will give you traction, hold up better in inclimate weather, and give you a bit of additional comfort throughout the day. Rubber can easily be added to the soles of leather bottom shoes by a cobbler.
The cap
Captoe dress shoes get their name from the simple stitch across the toe box, giving a cap finish to the shoe. The cap can be done with a simple stitch or with punch-out pattern called broguing. Look for styles with a natural, rounded toe shape as this will give you the most versatility. Toes that are too angular don't pair well with more casual looks.
TELL ME:
WHAT'S YOUR FAVORITE WAY TO STYLE CAPTOE DRESS SHOES?