How to Wear a Chore Coat: A Guy's Guide
Inspired by classic workwear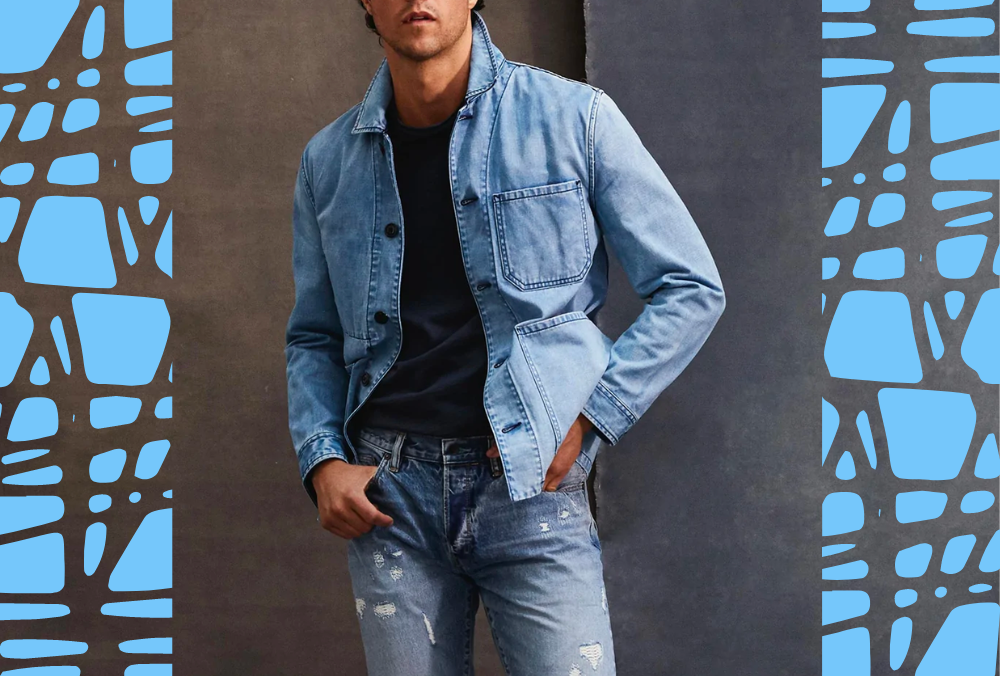 It's light jacket season, y'all! And you know what that means.
Time for a zillion (approximately) odes to my favorite outerwear for you to…y'know, wear.
Up next? The chore coat.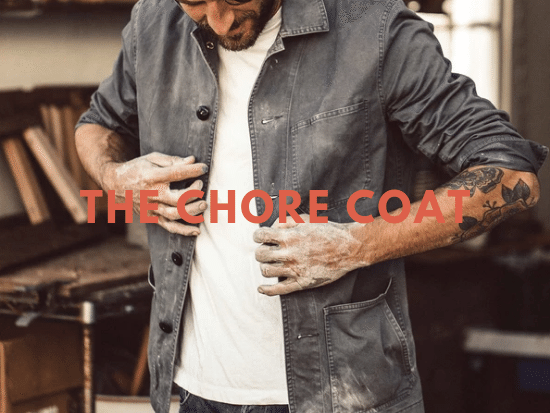 Below, you'll learn: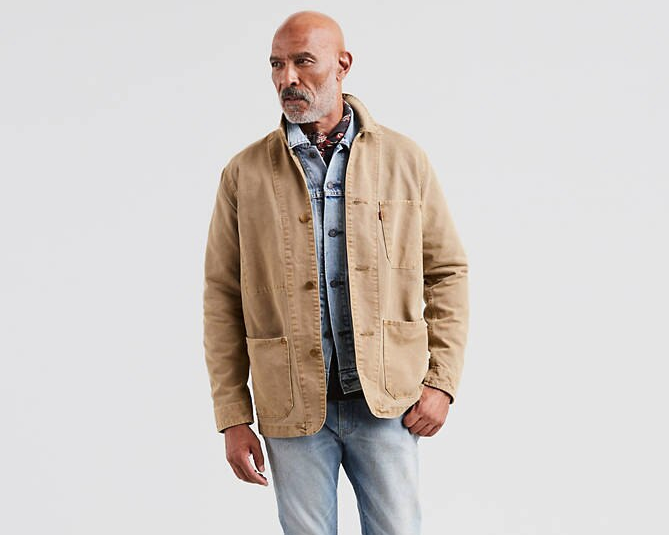 What is a chore coat?
A blue collar staple of the 1950's, the chore coat, or chore jacket, offers French-inspired utilitarian elegance (say that three times fast) that you can easily incorporate into your wardrobe, no matter what your style. Yes, really.
It's essentially a stiff structured shirt with some big ol' pockets for putting all your tools or paint brushes or whatever.
It's perfect for fall, and heavy enough to throw over any summertime-fun looks you're not ready to let go of quite yet. Whether you're looking for a coat to wear with jeans or an over piece to transform your average chinos and button down look, a chore jacket is the piece for you.
What colors does a chore jacket come in?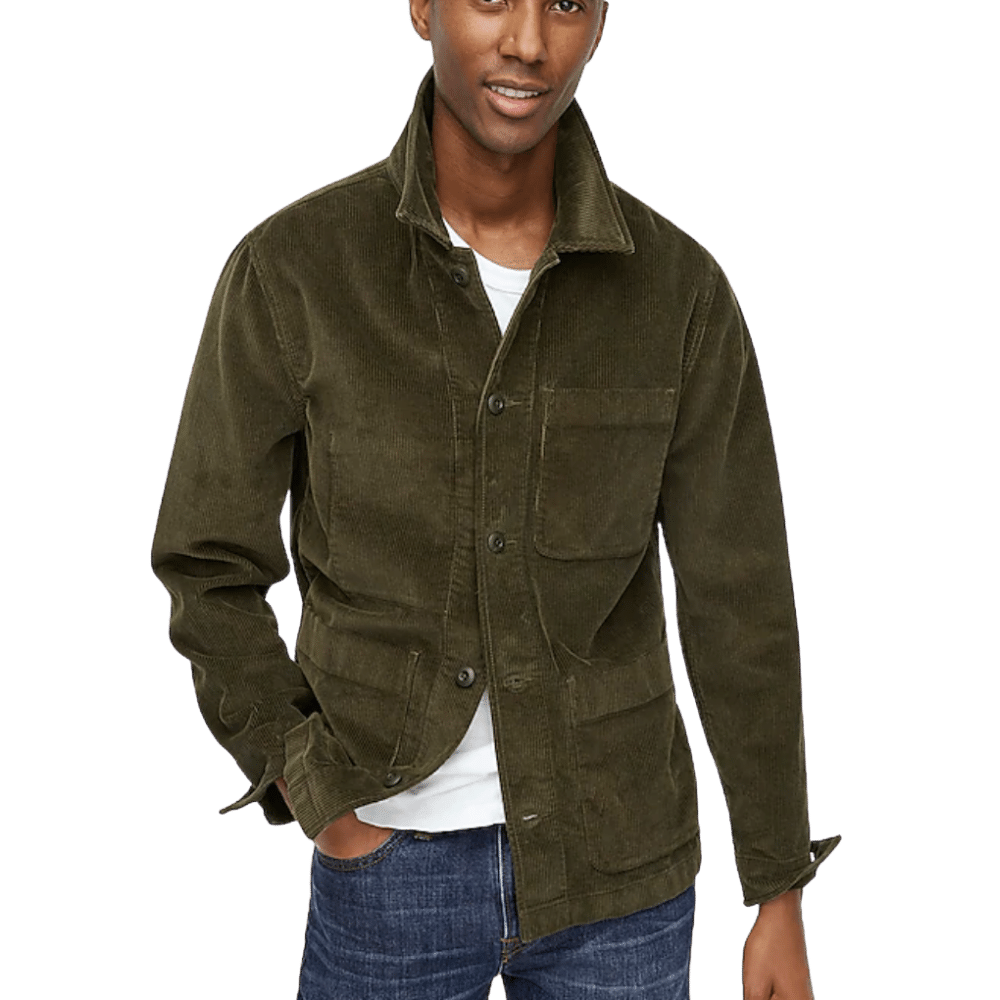 In the last few years, you'd typically find chore coats in blue or navy, and a variety of shades of tan. But with the explosion in popularity in this style of coat, there's way more colors available than there used to be.
When you get down to the #SGapproved shopping recommendations at the bottom of the post, you'll see exactly what I mean.
What material is a chore coat made of?
Typically you'll find chore coats in sturdy cotton or a cotton blend (cotton linen! cotton seersucker!).
However, now that they're so popular, designers have started getting more creative, with less expected fabrics like corduroy and more being used.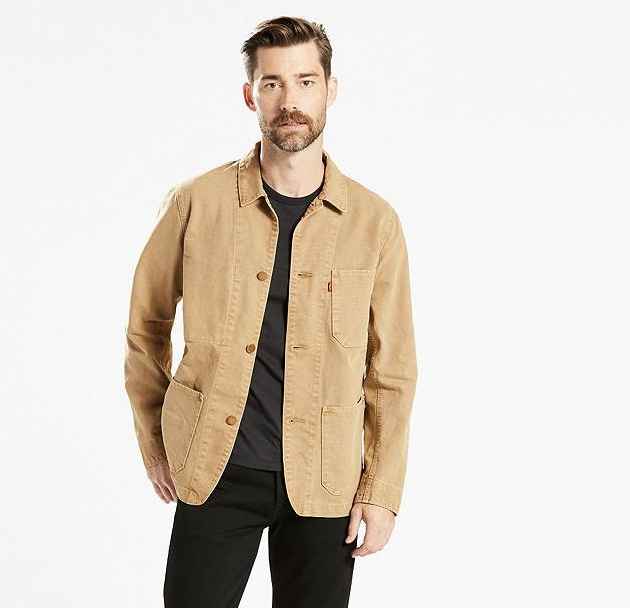 What to wear with a chore coat?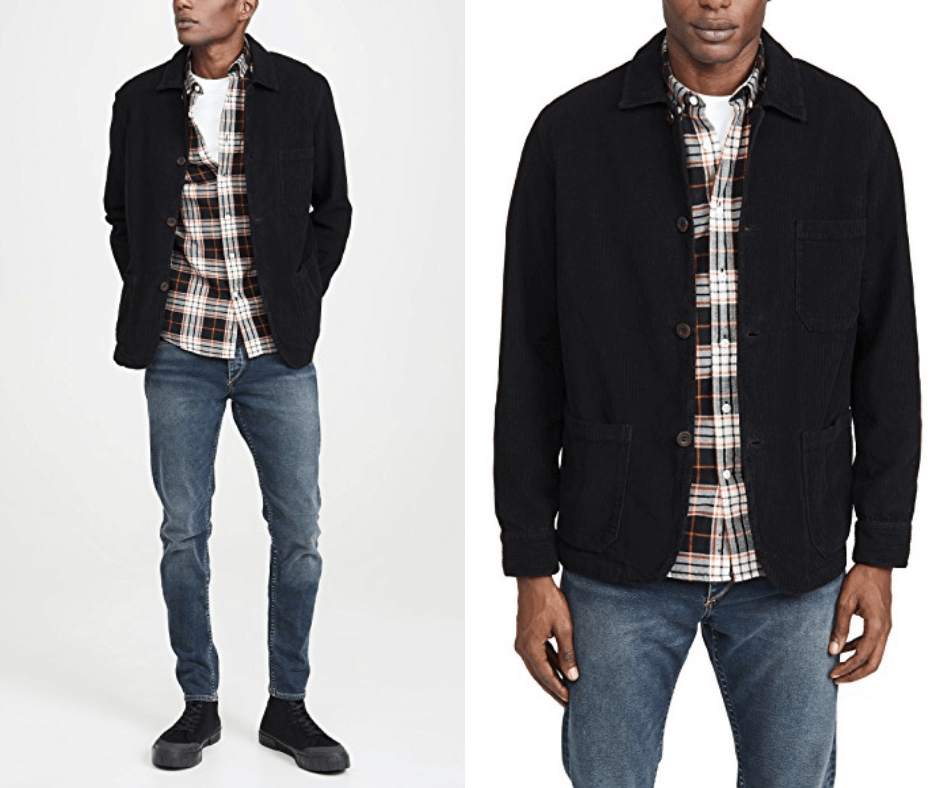 You can wear a chore coat pretty much the same way you'd wear a field jacket, Harrington jacket, or denim jacket.
That is to say, casually.
Wear a chore jacket with jeans. Wear it with chinos. With a sneaker, or a boot. This workwear essential isn't meant to be treated preciously.
Below, how to wear a chore coat five ways:
MONDAY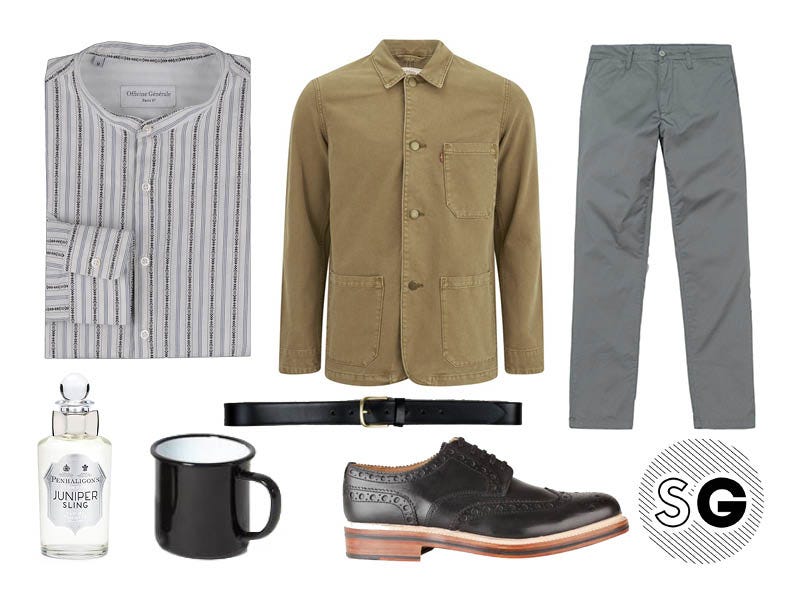 chinos: Carhartt WIP, $80 | brogues: Trickers, $600
Wear it well: Stave off the early morning work commute chill with your chore coat.
TUESDAY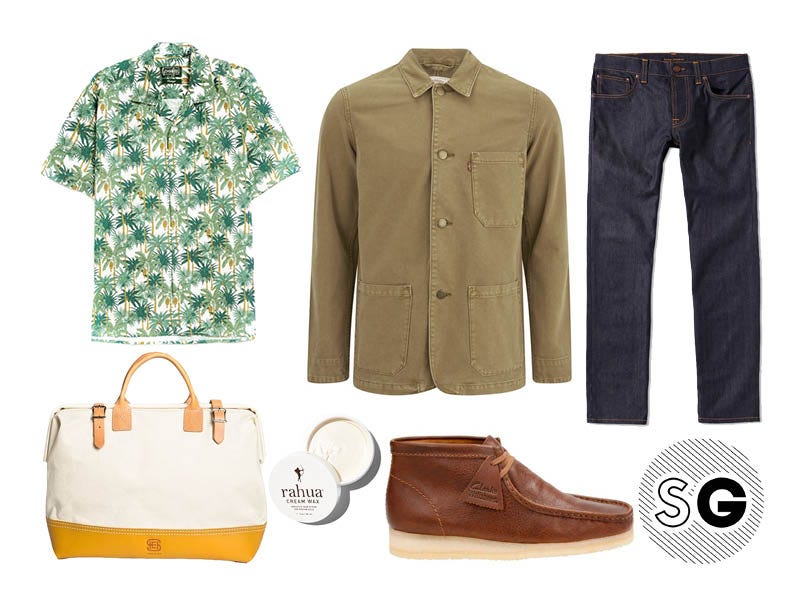 jeans: Nudie, $125 | boots: Clark's, $170
Wear it well: A chore coat over a camp shirt in a fun pattern and jeans takes your casual work look straight to happy hour.
WEDNESDAY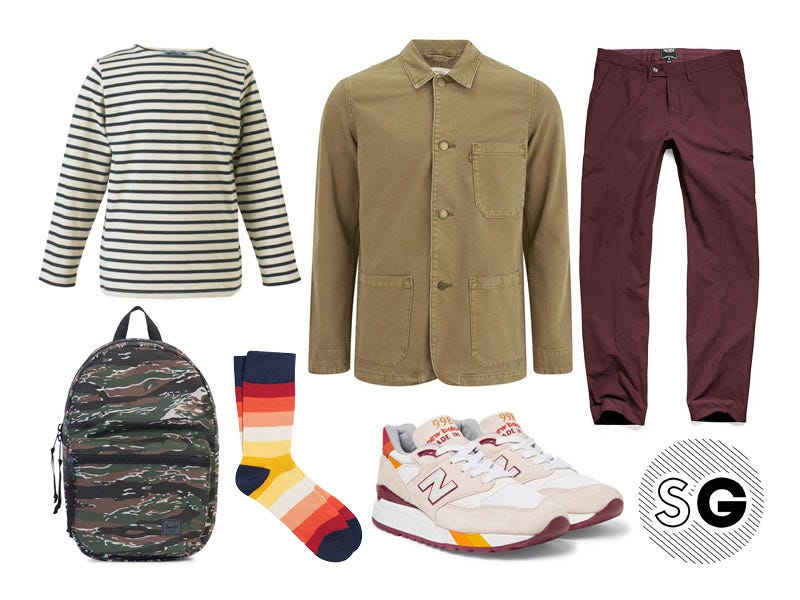 Breton shirt: Saint James, $99 | chinos: Todd Snyder, $148
socks: Pair of Thieves, $10 | sneakers: New Balance, $220
Wear it well: Layer your chore coat for your next study break – those libraries are always freezing!
THURSDAY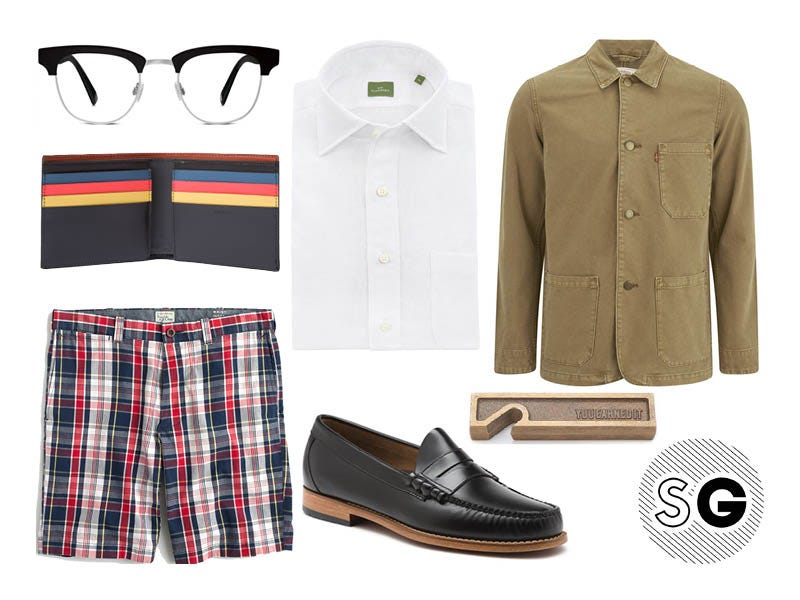 loafers: Bass, $110 | glasses: Warby Parker
Wear it well: Take your chore coat to full 1950's dad style with penny loafers and throwback eyeglasses.
FRIDAY
slides: Vans, $50| sunglasses: Ray-ban, $185 | Watch: Timex
Wear it well: Bring your chore coat with to your next backyard BBQ.
Shop #SGapproved chore coats
***
Ready to upgrade your fall style? Team SG can help! Work with one of our personal shoppers to refresh – or reboot! – your style this season.

Like a phoenix rising from the ashes, Gabi Meyers went from Team SG's first-ever intern to a trusted fashion editor and stylist. She currently lives in Chicago with a very cute dog.