Kicking off Style Girlfriend Men's Style Madness 2017
Selection Monday at SG HQ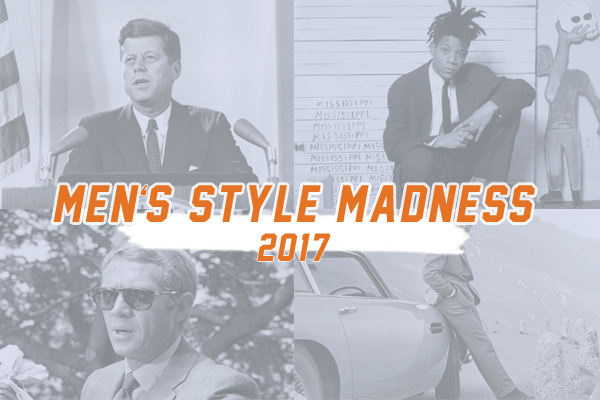 Guys! Welcome to Style Girlfriend's third-annual Men's Style Madness! That's right, The Big Dance. Well, okay, a slightly smaller dance than the other big dance kicking off this week, but still pretty big.
This year we've partnered with Unilever, whose men's grooming products (available at Target) are the official men's personal care products of the NCAA, to crown the latest winner in our yearly men's fashion face-off.
Below, we break down Men's Style Madness 2017:
THE BRACKET

THE RULES
If you're new around here, you may wonder why "best dressed" list staples Daniel Craig and Ryan Reynolds are nowhere to be found in this year's bracket. It's because, unlike the NCAA tournament, SG Madness winners are retired after taking the top spot. Hence, Craig (winner: 2015) and Deadpool's Reynolds (winner: 2016) being left off the list.
Another thing? Like Charlotte on Sex and the City, you've gotta be "out there" to get a bid in SG Madness. We can't put you in contention for the title if you weren't photographed enough in the past twelve months for us to rustle up some good pictures of you from the interwebs. So if your favorite well-dressed celeb isn't in the bracket above, don't blame us; blame the paparazzi.
SEEDING
This is important work, and we take our jobs very seriously. We've spent hours in an SG Madness war room debating our top picks, looking everywhere from movie premiere red carpets to the halls of our nation's capitol.
In each region, you'll see actors, musicians, politicians, and celebs who we can't quite explain why they're famous but dress stylish as all get out. From there, we rank contenders according to social media following. If they're not on social media (gasp), we eyeball it.
THE UPSETS
This is a single-elimination tournament voted on by you, the Style Girlfriend audience. 
And just like my NCAA bracket, my SG Madness bracket goes bust. Early. Who knew you didn't share the same warm fuzzy thoughts about Jason Sudeikis' cool dad style as I did? Or that stylish sexagenarian Jeff Goldblum would go so far? Last year he made the Elite Eight, and I for one won't underestimate the power of his porkpie hat again.
In partnership with Mirum Shopper for Unilever at Target. Thanks for supporting the brands that make Style Girlfriend possible.