4 Healthy Habits to Adopt in 2022
Get acquainted with the best version of yourself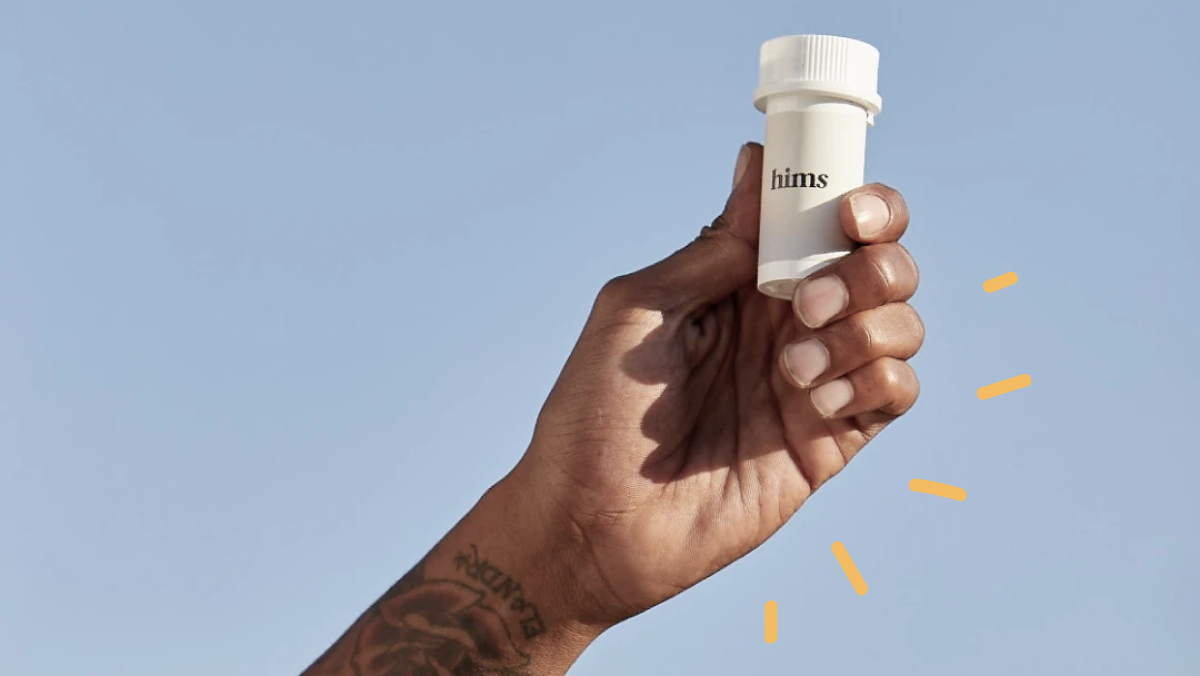 This feature on men's healthy habits is presented in partnership with hims
If I could, I would send an SMS to my 2002 Nokia that says, "Hey teenage me, it's 30-something you. I know, so old, but please hear me out. I need you to wear more sunscreen and don't you dare lay your bod down in a tanning bed —no matter how many times your sorority sisters tell you it's cool. It isn't. You're going to have two malignant melanomas removed from your back at age 28. That's cancer, dummy. And it's completely avoidable, so, how about let's not. Love you, bye!"
But since Hot Tub Time Machine isn't real (as far as I know), all I can do with this hindsight-won wisdom is thank my lucky stars I'm okay.
What about you?
What would you tell your younger self, if you could?
What's the advice you would scribble down and slip into your own pocket, or email to yourself from you-@-the-future-dot-com?

As the first in our wellness series in partnership with hims, I asked guys to share the habits, routines, and acts of self-care they wish they'd started earlier.
The good news is hims is here for anything from helping you perform better in the bedroom to growing new hair, if prescribed (psst, start exploring the one-stop shop in personal care here).
From therapy to fitness, waking up earlier, establishing a budget, or starting up a prescription routine—they all agree that, yeah, it's great to do all this stuff now, but hooboy could they have used it a year…five years…even ten years ago!
Below, check out 4 men's healthy habits to adopt in 2022:
MAINTAINING MENTAL HEALTH

There are a lot of very good memes out there on the internet poking fun at men's resistance to therapy, a la they'd rather do just about anything before they'd sit down and talk to a professional about their life.
I'm happy to report that in the real world, however, every guy I know who has put energy into improving his mental health and clarity has been all the better for it.
"​​I wish I would have known how big an unlock of personal growth that therapy would be. I would have started it a decade ago and made the investment in myself. From being much more aware of the type of person I both am and want to be, along with a better understanding of how I act or react in certain circumstances, the value has been second to none." — Chaz, 35
It's all about a holistic approach. One size doesn't fit all when it comes to good mental health habits, so consider anything from a session with a therapist to medication. With hims, you can do it all in the comfort of your sweats at home on the couch, and even get 70% off your first month of medication, if prescribed. So if this resonates with you, get clicking!
Of course, therapy isn't the only way to care for your mental health.
Smaller acts, like meditation, even just a daily reading practice, can improve your mood, your energy and how you interact with the world.
"Meditation and mindfulness is a big part of my daily practice that I adopted a few years ago, and I value it so much. It's helped me stay focused and present in my day and helped me act with intention and purpose." — Frank, 35
ADOPTING HEALTHIER HABITS

As a pretty stereotypical "Type B" personality, I don't thrive within rigid routines and schedules.
However, healthy habits that often become routines in an organic way like daily walks, drinking tons of water, and taking vitamins have made a huge difference in my well-being. The same is true for the guys I spoke with.
"For me, early rising is something that provides great returns. I haven't been great at it during COVID, but during the 'Before Times,' I would wake up and get going before the workday with enough time to get in a workout and a coffee, then arrive at the office a good thirty minutes before anyone else. I found that half hour vital. To have my own uninterrupted time without distractions. It really got me ahead of the day from start to finish." — Quinn, 38
I also heard from guys who told me they wish they'd learned sooner to make time to move their bodies each day.
"I wish I had adopted a stretching and yoga routine very early on! From a young age I was doing a mix of various sports and was always active. Now I feel the years of that activity taking a toll on my stiff and creaky body. Now I'm trying to make good with stretching and yoga but wish I adopted this practice into a routine at a younger age." — Tim, 29
GETTING PROACTIVE ABOUT YOUR APPEARANCE
I didn't start spending money on good skincare—see the aforementioned skin cancer scare—until my late twenties. That was partially because I was broke, and partially because I wasn't thinking of my future self.
But investing now in preventatives will pay dividends down the line.
And before you start debating me from your screen, let me just say: it's 2022. We're no longer living with the mindset that it's somehow "un-manly" to make an effort with your appearance!
"I started taking Finasteride maybe six or seven years ago, as a way to help hold onto the hair I have. It's definitely something worth looking into in your early or mid-twenties, I didn't even consider hair loss as a part of my life until a friend mentioned it was thinning when I was nearly thirty. At the time I just really wasn't aware and didn't know my options. Now I feel like there are a ton that are easy and accessible, which would have been great in my younger years." — Jason, 36
STRENGTHENING YOUR FINANCIAL FITNESS

One thing I've realized you absolutely cannot be lazy about as you get older is your financial fitness.
Sagging abs are one thing, but not having a plan for when your sagging abs—and the person attached to them—can't pay the bills? No way.
It's never too late to start thinking about your future self, whether that's 65-year-old-you, or the you a year from now that wants to go to Europe for two weeks.
"I still haven't perfected my budget and I wish I had honed this skill early on. Balancing a checkbook seemed like such a 'meh' task and having honed this skill and chore at an early age would have saved me a lot in the long haul (but also – YOLO! No regrets.)" — Ben, 41
---
Bottom line?
Here at SG HQ, we're all for guys taking self-improvement seriously.
At any age, for any reason, in all areas of your life.
Sure, I'd advocate for starting sooner rather than later. But honestly? Anytime is a good time to start new healthy habits, adopt new self-care routines, start taking meds….you get the idea.
The absolute best part of all this? Being better for yourself lets you be better for everyone around you, too. More rest, more strength, more happiness, more introspection… Your family, friends, and lovers will get some of that shine, too.
Maybe it's as simple as taking a long walk every morning, or scheduling a long overdue physical. Maybe it's asking your friend if they can recommend a career coach.
Whatever it is, take it from present-day me that you will never regret investing in yourself, no matter your age.
So, whatever a better you looks like, why not get to know that guy today?
***
This is the second in our wellness series with hims, the telehealth company that sells prescription and over-the-counter drugs online. Hims has been a great partner in helping us talk about some not-so-comfortable topics like hair loss, ED, and online doctor's visits.
Read more from the series: How to Nail the Post-Covid Glow-Up, A Finasteride Primer, What to Expect From a Telehealth Visit
And thanks as always for supporting the brands that make Style Girlfriend possible!
Taylor Davies splits her time between NYC and Sun Valley. She loves writing about menswear, overpriced martinis in dimly lit hotel bars, and cross-country skiing. Not necessarily in that order.