Men's Wardrobe Essential: Brown Casual Belt
The casual cornerstone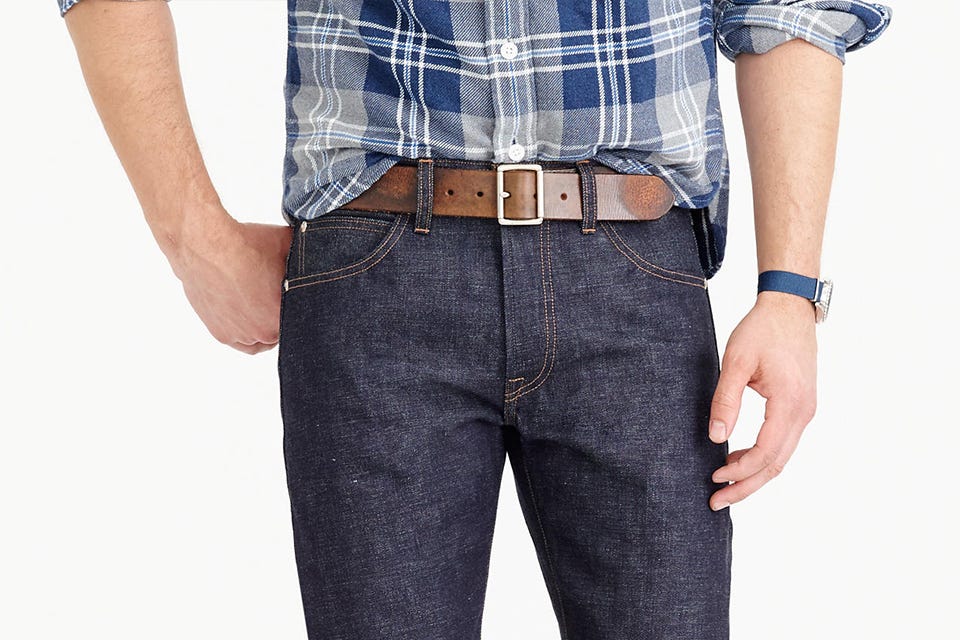 Casual belts live in an interesting space where function, fashion, and personal expression collide. What's key is making sure your belt says the right things about you. A good casual belt is a must have. In this guide we'll help you find the belt that will be a cornerstone of your wardrobe.
Below, breaking down our love for a brown casual belt:

Why it's an essential
A good brown casual belt complements laid back looks (hey, even some dressier looks) really well. Brown is much softer and more relaxed than black, so when paired with a white sneaker it's not as harsh. Obviously brown belt compliments raw denim, and the brown will wear in just like your jeans will. A brown casual belt with denim, a crewneck sweatshirt, and navy blazer really lightens up the work hard/play hard style. And if you've got a simple but unique buckle, there's nothing wrong with tucking in the front of your shirt to show it off a bit.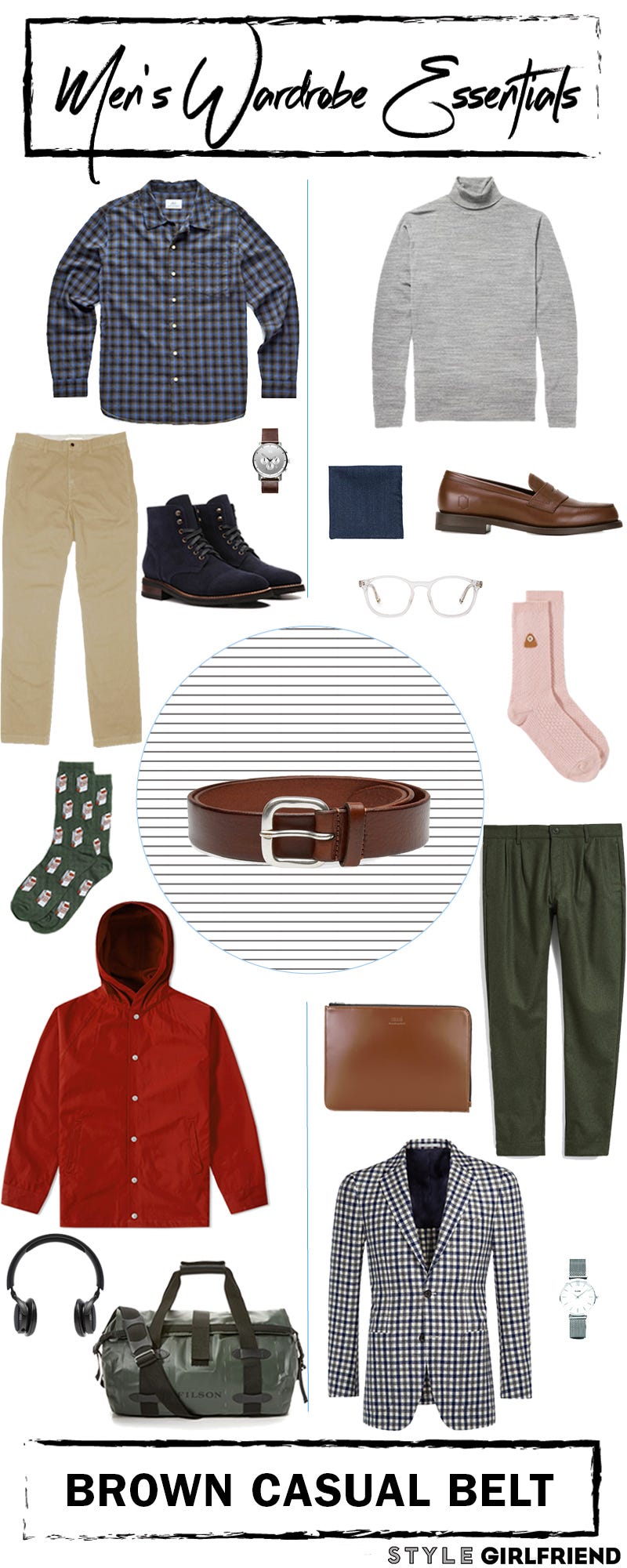 Shop #SGApproved Picks:
Get the Details Right
What to look for in a buckle
Buckles are a touchy subject for some guys. For some, a large belt buckle serves as a style signature, not to mention a sign of regional pride. That's totally fine, but the discerning man will recognize those sorts of belts are for special occasions, not everyday use – I'm looking at you southern boys 😉 A good buckle should be proportionate to the belt. A good rule of thumb is make sure the width of your buckle is no more than ¾ inch bigger than your belt.
Silver or Gold?
The metal composition of the buckle is a great place for personal expression. If you're a clean cut guy, simple silver and or gold tone buckles work well for a simple sophisticated look. Small placard buckles are a nice touch here. They are clean and give you the option of engraving initials for a nice personal touch.
If you're more rough and tumble, burnished pewters and brasses that look welded or reconstructed are a great expression of that without over compensating. A pounded or distressed copper buckle is another great rugged option. Buckles and straps can be purchased separately, and a vintage belt buckle is a perfect way to set yourself apart from the pack.
The most significant between a casual belt and a dress belt is the accessory's width. Casual belts are wider than their dress counterparts. A good casual belt will generally be somewhere between 1 ½ and 2 ¼ inches, while a dress belt measures in around 1 ⅛ to 1 ¼ inch. Any wider and you'll wind up looking like you're sporting an old school weightlifting belt.
If your style skews more towards the sleek and sophisticated, go with a belt on the thinner side of that range. If you like your style to be more relaxed and rugged, wider belts will compliment your looks well. Casual belts tend to be a bit thicker as well. If you wear jeans often, a thicker belt is preferred here as it will hold up better over time.
Go for quality leather
As with all leather goods, full grain leather is the mark of a quality casual belt. Full grain leather is leather made from the top most layer of the hide, just below the hair. It is the most durable part of the hide. Corrected grain leather is made by buffing the top few millimeters off of the hide, giving the leather a uniform and even appearance. This is usually done with hides that have large amounts of scarring on them. You can tell full grain leather from corrected leather from its appearance and feel. Corrected leather will often have a shiny almost plastic look and feel.
As far as care, belts are extremely low maintenance. No need to polish or buff them like your dress shoes. The best way to store them is, starting from the buckle, to gently roll the belt up and keep them in a drawer.
Unless you are dedicated to a wardrobe of black, brown is the perfect color for a casual belt. In addition to being a warmer, more relaxed color, a brown belt will also show age over time in a more interesting way than black. Every ding and nick can be worn with pride. Medium brown is a great place to start. The lighter the shade of brown, the more wear it will show. For the patient, a natural un-dyed belt can be a wonderful signature piece. Over the lifespan of the belt, it will pick up oils and dyes and age into a beautiful golden to medium brown.
TELL ME:
DO YOU SWITCH UP YOUR BELT ROTATION? WHAT'S YOUR GO-TO CHOICE?