31 Days of No Jeans Outfits for Men
Pull yourself out of a wardrobe rut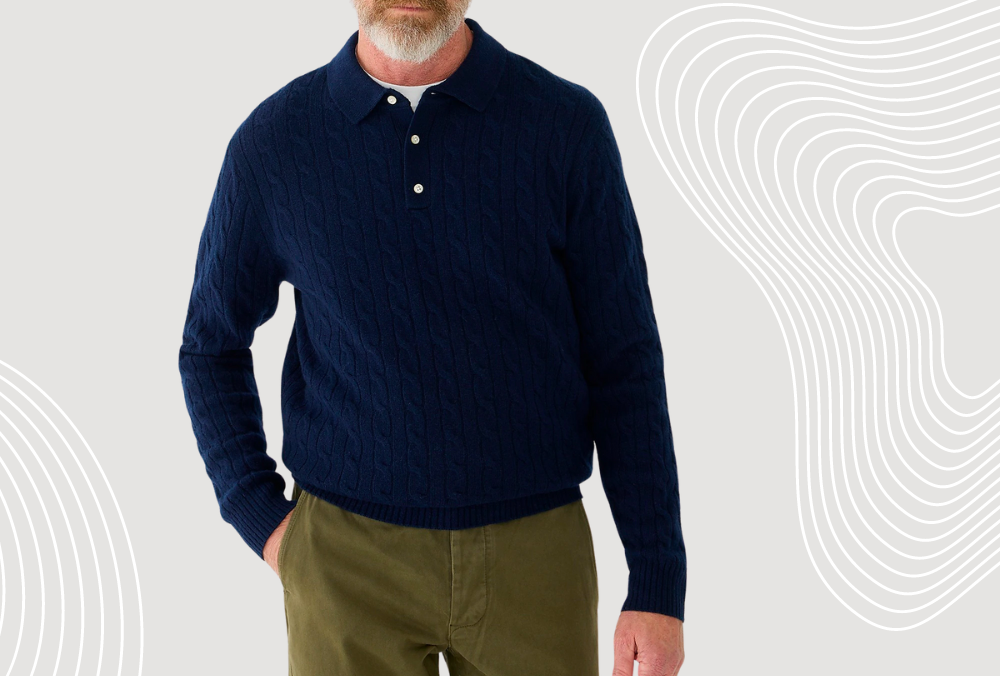 Not to be dramatic or anything, but this is definitely the most no-jeans-iest No Jeans January… ever.
After staying at home and dressing down (like, way down) during the pandemic, last year we held our first-ever Jeans January just to get guys back in the swing of wearing hard pants.
But in 2023? A month of "no jeans" outfits is just what the doctor ordered.
The goal of No Jeans January has always been to challenge you to get out of a wardrobe rut.
To kick off 2023, then, why not channel all your sartorial energy into making your outfits more fun this month? Or colorful! A little dressy, perhaps?
I've got you covered for all of it with the outfit inspo below.
All you have to do? Accept the #NJJ challenge.
Below, check out a month's worth of no jeans outfits for guys:
1. Dwyane Wade in cargo pants
SG Says: Retired NBA pro Dwyane Wade proves cargo pants are back, baby!
In January, you may need to add sleeves to your shirt, but otherwise this look is totally ready to wear.
2. Lewis Hamilton (and pup!)
SG Says: Leave it to a handsome British racecar driver to make slowing down look this good.
His scrunchy, slouched chinos look intentional thanks to an oversized, robe-like coat and casually unlaced boots.
3. Jordan Peele in a jewel-toned suit
Bonus points for pulling off sneakers with a suit!
4. Chris Paul in bright colors against a winter backdrop
SG Says: This is how to stand out in the snow.
I love how Chris wore a subdued, neutral matching set only to top the whole thing off with a gorgeous multi-colored coat and lime green beanie.
5. Pittsburgh Steelers wide receiver Juju Smith-Schuster in an out-of-this-world sweater
SG Says: Beam me up, baby! Take a style cue from Juju here and skip the traditional button-down shirt and oxford with your tailored trousers.
Instead, get playful with a kitschy knit that's got some color to it.
Feeling especially fun and funky? Bring your sneakers in on the fun with a pair that comes in a coordinating color.
6. Queer Eye's Tan France in a stylish tan coat
SG Says: Get it? Tan in tan? But seriously, treat your favorite grey joggers to a day on the town (or just a quick coffee run!) with cool lace-up boots and a timeless striped tee.
No jeans outfits don't have to be fussy, France shows with this lewk.
7. Justin Bieber rehearsing in colorful sweats 
SG Says: Listen, if someone was like, "Show me an outfit that you could wear as an at-home Joker costume this Halloween," this is what I would offer.
A little weird? Sure. A playful way to wear mix colors that an international pop star can pull off but so can you? Absolutely.
8. Vintage menswear enthusiast Benton Nilson demo'ing the sweater vest trend
SG Says: Chandler Bing from the early seasons of Friends, this ain't!
RELATED: How to rock a Fair Isle sweater
Be the best-dressed dude on your next Zoom meeting by dressing up your comfiest khakis with a sleeveless knit and an ultra-preppy tie.
9. Apple Music's Zane Lowe in all-black
SG Says: Good news!
You, too, can look cool enough too sit down with Miley Cyrus by stepping up your monochromatic crewneck-and-pants combo.
Just add a fisherman's cap and retro sneakers.
10. Jake Gyllenhaal in oversized neutrals
SG Says: A fun fact about me is that I didn't know who would win the 1998 NBA Championship game until I got to the very last episode of The Last Dance.
A fun fact about you is that you can absolutely pull off the slightly-oversized chinos Gyllenhaal is rocking here.
The trick?
Keep the rest of your outfit dressy (see: that generously cut sport coat and double-breasted overcoat) to make sure the overall effect is sophisticated, not sloppy.
Just try it!
11. Kumail Nanjiani in a turtleneck and slacks
(Dan Levy looks good, too!)
SG Says: I suppose this caption isn't supposed to be about Kumail's absolutely bonkers bulging biceps. But instead, about how crisp grey trousers and a charcoal turtleneck look superb with clean white sneakers.
…There, did I do it?
12. Giannis Antetokounmpo looking casually elegant
SG Says: A good reminder from the Milwaukee Bucks MVP that simple doesn't have to be boring!
RELATED: Five Ways to Wear a Knit Polo
This combo of sneakers, dress pants, and a knit polo will never steer you wrong.
13. Robe life with plus-size model Zach Miko
SG Says: More like No Pants January, amirght?
If you're going to live that robe life, just make sure it's a fancy one, and that your boxer briefs are as fun and photo-worthy as the plus-size model's.
By the way, Miko's confidence is worth emulating, too!
You'll look your best when you feel happy and comfortable in your body, no matter your size.
14. Lee Pace in coordinated casuals
SG Says: Don't be afraid of colorful prints and patterns, even in the winter!
Lee Pace (along with his stylist Michael Fisher) clearly understand that it's no fun to play it safe with your style.
15. Influencer @ludwiglvkas in cream carpenter pants
SG Says: Consider this my personal plea for more of you fine men to consider winter white pants when considering how to increase your no jeans outfits rotation.
Behold how easy (and oh-so-crispy!) they look with a sherpa vest and some Vans Old Skool kicks.
16. Photographer Dabito in yellow monochrome
…That gallery wall's not too shabby, either!
SG Says: I'll admit it: Mustard-y yellow and olive-y yellow is a pro-level color combining.
Now, don't get me wrong.
It can be done, but with the wrong shade pairing, you will walk around feeling like a banana.
Ready to dabble in a subtler monochrome combo?
Try a similar vibe by matching up red and burgundy, forest green and olive green, or sky blue and washed-out navy.
17. Kansas City Chiefs' Alex Okafor
SG Says: Excuse me, did David Rose of Schitt's Creek get a job styling professional athletes?!
The proportions! The designer bag! The black, white and grey palette! Alexis, come quick!
But seriously—if you were waiting around for proof you can wear tapered cropped chinos (even as a bigger guy!) and look cool as hell, here it is.
18. Menswear Dog in a high-low herringbone topcoat and hoodie sweatshirt combo
SG Says: Why yes, I am happy to report that even dogs know that the easiest way to make your hoodies and sweats look downright sophisticated is to throw a topcoat on over them.
Bow-wow, am I right?
19. Golf podcaster Andrew Westphal in a no-fuss everyday outfit
SG Says: Sometimes the best way to keep yourself from wearing denim on the bottom is by wearing denim up top.
Westphal makes a good case here for a well-fitting chambray shirt belonging in every guy's closet.
20. Eric Dane in all-black
SG Says: Swap the designer sweatpants for a pair that still lets you send your kids to college, and you can totally emulate this outfit from the Grey's Anatomy alum.
Fun sneakers? Check. Black tee? Easy. Cool sunglasses? Done.
Shop #SGapproved black sweatpants:
21. Model Eric Rutherford in cozy corduroy
SG Says: Okay so, when you are ready to be done admiring Eric's incredible coif, please behold his corduroy matched(ish) set, layered up with a turtleneck and plaid shirt.
You don't have to wear corduroy this way, but also…why would you not?!
C'est chic!
22. Footwear designer Armando Cabral
SG Says: Another shining example of wearing one color (or in this case, a very subdued neutral grey) head to toe looking anything but boring!
Model-turned-footwear designer Armando Cabral looks like an off-duty James Bond in a simple sweater, trousers, and elegant slipper (designed by him, no doubt!).
23. The Rock running lines in a mask
SG Says: Do you smell what The Rock is cooking?
Because I'm getting the aroma of a perfectly easy pair of black pants and a classic navy chore coat, baked to perfection and served hot.
(Sorry, I know, we're almost done.)
24. Influencer Tim Dessaint in a mustard top and cropped pants
SG Says: This year, No Jeans January is all about challenging yourself to get out of a wardrobe rut, so extra outfit inspo is helpful.
Scroll through the IG post above for Tim rocking not one but a whole slew of extremely cool, no jeans outfits.
It's 10x the bonus style inspiration!
25. Team SG Stylist Kelci Taylor giving menswear realness
SG Says: What's to say you can't get a great men's outfit idea from a woman?
And when that woman is our own talented stylist at large (who you could hire to shop for you!)? Well, all the better.
I love how the bright orange of the sweater vest is tempered by the patterned pants.
And the dad sneakers? Perfection!
26. Golfer Brooks Koepka in a matching pool set
SG Says: To the SG fam in warm-weather climates, this one's for you.
Nothing is more high-key bougie than a poolside matched set…in a good way!
If you're lucky enough to safely be in the presence of a chlorinated body of water this month? Then please, for all of us, do it this way.
27. Style blogger Brian Chanism in a green suit and striped shirt
SG Says: Boy-oh-boy is a hunter green suit underrated in a man's wardrobe.
And with a t-shirt and leather kicks? Whew!
Out of the way, Ryan Gosling. This guy's coming through.
28. John Mayer in an absolutely ridiculous sweatsuit
SG Says: My singing angel, my guitar god, my favorite problematic fave. Looking like a walking shag carpet, straight out of 1977.
He's perfect in every way and so is this outfit—no I will not be taking questions at this time.
Don't want to go full FASHUN with your sweats?
That works!
Check out this #SGapproved guide to loungewear and get comfortable within reason.
29. Nick Jonas lounging at home in a tuxedo (because why not!) 
SG Says: I dare you to host a sexy date night in your living room and wear a full tuxedo.
No socks, plenty of attitude, martinis not optional.
30. J Balvin looking like a fluffy white cloud on stage
SG Says: I promise, this outfit would look just as good not performing in front of thousands of adoring fans.
Pull your high school puffer coat out of your parents' attic and make like J Balvin in '90s nostalgic style.
31. Ryan Reynolds reminding us suits are still a thing
SG Says: I'd be remiss not to remind you that a well-tailored suit is always an option!
Sure, Ryan Reynolds was accepting an award, but you don't need any real reason to dress up in a suit.
Wear one if the mood strikes you!

Your turn…
Show us your no jeans outfits on Instagram!
Be sure to use the hashtag #NoJeansJanuary so we're sure to see it.
Taylor Davies splits her time between NYC and Sun Valley. She loves writing about menswear, overpriced martinis in dimly lit hotel bars, and cross-country skiing. Not necessarily in that order.