Shop the Store: Need Supply Co.
Contemporary Essentials for the Modern Man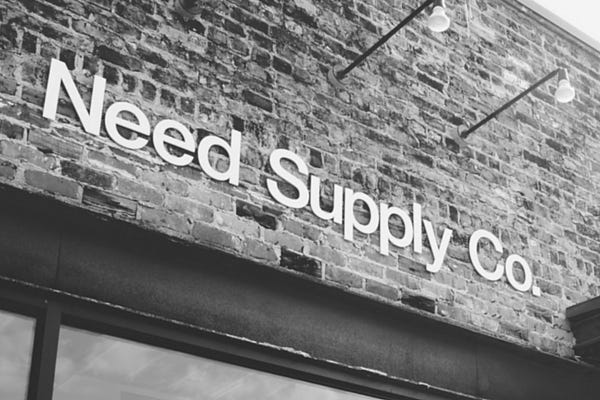 It's all in the name: Need Supply Co. has all the wardrobe staples a discerning gentleman may need. What started out as a Levi's Denim retailer in the 90's has grown to become a multi-faceted curated collection of unique but simple menswear items. The Richmond, VA based retail space is urban and utility-inspired with a minimal feel.
If you like rugged, comfortable clothing, right this way. If you like structured, classic pieces, they've got you covered. If minimalistic, utilitarian pieces are what you need, look no further. Need Supply has it all – and you'll be sure to stand out.
Let's get shopping at Need Supply:

Who started it
Chris Bossola and Gabriel Ricioppo started Need Supply Co. in 1996 as a way to use their interest and experience in the arts in a tangible way. Fast forward 20 years and it has expanded into a creative team of 40 visual artists that work together to form the over-arching aesthetic that has become the brand we love to love.
Who it's for
He's looking for quality. Thoughtfully curated pieces are his focus. Interesting brands draw him in. The Need Supply guy is "seemingly normal, yet deeply design oriented and culturally conscious, as well as thoughtful towards his attire. He values a well made product over fashion trends, likes discovering hard to find brands and is open to evolving his style," says Creative Director, Gabriel Ricioppo. 
Don't miss
TEL ME:
WHAT ARE THE UNIQUE ESSENTIALS IN YOUR CLOSET?
Never miss an update! Follow SG on Twitter.