5 Days, 5 Ways: The Performance Chino
Monday to Friday Style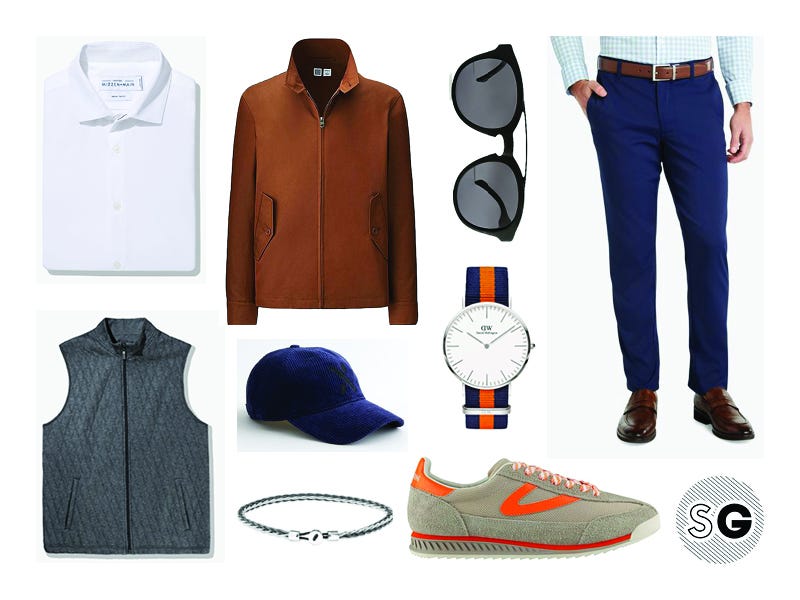 Presented by Mizzen+Main
The perfect foundation for your work wardrobe
***
You know that here at SGHQ we love a chino—especially during No Jeans January! What we love even more? A pair that's as easy to wear as your favorite denim. Enter Mizzen + Main's Baron performance chino.

These are your "running from your flight directly into a pitch" pants. Your "long day at the office followed by a Bumble date" pants. Your "renewing my driver's license and hope I don't have to take the test again" pants.

What are performance chino pants?
They're moisture-wicking (so spills and sweat won't be a problem) and wrinkle resistant (no need to stuff your ironing board into your messenger bag!). What else? They come in two distinct fits for accommodating trim and athletic builds (high five). They're also machine washable, meaning they might just be your new go-to pair of pants.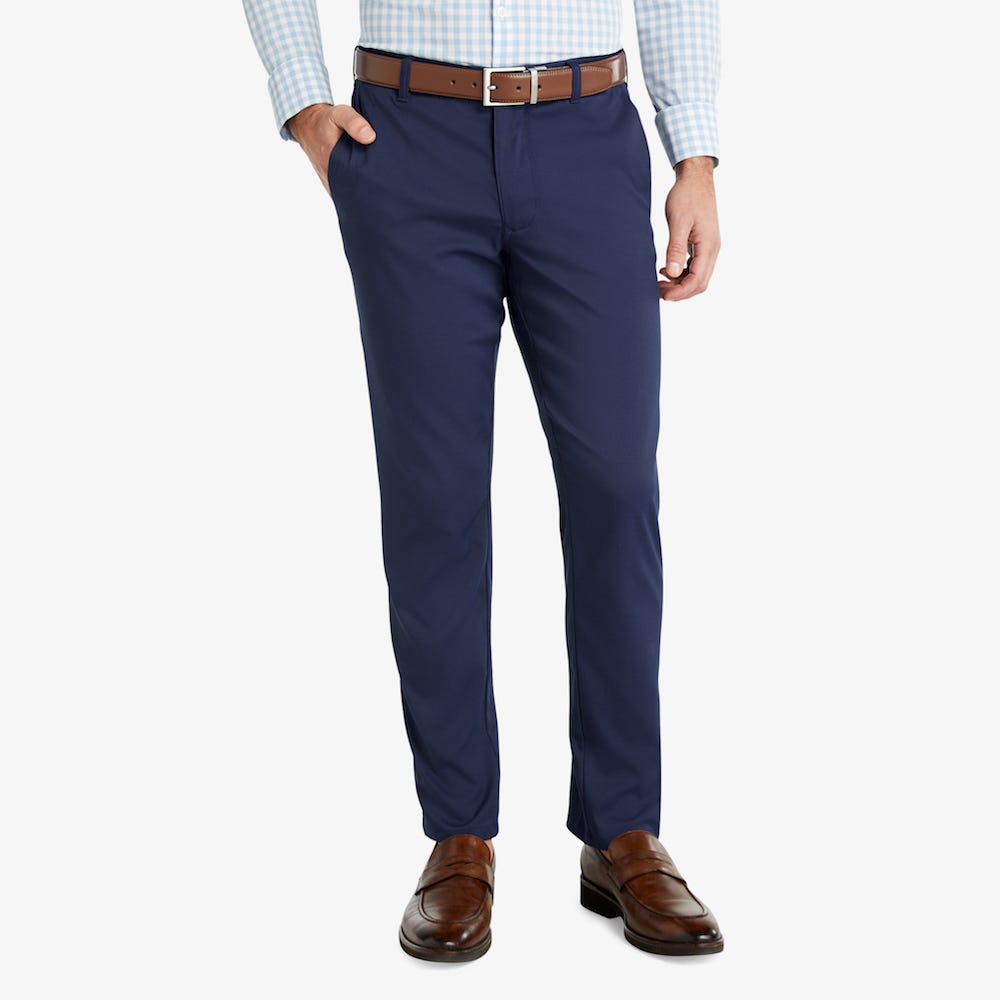 The performance chino pants: Mizzen+Main, $125
While navy is easily one of the most versatile colors to wear—it's basically a neutral, after all—it's a less-expected shade for chinos than your standard khaki color. Plus, with it being half-way through No Jeans January, you're probably missing your true blues!
Below, five ways to wear Mizzen+Mains' navy Baron chino:
Monday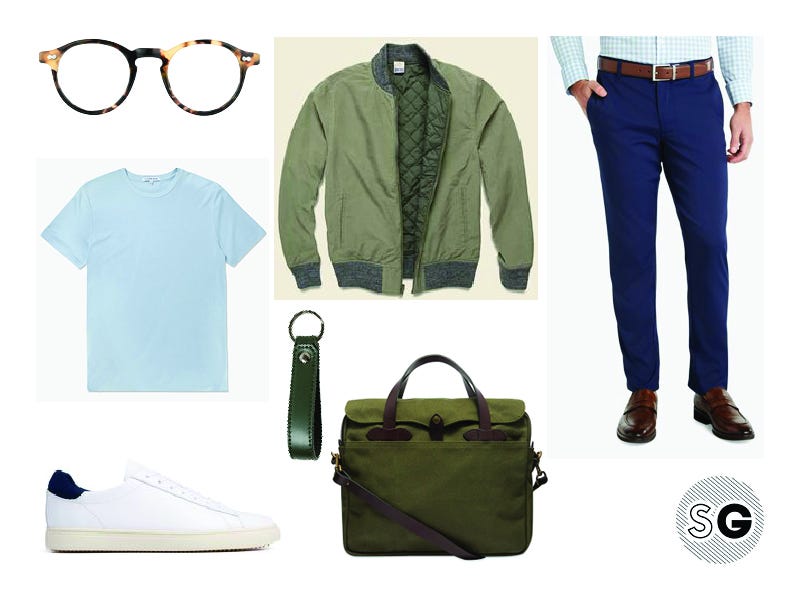 Chinos: Mizzen+Main, $125 | Tee: Mizzen+Main, $45
SG Says: Go for equal parts smart and casual by pairing your chinos with a crewneck tee and minimal leather sneakers.
Tuesday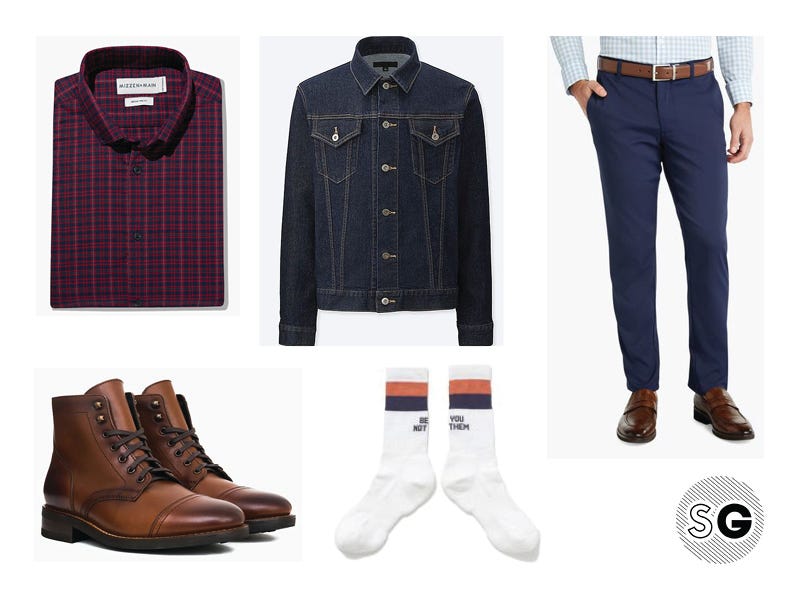 Chinos: Mizzen+Main, $125 | Flannel: Mizzen+Main, $99
SG Says: Looking for something that says refined lumberjack without falling back on your standard blue jeans?
Throw on a flannel shirt and lace-up leather boots, add shine with a l'il beard oil, and tell people it's "Mr. Brawny Man, thank you very much."

Wednesday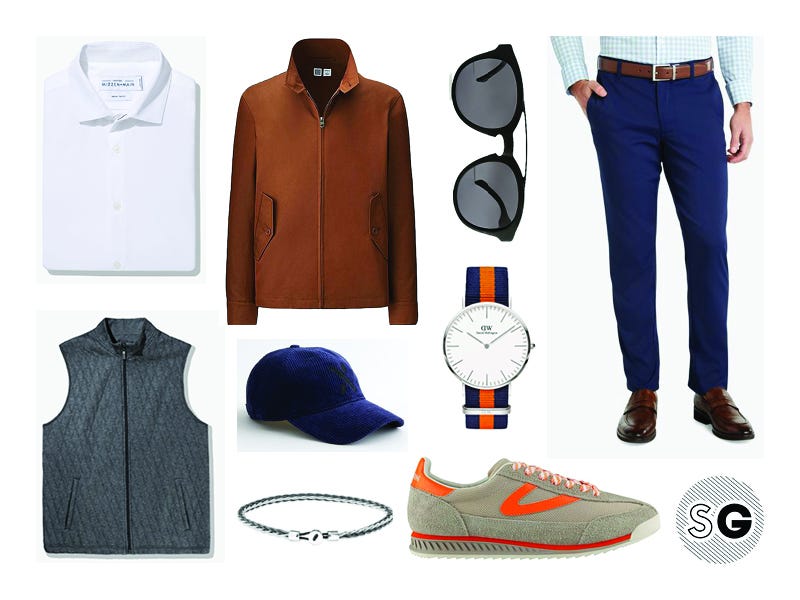 Chinos: Mizzen+Main, $125 | Vest: Mizzen+Main, $125

SG Says: Get sporty with it in a quilted vest, cap, sneakers and high-contrast hits of citrus orange.

Thursday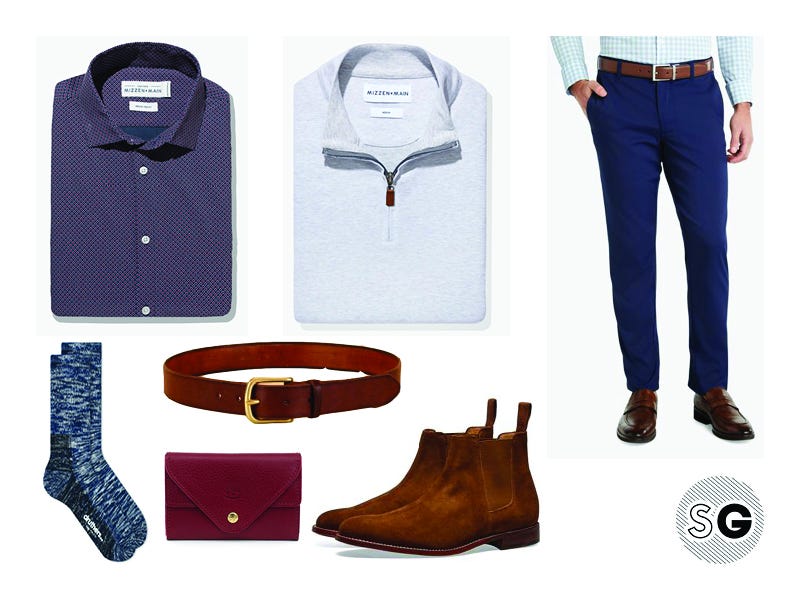 Chinos: Mizzen+Main, $125 | Shirt: Mizzen+Main, $125 | Pullover: Mizzen+Main, $125

SG Says: Go bold for date night with a printed shirt, suede Chelsea boots and a coordinating leather belt.
And don't forget a pullover in case it's chilly!

Friday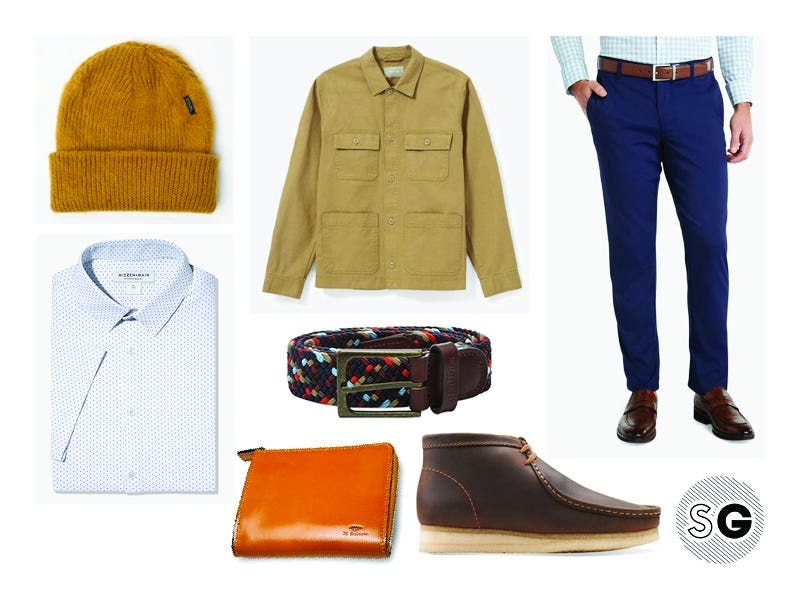 Chinos: Mizzen+Main, $125| Shirt: Mizzen+ Main, $105
SG Says: Keep things ju-u-u-u-s-t elevated enough for work…but casual enough to go straight out after…with a short-sleeve patterned button-up, chore coat and wallabee shoes.
***
Thanks for supporting the brands, like Mizzen+Main, that make Style Girlfriend possible!

Like a phoenix rising from the ashes, Gabi Meyers went from Team SG's first-ever intern to a trusted fashion editor and stylist. She currently lives in Chicago with a very cute dog.