A Week in Style with Beardbrand Founder Eric Bandholz
This founder nails the uniform look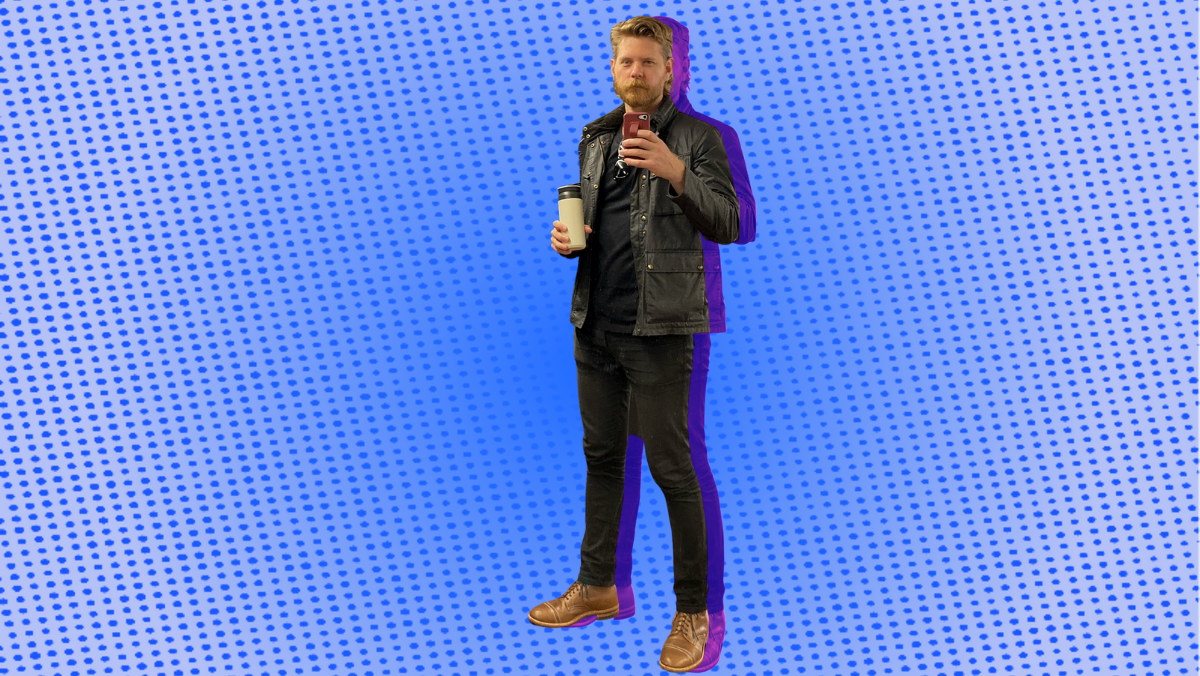 Has quarantine weakened your wardrobe willpower? We get that! That's why we enlisted stylish FoSG (Friends of Style Girlfriend, obvs) to get dressed, like, really truly properly dressed, and track their looks for a little "Real Guy Style" outfit inspiration. Up next? Beardbrand's Eric Bandholz.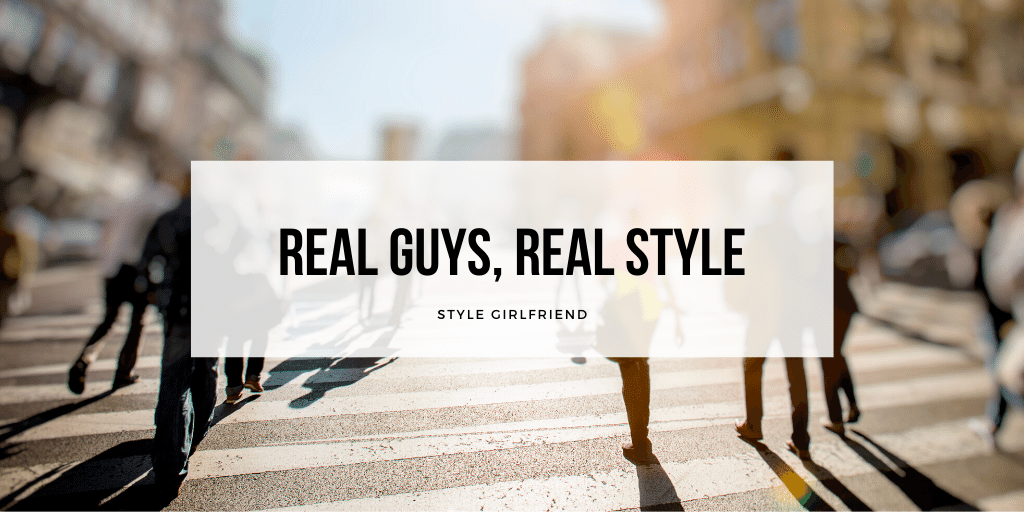 Eric Bandholz launched Beardbrand in 2012 with a pretty strong mission statement: make men awesome.
Make men awesome. Sounds familiar, tbh.
Their road to awesomeness? Churning out beard care content online to start, followed by a product line. For beards—obviously—but also men's hair, skin, mustaches…you can even buy Beardbrand deodorant now (our team loves the "Old Money" scent).
The Austin, TX-based founder and CEO has been living the "bearded lifestyle" himself all this time, with a full face of hair and a surprisingly cool mullet.
We asked him to chronicle a week in his quarantine wardrobe.
Check out five days of style from Beardbrand's Eric Bandholz: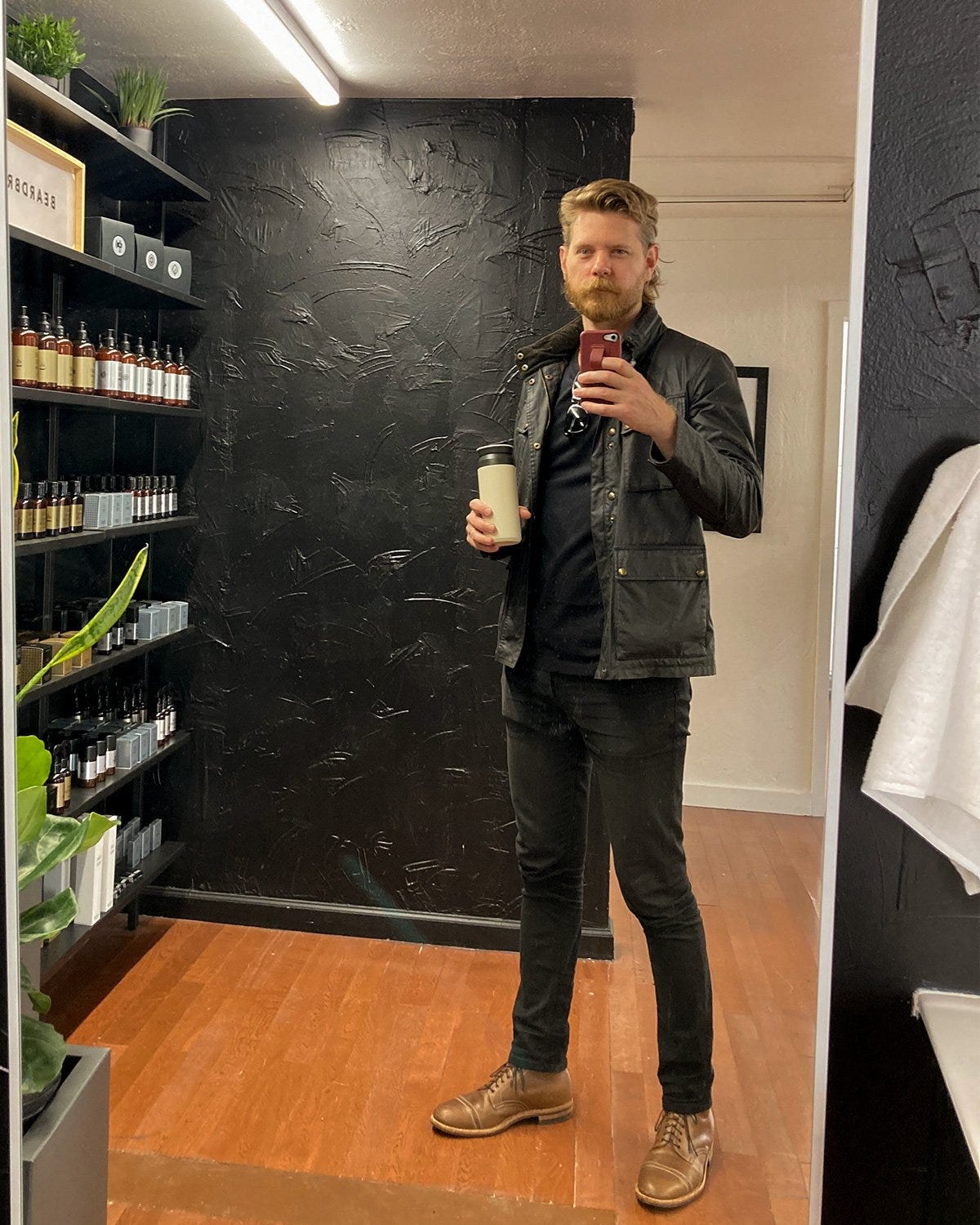 Look #1
Black on black on black. This is a look that I rock on a pretty regular basis.
As the weather gets cooler, it brings a little variety to my look as I can change up my jackets. This is one of my favorite jackets and is a Belstaff Explorer, which is a waxed canvas. Unfortunately, this style was a limited edition, but you can get a similar look in their Fieldmaster.
Underneath the jacket is a black t-shirt from Redwood Tall.
I'm 6'5" and 200lbs, and finding shirts that fit well can be challenging.
This shirt is a high quality material and I no longer gotta worry about showing my butt crack as I bend over.
The other key element of this look are my White's Boots. This style is the Main Street Toe Cap and they were the most comfortable boots I've ever worn. Broken in on day number one.
I'm rocking Enemy Shades Model 01 (on my shirt) and holding a Kinto travel tumbler.
Finally, I'm rocking some black Nudie jeans in the Dude Dan cut. You'll see these in a lot of my looks. 🙂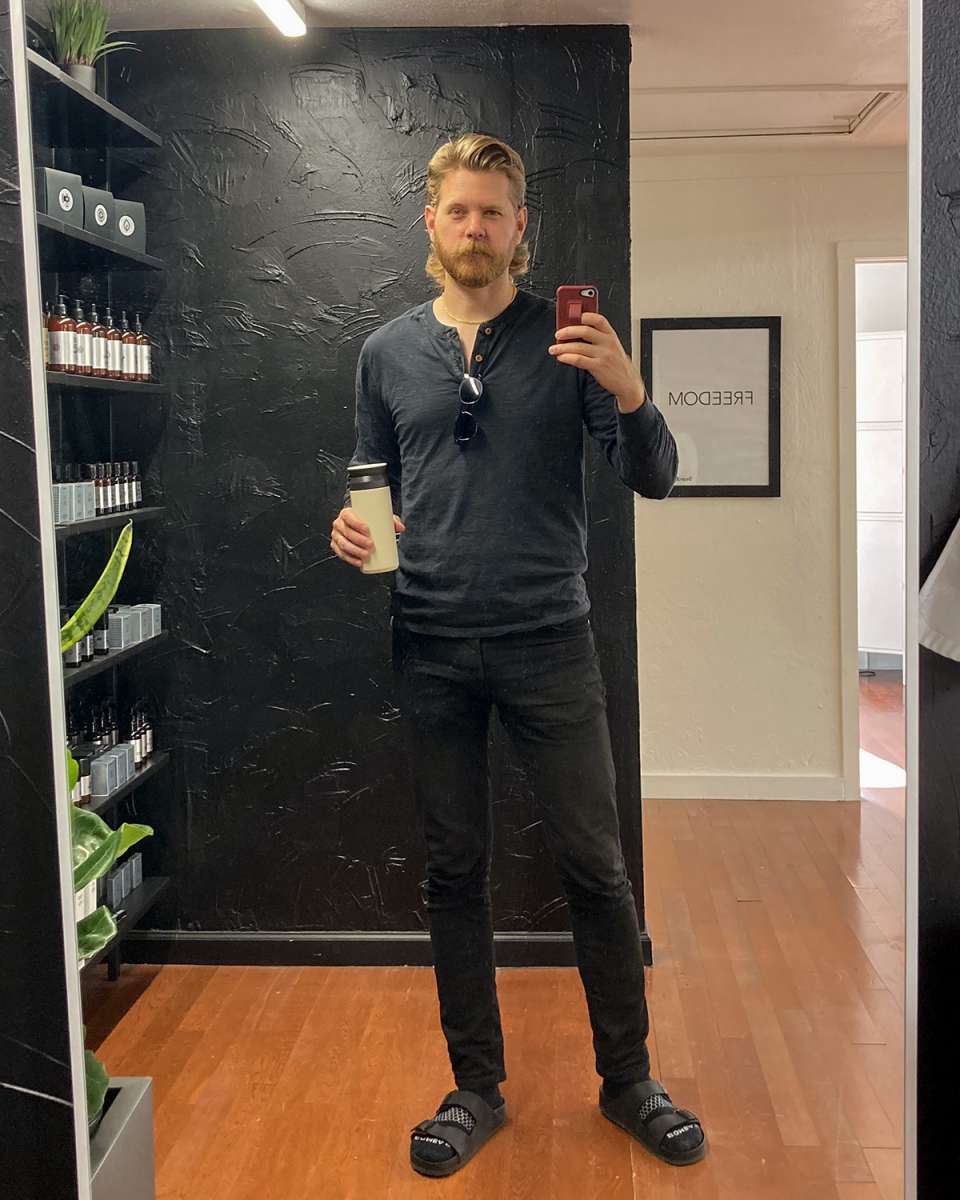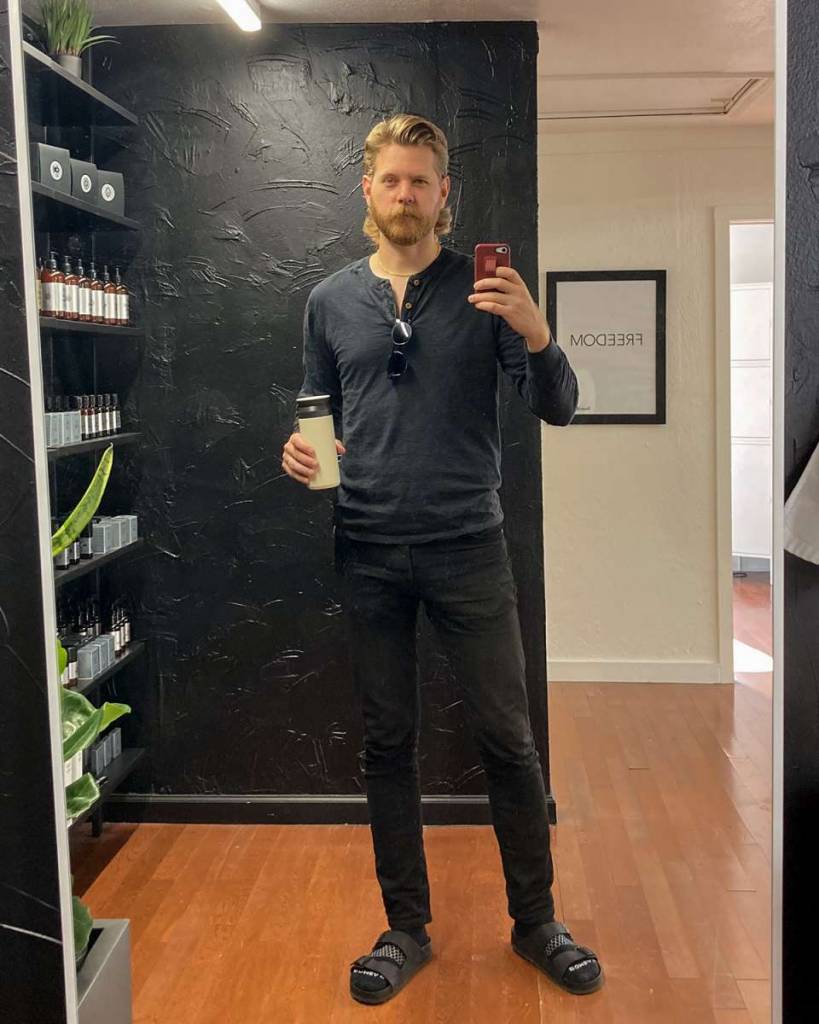 Look #2
Once again, I'm rocking solids in dark colors. (editor's note: you know we love a uniform!)
In this look I have a Grayer's dark navy henley shirt, paired with Tracksmith's Charles Navy glasses (limited edition as well).
Still got those Nudie jeans on, and at my feet I'm rocking some Birkenstock Arizona sandals.
These are leather wrapped to keep the black on black look and my Bombas socks are keeping my feet comfortable.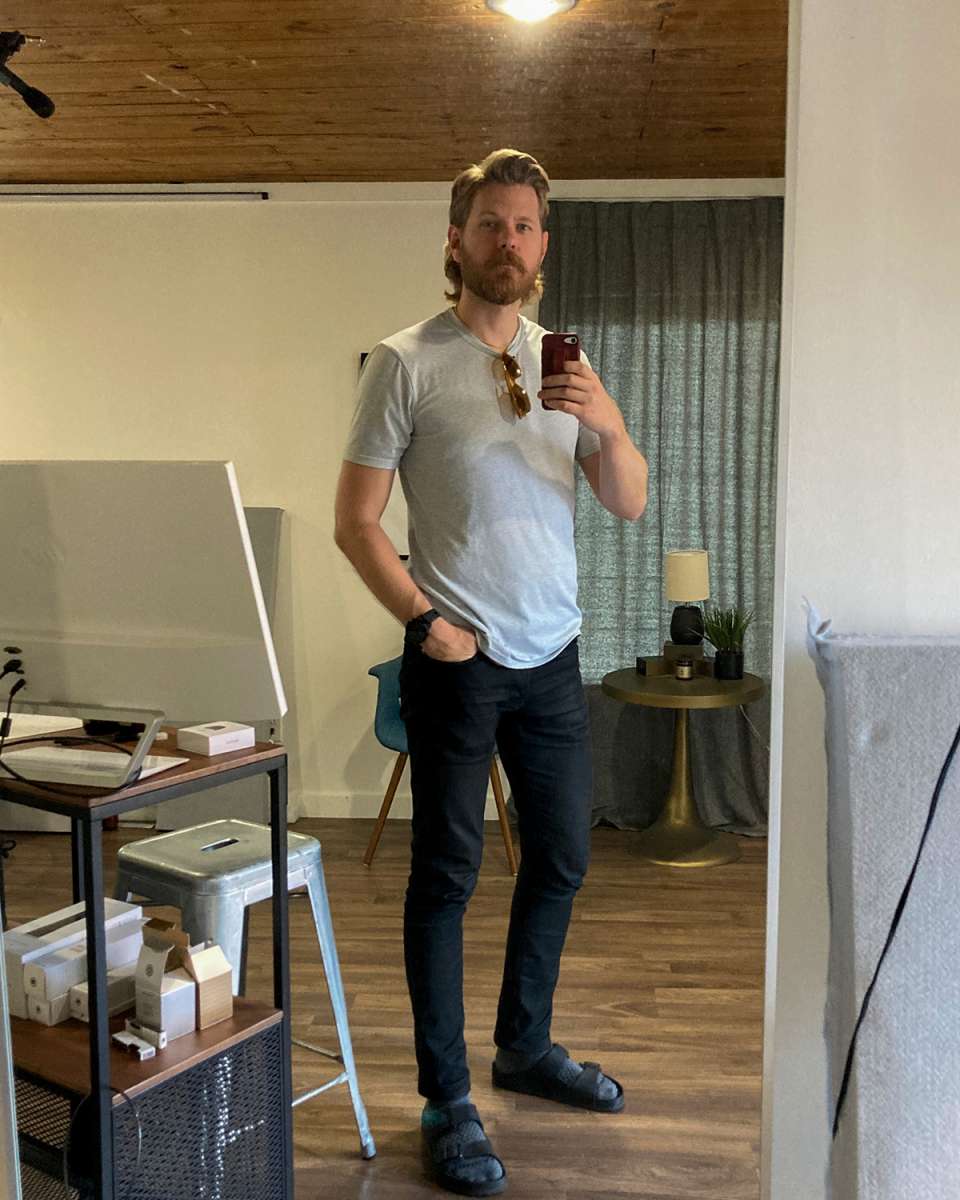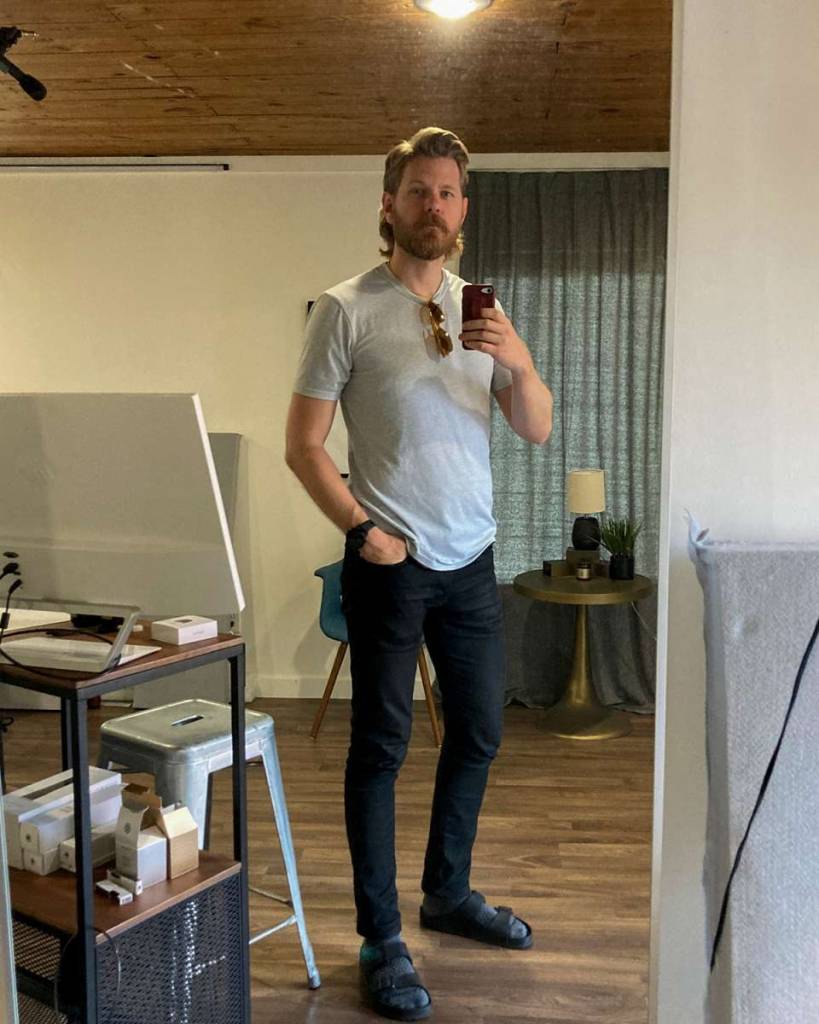 Look #3
It was a little warmer out, so I left the jacket and long sleeves at home.
I also go to Tall Slim Tees to get shirts to fit my body (in fact you can use the code 'bandholz' to save a little bit on your order). This one is a light heather grey.
Like yesterday, I'm wearing my Bombas socks with my Arizona's, but this time in a darker grey sock.
For sunglasses, I'm wearing Dick Moby Hannovers for a dope vintage look.
My Garmin Fēnix is my go-to watch as it helps bridge the gap between a clean digital watch and a fitness watch.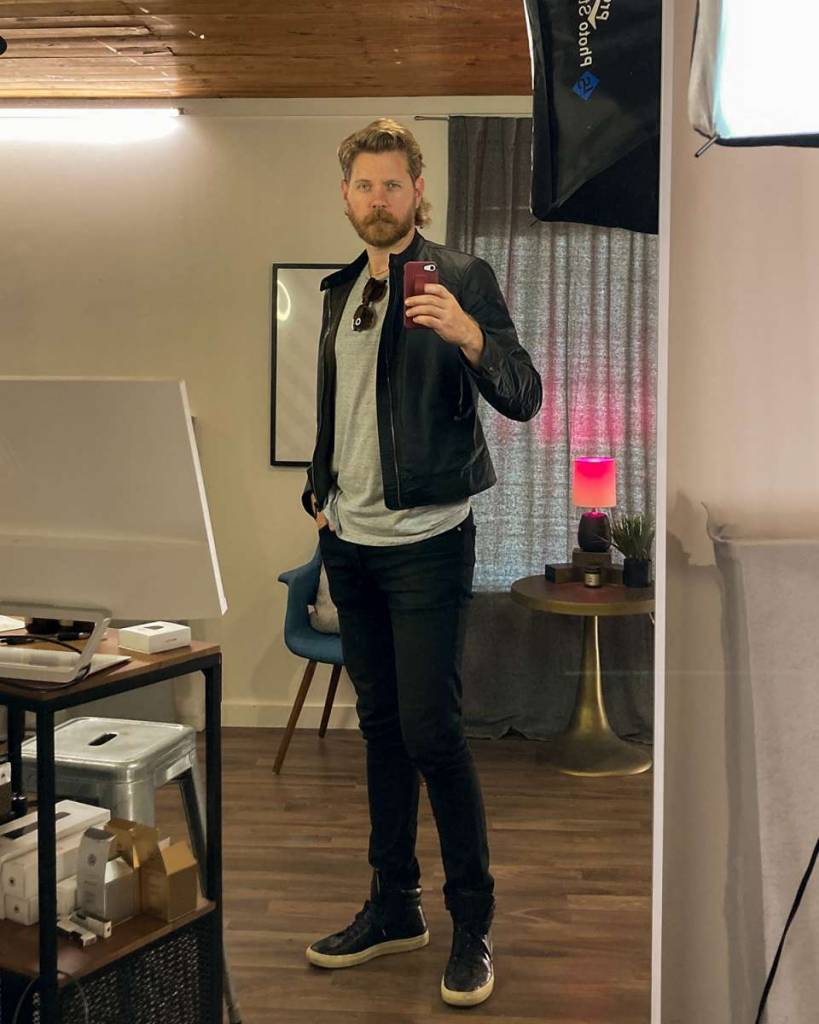 Look #4
It got cool again and I pulled out another black Belstaff jacket.
This style is more moto, a cleaner look. The model is the Kelland and is a go-to for cooler autumn days.
For my shades, I'm rocking the Dick Moby SFOs.
Keeping my feet safe are my Koio Primos in black with a white sole.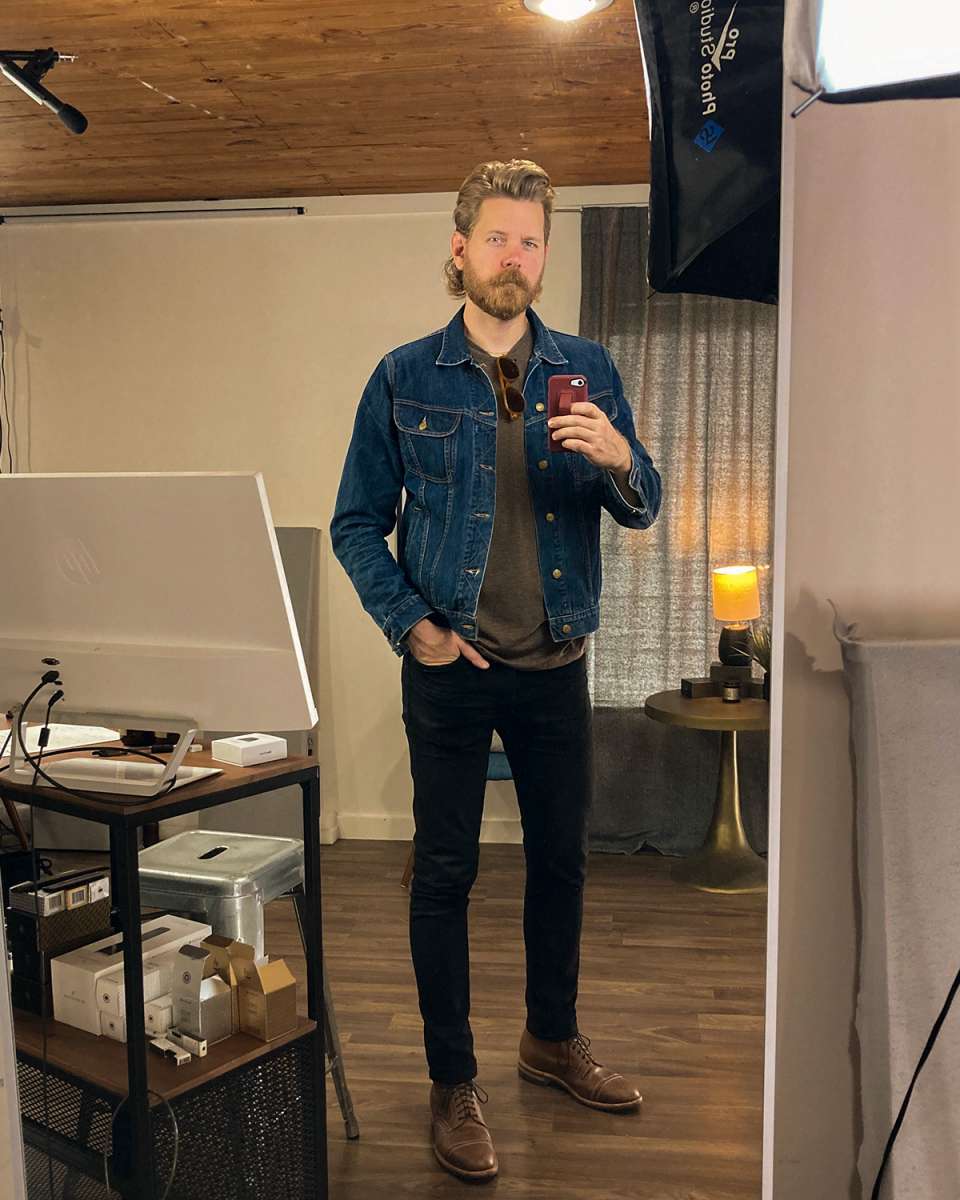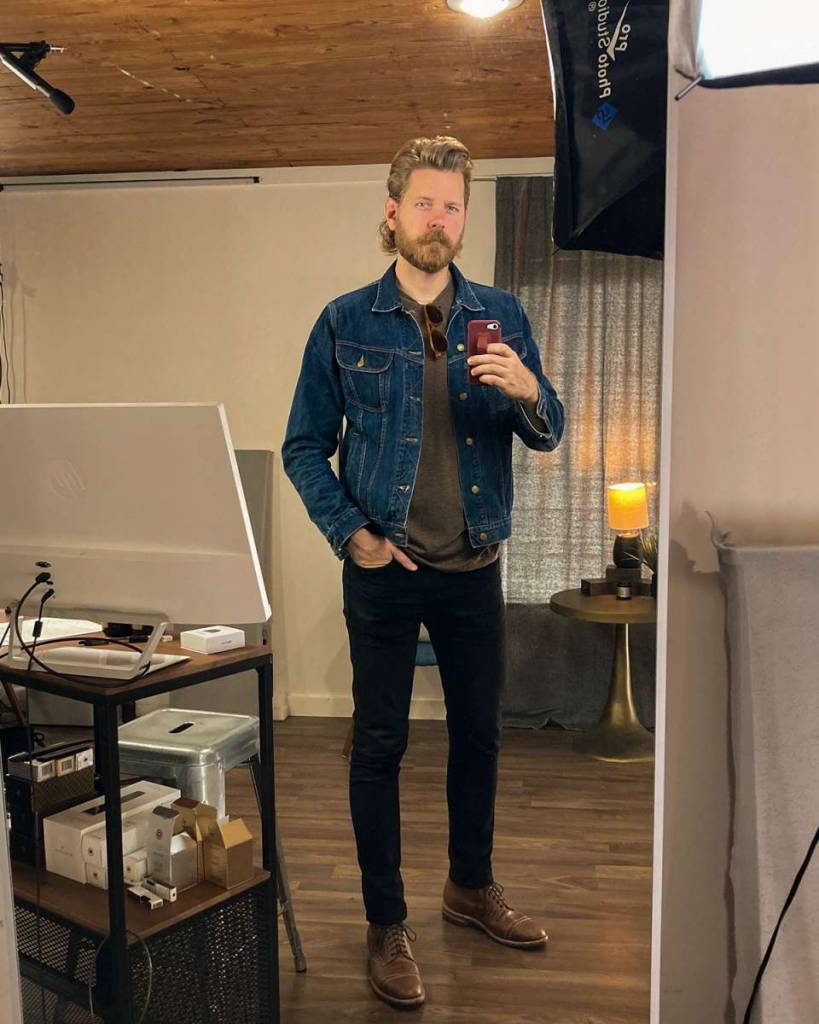 Look #5
Changed up from my usual monotone style.
Going with a brown Tall Slim Tee and a WP Standard denim jacket for a more traditional Americana look.
I'm rocking my White's Boots again that I wore earlier in the week as well as the Hannover sunglasses from Dick Moby.
I guess it can go without saying my jeans are those Nudie Jeans Dude Dan's in black like I wore…every other day!
***
Head to Instagram for more WFH style inspiration from Team SG