Dive into Dating Apps
The popular dating apps you need to know
Let's play a game, shall we? Imagine we're strolling down a bustling street…now imagine that we both start yelling "LIKE" or "NOPE" after assessing the physical appearance of every member of the opposite sex (or same sex, depending on your preferences) we come across – oh, and the people we pass? They're all doing the same.
This, my friends, is how dating apps in 2018 basically work.
Whether that sounds exciting or terrifying, here at SG HQ we want to help you dodge the digital land mines that come with this new courting process. Dating is complicated enough; choosing the right app should be the easy part.
Below, a breakdown of popular dating apps and how to find your match:

Dating App #1: Tinder
By now, you've heard of Tinder and its infamous fails. You probably even know a buddy or two who's found a great girl (or at least gone on a few great dates) using the app. Why not see what the hype is all about? Linked through your Facebook, you plug in your age range and distance you're willing travel for l-o-o-o-o-v-e, select a few profile photos, and swipe your way to happily ever after – or happily ever for now. Simple enough.
Swipe left to "pass"and swipe right if you like what you see. Users that both swipe right on each other then have the option to start an in-app conversation in hopes of meeting in person.
What makes Tinder unique:
By far the biggest of the dating apps currently on the market, scale is on your size here.
Tinder is also the first of the dating apps to let you upload photo "moments" for all of your matches to see. Similar to Snapchat, except your matches are able to swipe left to ignore the photo and can swipe right to notify you that they "like" the photo. Tinder also took notes from users and now you can directly link Instagram to your profile.
Is Tinder a match for you?
The Tindersphere moves fast and the excessive swiping makes it feel more like a game. A very addictive game. We're all on Tinder for the same reason – it's easy, accessible, and puts the largest dating pool at your fingertips. You could find your Tinderella and run off into the sunset, or you might find a whirlwind weekend romance. Either way, you'll end up building an arsenal of entertaining triumphs and hilarious fails.
Pro Tip: You're about to find yourself in an ocean of very diverse singles and since we're all on Tinder for its simplistic design, you'll come across a lot of ladies that would love to have a convo. Welcome to a game of numbers where the amount of matches will be high, so be sure to put your best foot forward with more than just, "hey."
Relationship likelihood: Distractions are plenty, so Tinder may require more effort (or perhaps, self-discipline?) to make it to Facebook status with the girl of your dreams.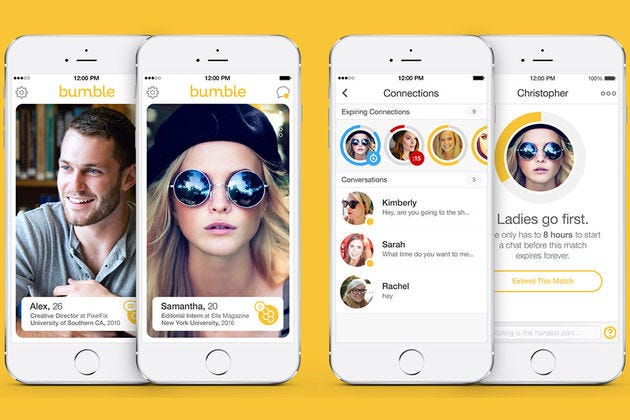 Dating App #2 Bumble:
At first, Bumble seems like an exact replica of Tinder. You link to your Facebook, select your parameters, and try to avoid thumb-cramps from speed swiping. But here's the catch: Bumble puts women in charge under a time constraint that forces us to make the first move. Once two users mutually "like" each other, the woman has 24 hours to initiate a conversation or the match disappears forever (or more likely, until you see each other again on another dating app).
What makes Bumble unique:
Bumble operates under a simple idea: if you want the most direct understanding of the female dating psyche, put her in charge and you'll see her intentions immediately. The female-centric feature is turning the digital dating world on it's head by empowering women and taking some of the pressure off men to be the aggressors. This could be a classic win-win situation.
Is Bumble a match for you?
All the buzz about Bumble is starting to make sense, right? Ten swipes in, we were fascinated. Having to take charge changes your swiping strategy and you begin to understand why men tend to swipe right more often than women. If you're the one initiating, there's no harm done if you match with a few extra people because they'll just sit nicely in a list of matches. So guys, start thanking Bumble now because you're about to sit back, relax, and swipe your way to a no-pressure dating situation.
Pro Tip:
Expect to meet some assertive ladies on Bumble because, as you know, it takes confidence to make the first move. And now that you're certain she's interested because A) you matched and B) she messaged just you, don't worry about playing the proverbial "game;" rather, be equally upfront with your intent.
Relationship likelihood:
While the roles are seemingly reversed and a time limit is imposed, we're still navigating through a sea of swipes that may require a bit more effort to stay focused on your various conversations.
Dating App #3: Hinge
Hinge recently pushed live a new brand identity and user interface bolstering its mission as the dating app "designed to be deleted." Meaning? Hinge sets itself apart from its swipe-happy competitors by actively encouraging its users to enter into meaningful relationships rather than using the app for short flings.
What makes Hinge unique:
Hinge shows you clearly who has already liked you, so you're not left wondering while you swipe.
It also limits your likes. Free members can send 10 likes per day, the idea being that when you're thoughtful about who you like, matches mean more.
Is Hinge a match for you?
On Hinge, you like or comment on someone's photo or prompt to let them know you're interested. When every like is unique in some way, the idea is that it's easier to start a conversation.
Pro Tip: Every month Hinge offers up three prompts for you to answer, so be sure to stay engaged to keep your profile thriving.
Relationship likelihood: Hinge asks about your dates after the fact, using the feedback to help them learn your type. That enables their algorithm to introduce you to the right people for you.
The company says three out of four first dates would like to see each other again, which is a pretty compelling stat for signing up.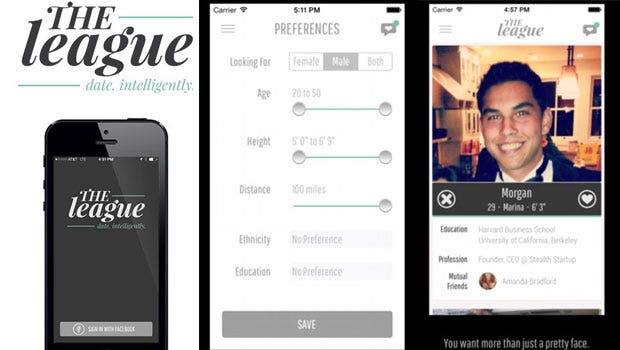 Dating App #4: The League
If you want to join this latest "elite" dating app, you'll have to exercise patience. That's because there's already a waitlist of 100,000 other singles trying to enter the app's advertised higher quality dating pool. Currently, The League is only in San Francisco and NYC, but they're rapidly expanding to cities showing the most interest via the waitlist. There's still a bright side – those accepted into The League get one "VIP ticket" to give to single friend, and the majority of users so far have been referred by friends.
Still in beta, The League strives to keep its community well-balanced and devoid of "voyeurs, games, fakes, and randoms" by using a specific algorithm that scans more than your basic Facebook profile. Instead, The League pulls in your LinkedIn information and Facebook interests to make sure its users are career oriented and ambitious.
What makes The League unique:
Elitist? Check. Exclusive? Check. But, how does The League and its new algorithm achieve this status? LinkedIn. This new dating app determines your dating credentials by scanning your LinkedIn profile in conjunction with the information you provide via Facebook. Your new "Tinder for the elite" profile will only provide you matches within your specific parameters. These parameters range from age, ethnicity, religion, and even highest level of school degree. To up the ante, The League only provides five possible matches a day (and the more specific your parameters are, the fewer matches you're likely to receive).
Is The League a match for you?
Power to the power couples. Further enhancing the exclusivity and accountability, The League actually incentivizes users to be good matches. Your profile will be labelled as "flaky" if you indiscriminately match with users and neglect to have a conversation after – a bold stance against over- swiping. Oh, and did I mention that you only have 21 days to message before your match expires?
If you want more information, selective users, fewer options, and the most accountability out of dating, The League could be right for you.
Pro Tip: Once we all get off the waitlist…we'll have to find out.
Relationship likelihood: If you're very specific in your preferences and don't mind fewer options, this app looks like it'll deliver consistent quality matches. Quite compelling, to say the least.
***
Wanna find love? Follow these tips:
When used sparingly on Tinder, sharing "moments" can be great for rekindling conversations or reminding your matches that you're still sitting pretty in their list of suitors.
Happn allows you to "charm" users more than once; however, it's best to assume they've seen it and limit your "charms" to twice…max.
If your favorite Bumble betty doesn't message you within 24 hours, you can use your one "rematch" per day to give her another 24 hours to message you.
Make sure your information on LinkedIn is up to date to be sure potential matches on The League see your latest CV (if you're into that kind of thing)
We don't need to rehash the classic group photo debate, do we? You guys get it, we want to see you in your profile.
Remember, a little effort goes a long way. Lose the "Hey" and try to utilize info from their bio & photos to spark a conversation.
Be upfront with your intent, exercise authenticity, and everyone will be happy.