How to Wear Sharkskin: A Guy's Suiting Guide
All about this achromatic texture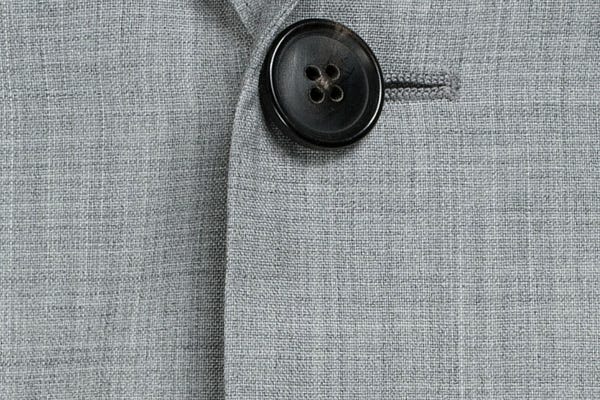 Prime your closet for more color with this series of style guides for bold shades. The team at SG HQ is breaking down how to wear cool hues (like sharkskin grey!) with easy color combinations and outfit ideas.
---
Catch up on bluebird blue, amber orange, lavender, army green, salmon, slate, blood orange, gold, teal, khaki, merlot, red, evergreen, white, cobalt blue, mint green, orange sorbet, yellow and navy.
---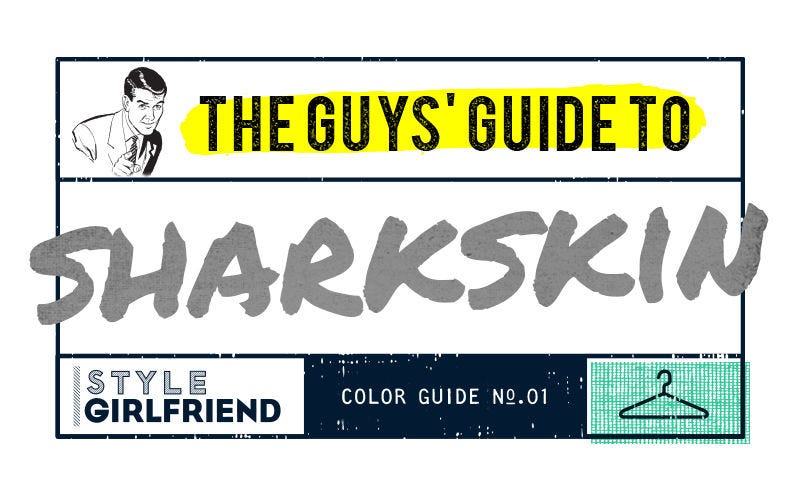 This fabric is all about finding the right shade and sheen.
A bit of background, first. At no point have sharkskin suits been made of actual sharks. First popularized in the '50s and '60s, the two-tone material was a favorite among the Frank Sinatra set. Its slight sheen is said to resemble the skin of a shark…hence, sharkskin.
These days, sharkskin—which is defined by its sheen rather than its shade—mostly appears in sleekly tailored slim suiting that channels playboy Mad Men execs.
And we're really, really into it.
Below, learn how to wear sharkskin grey in your wardrobe

What is sharkskin fabric?
We're breaking with tradition a bit in this guide. Why? Because sharkskin isn't actually a color but a fabric! Yes, we're just full of surprises. Here we go!
Sharkskin is a smooth worsted fabric with a soft texture and a two-toned, textured appearance. The sharkskin you want is made of natural fibers (usually a mix of wool, mohair, and silk). The kind that gave it a bad name for much of the '80s and '90s was made of synthetic fibers, which gave it a shiny look and feel. Not so classy.
Thankfully, fashion has come a long way since then, and the sharkskin you'll find today is much more sophisticated and modern-looking.
So, no need to fear. It's time to jump into the deep end with sharkskin!
Want more nitty gritty? Here's a helpful primer from Burton Menswear in London:
"Sharkskin is all to do with the fabric used for the suit. Most sharkskin suits are usually made from mohair or wool and sometimes created with acetate or rayon. It's a smooth fabric with a two-toned woven appearance, it has a soft texture that is very light and wrinkle free making it perfect for a suit. The two toned fabric is usually achieved by basket weaving 2 colour threads– creating a pattern where the darker threads run diagonal to the lighter thread, this is also known as the pick-and-pick twill weave. The combination of these fabrics and the weave is what usually gives the suit that shimmering look making it the perfect formalwear attire." 
How to wear sharkskin
You don't wear a sharkskin suit any differently your other suits, but it's best to keep in mind that because of their out-of-the-ordinary appearance, they're perhaps best-suited to wear to a special occasion.
You'll find sharkskin in a range of grey hues from light to dark. Follow the same suiting rules you would otherwise—the colder it is outside, the darker your suit ought to be. Keep in mind that this material best lends itself to spring and fall because of its super lightweight fabric.
To get a little technical, grey is achromatic and falls immediately between black and white, putting all of its shades squarely in the camp of non-color. This neutrality is pretty great news, because it means grey goes with almost anything, which makes wearing it fairly foolproof. You've got to be a smidge more cautious with sharkskin, however—it's all about finding the right shine and shade and keeping everything else you're wearing clean and super crisp.
Pair your sharkskin with simple accessories in colors like navy blue and lavender. And keep everything else you're wearing matte, since even the most luxe sharkskin fabric is going to throw off a l'il shine and that should be the star component of your outfit!
What to wear with a sharkskin suit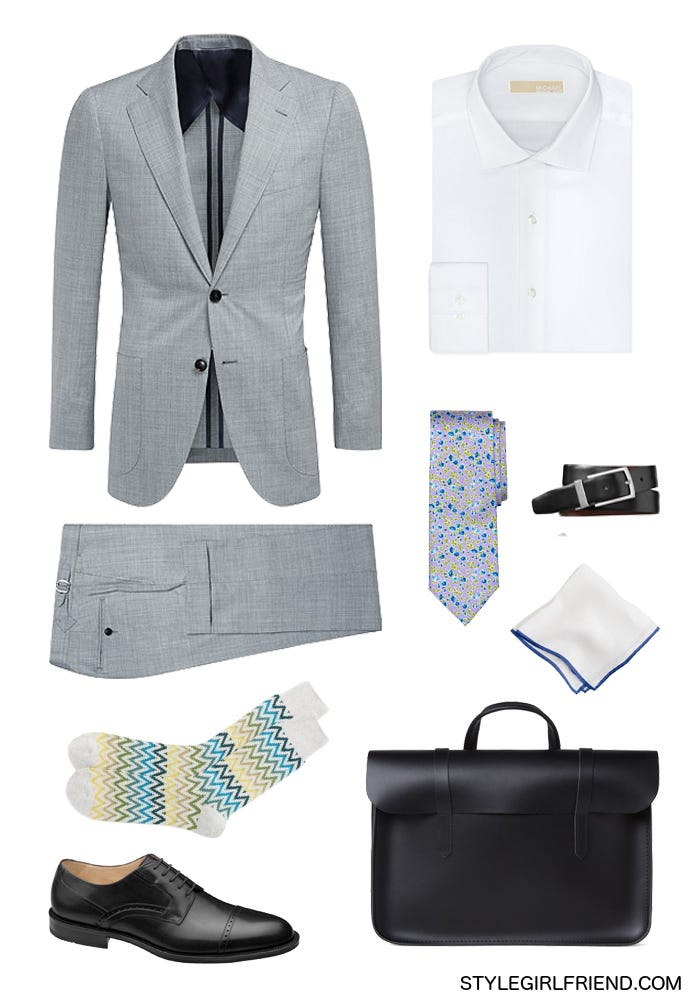 SG Says: We love a sharkskin suit with a classic white shirt and shiny black shoes—let expertly tailored suiting speak for itself!
How to wear sharkskin accessories
SG Says: Want to work just a little sharkskin into your look? Stick to accessories like ties and pocket squares!
***

Ready to add some sharkskin to your closet? SG can help
If you're ready to upgrade your style but dread the thought of shopping for new clothes…consider having Team SG shop for you! We're obviously biased, but clients tell us we're really great!
Let us rescue you from shopping fatigue and sartorial apathy. We can promise the kind of personal attention and care that will make you feel like the best version of the awesome guy you already are! Ready to seriously improve your closet and your confidence? Give us a shout.