5 Days, 5 Ways: Slip-On Sneakers
Slide into fall with this stylish footwear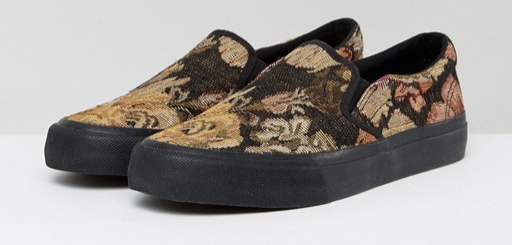 Let's get this out of the way now: slip-on sneakers are a great casual shoe option for guys of any age. There are plenty of stylish options out there at all different price points, so at this point, we expect you to have at least one pair in your closet. 
So you'll excuse us for going with something a little more…bold here. A floral jacquard or houndstooth print add an unexpected dose of style to a plain jeans-and-tee outfit, and the minimal silhouette keeps these opulent patterns in check. Could you wear any of the outfits below with a solid-colored sneak? Sure, but we'd love to also see you take a turn in this unexpected style.
THE SLIP-ON SNEAKERS: ASOS, $35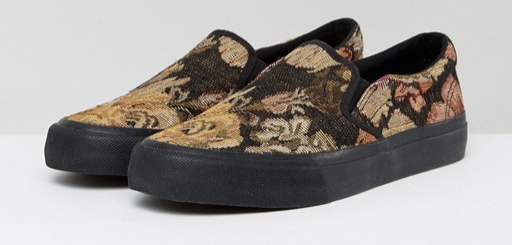 A slip on sneaker saves you time getting ready without sacrificing style.
MONDAY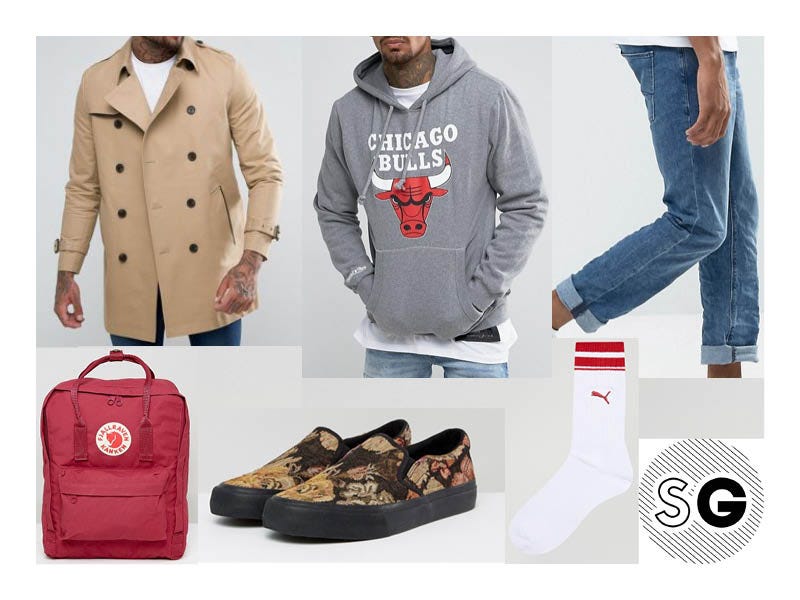 Trench Coat: ASOS, $95 | Slogan Hoodie: Mitchell & Ness, $87 | Jeans: Selected Homme, $46
Socks: Puma, $11.50 | Backpack: Fjallraven, $119
Wear it well: A trench and hoodie is the high-low mix you need for a rainy walk – or skate or bike – to class or the office.
TUESDAY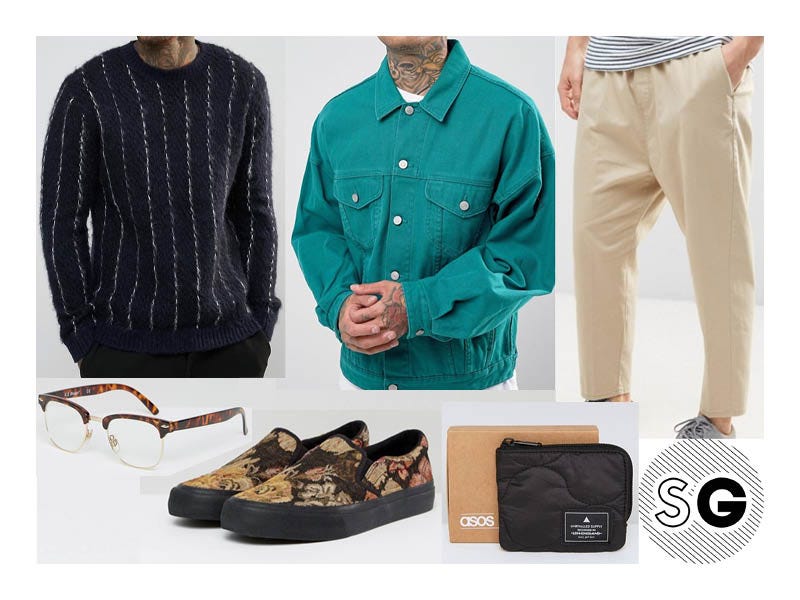 Purple Mohair Sweater: ASOS, $23 | Denim Jacket: ASOS, $64 | Chinos: Bershka, $42
Wallet: ASOS, $16 | Glasses: AJ Morgan, $24
Wear it well: Cozy sweater textures like mohair upgrade your slip-on sneaks for a casual date night.
WEDNESDAY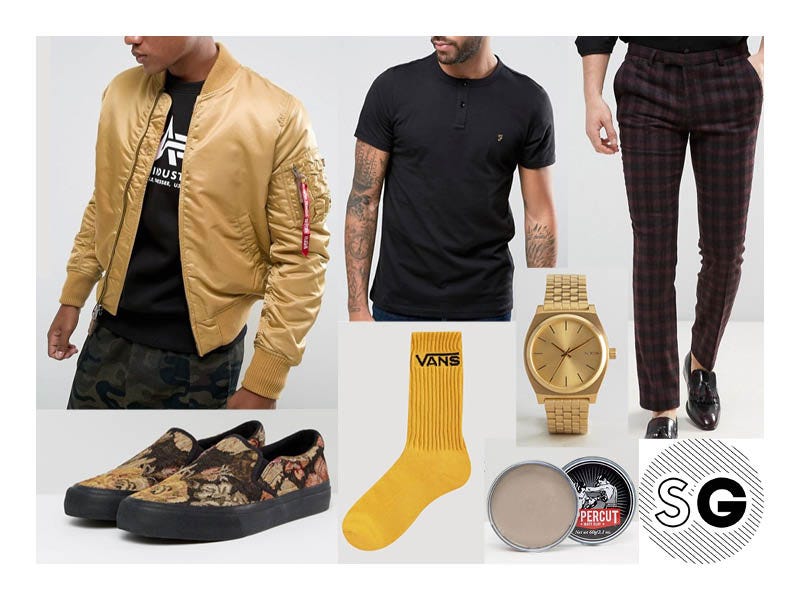 Bomber: Alpha Industries, $231 | Henley: Farah, $25.50 | Trousers: Noose & Monkey, $103
Socks: Vans, $16.50 (for 3) | Watch: Nixon, $135 | Pomade: Uppercut, $27
Wear it well: While they may seem like a summer shoe, your slip-on sneaker can easily transition into a luxe winter shoe with rich gold socks and textured plaid pants.
THURSDAY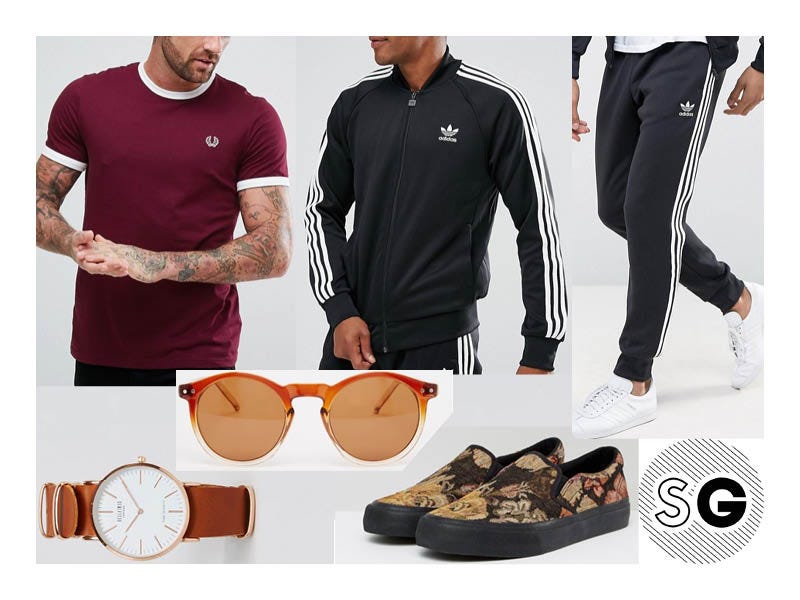 Striped Tee: Fred Perry, $60 | Track suit: Adidas, $135
Sunglasses: ASOS, $16 | Watch: ASOS, $48
Wear it well: Pair your slip-ons with a track suit and some inconspicuous shades for a look that's very "celebrity getting snapped by the paparazzi at Starbucks." Which, admit it, is an unspoken goal for all of us.
FRIDAY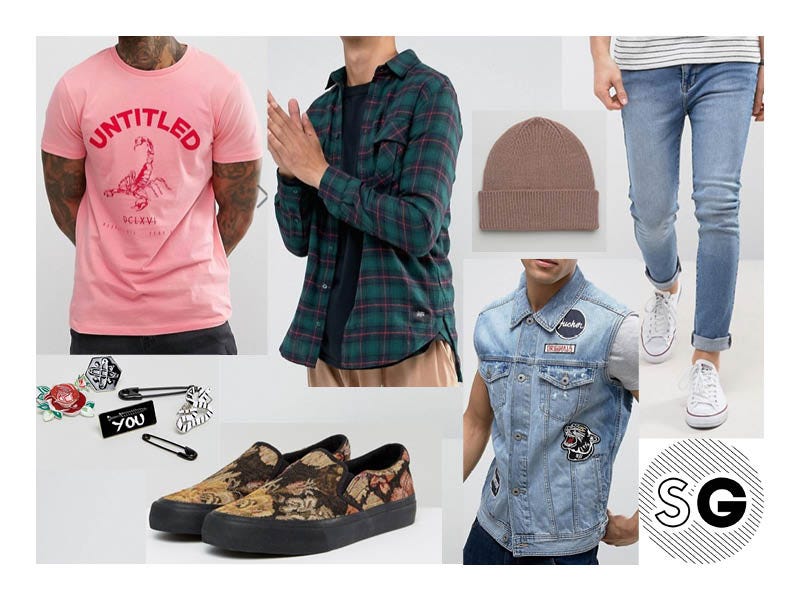 Vest: Jack & Jones, $113 | Flannel Shirt: Sixth June, $64 | Tee: ASOS, $13
Jeans: Dr. Denim, $79 | Beanie: ASOS, $8  | Pins: ASOS, $7.50 (for 5)
Wear it well: Lean into the 90's vibe for your next night at the dive bar. Slimmer silhouettes in stonewash denim, along with the minimal style of slip-ons, keep the whole thing from feeling dated.
TELL ME:
WHAT ARE YOUR GO-TO SHOES IN A TIME CRUNCH?
We're partnering with ASOS for a month-long series sharing everything guys need to know to look and feel great this fall. Thanks for supporting the brands that make Style Girlfriend possible!

Like a phoenix rising from the ashes, Gabi Meyers went from Team SG's first-ever intern to a trusted fashion editor and stylist. She currently lives in Chicago with a very cute dog.