The Guy's Guide to Buying Clothes That Actually Fit Your Body
Every body is unique—why not dress like it?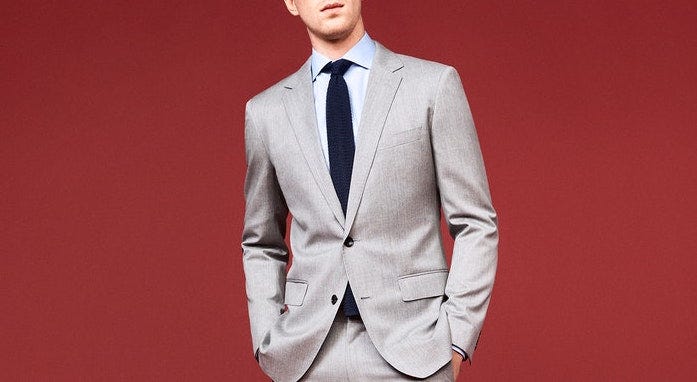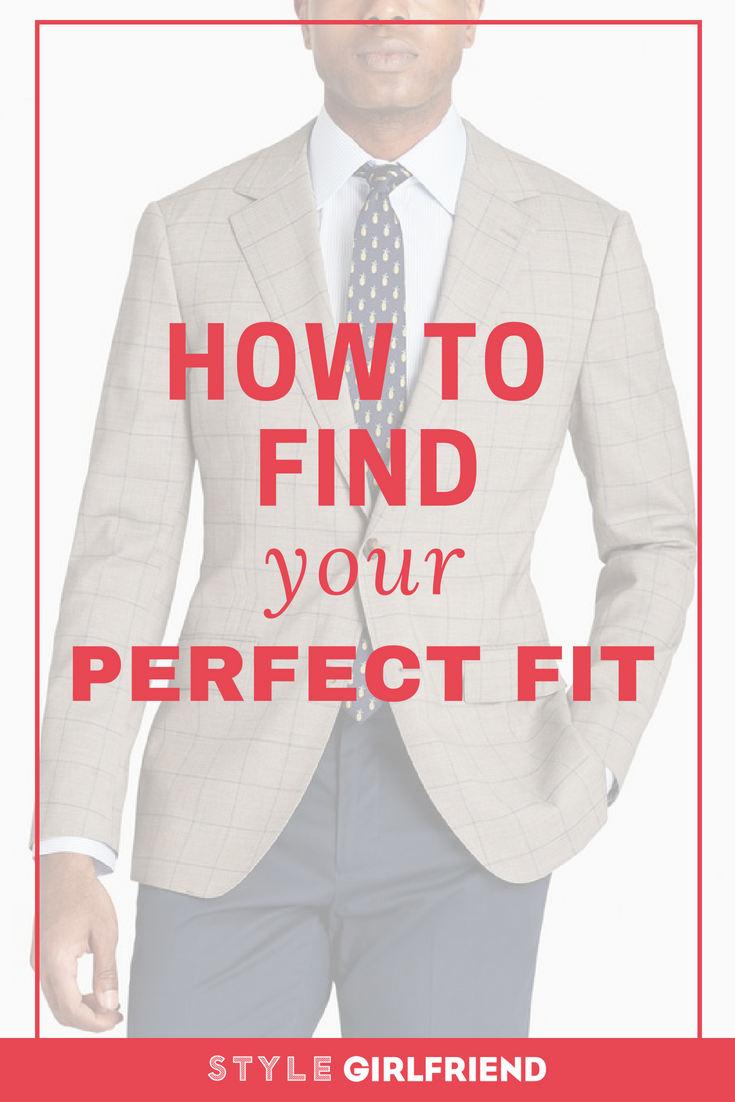 I'll be honest with you guys. When Megan asked me to write this piece, I wasn't entirely sure I could do it. At least not without sounding like a total hornball.
You see, we're here today to talk about fit.
And for guys, finding clothes that fit means finding clothes that flatter. And men in flattering clothes—feeling confident, looking great and having fun—that really revs my engines. Yes, the way a trim henley frames your pecs looks objectively sexy. But more than that, the way you can tell a guy feels about himself, and the way he acts, when he's wearing something that obviously fits and flatters his body…that's sexy.
So now that I've used the words "hornball," "turn on," "pecs" and "sexy" in my opening paragraph, let me dab my brow and put my professional writer's hat back on.
Finding clothes that fit you properly isn't just about winding up women like me.
…Obviously, right?
It's about looking sharp and professional at work. About developing your personal taste. About looking—and more importantly, feeling!— like the sophisticated, savvy, suave dude that you are in any situation and at every kind of occasion.
Since I can't hop in a dressing room with every single one of you and offer my expertise, we've teamed up with the extremely knowledgeable fit experts at Bonobos to offer up a primer on fit. They understand that there's no body like yours (get it?) and have designed their clothes to look good on as many men as possible. They offer more fit combinations than any other brand, and I'm psyched to break down exactly what that means for you.
Let's do this, shall we? It's time to strip down to your skivvies, bust out the measuring tape, and sort out how you can find the best-fitting men's clothes for your awesome bod.

Why measurements matter most
Alliteration aside (lol sorry), taking your measurements is truly the first and most essential step in assessing your figure and successfully shopping for clothes that fit and flatter. And no, you can't take that yellow metal measuring tape out of your tool box and start wrapping it around your neck and chest. Hop on over to Amazon dot com and purchase one of these bad boys, a cloth measuring tape meant specifically for bodies and apparel. If you haven't done this before, just check out these easy tips on how to take your measurements and meet us back here.
…Cool? Cool.
Once you've stored all this critical information somewhere handy (like a Notes app doc), you're ready to start shopping for proper sizes. You'll notice that dressier items from Bonobos (work pants, button-up shirts, suiting) have multiple measurement options so you can really zero in on your perfect size.
SHIRTING
Bonobos' dress shirts like the Daily Grind Wrinkle Free shirt, for example, are first sized by both neck and sleeve measurements, in inches. That's so the collar of the shirt lays properly and comfortably, and the cuff of the sleeve hits just the right spot at your wrist. (A too-short or too-long sleeve is a dead giveaway that you're in the wrong size.)
SUITING AND JACKETS
Bonobos' Jetsetter wool suit jackets are sized by chest measurements in inches followed by an S, R or L, which stand for short, regular and long. Compared to regular blazers, short blazers are 1.75 inches shorter in body length and 1.5 inches shorter in sleeve length. Long blazers are 2.25 inches longer in body length and 2 inches longer in sleeve length. These differentiations help account for height when you're looking for your ideal size.
PANTS
Pants like their Stretch Weekday Warrior dress pants are sized by waist and length, both in inches. Again, this gives a more exacting fit that factors in your height.
A note about measurements
If you find that you're between numbers, always size up. Too-tight clothes are never the move, and your tailor can always make minor adjustments for you.
And not to game show host you… But… But wait, there's more!
Finding the right "fit" isn't only about taking measurements. It's even more exacting than "size." Fit includes elements like tapering at the waist and slimming down the entire cut of a pant leg or the sleeve of a jacket.
Sound like a lot? Don't panic. To help us dive deeper on what exactly that means, I spoke with George McCracken, Bonobos' Senior Fashion Manager.
"You have to look at fit as both a mix of art and science," says McCracken. "Fit can be subjective, based on personal style, but there are clear guidelines of what fits you from a measurement standpoint." So yes, you start with those key measurements we mentioned earlier, but from there, finding your fit becomes a mix of taste and comfort.
"Bonobos has focused on creating better-fit options across all men's categories, so not only can you find something that fits you well physically, but also something that might suit you based on what your personal style is."
Enter: The Fits.
No they're not a band, but think of them as a group guys, each with their own distinct personality and needs. Like One Direction, but with no clear Harry Styles. Because you are all Harry Styles to us.
THE TAILORED FIT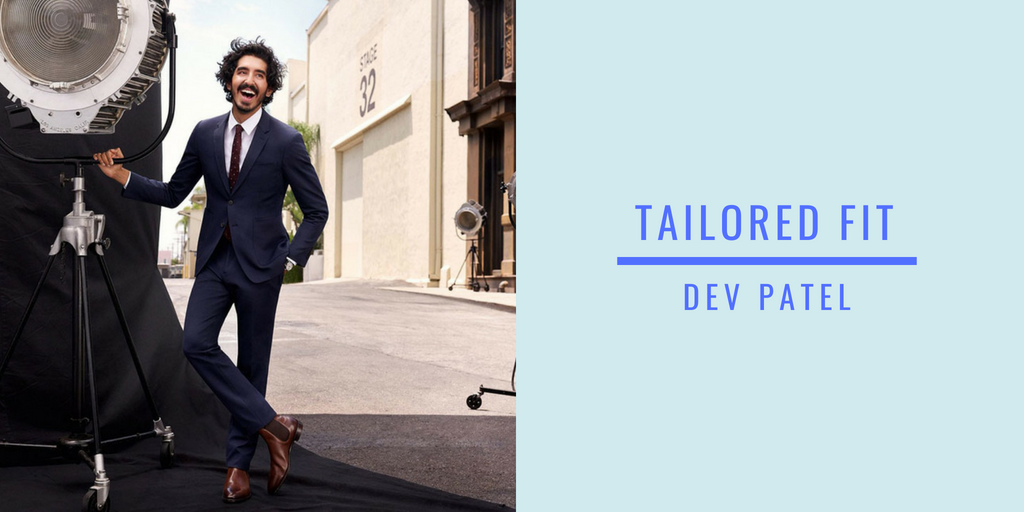 Your celebrity inspiration: Dev Patel
While they're certainly not the only ones, you'll often see this super-trim cut on British celebrities like Dev, Eddie Redmayne, Andrew Garfield and yes, Harry Styles. Maybe it's a hand-me-down generational thing from the Beatles?
"This is our slimmest fit," says McCracken. "You'll still get room in the seat and thigh but from the knee down, the cut is much closer to the leg." For shirting, the fit is narrow through the chest and shoulders and uses back darts to create a pronounced taper at the waist.
Keep in mind though, you don't have to have the body of a willowy thespian to pull off this look.
"Don't let tailored scare you," he adds. "You'd be surprised how many people fit or prefer tailored even if "slimmest fit" doesn't seem like something they'd normally gravitate towards." But we'd keep in mind that if you do have a bigger build, you may find that the slim legs and arms are too constricting for your measurements (and your comfort!).
Wear this if: Your build is long and lean, or you want to emulate the look of these sharp English gents.
THE SLIM FIT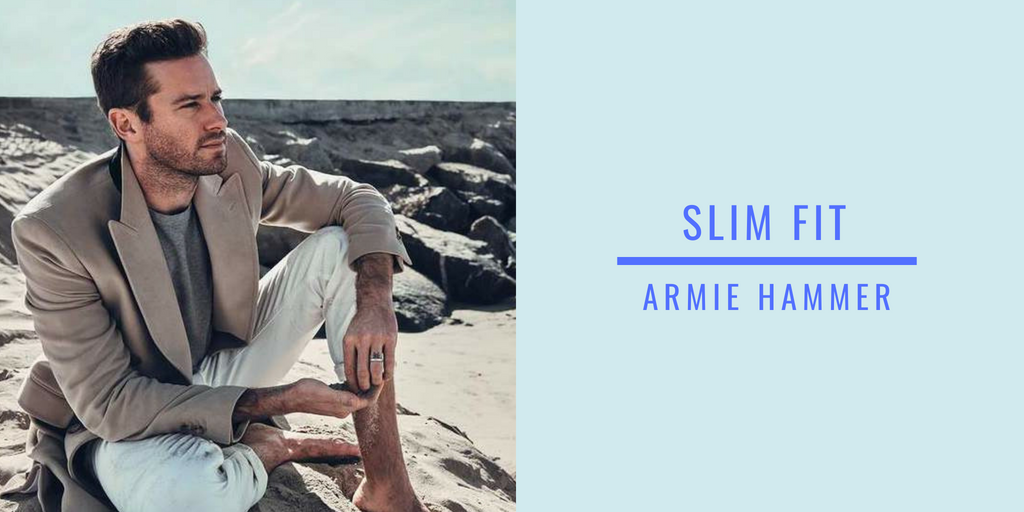 Your celebrity inspiration: Armie Hammer
I don't want to call this "the golden child" of fits, but… It kind of is? And Armie Hammer like the golden child of Hollywood right now, right? Everything he wears just looks so… Yummy. I mean flattering. (I told you guys it would be hard for me to keep my mind out of the gutter!)
Anyway, regarding the fit, McCracken backs me up. "Slim fit is the most common fit for our customers and what we recommend everyone start with when figuring out what works, fit-wise, in our product."
Bonobos' slim fit pants are a slim/straight fit through the seat and thigh, then taper slightly below the knee. (Did you know that when talking about pants, "seat" just means butt? It does.)
For the shirting and jackets, the Slim Fit cut is fitted through the chest and shoulders with a slight taper in the waist, nothing exaggerated. Essentially, the slim cut is the most modern and will probably work for you unless you have a more muscular or stocky build.
Wear this if: You're the goldilocks of fit; looking for something that's not too trim, not too roomy, and looks just right.
THE ATHLETIC FIT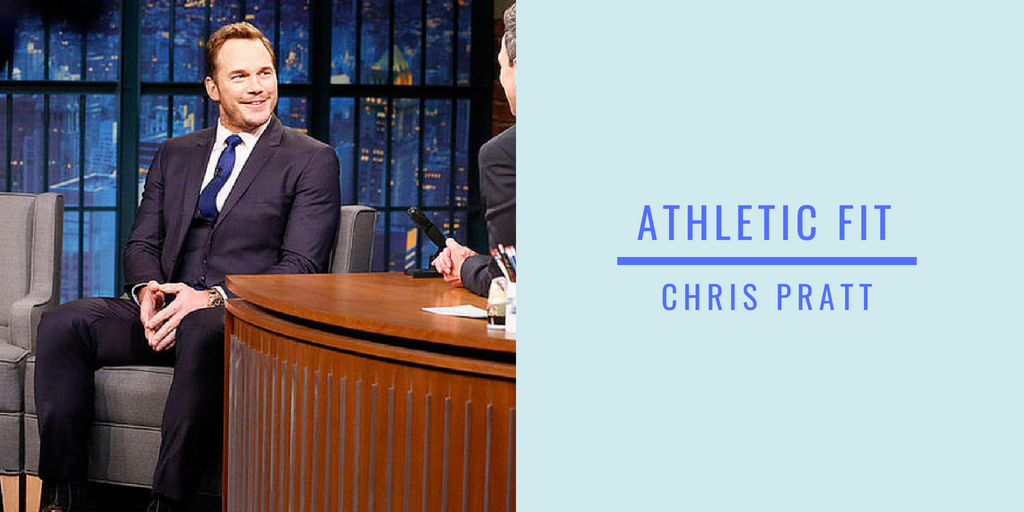 Your celebrity inspiration: Chris Pratt
I honestly could not think up a better actor to illustrate the athletic cut than Chris Pratt. Now that he's a summer blockbuster guy, he's put on a lot of muscle in his shoulders, arms, chest and thighs—you know, for fighting dinosaurs. But if you're say, really into Crossfit, or a former baseball player (shout out to my college boyfriend!), you may find that you, too, will look your best in an athletic cut.
"This fit is great if you have a big chest and shoulders, or a bigger butt and muscular thighs. Or all three!" says McCracken. "You'll still get that slimmer taper from the knee down so the look is modern without sacrificing space in the seat and thigh."
And not for nothing—but this cut would also work for "old" Chris Pratt. You know, the guy who played that lovable doof Andy Dwyer on Parks & Rec? His physique was a bit softer and rounder back then, if you'll recall, so just remember that you don't have to be built like a superhero to look great in a slimmer cut.
Wear this if: You're a bit bulkier or more muscular but still want a more tailored look and fit in your suits, shirts and pants.
THE STRAIGHT AND STANDARD FITS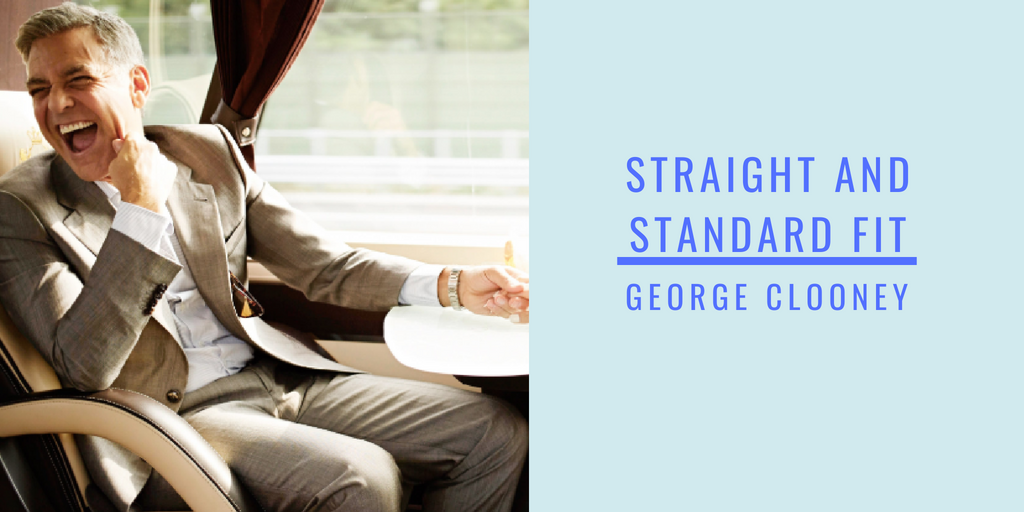 Your celebrity inspiration: George Clooney
Like the straight or standard fit, Clooney is a true classic. It's also a great option for guys with a bigger bod.
"Standard fit jackets have less suppression in the waist and are good if you have a stockier build," adds McCracken. The standard shirt also has a more accommodating fit throughout the body while still maintaining a sleek silhouette.
The standard fit pants are straight all the way down from the thigh to the leg opening, so the profile is not as fitted as Bonobos' other fits; perfect if you want that classic Clooney look.
Wear this if: You've got a stockier build or prefer a more traditional look.
MIX, MATCH, PERFECT
The brilliant part of Bonobos' comprehensive measurement and fit options is that you can mix and match fits to find the perfect combination to work for your upper and lower halves. "It's really common for guys to be different fits on their upper and lower halves, which is why our suit jackets and pants are sold separately," says McCracken.
"If you have a muscular upper body, you can buy an athletic fit jacket, but still wear slim fit trousers." He recommends trying on a couple of fits and combinations to find which ones you prefer.
I second that, and would encourage you to hit up one of their guide shops to get a sense (in person) of how all these fit, size and measurement factors come together.
"Depending on your body type, a looser silhouette might look better," he adds.
"For instance, if you have a bigger upper body or stocky frame, pants that are too slim might make you look like a lollipop. Our athletic fit and easy crop pants are loose in the thigh, but taper to a slim opening which are better proportion for guys with a bigger upper body."
Whether you fancy yourself a Pratt or a Patel… Or a Mahershala Ali or a John Cho … Or some extremely hunky, irresistible hybrid of them all, the takeaway here remains be the same. Looking amazing in your clothes is not a gift bestowed only on those who look a certain way. We all want to feel like a million bucks when we're buttoned up, zipped in and giving ourselves that once-over in the mirror before we head out the door each day.
Specific size, measurement and fit options—especially those offered by Bonobos—make that a reality, while also eliminating some of the most nightmarish elements of shopping, like spending major time and money at tailor and standing in line at the post office to return a failed purchase. Woof.
Oh, and if you happen to illicit extremely "honk if you're horny" feelings in a woman like me in the process, well, that's pretty great too right?
// SHOP THE STORY //

Presented in partnership with Bonobos. Thanks for supporting the brands that make Style Girlfriend possible!
Taylor Davies splits her time between NYC and Sun Valley. She loves writing about menswear, overpriced martinis in dimly lit hotel bars, and cross-country skiing. Not necessarily in that order.