How to Get Tom Holland's Movie Star Style
Your friendly neighborhood style icon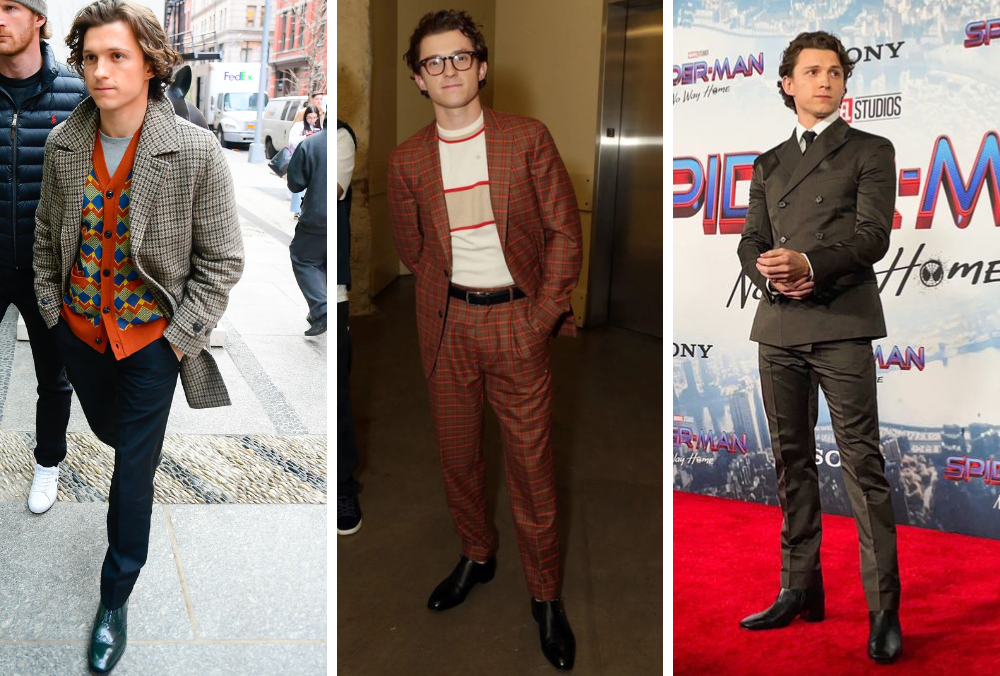 I will admit, Tom Holland is not my Spider-Man (Andrew Garfield will forever hold that distinction). He is, however, the best-dressed Spider-Man.
Sorry, but this is not up for debate.
If you're a fan of the 26 year-old British actor's personal style (regardless of where he sits in your Spidey ranking), read on.
Below, 4 tips on how to dress like Tom Holland:
1. Keep outfits interesting with rich colors, textures, and patterns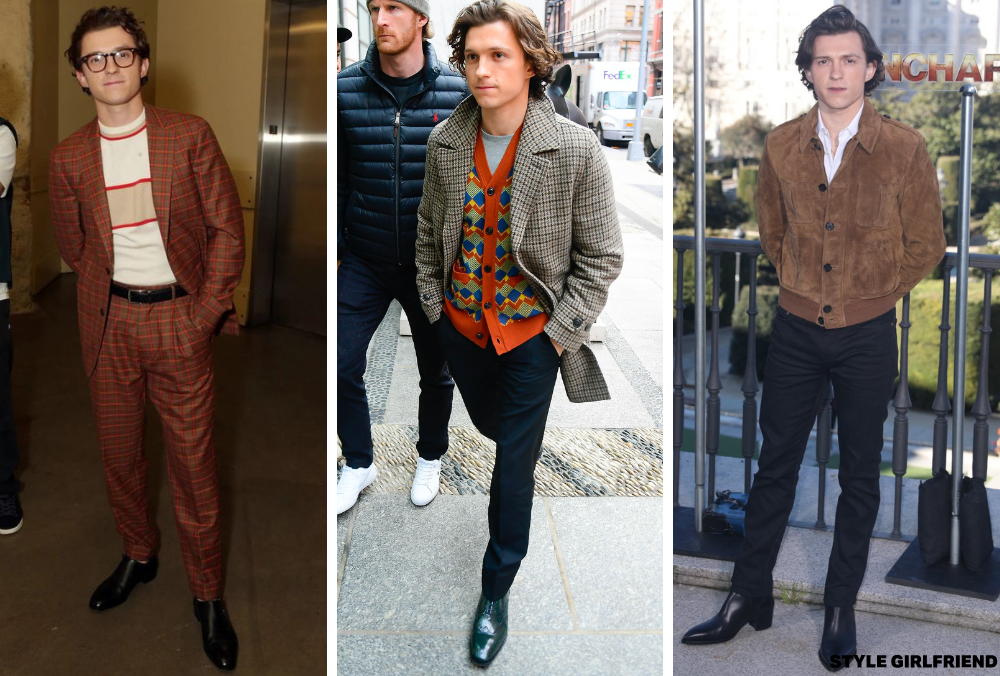 Holland may be as well known for his off-screen style as he is for his off-screen romance with his on-screen love interest.
That's because when he hits a red carpet premiere or does press for his latest project, the Uncharted actor makes sure that his head-to-toe outfit is on point.
What makes Holland's outfits so memorable is that he isn't afraid to add visual interest to a look.
For example, the patterned coat over a patterned cardigan in the middle photo above works because both are in the same color family of browns. He looks like a sexy cornucopia, and I'm here for it.
Want to follow Holland's lead but keep things simple? Opt for one stand-out piece in a rich texture, like the brown suede jacket in the photo above on the right.
The rest of the outfit is super-simple to recreate—black pants, black dress shoes, white button-down. It's the coat that elevates the whole look to something more eye-catching.
Shop Tom Holland style textures and colors:
2. Don't phone it in with your casual style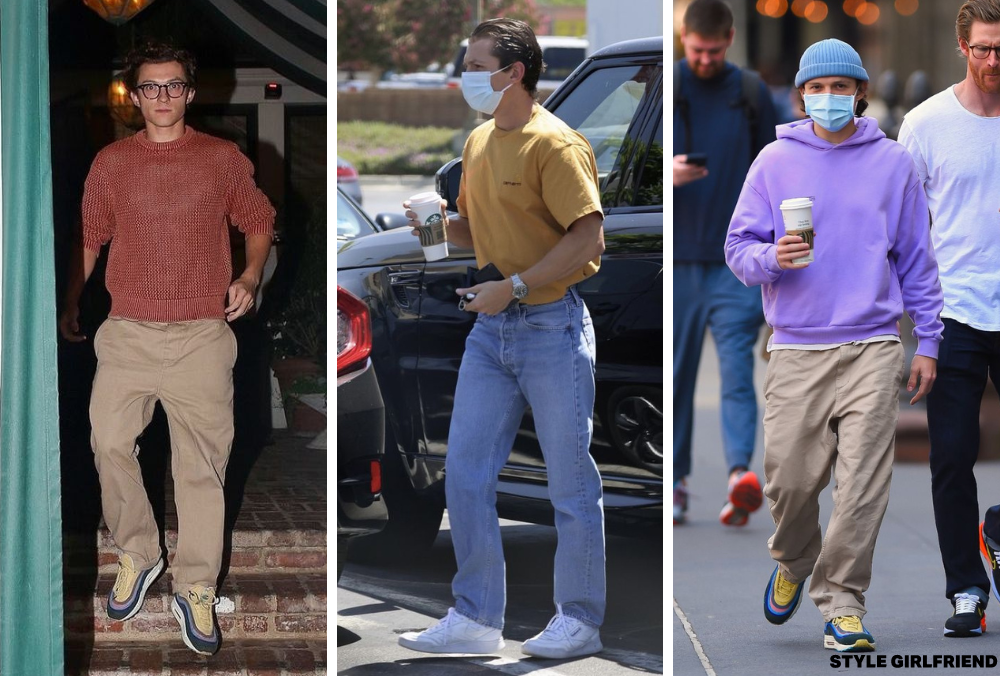 Even when Holland is off the clock, his outfits feel special and interesting.
How to get the look for yourself? Zero in on your favorite items in your closet. Then, figure out how to wear them in new and interesting ways.
I love how Holland re-wears items, like the roomy chinos and Nike sneakers above, with totally different results. The sweater look on the left would be great for date night, while the more casual hoodie outfit is perfect for daytime errands. Like, say, a coffee run!
Shop casual style staples:
3. A good tailor is as good as a superpower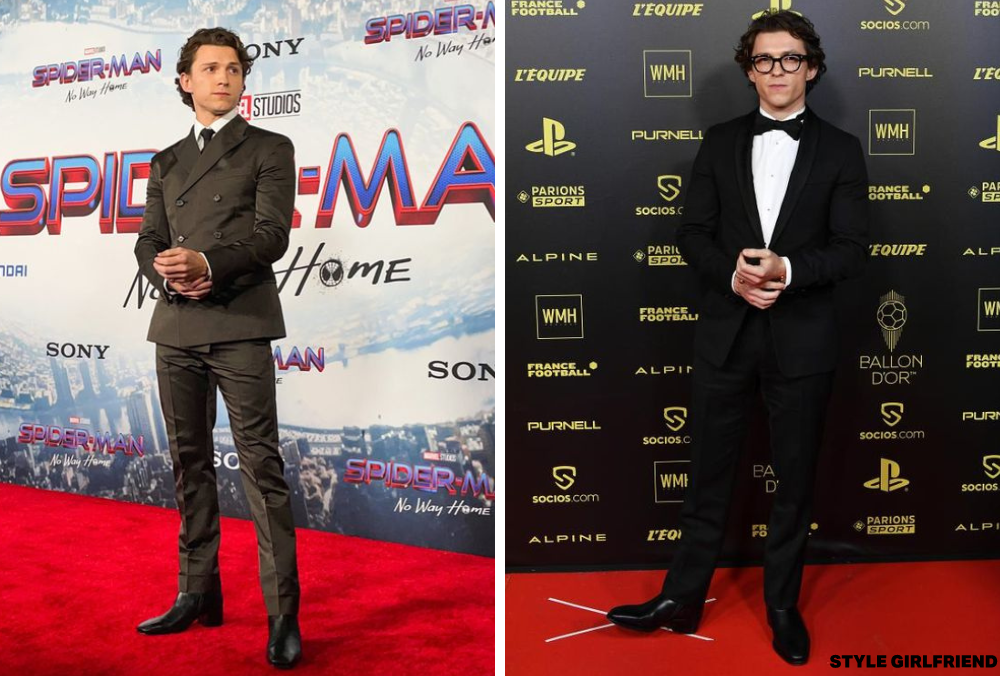 If you love the Spider-Man: No Way Home's style as much as Team SG, you'll know he showed up and showed out on this most recent globe-trotting press tour.
Because the actor isn't a tall guy (Google says he's 5'8″), proper tailoring is key to getting a 'fit off.
As you can see from the photos above, his pants don't pool around his ankles. The jackets fit perfectly in the shoulders, and his sleeves always show off the perfect amount of dress shirt underneath.
Truly, though, this tip isn't reserved for guys of below average height (which for the record is 5'9″). Getting clothes tailored to your proportions is good advice for every guy!
And don't limit yourself only to formalwear.
So many items hanging in your closet and stuffed into your drawers would benefit from a little tweaking, from casual shirts that billow away from your torso to jeans that are a little (or a lot) too long.
Shop dressed-up Tom Holland style:
4. Don't be afraid to ask for help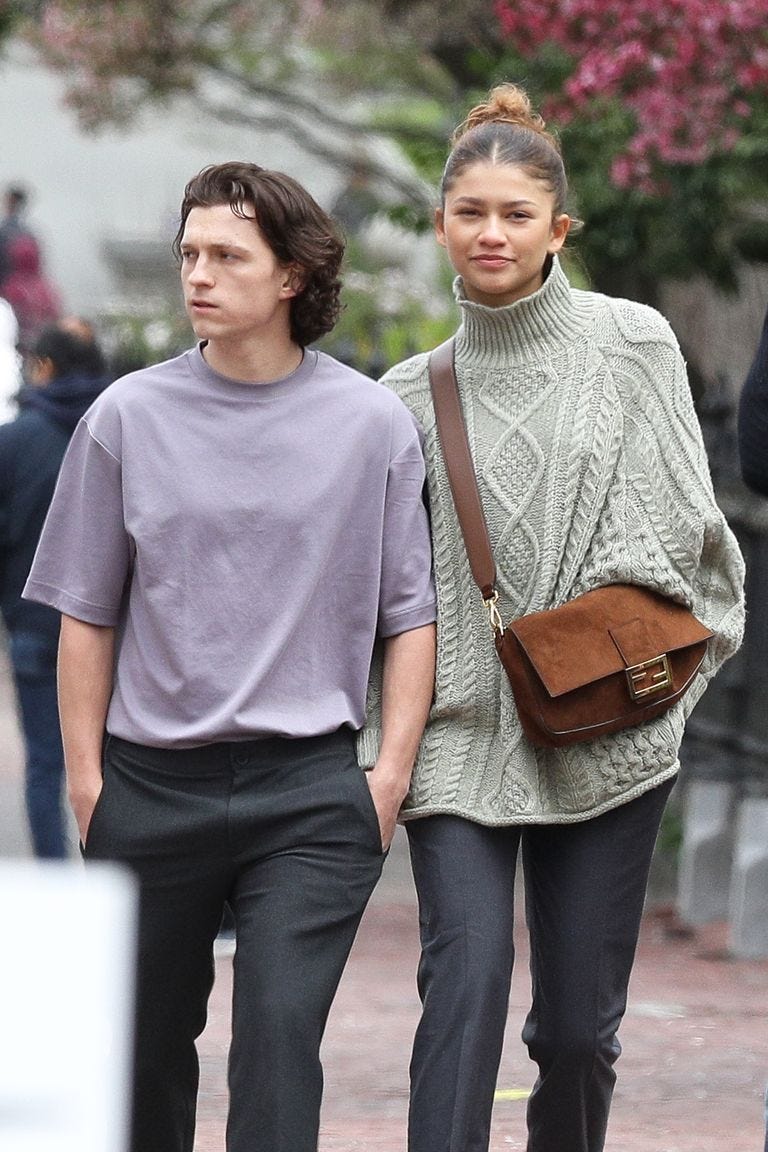 Holland recently brought his (ahem, alleged) girlfriend's stylist onto his own fashion team.
Law Roach is known for helping Zendaya summit Hollywood's best dressed lists; now he's helping Holland, too.
The good news? You don't have to be a member of the Avengers (or have a super-famous girlfriend) to work with a stylist of your own.
Book a video styling session with a member of Team SG and you, too, can achieve a sequel-worthy glow-up of your own.
all images: Pinterest