Why it's Important to Wash AND Moisturize Your Face
The down and dirty on keeping your face soft and clean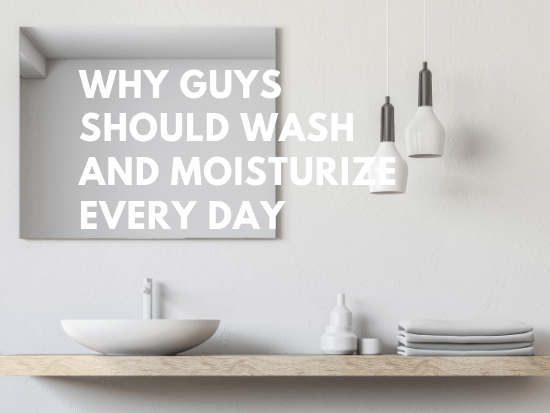 I'm not sure what it is, but somewhere along the line, guys got the idea that "face stuff" is a woman's domain.
From cleanser to cream, guys seem to have decided to step away from the table entirely, tapping out from a maintenance routine that they fear could take over their morning. It's funny, because you're all up to speed on your shaving game. But the face beyond the beard? That gets less love.
But I'll bet you do care about the longterm wellbeing of your skin! So taking care of your skin now will help to prevent wrinkles, age spots and premature aging. That means learning to wash and moisturize your face every day, with products that work for your skin type and texture.
Below, how to wash and moisturize your face effectively:
….and the best products to use for both skincare steps!
Washing Your Face
Why you should wash your face daily:
You might not thoroughly wash and moisturize your face on a regular basis and somehow still enjoy perfect, pimple-free skin, but that won't last forever.
Washing your face with a soap cleanser gets rid of the dirt and germs that get stuck on your mug and keeps your pores from getting clogged. The double whammy of everyday grime, and pillowcases that may not have been washed in awhile means it's important to wash your face twice a day- once in the morning and once before bed.
A good face scrubbing helps you avoid acne, keeps ingrown hairs at bay, and uncovers new layers of skin (for that "glow" that ladies are always trying to replicate with makeup).
What to use:
Ideally, you're using a facial soap to wash your face. Yes, normal bar soap is better than no soap at all, but finding a soap that works specifically for your skin type will make a huge difference in the feel of your skin.
The best face wash for guys with dry skin:
Your skin is typically dry no matter what season it is and sometimes gets flaky. Use a gentle facial cleanser that hydrates and cleanses without drying out your skin.
Neutrogena Ultra Gentle Hydrating Cleanser
The best face wash for guys with sensitive skin:
Your skin breaks out more than most and could be dry or oily depending on the day. Take care of your skin by using an extra gentle face wash made especially for sensitive skin.
Nivea for Men Sensitive Extra Gentle Face Wash
The best face wash for guys with oily skin:
Your skin looks wet sometimes, which may be why you don't use a moisturizer, because you feel like it adds to the oil already being produced on your face. Create a balance with a daily cleanser that cleans your skin without doesn't dry your skin out, which is what causes your face to produce extra oil..seems counterintuitive, but is true. (**Cetaphil's also our pick for normal skin. It's a really great, inexpensive option.)
Cetaphil Daily Facial Cleanser
Moisturizing your face
Why it's important to moisturize your face:
Moisturizing your face isn't just for those of you with dry skin issues. Yes, it is the best fix for those flaky patches, but it has plenty of benefits besides keeping your skin hydrated. Moisturizing aids with skin cell growth, balances your oil levels, and can even protect from external elements like the sun or cold weather.
Kill two birds with one stone by wearing a moisturizer with SPF in it. Protection against the sun helps prevent cancer, obviously, but also cuts back on premature aging, which is definitely a plus.
What to use:
It depends on the season. In summer, you may want something lighter, as you don't want to sweat a heavy cream off. In the winters, if you're anything like me, you want to take baths in Vaseline, just to keep your skin from peeling off in the harsh winter wind.
The best face moisturizer for guys with dry skin:
A heavier moisturizing cream is a good product to keep you skin balanced and smooth.
The best moisturizer for guys with sensitive skin:
Be sure that your moisturizer has SPF in it to protect your sensitive skin from those harmful UV rays.
Jack Black Double Duty Face Moisturizer
The best moisturizer for guys with oily skin:
A gentle moisturizer will actually help keep your skin's oil under control.