Purple Power: Three Ways to Wear Purple
When I think of purple, a certain friendly dinosaur comes to mind.
Not exactly a ringing endorsement for adding it to your wardrobe, I suppose, but here's the thing: purple is also a really flattering color for non-dinosaurs to sport. And wearing the unexpected hue sets you apart from the rest of the well-dressed, more neutral-colored, pack.
Below, three outfits for guys to wear purple:
On Campus

The easiest color to match purple to? Other shades of purple.
Get the Look
Purple Checkered Shirt: J.Crew, $148
Purple Sweater: Cutter & Buck, $78
Jeans: Gant, $225
Sneakers: Skechers, $45
Belt: Levi's, $45
Wallet: Boconi, $48
For the Weekend

You guys are comfortable with colored pants by now, right? At least on the weekends. A grey jacket and suede chukkas offset the bold bottoms for a look that's easy-breezy.
How to wear it: If you're feeling intimidated by purple, start out by pairing it with neutrals like grey, brown, or white.
Get the Look
Puple Chinos: Joe Fresh, $29
Shirt: J.Crew, $70
Jacket: Kane & Unke, $109
Chukka Boots: Fossil, $45
Woven Belt: Calvin Klein, $110
Watch: Nixon, $125
At the Office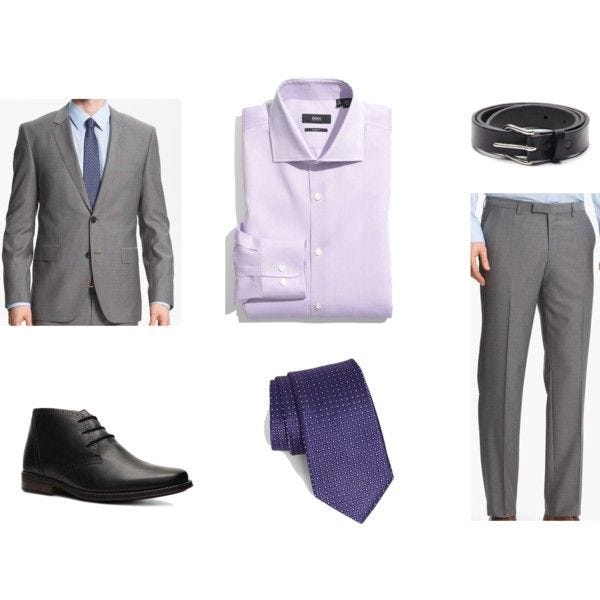 Returning to the purple on purple, this time for a sharp office look. A deep purple tie looks just right set against a violet dress shirt.
Get the Look
Outfit #3
Suit: Hugo Boss: $895
Dress shirt: Hugo Boss: $95
Tie: Nordstrom: $50
Shoes: Sandro Moscoloni Grant: $100
Belt: Carson Street Clothier: $85
Tell me:
How do you wear purple (if at all)?
Like this post? Don't miss another one! Subscribe via my RSS feed.