Easy Black Suit Halloween Costumes for Guys
Easy, stylish, done.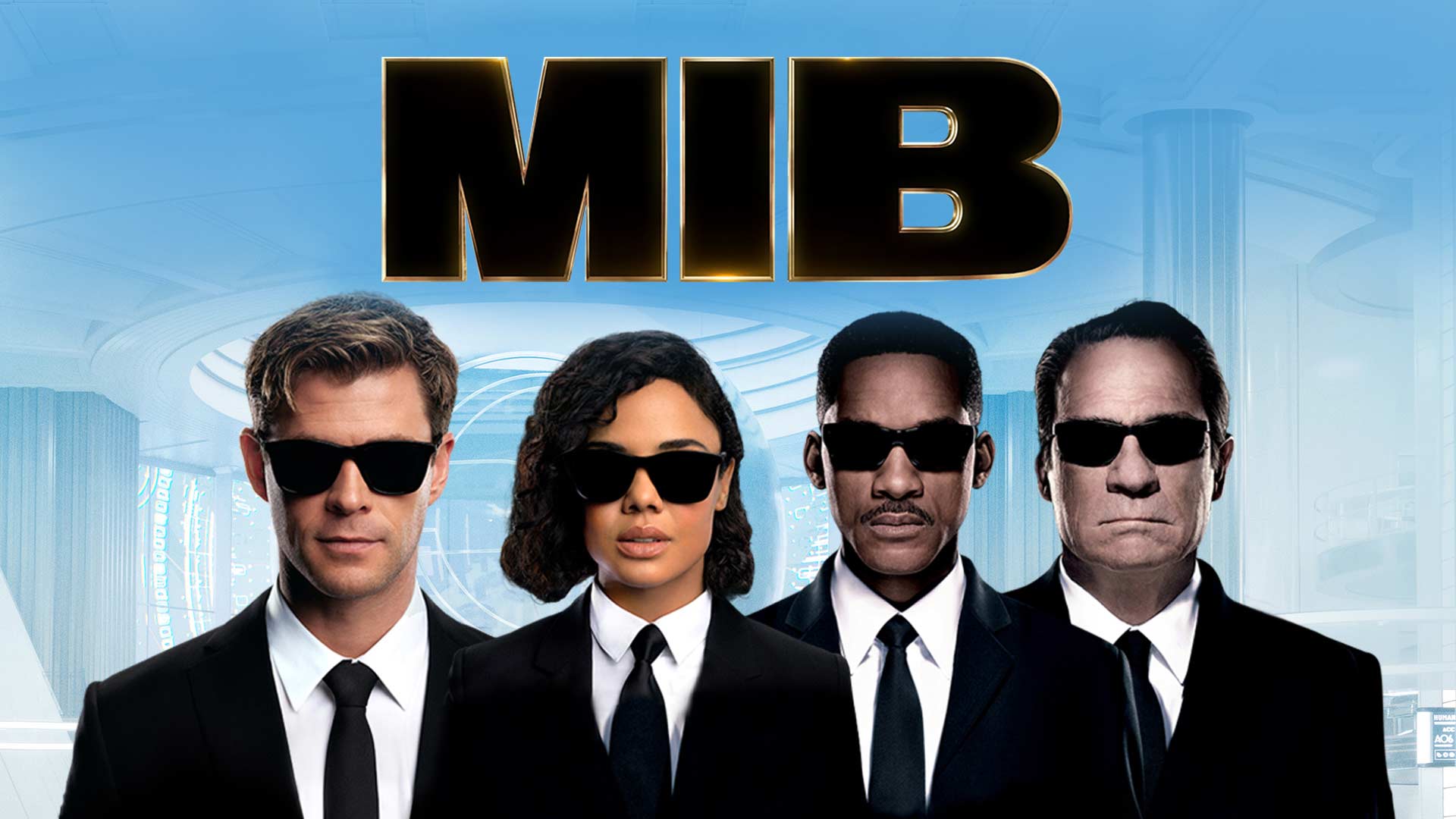 Real talk here: Halloween is my favorite holiday. I would honestly give up all other holidays for Halloween every month, and I would never get bored of it.
While I'm big (BIG!) into costumes, I hate the idea of buying something to only wear once, and even buying something specifically for a Halloween costume kind of irks me. If I were to ever start a Change.org petition, it would be for no more polyester shirt-sewn to pants with accompanying shoe cover in a plastic bag for $75 costumes to be created or sold, ever.
There are so many amazing Halloween costumes to be had within your own closet—plus a few doodads you actually probably already have—that there's not reason to buy the male version of a "Sexy Bee" costume, ever.
The black suit, or even better, a tuxedo(!), is something that you'll wear for than one occasion, so if you don't already have one, buying one now isn't a bad idea.
Below, 5 black suit Halloween costumes for guys:
Here's what you need: one (1) black suit or tuxedo
James Bond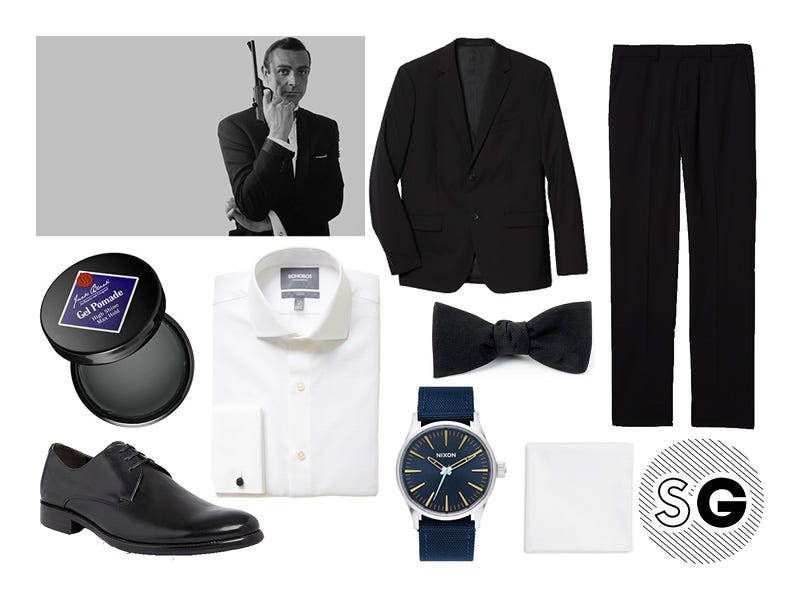 Shirt: Bonobos, $148 | Bowtie: The Tie Bar, $19 | Pocket Square: Ted Baker, $25
Watch: Nixon, $150 | Shoes: John Varvatos, $298 | Pomade: Jack Black, $22
Get into character: Refuse to drink anything that's not a martini, shaken, not stirred.
Buddy up: Bond Girl, M, Goldfinger, Dr. No or another villain of your friend's choice
Men in Black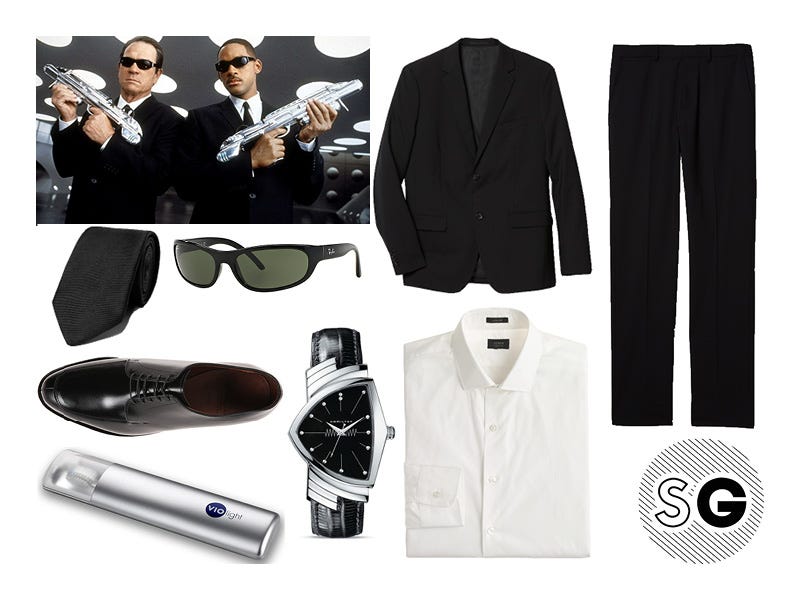 Sunglasses: Ray-ban, $105 | Travel Toothbrush Case: Violife, $23 | Shoes: Allen Edmonds, $385
Get into character: Pretend the travel toothbrush case is the Neuralyzer and don't you dare take your sunglasses off.
Buddy up: The Agent K to your J, Aliens, Pug
Blues Brothers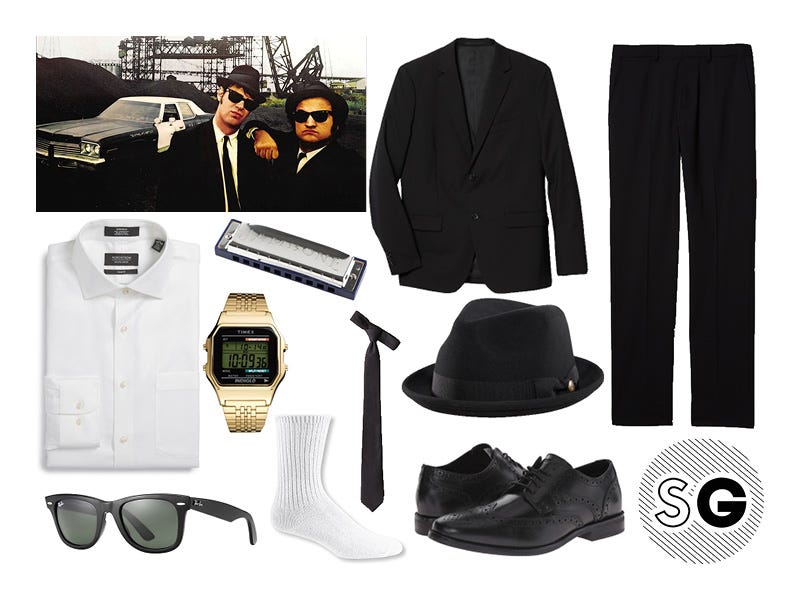 Fedora: Goorin Brothers, $54 | Sunglasses: Ray-ban, $155 | Harmonica: Jambone, $6
Get into character: Use a Sharpie to tattoo your fingers with the appropriate name and cross.
Buddy up: The Elwood to your Jake (or vice versa) is all you really need
The Godfather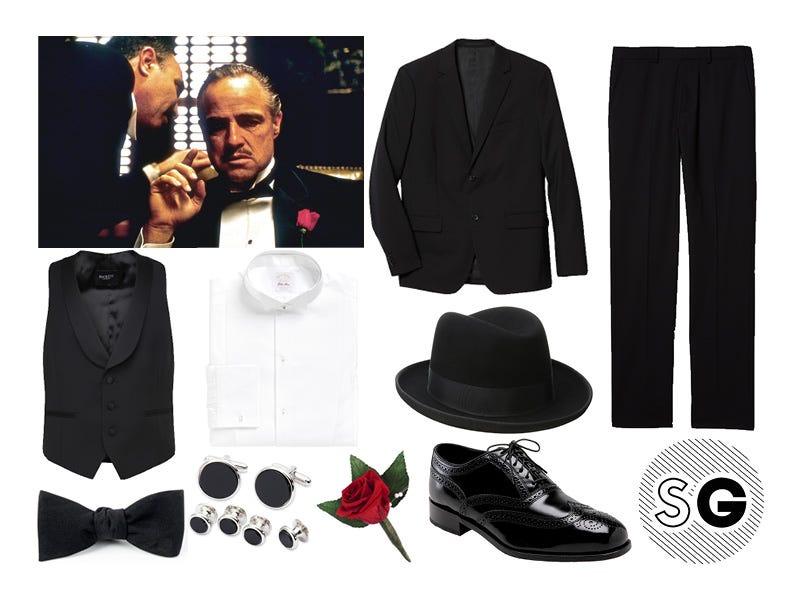 Tuxedo Shirt: Brooks Brothers, $225
Shirt Studs: JCPenney, $48 | Bow tie: The Tie Bar, $19
Boutonniere: Amazon, $23 | Hat: Stetson, $19
Get into character: Comb your hair back, slick it down, scribble on a mustache and raise your voice no higher than a raspy whisper.
Buddy up: Kay in head-to-toe orange, Michael Coreleone, Sonny Coreleone
Pulp Fiction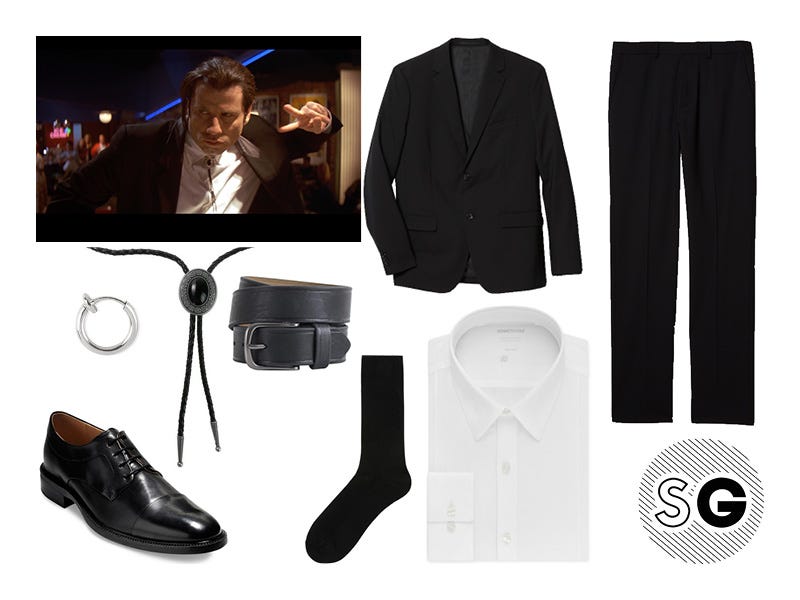 White Shirt: Kenneth Cole, $42 | Bolo Tie: Landison, $32 | Black Belt: Dockers, $28
Black Socks: Uniqlo, $5 | Clip-on Hoop Earring: Icing, $3 | Shoes: Cole Haan, $198
Get into character: Get a long, silky black wig, tie it back in a low pony, add on some side burns and do the twist.
Buddy up: Jules, Mia Wallace, Marcellus Wallace, Captain Koons
***
Disclaimer: Don't worry if the black suit isn't quite 'the' black suit for that character. Only a really irrational fan would get on your case about adding an extra button to the Men In Black costume, and most people won't know if you're wearing the wrong kind of collar for your bolo tie.
Halloween is all in good fun – if you get into character mentally, the particulars aren't important.
Want more halloween style? Get more SG-Approved last-minute costume ideas here, here and here.

Like a phoenix rising from the ashes, Gabi Meyers went from Team SG's first-ever intern to a trusted fashion editor and stylist. She currently lives in Chicago with a very cute dog.