Music Festival Style for Guys: The Best Outfits To Wear
Your weekend wardrobe line-up
The good news? Music festival style is way more complicated for women than it is for you fellas. Trends come and go as fast as opening acts and heaven forbid that you make the trek to Indio wearing a flower crown and fringe boots when you're supposed to be sporting unicorn makeup and a choker. It's like, why even bother going?
For guys, music festival style stays pretty consistent from one to the next, so bookmark this packing list for whatever's on your social calendar this summer. But that doesn't mean men miss out on festival fashion fun. In fact, it's you guys who often steal the show with outfits that are as practical as they are impressive.
And when you're schlepping to the desert (literally) to cover a lot of ground (also literally) walking from stage to stage, practicality is key.
Once you've filled your pack with survival basics like a slick water bottle and portable phone charger, reach for lightweight layers that will take you from sunbaked days to cooler nights without skipping a – Kendrick Lamar approved – beat.
Ready for a line-up of festival style that's relevant to your interests and your packing sensibilities? Scroll through SG HQ's Coachella guide (and excuse me while I replant all the daisies I hand-picked for your flower crowns at Central Park).
Below, music festival style for guys: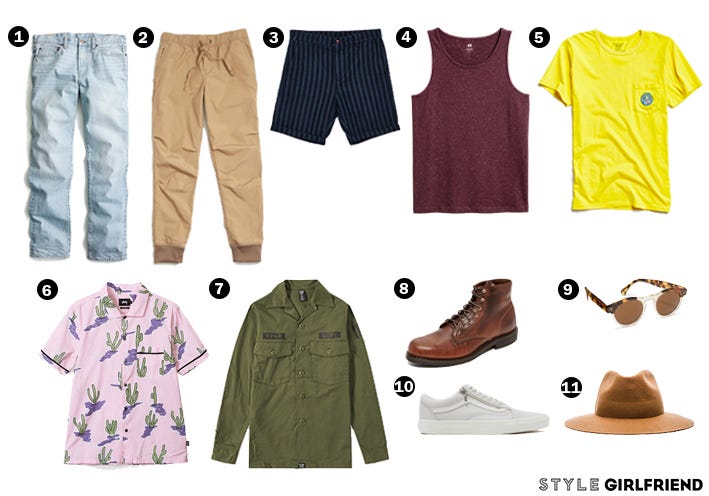 1. light jeans | 2. jogger pants | 3. 7″ shorts | 4. tank top | 5. bright t-shirt | 6. patterned polo | 7. light jacket | 8. lace-up boot | 9. sneaker | 10. sunglasses | 11. casual hat

Music Festival Outfit # 1 Travel Day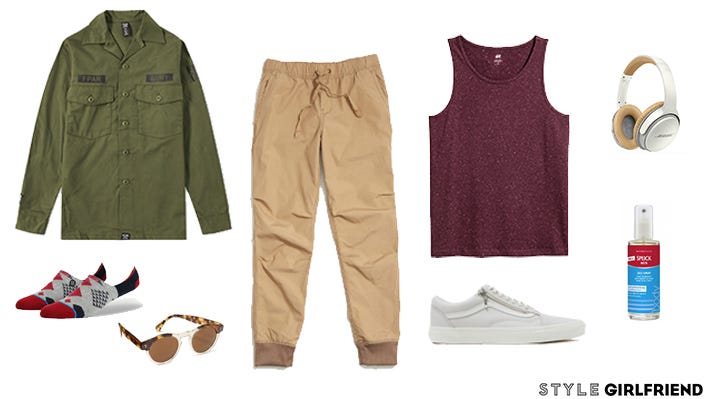 SG Says: You might not want to wear them to work, but jogger pants are officially an off-duty staple. Wear yours with sneakers and no-show socks to get your ankles some collar before you hit the festival fields.
Music Festival Outfit # 2 Day 1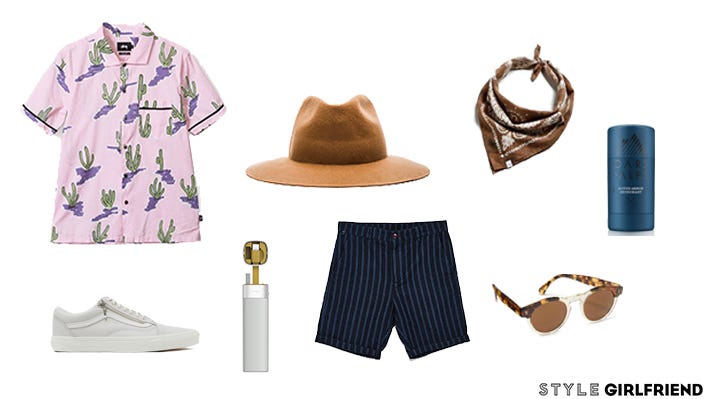 SG Says: A patterned polo shirt is a great addition to your spring wardrobe…well beyond a weekend spent at a music festival. You can wear it with way more than you think…just check out this style primer from Team SG's Gabi!
Music Festival Outfit # 3 Day 2
SG Says: Yes, light wash jeans are cool now. Yes, you can pull them off.
Music Festival Outfit # 4 Day 3
SG Says: We like a sturdy boot in case the weather gets wet and you're up to your ankles in mud. However, you can just as easily pull this outfit off with a slip-on sneaker or lightweight lace-up.
Music Festival Outfit # 5 Travel Day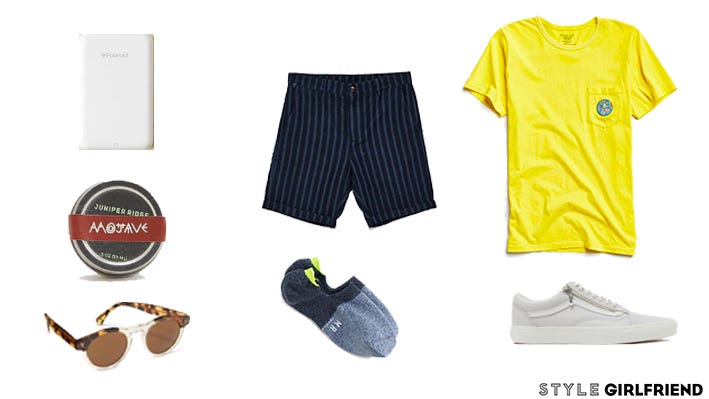 SG Says: Not pictured? Probably a shit ton of ibuprofen.
***
Looking for help with your long weekend style?

Clothes that make you feel like a million bucks no matter where you're headed are a total confidence boost, but shopping for them? That can be a pain. If you're ready to invest in some new clothes for your wardrobe but dread the thought of shopping for them…consider having Team SG shop for you! We can curate an online shopping list just for you that fits your budget, your body type, and your lifestyle.
Let us rescue you from shopping fatigue and sartorial apathy. You'll receive personal attention and care that will make you feel like the best version of the awesome guy you already are! Ready to seriously improve your closet and your confidence? Give us a shout.
***