The 5 Spring Jackets Every Guy Needs (Updated for 2023!)
Lightweight coats, heavy on style
This time of year, it's all about bringing more fresh to your life. From stowing away your winter boots to swapping your wool sweaters for cotton ones.
One of the best parts of early spring wardrobe freshening? Going lighter with your outerwear.
Today, that means sharing the five best spring jackets for guys to snag this season. Layering new and interesting light outerwear over your early spring outfits an easy way to make an old outfit look totally fresh.
Plus, these jackets are (generally!) more affordable than their winter counterparts, making a splurge here and there feel totally reasonable.
Below, the best spring jackets every guy needs this season: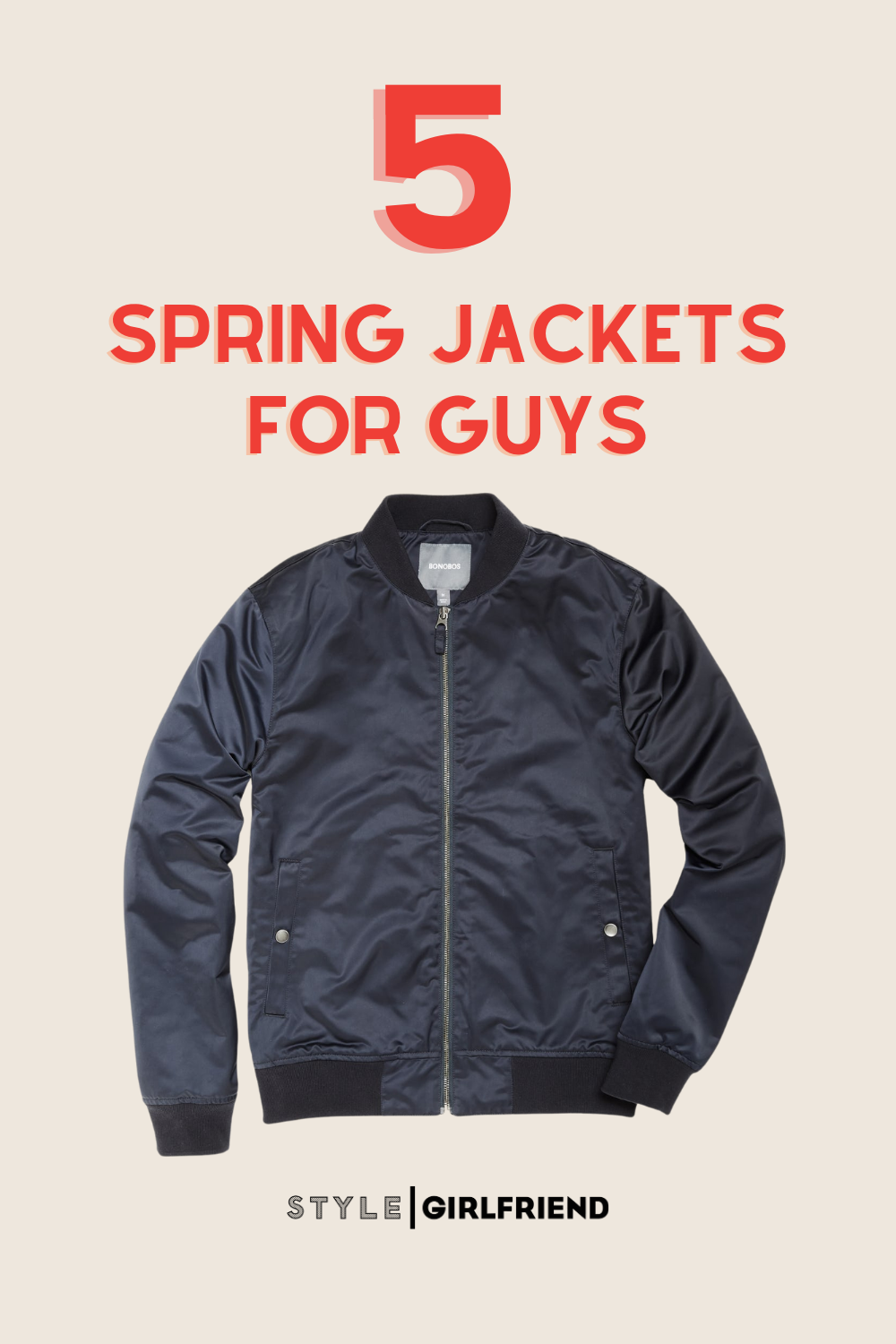 1. Denim Jacket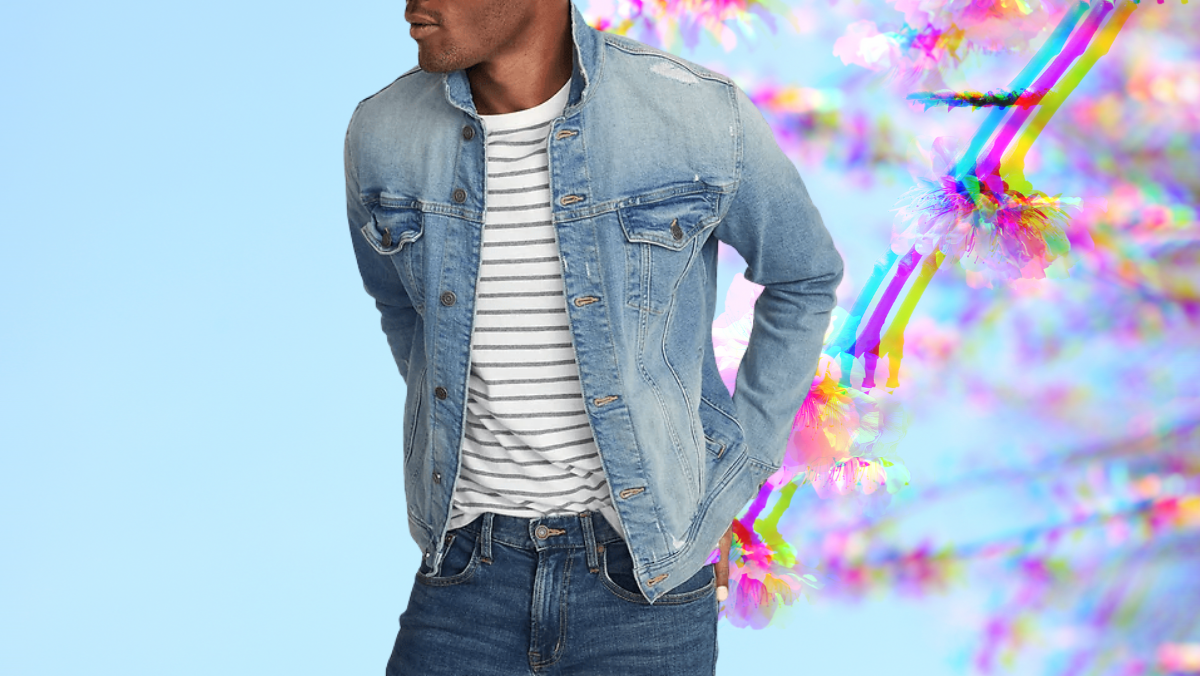 Why a denim jacket is a spring essential:
The denim jacket is truly one of the most versatile pieces of outerwear you can own, which is why it gets top billing in our list of best spring jackets for guys.
Much like jeans, the denim jacket will never go out of style.
Also like jeans? You'll probably find that your collection grows over time. From faded light-wash styles to more formal selvedge styles in a dark rinse, there's a denim jacket for every occasion.
The perfect fit:
When trying on a denim jacket, the fit should be just a little snug (room enough to layer a sweater or sweatshirt underneath, but not much more) and hit just at, or above, the hips.
The reason for a more tailored fit? Since the jacket is already casual, you want it to read as still pulled-together, not sloppy.
How to Wear it:
Contrast is king. Meaning? Yes, you can wear your denim jacket with jeans, so long as the shades are different.
If you're worried about the "Canadian tuxedo" look, start with black jeans and a blue jacket, and go from there.
Our team also loves a denim jacket with chinos, in any color, really. You can even treat a denim jacket like a sport coat by pairing it with dress pants and a shirt and tie.
This is where the clean, slim silhouette comes into play. Too baggy, and it won't look right.
Shop denim jacket picks:
2. Chore coat
Why a chore coat is a spring essential:
The chore coat has officially moved from trend to wardrobe staple in a man's closet.
Like a jean jacket, you can wear a chore coat in so many ways, and it comes in all kinds of styles, from loud to subtly sophisticated.
Generally, a chore coat has patch pockets on the front, with a crewneck collar and four-button closure.
The perfect fit:
A chore coat shouldn't fit too snugly, but you also don't want to be swimming in it. The bottom will hit below your waistband.
The boxy cut allows for bulky layers underneath, making it a great option for late spring and early fall when you need more warmth from your outfit.
How to Wear it:
The chore coat is decidedly casual, so don't try to dress it up. This is not a jacket you can wear with trousers or over a sport coat.
Instead, keep things cool and casual. Wear it with jeans. With chinos. With twill pants.
Shop chore coat picks:
3. Harrington jacket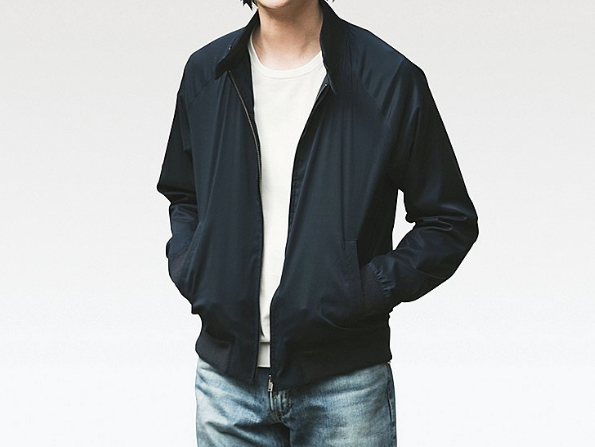 …and yes, that's a lot, but it's iconic and you'll have it forever!!)
Why a Harrington jacket is a spring essential:
You may not know its name, but you've definitely seen this jacket. You might even own one. The Harrington jacket is the perfect outerwear for constantly-shifting weather. Not too heavy, not too flimsy.
The style got its name from Ryan O'Neal's character, Rodney Harrington, on the 1960s precursor-to-Beverly Hills, 90210 prime time soap, Peyton Place.
It's since grown to signify a rebellious cool factor, after icons like James Dean, Elvis Presley, and Steve McQueen adopted it as their outerwear of choice.
The perfect fit:
A Harrington jacket is usually made of a lightweight material like cotton, polyester or wool.
It's meant to hit at the waist, with the waistband sitting on your belt. If it rests above that, it's too small. If you find it hanging well below, you'll want to go for a smaller size.
As for the cuffs, look for a sleeve length that finishes at the wrist, not above or below.
How to wear it:
Clean and simple, but never boring, the Harrington jacket is the perfect topper to any casual to business-casual look.
No, you can't wear it with a suit, but pretty much anything else in your wardrobe is fair game.
Shop the best Harrington jackets: 
4. Bomber jacket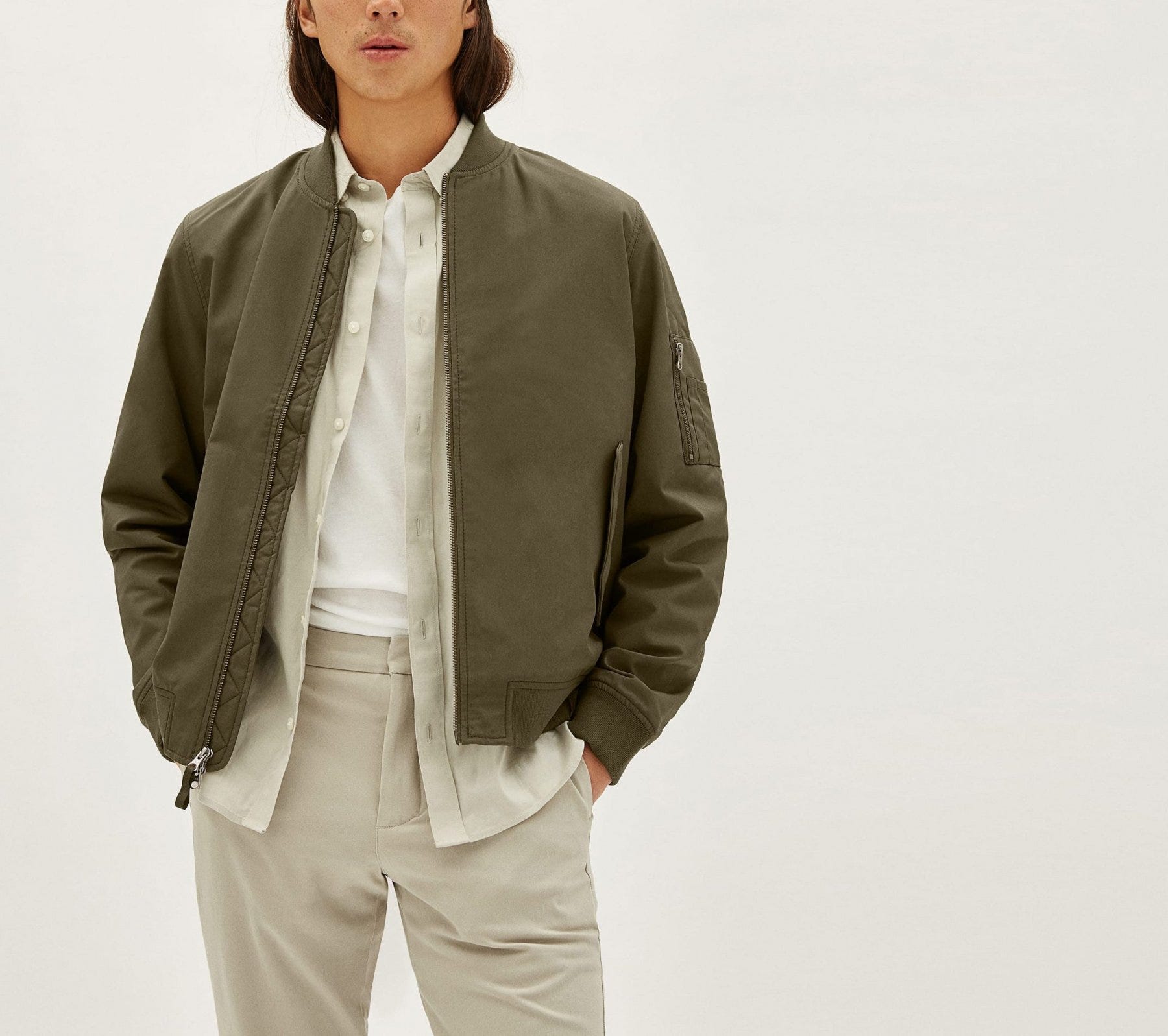 Why a bomber is a spring essential:
While we love us some winter jackets (so cozy!), they can get a bit…well, bulky.
When it comes to the best spring jackets for men, we want styles that can defend you from the springtime elements without weighing you down.
Meaning? Look no farther than the de-puffed nylon bomber.
The Perfect fit:
While bombers of the past may have looked (and felt) more like trash bags, the newest bombers have been slimmed down for a style that's dare we say chic.
Made of lightweight material like nylon or treated cotton, you'll love the fashion-meets-function duality of the new and improved slim bomber styles.
How to Wear it:
The great thing about these new bombers is how easy they are to pack down.
Throw one on in the morning if the weather report calls for bad weather, then crumple it up and toss it in your bag when the clouds inevitably clear in the afternoon.
Shop SG's picks:
5. the leather jacket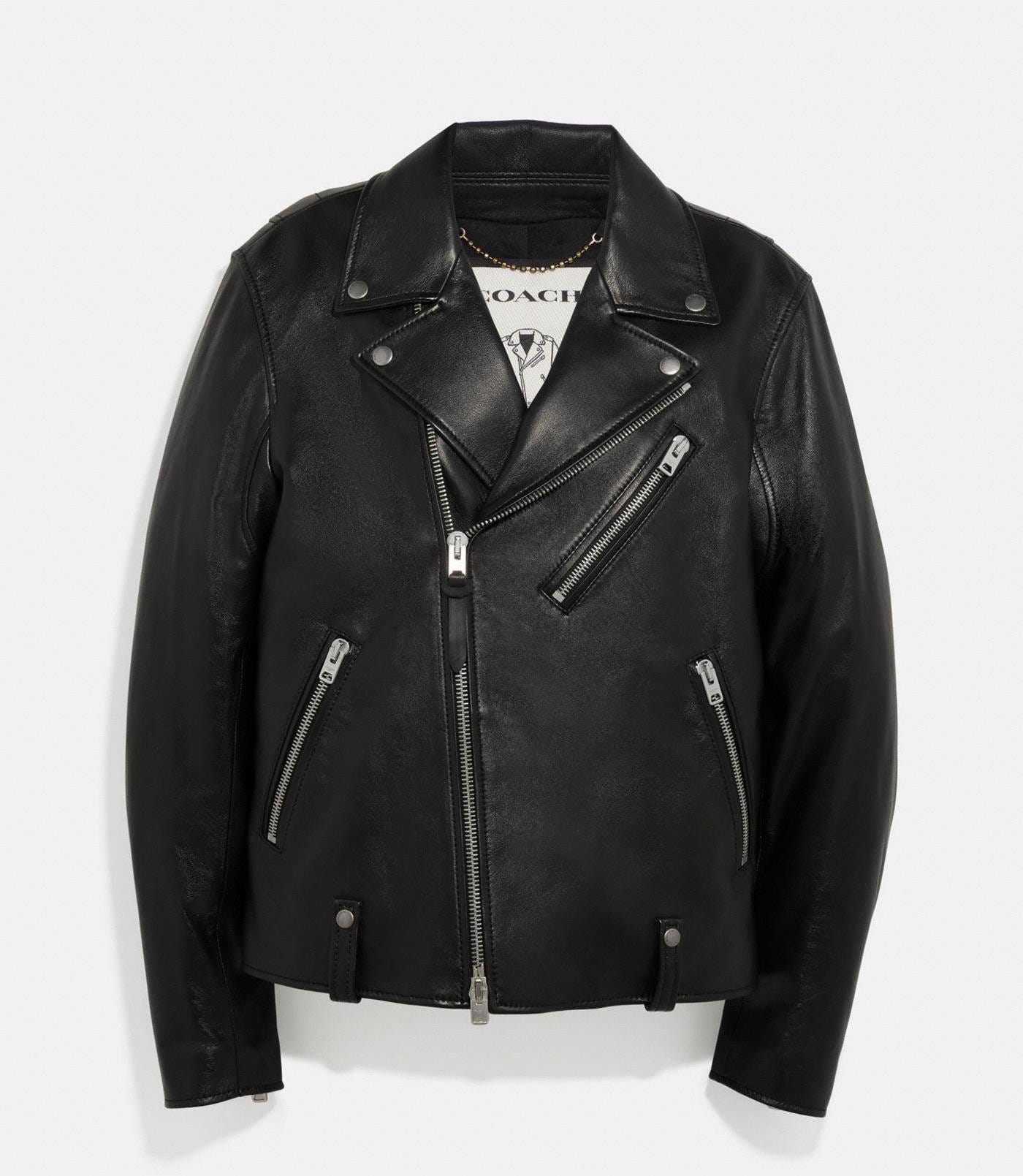 …again, expensive, yes, but you'll have it forever!
Why a leather jacket is a spring essential:
Jacket styles may come and go, but a leather jacket is forever. If your coat closet is in need of a leather jacket (or, ahem, a new one…hey, no judgment here), consider a fresh style for your next outerwear purchase.
The Perfect fit:
If you have visions of The Fonz dancing in your head, don't worry.
A leather jacket looks perfectly modern (not to mention surprisingly polished), even in a classic silhouette like the Happy Days star's legendary bomber.
Just don't ruin it with a fit that's too big, or one that's too tight. Aim for a size that fits close to the body with room for a thick sweater underneath, allowing you to layer just a little bit of bulk as needed.
How to Wear it:
In classic black, you can pair this jacket with jeans and a tee, or dress it up with trousers, shirt and tie.
In short, don't be afraid to wear this outerwear staple everywhere.
Shop SG's picks:
***
Honorable mention: the knit blazer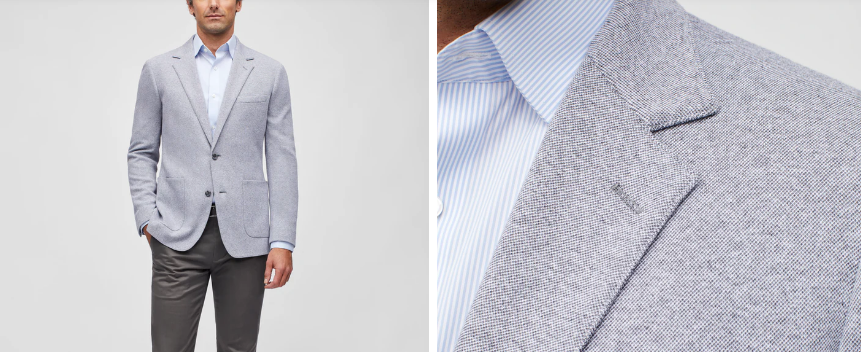 Why a knit blazer is an almost-spring essential:
Okay, okay, we might be pushing it by calling knit blazers (basically a structured cardigan) "outerwear."
But! They're an outer layer that you wear, and it's important for guys to have in their spring wardrobes, so we're standing by this rec!
Soft, light, and wrinkle-resistant, a knit blazer is indeed just what your spring wardrobe needs.
The light feel and wrinkle-resistant fabric makes this piece a must for any guy who wants to feel comfortable and look polished at the same time. Hello-o-o business casual workplace!
The Perfect fit:
The modern, unstructured knit blazer features a more form-fitting cut, so you still look pulled together, even in casual wear.
How to wear it:
Yes, a knit blazer is perfect for both business and business casual wear, but don't be afraid to mix things up. Try yours with jogger pants or denim on your next date night or travel day.
Shop SG's picks:
***
Want help finding the best spring jackets for you?
Having a wardrobe that makes you feel like a million bucks does a lot for your confidence, but it can feel like a slog to build.
If you're ready to invest in the best new spring jackets AND other new clothes for your wardrobe this season but dread the thought of shopping for them…consider having Team SG shop for you!
We'll curate an online shopping list just for you that fits your budget, your body type, and your lifestyle.
Let us rescue you from shopping fatigue and sartorial apathy. You'll receive personal attention and care that will make you feel like the best version of the awesome guy you already are!
Ready to seriously improve your closet and your confidence? Give us a shout.
***