The Ultimate Guide to Men's Sweater Outfits
From crewnecks for men to cardigans to sweater vests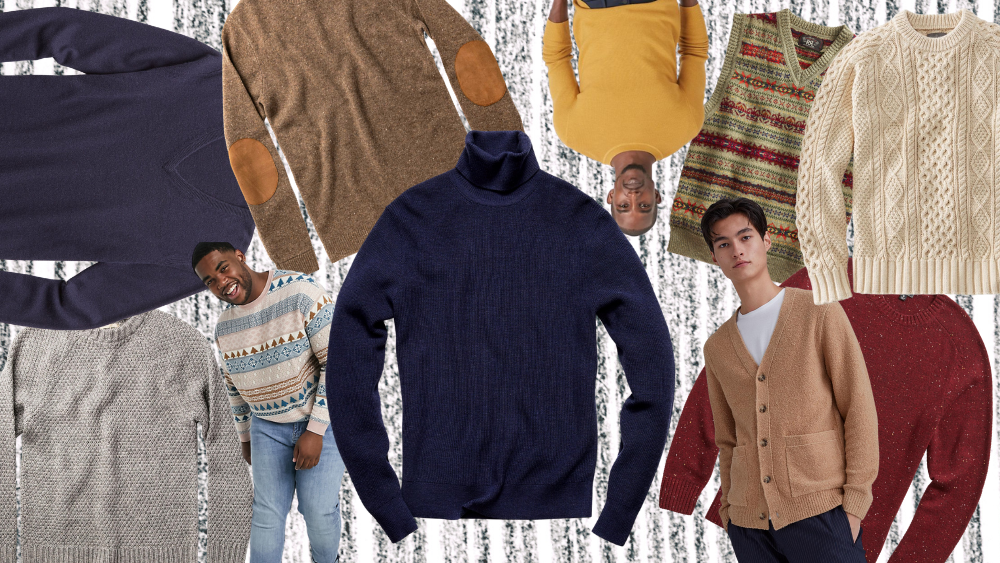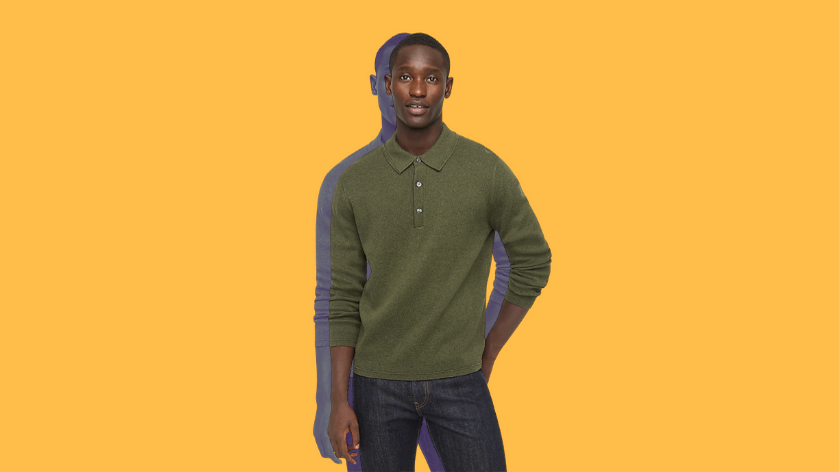 I don't know about you, but I for one, am here for sweater weather.
Why?
Because sweater outfits are empirically the best outfits for men!
There are just so many more juicy, stylish layers to get creative with your look.
Want some sweater outfit style inspo? SG's on it.
In this guide, we're covering the best men's sweaters, and sharing outfit ideas for how to wear them. It's a big list, so get ready.
You'll discover how to style sweaters of all kinds including:
What are we waiting for?
These are the best sweater outfits for men: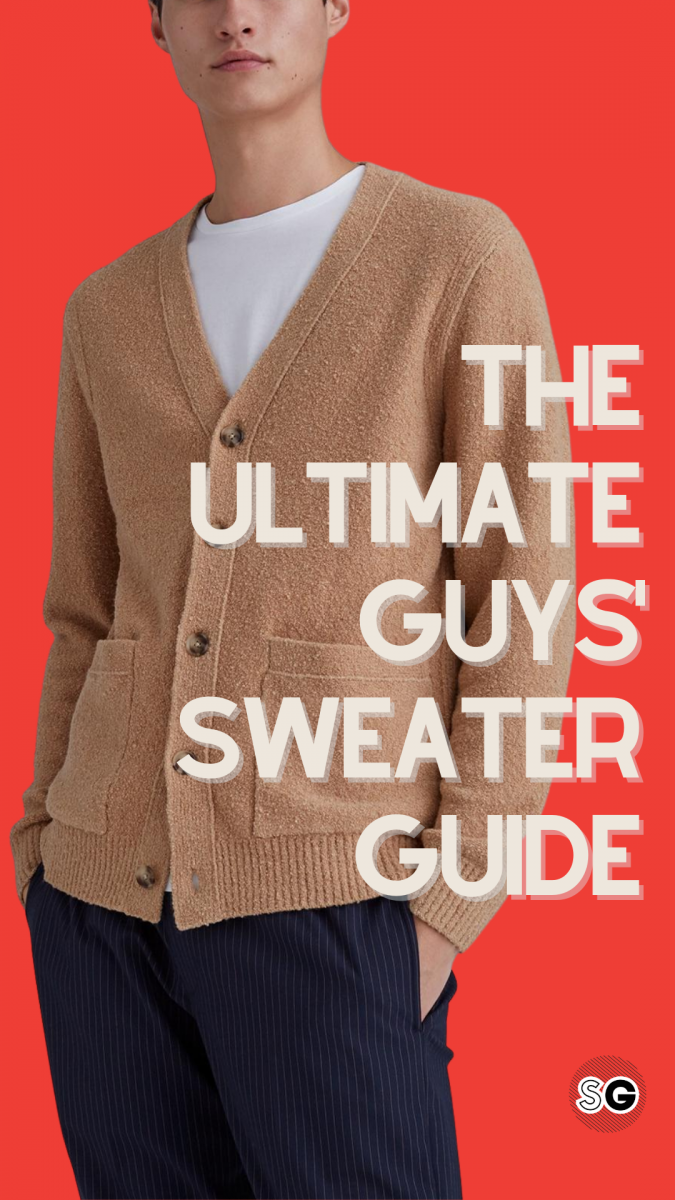 The cable-knit sweater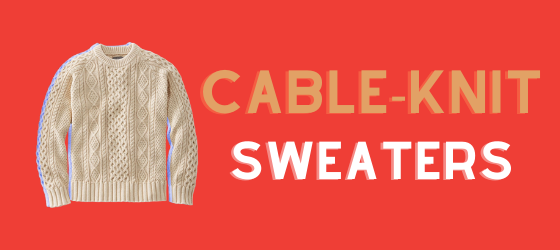 So, why is cable-knit a men's sweater essential?
From apple orchards and pumpkin patches to bar-side fireplaces, cable-knit looks right at home in cold weather settings. We suggest upgrading your run of the mill cable-knit by opting for a cashmere one.
Each type of knit holds a different meaning, so whether you opt for braids or lattices or the tree of life, the heritage of the knit can warm your heart while the sweater, ya know, warms your body.
Below, check out men's cable-knit sweater outfits:
with 5-pocket pants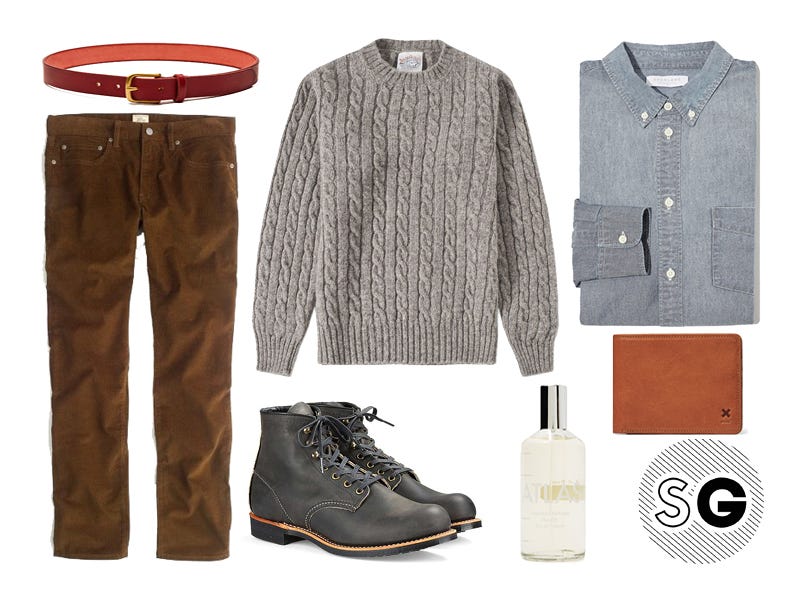 shirt: Proper Cloth | cords: J.Crew | boots: Red Wing
SG Says: Keep things cozy with cords and a chambray shirt.
with sneakers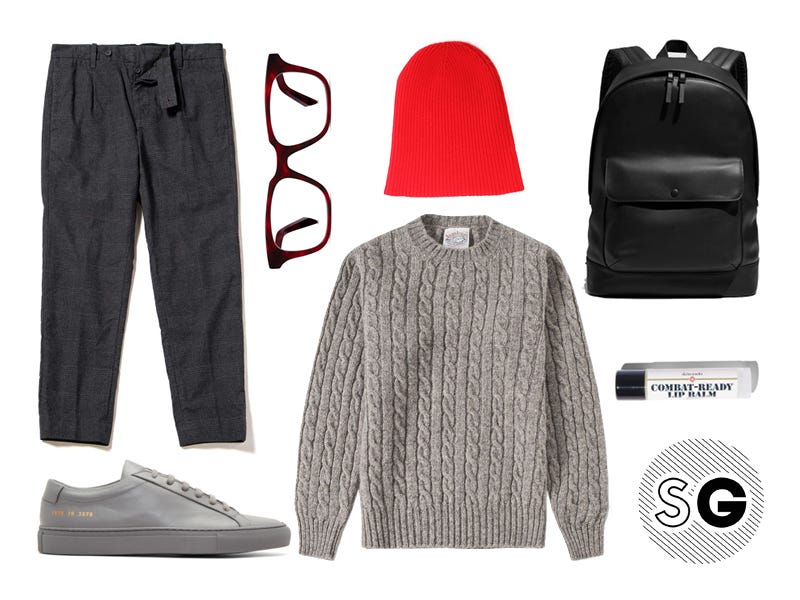 shoes: Common Projects | frames: Warby Parker | backpack: Ted Baker | lip balm: Skincando
SG Says: A cable-knit sweater is the perfect weight for a brisk walk to work, followed by refrigerating in the office AC all day.
with a suit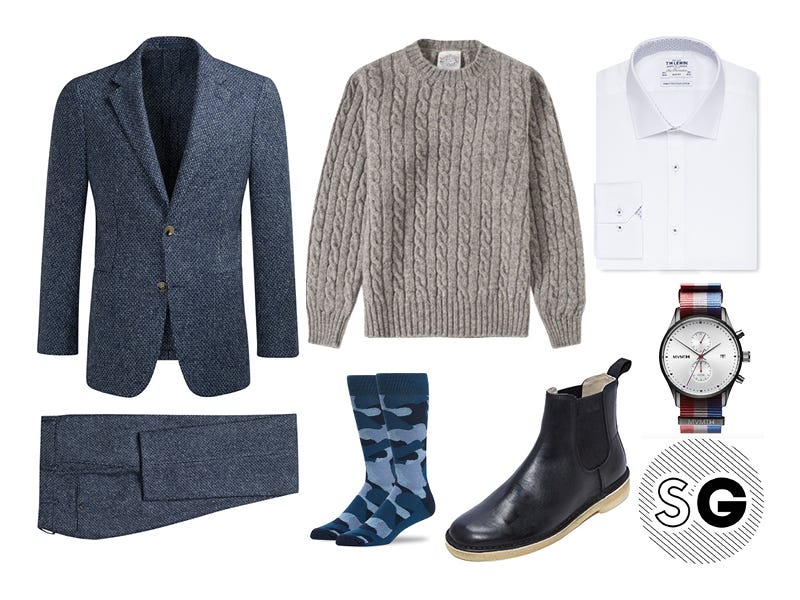 suit: Suitsupply | boots: Clarks | socks: Mack Weldon | watch: MVMT
SG Says: Suit up for the cooler days by layering your cable-knit sweater between your shirt and jacket. This is the perfect way to dress up a sweater.
with boots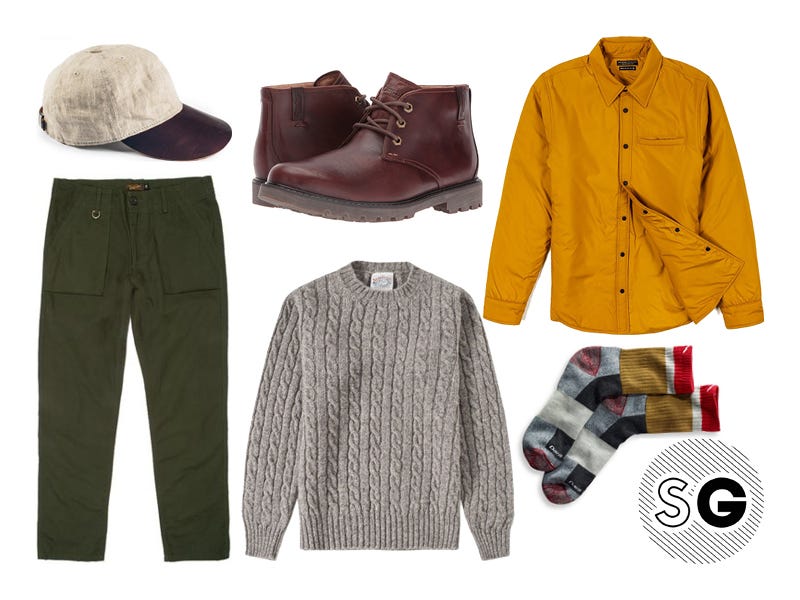 SG Says: A coach's jacket and stylish cargo pants give a classic sweater some welcome modern flare.
with jeans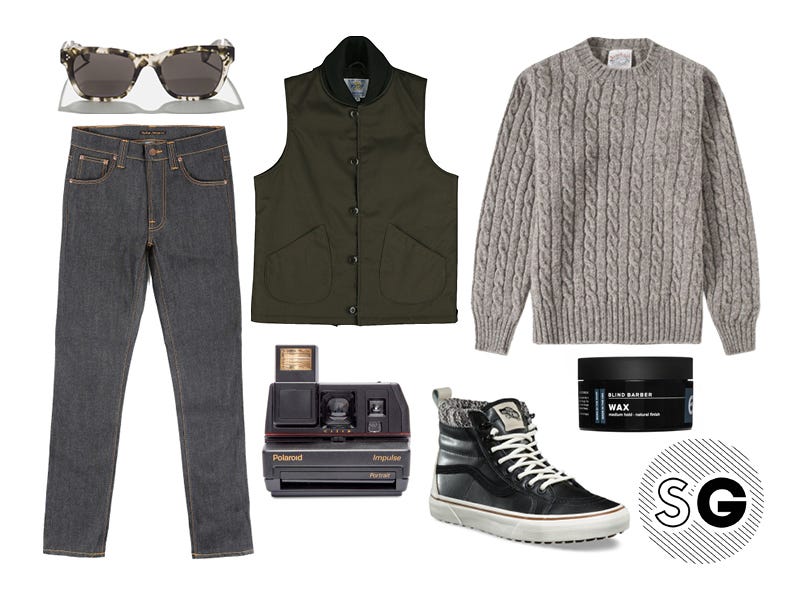 jeans: Nudie | sneakers: Vans | sunglasses: Saturdays NYC
SG Says: Your significant other will appreciate the extra effort that you put in for the requisite fireplace Instagram shot when she sees you've layered a "nice" sweater under your puffer vest, rather than a hoodie.
Not that we have anything against hoodies at SG HQ, but y'know sometimes it's a good change of pace to upgrade…
// Shop cable-knit sweaters //
***
The v-neck sweater
What makes v-neck sweaters so great?
When it's uncomfortable to leave the house without an extra layer, a v-neck sweater is a great transitional piece for your wardrobe.
The "rules" of wearing a v-neck sweater
We don't like "should's" here at SG HQ, but you really ought to wear a v-neck sweater only with a collared shirt underneath.
If you go commando, you risk looking like a newly single dad in the '90s picking his kid up from laser tag. If you wear one with a crewneck t-shirt underneath, you'll look like the kid.
A tip: Upgrade to cashmere if you can!
If you're ready to go all in on your sweater game, we recommend splurging on one in cashmere.
None of your other sweaters can even compare in luxurious coziness when cashmere enters the ring.
So soft, so warm, so timeless, so can't-keep-our-hands-off-you.
Check out men's v-neck sweater outfits:
with a suit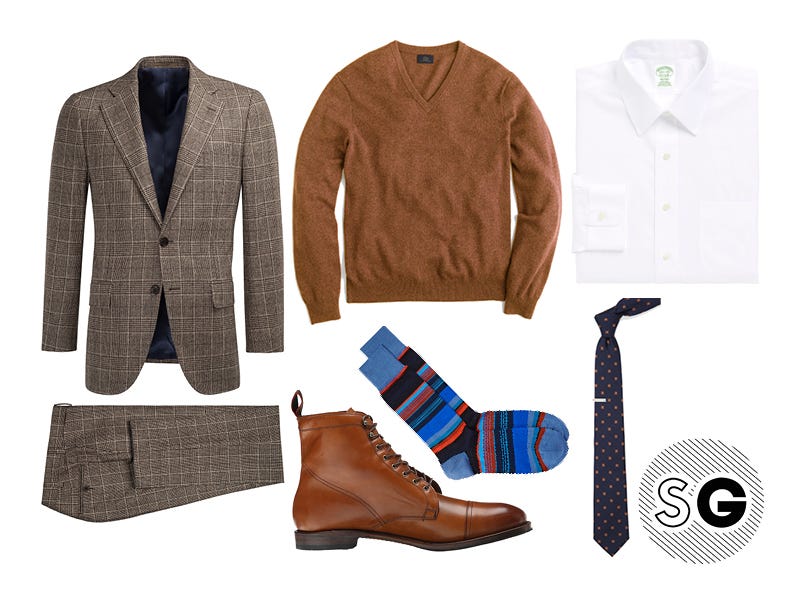 tie: The Tie Bar | socks: Mack Weldon
SG Says: Winterize a suit for the office with a layer of cozy layer between your shirt and jacket.
with jeans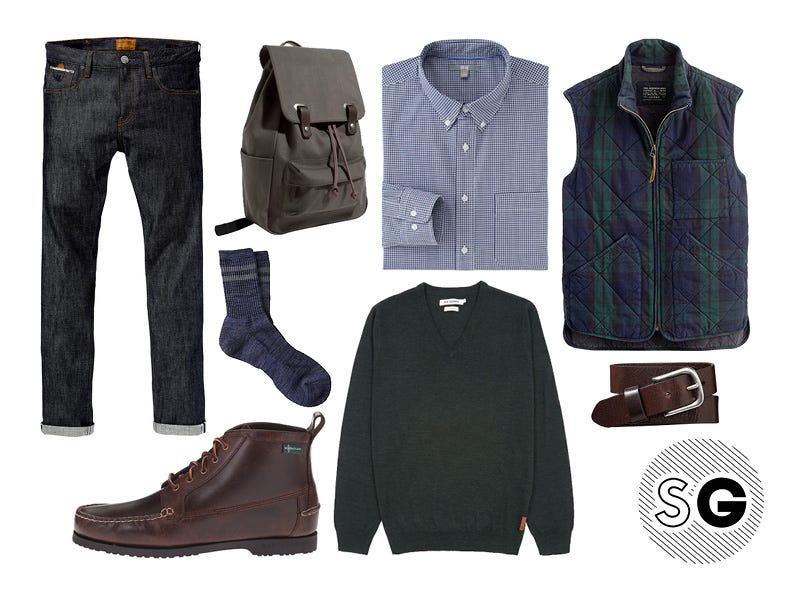 backpack: Everlane | shirt: Stantt | belt: Boconi
SG Says: Throw the vest on for to and from the office in early fall, and to make things more fun at happy hour after work!
over a patterned shirt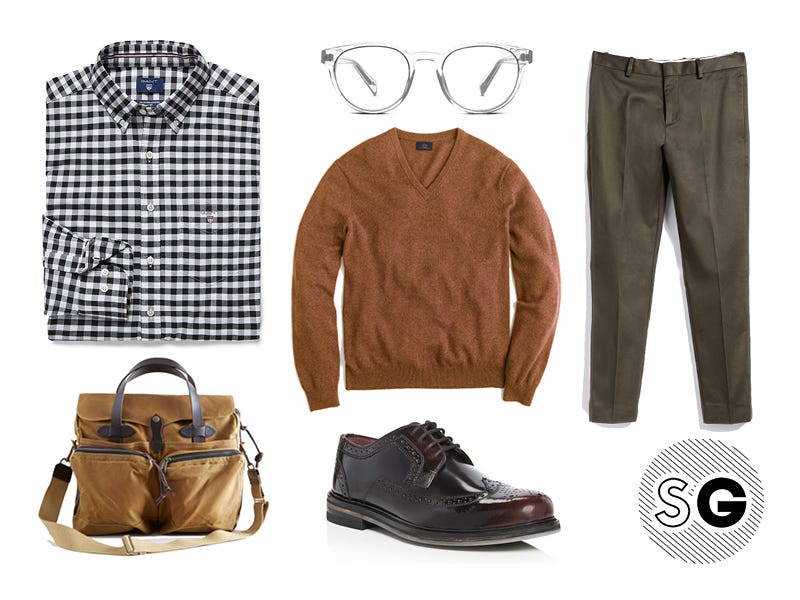 shirt: Proper Cloth | bag: Filson
SG Says: Now this is how to bring gingham into your cooler weather wardrobe…grounded in earth tones and sturdier fabrics for colder temps.
with camo pants!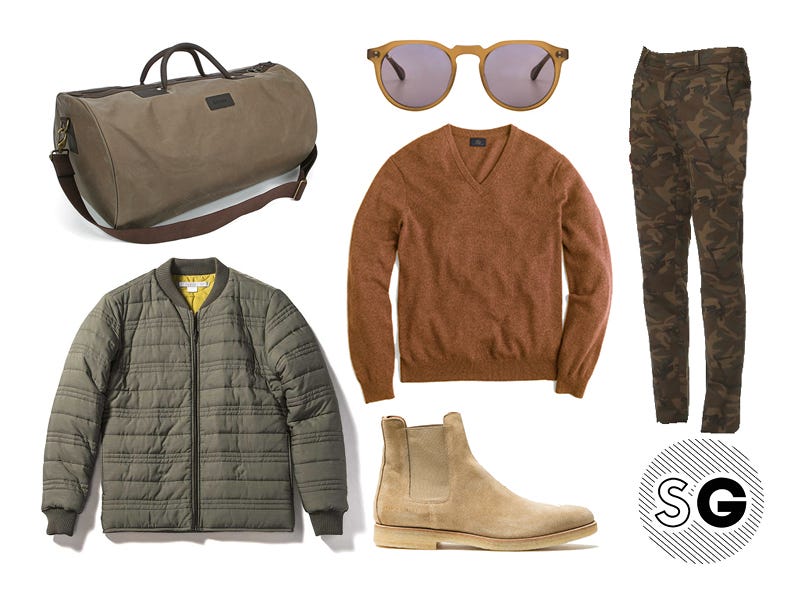 sunglasses: Warby Parker | boots: New Republic
SG Says: Yes, you can pull off camo pants.
How?
By keeping the rest of your color palette neutral and mostly monochromatic.
with a denim jacket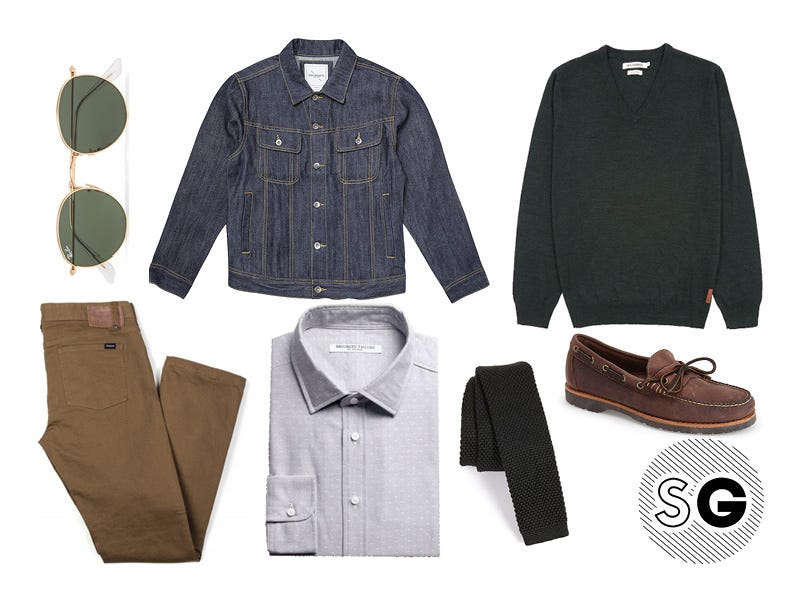 denim jacket: Banana Republic | tie: Todd Snyder
SG Says: We'll literally never say no to including a jean jacket in an outfit.
Ditch the tie and sunglasses to make this a 'night out' look.
// Shop v-neck sweaters //
The crewneck sweater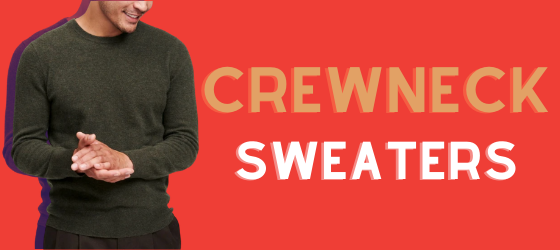 It's probably obvious why Team SG love crewneck sweaters for guys so much.
Because they're so easy to wear!
Crewneck sweaters go with everything – jeans, trousers, chinos, a blazer, a jean jacket, a shirt and tie.
And on and on (and on).
Chances are, you even received a new one at the holidays, and for good reason. It's the sweater that keeps on giving.
Your version of this timeless classic could be made from cotton, wool or cashmere.
When it's really consider a thick, wool crewneck sweater. It might be a little scratchy, but that's what an undershirt is for!
Check out men's crewneck sweater outfits:
with a sport coat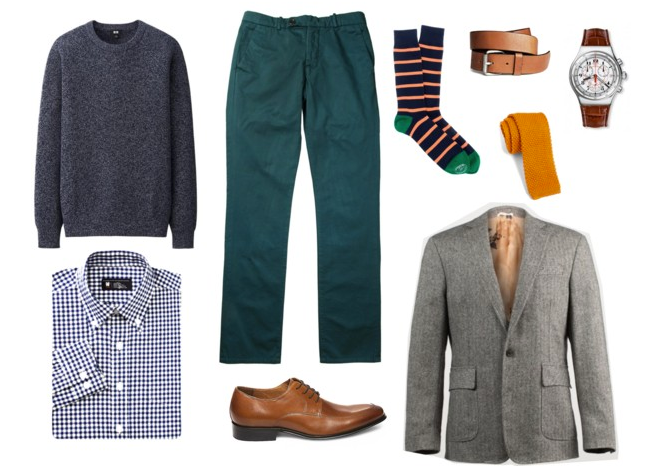 tie: Todd Snyder | chinos: Unis
SG Says: Want to know how to wear a crewneck sweater to work and not look like the junior account executive on the team?
By pairing it with a sport coat.
Ideally one that has patch pockets.
And of course throwing a crew neck sweater over a dress shirt is an automatic yes from Team SG.
with a chambray shirt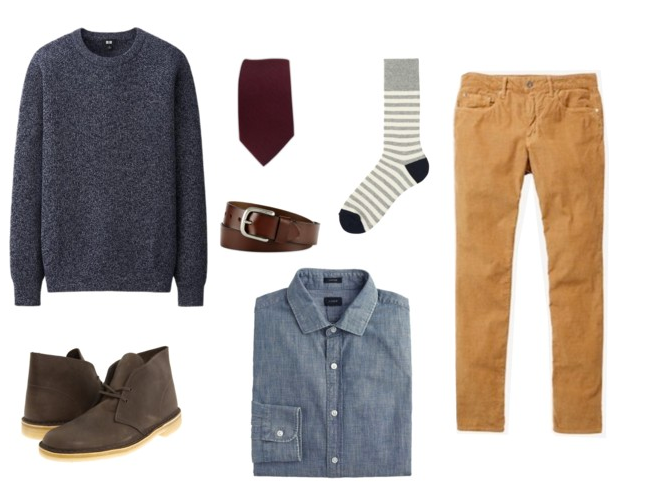 boots: Clarks | pants: 34 Heritage
SG Says: How do we love a chambray shirt, twill pants and desert boots? Let us count the ways.
Because they're all in this outfit, and we're seriously going heart eye emojis-gaga for it.
dressed down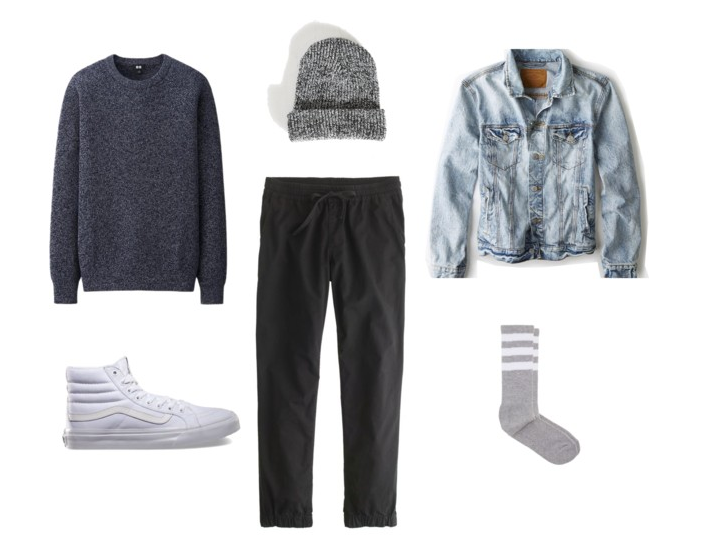 SG Says: Okay, okay. So this outfit may be more of a "Saturday" vibe than a "Wednesday" vibe, unless your Wednesdays are seriously vibey.
…In which case, how did you get to doing what you do because I think I'd like to do it, too?
lumberjack look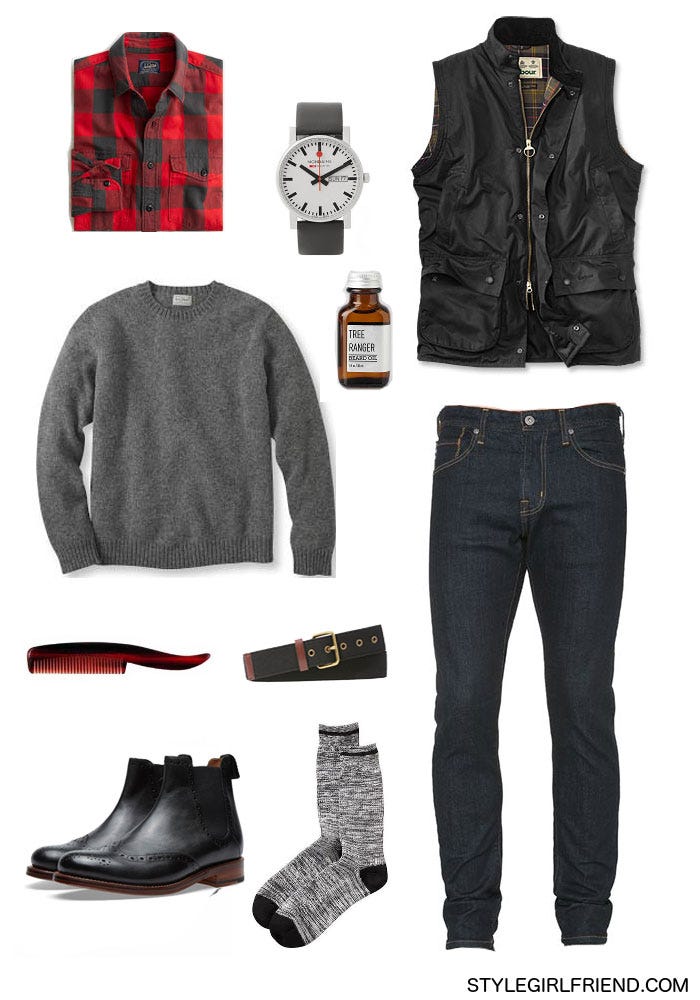 vest (similar): Barbour | shirt: J.Crew | boots: Express
SG Says: Love us some flannel. Love us a leather boot.
And if you're wondering what to wear over a sweater?
You can't go wrong with a vest like this one from Barbour.
We love this whole look, really, so why not go ahead and wear it?!
with sneakers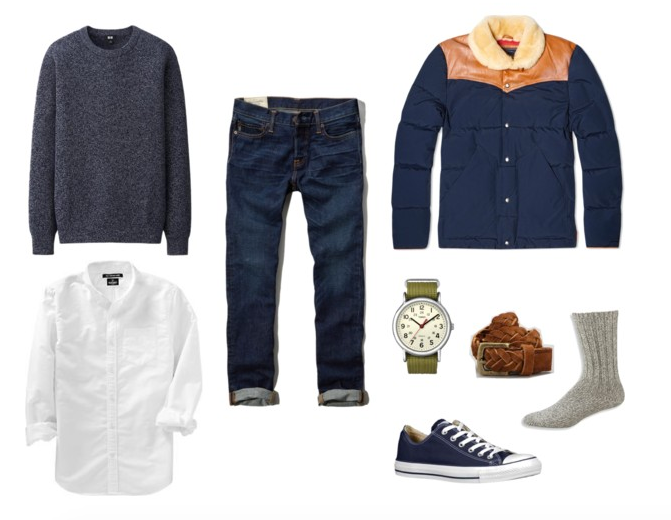 watch: Timex | sneakers: Converse | jacket: Penfield
SG Says: We love a lot of layers in a guy's outfit, so a crewneck sweater over an OCBD is extremely #SGapproved.
So long as there's no snow, you're perfectly good to go in a low-top Chuck and wool socks.
// Shop crewneck sweaters //

Seasonal "wintery" sweaters
Why does Team SG love Fair Isle and Nordic-style wintery sweaters for guys?
It's simple to fall into a style rut when the temperature drops below freezing. You just want to be warm and cozy! 
But much like wearing a yellow slicker on a rainy day, sometimes it takes sporting a playful sweater to help you face the weather with your head held high.
A Fair Isle or Nordic print-inspired sweater can help you do just that.
Go for whichever style strikes your fancy. The key difference between Fair Isle and Nordic prints is the symmetry:
Where Fair Isle prints are repeating, symmetrical patterns, Nordic prints have varying sizes for each component, often featuring larger-scale playful motifs.
Think: woodland creatures or snowflakes, interspersed between smaller, more geometric motifs.
Nordic print sweaters are also generally a little thicker and sturdier than their Fair Isle cousins thanks to their three-ply yarn construction.
Both styles offer a warm, stylish option for the more miserable colder, later months of the winter season.
Below, check out wintery sweater outfits:
by the fire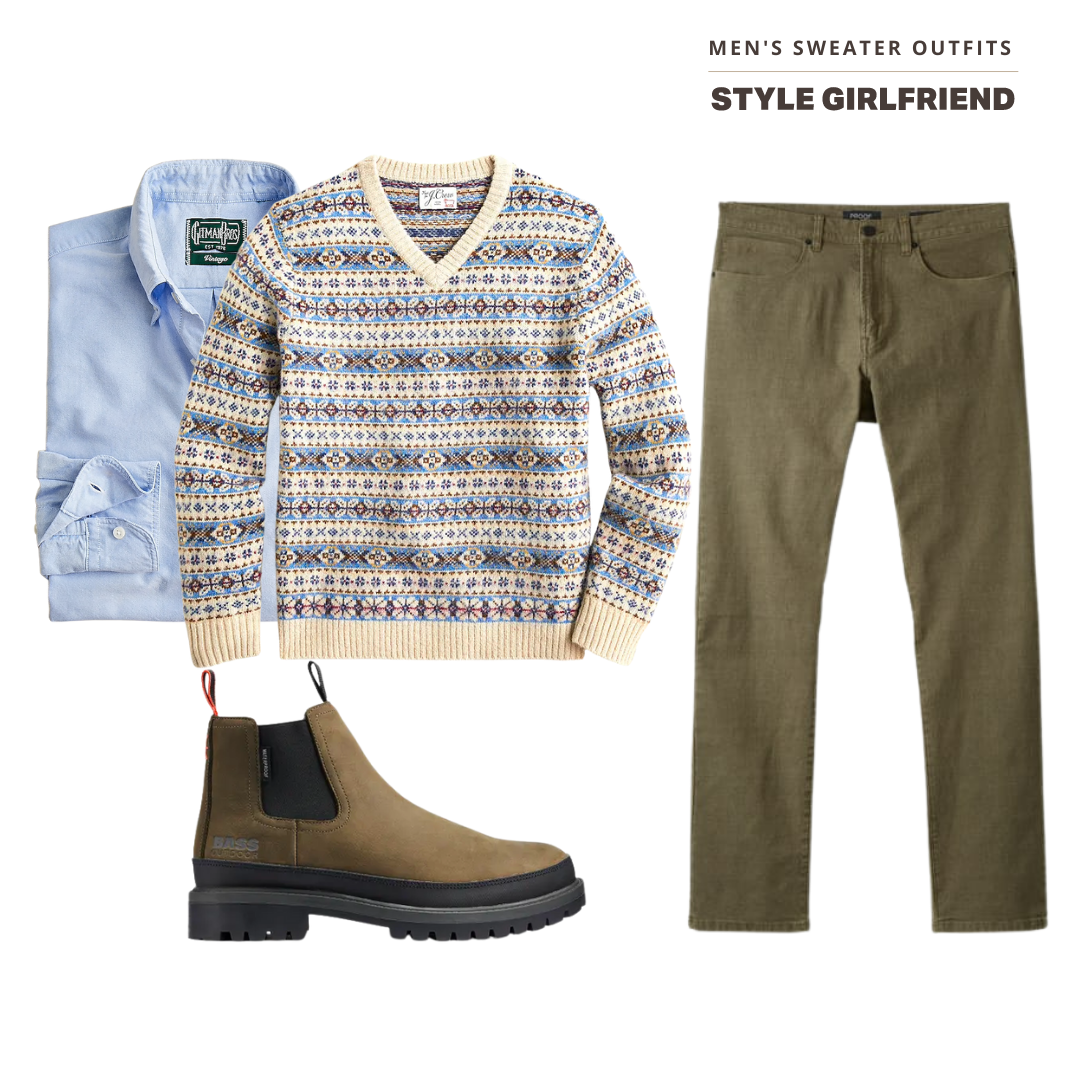 shirt: Gitman Vintage | boots: G.H. Bass | pants: Huckberry
SG Says: Fair Isle sweaters are nice because they're "one and done" when it comes to making an outfit interesting.
The rest of this look is super simple—a light blue oxford shirt, sturdy boots, and a pair of 5-pocket pants.
Easy!
With the Fair Isle sweater, it's so simple to feel stylish and fun in your outfit.
to work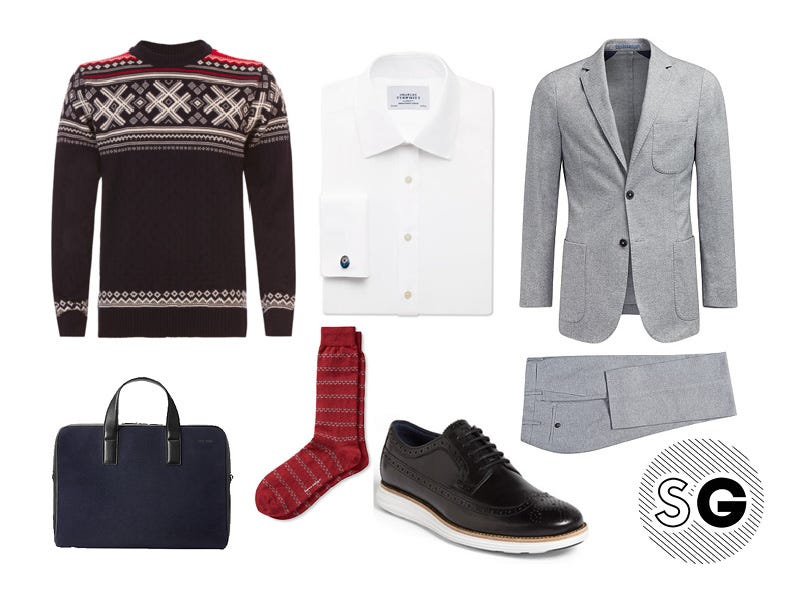 suit: Suitsupply | Oxfords: Cole Haan
SG Says: Make your suit feel like sportswear by wearing it with a sweater and sleek sneaker-dress shoe hybrid.
with a denim jacket
boots: Taft | socks: Bombas | pants: Bonobos
weekend vibes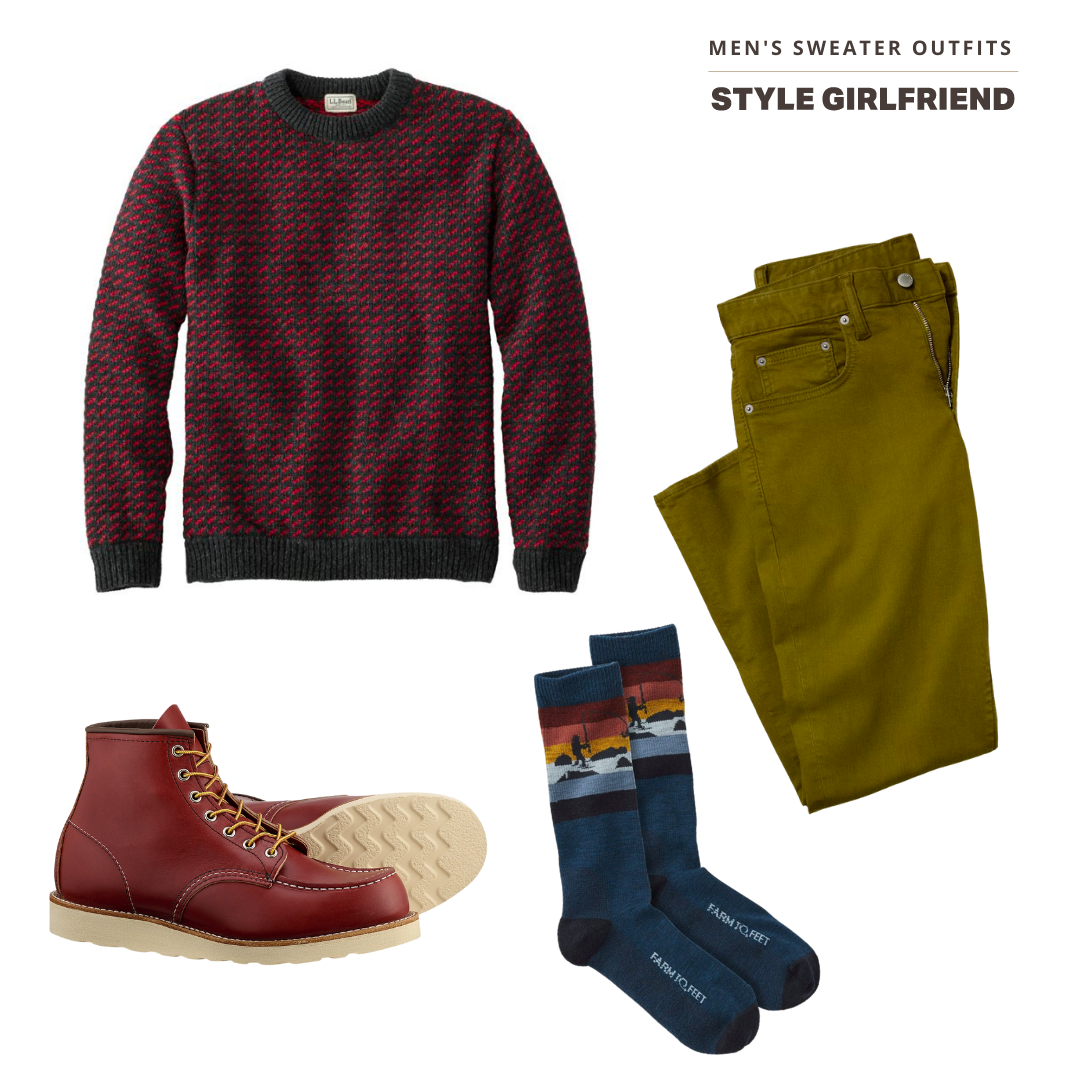 sweater: L.L. Bean (similar) | pants: Bonobos | boots: Red Wing | socks: L.L. Bean
SG Says: If you're wary of wintery sweaters that feel too festive, opt for a more subtle pattern, like this L.L. Bean style.
// Shop wintery sweaters //
The polo sweater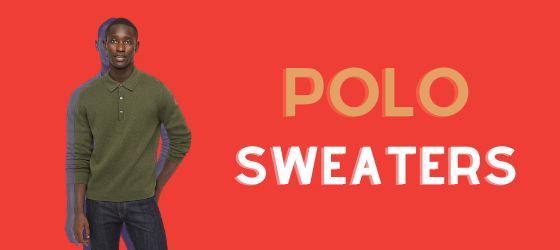 First thing's first:
What is a polo sweater?
A polo sweater is sort of like the fancy version of a mullet:
Half sweater, half polo shirt.
A "swolo" simply does not give it the esteem it deserves. Especially for a top that combines the casual cut of a polo with the elegance and ease of a long-sleeve sweater made from fine gauge wool.
It's the kind of top that's as comfortable as pajamas but pairs perfectly with your boardroom suit. Regardless of what it's called, know that it is calling you this fall and winter.
What to look for in a polo sweater
A long sleeve, fine gauge wool polo sweater is a cozy and classic cool-weather alternative to the button up shirt.
Check out men's polo sweater outfits:
with dress pants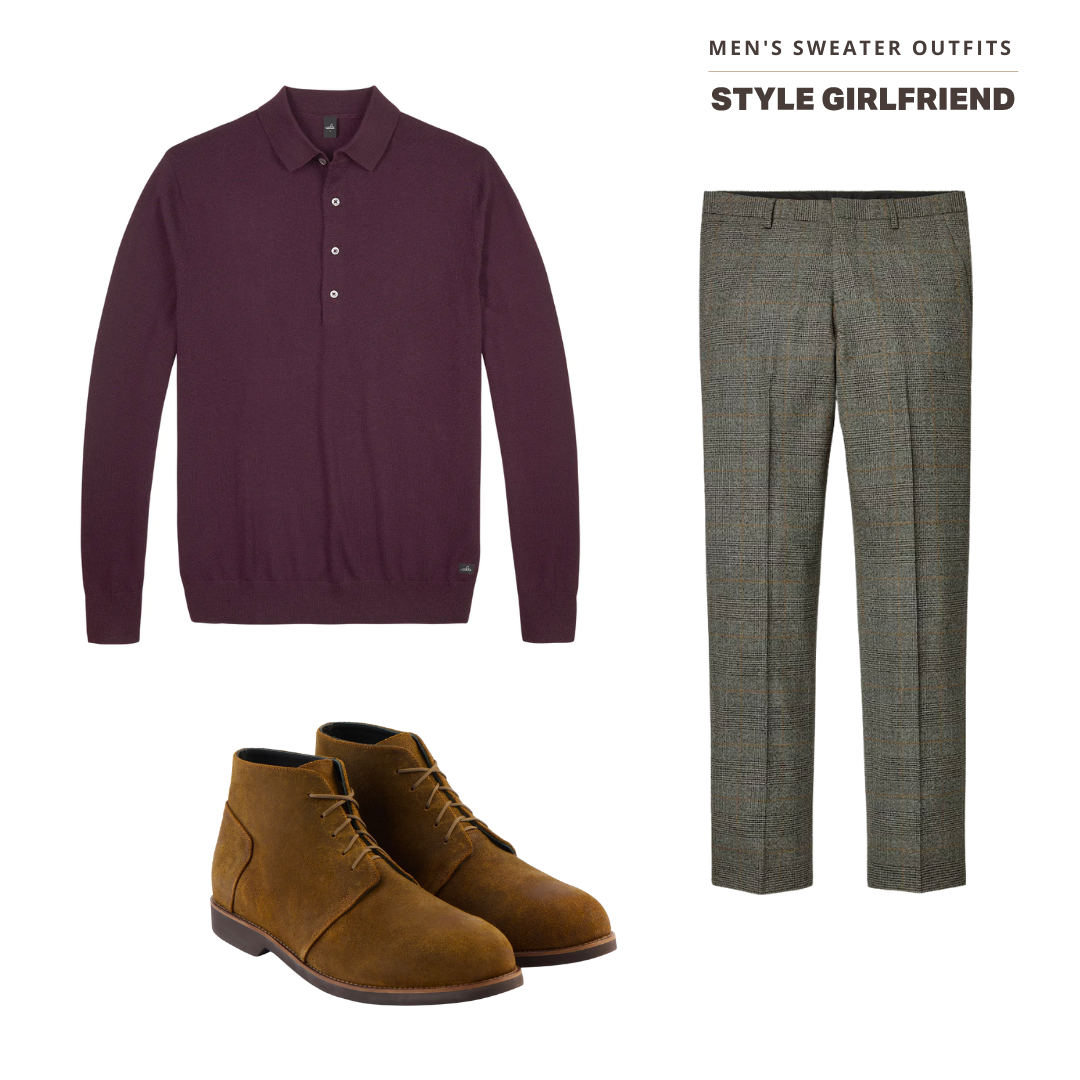 sweater: Wahts | pants: Bonobos
with a suit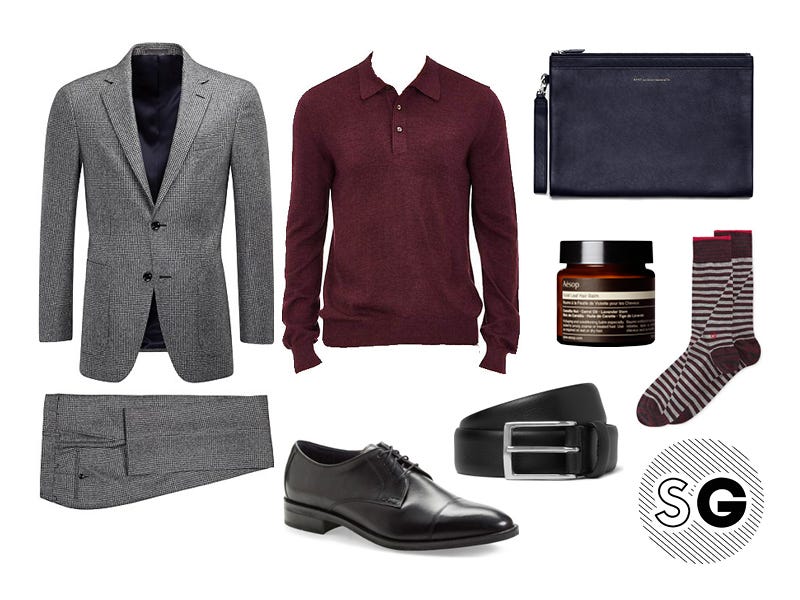 belt: Johnston & Murphy | shoes: Brooks Brothers | hair product: Aesop
SG Says: Swap out your usual shirt and tie for this winter wonder-polo.
with a sport coat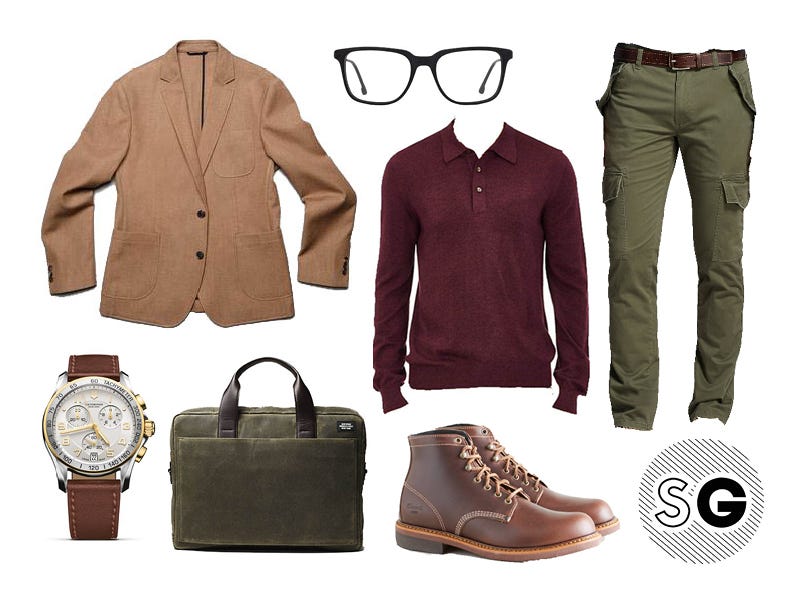 watch: Victorinox | boots: Thorogood
SG Says: Pair a history teacher-worthy blazer with expedition-ready cargo pants and boots for a refined, yet rugged Indiana Jones outfit vibe.
with chinos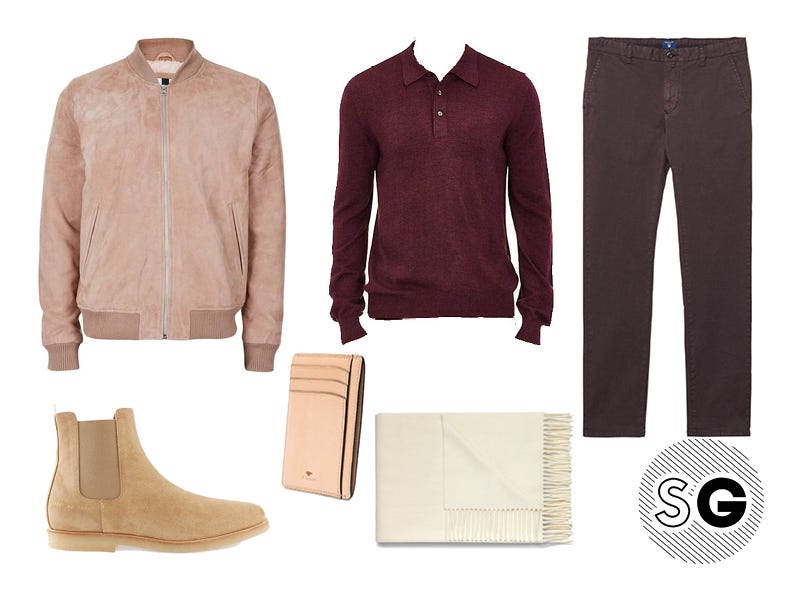 boots: Common Projects | pants: Proper Cloth
SG Says: Go tonal and textured in soft shades of suedes.
And yes, you can totally pull off millennial pink. Here's how.
// Shop polo sweaters //

The sweater vest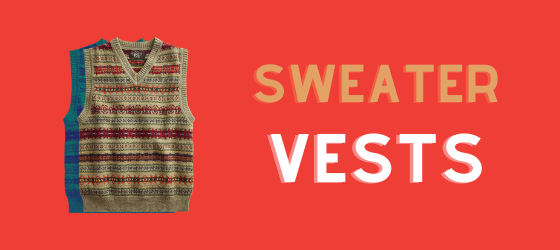 First things first. Are sweater vests…cool?
They are. This is good or bad news, depending on your opinion or history with sweater vests.
Before beat me to the punch, we're not talking about Mike Ditka's Bears sweater vest, or your uncle's argyle holiday staple.
In fact, this trend is still so new that most of the ones I really like (like this one! and this one!) are still more expensive than I'd expect you to shell out for a trend, per GQ.
But! It's still totally doable to get in on the sweater vest trend without breaking the bank.
A thin button-front sweater vest is a great shortcut to a three piece suited look, with the added comfort of fine cotton.
When temperatures shift from sweater-worthy to sweltering, layering with year-round wool and thin cotton (or linen blend) is integral to keeping comfortable and looking your best.
Check out men's sweater vest outfits:
with jeans
with dress pants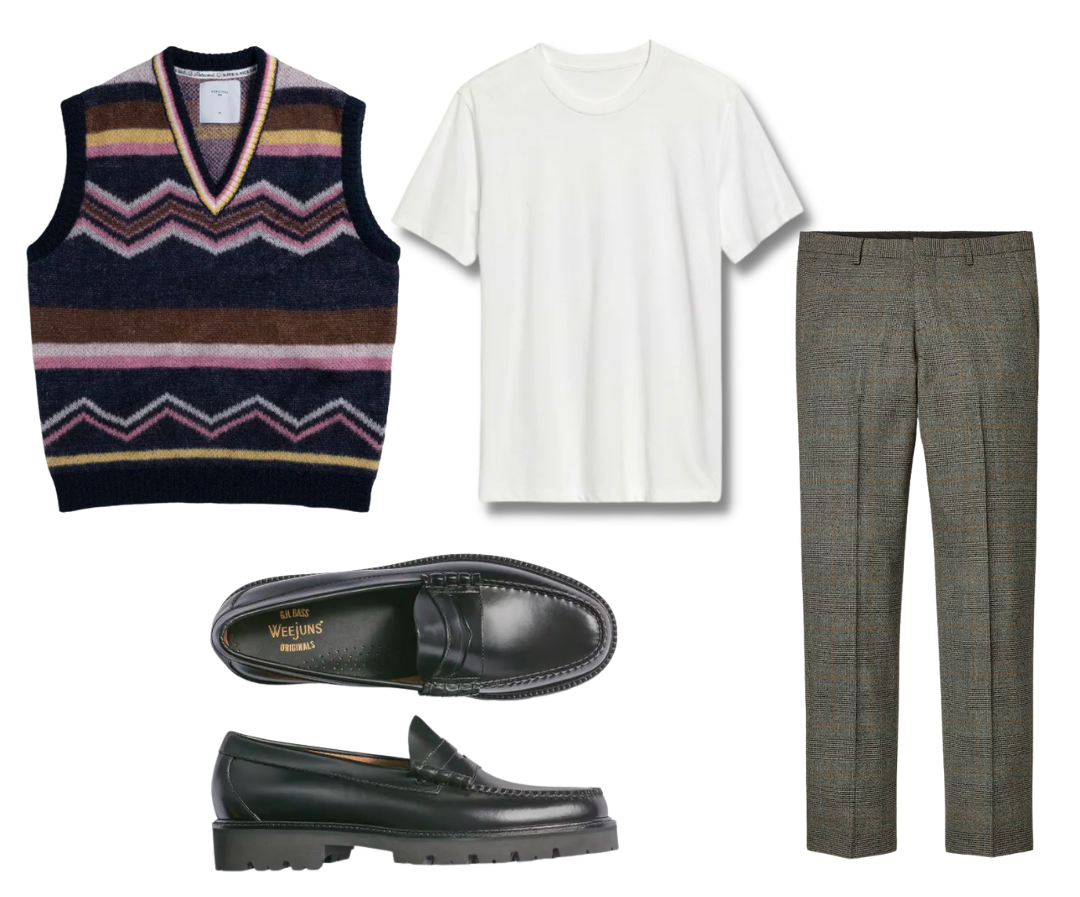 all dressed up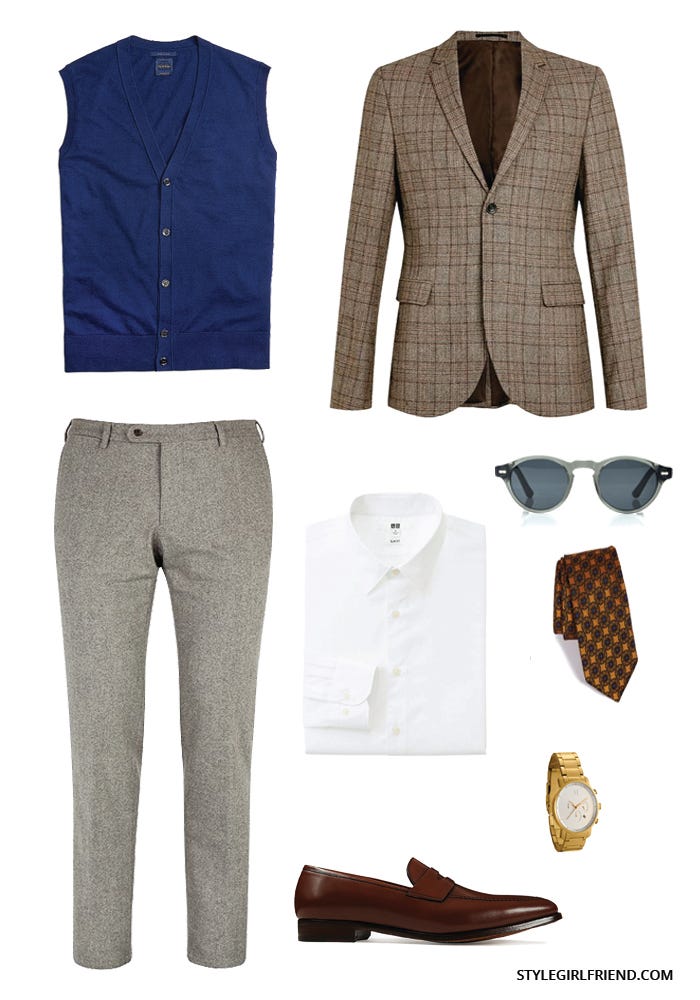 loafers: Crockett Jones | dress shirt: Uniqlo
Wear it well: Highlight the brown in your trousers and patterned blazer with a burnt orange tie that also ties in the blue vest.
While we're all for a full-patterned suit, you can easily tone down the look by opting for solid light brown wool trousers to play off of your check blazer.
// Shop sweater vests //
The cardigan sweater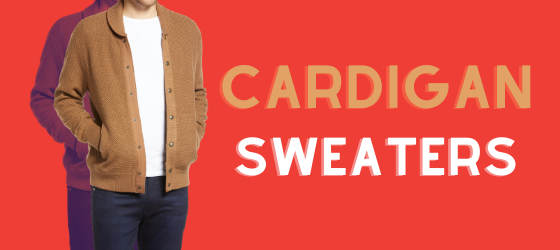 Why do we love cardigans on guys?
Oh, let us count the ways…
My grandpa had the best cardigan, of which I am now the proud owner (and frequent wearer). A buttery yellow, made of ancient mohair worn soft from years of use, he would sport it with a bolo tie cinched around a polo shirt collar, pants hitched high on the torso, his submariners cap crooked on his head.
And he pulled it off perfectly.
You're probably all, Gabi, wearing a cardigan may be well and good on the coasts, but what about me, living in (BORINGVILLE, USA)? Can I really pull this hipster look off?
Yes, you can! In fashion, a happy medium does exist where this look can work for every guy. Just follow the tips below, and you'll be styling – sans bolo OR ironic glasses – in no time.
After all, you're going for an intentionally styled look, not "I brought this along to the movie theatre in case I got chilly."
Fabric counts
A cable-knit cardigan is great. So is cashmere. So is merino wool. Skip the thinner fabrics, which tend to look a bit, well, cheap.
Button it up
If your cardigan has buttons, consider keeping them closed for a more polished effect. The bottom button can be left undone to help it sit on your hips without riding up over your waistband.
How to wear your cardigan
So often, it's not about what you wear, but how you wear it. The stylish man must master the art of the "zhush" to truly complete a look.
When wearing a long-sleeve shirt under your cardigan sweater, yank the cardigan's sleeves up at the elbow, so the sweater hits about three inches above your wrist. Next, pull the long sleeves underneath past those of the cardigan so both shirts are visible.
If you're wearing a button-down, fold the cuffs back and over the cardigan. It'll make all the difference between "I am a stylish, evolved, modern man" and "I just brought this to the movie theatre in case I got cold."
Check out men's cardigan sweater outfits:
with joggers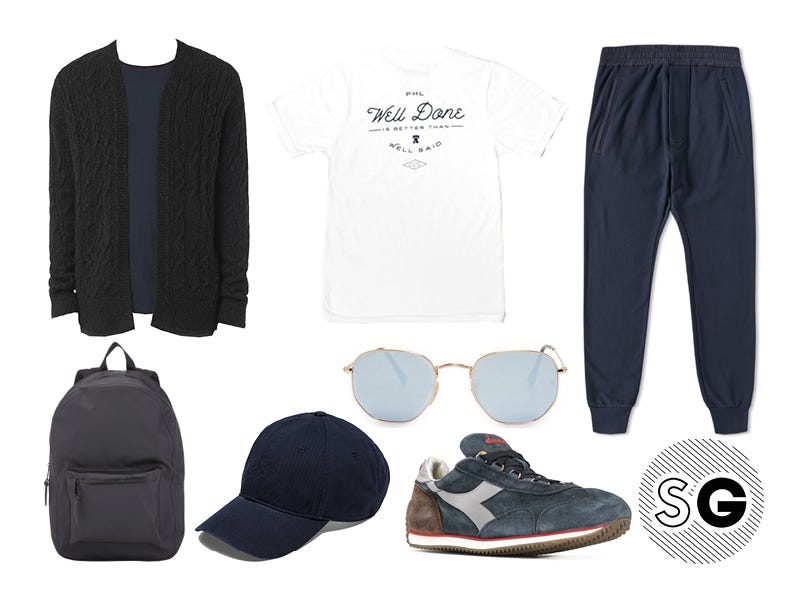 sweatpants: Polo Ralph Lauren | baseball cap: Ami
SG Says: With joggers and a retro sneaker, this outfit would work for a college student or a young professional on the weekends.
> Check out 8 #SGapproved cardigans
with trousers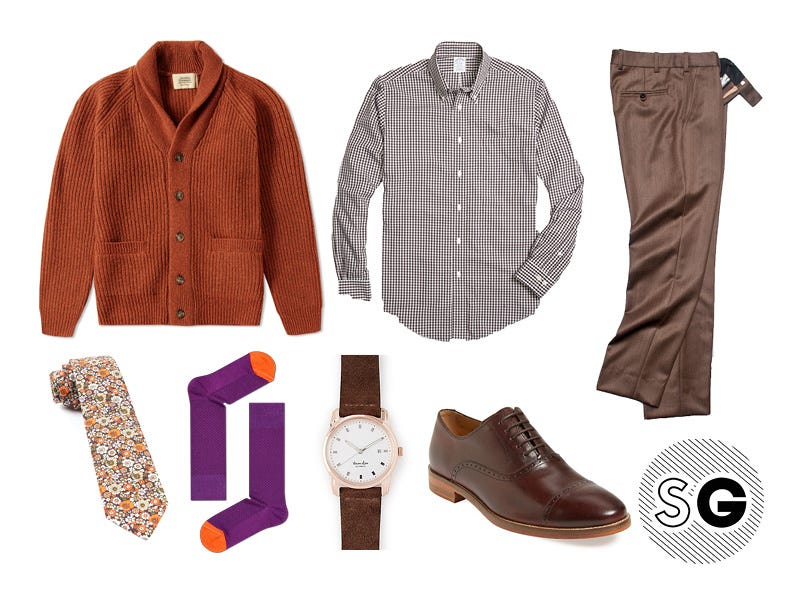 tie (similar): The Tie Bar | shoes: Allen Edmonds
SG Says: You can get away with a cardigan at work, so long as it's dressed up accordingly. Pair yours with a button-down shirt, slacks and a brown dress shoe shoe.
In a more casual office, chinos with a well-scuffed boot will do. For the office, gray is a good neutral color to keep the look professional.
with jeans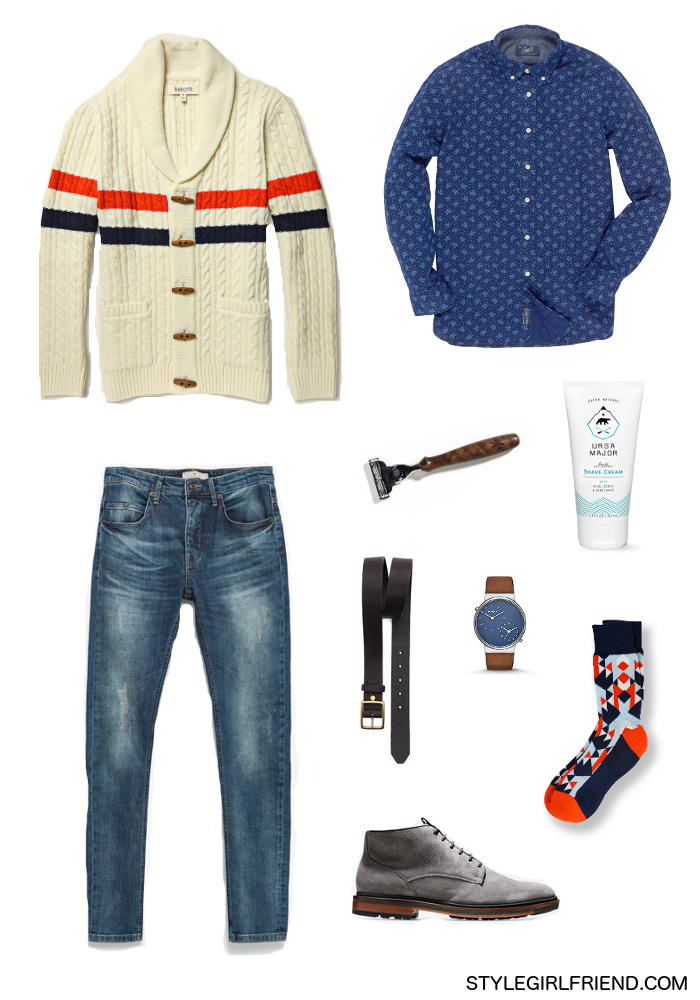 socks: Pair of Thieves | boots: Sperry
SG Says: Take this easy East coast prep vibe and turn it up a notch with grey boots for an unexpected twist on a classic look.
With Americana tennis stripes in basic colors, you can layer this cardigan with jeans, or dress it up more by wearing it in place of a blazer at the office.
under a jacket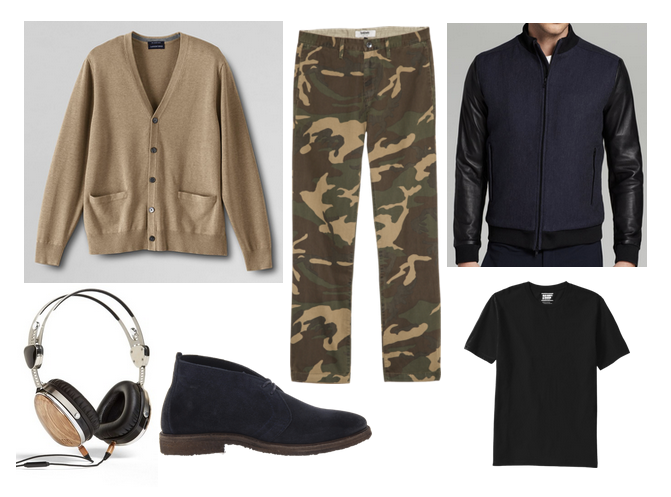 t-shirt: Express | camo pants (similar): Levi's
SG Says: On the weekends, feel free to pair your cardigan with a t-shirt and camo for a relaxed – but not, Mr Rogers after he puts his sneakers on-relaxed – look.
instead of a sport coat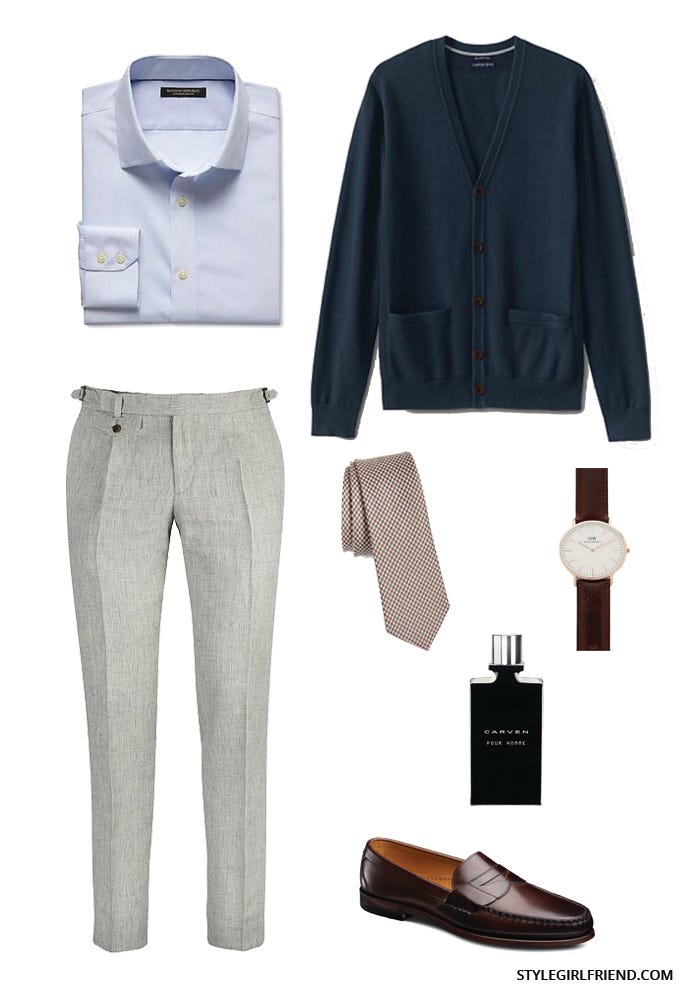 fragrance: Carven | watch: Daniel Wellington
SG Says: Another great office outfit option. Wear the penny loafers with no-show socks to keep things looking young and not stuffy.
// Shop cardigans //

The shawl collar sweater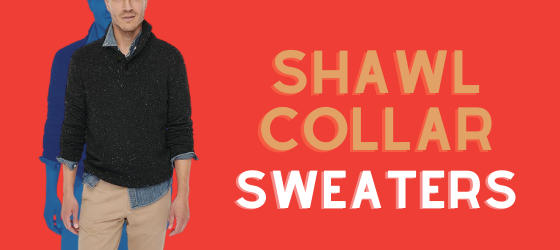 Why does Team SG stan a shawl collar sweater?
Classic? Modern? Both.
The shawl collared sweater is officially "trendy" again, though here at SG HQ, we never fell out of love with this cozy, stylish sweater. Why not take advantage of the cold (or, for those of you in warmer states, "cool-ish") weather, and rock yours this week?
Check out men's shawl collar sweater outfits:
Monday-Wednesday
SG Says: What has multiple textures, a playful pattern, and is sure to get you some eyebrow-raising (in a good way) glances?
Answer: a layered fall look that will make you feel comfortable, but certainly standout.
Here's how to wear one sweater on three different days (hopefully not consecutively, but hey, no judgment on your current laundry situation).
with retro sneakers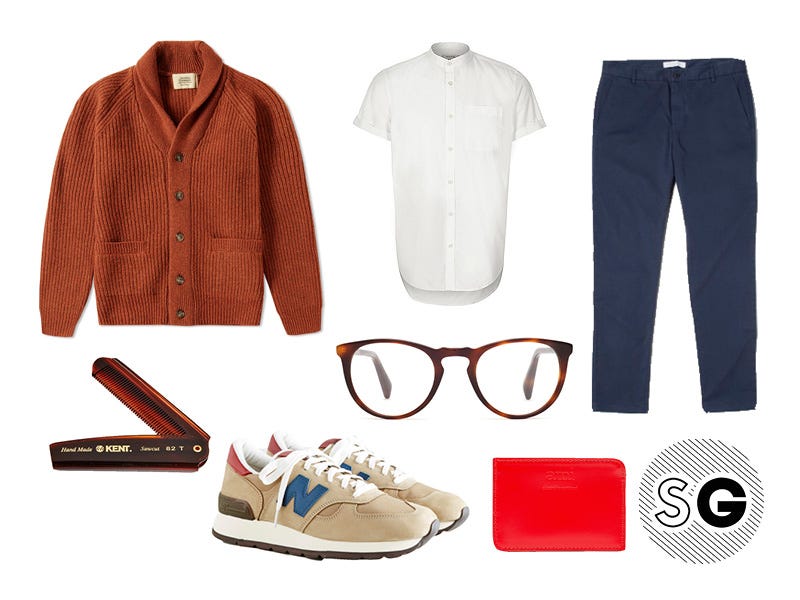 sneakers (similar): New Balance | wallet: Paul Smith
SG Says: A shawl collar cardigan? You bet. Especially with retro-looking sneakers, and chinos in a saturated blue.
Oh, and if you want to make sure you can wear your sweater outfit through the new year, opt for patterns that steer clear of any hints of snowflakes.
Make the rest of your look more rugged with leather boots and military-inspired outerwear.
Start with a lightweight shirt that's engineered with a double cloth weave to add texture and temperature-fluctuating muscle – this will make it so you don't overheat once you step indoors during a chilly fall day.
Bring the look home with a Western-inspired patterned shawl collar sweater paired under a sturdy, warm cotton jacket.
// Shop shawl collar sweaters //

Did you know…the best sweaters could be in your closet already!
If we've convinced you it's time to level up your sweater game, but you dread the thought of shopping for them…why not let Team SG shop for you?
Just think, we could rescue you from shopping fatigue and sartorial apathy.
With our online personal shopping service, we can promise the kind of dedicated attention that will make you feel like the best, most stylish version of the awesome guy you already are!
We'll also help you figure out how to wear your new sweaters (and whatever else you need) with the things you already own.
So, if you're ready for a shopping plan that'll save you time, energy, and your sanity, give us a shout.

Like a phoenix rising from the ashes, Gabi Meyers went from Team SG's first-ever intern to a trusted fashion editor and stylist. She currently lives in Chicago with a very cute dog.