#GiftInColor: Shop These Holiday Gift Ideas In Shades of Red
From boots to bourbon and cozy sweaters, our first can't-miss guide!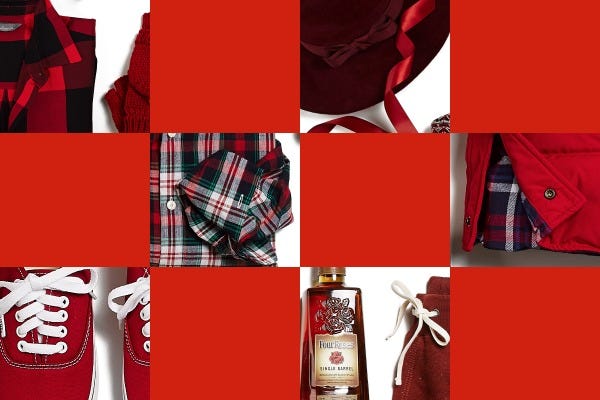 For this season's gift guide series on Style Girlfriend—that we're calling #giftincolor—we hand-selected more than 100 outstanding holiday gift ideas for both men and women. Every Tuesday we will launch a brand new guide that's themed to a different color.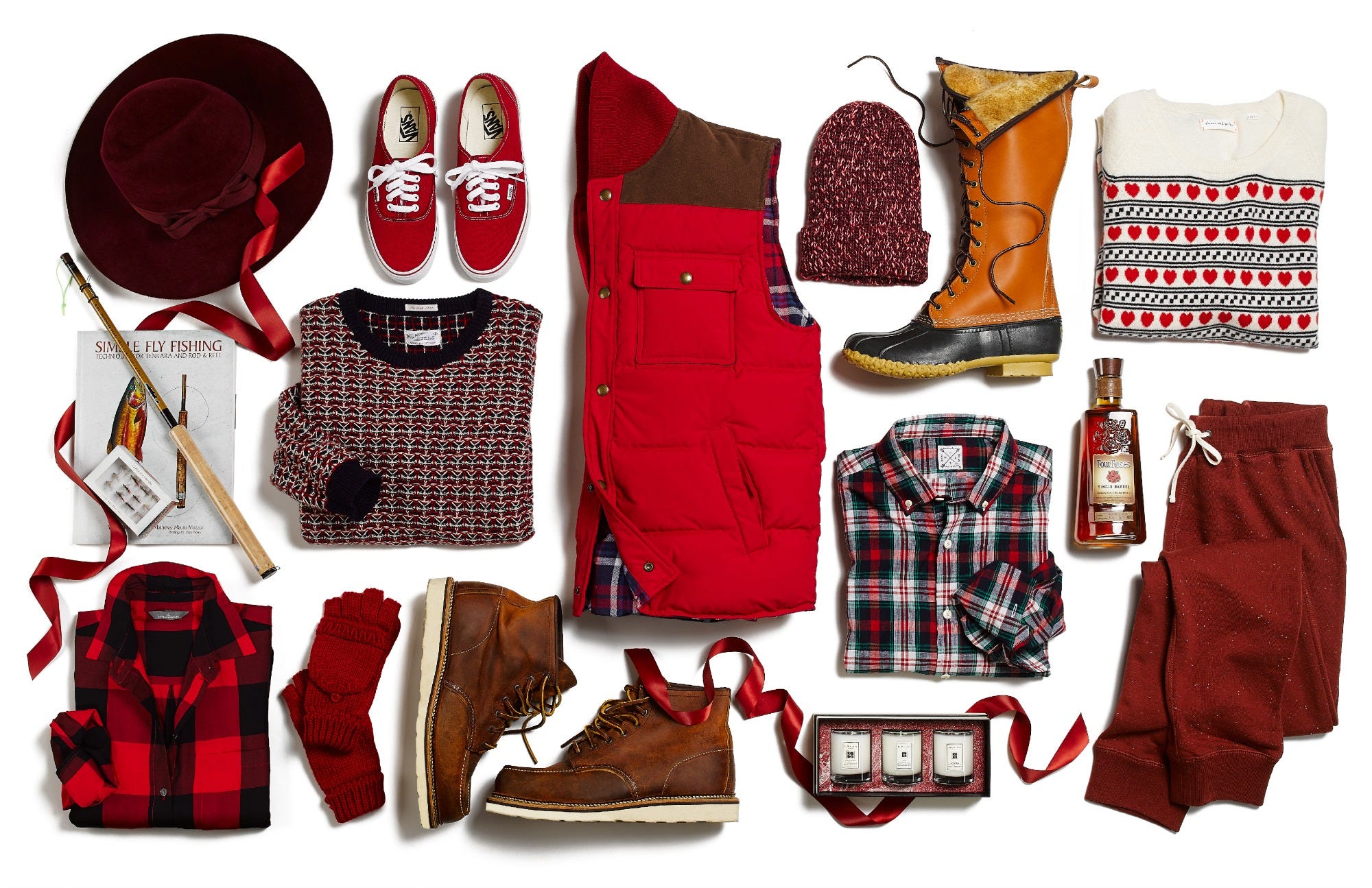 Hat, Preston & Olivia | sneakers, Vans | down vest, Gant By Michael Bastian | beanie, Anthropologie
shearling-lined boots, L.L. Bean Signature | sweater, Chinti and Parker | sweatpants, Saturdays Surf NYC
bourbon, Four Roses | plaid shirt, Kiel James Patrick | travel candle set, Jo Malone | boots, Red Wing Heritage
knit gloves, Old Navy | buffalo check shirt, L.L. Bean Signature | fly fishing kit, Patagonia | sweater, Gant Rugger
To kick off our weekly series of color-themed holiday gift guides, we rounded up a selection of the richest reds, the i—and one delicious bourbon. From shoes to scents, sweats and sweaters, we're obsessed with each product down to the tiniest hand-tied fly.
Seasonal plaids are a can't-miss gift for guys and girlfriends alike. Two of our favorites come from preppy purveyors L.L. Bean Signature and Kiel James Patrick, not to mention the plaid-lined detailing on Gant By Michael Bastian's ultra-cozy down vest.
If someone on your list skews more Irvine than Ivy League, we love the idea of gifting a pair of cool and casual Vans sneakers or a slouchy knit beanie. Though, as far as hats go, we can't help but fawn over Preston & Olivia's hand-blocked hats. This one, the Isabelle, is made from fur velour felt, and is finished with a feminine bow on the crown. Consider this the holy grail of toppers—ideal for the most stylish woman you know (or a Carmen Sandiego doppelganger).
Perhaps the most unique gift idea in this week's guide is Patagonia's Simple Fly Fishing Kit. It's a splurge at $300, but for the amateur outdoorsman (or woman!) in your life, this is a thoughtful and inspiring choice sure to lead to years of adventure and—if you're lucky—freshly caught dinners.
Tell me:
I know it's early, but have you started your holiday shopping yet?
By Taylor Davies. Taylor is a fashion and menswear editor in New York City and occasional contributor to Style Girlfriend. She lives for croissants and swears by an Old Fashioned. You can find her blogging here and 'gramming here.
Shop more #giftincolor guides:
Holiday Gift Ideas in Shades of Orange and Yellow
Holiday Gift Ideas in Shades of Green
Taylor Davies splits her time between NYC and Sun Valley. She loves writing about menswear, overpriced martinis in dimly lit hotel bars, and cross-country skiing. Not necessarily in that order.