Men's Wardrobe Essential: Khaki Single Breasted Trench Coat
Work hard, play hard in this versatile piece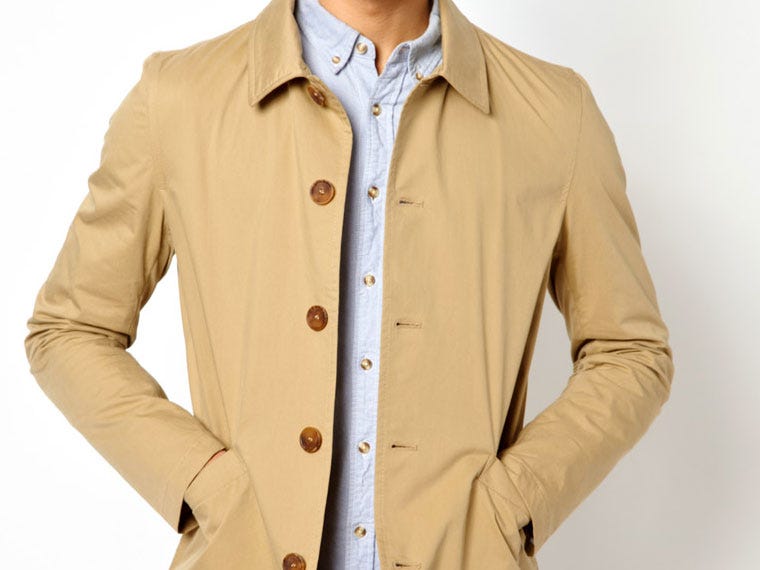 When it comes to outerwear, nothing is as timeless and versatile as a khaki, single breasted trench coat. Neither rain, nor sleet, nor snow can stop a good khaki trench from keeping you looking good while battling the elements. Often called "Mac" coats, named for Charles Mackintosh the inventor of the waterproof version, single breasted trench coats work and play hard no matter the conditions, and look good doing it.

How to Wear It
When all of the elements come together right, a khaki trench will go with everything. From jeans and a t-shirt on a day of errands, to a rainy morning commute to the office, your trench is there for you. Need to make sure a young lady gets on a plane and it leaves safely? A good khaki trench has your back.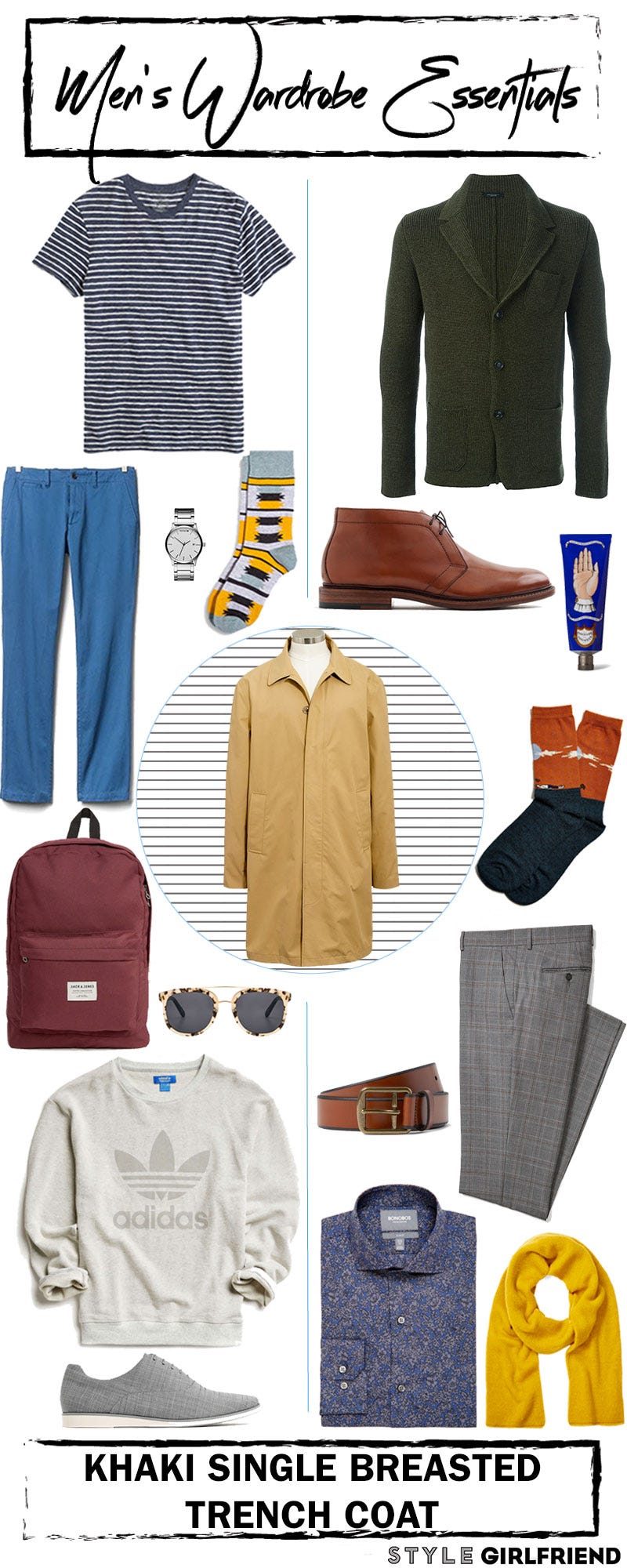 Shop #SGApproved Picks:
Why it's an essential
The trench coat, like many men's wardrobe staples, traces its origins back to military use. It was developed as a lightweight alternative to heavy "great coats" worn by members of the British military. The tan version as we know it was invented by Thomas Burberry and made of a heavy weight gabardine fabric. Gabardine is a very tightly woven fabric with a corded, denim-like appearance and is still an extreme popular fabric still used in trench coats today.
While Burberry continues making popular trenches today, Charles Mackintosh may be the name of greater use for this conversation. Charles Mackintosh, with the help of inventor Thomas Hancock, created the first waterproof trench coat in 1824.
By bonding fabrics with rubber using a vulcanization process, Mackintosh and Handcock were able to create coats that kept water from permeating the material, keeping the wearer nice and dry. To this day, single breasted trenches are all generically called "Mackintosh" or "Mac" coats, though the true Mackintosh coats are all waterproof and made only by the brand itself.
Form and function
The ideal trench of today stays true in form and function to much of what of its predecessors innovated. There have been a number of technological advances that have made water – and weatherproofing jackets much easier. A good trench should definitely be waterproof – bonus points if it comes with a removable insulator for cooler temps.
Khaki is such an iconic color and pairs well with everything, so no need to deviate from the norm there. Look for a single breasted front, with side entry pockets, and (traditionally) a removeable belt.
When considering fit, it's crucial to remember that a trench needs to be worn over different types of outfits. It's useful to try on a trench coat with the bulkiest item you'd wear it over usually a blazer  or suit jacket  – as well as with just a simple shirt. The sleeves should fit trim with a high armhole; stay away from baggy wizard sleeves. The length of the coat should fall somewhere between the middle of the thigh and the knee, depending on preference. The shorter the coat, the more casual it will read; the longer the coat, the more traditional and dressy.
TELL ME:
HAVE YOU BROUGHT A TRENCH COAT INTO YOUR WARDROBE YET? HOW DO YOU STYLE YOURS?